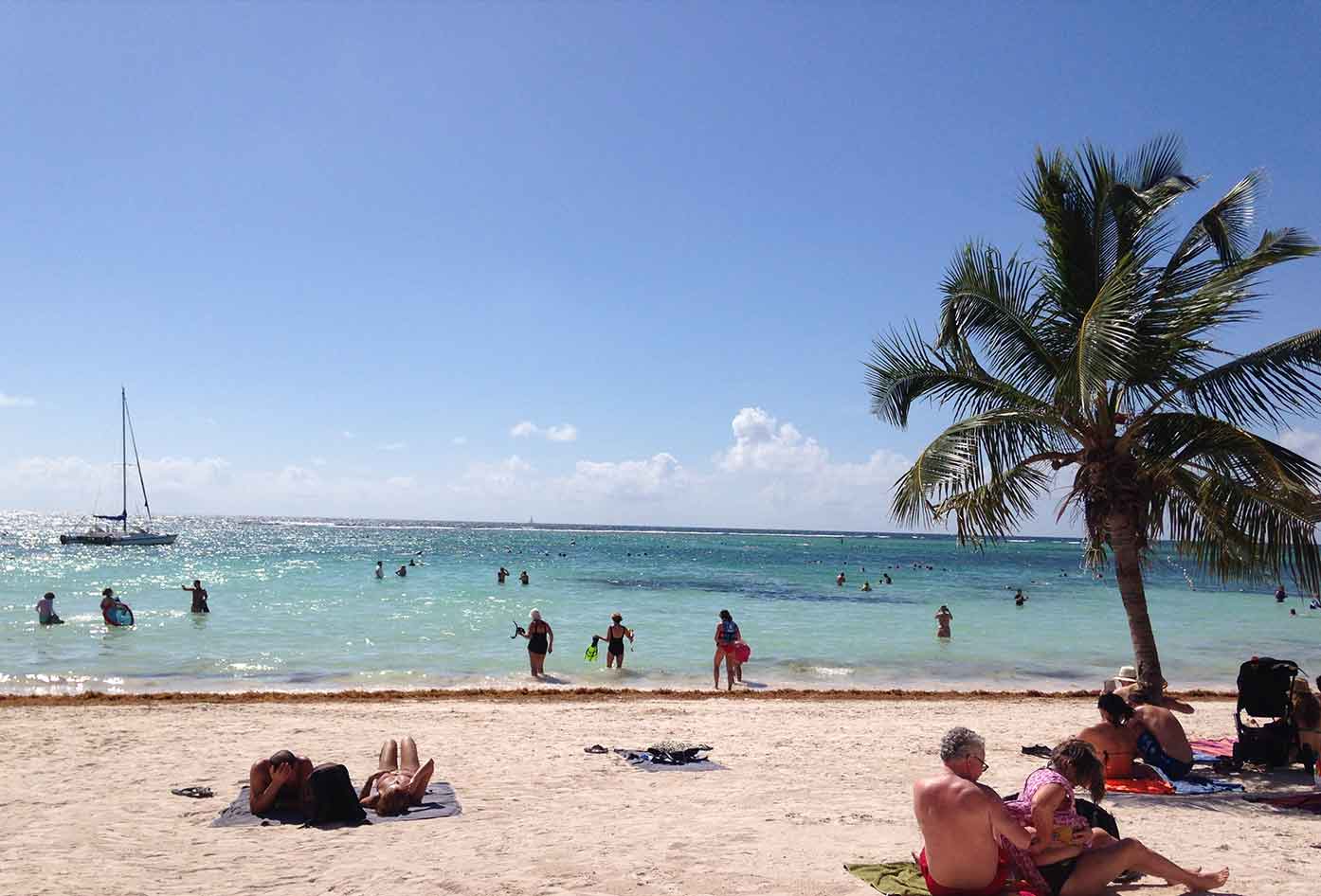 One of the most popular countries to visit in Latin America, Mexico is one of those unmissable countries on most travel bucket lists.
From exquisite foods and hot weather to ancient ruins and beyond, this country has a whole lot going for it.
And above all else, the beaches here are truly spectacular, and you can visit incredible spots along both its Caribbean and Pacific coasts.
This guide explores some of the safest beaches in Mexico you can visit, as well as some details on why each is awesome in its own right.
Safest Beaches in Mexico
Now let's dive straight in with these safe beaches in Mexico you can visit.
As well as each of these beaches being picturesque (like those images you find on Instagram), they're also renowned for their safety and low levels of incident reports so you can visit while letting your hair down.
Lets start this list of Mexican beaches with an ever-growing popular beach town that getting more and more attention over recent years:
Sayulita Beach
Located in the town of Sayulita, this beach runs along Mexico's Pacific Coast. A somewhat sleepier beach than others, and popular with surfers given its awesome waves and a short distance from restaurants and shops.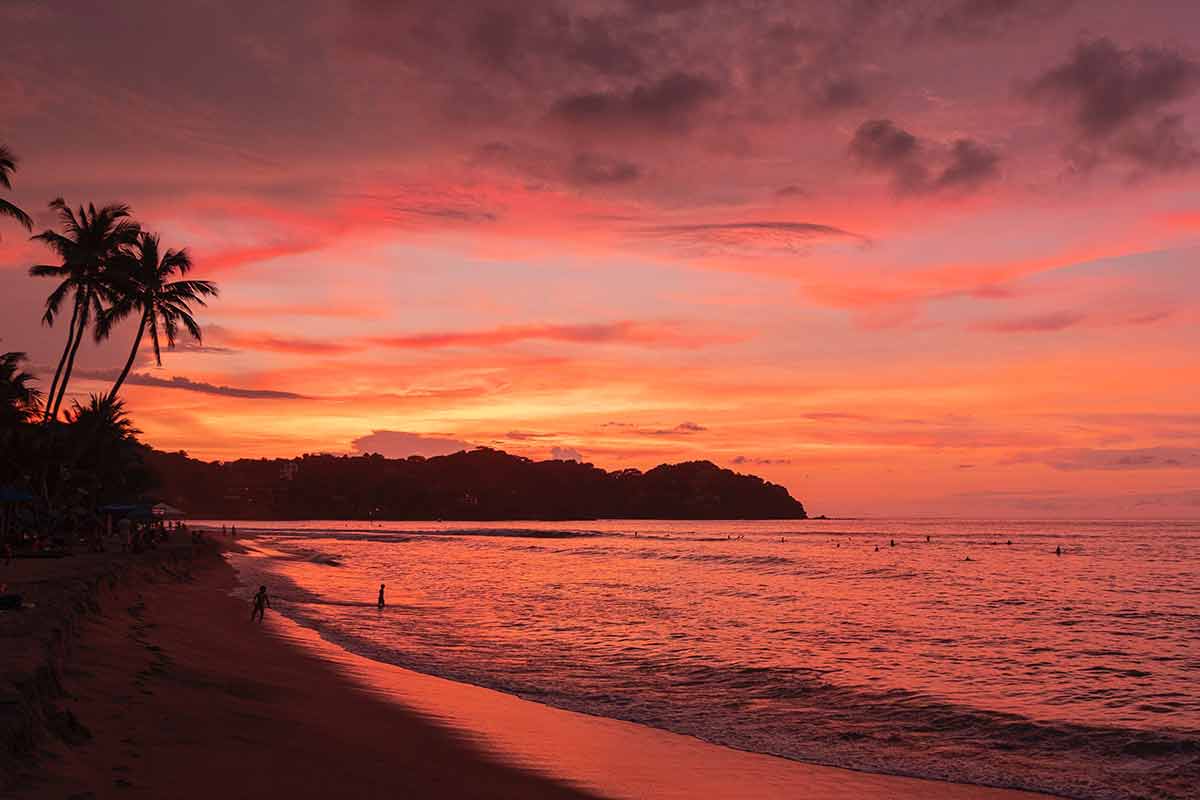 The town of Sayulita itself is the safest area you can visit in the small state of Nayarit. It's known for its backpacking and surfer scenes.
So whilst it's not completely quiet, it's still a good place to get away from it all (especially if in nearby Mazatlán or Puerto Vallarta). The best time to visit Sayulita is from December until April, during the dry season.
Playa Carrizalillo
Often ranked as one of the prettiest beaches along Mexico's Pacific Coast, Carrizalillo is often a bucket list location for many v the Oaxaca region.
Located close to the beach town of Puerto Escondido, it's known for its sweeping views as you'll start at the top of a hill, where you'll then need to climb down many staircases to reach this paradise.
The town of Puerto Escondido is gaining more and more popularity. Whilst before it was a sleep fishing village (similar to that of Sayulita), it now welcomes many tourists who want a piece of the good life.
It's also very safe, given it has avoided many issues related to drug cartels that often plague other destinations in Mexico. The overall best time to visit Puerto Escondido is from December until April.
Playa Punta Morena
Now we head over to the crystal-clear waters of Mexico's Caribbean Coast. Playa Punta Morena is located on the island of Cozumel, which is roughly 20km away from the mainland hotspot of Playa del Carmen.
As it's situated on the more remote east coast (compared with the more touristy and popular west coast), there are barely any people here, making it both a safe and quiet spot to relax.
The island of Cozumel as a whole is very safe, given it's a popular place for holidaymakers (of all budgets) to come for a vacation.
Given this fact, police efforts have been increased to keep the island safe, although it never even had any real crime issues here to begin with. The best months to visit Cozumel are between December and March.
Los Muertos Beach
Next up we have Los Muertos Beach, which is one of the most touristy and popular beaches on this list. The main beach of Puerto Vallarta, it welcomes many tourists from both abroad and all over Mexico.
Given its all-inclusive nature, there are plenty of restaurants, bars and vendors offering plenty of things to do and buy within touching distance.
Puerto Vallarta is located in the state of Jalisco and is renowned as one of the safest cities in Mexico to visit. It's managed to avoid pretty much all dealings with drug cartels, and much of the city is safe too.
Although Los Muertos Beach is very safe, you'll still want to be wary of leaving your things unattended when going for a dip (it's best to go with someone else who can watch these for you, since theft can sometimes be an issue). The best time to visit this beach is from November until May.
Mazunte
Mazunte beach is one of the more off the beaten path playas on this list and is another great spot to head to within the state of Oaxaca.
If you fancy stripping off your kit (legally) then it is worth knowing that Mazunte beach is within walking distance of Zipolite beach which is one of the most popular nudist beaches in Mexico.
The town of Mazunte itself has a very low-key, bohemian vibe to the place, which is quite refreshing given that many parts of Oaxaca can feel somewhat touristy at times.
It's also considered one of the safest towns to visit along the Pacific Coast, where you can even head for a nighttime stroll if that's your thing. The best time to visit Mazunte is from November until April.
Akumal
Situated on Mexico's stunning Riviera Maya coast, Akumal beach is a great option for those looking to get away from the bustle of Cancún and Playa del Carmen but still want to enjoy the of benefits of local tourism.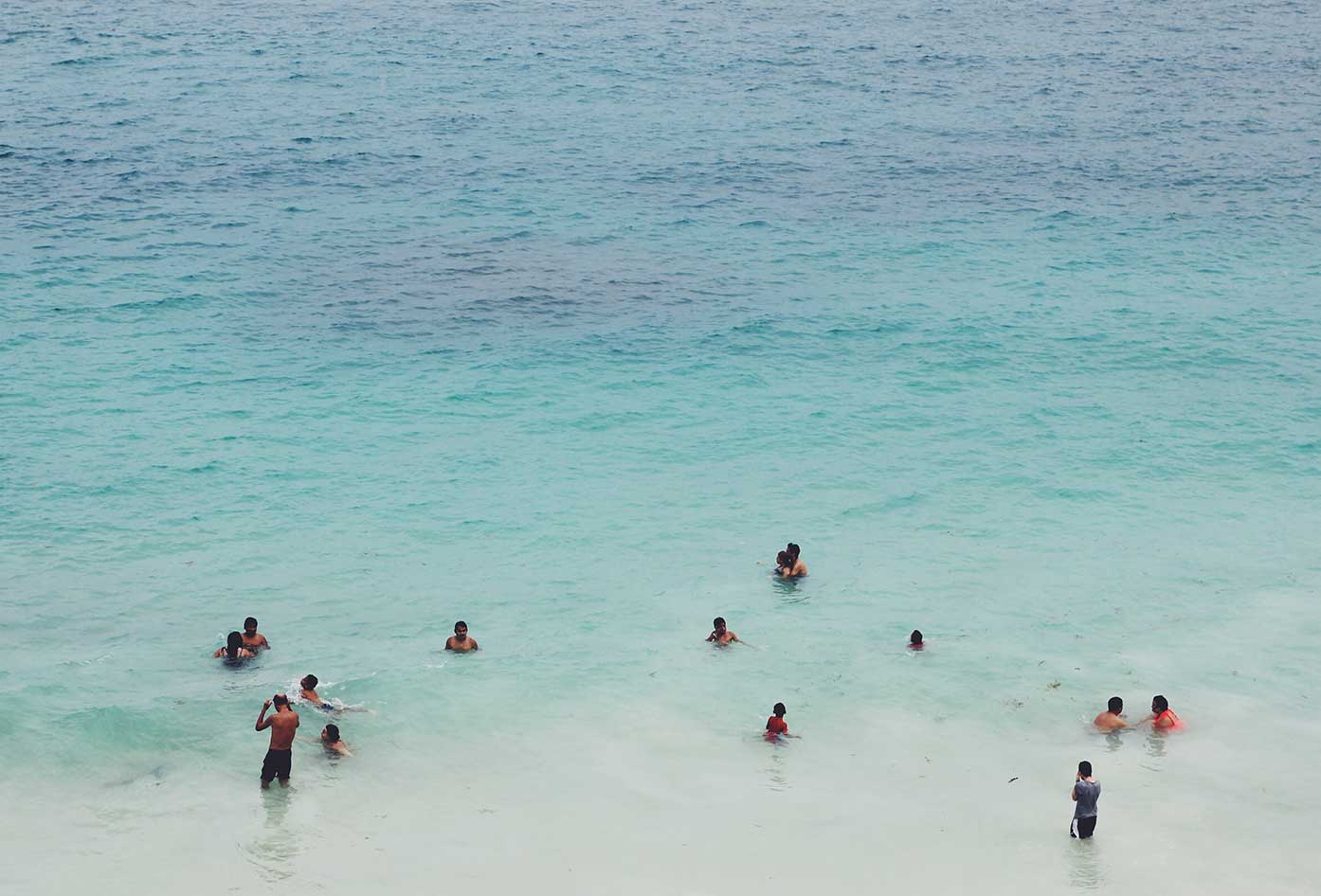 It's one of the best places in Mexico to swim with turtles, and also has calm waters too which makes it safe for swimming.
Unlike other touristy beach towns of Mexico, Akumal hasn't attracted any of the drug cartels who can sometimes cause issues along this coast of Mexico. The town of Akumal is very safe too, and you can also walk along the beach at night by yourself too with no issues.
Playa Paraíso
This stunning beach often features in many travel brochures, and is the reason many heads to Mexico's Caribbean Coast!
Playa Paraíso is located close to Tulum, and is a very good option for those looking for safety, or traveling with families.
Playa Paraíso is known as the "hotel beach" of Tulum and is actually located slightly outside of town, where all the big resorts are nestled.
For this reason, this part is much safer than Tulum's town center and is the reason it ranks as one of Mexico's safest beaches. To get the full enchilada, read this guide on is Tulum safe for tips on what to expect.
Playa Brujas
Last but not least on this list of the safest Mexican beaches is Playa Brujas. This one is often the most surprising inclusion on this list – given that Mazatlán is located within the crime-ridden state of Sinaloa.
This beach is one of the top choices in the city, given it's where most holidaymakers spend their time (lots of amenities and hotels nearby).
Whilst there are still safety issues in Mazatlán, this beach is very safe, given it's located much further north and in an area of many hotels and resorts.
For this reason, there's increased police presence and efforts here, which can really be felt compared to other public beaches in Mazatlán. The best time to visit Mazatlán is between November and April.
Mexico Beach Safety Tips
To help you avoid risks on the beach in Mexico and help you have the best vacation while here, I will share some hazards to consider.
⤵️ Here are some tips for while at the beach in Mexico:
Know what the flags mean on lifeguarded beaches. Flags are there to indicate whether or not it is safe to go in the water or not. If you are ever unsure just as the lifeguard. A red flag means DANGER! so never go into the water when you see that a reg flag is flying.
Have a travel plan so you don't get lost at the beach by downloading an offline map. Google maps are great for this so be sure to download the app on your smartphone.
The sea can be a very demanding environment and can really test your physical strength. Make sure you check the conditions and consider your own ability before getting in the water.
Be smart when it comes to using inflatables that can easily be swept out to sea. If you arrive at the beach on a windy day look out for the flags and avoid using inflatables such as lilos and inflatable toys.
Stay safe in the sun by carrying some sunscreen that is SPF 30+ which you can re-apply every 2 hours or so. Also seek shade, especially during the hottest hours of the day which are usually between 11 am and 3 pm when UV penetration is peaking
Got Travel Insurance for Mexico?

Designed by travelers, for travelers, World Nomads covers more than 150 adventure sports and activities so you can explore your boundaries.
Safest Beaches in Mexico
That's all for this guide on the safest beaches in Mexico to visit.
This epic country is always a favorite amongst travelers, given its abundance of cool things to do as well as unique places for a visit.
Its beaches are also a strong pull, with some of the most beautiful found here in all of Latin America.
In this guide, I have uncovered 8 of the safest beaches you can visit in Mexico. Not only will you feel safe when out on the sands ind, but you'll also be in some truly spectacular settings too.
Why not see even more safe places to visit in Mexico with this EPIC guide that showcases some of the least dangerous cities and towns to explore.
📌 Like this article? Pin it…
Did this give you a better idea of which safe beach in Mexico to visit?

💬 Leave a comment below or let's start a meaningful conversation…
---
"Dear friend! Some links in this post contain affiliate links. Meaning, if you click through and make a purchase, book a hostel or sign up for a tour, I may earn a small commission at no additional cost to you. Your support means a lot and helps me to keep traveling and maintaining the quality of this site for you."