When comparing Puerto Vallarta vs Cancun which Mexico destination should you visit?
With almost 1,200 hundred miles apart, two of the most popular vacation spots in Mexico attract close to millions of people annually.
Both have reputations as being safe havens away from the crime and cartels that Mexico has been infamous for in recent years.
But which one is the best? What are the differences between them? Which one is more touristy?
Puerto Vallarta vs Cancun
This helpful guide will help with any questions you may have about which one is the destination for you.
If you are traveling to Mexico soon this should help. First of all, our comparison will start with the underdog: Puerto Vallarta
Puerto Vallarta
With so many fun things to do in Puerto Vallarta, it literally has something for everyone. No matter what style of travel you do.
If you're looking for a bargain hostel-type layover during a backpacking trip or a diamond 5-Star all-inclusive resort with all the luxuries you could think of. You'll find it all here!
The cuisine is completely unique to the rest of Mexico because of the amazing fresh seafood.
Many of the hotels have their own beaches as it's set on the second-largest bay in the world.
Where is Puerto Vallarta?
Puerto Vallarta is easily one of the most picturesque spots in the North American continent.
Banderas Bay overlooks the world's largest ocean: the Pacific. The Pacific Ocean side of Mexico is the one that is so often overlooked compared to the Atlantic side.
If you decide to take the Pacific Coastal roads whilst backpacking Mexico or on a family trip through the country, this is guaranteed to be one of the best stops on your trip.
Vallarta is situated technically inside the region of Jalisco, but it sits on the border to the neighboring region of Nayarit.
Perfect if you wish to access beach towns such as Sayulita or San Pancho for a more off the beaten track experience.
Due to its location, it seems as though it could potentially be a dangerous spot, but it's one of the safest spots with a couple of hundred miles in diameter.
The nearest city is the historic town of Guadalajara, which is famous for its gastronomy and one of the best cities to visit in Mexico.
Is Puerto Vallarta expensive?
Staying in places like Mio Vallarta can make average daily cost (incl. b&b) for a trip to Puerto Vallarta around $33 (USD) per day per person.
This is considerably cheaper than most of the more popular tourist spots in Mexico, including Mexico City and the spots in Tijuana.
For luxury trips to Vallarta, in place such as Marriot make the average cost around $66 (USD) per person.
This is incredible when you consider the cost for luxury hotels and restaurants in Europe or even just other countries in North America.
The average cost for one person to take a two-week trip is just $904 (USD). As you can see, Puerto Vallarta is a serious contender as the best budget location in Mexico.
You'll realize that many US tourists choose either Puerto Vallarta or Cabo San Lucas for their vacations in Mexico.
How far is Puerto Vallarta from Cancun?
All depending on how you plan to travel in Mexico, from A to B, the trip is quite a long one.
However, bus companies like Ado make this trip possible for those who prefer to travel by land.
As the crow flies, the total distance between Puerto Vallarta from Cancun is close to 1,200 miles.
This puts into perspective just how huge of a country Mexico is, to think that many consider the shape of Mexico to be slender.
Nope! From one coast of the country to the other, it's almost the same distance as London to Helsinki or Munich to Moscow.
It would be considerably easier to take a flight from one to the other, which takes upwards of 4.5 hours.
If you want to backpack your way from one place to the other, this is a very doable trip as far as buses are concerned.
Is Puerto Vallarta safe?
Do you have concerns about the safety of Puerto Vallarta? Check out our article is Puerto Vallarta Safe for more insider tips.
In short, the safety of Puerto Vallarta is very minimal compared to the nearest major city Guadalajara.
And by the way, Guadalajara is 5 hours drive away inland, so there's no possibility of seeing any of the crime you hear about on the news.
With Guadalajara being the largest city in Jalisco, safety concerns are understandable. See these Guadalajara safety tips if you are feeling adventurous.
However, for the most ambitious traveler or people backpacking Mexico, there are many things to do in Guadalajara for those looking for a more cultural experience in Mexico.
Millions of people typically visit this part of Mexico every year, for the resorts of Puerto Vallarta and for the world-famous tequila that originates from here.
You'll still need to be careful of petty crime and tourist-targeting within the busier areas at night. But for the most part, Puerto Vallarta is safe.
Best Time to Go to Puerto Vallarta?
The best time to visit Puerto Vallarta is between the months of April and June when the weather is pleasant and room rates are affordable.
During these months, rain is scarce and there are fewer tourists compared to the winter high season.
Although many do travel during the Summer months, the temperatures soar to highs of 34 degrees Celsius.
If you're interested in whale watching, however, visit from December to March. See the amazing whale watching tours you can do while here.
The temperature can stoop to lows of 14 degrees Celsius, but for whale watching in North America, these are some of the higher temperatures compared to Alaska or North Eastern United States.
Cancun
Cancun is one of the most popular tourist destinations in the western hemisphere, Cancun and the Riviera Maya region attracts millions of visitors a year.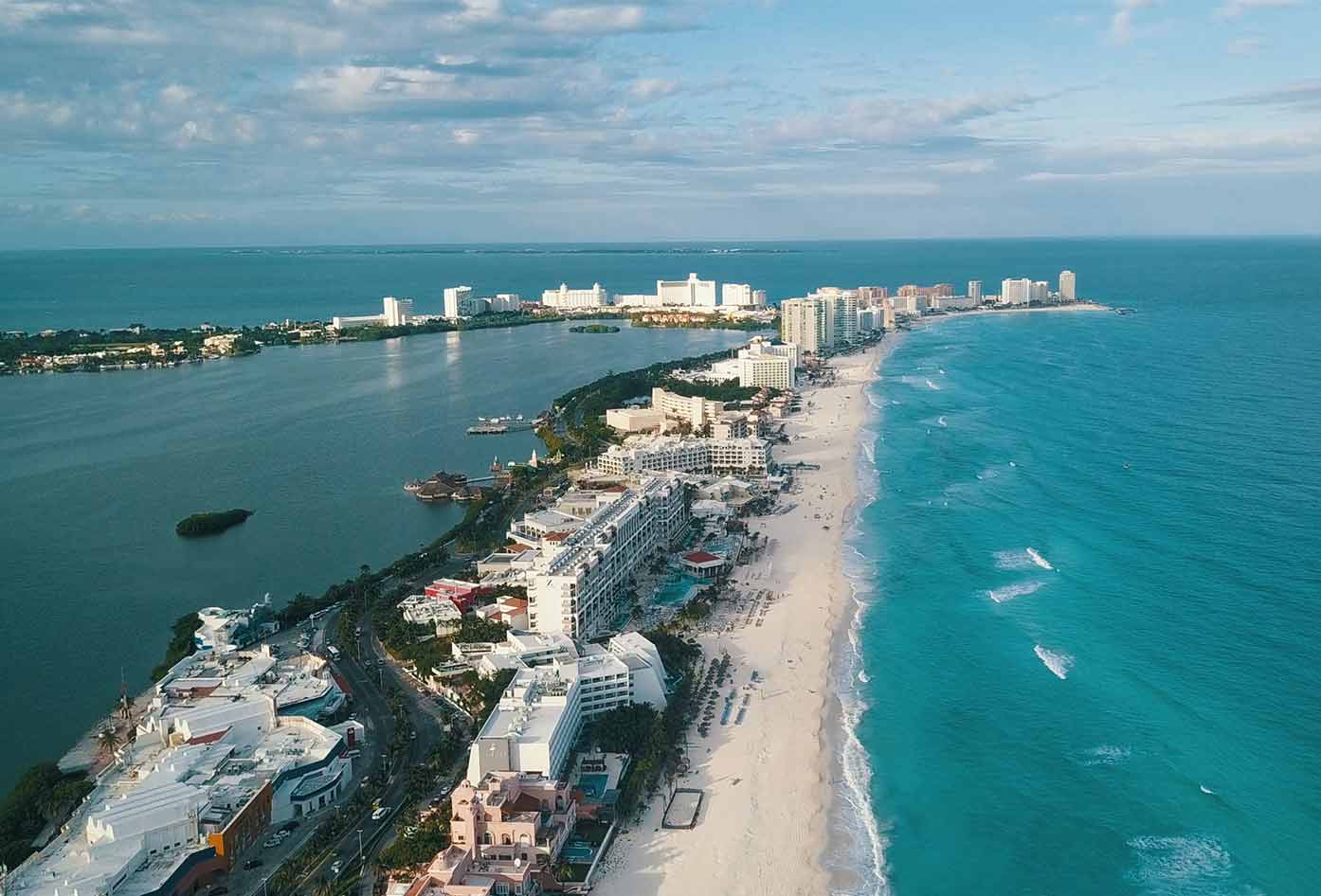 Mexico is the second most visited country in the western hemisphere, so Cancun has to be the most popular resort town in the western hemisphere without taking into account the Caribbean islands.
Where is Cancun?
Cancun sits on the tip of the Yucatan peninsula, overlooking the Caribbean sea on one side and the Gulf of Mexico on the other.
It's in a prime holidaying spot in terms of the climate and geology, as it's on par with the likes of Cuba, Jamaica, and the Bahamas.
In fact, Cancun is only 130 miles away from Cuba, it's so close to the islands known for their resorts.
The whole region of Quintana Roo, in fact, is largely accommodating for the huge tourism demand due to its prime location.
See this jam-packed guide of places to visit the Riviera Maya which will give you a good insight into all the places you can visit from Cancun easily by local transport.
Cancun isn't boxed in like Puerto Vallarta, it's surrounded by neighboring tourist hotspots such as Playa del Carmen, Cozumel, and even the world famous Chichen Itza.
Is Cancun Expensive?
Compared with the average prices in Puerto Vallarta, Cancun is a lot more expensive.
This is due to Cancun's popularity and the demand increasing prices too, in most cases higher than the national average.
The average daily cost (including bed and board) for a trip to Cancun in a place like The Royal Sands is around $97 (USD) per day, per person, which is almost triple the average for Puerto Vallarta ($33).
For a two-week luxury stay in Cancun, the average is $4,092 (USD) per person in high quality resort such as The Royal Cancun which is located in the Zona Hotelera.
That's more than four times the average cost for a 2-week luxury stay in Puerto Vallarta ($904). It's for this reason that Puerto Vallarta tops Cancun.
Does Cancun have anything Puerto Vallarta doesn't?
Cancun has one of the biggest draws in the whole country.
One of the new seven wonders of the world and receiver of over 2.7 million visitors in 2017.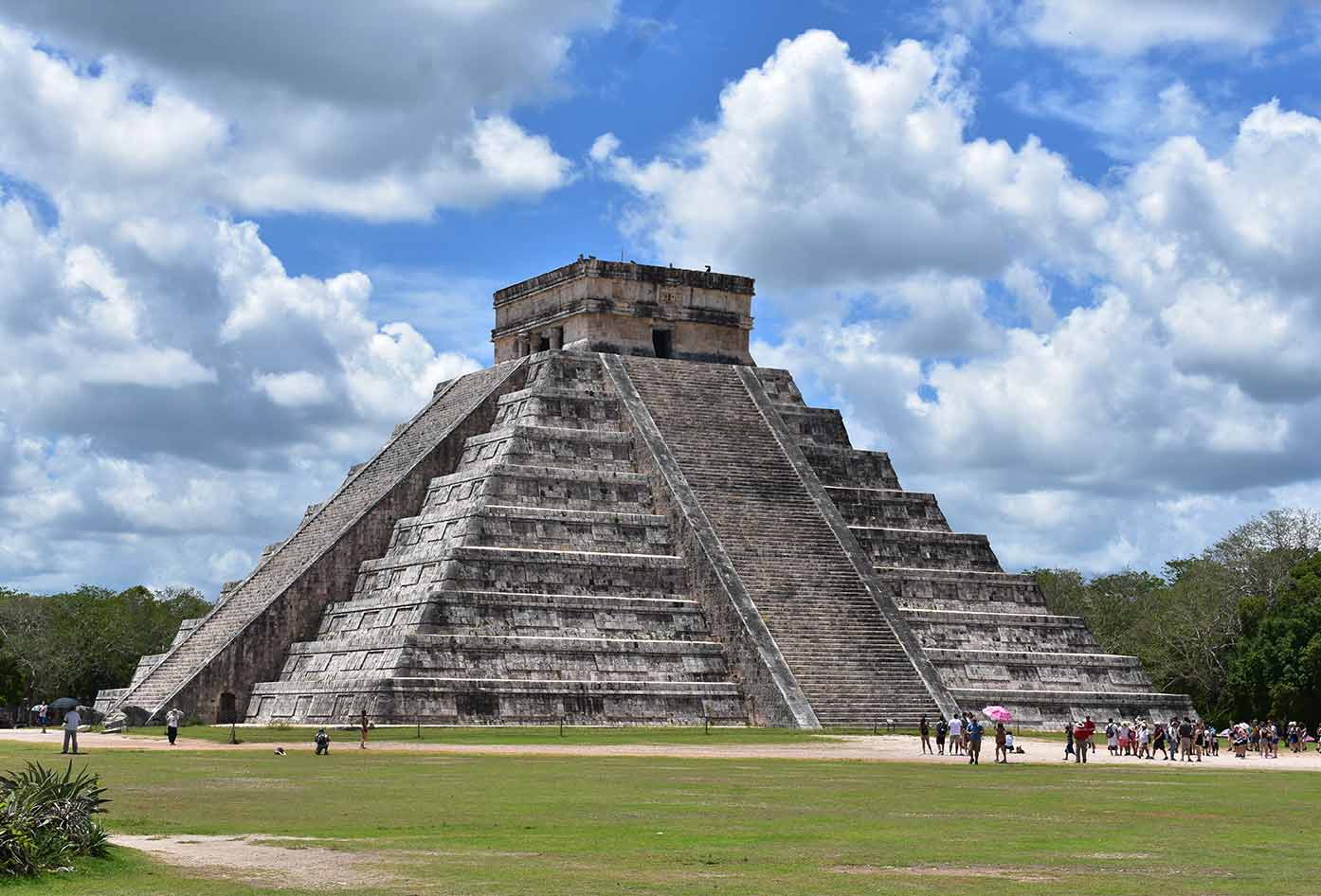 Chichen Itza! El Castillo (aka known as the Temple of Kukulcán) is an iconic landmark for the peninsular and has recently seen a sharp incline in international visitors since the 1980s.
There still isn't a definitive year or even period in which archaeologists can pinpoint the origin of the ancient city, but many speculate that it's at least 1500 years old.
Puerto Vallarta has its history, museums, and historical monuments, but nothing quite tops the ancient city of Chichen Itza.
Is it safe to travel to Cancun?
Cancun is known for its safety compared to other spots in Mexico.
It's within the region Quintana Roo, which borders onto Belize and can be considered a stop-off point before venturing into the other, smaller nations in Central America.
You can plan your Central America travel route from the Cancun area of Mexico and find transport options relatively straightforward.
Cancun does have a crime. It isn't the perfect haven for safety that some people consider it to be, but it is safe compared to its neighbors.
As long as you either stay within the confines of the resorts you choose to stay at, or you decide to be more cautious than normal when you venture out, you'll have a safe and enjoyable trip.
For more information about the safety of Cancun, visit our page, is Cancun safe, to a better grip on what to expect.
Best time to go to Cancun?
The popular beach resorts of Cancun, the Riviera Maya, and Tulum have a tropical climate which results in dry and pleasant winters and hot, humid, and often rainy summers.
Most visitors head here in search of the sun during the winter blues, so December to April is the busiest period.
Officially, the region's hurricane season runs from June to mid-November with the most active months being September and October.
January is the best time of year to visit Cancun. This is the dry season and the temperatures and humidity levels are very pleasant.
It is also one of the most popular times as North Americans and Europeans head south for some sunshine and warmth. It can get busy though, so going for December/February is also a possibility.
Got Travel Insurance for Mexico?

Designed by travelers, for travelers, World Nomads covers more than 150 adventure sports and activities so you can explore your boundaries.
Puerto Vallarta vs Cancun
If you're into your food and drink, and you don't see the need for moving around, then Puerto Vallarta is the place for you.
Prefer historical monuments and love to move around and explore? Then Cancun is the place for you.
For those on a budget, then Puerto Vallarta is definitely more value for money but Cancun has a positive tourist atmosphere and proven visitor record.
Whichever location you decide, you'll know that Mexico is one of the best tourist countries in the world.
Get more ideas on safe places to visit in Mexico here.
📌 Like this article? Pin it…
Are you thinking of traveling to Cancun or Puerto Vallarta, soon?
💬 Leave a positive comment or lets start a conversation below!
---
"Dear friend! Some links in this post contain affiliate links. Meaning, if you click through and make a purchase, book a hostel or sign up for a tour, I may earn a small commission at no additional cost to you. Your support means a lot and helps me to keep traveling and maintaining the quality of this site for you."