Are you looking for help getting from Playa del Carmen to Tulum?
In this guide, I'll show you how to get from Playa del Carmen to Tulum and help you decide exactly what to do in Tulum once you get there.
As you may already know, traveling in Mexico, especially the Yucatan area is generally safe, and best of all, easy.
I have stayed in the Playa Del Carmen more than once and have found it relatively easy to find my way around.
Playa del Carmen to Tulum
Below I'll share all the information you need to be able to get from Playa del Carmen to Tulum without any complications whatsoever.
The entire zone of Playa del Carmen is a bit of a tourist trap and you can easily get roped into to one of the scams or simply overpay for a journey that should not take you more than 30-40 minutes.
If you're already staying in Playa Del Carmen and have already decided not to rent a car here, you'll find the most effective way to get to Tulum is by jumping in a collectivo collective in English.
The collectivos are one of the cheapest ways to travel in Mexico and most of Central America for that matter.
So if you are going to be planning a trip to Belize or heading further down south it's best if you can get used to using them.
Tulum From Playa del Carmen Map
So, how far is Playa del Carmen from Tulum?
Looking at the map below you can see the distance to Tulum from Playa del Carme isn't very far.
I took the collectivo in the morning about it took around 30 minutes tops and you can easily do a day trip to Tulum from Playa del Carmen.
As the distance from Playa del Carmen to Tulum is not that far you can travel at whatever time you like.
I recommend that you try to travel in the morning or during daylight.
Also, whilst backpacking Mexico it's usually a good idea to have a pre-defined destination in the form of a hostel or hotel to arrive at.
That way, when you arrive, you know exactly where you're headed.
Playa del Carmen to Tulum Travel
As you may have guessed, the best way to get to Tulum from Playa del Carmen is by using the local collectivos and let me explain why.
But, before I do that, there are some crucial things you should know.
Here are some crucial things you'll need to know:
If taking a collectivo head to Calle 2 between the 15th and 20th Avenue
Make sure you have small bills
Try not to bring big luggage or suitcases on the colectivos
Not so important but useful things to know:
A private taxi is a good option if you want to make pit stops
Carry a bottle water with you for the journey
See these safety tips for Playa del Carmen before your journey
Make sure you ask the price before you get in any collectivo
These universal tips should apply to your journey and hopefully, help you decide which method of transport to take.
Now let's look at the main modes of transport for getting to Tulum.
Getting to Tulum with a Collectivo
As mentioned above taking a collectivos is my preferred way. I say this because If you are traveling alone it is the cheapest and fastest.
Unlike the Ado bus, the collectivos offer a more efficient service that allows you to wait at the side of the road and flag them down.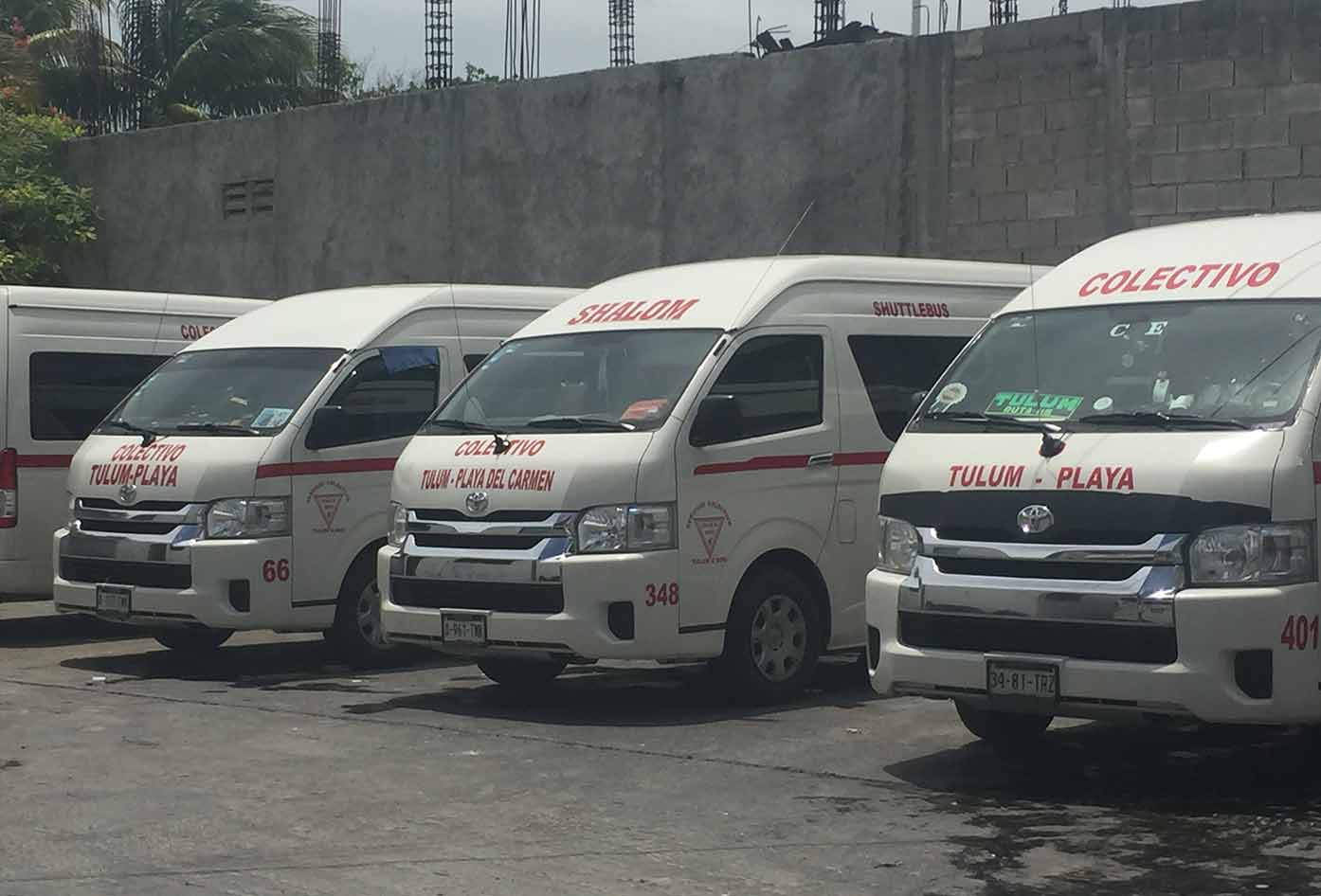 The price can change but expect to pay around 40$MXN to get to Tulum from Playa del Carmen.
They usually accept US dollars but I recommend you pay in Mexican pesos to obtain the best price.
The collectivos are equipped with aircon and even though you may have to squeeze in, they are generally a good place to meet other travelers that are going the same way as you.
The other great thing about the collectivos is that you can get them to stop in you're desired location as long as it's on the route. For example, you can even get a collectivo to Tulum ruins.
For example, if you're heading to Tulum Mayan Ruins first you can get them to drop you right outside the attraction.
Taxi from Playa del Carmen to Tulum
Traveling to Tulum from Playa del Carmen in a Taxi is a great choice if you are traveling in a small group.
The cost of a taxi is around 650$MXN so you can see the price difference changes significantly.
The great thing about traveling by private taxi from Playa del Carmen to Tulum is that the ride is direct and you can get dropped right outside your hotel.
I prefer to travel light but this service is useful if you have some heavy backpacks with you.
Traveling in a taxi will also be the safest way to travel to Tulum at any time of day or night. You can even get your host or ask the reception at your hotel or hostel to order a taxi to pick you up.
Bus from Playa del Carmen to Tulum
The Ado bus is one of the most common ways to travel in Mexico.
In this special case of traveling from Playa del Carmen to Tulum though, you may find it to be a little long-winded when compared with the collectivos.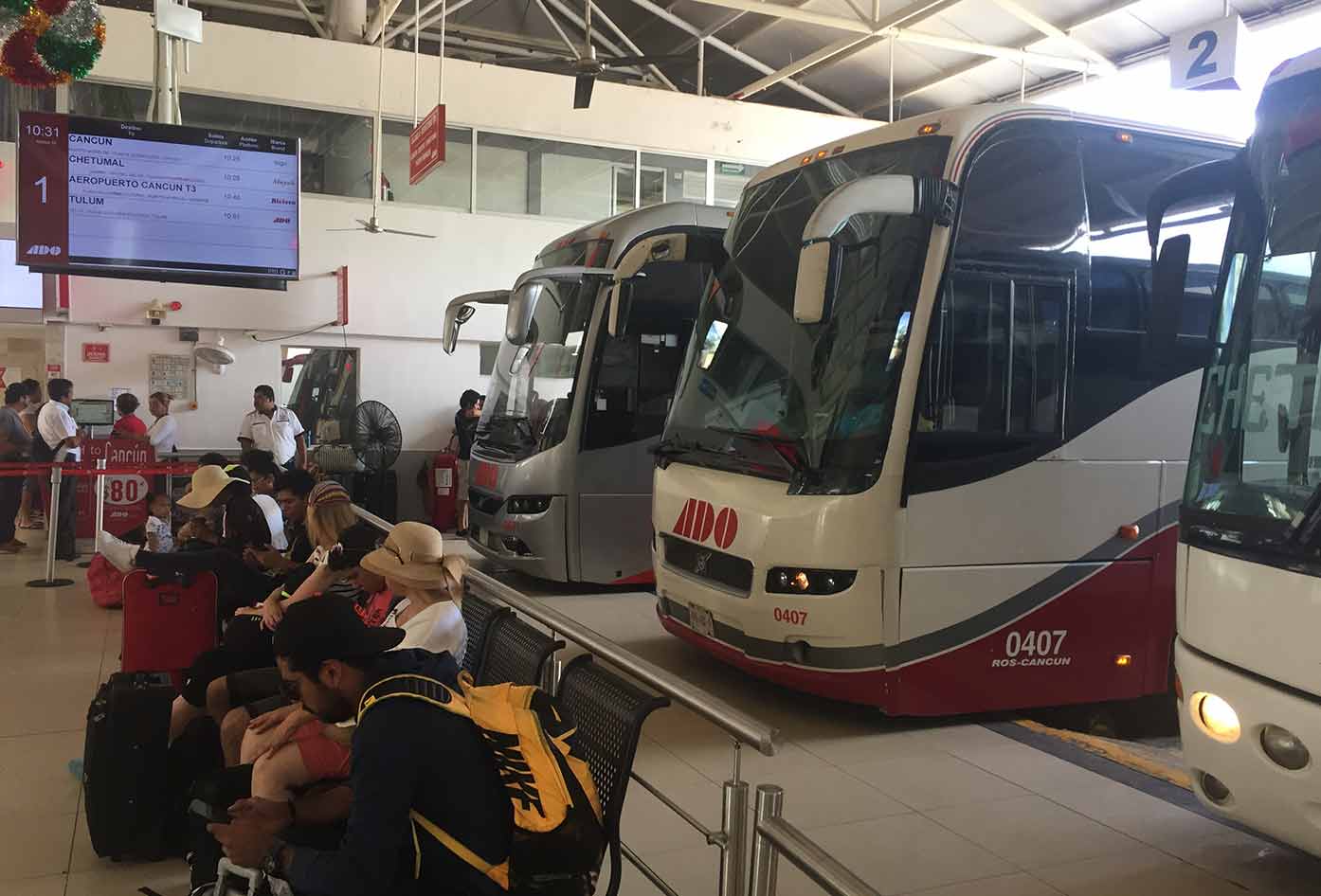 The trip costs around 60$MXN, so almost double that of the collectivo and it takes approxamatly one hour.
One merit of taking the Ado bus though is when you have a lot of luggage and want a more comfortable ride. (Think movies and reclining seats). See this guide to bus travel in Mexico for more info.
The bus departs every thirty minutes so if you time it right, you can arrive at the station without waiting around too long.
I recommend booking online via the Ado website, that way you'll guarantee your departure, and, even select the perfect seat for you.
Where to Stay in Tulum
As mentioned earlier, it's smart to know where you are going to stay, or at least have a good idea, when arriving in a new place.
My goal was to find the best hostels in Tulum before arriving. Are you already familiar with some of the best places to stay in Tulum?
Below is one of my favorite recommendations you can check out if you're staying overnight.
3 reasons to stay here
Delicious Food
Free daily tours
Very socialable
Che Tulum is one of the most popular hostels in Tulum. The location is in the heart of the town and surrounded by greenery. It has a swimming pool and is only 7 blocks from the Ado bus station.
---
Things to do in Tulum
I said I'd help you find some things to do in Tulum while you're here. You can even compare Tulum vs Playa del Carmen first if you want.
So to make your life easier, I have listed some of the most popular tourist attractions in Tulum for you to see when you arrive.
Tulum Ruins
By far one of the best things to do in Tulum for history lovers and fans of Mexcian culture.
This attraction is best visited with a guide to get all the relevant information and to learn about the importance of this Mayan site. The discovery tour offers a unique look at this archeological site.
Be prepared for the heat, though, if you don't cover up the sun is likely to damage your skin as you spend the day outside. Also, I recommend you carry a water bottle to avoid dehydration.
Take a Dip in a Cenote
The Gran Cenote is one of the most popular to visit whilst in Tulum. If like me you're not a strong swimmer, no problem, you can get hold of a life vest that will make it safe and easy for you to enjoy the water.
You'll find the water here is pristine and you can even get a view of the limestone caves that lie under the water.
If traveling to Mexico with kids it's very kid-friendly here so you can travel here and enjoy it with the family.
You can rent lockers at the attraction so you can bring valuable along with you and not have to worry about the security of expensive camera equipment and other valuables you may wish to carry.
You'll find that cenotes are safe in general but take a look at the advice on this blog before visiting to learn more about them.
Playa Paraiso
Know as one of the best beaches in Tulum for its white sands and turquoise blue water. Not so famous, though, for the algae, but don't let that put you off.
I recommend you get here in the morning, as early as possible. Most people start arriving at around 10 am. You'll find a restaurant, bar, and music, etc. on-site if you like to splash out whilst on the beach.
There's no need to get a guide to visit this beach, just ensure you bring the necessary supplies you'll need for the day.
I've found some amazing beach backpacks perfect for storing items. You can rent beach beds if need be.
Mud Bath at Laguna de Kaan Luum
Located just 9km south of Tulum, the Laguna de Kaan Luum is a beautiful spot to visit if you have time. It's known as one of the hidden gems of Tulum and popular with locals.
The cenote that sits in the middle of a huge lagoon is a magical sight.
Unlike the Gran Cenote and others that allow you to go underwater tours, the hole at Laguna de Kaan Luum is cordoned off.
If you head to the bottom of the lagoon you can find the mud baths which is the mud that surrounds the cenote.
They say this mud has many health benefits for the skin.
If you're staying at Che Tulum or anywhere near the downtown area, you can get a private taxi to take you here. The entrance is quite small so it could be difficult to find if you don't already know the place.
Got Travel Insurance for Mexico?

Designed by travelers, for travelers, World Nomads covers more than 150 adventure sports and activities so you can explore your boundaries.
Playa del Carmen to Tulum
So, if you're in Mexico, you should now have a better idea of how to get to Tulum.
It is entirely up to you which mode of transport you choose, my wish is for you to get to Tulum as safe as possible in the fastest time.
You can get even more ideas on what things to do in Tulum if you're looking for unique ways to spend your time there.
Photo Credits:
Leon Ziegler (c)
,
Reg Natarajan (c)
,
MaxPixel (c)
,
Esmée Winnubst (c)
,
Caroline Léna Becker (c)
,
Wikimedia (c)
,
Yusuke Kawasaki (c)
,
Matt Kieffer (c)
,
Gautier Poupeau (c)
,
Scott Raymond (c)
,
Falco Ermert (c)
📌 Like this article? Pin it…
Did this article help you get from Playa del Carmen to Tulum?
💬 Leave a nice comment or let's start a conversation below!
---
"Dear friend! Some links in this post contain affiliate links. Meaning, if you click through and make a purchase, book a hostel or sign up for a tour, I may earn a small commission at no additional cost to you. Your support means a lot and helps me to keep traveling and maintaining the quality of this site for you."