Are you currently planning a trip to Argentina?
If so, then this guide will help you take out the stress, frustration, and pain of deciding, plus help you make the most out of your trip.
When traveling to South America, Argentina is a definite must-see.
So, why not make your trip special and find the best places to go?
Planning a Trip to Argentina
First and foremost, you may have already read that Argentina is one of the safest countries in South America for foreigners already?
If not, let's look at some of the many reasons why you may want to visit Argentina and what experiences it has to offer as a country.
Is Argentina worth Visiting?
There are many reasons why backpackers might find a trip to Argentina to be an exciting experience.
Some of the many reasons to visit Argentina include:
Argentina is the eighth largest nation in the world – there is a huge amount to see here!
With twenty-three provinces to look into, as well, this is a nation with something for everyone.
The food culture in Argentina is arguably among the most impressive in the world.
Your safety in Argentina should not be a worry when compared with neighboring countries.
If you're wondering what to do in Argentina and intend on coming soon, you will find a whole amount of interesting ideas listed below.
Why settle for the second best when you come to South America?
Planning a Trip to Argentina
Below, I'll share some Argentina travel tips that can help save your hard-earned cash so you can reserve it for more important things.
Argentina: Travel Basics
🛏️ Lodgings
:
Buenos Aires will always be the starting point of the journey. Recoleta and Palermo have a great selection of
hostels
and hotels. Expect to pay 15-25USD for the most basic options. Traveling to the North will be cheaper.
🍽️ Dining:
Argentina is worldwide known for its wine and steaks. But there's more than that. You can find delicious vegetables dishes, soups, Italian cuisine, and tasty desserts. You'll find great options in each location.
🚌 Transport:
Argentina has an efficient transport network, especially in the cities. Save money buying a SUBE card, which is essential in Buenos Aires. In contrast, you'll spend a big part of your budget in fligths to visit the remote places.
🎟️ Activities:
At least one month is needed to have a proper travel experience in Argentina. Adventure tours and stunning landscapes are everywhere. There is also lots of cultural activities you won't want to miss, such as Tango Shows.
Whilst trip planning it's good to keep an open mind. So, with that in mind, let's look at some of the best places to visit in Argentina!
Buenos Aires
A trip to the capital is obviously a must, with so much to do and see in Buenos Aires.
It's recommended that you try and take in the two major football clubs here – River Plate and Boca Juniors – as well as sample some of the amazing Buenos Aires beef that is revered around the world.
Just be sure to watch where you go: the city changes entirely from one neighborhood to the next! See my Buenos Aires travel guide for more.
Depending on how many days in Buenos Aires you have you shouldn't be stuck for things to do. There are lots of cultural things to enjoy, though, if you are open-minded.
Mendoza
At the same time, I recommend that you take a trip to the city of Mendoza.
From wine tasting to sampling the local beers and visiting the Puente del Inca, you can find many ways to have some fun here.
Some say that the nightlife in Mendoza is among the best in the world, too, so make sure you try that out when you are here.
You can take a bus from Buenos Aires to Mendoza but I'd recommend you fly, especially if time is of the essence.
Best places to stay in Mendoza:
The night scene is good, but so is taking the time to visit major landmarks such as Villavicencio. If you want to enjoy yourself truly, be sure to try out everything from horseback riding to zip-lining!
El Calafate
This small town to the south of Argentina is small in number, but vast in things to do, see and enjoy.
It's the kind of place that should make it easy for you to enjoy the city, but trips to the glacier such as Perito Moreno should be high up on your list of things to do and see.
Popular tours in Argentina:
I also recommend that you head through El Chalten, a cute little nearby village with some awesome hiking routes to try out.
Cordoba
The city of Cordoba is the second largest in the country and is known to be a fine alternative to the capital in Buenos Aires.
It's rugged and a bit wilder, but it's also home to a lot of fun places such as art galleries, rally car racing, and a rich cuarteto music scene.
I recommend that you mingle with the locals. There are many things to do in Cordoba and no matter where you go in Argentina, you'll need to work hard to find a city more laid-back and relaxed than Cordoba.
Bariloche
As a place for just about every jet-setter out there, it's a city with a big heart. It's got a lot of things to do in the city, but also generally nearby.
I recommend that you take the time to finish the Nahuel Huapi National Park: a spectacular journey that should make it very easy for you to have a good time.
Be sure to visit the Playa Bonita, too; a stunning beach that will take the breath away upon your arrival.
---
---
Ushuaia
From cruising the beautiful Beagle Channel to heading over to the Estancia Harberton, this is a city that does everything you would expect given its rather rural confines.
We also recommend that you take a look at the Cerro Castor Ski Resort: a fine place to start for those who are looking for a bit more charisma and ambition in their skiing experience.
Places to stay in Ushuaia:
Definitely, though, Ushuaia is a place for those love who nature – just be sure to have plenty of zipped clothing, as you'll be going up-and-down quite a lot!
Salta and Jujuy
Even if you only have one week in Argentina, a trip to Salta and Jujuy in the northern part of Argentina is a must-do, also.
The historic city of Salta is a fine place to start, as is a trip to the Park San Martin and the Cerro San Bernardo.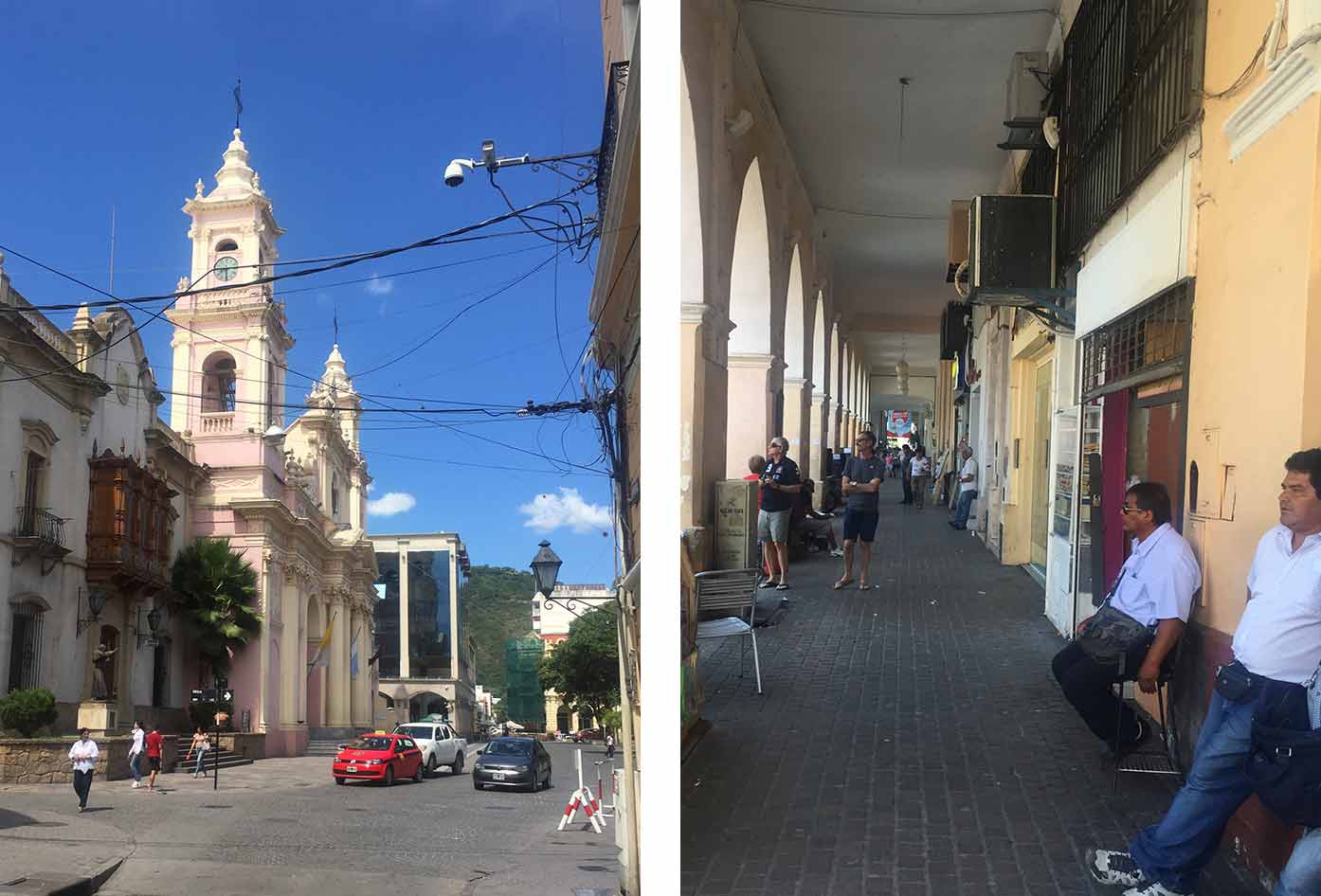 If you are looking for a rural place to party, too, you will find ample opportunity to have a good time and to cut loose a bit here.
Places to stay in Salta:
It's definitely a place for those who like to have some fun and makes a fine stop-off point for those who are likely to let loose and mingle with the locals. From Salta, I headed further north to look for things to do in Purmamarca such as visit the rainbow-colored mountain.
Iguazu Falls
As you might expect, Iguazu Falls make it easy for you to enjoy some spectacular views. It's a place that we recommend you take a tour, though, including a motorboating tour.
It's easier to see it all when you have someone there handling the navigation, and it should go some way to making sure you can feel relaxed and comfortable as you travel.
The landscape can feel a touch daunting, so be sure to keep that in mind when traveling! If you're brave enough you can even get from Buenos Aires to Iguazu Falls by bus.
Rosario
Whether you choose to visit the beautiful Monumento a la Bandera – a true symbol of Argentine life – or you try the local ice cream from Rosario, you will be sure to have a good time.
They take the stress and pressure out of enjoying your time in Argentina, as will taking some amazing kayaking trips across the Parana River.
There is a lot to love about this part of the world, not least the fact it's so laid-back and placid.
El Chaltén
This is part of the Argentinian Patagonia, and it is a truly spectacular place to visit. Despite being founded only 40 or so years ago, there is much to enjoy about a trip here.
Make sure you take on the numerous hiking trails – famed around the world – and also take a trip to the Viedma Glacier if you can.
Places to stay in El Chaltén:
If you are a fan of beer, too, you will find some of the local options that should make an almighty difference.
Argentina Travel Tips
In every guide, I write on layer culture my aim is to give some practical travel tips that you can make use of right away.
Books about Argentina
Interested in learning more about Argentina and it's culture? Here are some books that may interest you:
There you have some great reads if you wish to learn more about the Argentine culture before you head out on your adventure.
Travel Insurance for Argentina
I always recommend backpackers and travelers (no matter who you are) use World Nomads Insurance for fully comprehensive cover.

If you are due to travel soon, you can get a Get A Free Quote by clicking the link or the image above and filling out your details – that way you'll get instant cover from the exact date that you choose.
On many occasions World Nomads has provided me with reliable insurance cover for travel in Latin America and the rest of the world.
Planning a Trip to Argentina
Whilst considering what to see in Argentina, of course, there is much to consider and to experience.
After all, it is the 8th biggest country in the world. Try to be open-minded as you're planning a trip to Argentina.
There is much to see and so much to enjoy, you just need to decide where feels like the best place for you to start.
With the above ideas, though, you should have ample inspiration!
Photo Credits:
m.nikitin (c)
,
David Berkowitz (c)
,
Eduardo Fonseca Arraes (c)
,
Douglas Scortegagna (c)
,
Christian Córdova (c)
,
Murray Foubister (c)
,
CucombreLibre (c)
,
Murray Foubister (c)
,
Jimmy Baikovicius (c)
,
Parking Day Rosario (c)
,
Liam Quinn (c)
📌 Like this article? Pin it…
Missing something? Got tips, tricks & advice we can learn from?
💬 Leave a nice comment or let's start a conversation below!
---
"Dear friend! Some links in this post contain affiliate links. Meaning, if you click through and make a purchase, book a hostel or sign up for a tour, I may earn a small commission at no additional cost to you. Your support means a lot and helps me to keep traveling and maintaining the quality of this site for you."