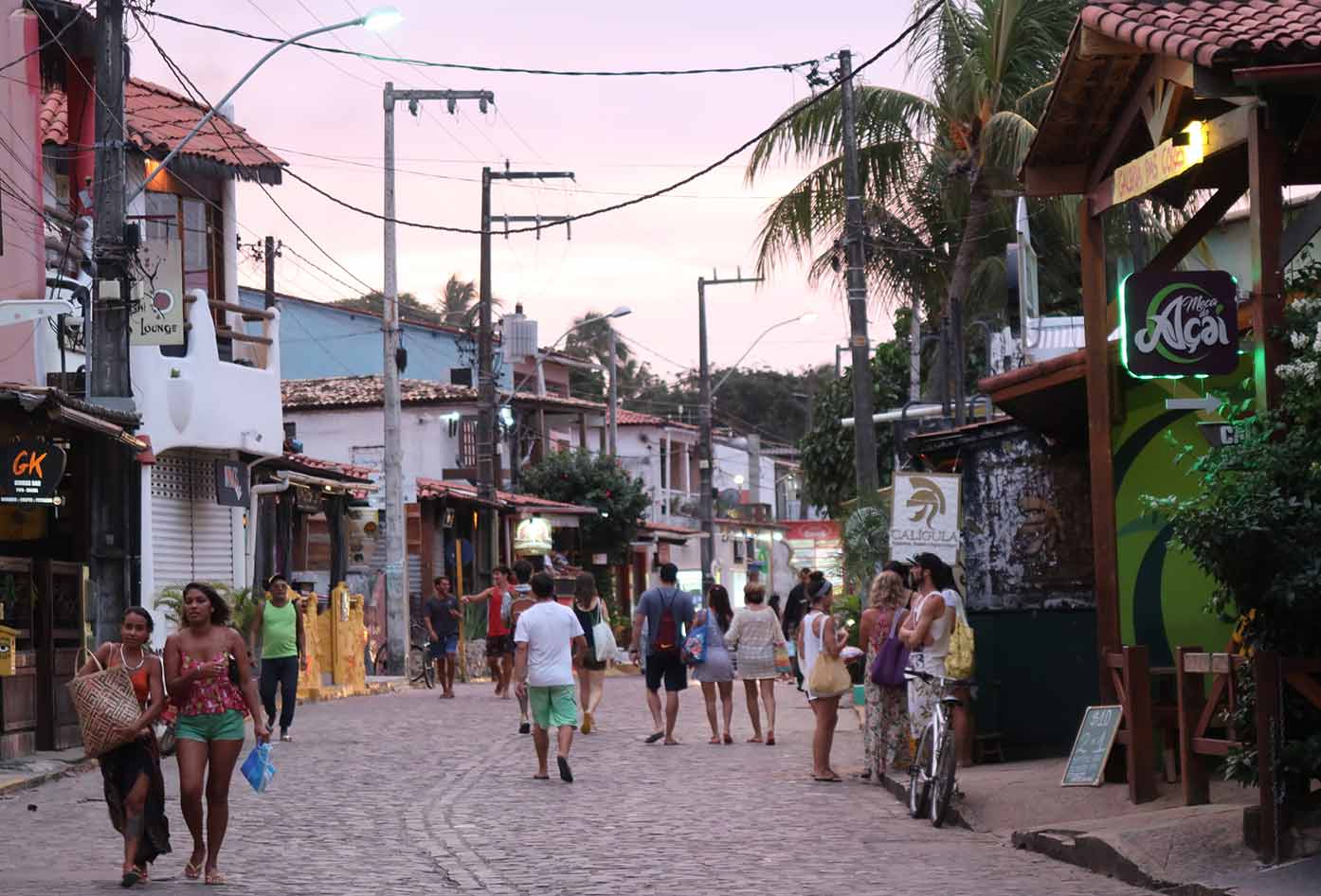 Welcome to this traveler's guide to Pipa beach in Brazil!
If you find yourself in the northern part of Brazil, Pipa is a place that you can't ignore. Let's look at 'why in this short travel blog.
Known for one of the most famous beaches in Brazil you'll find this cosmopolitan beach hideout in the state of Rio Grande do Norte.
Pipa, Brazil: Travel Guide
Arriving here from Recife I did not know what to expect but all I knew was is that I was heading to the beach.
It turned out to be more than 48 hours of sea, sand, sun, and plenty of clouds (in the morning).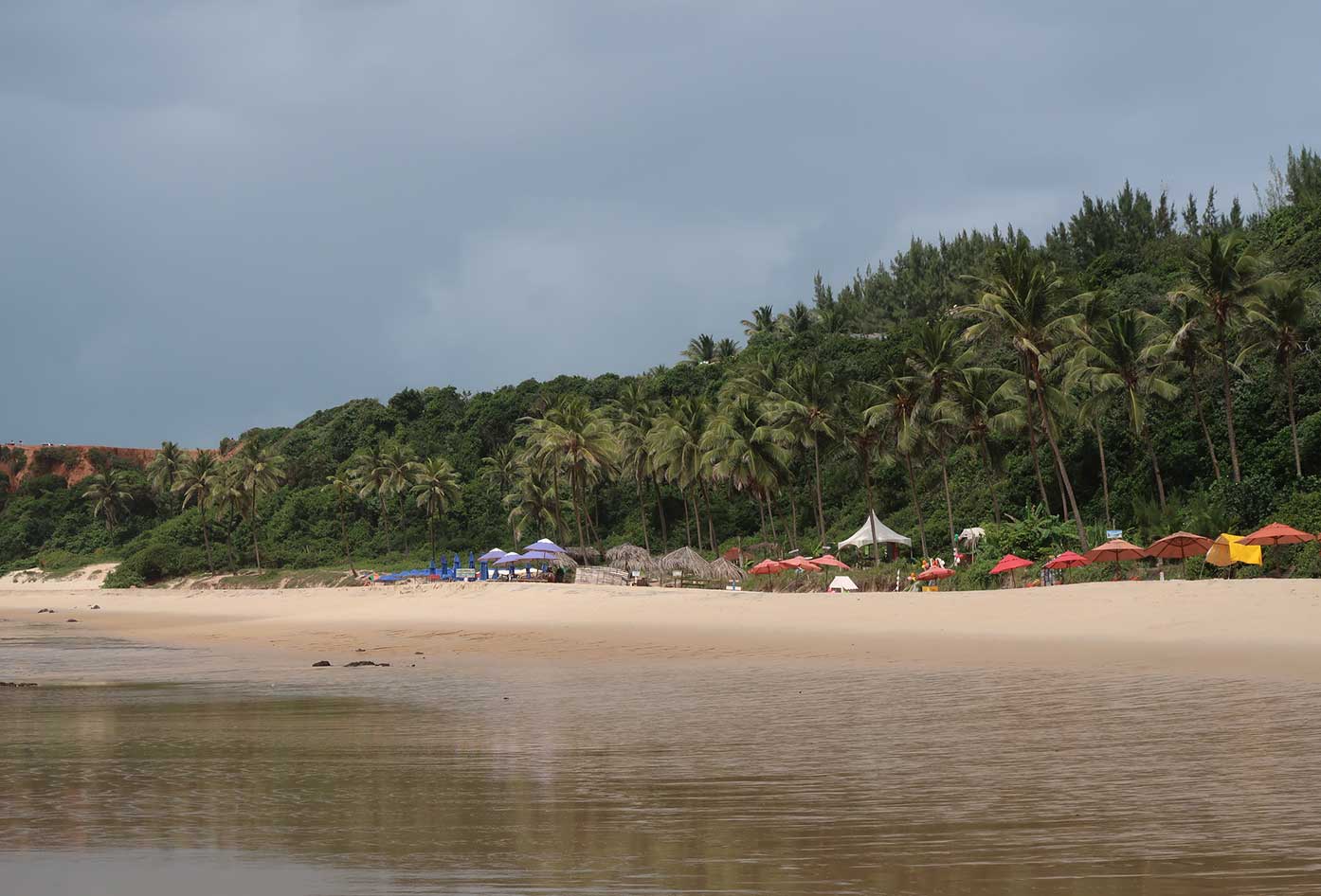 Famous for its 'love beach' I was eager to learn more, and considering the 'not so easy' trip I took to get there, I was hoping for it to be a place not so overrun with tourists.
Was I disappointed? Let's look below and find out.
Is Pipa Worth Visiting?
When in Brazil and you want to get-away-from-it-all at a local beach town submersing yourself with a slower pace of life; Pipa awaits!
The mix of beaches and epic cliff-side views vs the rocky pools and exuberant fishermen gives you a beach buffet to feast your eyes on.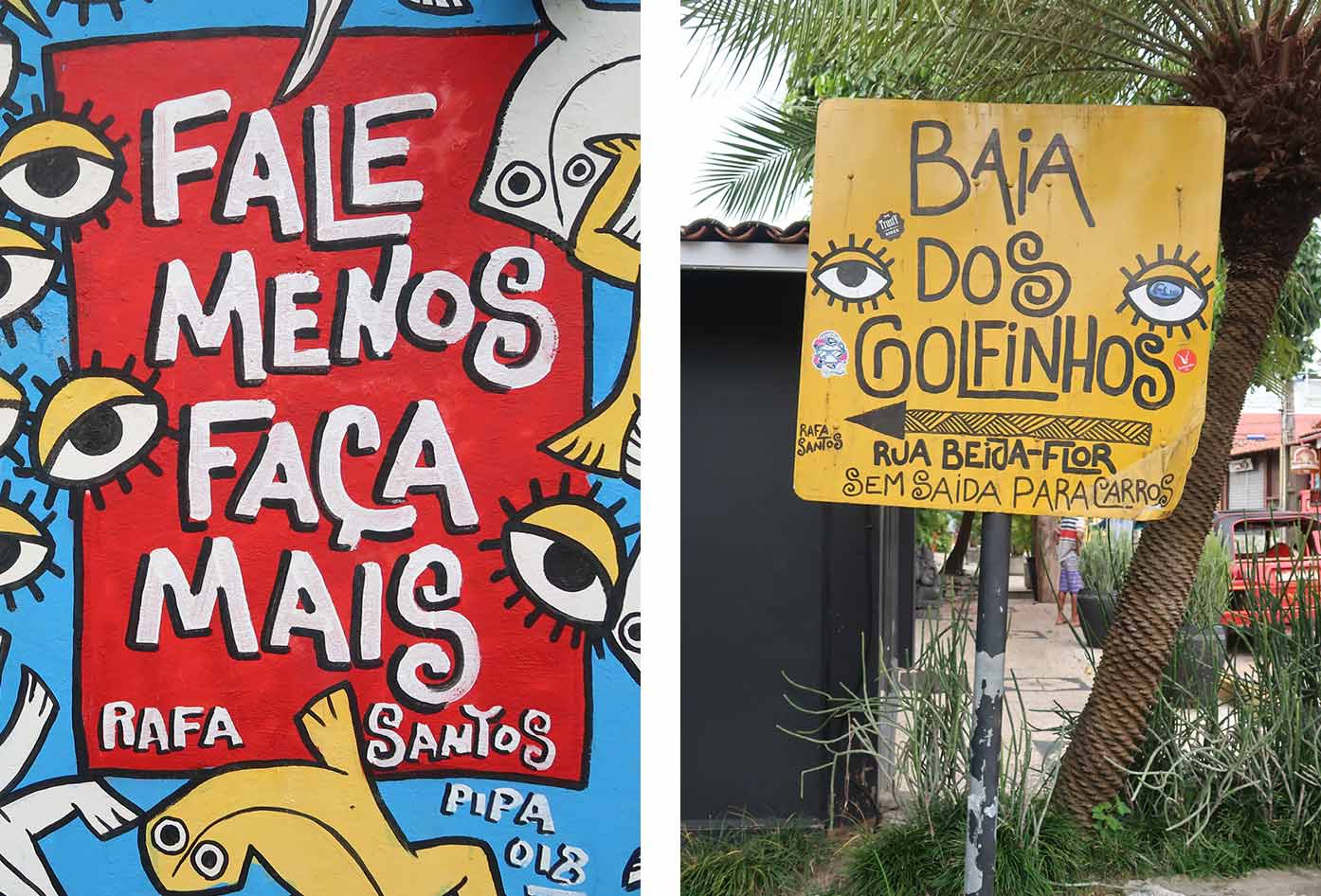 How does Kayak with wild Dolphins in Pipa sound?
Within just a few minutes of observing the water, you are bound to witness dolphins as one will pop up out of the water.
Outside of the beach life, you can find plenty of bars, restaurants, some good Acai, and not to mention a booming nightlife scene.
Dare I say you may even forget you are in Brazil! Pipa is a hotspot with many Argentines that perfect to escape the winds of Buenos Aires and beyond for a warmer more tropical climate.
Pipa Beach, Brazil
Right, so to get a better idea of what to at Pipa Beach in Brazil, as well as where to eat & drink and how to get there keep reading below.
Exploring the Town
Everything from nightlife, to boutique and craft shops. Here you'll find local artisanal products including whole foods as well as hippy gear.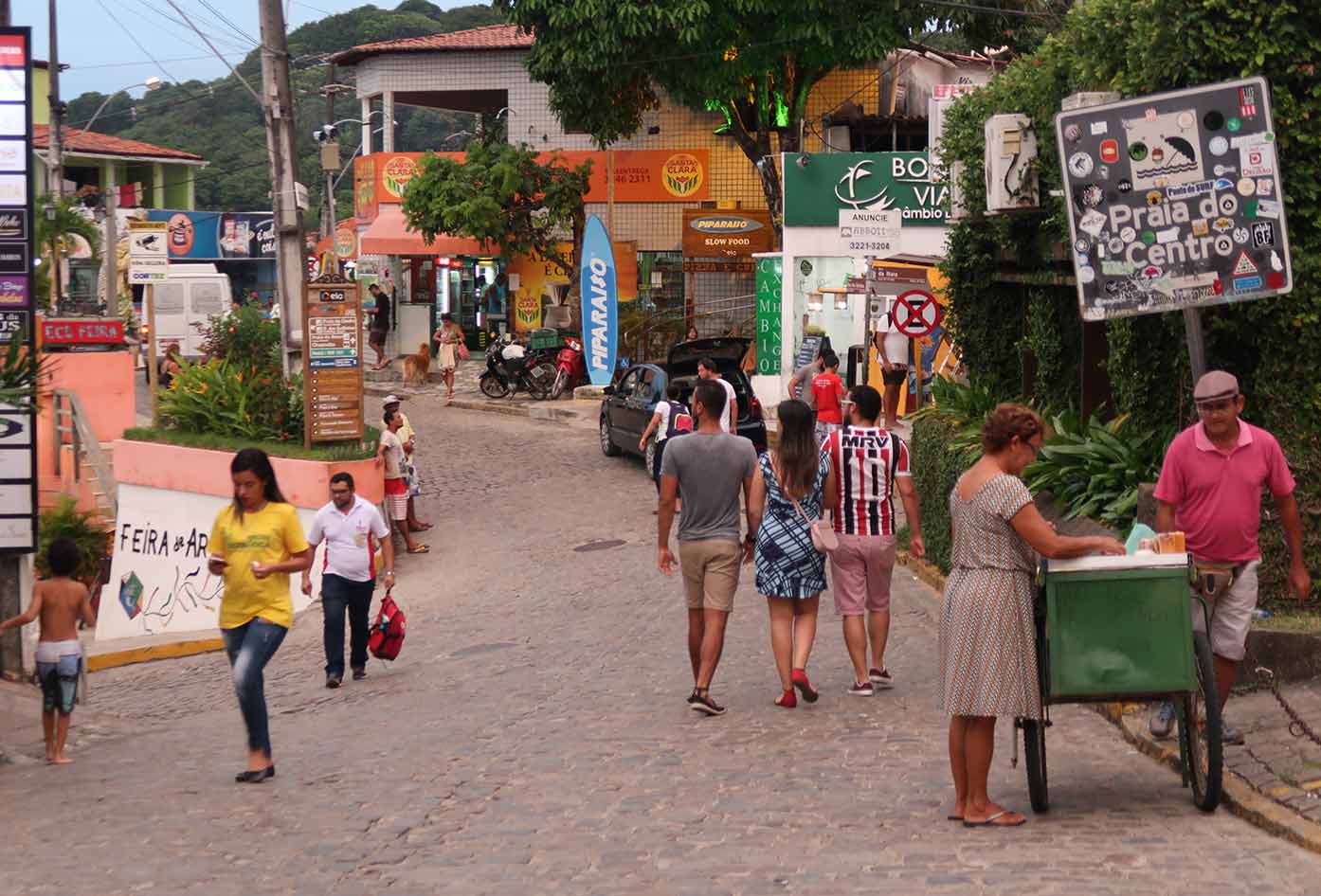 The vibe is inviting and you don't feel under pressure to purchase anything this a place where you can consume at your own leisure.
Pipa Beaches
With one of the most eclectic sets of beaches I have ever seen in one place, Pipa's beaches will set your emotions wild and give you high expectations for the rest of your time on this earth.
Below we will look at some of the popular beaches in Pipa that you can visit in the space of one short walk (not so short for lazy people).
We will start with one of the most popular that you'll likely arrive at after leaving the strip:
Praia do Centro
This is one of those beaches where you'll find the tide goes quite far out so it's perfect for lounging on for those who like to explore the sand.
Similarly to the result of what happened when looking for ideas on what to do in Salvador during the early evening; my motto was to just come here with a coconut drink and gaze at the sunset. Life was simple!
As you can imagine being the 'central beach' it does get fairly crowded during peak hours.
If anything, this gives you chance to stretch your legs. Walk over to the left past the rocks in search of a quiet spot (If that's what you desire?).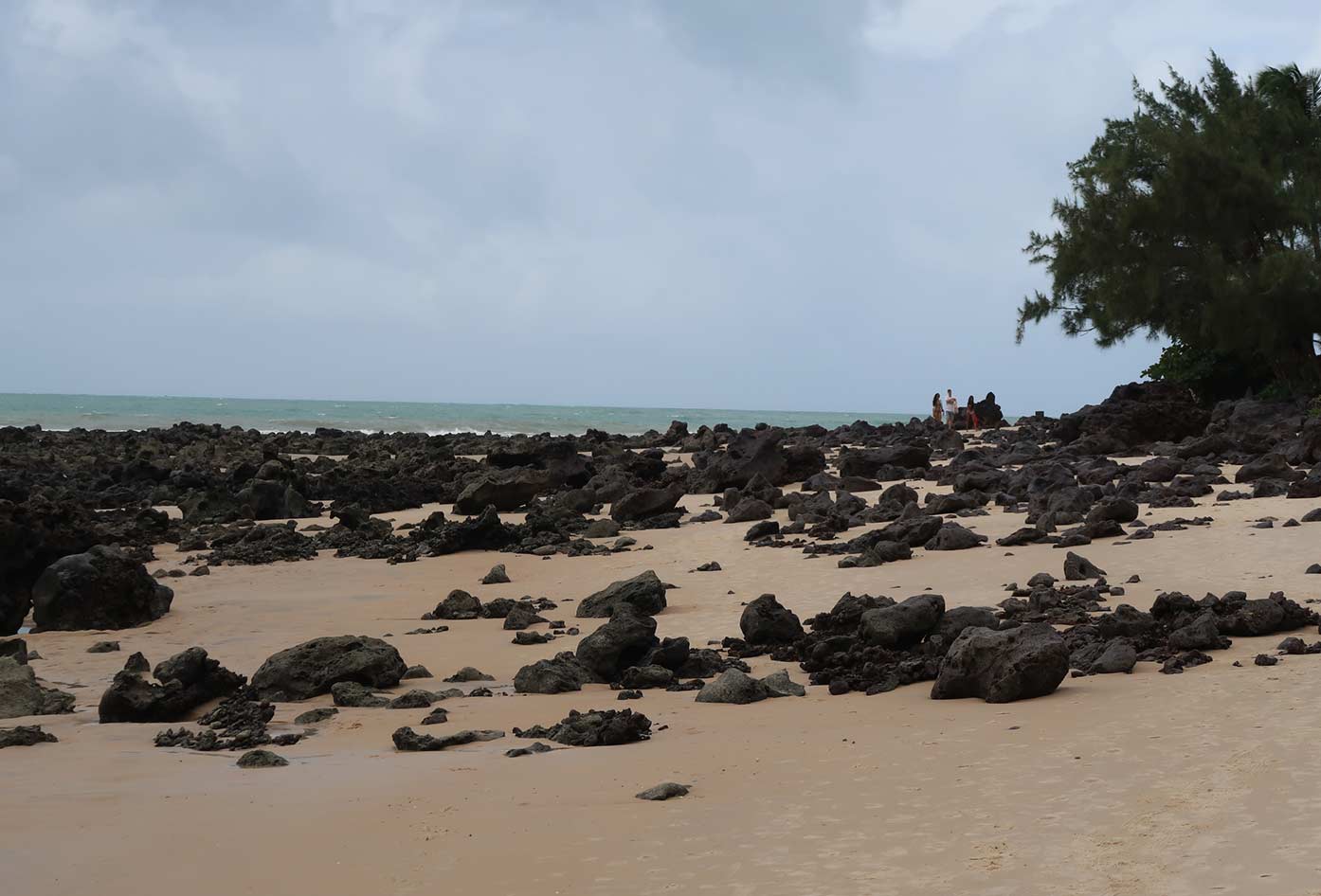 This is where you'll find various water sports and restaurants on offer. Just head toward the tables and let one of the 'overly kind' waiters attend to you at your leisure.
You'll find a few sunloungers here and more of a social scene which is perfect when you've had a few hours relaxing in total peace and quiet on one of the other beaches.
💡Smart Travel Tip
I recommend you check out the menu before ordering as the price and menu can vary from restaurant to restaurant in Pipa. Stick to the local specialties and you can't go wrong (usually).
Places to stay in Pipa:
As I said, the central beach does get rather crowded. To get to other beaches in Pipa you have to walk a distance and passing through some rocks, (most people do not want the bother).
Praia do Amor
Love beach! The beach that people come to Pipa for (including me).
It's not only the name that attracts couples, lovers, and friends here but beachgoers of all shapes and sizes.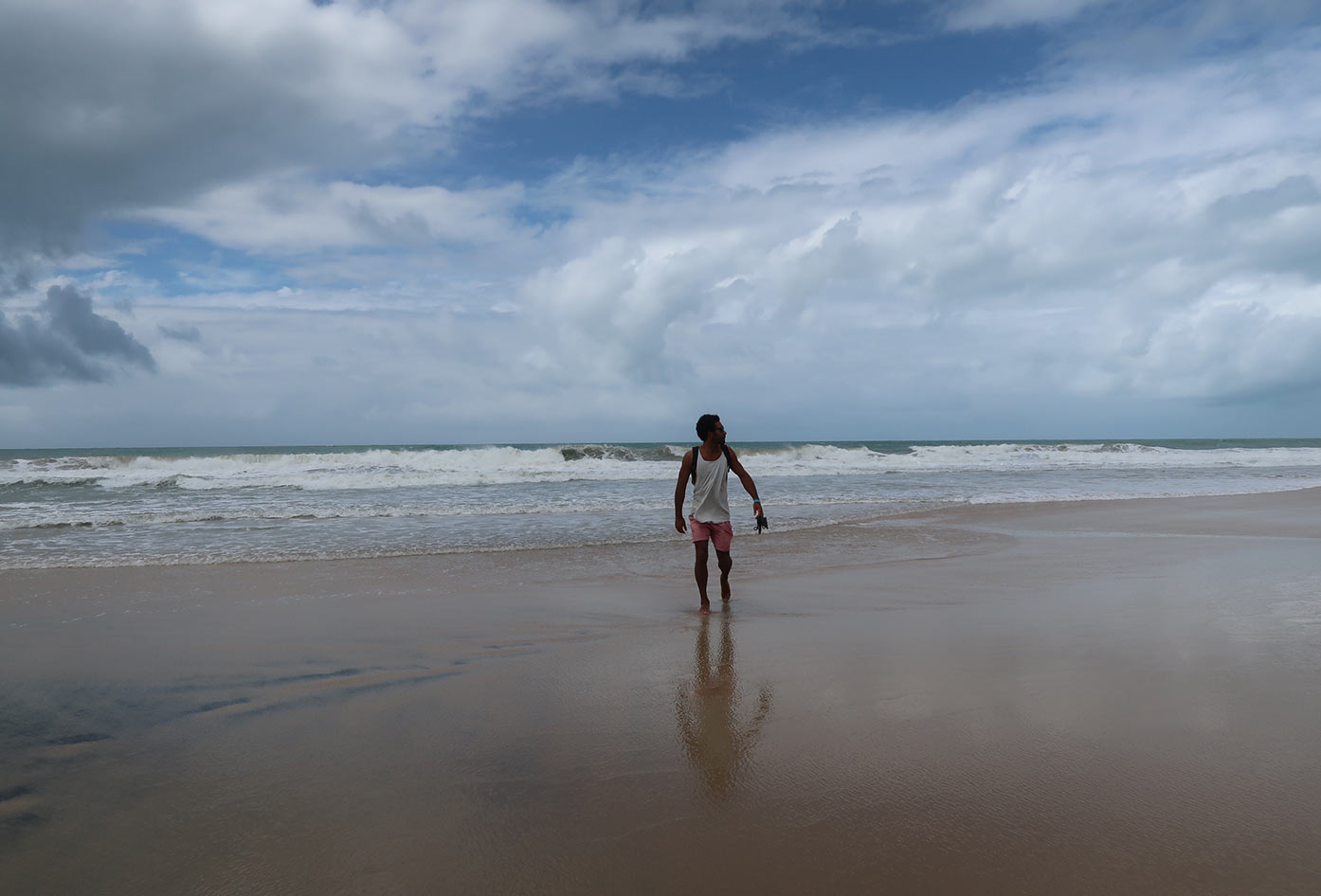 Expect big waves, crystal clear water, and thin slippery sand.
The common theme here is to get yourself a coconut, sit by the sea, and enjoy the view.
The waves are big and scary (perfect for surfers of course) but not for the faint-hearted. There are warning signs about drowning in the part of the beach so please take heed.
The long views into the distance with all the palm trees are a beautiful sight, you can see why they call it lovers beach.
It's clean here and if you're coming in the early mornings, you can almost guarantee you'll feel like you have the beach to yourself.
Fancy a massage? There was a cute young lady offering massages.
If you're not equipped for the beach, (which you should be if coming here), you can take refuge at one of the restaurants and enjoy the view from there.
You really do have to be prepared to walk to get the full lovers' beach experience (preferably with a loved one) but not necessary at all.
Praia do Madeiro
Come to Praia do Madeiro for slightly calmer waters! If you're lucky you'll see dolphins and turtles swimming around.
You should already know what to pack for Brazil but i'd say this is a family-ready beach which has all the things you'd expect to see:
Umbrellas
Brazilian beach food
Sun Loungers
Gentle waves
Coconuts
You'll walk for around 40 minutes from the center of Pipa to get here but it's worth the walk.
Also depending on your travel budget in whether you're in a group or not you may find that the prices fluctuate a lot.
For example, Hotel Madero beach has some great offerings but you may find you want to spend more or less.
💡Smart Travel Tip
If on a budget, ask around for the prices before you commit to using a sun lounger or eating at a restaurant.
To be this close to the dolphins is a true blessing so don't miss out on the opportunity to relax and make the most of your time. No need to carry equipment to do the kayaking adventure you can just rent one.
Pipa Travel Tips
Below is a list of travel tips for Pipa beach that hopefully, you'll benefit from. I will update this list sometime in the near future.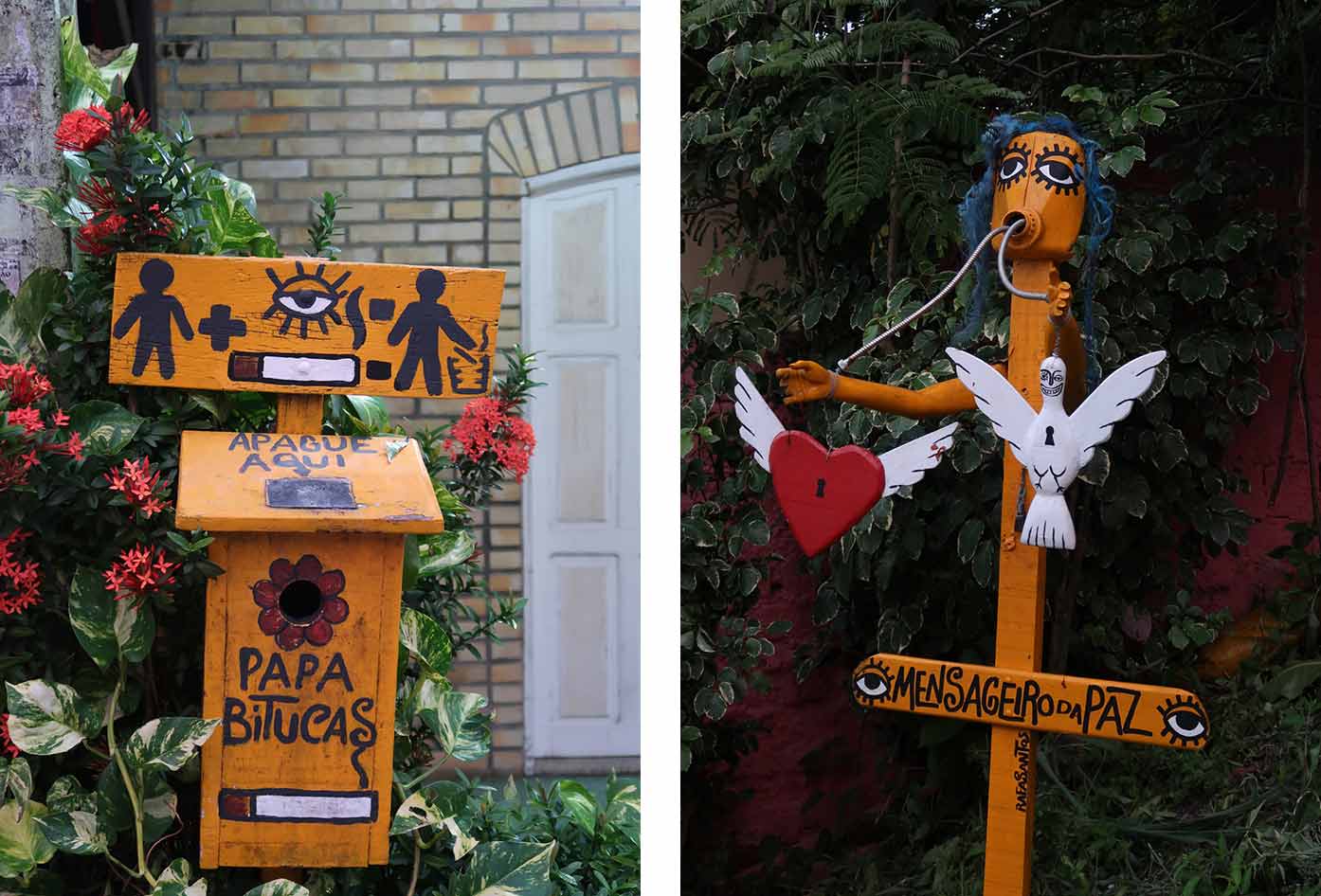 Things to carry during your travel to Pipa:
Your Passport or equivalent ID
Carry some comfortable flip flops for walking miles on the beach
Sun Screen (one with a high SFP)
Bug spray (eco friendly repellant) if you can
Pipa is not an off the beaten track location in Brazil but it most definitely felt like I was on my way to one along the journey.
Arriving in the evening from Recife, I took a mini-bus to get here.
Prices are lower in comparison to cities in Brazil are reasonable and food options are somewhat limited compared to the cities but you'll find some decent food in one of the bars or restaurants on the strip.
I mention in my South America travel budget article some methods for saving money whilst backpacking Brazil and the rest of South America.
Where to Stay in Pipa
It's likey that you'll spend a night or two here! There are some great apartments that get booked up quickly during the high season.
Hostels are a great option when you're looking for a more social vibe.
3 reasons to stay here
Beachfront Property
Sun Terrace



Activities
When looking for a beach-style accommodation with an eco vibe that provides you with a clean room to rest. Casa de Jack is perfect!
---
Here's more recommendations for Pipa when looking for a more luxury style hostel experience and you wish to put your feet up.
Getting from Recife to Pipa
Many people rent a car to get here but if you're traveling by bus you can get to Pipa from Natal or Joao Pessoa.
I took the bus from Recife towards Joao Pessoa and got off before the final stop to take a minibus.
If traveling directly from Natal or Joao Pessoa you can head the nearest bus station.
Got Travel Insurance for Brazil?

Designed by travelers, for travelers, World Nomads covers more than 150 adventure sports and activities so you can explore your boundaries.
Pipa, Brazil: Travel Guide
Unfortunately, we have now come to the end of this guide on Pipa, Brazil.
I hope you enjoyed reading about my experience here and have got some ideas of your own.
We have not only looked at what to do in Pipa, including a visit to some of the most popular beaches, but you have some better ideas on where to stay and even recommendations on where to eat.
Pipa is a superb beach hideout that you can connect yourself with whilst in Brazil. Why not see more safe places to visit in brazil while you're here?
📌 Like this article? Pin it…
Missing something? Got tips, tricks & advice we can learn from?
💬 Leave a positive comment or lets start a conversation below!
---
"Dear friend! Some links in this post contain affiliate links. Meaning, if you click through and make a purchase, book a hostel or sign up for a tour, I may earn a small commission at no additional cost to you. Your support means a lot and helps me to keep traveling and maintaining the quality of this site for you."