Deciding to start my own personal travel blog took me almost a lifetime!
Let me tell you one thing, travel blogging isn't easy and if you'd like to start a personal blog, travel is a great way to get you started.
Most beginners don't want to hear it, but seriously, before I learned how to start a travel blog, I was lacking purpose along those dusty roads.
Starting A Travel Blog
Writing for my travel blog not only improved how I travel but helping others along the way. What motive do you have for setting up a travel blog today?
Curating my personal travel blog allows me to travel, reflect and share my experience with my audience.
I find this rewarding and good use of my free time on the road.
Travel blogging has enhanced my life experiences. I have learned so much and it's given me the perfect personal platform to share my unique interests.
I've traveled to over 10 countries in Latin America and have learned so much about myself that I now have a lifetime of stories to write about.
Now I've told you why I'm going to show you step-by-step how I set up my travel blog. You're going to see how easy it is for you to set up your own blog.
To make this process easier to digest use the links below.
At the time there were not so many personal travel blogs out there.
I initially started with Facebook as my blog, just sharing my images and meaningful stories, but it wasn't the right place.
I liked it at first, but the more I invested time into creating and sharing my content I felt like it was the wrong medium.
Personal Travel Blog Tips
Have you ever asked yourself the question, why do people blog?
Well, there are many reasons to start a travel blog today. For me, it was because I wanted to connect my interests with parts of the unknown world that I felt were calling me. I always knew my success was connected to a place.
That place for me as you probably know by now was and still is; Latin America.
3 reasons why you should start a personal travel blog today
As a way to express your unique interests
Become a wealth of knowledge and inspiration to others
Potentially make an income from doing what you love
Be an expert in setting up personal travel blog sites
Let's look at one important component of any blog or project you create and decide to put out in the world. Naming your travel blog shouldn't be difficult. If anything it should be fun. Let's look at this in a little more detail below.
Step 1: Choose a name for your blog
This is one of the hardest parts for most people starting a travel blog. Actually, it's the part that holds people back from getting started.
Below I'm going to explain why I think it's important to get the name right, but you shouldn't let it hold you back!
#1 Getting your name right
If you're just starting out and not got a clue how to start a blog, before the end of this article, you'll have some name ideas for your own personal travel blog.
One reason why getting your name right from the beginning is so crucial is because it's the name you'll be sticking with for the rest of the time.
This is your perfect chance to make your own travel journal which is unique to you. There's 100's of travel blog ideas but that's one reason why it's not a good idea to change the name of your blog after a year or two.
As you learn how to set up a personal blog, you'll be able to use some of the blogging tips and tricks I'm going to show you.
Soon you'll already have an audience that loves and respects you.
#2 Standing out from the crowd
When it comes to travel blog names for me it's like naming a baby.
You wouldn't change your baby's names after a month or a year after it came into existence. Especially once you had declared it to the world i.e. family and friends and strangers. Bare that in mind when deciding the name.
There are so many travel blogs today, that one of the things that could get you noticed, is your name. Good travel blog names stick in people's minds for a very long time.
Of course, there are many other ways to get your personal travel blog noticed. However, your name aka your identity is your most powerful asset.
So when thinking about travel blog names for your website bare that in mind.
#3 Making sure your name is memorable
Because there are so many generic travel blogs online today, it's important that your name is memorable.
Not only memorable, but also has meaning, and by that, I don't mean that it only has to appeal to you.
It can, but now is the perfect time to think about how your future audience will interpret your name.
Make it easy for them to understand your focus and keep it fun. Whether your blog has anything to do with travel or not, who cares?
At first, I didn't have a clue on how to run a blog. Also, it's likely that you won't see your blog as a job either.
But, as you create your personal travel style and get more involved with blogging, you'll begin to see that it truly is one of those jobs that pay you to travel.
Will your blog will be focused on a certain place? For example, you can use the name of that place in the name.
If it's based on a certain type of travel in i.e adventure travel could put the word adventure in the name.
If you're reading this you likely want to start a travel blog. I'm introducing these concepts early because it's more important than we realize; at the beginning.
#4 Travel blog name Ideas
When you start to learn about keywords and search terms you'll realize that people are already searching for the content you're writing about.
What you're doing by making your name relevant is making it easier for those people to find you.
For example, the URL www.backpackingperu.com gives a person who doesn't already know you, a good idea of what your blog is all about.
Now, that name may not be as memorable as it could be, but hey, it's a great start. Begin playing with travel blog name ideas today.
Take this example. I wrote about being black in Latin America.
If I thought this was a topic I'd like to talk about a lot, I'd maybe consider creating a separate blog about it – in that case, it could be a travel blog still but the tone would be completely different.
In fact, there are many black travel blogs out there but blogging about being black is not something I feel I would have enough points to talk about personally to justify creating a separate site especially for that.
See this post on choosing the perfect travel blog name for more ideas.
#5 Travel Blog Success Formula
Maybe you're thinking of how to start a lifestyle blog and mix it with your travel? This is where you've got to be smart and do some forward-thinking about how your personal travel blog will pan out in the future.
Doing this will stop you from veering off-topic.
The next step is to find a way to combine that with something personal to you.
It could be a trait, or a personal interest that you do on your travels, a verb or an adjective that you can mix with it. Hence why I call it a personal travel blog.
For example your URL might look like this: www.budgetbackpackingperu.com
Good luck with creating the name for your new travel blog and if you need a second opinion you can always email me. I love creating new names.
#6 Checking Social Media Channels
This next step is important. Whilst contemplating your travel blogging ideas you'll need to get all the social network handles.
Especially the most popular ones including Google Plus, Facebook, Twitter, Pinterest, and Instagram. You need to reserve your blog name ASAP.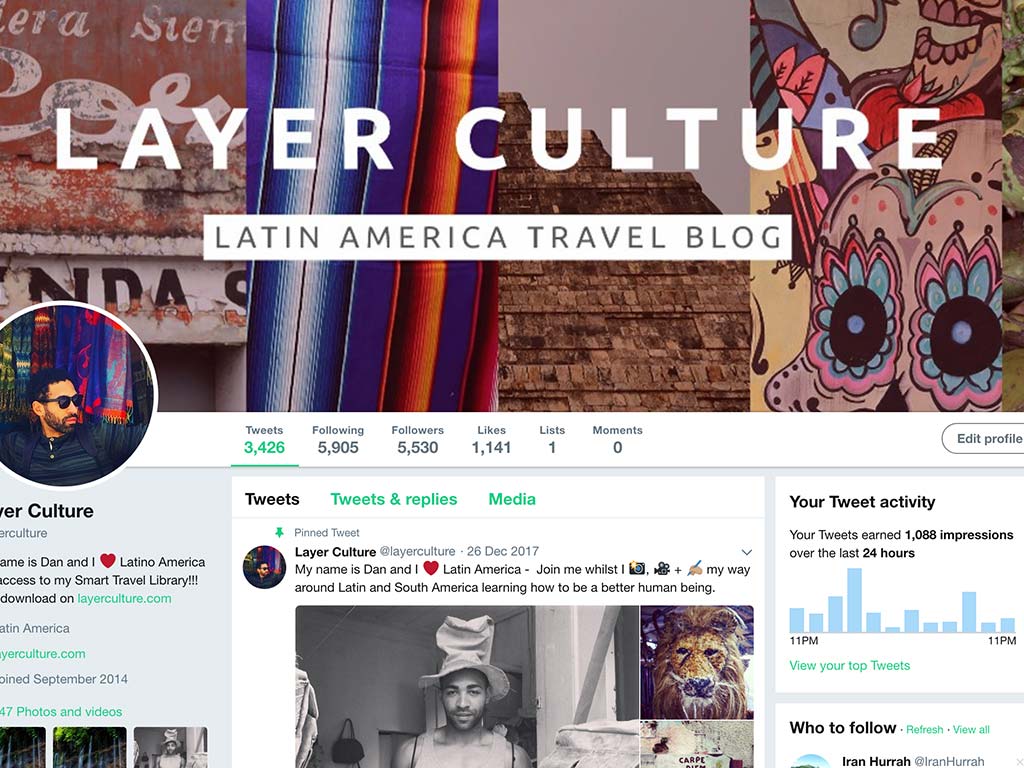 I'm showing you how to set up a personal travel blog here, so, if you already have a name idea, I suggest you go and reserve the names now.
Let me explain why this is important. The internet and the majority of the people who use it are already familiar with these social network giants.
When you create your new name on these networks, Google and other major search engines like Pinterest will begin to recognize your name faster; because you're already in some way affiliated with these authority social networks.
#7 Leverage the Social Media Giants
Want to know one of the secrets of how to be a successful travel blogger?
Here's an analogy I created for you to see why it's important to at least be present on social media.
It's like going to a nightclub and not knowing the owner. Because the owner doesn't know you, you'll have to join the back of the queue to get in.
Imagine Google search is the owner of the club and the social networks, like Facebook and Google+ are already inside the party. In fact, they're VIP.
The social media networks are your friends and they'll help you get in the party and get recognized faster by Google before you even start your own travel blog.
In other words, the faster you set up your social media profiles and start posting your content the quicker you'll get recognized, not only by your audience but by the social media algorithms that are serving up content behind the scenes.
Now let's look at the best bit, setting up your personal travel blog on your own website which you own and control.
Step 2: Understanding Web Hosting
It couldn't show you how to start a personal blog with know knowing how web hosting works.
The next step, after reserving your name on social media, would be to buy a hosting plan. Hosting is like paying rent for your house let me tell you why.
When you rent a property, in most cases, you don't own the land, right?
Having your site online is the same. Paying for your site to be online is like paying rent for the land that your house sits on. You're renting an online address.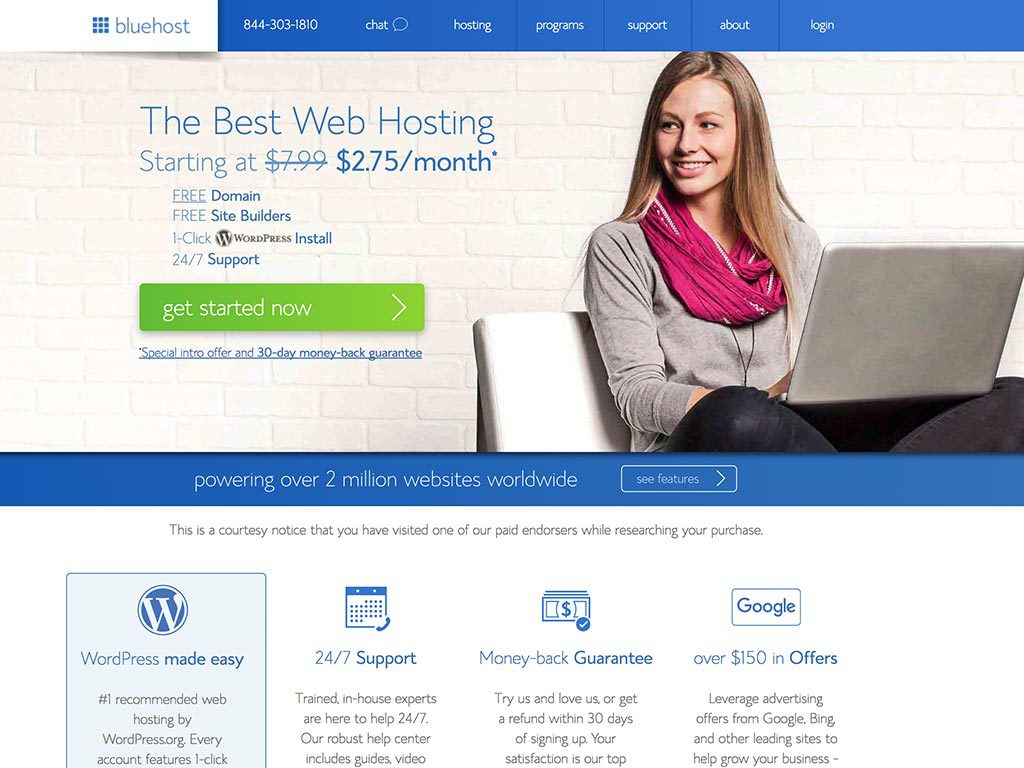 Your address is like your domain name which is connected to your hosting. If you don't know what hosting is, let me explain.
#1 What is hosting
As I show you how to set up your personal travel blog, understand that this is a crucial step. Your main objective is to get your blog online as fast as possible.
At this stage, you'll need to set up your hosting. This is your authority, this is what is going to give you a piece of real estate in the online world.
Have you heard the saying bricks and mortar?
Well, this is clicks and mortar.
The internet's own answer to having a piece of real estate. The main difference is, is that this piece of land is much cheaper.
There are many hosting providers but I highly recommend Bluehost for beginners. After using it for many years and have never had any issue and the support is top-notch.
2# Why you need hosting to set-up your blog
You need a hosting provider like Bluehost to be able to set up a travel blog that you'll actually own.
This is the main difference between creating a blog on a free platform like Facebook or on a micro-blogging site like Instagram.
Remember you'll owe this blog. You'll have equity! It's like the difference between owning your own house outright and renting from a landlord.
But, not only that, there'a million and one other benefits to owning your website or in this case, travel blog.
Once you've got your hosting sorted, now you'll need to reserve your address.
I recommend doing this at the same time and with the same provider it makes everything easier and you can often get a discount when you purchase both together.
You've should have your blog name by now, so let's look at what a domain name is, and why it's important to get it the right first time.
3# What is a domain name
A domain name is your websites name. It's the address where an internet user navigates to, to be able to access your website.
Your domain name can contain any number of letters numbers you desire.
However, remember what we said earlier about making your name memorable. I can't stress how important this is.
Your domain name can also include different extensions i.e .com .co.uk .info .net .org
4# Securing an unique domain name
For your personal travel blog, I highly recommend you go for a .com extension because in most internet users minds, the .com extension is regarded as a domain authority.
Although technically, this is not necessarily true, it's definitely the most favorable.
Before you start writing for your travel blog, you'll need to get your hosting and register your domain name before you can begin creating epic content for your readers. Remember, every domain name must be unique.
There are no two websites that have the same address.
This means when somebody looking for your site types in; www.yourtravelblog.com it will go directly to your travel blog.
Step 3: Purchasing Web hosting
I have various websites online. Or, in other words, one could say, I have built my internet real estate portfolio over the years.
Investing in a decent hosting provider has always been crucial to maintaining those sites.
For me, Bluehost is the easiest to understand and set up a new WordPress site.
Their 1 click WordPress feature is unbelievably helpful for setting up your personal travel blog as a beginner. It's a piece of cake.
#1 Starting with Bluehost
I highly recommend Bluehost because it's what I use today for layerculture.com you'll find that it's very affordable at $2.75 per month with my special link.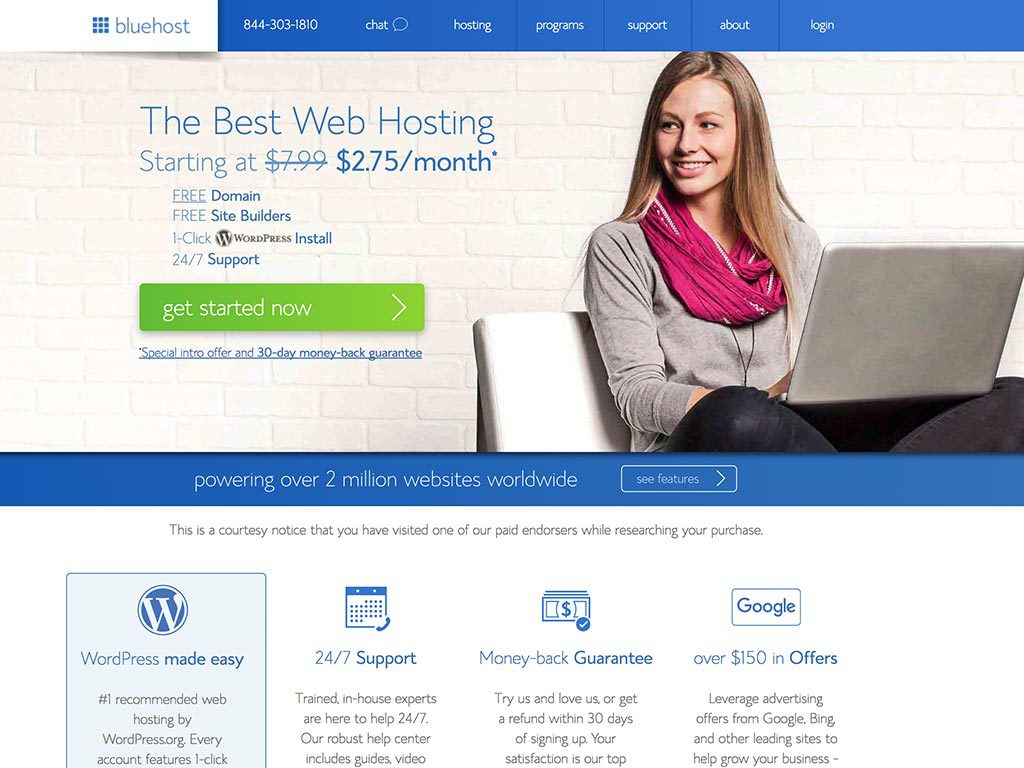 One great advantage of Bluehost is their live chat system.
If you ever do encounter a problem or even just have a question, you can always get connected with a member of their team and they'll always happy help you 24 hours a day.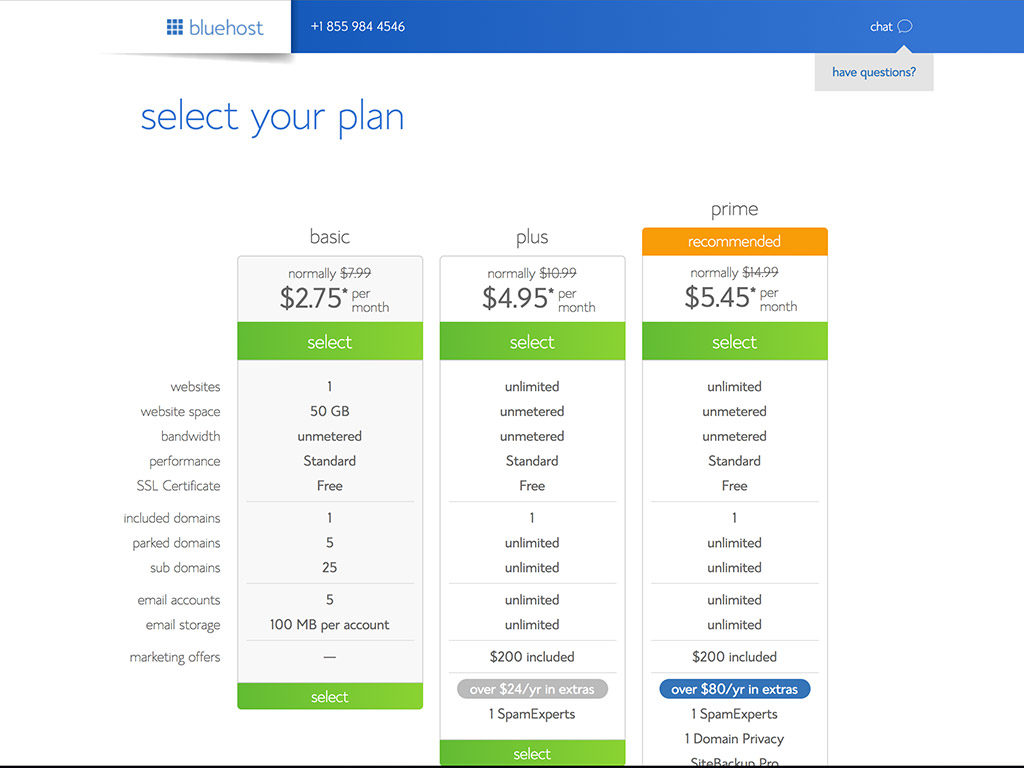 Head over to their site now this is what you'll see. Actually, setting up your website through Bluehost today should take no longer than 15 minutes.
As I mentioned earlier, I highly recommend getting both your domain and hosting with the same company, whether you choose Bluehost or nor.
In this case, I'm going to show you the exact steps required to do this with Bluehost right now.
Make sure you type in your domain name correctly. Once you have confirmed that it's available to proceed with the process.
#2 Creating your Bluehost account
Creating your new account with Bluehost couldn't be easier, especially for beginners. I set my personal travel blog up in the space of 15 minutes flat.
Now you're probably wondering which plan to choose. Below let's look at the options and which plan would work best for you.
Which plan do I choose?
If it's is your first time setting up a website or blog, you'd be better off going for either the basic or the plus plan.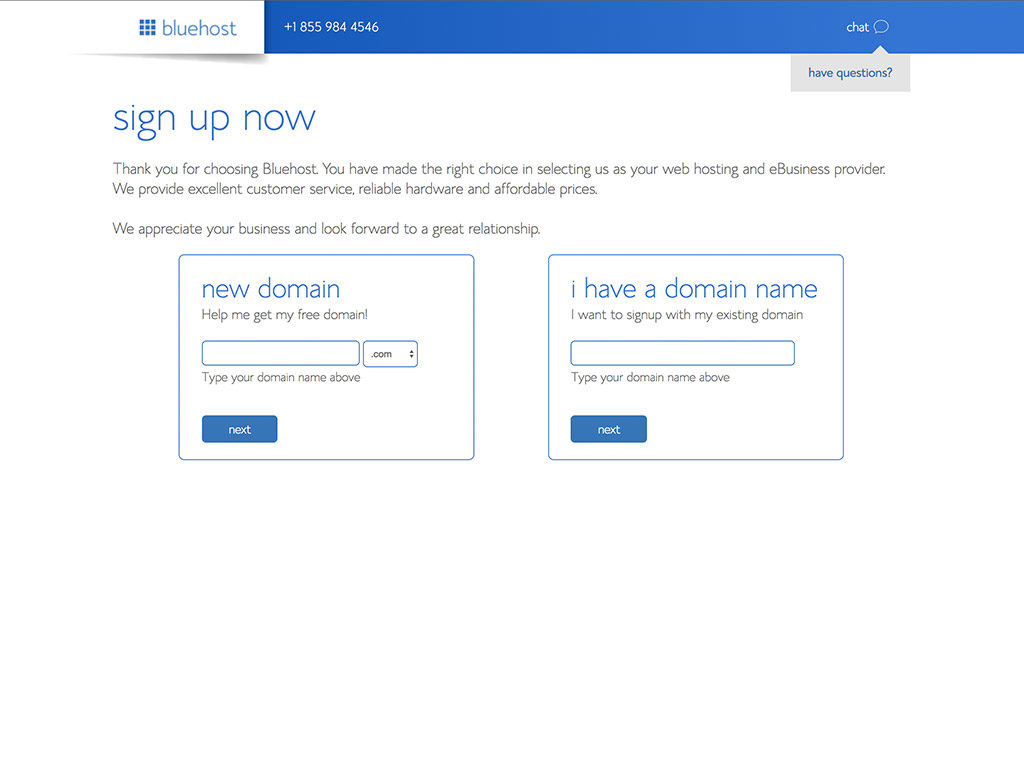 I say this because yes, you are taking a leap by setting up your site. The last thing you want to do is be paying for something that you can't later commit to.
Trust me, I've been there. Once you check the availability of your new domain name on Bluehost, you're ready to create your account.
#3 Creating your Account
Creating your Bluehost is even quicker if you sign up with your Google account. I used my email address and personal details to fill out all the boxes it took me about 30 seconds.
The good news is, with Bluehost, you can cancel at any time. But I invite you to think of this as a business investment or as a business expense.
However you look at it, just remember, you can always upgrade, downgrade or in worst-case scenarios, cancel at any time.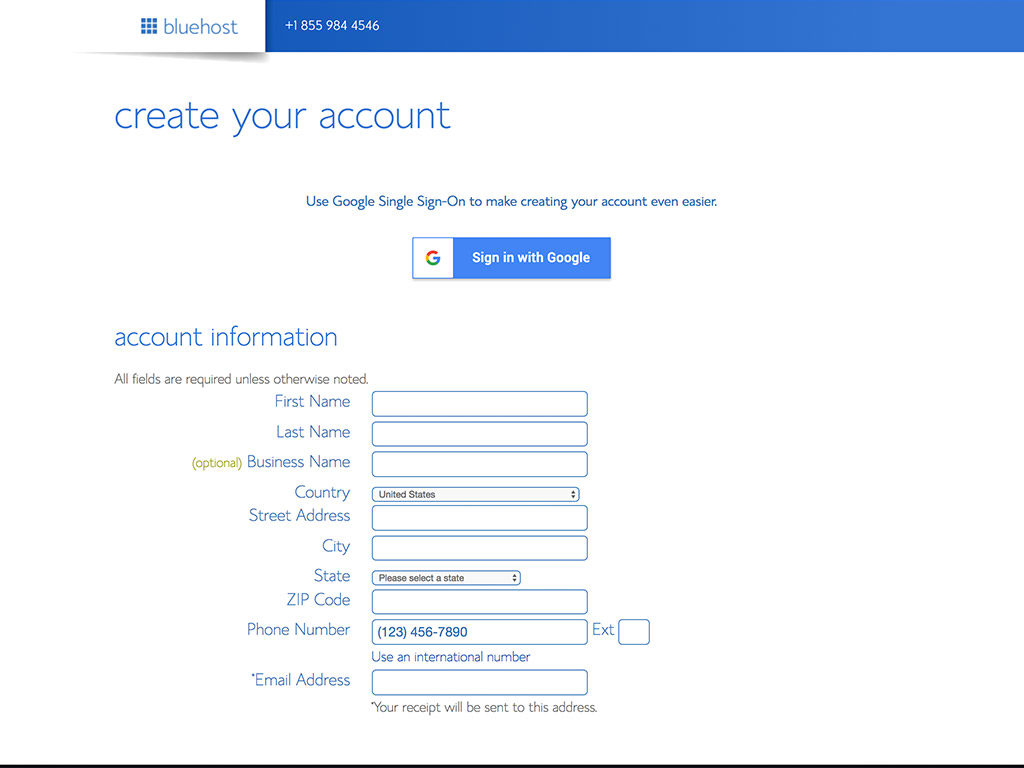 #4 Thinking longevity
When you are in the right mindset about creating this travel blog and want to reap the rewards of having your own website, then you must think long term.
The 6 month plan is a great start
With this long-term commitment I recommend starting with the 6-month plan, not only is cheaper, but it's an investment you'll be making to concentrate on building your travel blog.
The last thing you want to do is be thinking about having to pay for hosting in 3 months' time.
I did this initially and ended up paying more.
Hosting companies like Bluehost always offer the best possible deals to new customers so the longer you choose the cheaper it will be.
These days, I buy the maximum plan which is 36 months.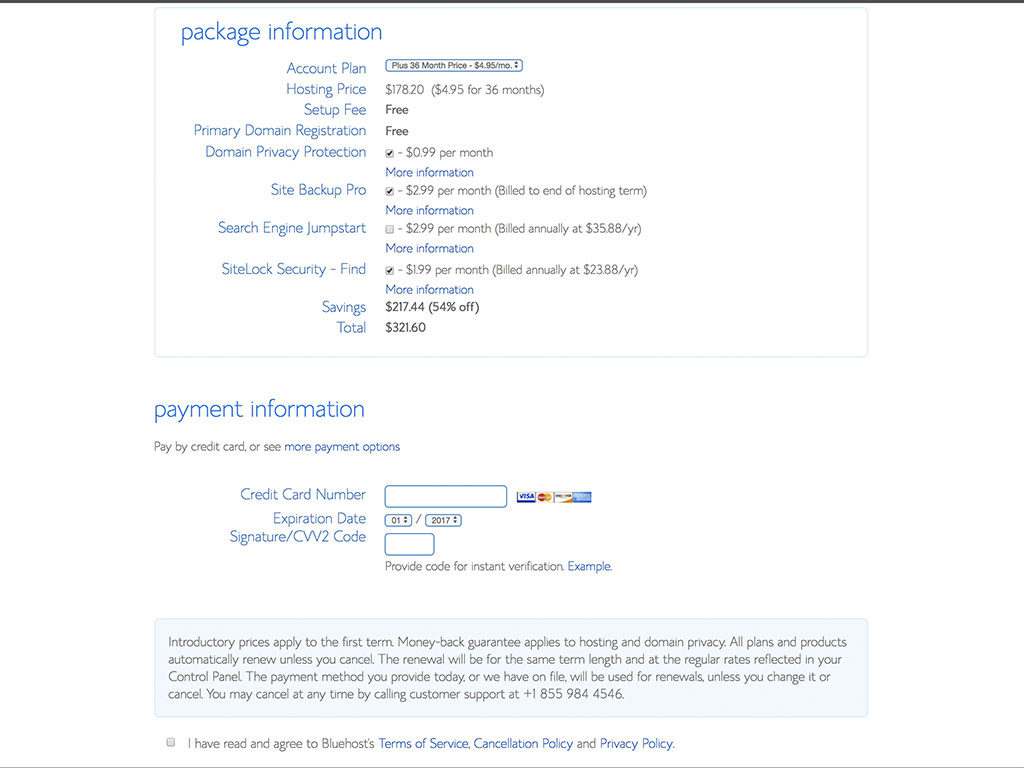 I know it's a commitment but it's totally worth it in the long run.
Once you've paid a assure you you'll feel a surge of excitement knowing that you're one step closer to sharing your personal travel blog with the world.
If you're planning on having traffic and dedicated readers to your personal travel blog, your hosting contact set's you up and puts you into the right mindset.
I see this as a necessity, like paying the rent, water or electricity for my house.
Think about do you want to be running your travel blog in 18 months' time? I not, maybe you should reconsider starting one in the first place?
It's also recommended to select domain privacy. This will stop anybody looking up your name and address once you register your domain name.
The last step is, fill in your payment information and you're ready to go!
#5 Your site dashboard (Control Panel)
Navigating the dashboard is simple. Once signed up, you'll automatically see the control panel.
It's like the base of operations for all your hosting and domain services. I'd spend 5 minutes getting familiar with all the options and services available.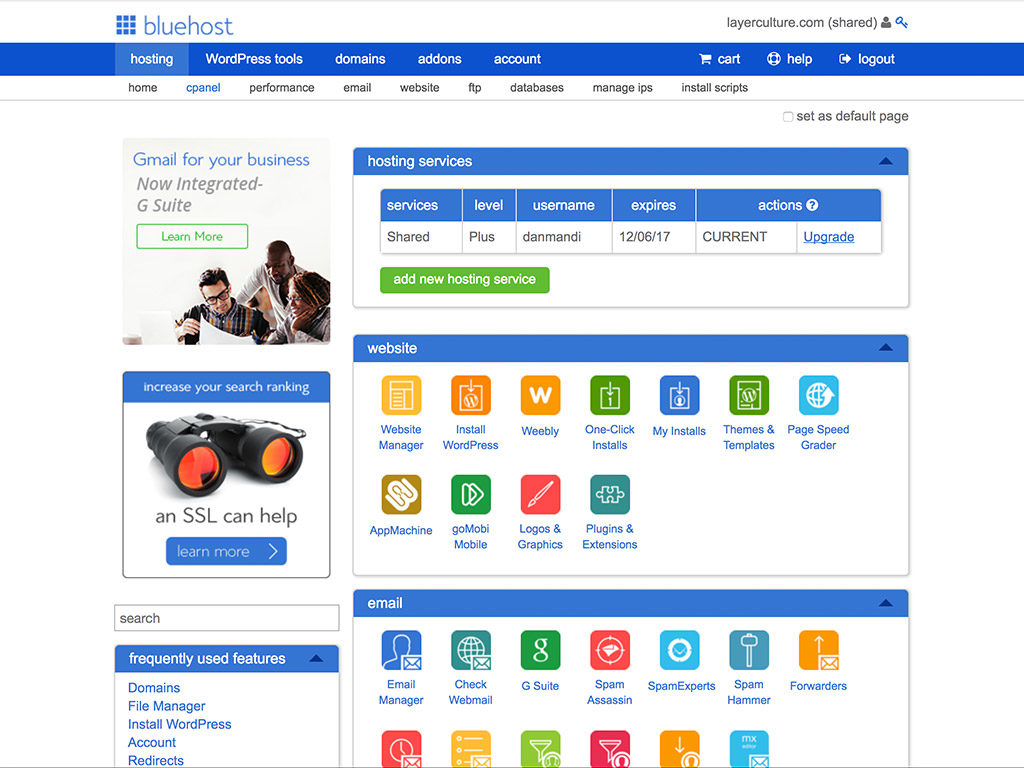 You'll need to go to your control panel and look for where it says install WordPress. It's under the section at the top where it says the website and has an orange icon.
Step 4: Installing WordPress
If you have no technical knowledge or zero experience with WordPress, don't sweat!
Installing WordPress on your new domain couldn't be any easier than it is today – especially with Bluehost.
Continue reading to see just how simple it is to get your personal travel blog set up.
#1 How to install WordPress
Now for the exciting part. You are literally minutes from having your own fully functional travel blog online!
Once you've selected the domain you'd like to apply the installation to, just click next.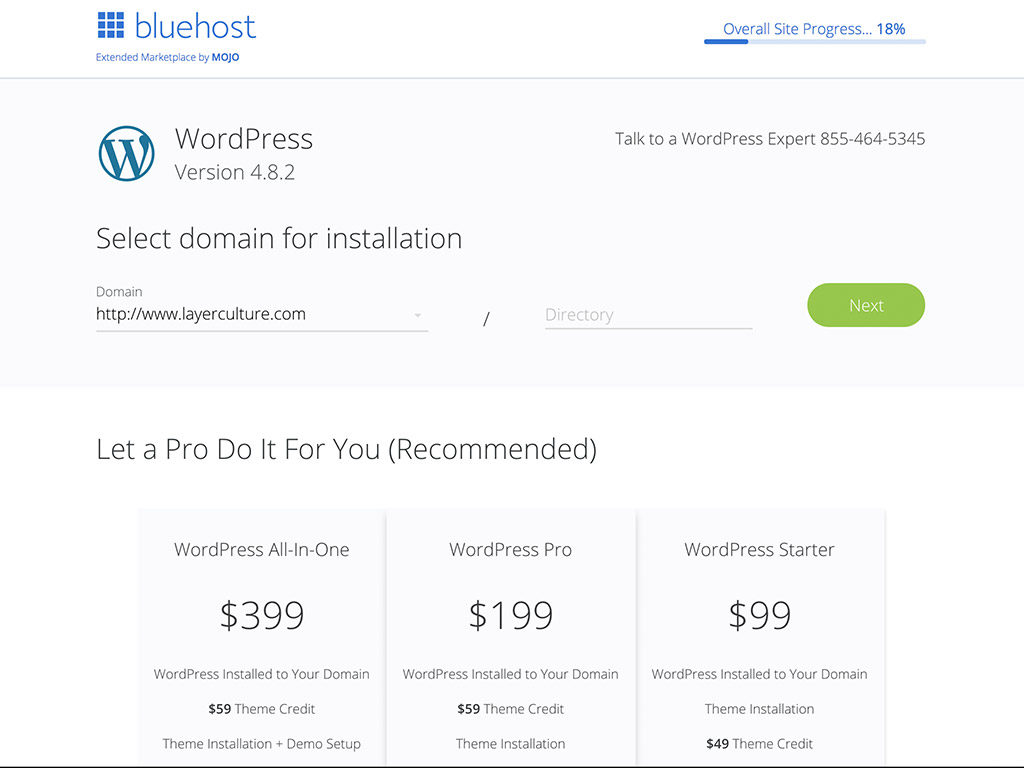 In my case, I selected layerculture.com as the image shows above. This means that the WordPress blog will be added to the domain layerculture.com.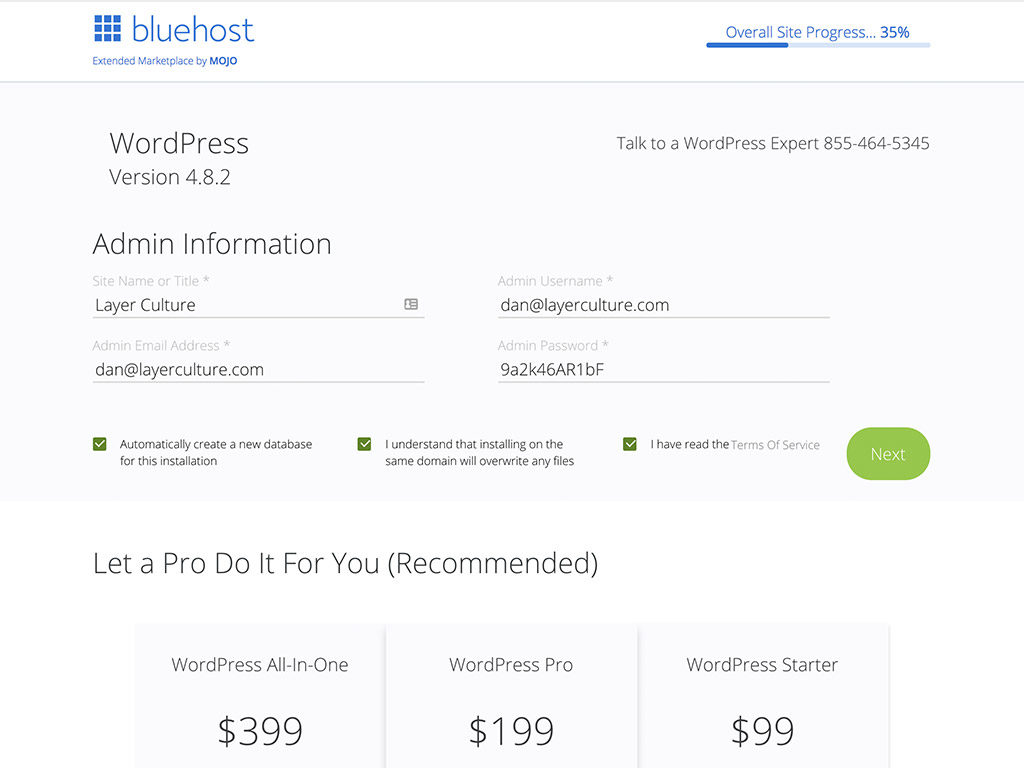 While Bluehost does it's magic you'll be asked if you need help with the process just ignore this because you're are already on your way to completion.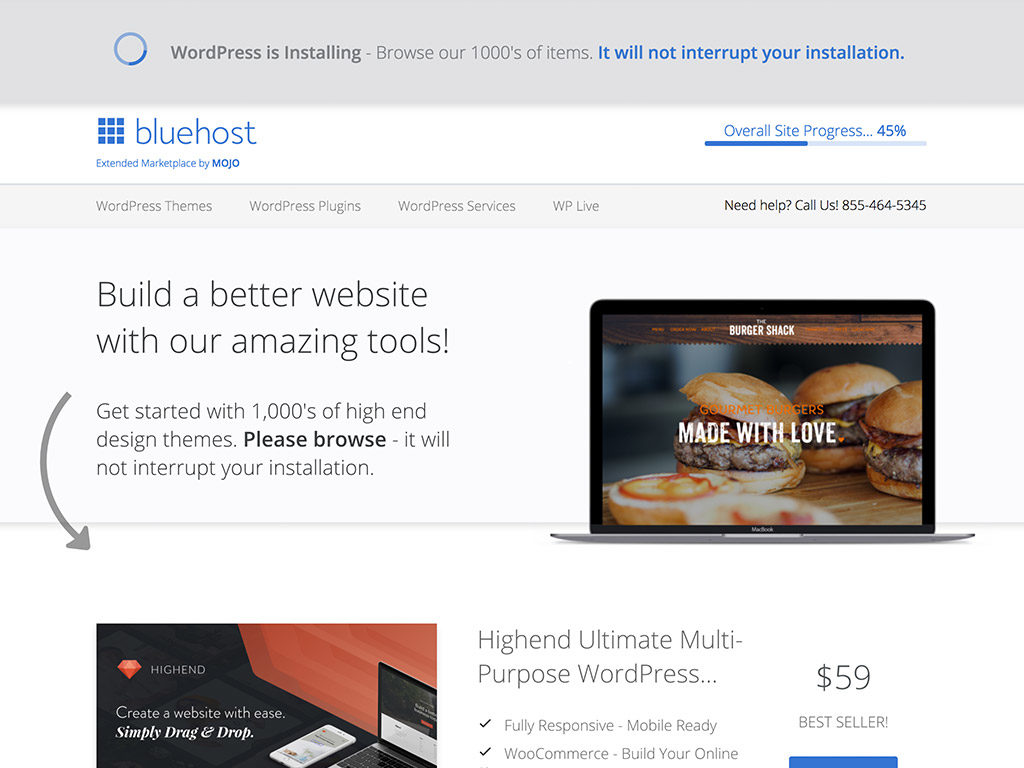 After a few seconds, you'll see that that the overall site process is starting to complete! It's so easy Bluehost literally does it all for you behind the scenes.
#2 Finishing up the installation
At this point whatever you do don't press any other buttons or refresh the page.
If you interrupt the process you can have problems later down the lane and will have to go through the process again, so, be patient, it only takes a minute.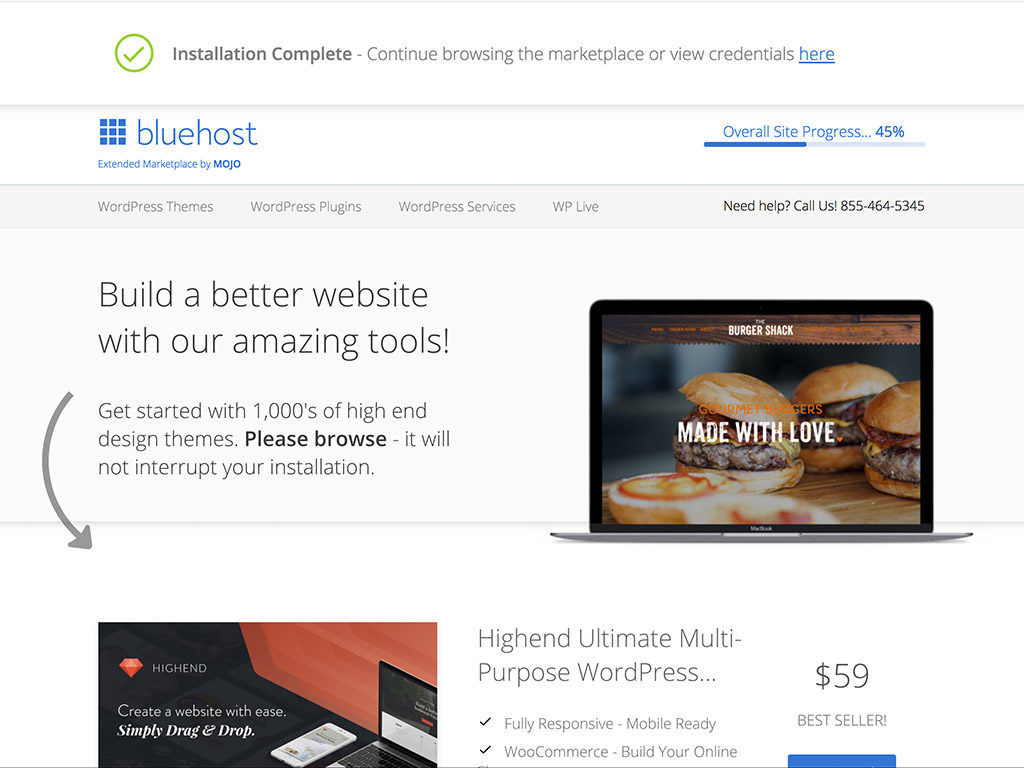 Meanwhile, Bluehost will offer you some of the themes they have on sale.
I highly recommend you don't purchase at this stage because they can be very pricey and not as good as the framework that I'm going to show you in the next step.
Once your installation has completed, Bluehost will notify you. This should only take a couple of minutes. Now you're ready to start setting up your blog.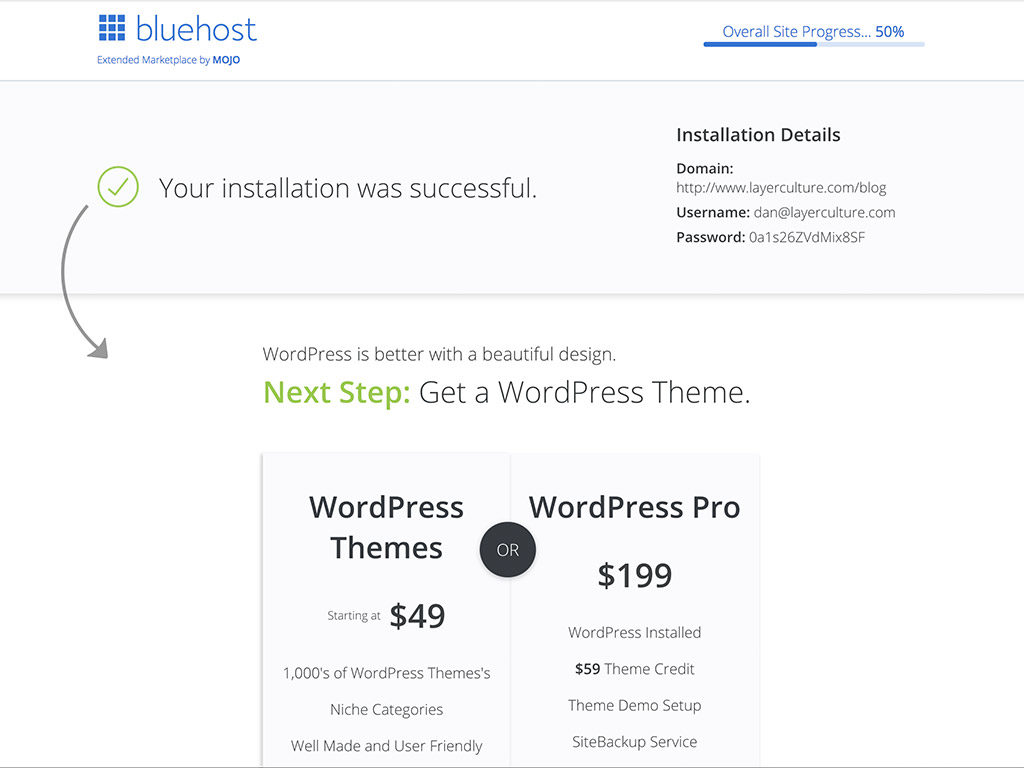 Again, Bluehost will offer to sell you some of their premium themes but for now, just ignore that because we are going to use the free WordPress theme just to get the blog set up.
You can use a free theme for your personal travel blog by all means, but, if you want something more unique you'll have better options.
Step 5: WordPress themes for beginners
Now you have your blog up and running and live it's time to pick a theme. A theme is basically the skin of your blog.
The great think about WordPress allows you to add new themes at the click of a button.
#1 Why getting your theme right is important
After your WordPress installation, if you go to Appearance > Themes from the WordPress dashboard, you'll notice that the theme you're using is a free theme provided by WordPress.
I like the Genesis framework so I navigated to their site to pick something I like.
Using free WordPress Themes
The free themes provided by WordPress are good to get you started, however, like most people, you'll want to have a theme that is more personal and says more about you and your brand than a generic design can offer. It's entirely up to you.
When I first started my travel blog, I bought a theme from Themeforest.
I had many problems with the theme and the seller wasn't helping me fix the issues I was having.
I spent many painstaking months trying to customize the theme, but it was so restricted, in the end, I wasted so much of my precious time.
#2 Introduction to Studiopress
There are so many themes on the market it's easy to get lost deciding which to choose. Having a theme that you like will influence you and not only teach how to write a good travel blog but inspire other online bloggers to improve theirs.
What I'd like to recommend is that you choose a framework like Genesis from Studiopress it's bulletproof and many other top bloggers use it for their blogs.
StudioPress is a web design company that build some of the most elegant themes that I have seen. I bought my theme from them after many months of trial and error testing other themes.
The Genesis framework, which is like the backbone of the WordPress site. It powers over 500,000 WordPress sites and is super fast.
I find it highly customizable, unlike others I've wasted time with. I'm trying to forget about wasted time – honest.
#3 Studiopress saves you headache
I took a couple of minutes to list you some of the benefits of having your travel blog running on the Genesis framework:
Award Winning Performance
Industry Leading Design Framework
Rock-Solid Security
Automatic WordPress and Genesis Updates
One-Click Install of Included Plugins
Mobile-Optimized HTML5 Designs
Like I said, after many months of frustration trying to get themes to look and function the way I wanted. I found Genesis the best option and have had no problems thus far. Fingers crossed.
Step 6: Designing the look and feel
If like me you really care about the way things look, you'll want to read what I saying here. User experience is very important for your readers.
It can be the deciding factor of whether or not they re-visit your site.
#1 Do you care about how your site looks?
When you first start your travel blog you may not think about how it will look in the future. It's not something you think is very important at the start but I assure you, you'll be spending many hours working on it.
So can you see why it's important that you have a good base to work from?
There no need to worry too much about how it looks initially.
The day or first week you set it up you can use that time to really get acquainted with WordPress and creating some quality content for your site.
#2 Developing your style
The more you create the easier you start to visualize the theme fitting in with style of your travel blog.
Like I said, as you begin to create more and more content for your personal travel blog, you'll get a better idea of how you want your theme to look.
Not to mention, looking at other travel bloggers sites (as a reference) will help you develop your own unique style.
#3 Getting Graphics Made
Developing your own style will be the result of you telling your unique story.
Everything from what you write, the pictures you take and how that reflects your personal brand. I have worked toward this right from the beginning.
Remember what we talked about earlier in the section about choosing your name?
Well, if you don't have the skills to create your own travel blog logo, you can use sites like Fiverr.com to get graphics made.
#4 Design Recommendations
Here are some travel blogging tips and below I list some examples of graphics you may need to get made:
Blog Header
Your travel blog's logo identity
Call-to-actions images
Content for your social media profiles
At the end of the day, the world need to hear your story. As you develop your own style through your personal travel blog, it will attract more and more new visitors.
Day by day your travel blog will grow bigger and bigger. Consistency and style is how you start to build the foundations of a successful travel blog.
Step 7: Installing Plugins
As you become more familiar with WordPress and it's the functionality you'll begin to learn more and more. Plugins are an integral part of any WordPress blog.
Let me explain what a plugin is and why they'll soon become your best friends.
#1 What are plugins?
A plugin is basically a piece of software that contains functions that are added to your WordPress site.
Plugins (which are like apps) can integrate into WordPress to make it easy for you to add functionality without knowing any code or website design whatsoever.
This means that you can add things like image galleries, animations and other cool features to your WordPress site in the click of a button.
I use many plugins but at the same time try to keep them to a minimum. Using too many plug-ins can affect the speed of your blog.
#2 My Recommend Plugins
There are thousands of plugins on the market, both free and paid.
The best practice when it comes to plugins is to keep the amount added to your site to a minimum.
In other words, only adding the plugins to your site that you really need. This keeps your website running faster.
Below is a list of plugins I use for Layer Culture:
Yoast SEO
Thrive Leads
Disqus Comment System
W3 Total Cache
Publishing your First Blog Post
One of the first things I suggest you do once your blog is set up is to create your first blog post.
You'll notice that WordPress automatically publishes a post for you named "Hello World" I would edit the title and write something to get you started.
Produce Content That Matters
Definitely, one of the most important points when it comes to blogging in today's climate – especially if you want to be a travel blogger or influencer.
If you want to know how to start a travel blog and be successful you'll want to keep reading.
Is your interest is Yoga? Show your best Yoga poses, tell the story of how travel helped you to arrive at your ultimate Yoga practice.
Make videos teaching others how to get into Yoga, invite them to that amazing Yoga retreat in Costa Rica with your personal travel blog you can freely experiment with the possibilities.
Are you a photographer – don't just rely on Instagram for sharing your best photos. Create in-depth tutorials on your travel blog showing others how they can take similar photos to yours.
Do a review on the amazing vintage lens that you bought online and show the world just how good it really is. The idea is to mix your profession or hobby with travel to make it more interesting.
Then you'll soon realize that blogging is one of those jobs that allow you to travel if you do can get the formula right.
How to be a unique little snowflake
Here's one of the last personal blogging tips in this guide that I hope will inspire you to create a travel blog today.
Love fashion? Turn your travel blog into a fashion journal. Write stories about the different trends you see on the road.
Grab your best travel camera and take pictures with of your outfits. Did you know that you can get some very powerful images if you learn how to use your camera's manual mode and understand how lighting works?
Shoot them in desirable locations, write style guides for people who don't know how to dress right.
A blog is about you and your unique voice. Just be yourself, and make sure you add your stamp to everything you do when creating content.
Passion is what keeps me interested in producing content for my personal travel blog. The fact you love travel mixed with a hobby or interest is a killer combination.
I'm telling you, that combination will keep you inspired for many years to come.
I have been doing this for 2 years just for fun and have not looked back.
Create epic content. You can do this, you just have to get started. It's that simple.
How to start a Personal travel blog
I created this article to help you get your personal travel blog set up right away. The longer you stall the harder it will be to get started.
If you know you're passionate about something and like the idea of traveling, combining the two and having a travel blog to voice your ideas is a great outlet.
Now you know exactly how I got started with my personal travel blog, and have seen how easy it is to get set up… what are you waiting for?
Get started today and I really hope this guide on how to start a personal blog has been beneficial to you. Feel free to contact me with your new blog URL I'd love to see your idea, give you feedback and see your progress.
📌 Like this article? Pin it…
Got a personal travel blog or thinking starting one today?
💬 Leave a comment below or let's start a new conversation!
---
"Dear friend! Some links in this post contain affiliate links. Meaning, if you click through and make a purchase, book a hostel or sign up for a program, I may earn a small commission at no additional cost to you. Your support means a lot to me and helps me to keep traveling and maintaining the quality of this site for you."