Are you thinking of traveling to Palomino, Colombia?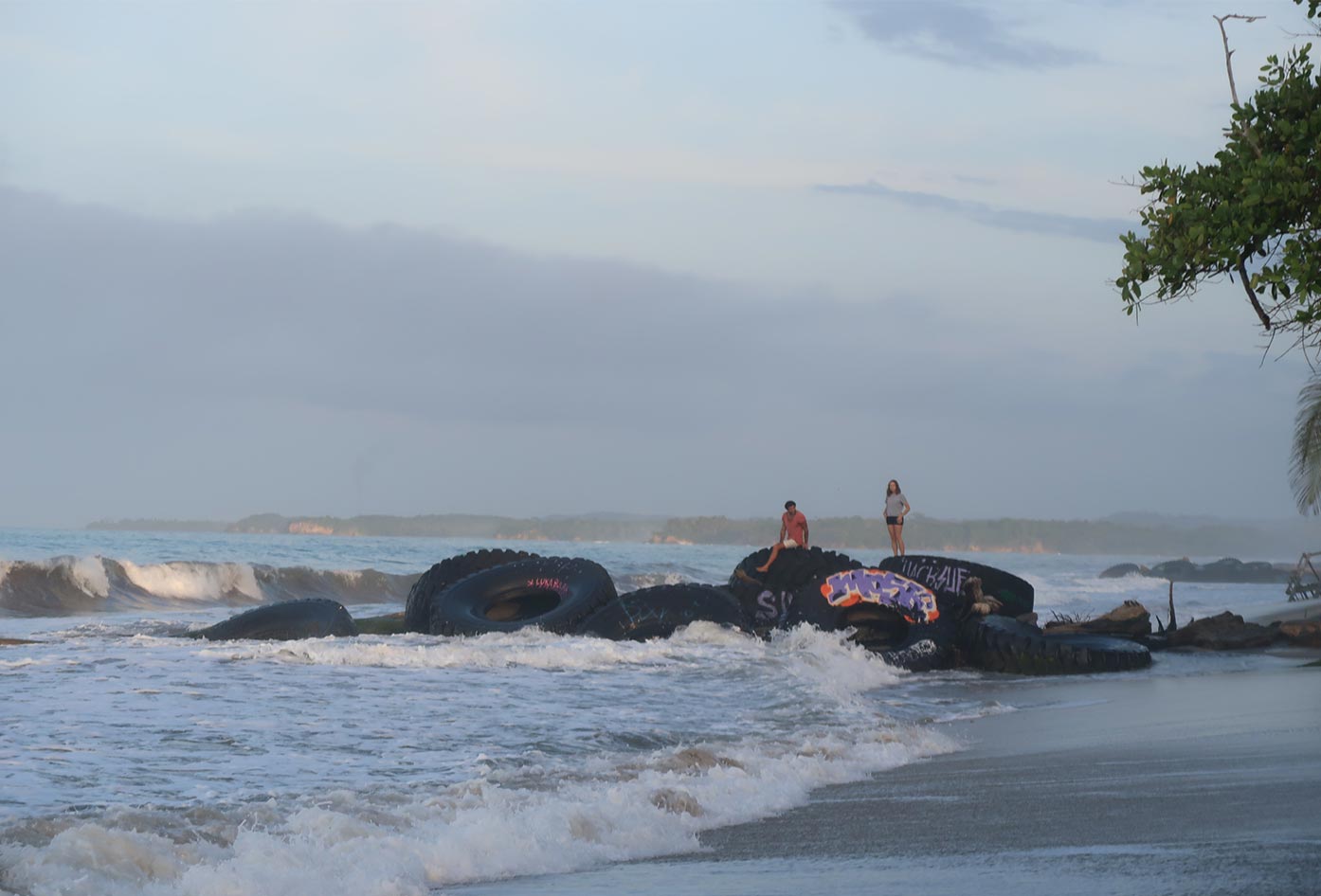 As anyone knows, Colombia is a fine place to come and visit in the winter months and all year round for that matter.
However, outside of major cities such as Medellin, many people are not sure where to start.
Palomino, Colombia: Travel Guide
Why not take the time to look into a place like Palomino?
A rich and satisfying tourist town in the Guajira region, this place makes it very easy indeed for you to kick back and just enjoy yourself.
The few people I spoke to before arriving here mentioned how they were concerned about the safety in Palomino.
I saw Palomino as a very rustic location where locals and tourists, as well as ex-pats, live intertwined in a close-knit community.
Once you get away from that big dusty main road and head towards the beach. You'll feel more comfortable with the overall location.
Things to do in Palomino, Colombia
So long as you are smart and keep close guard of your items, there are no reasons why you cannot have a simply spectacular time here.
Where, though, should you start?
Palomino Beach Life
One of the best things to do in Palomino, Colombia is to simply enjoy the quality of life that you can get down at the beach.
You will get to enjoy all manner of comforts, with the long beach offering bars at either side. A fine place to rest, relax and just take in the day from.
Tubing Palomino River
Riding a tube down the Palomino River might be the smartest decision that you ever make if you choose to come here.
You will head through the jungles of the Sierra Nevada through to the Caribbean Sea.
It's fun, affordable, and a very easy way to enjoy a stunning example of just how rich and detailed life in Colombia can be.
There is a special tour that you can do that stops at various points nearby. This is also a fine way to experience South American nature at its best.
Mingle with the locals
While you'll probably need to speak a bit of Spanish conversation, talking with the locals is a good way to practice.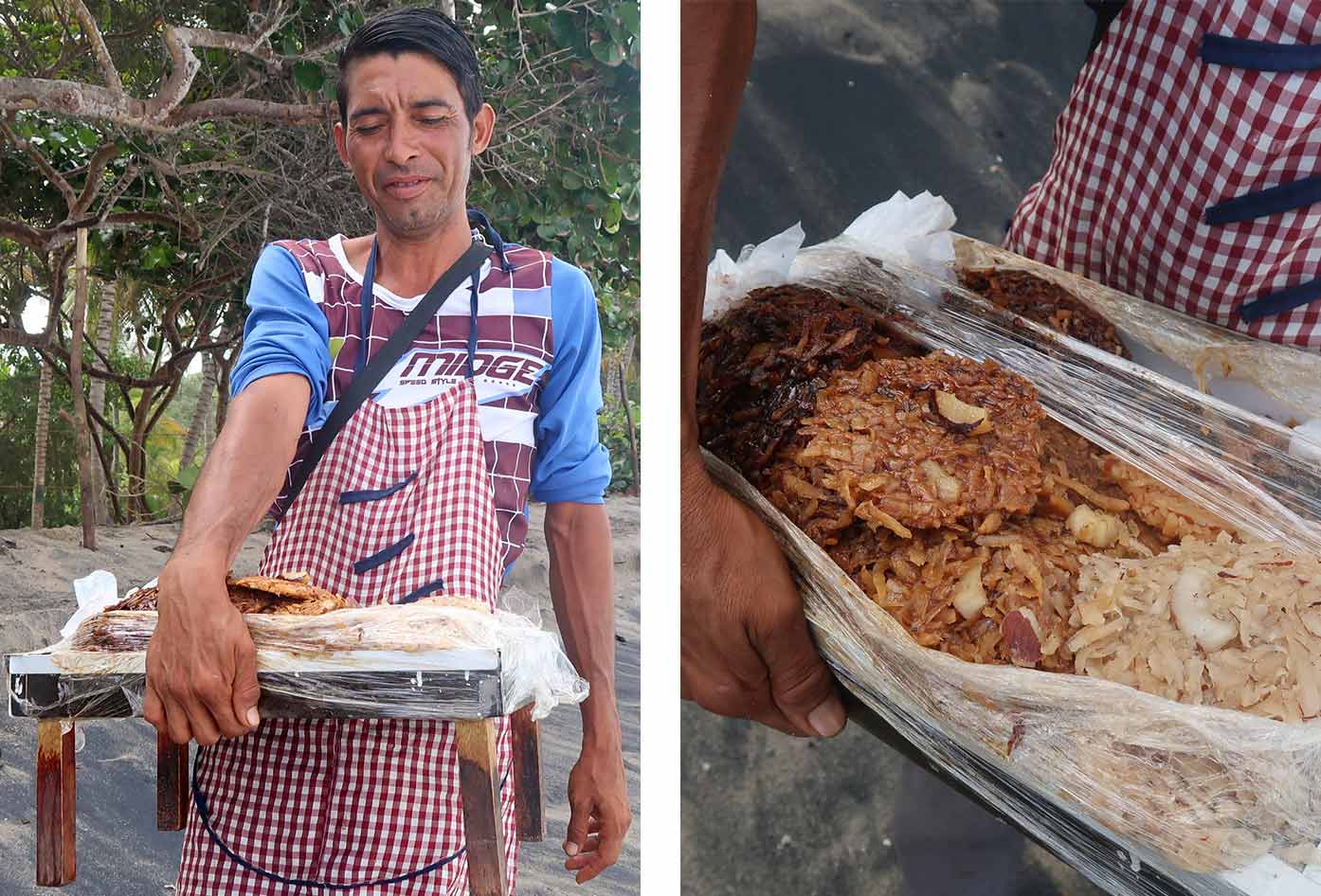 Mingling here is easy because you just need to walk up, say 'Hola!' and enjoy meeting with locals. Just pick your people wisely: while first impressions aren't always correct, you should see who to avoid easily!
Maria Mulata: Evening Drinks
For those that don't know Maria Mulata is the name of an up-and-coming singer from Colombia. Here in Palomino, it is the name of the liveliest bar – with the friendliest staff.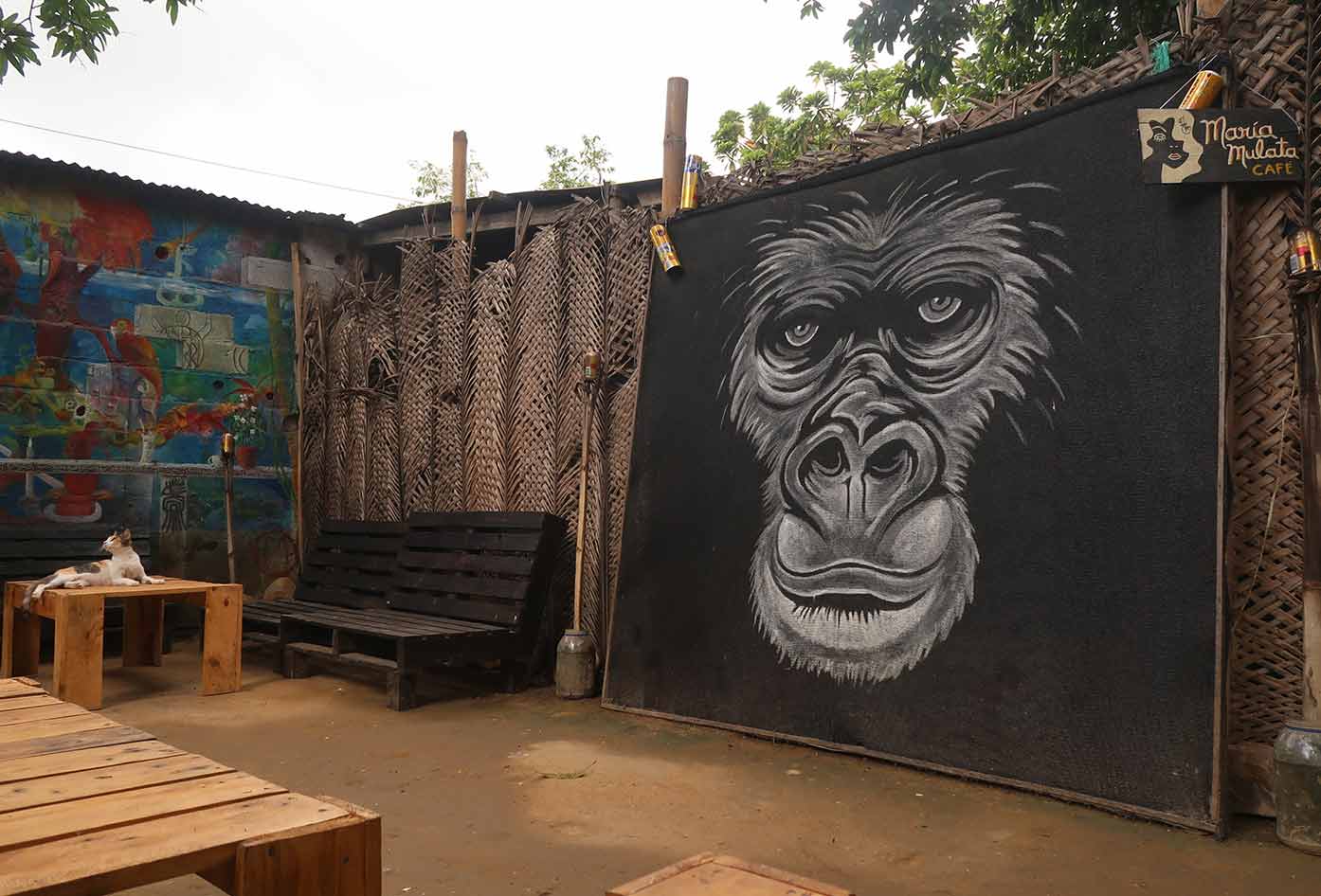 During the day come here for a bit to eat and a drink (try one of the amazing handmade brownies) and in the evening you can expect live music
💡Smart Travel Tip
Maria Mulata is one of the few places in Palamino where you can get a 'proper coffee' prepared in a french press; come here in the early afternoon for your coffee fix.
Rent a Sunbed
It may not seem like an extravagant thing to do but here in Palamino it truly is. You can sit along the beach where it meets the river and get the best of both worlds.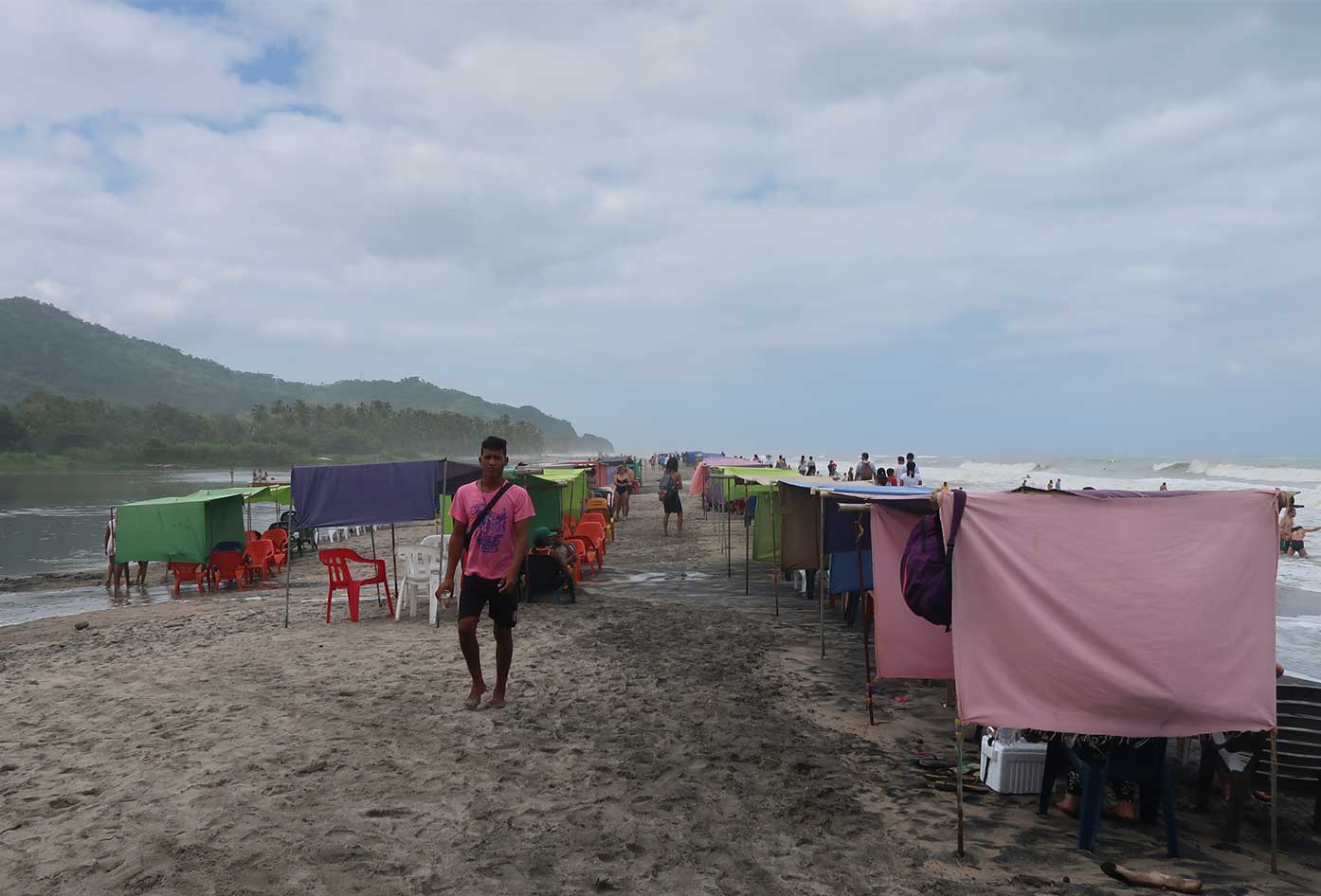 A great example of a romantic evening, and now you can enjoy this unique slice of Colombia.
You can also rent a horse from here. Simply jump onto its back, and enjoy the trip the best you can. Carry a UV Sun Shirt to avoid sunburn during beach activities throughout the day.
Buritaca
A small beach community where you can find some of the area's best freshly caught fish in one of the lovely little restaurants on offer.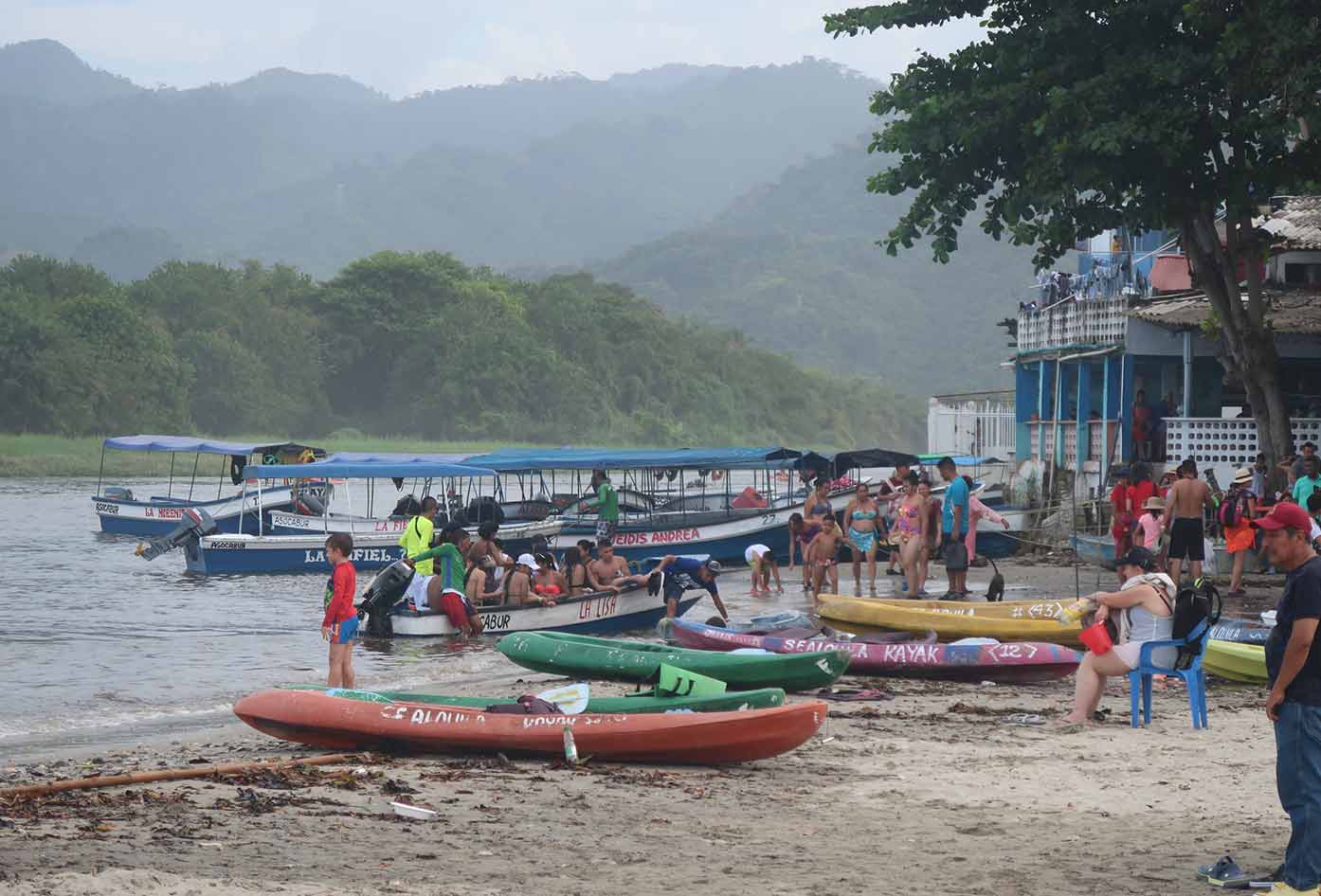 The beaches go on for miles with breathtaking views of Sierra Nevada.
Warning! People are very friendly here, not only when they want to get you to eat in their restaurant and prep you up for a tip but just in general. You'll make friends in two seconds here, I promise?
See the Local Communities
While this is always one I recommend doing with support and in a group, trips to the local indigenous populations is always a fun way to spend some time.
You will get to mingle with locals, find out more about the local culture, and just get to settle into a very enjoyable place to be.
This is a fine way to get to know the 'real' Palomino away from tourist traps of old town Cartagena or the increasingly popular Santa Marta.
Try out the local cuisine
With so many amazing ways to eat in Palomino, your main challenge is choosing a meal to start off with. Here you find most of the typical Colombian food dishes plus food from other nations.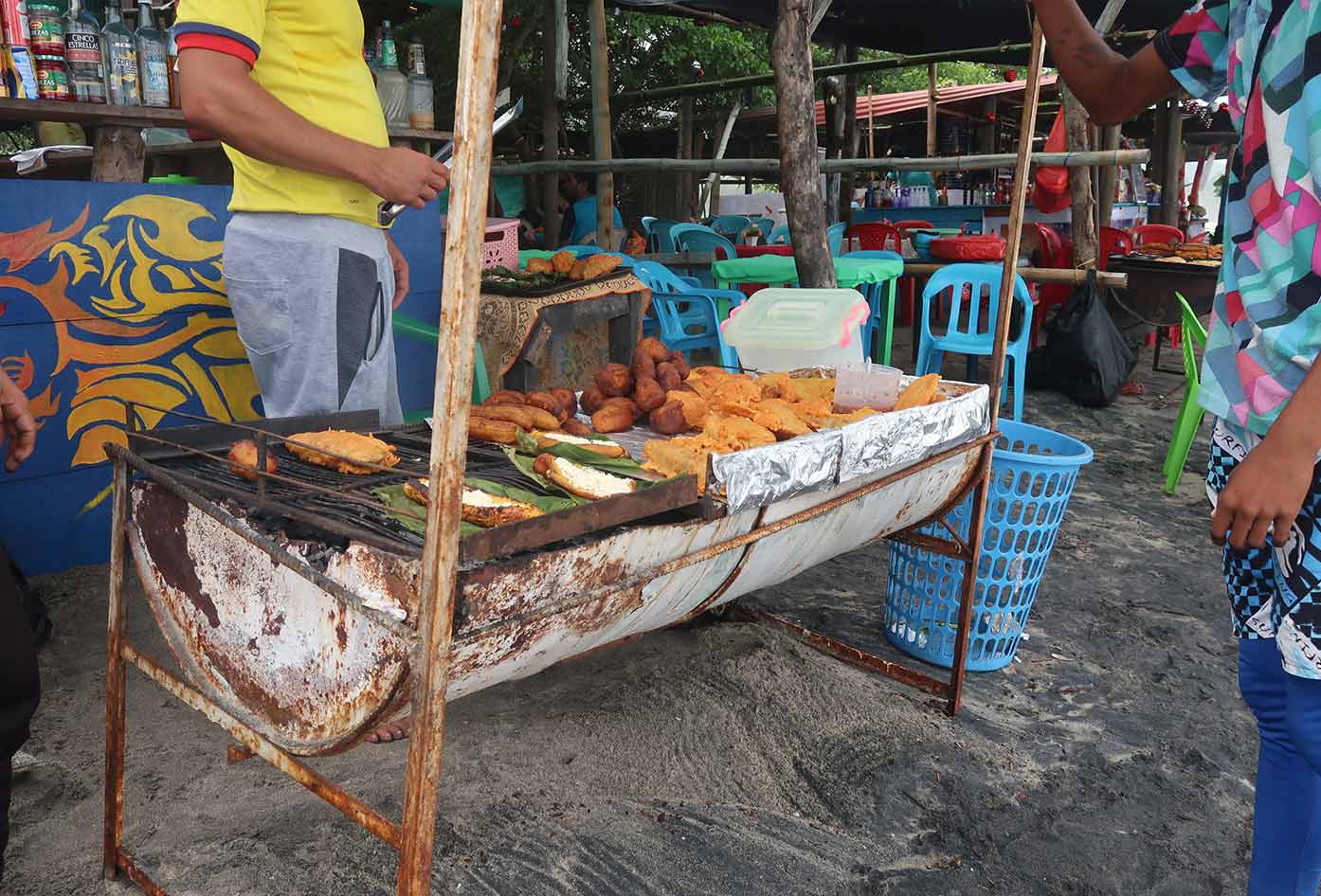 Awesome seafood is abundant, as are the various seafront shacks that cook up amazing fried foods of all kinds.
If you are not a fan of seafood you might need to look around for some alternatives, but coconut rice dishes with seafood (mainly fish) are beautiful, delectable, and very common!
Visit the Sierra Nevada Mountains
Despite being an engaging place of stunning beaches, the Sierra Nevada Mountains offer a snowy landscape to take on.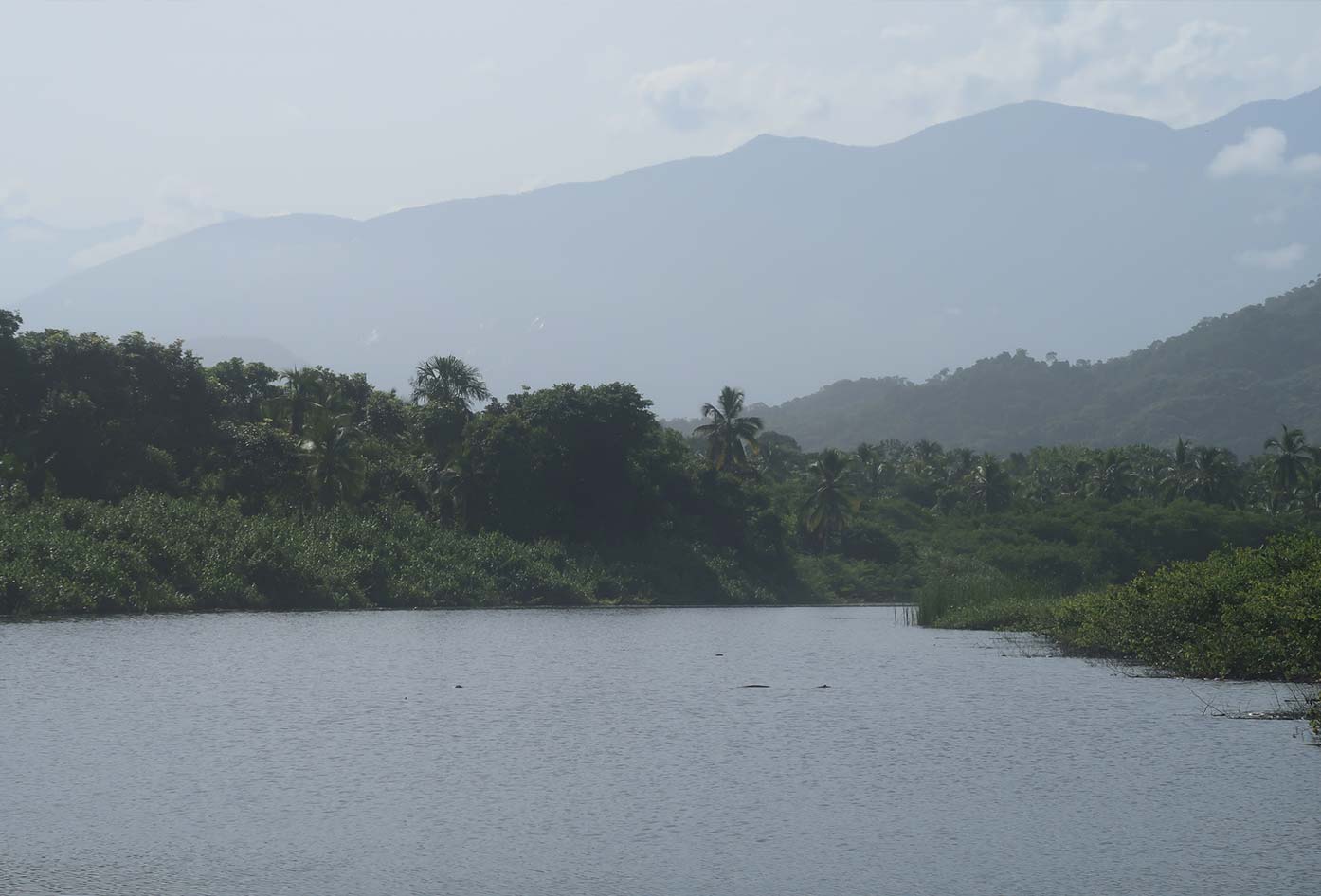 You can get a tour guide to take you to some parts of the mountain.
Meaning, you can take in some of that awesome nature that is away from the ground floor of the beach.
A trip to consider for those who like a bit of a challenge.
Palomino Travel Tips
Below is a list of travel tips for Palomino that you should benefit from. I will update this list sometime in the near future.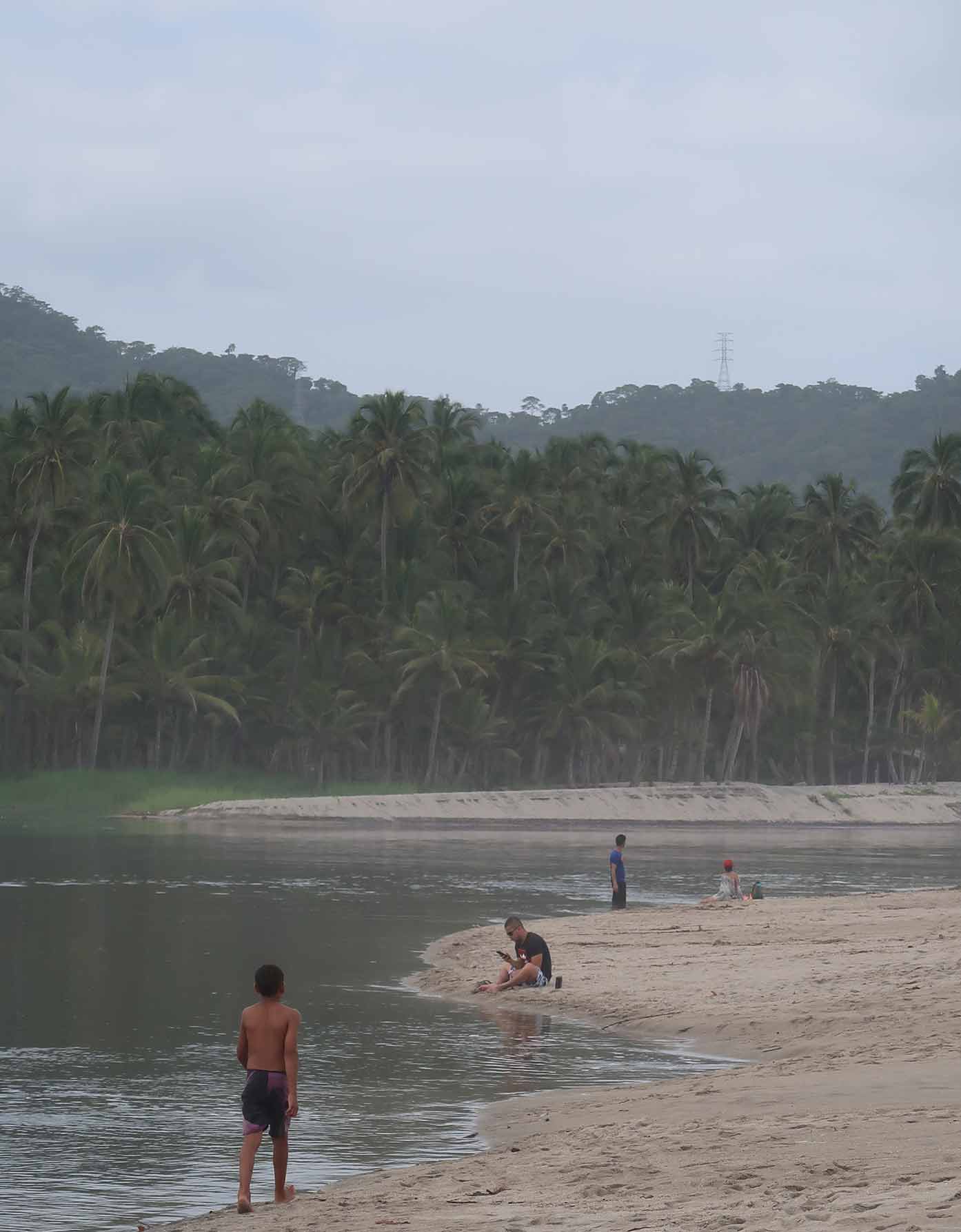 Palomino is a popular place, not just with surfers and backpackers but also with Colombians looking to escape the cities; so bare this in mind if traveling during public holidays.
What to Pack For Palomino
You'll find it almost impossible to find places that accept Visa or Mastercard. There are one of two shops and restaurants, as well as hostels which do accept cards.
I recommend you don't rely on those because having no cash will hinder the experience you can have when exchanging money for local goods and bartering with local artists.
Things to carry during your travel to Palomino:
Your Passport
A sun hat to protect your head
A decent pair of water shoes (if going river-tubing)
Carry Sun Screen
Enough Colombian pesos to last the duration
Many people come to this area in search of selling their artisanal goods so it's always good to support these people and their families.
When looking for other places to visit near Palamino, extend your trip to Riohacha which will take you toward the arid desert and give you a deeper insight into Colombian indigenous communities.
After my travels to Palomino, I noted some basic tips for my South America travel budget guide of how I try to save pesos by looking for the Menu del dia amongst other tips and tricks to save money.
Where to Stay in Palomino
With so many great places to stay in Palomino, I have written about some of my favorites below. Depending on what time of year you go you may want to check the availability ahead of time.
Why stay here?
Free Wi-Fi in every room
Offers quality foods
Perfect for pet travellers
With affordable rooms and a rich standard of quality in every part of the building, Casa Colibri Palomino makes a wonderful starting point for any traveler in Palomino, Colombia. High-quality rooms with staff who are more than happy to help.
---
Why stay here?
Plenty of private space
Terrace area for relaxation
Staff are very friendly
Perfect for making sure you can stay somewhere with a place to cool down, the Villa Eden Palomino is very much high up on the list of places to check out. A high-quality, richly detailed villa with plenty of assistance available via staff.
---
Why stay here?
Offers ample private staff
5-star accommodation
Has a private beach
Make sure you rest up with the luxury that you deserve by using the brilliant Reserva One Love. A fine choice for many reasons, not least the fact that it's such a fun and satisfying place to stay. It offers the privacy and safety that many desire.
---
Why stay here?
Highly rated by locals
Comes with free Wi-Fi
Bar built on hotel grounds
With the help of this hotel, you have a safe place to stay that allows for ample storage of all of your travel goods. Smart location and clean facilities mean you can easily rest up here before moving on to take on new challenges across the city.
---
Why stay here?
Great room quality
Brilliant views of the sea
Modern dwelling
A fine place to stay for many reasons, Makao is a fine location to spend some time if you are looking for a bit more luxury. A tad more expensive than some locations, but still well-priced for a property of such quality.
---
Travel Insurance for Colombia
If backpacking Colombia I recommend you get a good travel insurance policy.
I always recommend backpackers and travelers (no matter who you are) use World Nomads Insurance for fully comprehensive cover.

If you are due to travel soon, you can get a Get A Free Quote by clicking the link or the image above and filling out your details – that way you'll get instant cover from the exact date that you choose.
On many occasions World Nomads has provided me with reliable insurance cover for travel in Latin America and the rest of the world.
---
While Palomino can feel quite overwhelming at first, this guide should help you to settle into the laid-back life with no problems.
It's one of the many reasons why I recommend you to come here.
Palomino, Colombia: Travel Guide
With many things to do, see, and stay at, there should be no reason why you cannot make the most of one of the best cities Colombia has to offer.
Are you heading back to the city after Palomino? Get some more ideas on things to do in Santa Marta for when you do.
📌 Like this article? Pin it…
Missing something? Got tips, tricks & advice we can learn from?
💬 Leave a nice comment or let's start a conversation below!
---
"Dear friend! Some links in this post contain affiliate links. Meaning, if you click through and make a purchase, book a hostel or sign up for a tour, I may earn a small commission at no additional cost to you. Your support means a lot and helps me to keep traveling and maintaining the quality of this site for you."