Welcome to this travel guide on things to in Olinda, Brazil.
If you've made it as far as Recife it'd be rude not to venture to Olinda.
Olinda is a historic town oozing with culture including friendly people, colorful buildings, coconuts, and a host of other interesting artifacts which we will take a closer look at in this guide.
While many travelers to Brazil, choose to visit the 'big' cities. Olinda offers something a bit more unique and friendly
Things to do in Olinda, Brazil
There are many fun things to do in Olinda. It's a town that offers excitement and opportunity, for all those that arrive here.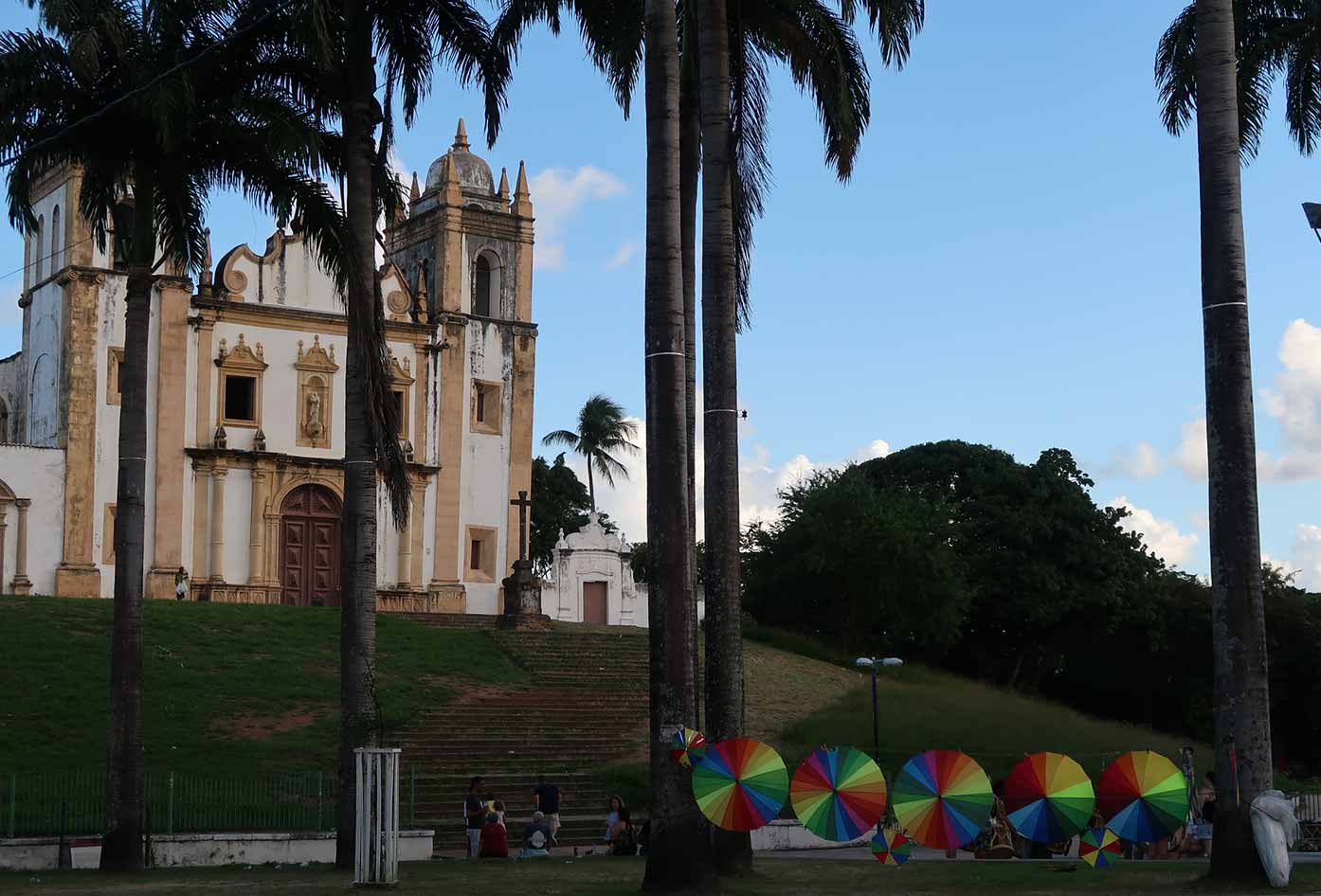 In this guide, we'll cover some of the best things to do in Olinda, how you get here, the best time to visit, as well as, where you can stay.
How to Get From Recife to Olinda?
Getting to Olinda from Recife is way easier than you may have imagined. Since Olinda is only located about 10 km (6 miles) there are buses as well as private transport options.
On my travels, I opted for the bus, and like most of the buses in this region, you have to pay close attention to the number. However, if you know some basic Portuguese you can always ask the driver.
If you're short on time or have better things to be doing, I recommend Uber (it's very cheap in Brazil when compared to the local taxis).
As you can imagine, they are also much faster than the bus as you avoid stopping at almost every bus stop along the way.
Is Olinda Safe?
The short answer is yes! However, you must definitely take care when and where you walk around this town. If you plan to visit both Recife and Olinda as I did you'll want to walk with some precaution.
I recommend you follow my Brazil safety tips which contain some universal tips for travel in Brazil. Walking around the streets with your smartphone on display is a big 'no-no' here.
People do get robbed in certain places, however, with the places suggested below, you should be fine if you follow my travel safety tips.
Things to do in Olinda
So, which things to do in Olinda should you give some priority to when arriving? In this guide, looks at what you can get up to in Olinda.
Explore The Cultural Centre
Like many of the historic Brazilian cities dotted around the country, the city center point of Olinda is the best place to come visit.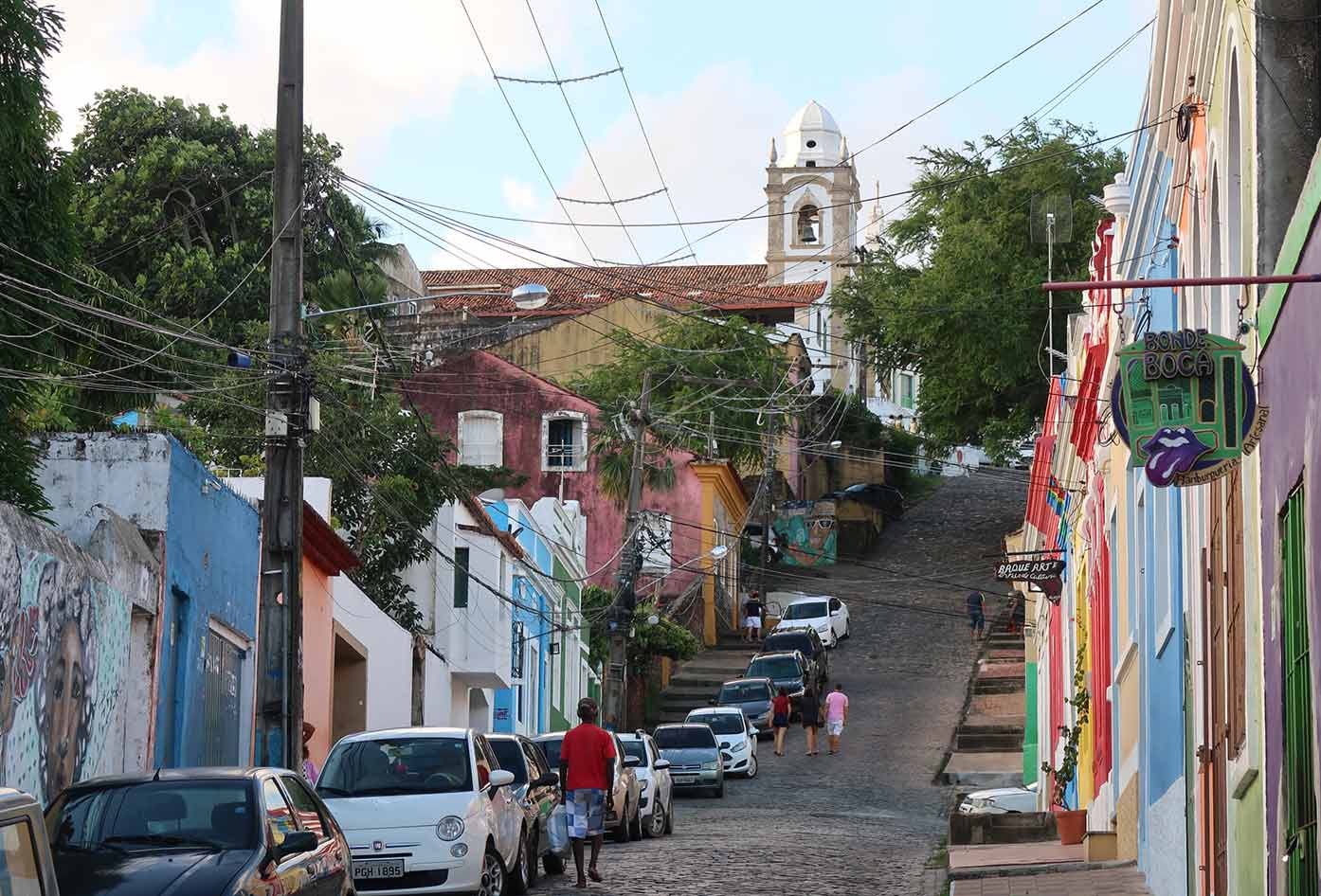 This UNESCO World Heritage site is a tremendous place to come visit and should give you a clear example of why this resilient little city has survived for so long.
An excellent place to come and visit; loaded with opportunity, sight sand sounds to see, and so much more to enjoy.
One of the facts about Brazil that you can't ignore is that Brazilians love to socialize. Here is the ideal place to witness that aspect for any new visitor looking for ways to understand Olinda.
Mercado de Artesanato da Sé
A small but friendly marketplace, I recommend that you come here if you wish to get an upfront and personal view of Olinda.
Depending on where your Brazil itinerary starts or ends, such a region tends to be a fantastic starting place. Especially if you're on the lookout for a more refined marketplace experience.
💡 Smart Travel Tip
This is a tourist hotspot fair, so expect higher prices and know that you can sometimes haggle with vendors.
Just be sure to keep your wits about you; such areas bring opportunists, so don't make the first purchase that comes to mind.
Photo at Olinda Sign
Art and letters are at the center of Olinda's history. I found that these monumental letters are just another expression of this brightly painted town that lines the cobblestone streetscapes.
This is a true 'Instagram moment' and the great thing about it is there aren't tons of people hanging around waiting to have photos taken.
So, if you want to have a memorable token of your time in Olinda be sure to come here to get your photo taken.
If you're wary about constantly pulling your camera out, why not invest in an anti-theft camera bag to give you some extra protection?
Mamulengo Museum
A stunning museum, this is one of the most interesting I found here.
Out of all the things to do in Olinda, this might be the most unique. A word of warning, though: if you are not a fan of dolls and other inanimate objects, you might wish to avoid coming here!
The Mamulengo Museum is a fantastic seating place for many dolls and other delights designed by man; a fantastic sight-to-see for sure.
Monastery of St. Benedict
Brazil is famous for its amazing monasteries, and the Church and Monastery of Sao Bento is a fine place to come and check out.
It is loaded with opulent architecture, and the reverence and love for the building are absolutely incredible.
As one of the most satisfying sights for fans of religion and/or of architecture: a truly spectacular building that still takes your breath away even after you have returned for your umpteenth visit.
Mingle With Locals
If you've read my post on how to connect with locals you'll know why I have added this as a 'thing to do' here. I found Olinda one of the friendliest places to visit during my travels in northern Brazil.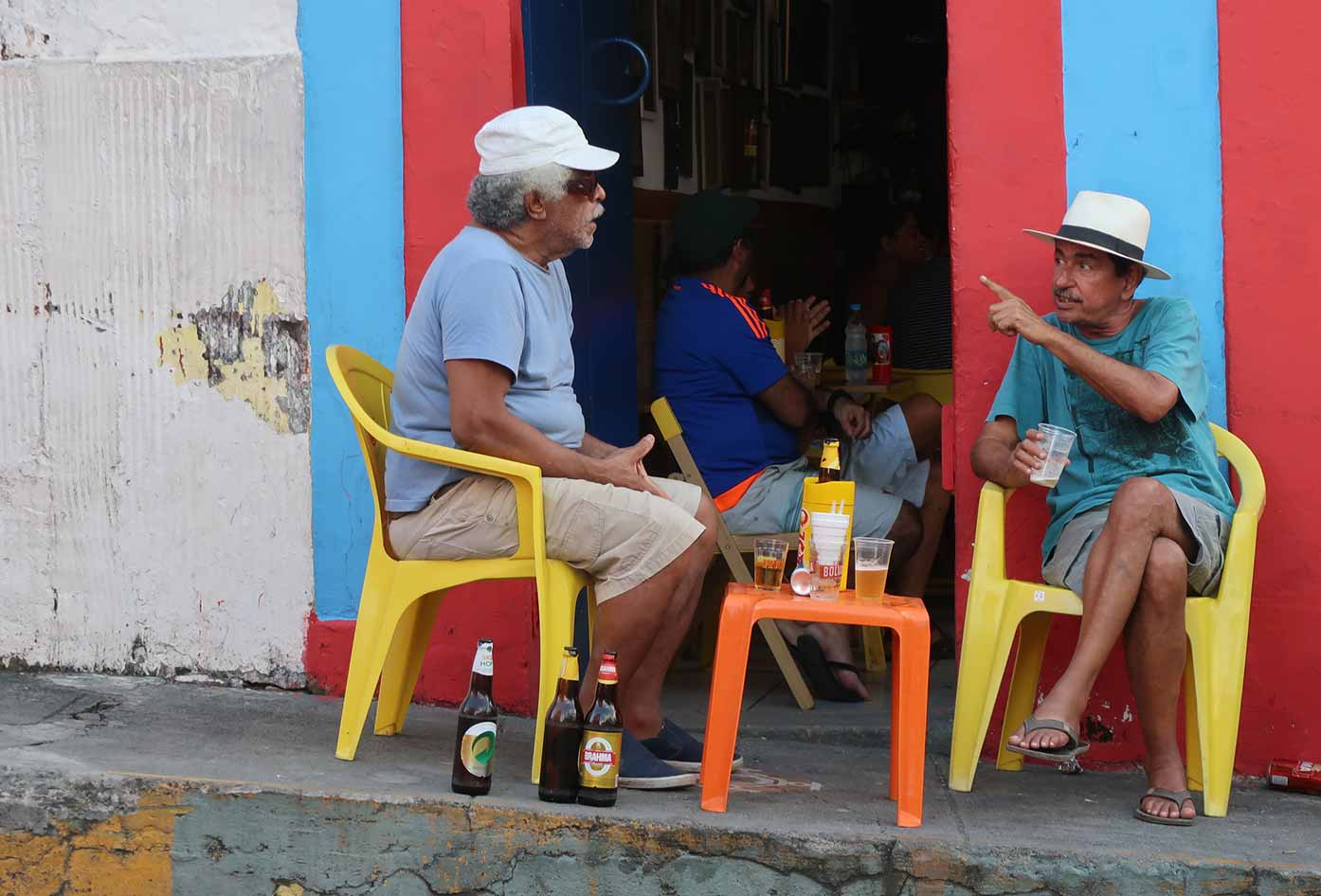 It was super easy to be able to strike up a conversation with someone. Which made asking someone for directions, the time, or a good place to eat often made great conversation starters.
If you're like me and don't speak Portuguese you'll find you can get by here with some basic Spanish conversation (luckily) and with that your comprehension level of Portuguese with also improve.
Olinda Travel Tips
See the list of travel tips for Olinda below to get more ideas on this tiny town on the outskirts of Recife.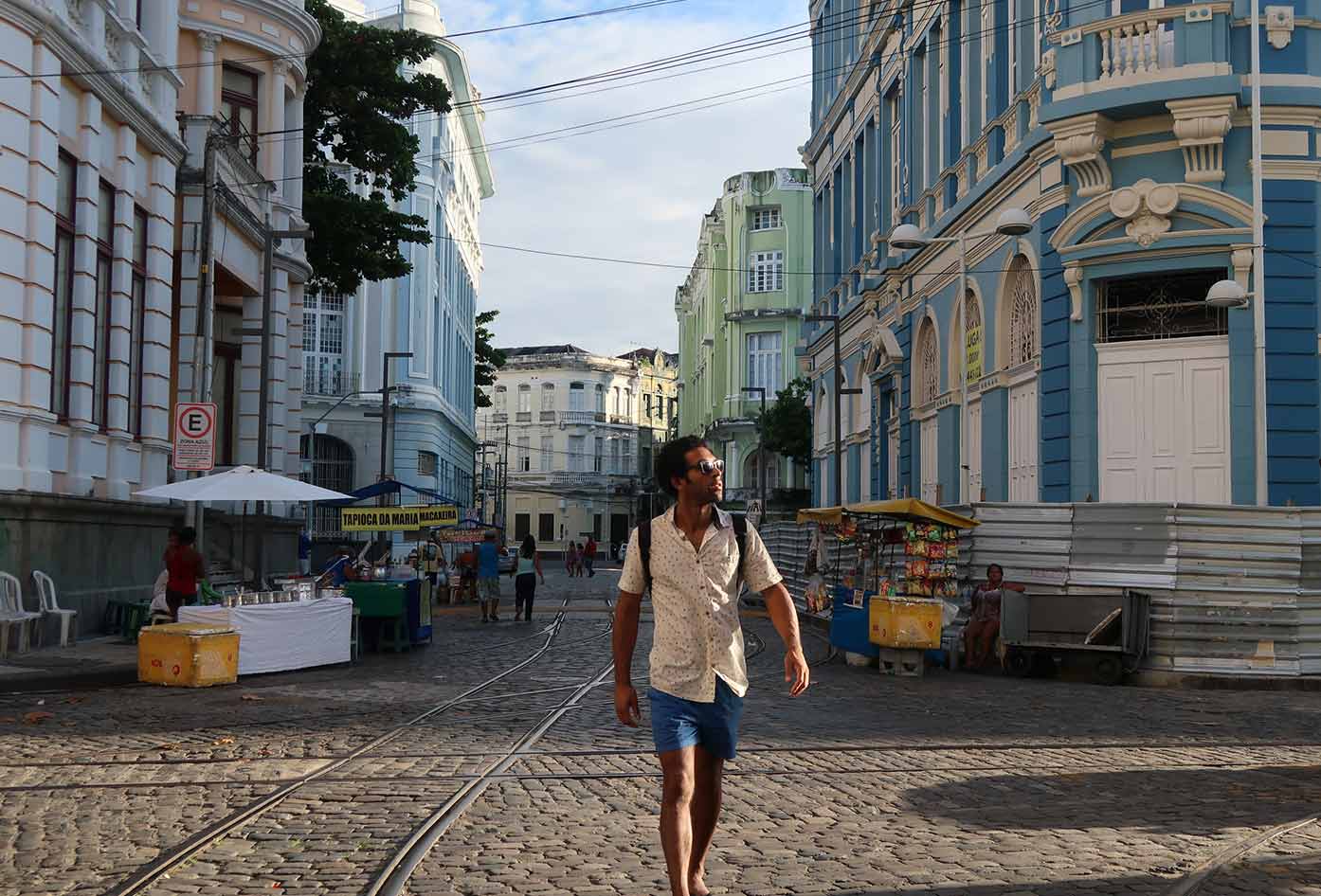 No matter whether backpacking Brazil, traveling with friends, or looking for cultural hubs to visit in Brazil, you'll find something useful below.
⤵️ Dan's Travel Tips for Olinda
Depending on the day you arrive, you should quickly find a Handicraft Market called Mercado de Artesanato da Sé.
This is a traditional market where you can indulge in local foods and a ton of crafts with a good variety.
If you want ot treat yourself take the elevator down to Beijupira restaurant for a delicious grilled fish dinner.
If you're interested in Brazil's historical sites, wait until you see the view from the church at the market. Both are located on top of a hill, and the view will take your breath away.
Check out one of the many boutique hostels in Olinda if you plan to stay here over night.
From the hilltops of Olinda, you'll get to know the architecture of the city and see the city of Recife in the foreground.
I found Olinda to be an interesting location and probably the best place to vacation in Brazil if you're near Recife.
Luckily I only carried my small travel bag with me, from Recife.
Being able to relax and move at the pace of the locals is key. Olinda's charm will soon have you memomrised.
If you come here aim to travel light. The last thing I'd want is for you to be unnecessarily lugging around a massive backpack.
Map of Olinda, Brazil
See this map of Olinda to get a better idea of the surrounding area:
If you are looking for budget hostels in Olinda be sure to check out Hostel da 13 e Suítes which also included an amazing breakfast.
After looking closer at the safety aspect in Olinda, it is a great idea to have something booked or pre-booked for when you arrive in the zone, especially if you'll be arriving in the evening.
Be sure to check out my Brazil packing list which gives you a plethora of ideas on what things to carry (and not to carry) with you in Brazil.
Got Travel Insurance for Brazil?

Designed by travelers, for travelers, World Nomads covers more than 150 adventure sports and activities so you can explore your boundaries.
Things to do in Olinda, Brazil
As stated above, there are many things to do in Olinda.
You will find that the above list, though, does offer a fine starting point for getting to enjoy a very interesting and engaging part of life in Brazil.
While it might lack the massive shopping centers and football stadia of other popular cities in Brazil, Olinda has many things to do that you will greatly enjoy taking part in should you partake.
Read about even more places to visit in Brazil if you will be heading further afield after this visit to Olinda.
📌 Like this article? Pin it…
Are you thinking of traveling to Olinda, Brazil soon?
💬 Leave a comment below or let's start a meaningful conversation…
---
"Dear friend! Some links in this post contain affiliate links. Meaning, if you click through and make a purchase, book a hostel or sign up for a tour, I may earn a small commission at no additional cost to you. Your support means a lot and helps me to keep traveling and maintaining the quality of this site for you."