Thinking of visiting the old town in Cartagena?
The heat took me by surprise as I arrived by taxi unsure of what to expect.
When I landed in Cartagena from Medellín I had a feeling I was going to love the vibe. What's more to love than culture and history fused into one.
Old Town Cartagena, Colombia
Not only is Cartagena de Indias one of the most visited cities in Colombia but it is also Colombia's 5th largest city and not to mention a cultural gem.
Firstly, look at a glimpse of what there is to see in Cartagena to get an idea of the most popular tourist attractions.
Getsemani
Getsemani is a classic neighbourhood found in the centro of Cartagena. My first impressions were reminiscent of walking through old Havana in Cuba.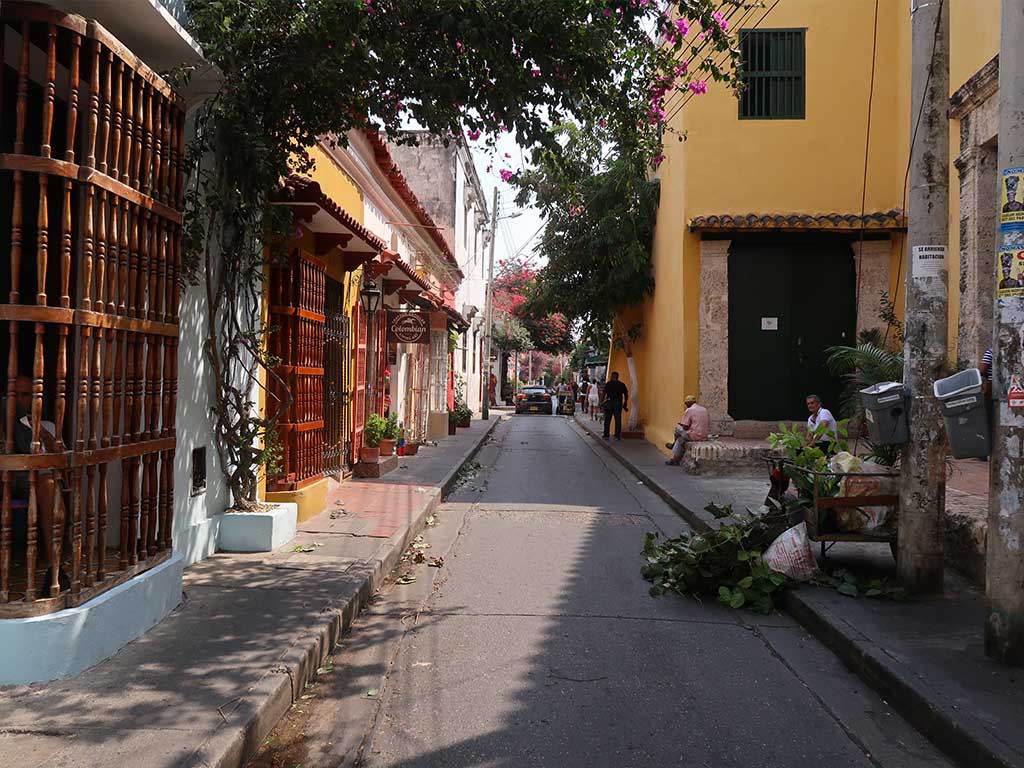 It's a neighborhood that still has many locals living there and you'll find a good mix of comedores selling typical Colombian food as well as other touristy styled food joints.
As a tourist, you can expect to be approached by many street vendors.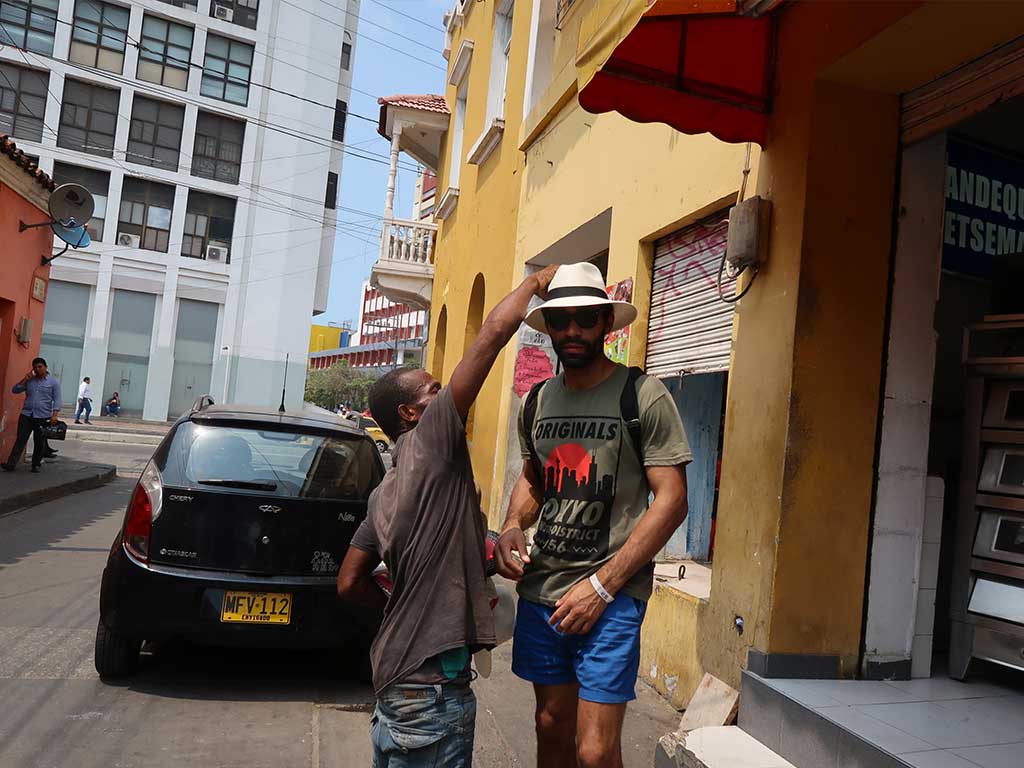 It feels old in parts and has a more raw appearance if you compare it to the other side of the tourist center.
This is Cartagena's answer to the bohemian underground scene.
So big in comparison with El Laguito, which is a tourist zone with many modern and tall buildings.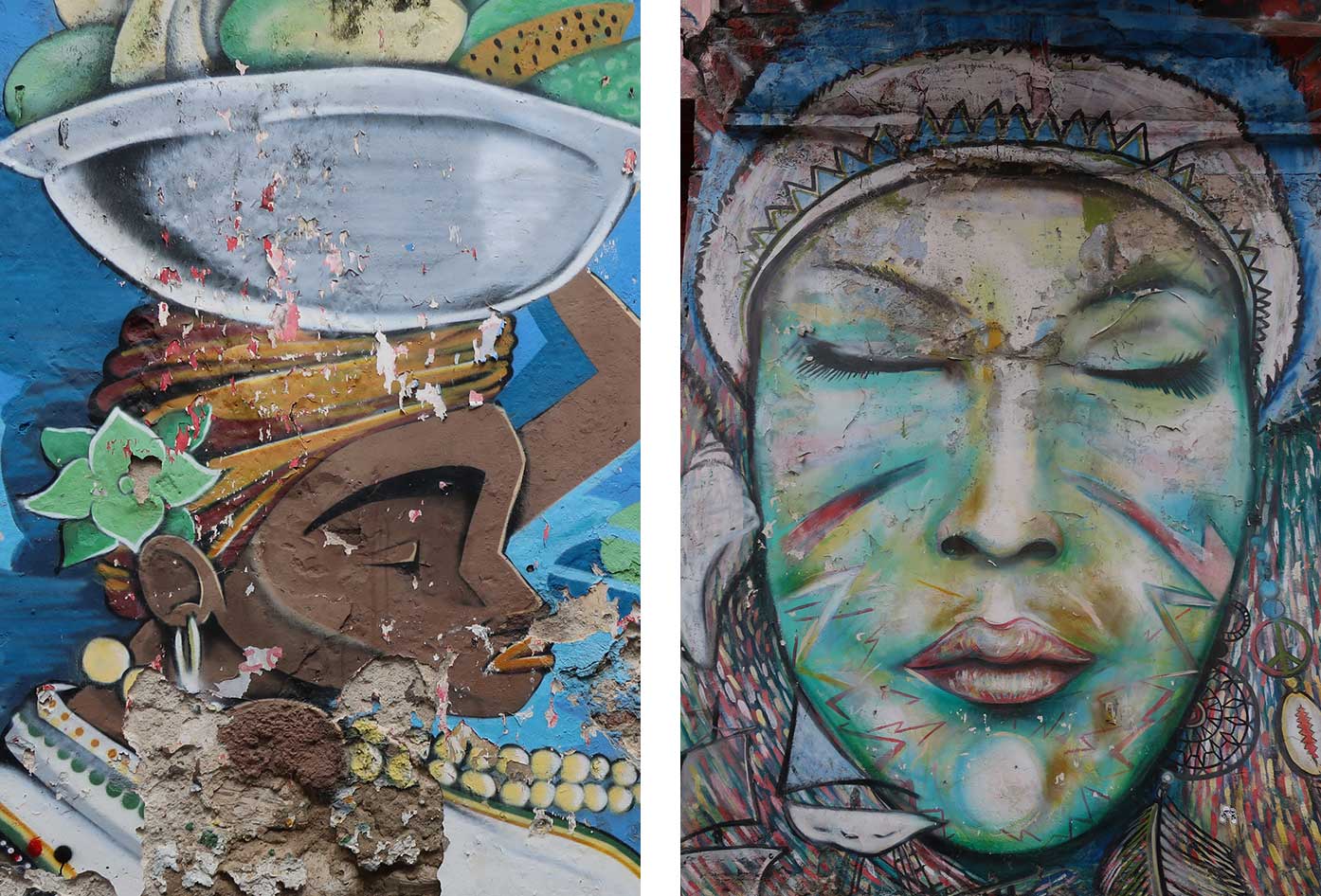 In Getsemaní you'll encounter colorful street art amongst a mix of classy and common establishments.
Recommended Pit stops:
Plaza de La Trinidad
Cafe Havana
Calle de la Sierpe
If you'd prefer to stay here you can find the famous Selina hostel in this neighborhood. So you can have an accommodating stay with all the usual trimmings you'd expect from these high-quality lodgings.
Castillo De San Felipe
Whilst looking for what to do in Cartagena you can not miss this true masterpiece of Architecture. Built by African labor, it's no secret that all the labor was under the command of the Spanish military.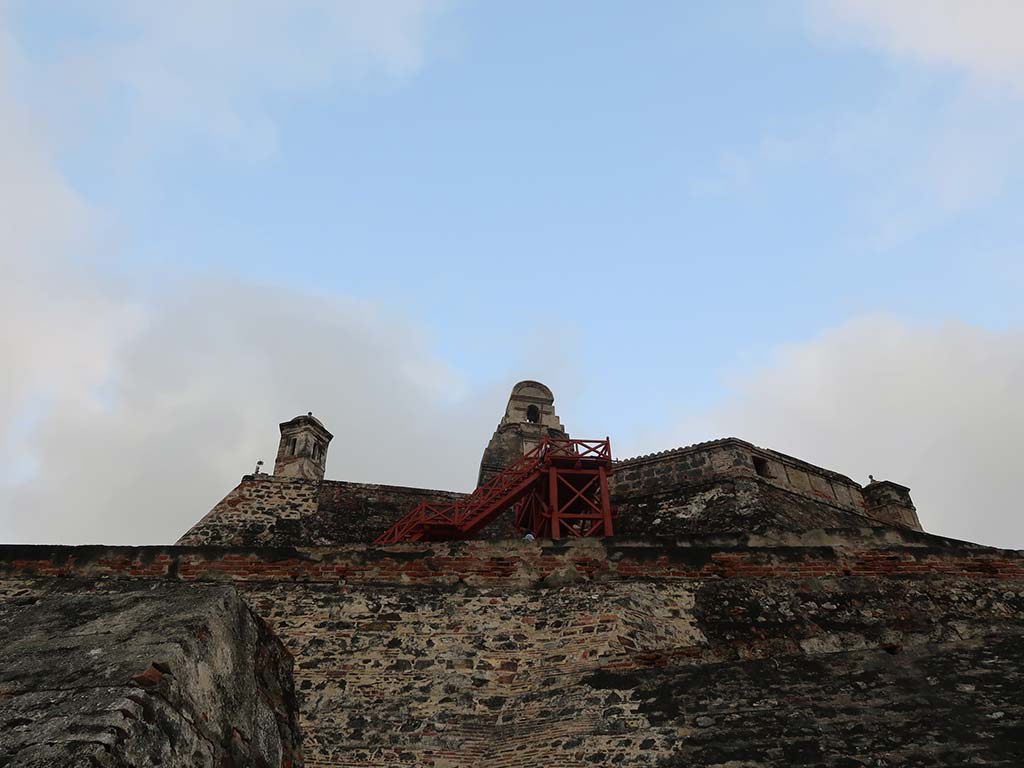 One of the interesting facts about Cartagena is this castle served as a defense fortress to protect the stolen treasures by the Spanish colonizers. The castle also has a labyrinth of underground tunnels.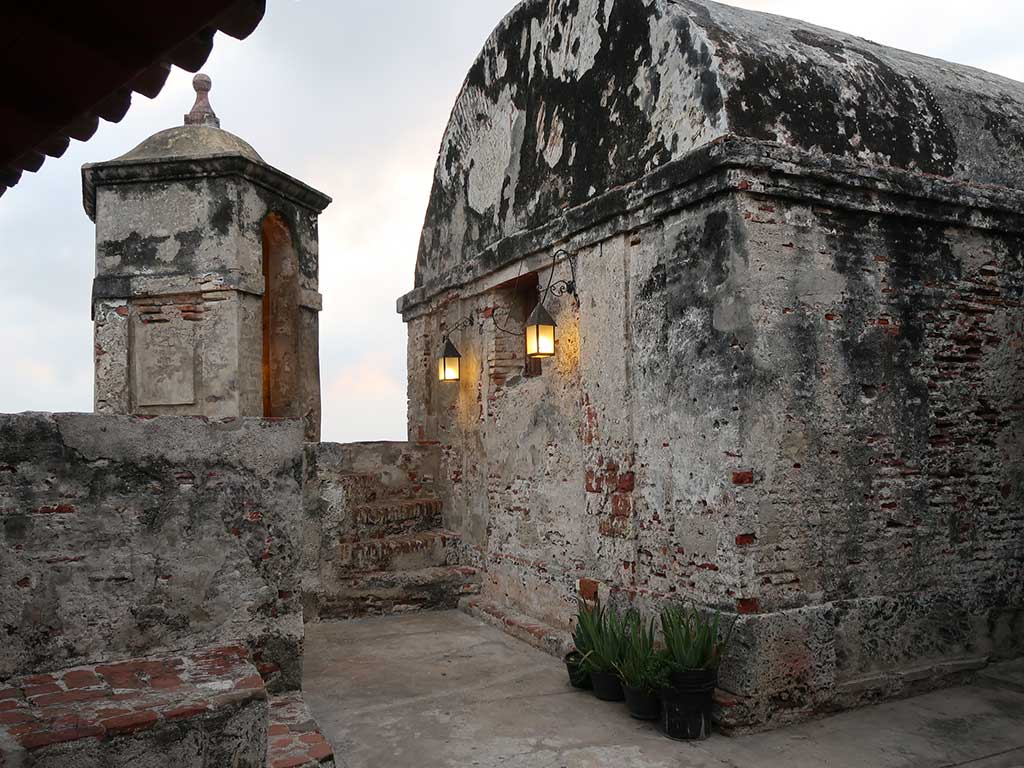 You can easily walk to the castle from the university in the old city which takes around 15 minutes.
I took a taxi from there which cost around COP$7.000 or $2.5USD. You'll most likely be asked to buy water or some type of gift on arrival so be ready for it
Don't forget to add a good pair of shoes on your list of what to pack for Cartagena.
💡 Smart Travel Tip
Visit Castillo De San Felipe around 5 pm the coolest part of the day to the watch the sunset from the top of the castle. From there you'll get a thrilling view of the city.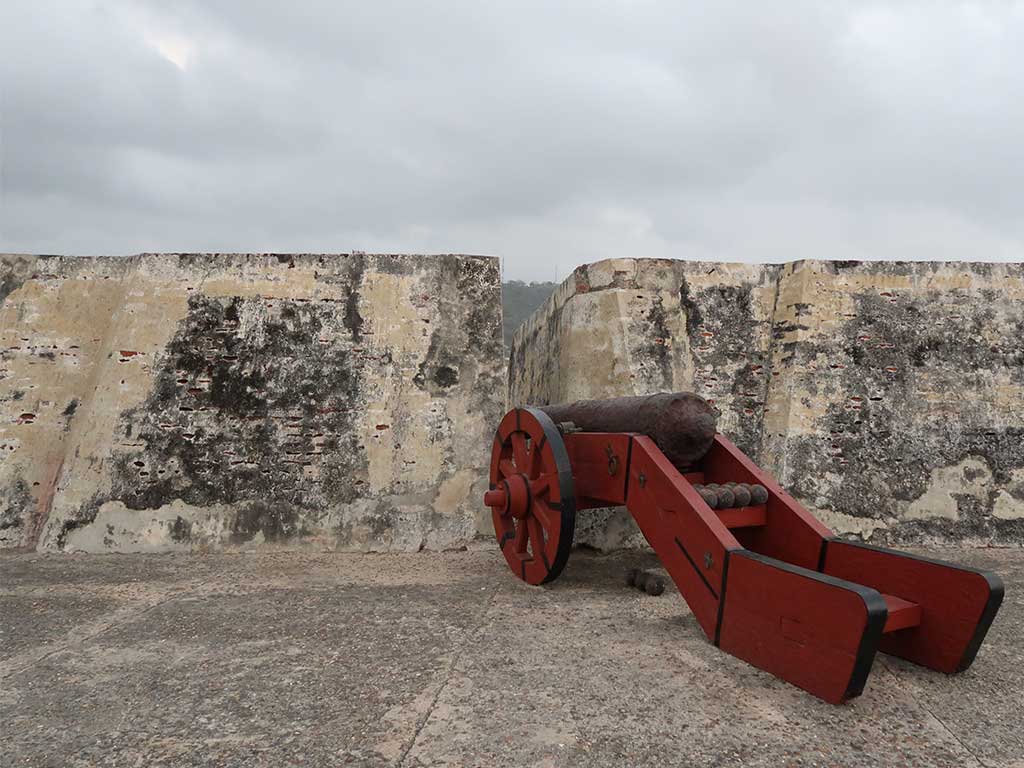 The Rosario Islands
If you're looking for the best beaches in Colombia and in Cartagena, you're in the right place. They're on the Colombian Caribbean coast and only one hour from the heart of Cartagena.
Just be sure to have complete stuff to take to the beach.
There's an island for everyone. Whether it be Playa Blanca, or sneaking off to Isla del Pirata.
Maybe it's one of the other tiny islands, where there, you're likely to get a more refined and relaxed vacation in Cartagena, Colombia.
Are you wondering which is the best time to visit Cartagena?
It's true that the weather is like a dream, there're two rain seasons per year, the weather in Cartagena in May is known for the rain.
So, the main suggestion is to travel from December to March and from June to August.
Also, take into account that the high season in Colombia is from December to February.
Fidel Salsa Bar
Located underneath the Hard Rock Cafe Cartagena this quirky little bar will have you dancing your socks off.
Head upstairs if you want to feel the vibes going on off on the dance floor.
Fidel Salsa Bar is the perfect places to meet and connect with locals in Cartagena. Not to mention the people like you and me who are trying to catch onto the local action.
If you like your classic Cuban salsa don't miss this place for the world.
Iglesia de San Pedro Claver
This Cathedral holds a beautiful piece of art history and architecture. If you take a walk from the plaza you'll see all its beauty in the blink of an eye.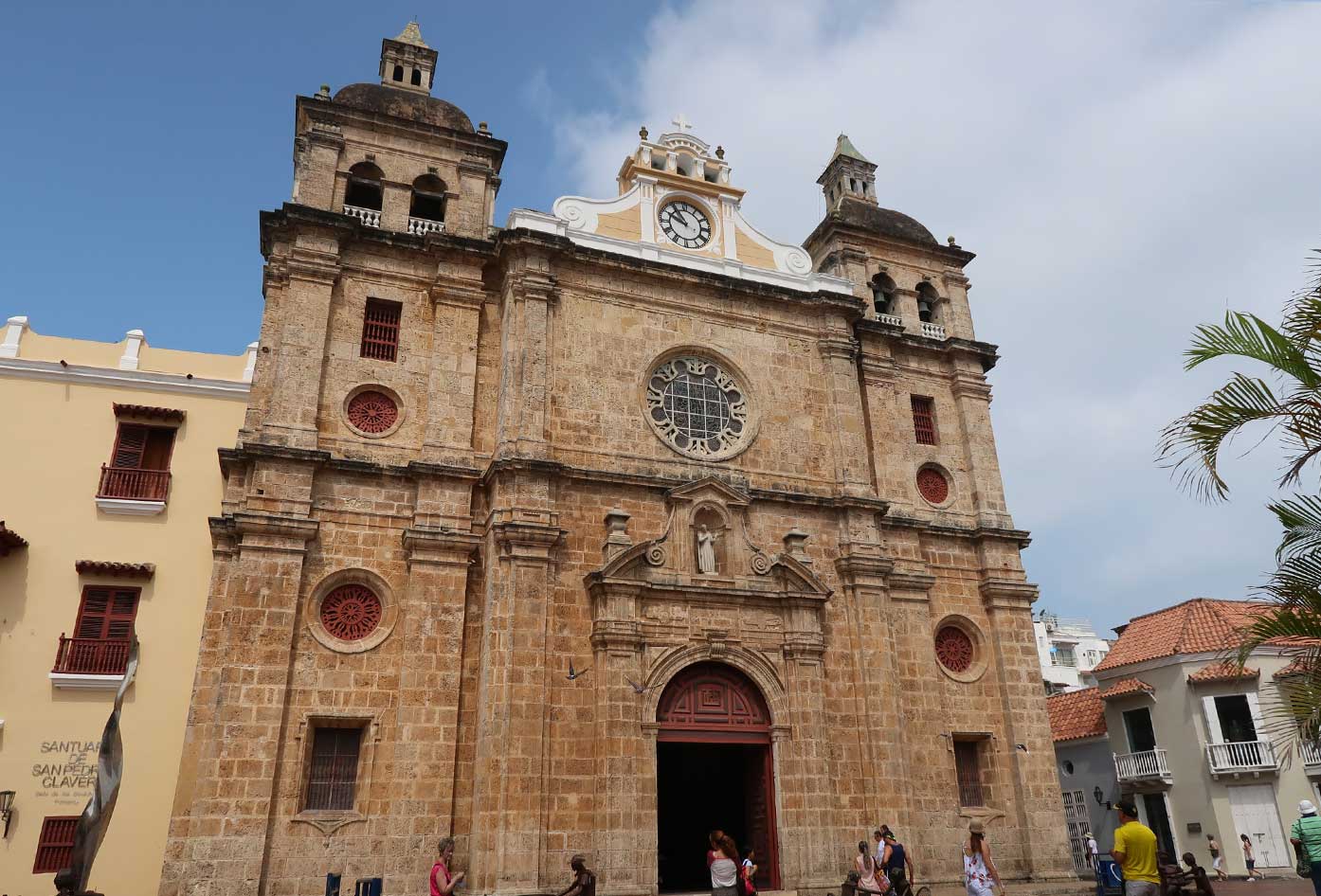 Feel free to wander inside and learn about the history of San Pedro Claver. You can learn by entering the rooms inside the Cathedral.
You'll find there are guided tour options if you want to learn even more.

Statue of Catalina
Not just a monument, but also a great place to sit and relax.
Located right on the edge of the walled city, the statue of Catalina is set near a cozy little park surrounded by water.
If you were wondering what to do in Cartagena make a visit to Catalina near the top of your list.
Catalina was a warrior abducted by Alonso de Ojeda who led her to Santo Domingo in 1509 and was later sold into slavery. Cartagena has many small statues that tell stories but this was one of my favorites.
Walk along the wall
Travel to Cartagena cannot be complete without walking along the wall. The old city is made up of a grid system of calles running from east to west.
Climb up on the walls and feel the breeze hit your face as you look out into the Caribbean sea.
You can also turn the other way and see the view of the old city of Cartagena as you'll be a roof level.
I highly recommend you do this a sunset os the view is impeccable and leaves you in awe of Colombia's Caribbean coast.
Buy fruit from the Palenqueras
You've seen them on all the images of Cartagena and they are the first thing you'll notice when you arrive. These special ladies know as Palenqueras are the face of Cartagena's old town.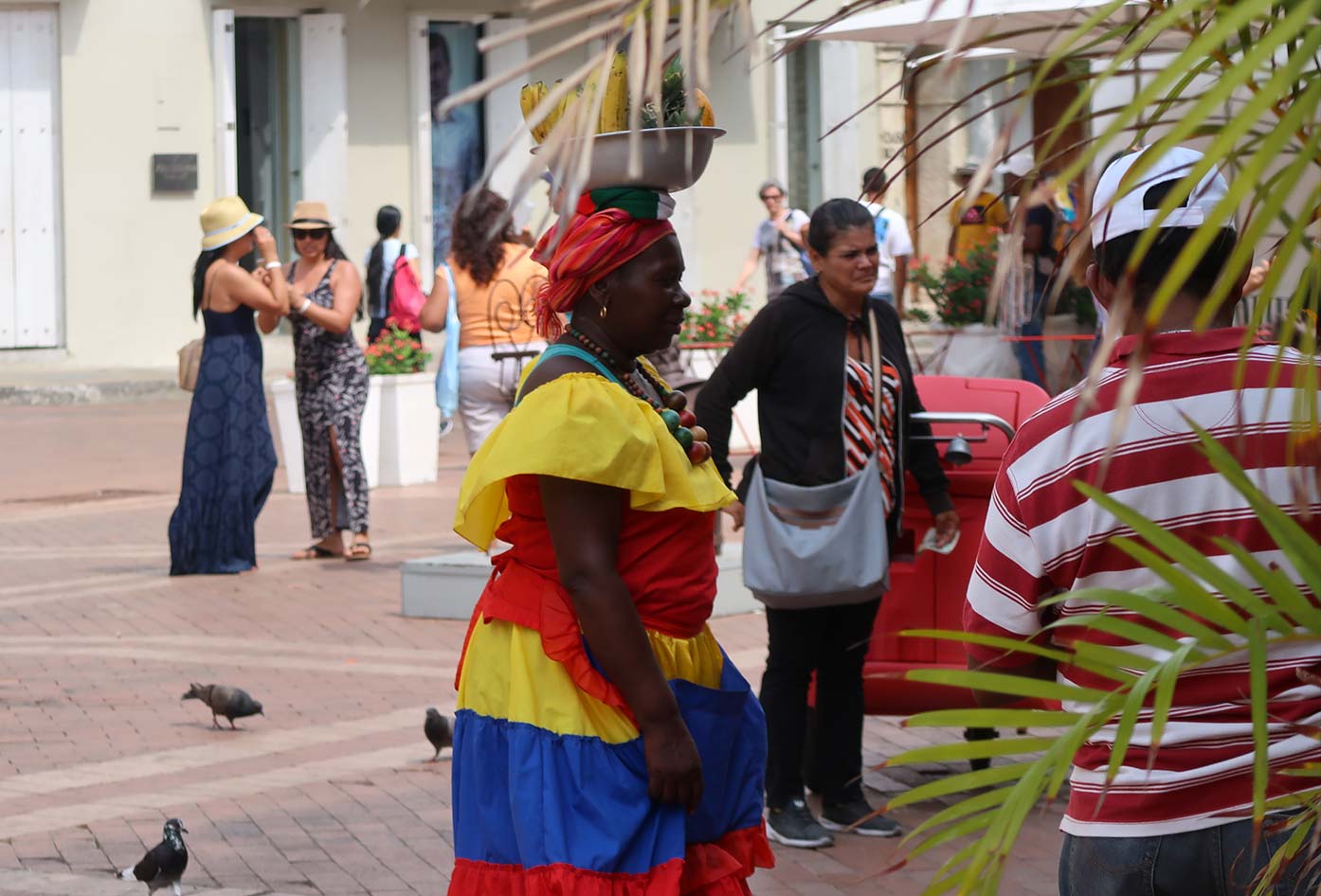 The history goes back much further than I will mention here but you can easily interact with them and even have your photo taken with them.
I'd go as far as to say that you can't leave Cartagena and not have had a photo with these ladies which originally came from San Basilio de Palenque a small town south of Cartagena.
A small tip is expected as these women are at your service for you to be able to take a photo with them as well as offering delicious thirst-quenching fruits.
What to see in Old Town Cartagena?
Below are just a glimpse at some of the main tourist sites in Cartagena:
The Walled city of Cartagena
Clock Tower
Teatro Heredia
Cartagena Gold Museum
Las Bóvedas
Steps of La Popa mount
Castillo de San Felipe de Barajas
Aside from history, you can find some of the best restaurants in Colombia.
Cartagena has something for everyone! From the budget backpacker to the fine diner who only feast on the finest quality foods.
---
---
Cartagena has some of the best beaches in Colombia with the Colombian Caribbean coast just a stone's throw away from Cartagena's old town.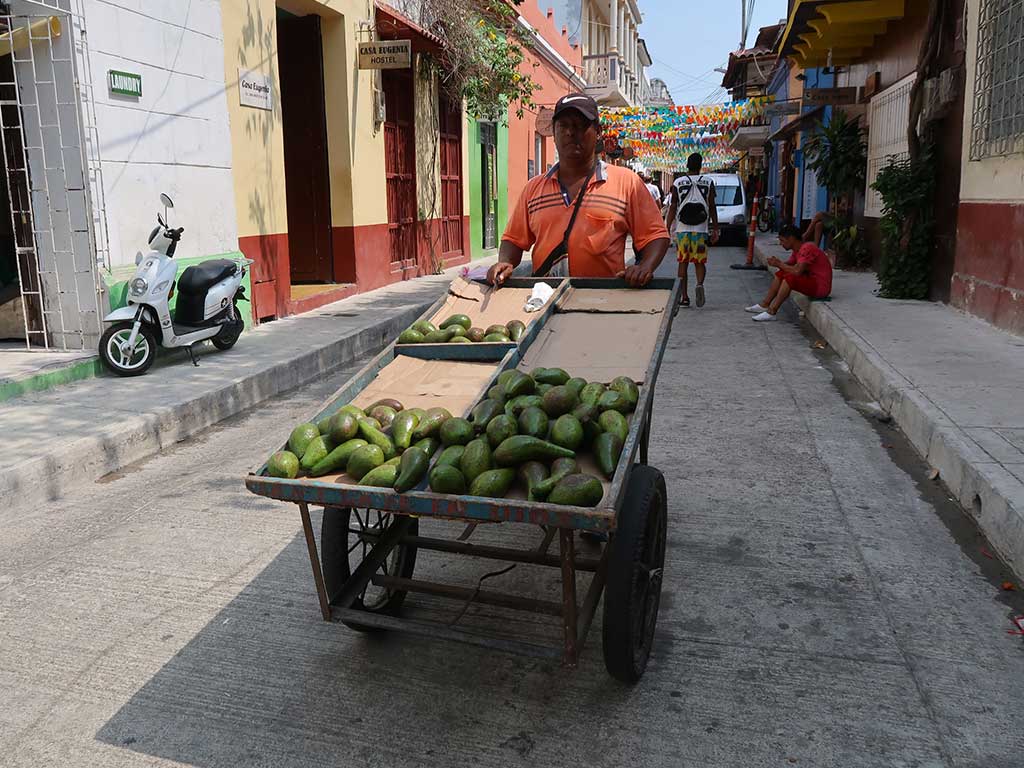 You can easily get a tour to places like Playa Blanca or the Rosario Islands to get acquainted with some of Colombia's more exotic beaches which will leave you thirsty for more sunshine.
So, is Cartagena worth your precious time? Let's decide by looking at this travel guide to Cartagena a little more detail about what you can get up to.
Old town Cartagena: Travel Tips
I'd seen numerous photos of Cartagena and with it being the fifth-largest urban area in Colombia I had to see it in real life.
For me, one of the most exciting things to do was just to walk with my camera, get myself lost, and see what happens.
The old center itself is drenched with the history from Africa, the Caribbean, and Latin America. All my ideal destinations in a nutshell.
The colors, setting, and culture all turn a short stay into a memorizing experience. At every turn, you'll be united with history as it unfolds in front of your eyes.
Leave space in your schedule for other parts of Cartagena and random strolls to become one street more acquainted with this beautiful site.
You'll stumble upon many landmarks. It can be wise to know the best times to do certain activities whilst in the walled city of Cartagena.
The best times to walk around
People ask questions like, is Cartagena safe and, what should I avoid whilst inside the walled city of Cartagena.
I'm not focusing on the potential negatives here but I'll create a guide that explains what I encountered, so please check back soon.
Whilst in Cartagena I broke my day down into the following slots:
Early morning
Mid Morning
Lunch
Mid afternoon
Early evening
Late evening
Think you've seen all the streets? Go back and discover them again. The walled city of Cartagena unravels further just when you think you've seen it all. Have a decent shirt with sun protection for the day time.
The walled city experience is something that can get easily overlooked or under-appreciated if you have other interests in Cartagena.
You may even get distracted by the sheer entertainment alone, which you'll definitely encounter whilst within this mazed city.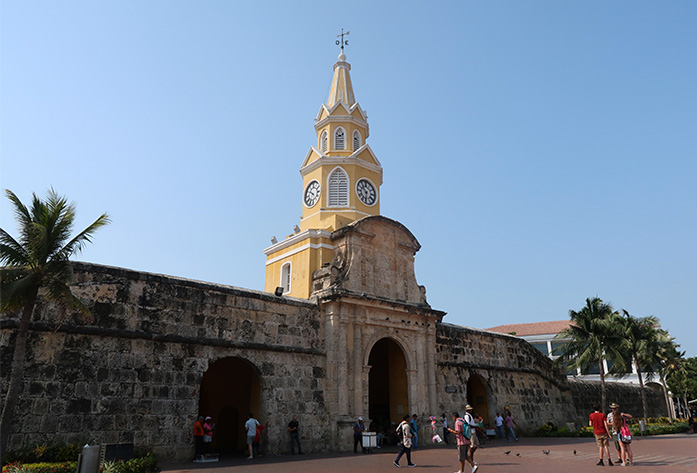 From a locals' perspective walking along the wall is a special or romantic moment to share with friends, a family member or a loved one.
I recommend you go in the afternoon, as the sun goes down. You'll find it more pleasant and it helps you relax whilst taking in the sight of the ocean.
💡 Smart Travel Tip
Ensure your camera is fully charged, you'll want to capture the moments. I use one of these devices to keep fully charged whilst I travel.
Old town Cartagena – What to avoid
Below are a few things to avoid whilst exploring Cartagena's walled city. Obvious to some but overlooked by many. Keep the following in mind.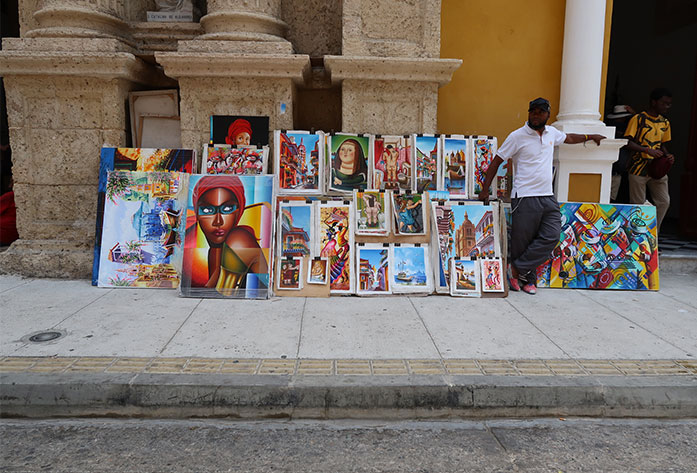 #1 Falling to your death
When walking the wall, be careful as there are no rails an, if we, can be very slippy. Also if windy it's worth being cautious because the wind speed gets quite fast.
#2 Getting Robbed or Scammed
Whilst strolling doesn't look too lost or you could be a target for local street lurchers who may want to take advantage of your nationality. This usually starts with a question along the line of "Hey, where are you from?"
#3 Damaged by the Sun
Protect your eyes at all times the UV intensity is very high in Cartagena. When in Latin America I always carry my favourite sunglasses with me to protect my eyes.
It can be very hot during the day so it's wise to be prepared. You can easily get burned by the sun thinking the breeze is cooling you down.
Best hotels in the walled city
Here is a shortlist of some of the best hotels within the old town Cartagena.
3 reasons to stay here
Comfy rooms
Beautiful decoration
Lovely pool
Perfectly located in the heart of old town, Cartagena. You'll be greeted by beautiful rooms and even get a wonderful night's sleep. Expect excellent service all around.
---
3 reasons to stay here
Great location
Excellent breakfast
Attentive staff
With just an 8 minute walk from the beach expect to stay in one of Cartagena's finest hotels. You can literally walk to Santo Domingo and get to the Rosario Islands which are just a 1-hour boat ride away.
---
3 reasons to stay here
Beautifully renovated
Great service
Private balconies
Just a 1-minute walk to the Cathedral. This beautiful hotel features a fusion of chic colonial-style architecture and modern design. It's delightful renovated and has many common areas for you to relax.
3 reasons to stay here
Roof top pool
Excellent service
Delicious food
The Charleston Santa Teresa is a perfect choice for anyone who is interested in architecture, food and history. You'll be in a location that can offer you the best of Cartagena. The rooftop deck is a must if you want to see the sunset.
---
3 reasons to stay here
Charming setting
Professional staff
Luxury rooms
One of the best luxury hotels in Cartagena. Expect nothing less than perfect, the rooms are comfortable and breakfast is far superior to that of most.
---
The short answer is yes! But that doesn't mean that there is no risk!
Similar to any other popular city, there are some areas that must be avoided as a tourist.
So how safe is Cartagena for Americans or foreigners in general? It's safe but one needs to be aware of the location that you are in at all times.
If you are within the walled city you can almost guarantee that you are safe to roam around but take care when walking the streets alone.
There are also some other popular areas where you should be able to walk around freely without worry.
Below are some other neighborhoods you may find yourself exploring:
Bocagrande and Manga: Known for its long strip and beach-fronted skyline. This area is connected with the lavish side of Cartagena and is safe to walk around to and from the walled city. Walking via Manga you can visit the harbor by walking along the seafront.
Getsemani: A neighbourhood famous for its nightlife, cafes, bars and some amazing street art. You'll also find some of the best hostels. From the walled city, you may feel safer walking here in the daytime first to get acquainted by visiting at night.
San Diego: A few blocks from the walled city you can find this cool bohemian vibe. There's some great street art and of course the Plaza de San Diego. If visiting La Bovedas be sure to exercise extra caution and don't flash your belongings.
Getting yourself outside of the walled city and familiarizing yourself with these neighborhoods will definitely add more richness to the experience of your stay in Cartagena.
Old town Cartagena – What to do
Of course, if you looked deeper you'll find many more experiences to be had in the historic center of Cartagena.
I travelled solo but if you're in Cartagena with the family you may want to have a different kind of experience.
In this Cartagena travel guide, my aim was to show you some of the immediate landmarks and give you a basic idea on what to do in Cartagena and the inside the old town.
Whether traveling to Cartagena for 24 hours or for a full week of pleasure. I hope you feel like you have an idea of what to see when you visit.
If you're traveling to other parts of Colombia remember to check out my backpacking Colombia guide for more tips of traveling through Colombia.
📌 Like this article? Pin it…
Missing something? Got tips, tricks & advice we can learn from?
💬 Leave a nice comment or let's start a conversation below!
---
"Dear friend! Some links in this post contain affiliate links. Meaning, if you click through and make a purchase, book a hostel or sign up for a tour, I may earn a small commission at no additional cost to you. Your support means a lot and helps me to keep traveling and maintaining the quality of this site for you."