When comparing Nicaragua vs Costa Rica which do you visit?
When backpacking one of the most popular areas to backpack in the world, it's difficult to make the right decisions when it comes to safe spots and the dangerous ones.
A trip along one of Central America's travel routes may come with compromises, surprises, and some downright awesome countries.
Nicaragua vs Costa Rica
Nicaragua and Costa Rica are guaranteed to be two of the top countries visited in the Central America region, as they both lie on the coastal paths between both American continents.
They border each other, so they have a lot in common in terms of dialect, cuisine, and biodiversity. However, there are some differences that may make travelers choose one above the other.
Nicaragua
One of the most popular spots for people who find themselves in Central America is Nicaragua, which has a population of incredibly warm people.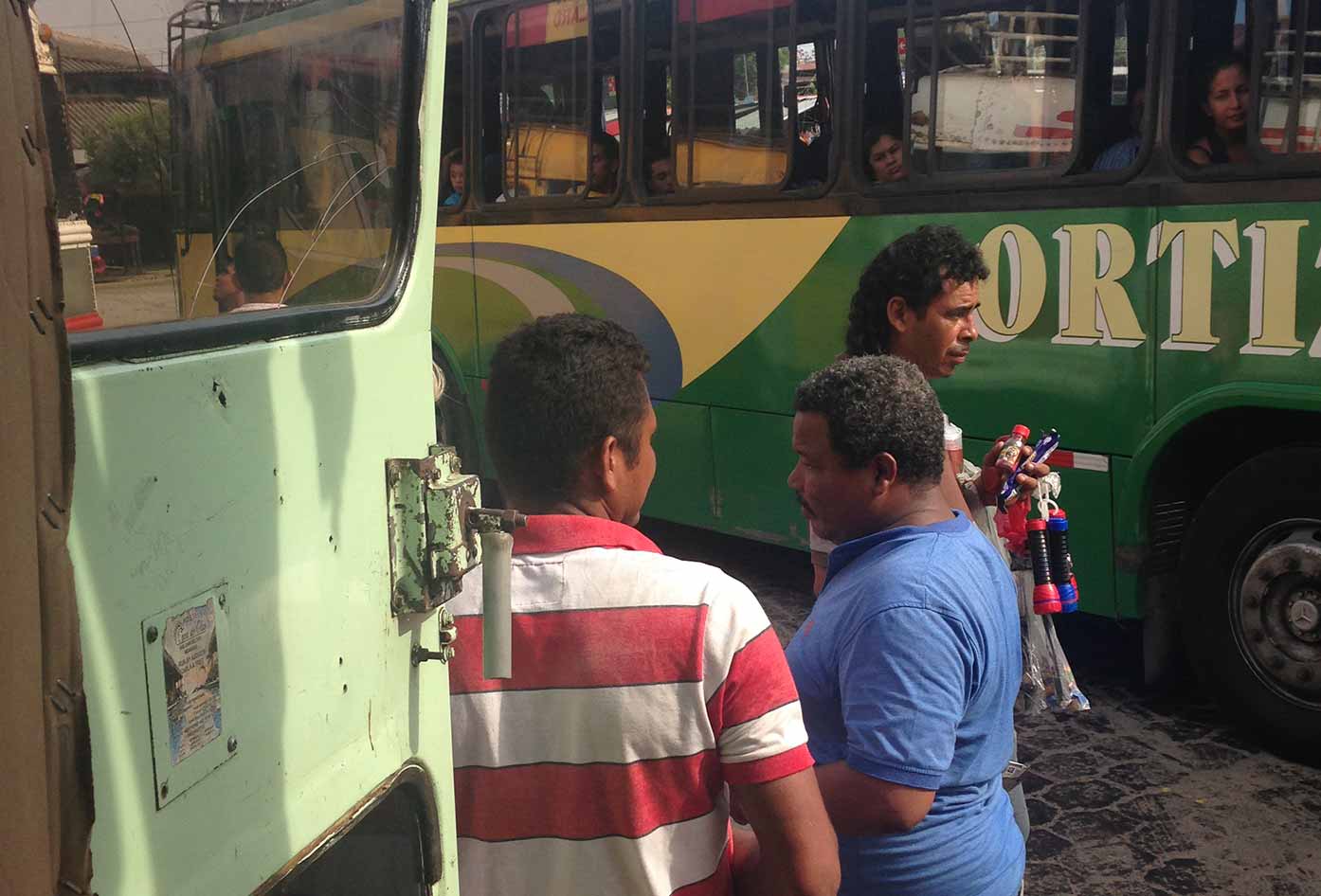 Nicaragua's name comes from Nicarao, the name of the Nahuatl-speaking tribe which inhabited the shores of Lake Nicaragua before the Spanish conquest of the Americas.
The end of the word Nicaragua is the Spanish word 'agua', meaning water. Learning from one of the many fact-based books about Nicaragua before you decide to travel is a good idea.
Facts about Nicaragua
Nicaragua is the second-poorest country in all of the Americas, next to only the Hispaniola country Haiti.
Nicaragua's total GDP is approx. $10.5 billion. Around 75% of the country's 6,000,000 people live on less than $2 per day, well below the poverty line of most countries.
Nicaragua is home to the oldest city in all of Central America; The Ruins of León Viejo. They date back well over 500 years, and it's one of the most visited tourist attractions.
History tells us that León was a Spanish colonial settlement that didn't quite develop, and instead ended up laying abandoned for many centuries. See a list of things to do in Leon for more ideas.
Nicaragua holds some incredible records for the western hemisphere, and you can add the largest lake in Central America to the list.
The Mar Dulce or the "sweet sea" by the Spanish, Lake Nicaragua is 8,264 square kilometers and is one of the biggest attractions in the country next to the León Viejo Ruins.
It really does help if you can learn Spanish (at least a little bit) before you arrive to give you a better understanding of these cultural feats.
Is Nicaragua safe?
Nicaragua has a high crime rate, based on gang activity or tourist targeting.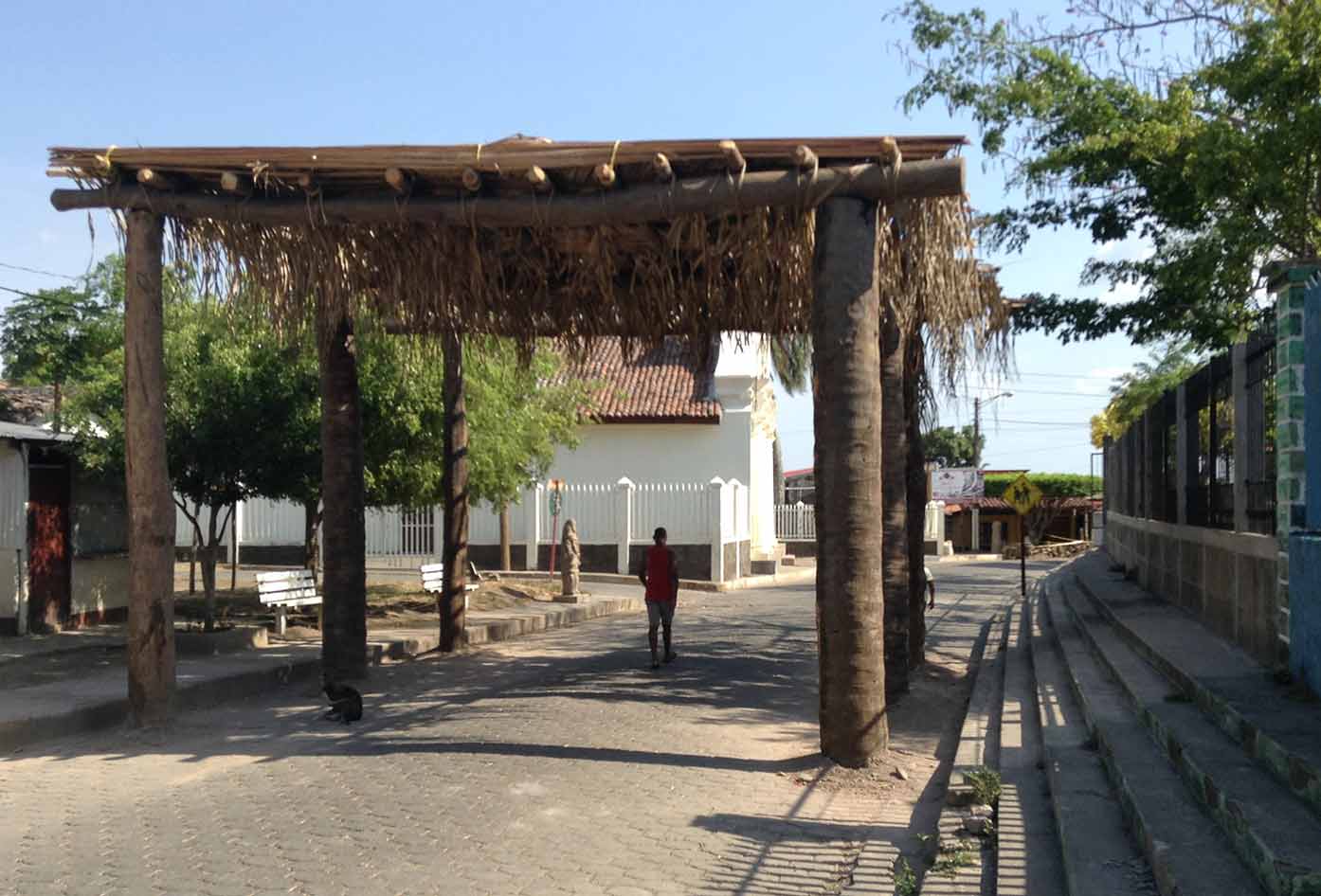 This includes crimes such as armed robbery, assault, and express kidnapping. Something to conceal valuables like a money belt can go a long way in Nicaragua or traveling around Central America.
There aren't many police outside major urban areas, so avoid remote locations where possible (except for secure resort spots). Use only official taxis with a red number plate, or radio-dispatched taxis.
See this more detailed guide on safety in Nicaragua for more up to date tips and advice.
Armed gangs operate along the Honduran border, so a tourist bus is your only option in that instance. Only use highways that cross the border at Guassaule, El Espino, or Las Manos.
Hurricane season is from June to November, so bear in mind that hurricanes can cause flooding and disrupt services.
Backpacking Nicaragua
The scenery and biodiversity in Nicaragua may not be as vast as that or Guatemala or Costa Rica, but its many volcanoes, beaches, and the Nicaragua Lake do make the country well worth visiting.
It is also a fantastic cultural destination, with the colonial cities of Granada and Léon being great attractions in particular, great to move around by bus. For anyone backpacking Nicaragua this is a must.
While Nicaragua is the largest country in Central America, the majority of its key sights and cities are clustered in the southwest.
The Caribbean side of Nicaragua consists mostly of remote and dense jungles with apparently some of the worst roads in Central America.
Not many travelers go this way with one exception: Corn Island is a popular destination in the east, which is best reached by plane from Managua (the capital city) or, via Rio Escondido by boat for the brave.
Beaches in Nicaragua
The two big islands, Big Corn and Little Corn, situated about 50 miles off the Caribbean coast of Nicaragua have some incredible beach spots.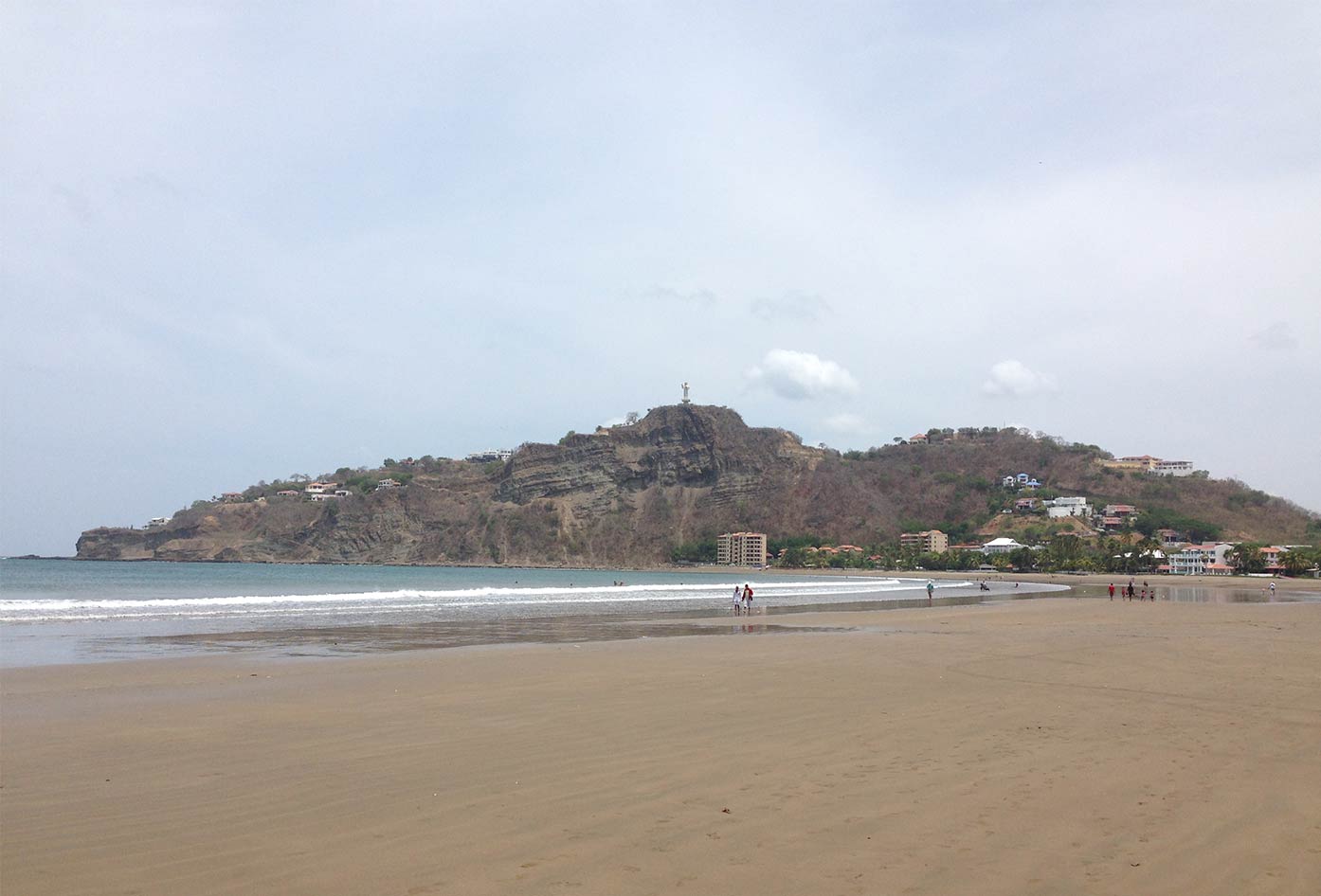 Yemaya in Little Corn island is much loved by travelers in search of a relaxed island getaway surrounded by turquoise waters, white-sandy beaches, and stunning snorkeling opportunities.
Playa Maderas is one of the most popular beaches in Nicaragua, located on a dirt track just 20 minutes north of San Juan del Sur.
It is best known for being an incredibly popular surf spot. The beach itself is characterized by signature shark-fin-shaped rock formations and a protected jungle cove, making for a beautiful view at sunset.
Best time to visit Nicaragua?
As one of the cheapest Spanish countries to visit there may be peak times around the Summer! But there is no best time to visit Nicaragua; it has the advantage of being extremely visitable all year round.
The dry season is from November to April and the wet season May to October.
In the rainy season, the Caribbean is wetter than the Pacific, where afternoon showers last an hour or two.
Easter week is very busy, but as local people head to the coast or lakes, the towns are empty.
Check out Purísima Festival at the beginning of Dec, with fireworks throughout the month and into New Year.
Costa Rica
The name 'la costa rica', meaning "rich coast" in Spanish, was to most expert estimations first applied by Christopher Columbus.
Columbus sailed to the eastern shores of Costa Rica during his final voyage in 1502 and reported vast quantities of gold jewelry worn by natives.
Facts about Costa Rica
Every denomination of Costa Rican cash features a different landscape and animal chosen from Costa Rica's vast biodiversity!
Some of these banknotes include the white-tailed deer, capuchin monkey, sloth, and blue morpho butterfly.
Although the cost of living in Costa Rica is much higher than neighboring Nicaragua that doesn't mean you can't enjoy it on a modest travel budget.
Nicoya, an area on Costa Rica's western coast, is a well-known Blue Zone. This means its inhabitants commonly live past the age of 100.
Costa Rica's beaches are world-renowned for many reasons!
Not the least of which is the fact that you can watch the sunrise from the horizon on the Caribbean coast. Then, admire it falling on a beach on the Pacific coast, all in one day!
This can also be done in Panama if you want to compare Costa Rica vs Panama now might be a good time if you don't wish to visit both.
No other country in the world has it as easy as Costa Rica, although it is technically possible in other neighboring countries.
Any traveler who is interested in learning more facts about Costa Rica before their trip will always have a more rewarding time when they actually get there.
Is Costa Rica Safe?
You'll find that Costa Rica is a largely safe country, but petty crimes such as bag snatchings and car break-ins are common.
It's important to be vigilant, as mugging is commonplace here too.
Many of Costa Rica's dangers however are nature-related. Naturally occurring events such as riptides, earthquakes, and volcanic eruptions are more common than tourist-related petty crime.
Costa Rica, just like most countries in Central America, is a major transit country for drug trafficking.
In recent years, thousands of migrants from poorer neighboring Central American countries have flooded into Costa Rica, mostly seeking work.
While some have found it, many others do not have regular employment and are desperate enough to join gangs.
Best time to visit Costa Rica?
Just like Nicaragua, there isn't really a specific time of year to recommend.
The best time to visit Costa Rica for most people is from mid-December to April (the dry season). This is peak tourist season, however, so the prices are very high.
However, the dry season boasts plenty of sunshine making it an ideal time for exploring rainforests and lounging on beaches.
You'll have to book your room and tour reservations three months in advance to secure a spot since there are limited numbers.
If you don't mind getting a little wet, visit between May and November when prices are at their lowest and you can enjoy many activities in small numbers.
Things to do in Costa Rica
For anyone planning a trip to Costa Rica, one of the top locations for tourists is the Tabacon Hot Springs.
It's the largest accessible network of natural hot springs in all of Costa Rica. The pools are located within a private rainforest reserve and part of the Tabacon Thermal Resort, so booking ahead is advised.
In 1945, by a total accident, the Venado Caves were discovered by a farmer who fell into them.
There are eight magnificent chambers that make up a maze of limestone deep down in the earth, making it an essential spot to visit.
The Lankester Botanical Gardens, located in the Central Valley, is home to 15,000 orchids and 3,000 other types of plants.
This impressive and gorgeous botanical garden is a must-visit for plant and orchid enthusiasts or anyone who just loves being surrounded by flowers.
Costa Rica is world-renowned for wildlife preservation, so there are many opportunities to explore.
Backpacking Costa Rica
By traveling in the off-season, late April to early November, the prices tend to be less expensive and the region less crowded. Especially when booking hostels in Costa Rica which are great value for money.
There are many free activities such as hiking the park, the La Fortuna waterfall, and a few of the hot springs for backpackers to enjoy.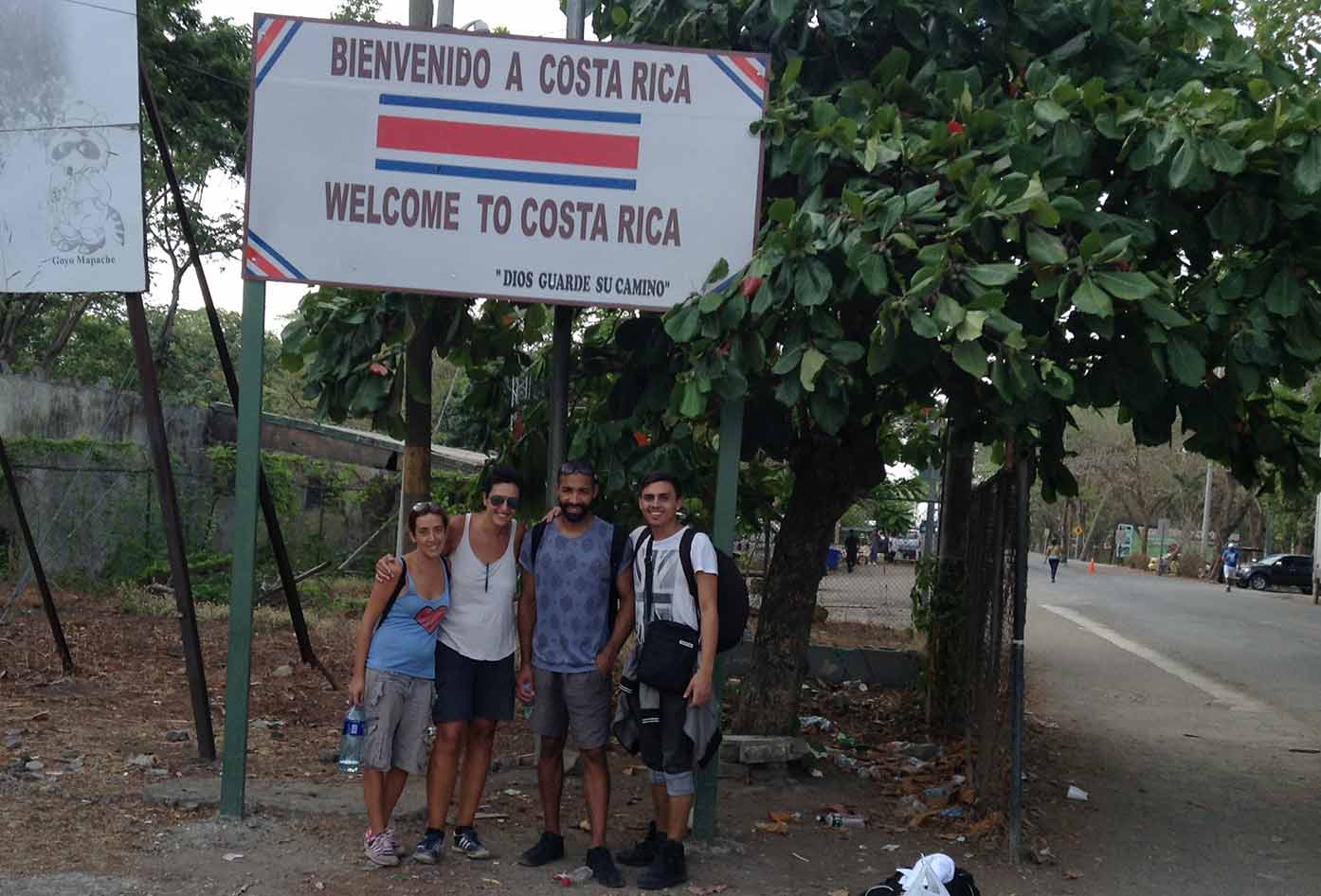 Eat at the sodas! "Sodas" are small family-run restaurants that specialize in cheap but great quality local meals.
These hole-in-the-wall restaurants offer the best value in the country. Costa Rica is very accommodating of tourists, but backpacking is where the country is at its best.
You get to explore the farthest reaches and enjoy spoils you wouldn't find with a package holiday.
Try staying in places such as Selina for a quality night's sleep and you find yourself on somewhat of a modest travel budget.
Got Travel Insurance for Central America?

Designed by travelers, for travelers, World Nomads covers more than 150 adventure sports and activities so you can explore your boundaries.
Nicaragua vs Costa Rica
When it comes to these two countries, they both have their strengths and they both have their weaknesses.
Been forced to choose just one location, it is fairly easy to say that Costa Rica has all the facilities and a better economy to ensure a better quality vacation.
See this guide to backpacking Central America for more travel tips, or, share with anyone you know who is embarking on a trip here soon.
📌 Like this article? Pin it…
Whilst comparing Nicaragua vs Costa Rica did this guide help you?
💬 Leave a comment below or let's start a meaningful conversation…
---
"Dear friend! Some links in this post contain affiliate links. Meaning, if you click through and make a purchase, book a hostel or sign up for a tour, I may earn a small commission at no additional cost to you. Your support means a lot and helps me to keep traveling and maintaining the quality of this site for you."