What is the most dangerous country in South America?
This is somewhat of a controversial question since South America is a wonderful continent full of adventure and unique places to visit.
However, some parts of the continent are dangerous, so it's natural to be curious about the most dangerous place in South America.
Combine that with all of the negative news about certain countries which subconsciously assist us in closing our minds to any possibility of visiting.
Most Dangerous Country in South America
Let's go outside the box to discuss the most dangerous countries to visit as an American, a European, or a person from any other foreign country.
These are the countries that the U.S. Department of State has classified as dangerous, which is important to keep in mind when trip planning.
Crime Rate in South America
It's fair to say South America is safe but there are several countries in South America that have some of the highest crime rates in the whole region.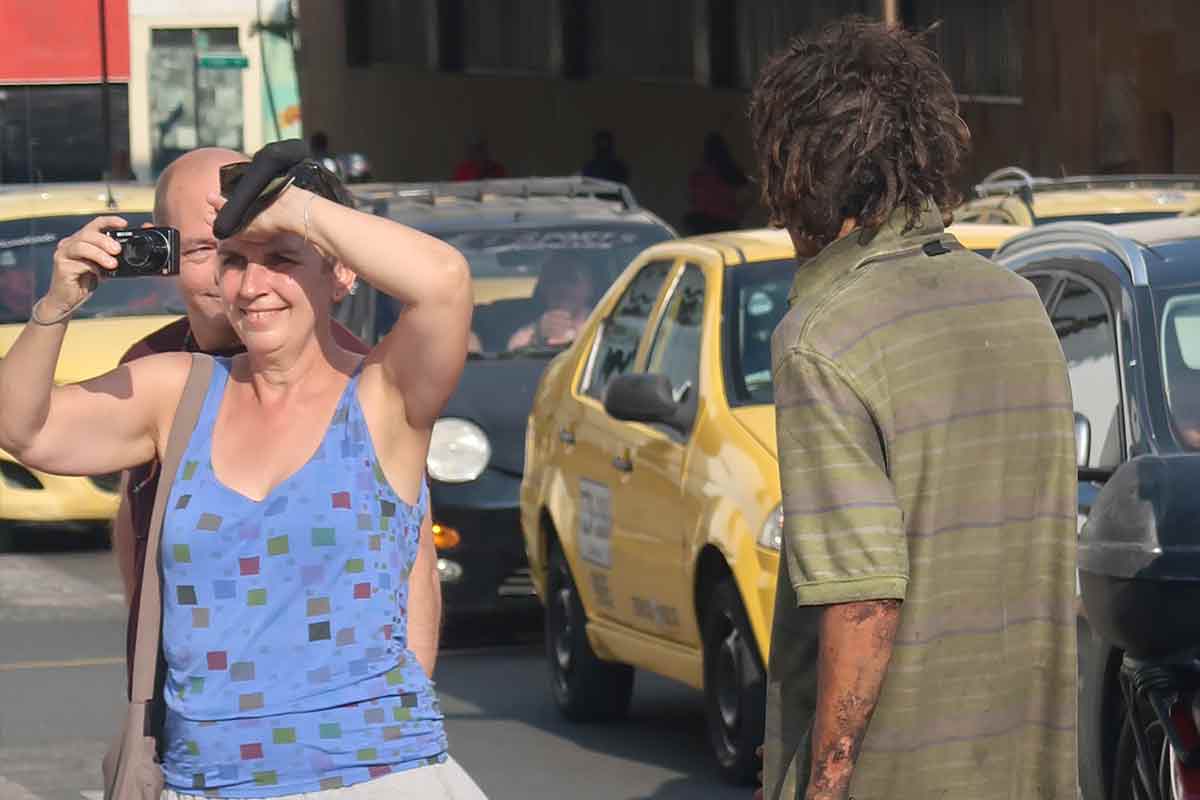 For example, Venezuela is the country with the highest homicide rates in 2021, with 40.9 homicides per 100,000 habitants.
When looking at Latin America and the Caribbean, Venezuela came in second to Jamaica, which has 49.4 homicides per 100,000 habitants.
By contrast, St. Louis, Missouri has the highest murder rate in the U.S. as of 2022 with 69.4 homicides per 100,000 habitants.
How Safe Is South America?
The quick answer: South America is relatively safe to visit.
The level of risk will depend on your destination. At the moment, Venezuela seems to be the most dangerous place in South America.
This doesn't mean you can't visit the continent and explore its many wonders, though. It means that you need to have a specific travel plan.
Aside from the dangerous cities in South America, there are risks everywhere, and they can be avoided by taking travel safety precautions, practicing common sense, and doing due diligence when planning your trip.
Venezuela
As mentioned before, Venezuela seems to be the most dangerous country in South America not too far in front of Colombia and Brazil.
The political and economic environment is unstable, corruption is high, and these are just two of the many things that make Venezuela the most dangerous place in South America.
Why Is Venezuela So Dangerous?
Venezuela is dangerous due to the political and economic instability which leads to increased crime rates and higher levels of violence.
Any small amount of research shows that armed robberies are common and kidnapping reports seem to have increased over time.
Pickpocketing is also a major issue, particularly in bus and railway terminals. Carrying a Pacsafe or a neck wallet can help you avoid this.
There are many crime hot spots all over the country, so it's very important to do your research and even consult with a trusted person.
Though the political and economic situation makes the country an unpopular destination, it's easily one of the most beautiful on the continent.
The diversity is exquisite, the people are warm and friendly, the food is delicious, and there's a lot to discover here.
Is Venezuela Safe to Visit for Travelers?
Travelers are often discouraged from visiting Venezuela, particularly on their own. However, it can be a great destination if you plan well.
The risks are higher, but you can have a safe trip if you take all the necessary precautions. Following safety travel tips and doing your due diligence is vital.
Venezuela is, after all, the most dangerous place in South America. However, those who dare to visit report having the time of their lives and a truly unforgettable experience.
Is It Possible to Travel to Venezuela?
Yes, and I'd recommend it so long as you have a valid reason to visit while taking the utmost precautions. So yes, it is possible to travel to Venezuela.
But for many others, you won't be encouraged to visit because it is the most dangerous county in South America, but you can if you want to and if you're willing to go the extra mile to plan the safest trip possible.
To do that, you need to get familiar with the most common risks and the most dangerous areas.
This will allow you to prepare as best as you can so you can enjoy your time in the country while still being careful.
How to Travel to Venezuela?
If you are intent on traveling to Venezuela despite it being the most dangerous place in South America, you will need a plane ticket.
But before you book it, make sure your passport is in good condition and has at least 6 months of validity.
You also need a Venezuelan visa to enter, which is not available upon arrival. That means you need to get it before you enter.
You will need proof of accommodation while you're in the country and other requirements. Make sure you enter the country via an official crossing point to get your entry stamp.
Places to Visit in Venezuela
There are so many wonderful places to visit in Venezuela, which is why it's worth the risk to many adventurous travelers.
Here's are the top 5 places to visit in Venezuela:
Angel Falls: Angel Falls is one of the main attractions in the country. This is the highest waterfall in the world and the best time to visit is during the wet season. You can get there by plane and enjoy a sightseeing flight or by boat, which takes 3 days and it includes a hike through the jungle.
Los Roques: Los Roques archipelago is one of the most popular places in Venezuela, locals and tourists love it. It's a slice of paradise on earth with turquoise waters, white-sand beaches, coral reefs, and more. The main village is Gran Roque and Cayo de Agua is one of the highlights.
Margarita Island: Margarita Island is definitely a must-visit if you want to have the most fun. This is one of the most developed beach destinations in the country and it's very popular. You will have the time of your life exploring the many different soft sand beaches.
Canaima National Park: Canaima is one of the most popular national parks with over three million hectares. It's a UNESCO World Heritage Site and it encompasses the high plateau of La Gran Sabana. There are over a hundred tabletop mountains and there are many waterfalls in the area, including Angel Falls.
Roraima: Last but not least, Roraima is the most popular tabletop mountain in the country. It's the perfect destination for people who love nature and adventure. You will be intrigued by the unique rock formations, diverse plants, and waterfalls. The hike to the top is demanding, but so worth it.
Best Time to Visit Venezuela
When it comes to the best time to visit Venezuela, it will all depend on where you go and what you want to do when you get there.
Due to the country's proximity to the Equator, the temperatures are enjoyable all year. However, the best time to visit the country is between December and April because that's the dry season.
It doesn't matter where you're going or what you want to do, the dry season offers the best weather conditions overall. The weather will be nice and sunny, and you'll experience lower humidity levels.
Traveling during the wet season is not recommended because the heat can get very uncomfortable, even suffocating.
Not to mention the rainfall can make certain activities more challenging, such as visiting the Amazon rainforest.
Venezuela Travel Safety Tips
Though Venezuela is the most dangerous country in South America, you can still have a nice experience.
You just need to follow travel safety tips, practice common sense, and plan your trip well.
⤵️ Here are some useful tips to to keep in mind:
Petty crime is very common, so stay vigilant in crowded and open areas.
Keep your belongings with you at all times.
Avoid flaunting your valuables, such as smartphones, cameras, etc., especially in open areas, subway stations, and more.
Keep your jewelry and fancy clothes at home.
Dress to blend in.
Don't carry more cash than you need to.
Keep your passport and other important documents safe.
If you'll use public transportation, be vigilant.
Never hail taxis off the street.
Avoid walking or traveling at night.
If you happen to be mugged, don't fight; just hand over your things.
Beware of scams.
Be friendly but not overly trusting. Don't provide any sensitive information.
Following these precautions will help you stay safe while you visit Venezuela, AKA the most dangerous place in South America. This is a beautiful country that everyone should experience, but it does ask you to be careful and stay vigilant.
Got Travel Insurance for Venezuela?

Designed by travelers, for travelers, World Nomads covers more than 150 adventure sports and activities so you can explore your boundaries.
How to Travel Around Venezuela?
If you plan on traveling around Venezuela, it's very important to have a clear idea of where you want to go and plan out the route.
Once you do, it will be easier to choose among the options available for travel. Most locals use buses and taxi services to get around cities because they are less expensive.
There are also "carritos" or "por puesto" which are cars that have fixed, short routes.
However, most of these cars are not in good shape. Also, it's not uncommon for people to squeeze in so the ride can be uncomfortable.
Domestic flights are also available, but you can also go from city to city using executive buses or bus-cama for added comfort.
You can also rent a car since they're not expensive to fill up. However, there may be gas shortages in certain cities.
Dangerous Country in South America
So, without a doubt, Venezuela is widely considered to be the most dangerous place in South America for most international travelers.
However, the delicious food, rich diversity, variety of opportunities for adventure, and natural wonders can be compelling enough to attract travelers from different parts of the world.
You can visit Venezuela, but you need to exercise the utmost precautions when planning your trip. Knowing somebody in the country help too.
Will you be traveling to the continent soon? If so, why not take the time to read guide on safe places to visit in South America for more guidance?
📌 Like this article? Pin it…
Will you travel to the most dangerous country in South America?
💬 Leave a nice comment or let's start a conversation below!
---
"Dear friend! Some links in this post contain affiliate links. Meaning, if you click through and make a purchase, book a hostel or sign up for a tour, I may earn a small commission at no additional cost to you. Your support means a lot and helps me to keep traveling and maintaining the quality of this site for you."