Welcome to this guide on what things to do in Minca, Colombia.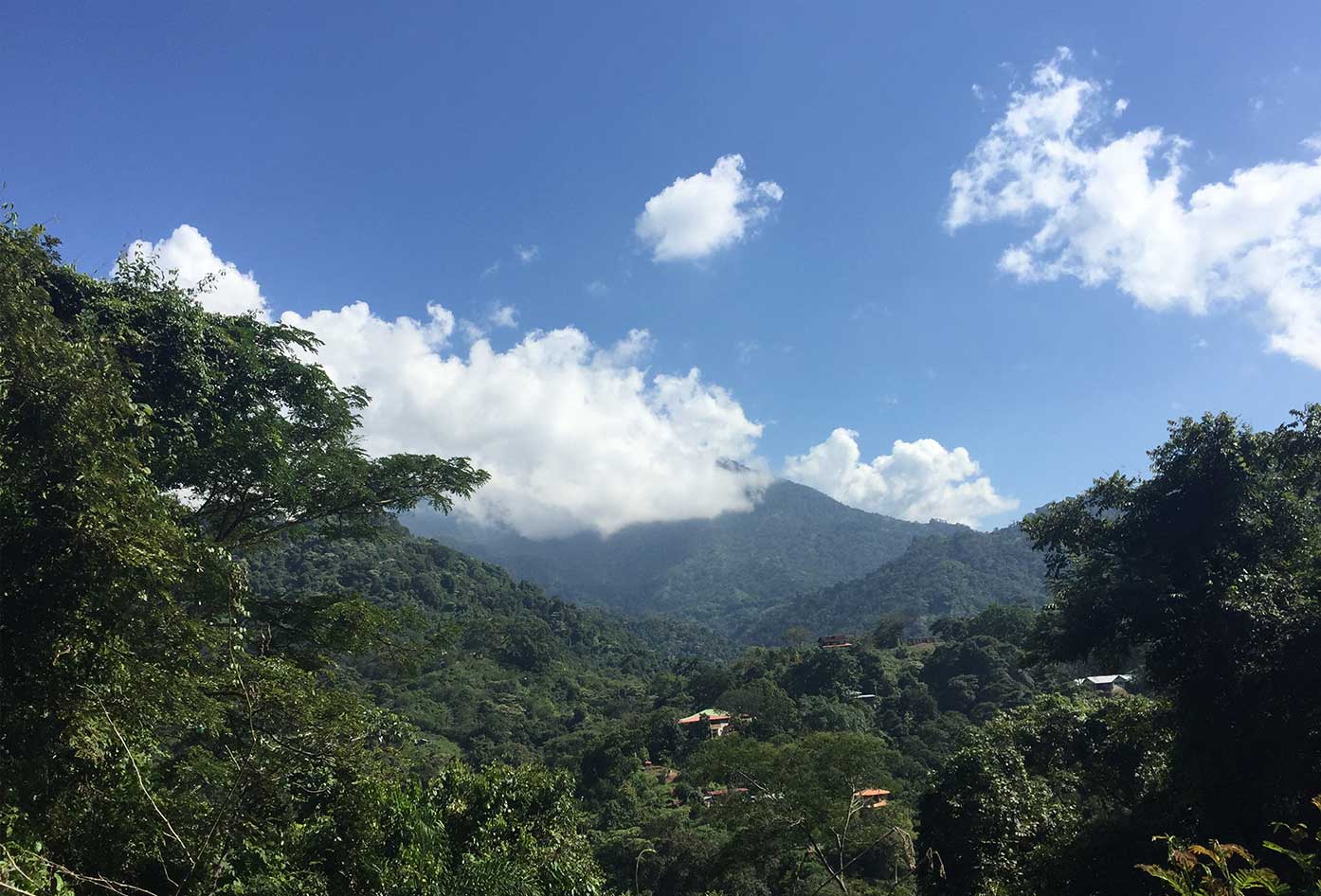 Did you know Minca is one of Colombia's most eco-friendly places?
Minca is one of my favorite spots in this region! In this guide, we are going to look at how to get to Minca in Colombia and what to do here.
If planning a trip to Minca there are a few things you'll want to make sure you've got in check. See my tips for Minca if you're visiting soon.
Things to do in Minca, Colombia
You'll likely travel from by bus. By arriving here you realize you're amongst a community in a mountain paradise.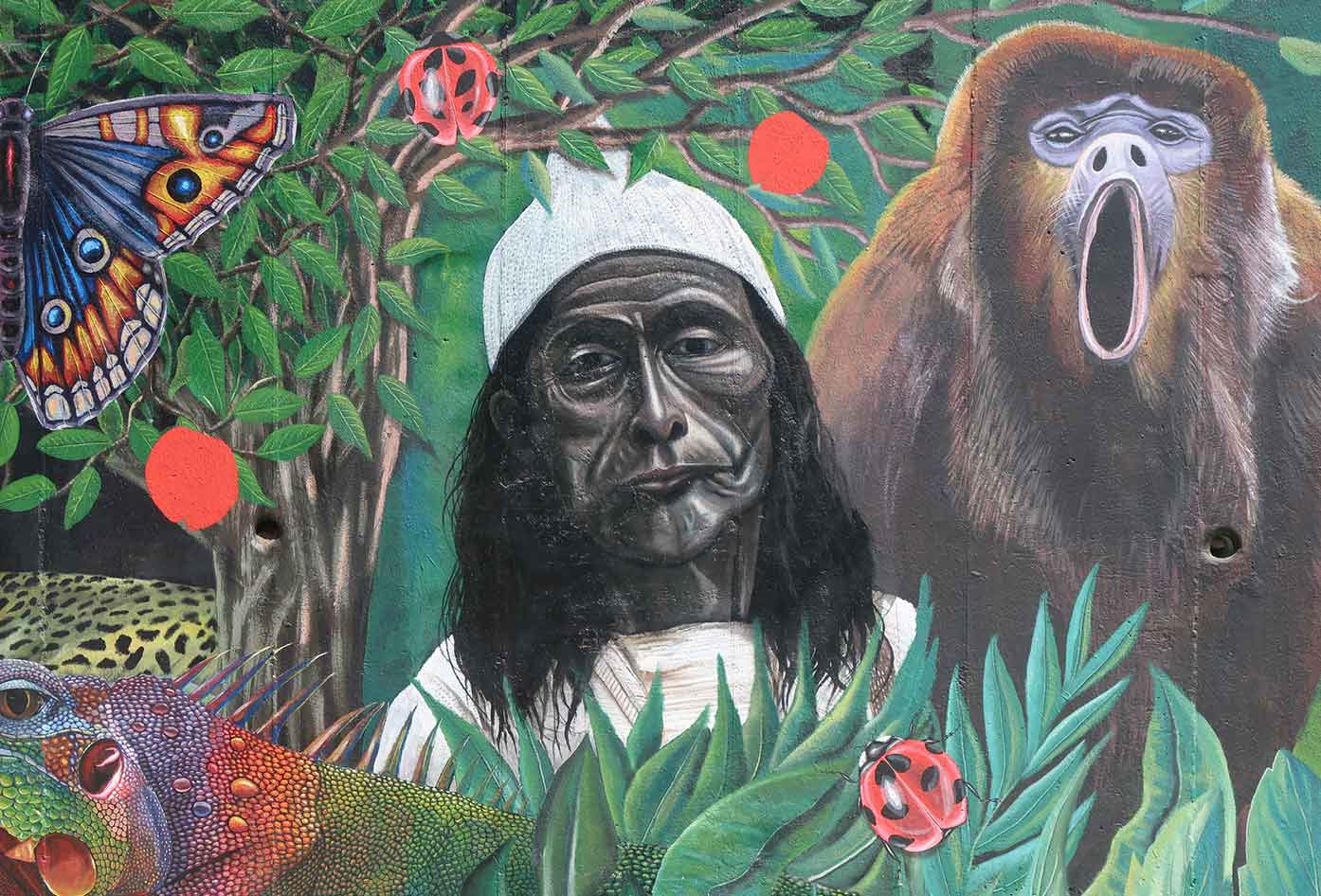 Minca is hidden away from all the hustle and bustle. Which can be a challenge to escape when visiting popular places to visit in Colombia.
Getting From Santa Marta to Minca
Getting to Minca from Santa Marta is relatively easy! All you have to do is head to the market area in Santa Marta, where all the buses go.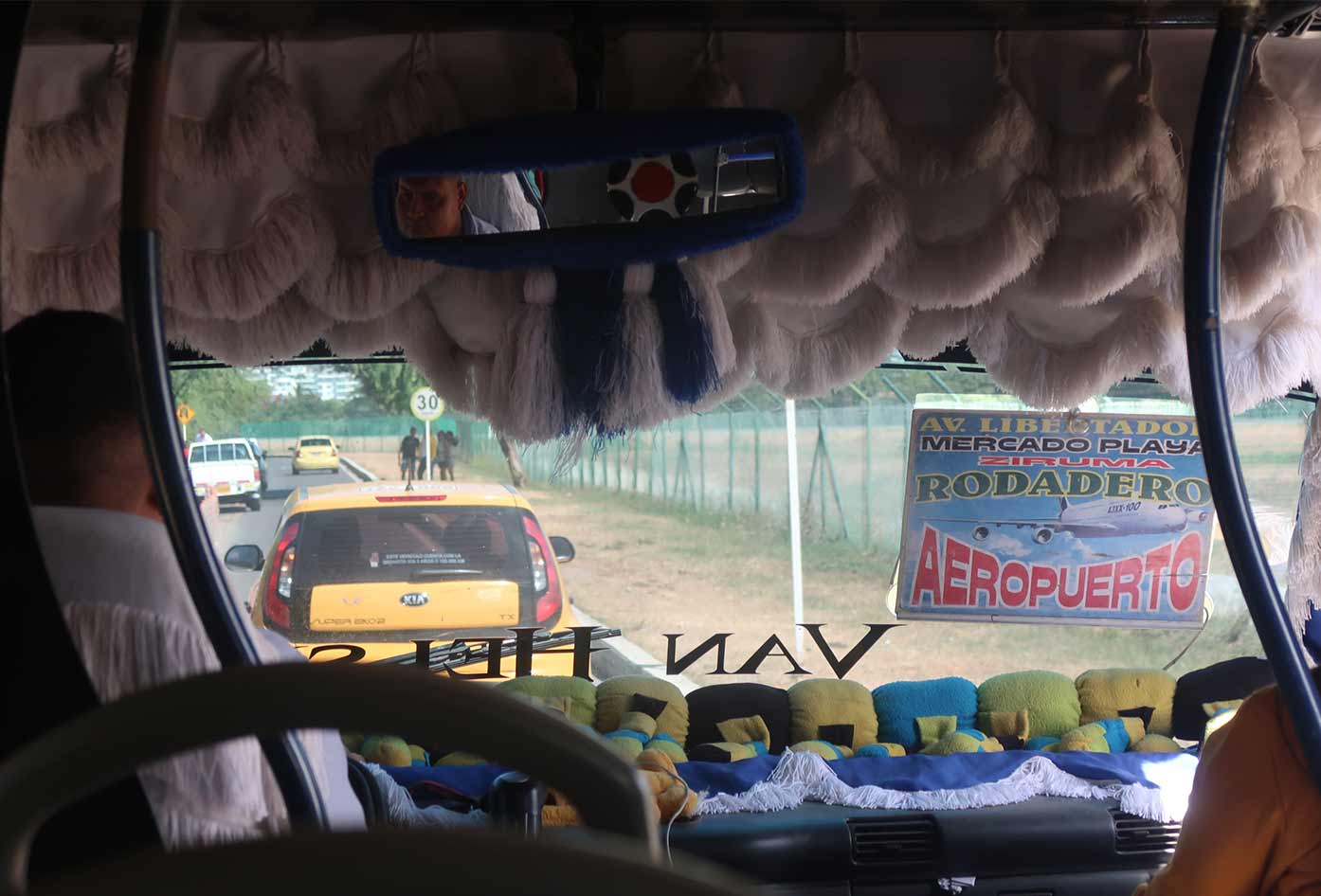 The buses usually leave once every hour or so, or, as soon as one bus fills up. You may want to wait for the next bus for a window seat.
The journey takes around 45 minutes and you'll all of a sudden feel like you have entered another dimension after the hustle and bustle of Santa Marta's chaotic marketplace.
Things to do in Minca
So arriving in Minca, what is there to do here? In fact, there is more than meets the eye.
I suggest the first thing you do is try to get a map of the area. I have posted an image of my map in the Minca travel tips section below:
Las Piedras
Literally a clear water stream with some giant rocks. This was the closest attraction to see from town which takes around 5-10 to walk to.
There is not much going on here but it is a nice place to come to sit in the morning.
Get in the middle of the stream (which looks like a river). The stream comes from the nearby waterfall that links back into the river Minca.
Being the least tantalizing and the closest attraction to the town, I recommend you come here first. Especially if you arrive at Minca in the late afternoon and know it's going to go dark soon.
Mundo Nuevo Eco Lodge
Whilst in Minca you'll need somewhere to stay, Mundo Nuevo is an eco-project that you can visit and stay at.
Located in the mountains, you must walk uphill for around one hour, or, travel by moto-taxi to arrive there.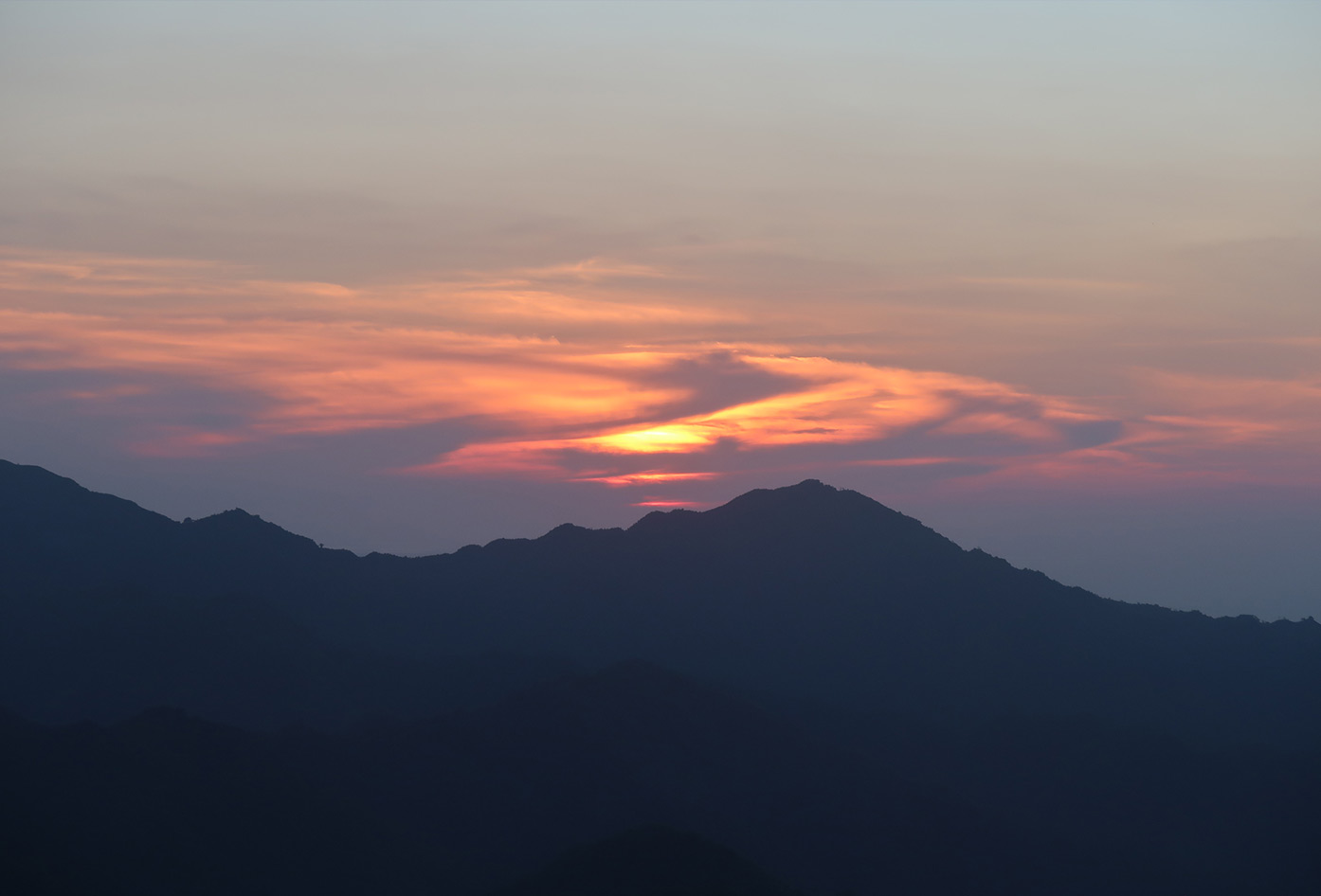 Mundo Nuevo is that secluded that once here, you are a part of the community! A part of this means eating together at set times (3 vegetarian meals per day) and taking part in communal activities (if you choose).
The views are spectacular! Staying at Mundo Nuevo for one night: just to see the sunset and the stars, is totally worth it. I spent two nights here and probably could have stayed a couple more.
💡Smart Travel Tip
Once here you generally don't leave the site until you check out. So all refreshments i.e. beers or snacks are purchased on-site.
Pozo Azul: Waterfall
This was my second favorite place to visit in Minca, a magnificent and tranquil place to do a spot of rock clambering.
Especially if you want to escape the crowd. I found this location to be busier than the other spots I visited such as Cascadas Marinka. I arrived later in the afternoon which seemed to be a peak time.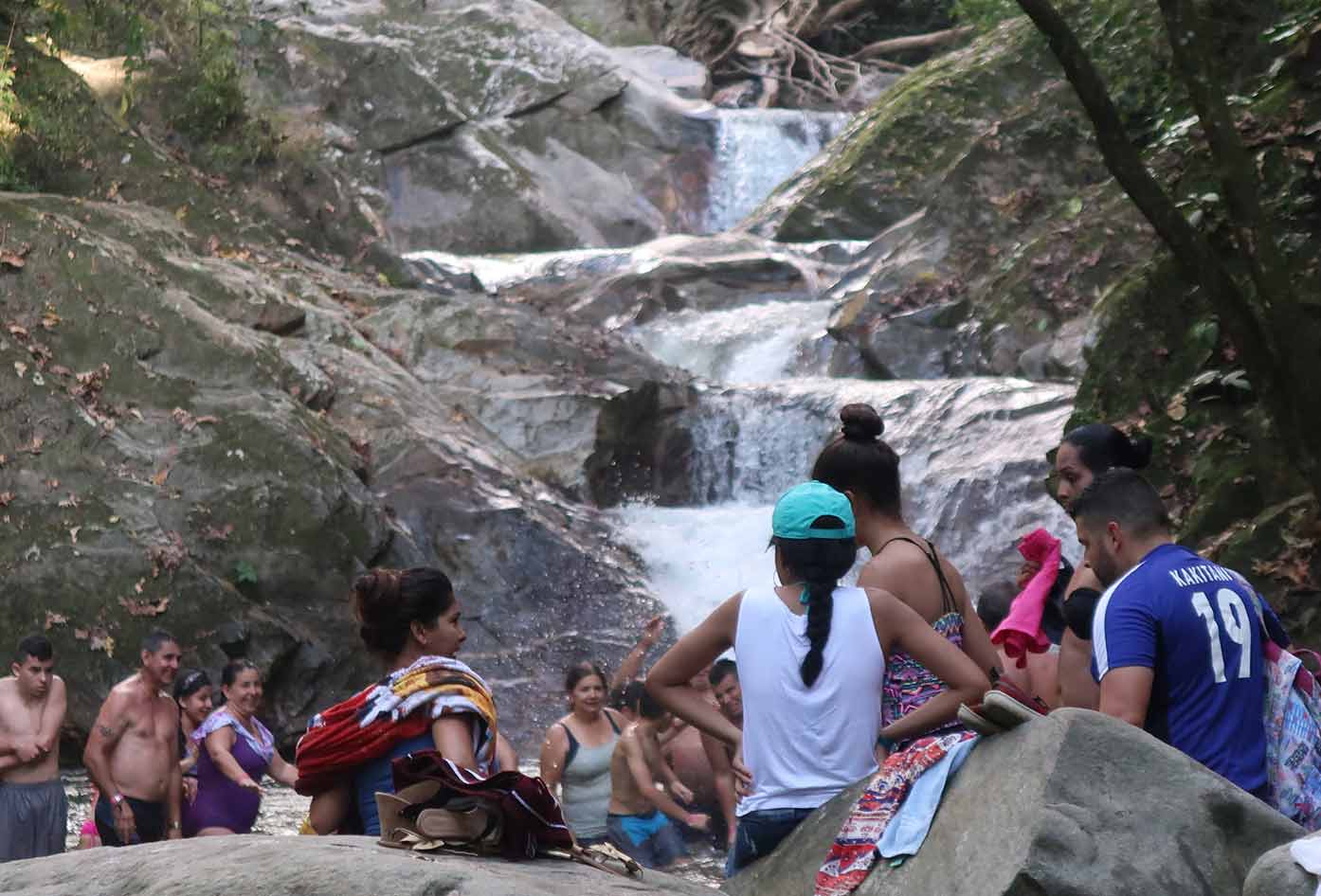 Ask at your accommodation the best time to go, there are various mini-tours arriving here daily so expect it to be slightly overcrowded.
Also, ensure you have some decent footwear as the gigantic rocks are slippy and you'll want to go further down river to find a good spot.
After all that walking, you deserve to relax for at least a good hour. If planning on spending the day here, carry some snacks with you from the town.
Coffee Farm Tours
How about an afternoon learning more about coffee? There are various Coffee farm tours you can do from Minca so just ask around.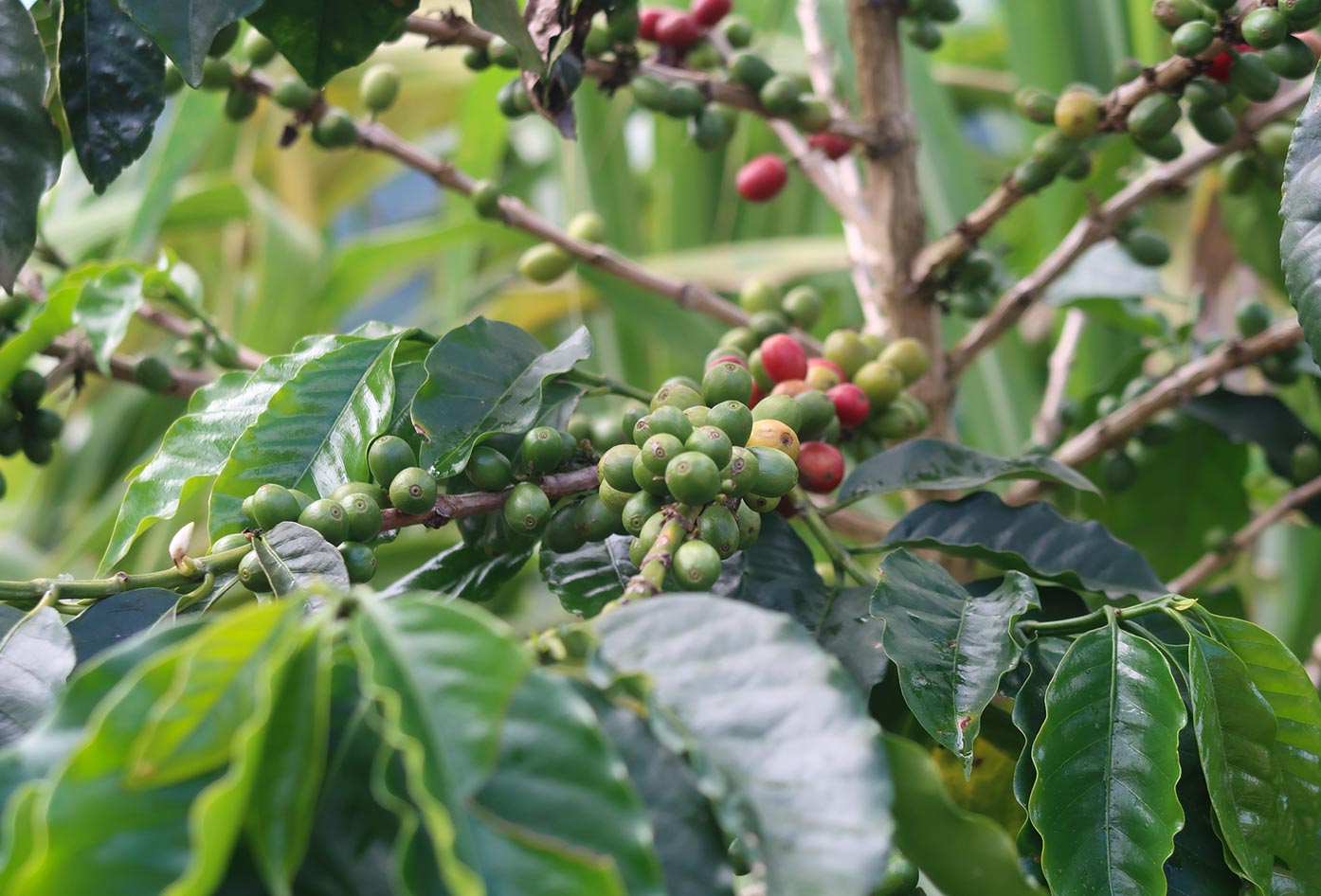 I recommend the Colombian coffee farm tour which you can take from Mundo Nuevo, all you have to do is walk a few meters and you're literally on the coffee estate. Get an introduction to coffee production!
Especially for those who have not yet, or will not, make it as far as the Colombia's coffee region to learn about the cash crop of the land.
Cascadas Marinka
By far my favorite little hideaway in Minca. I think I was just lucky because when I arrived there was hardly anyone around.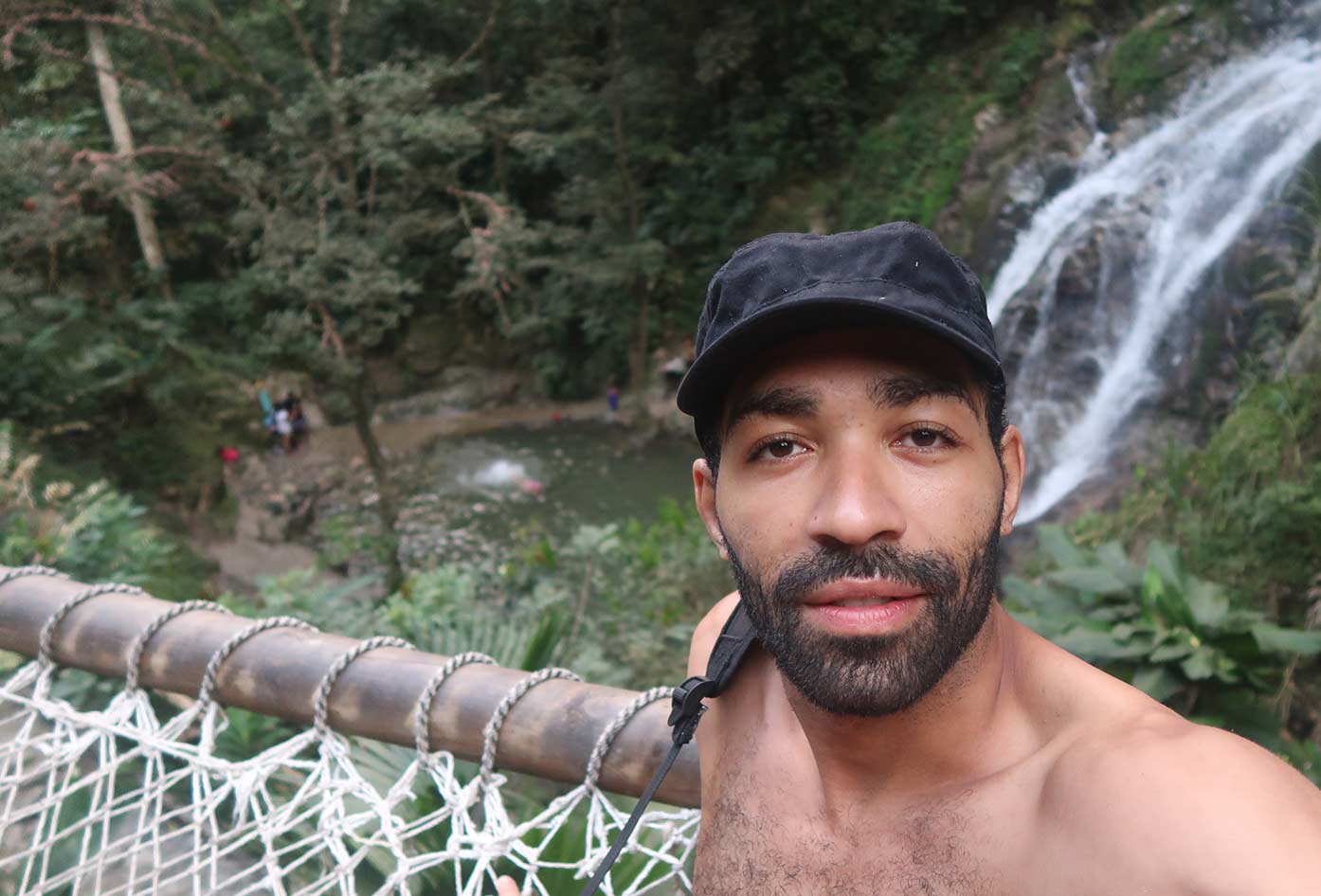 You'll pay a small entry fee of $5,000 and it's totally worth it. Here there's a beautiful waterfall, hammocks, and a water pool to bathe in.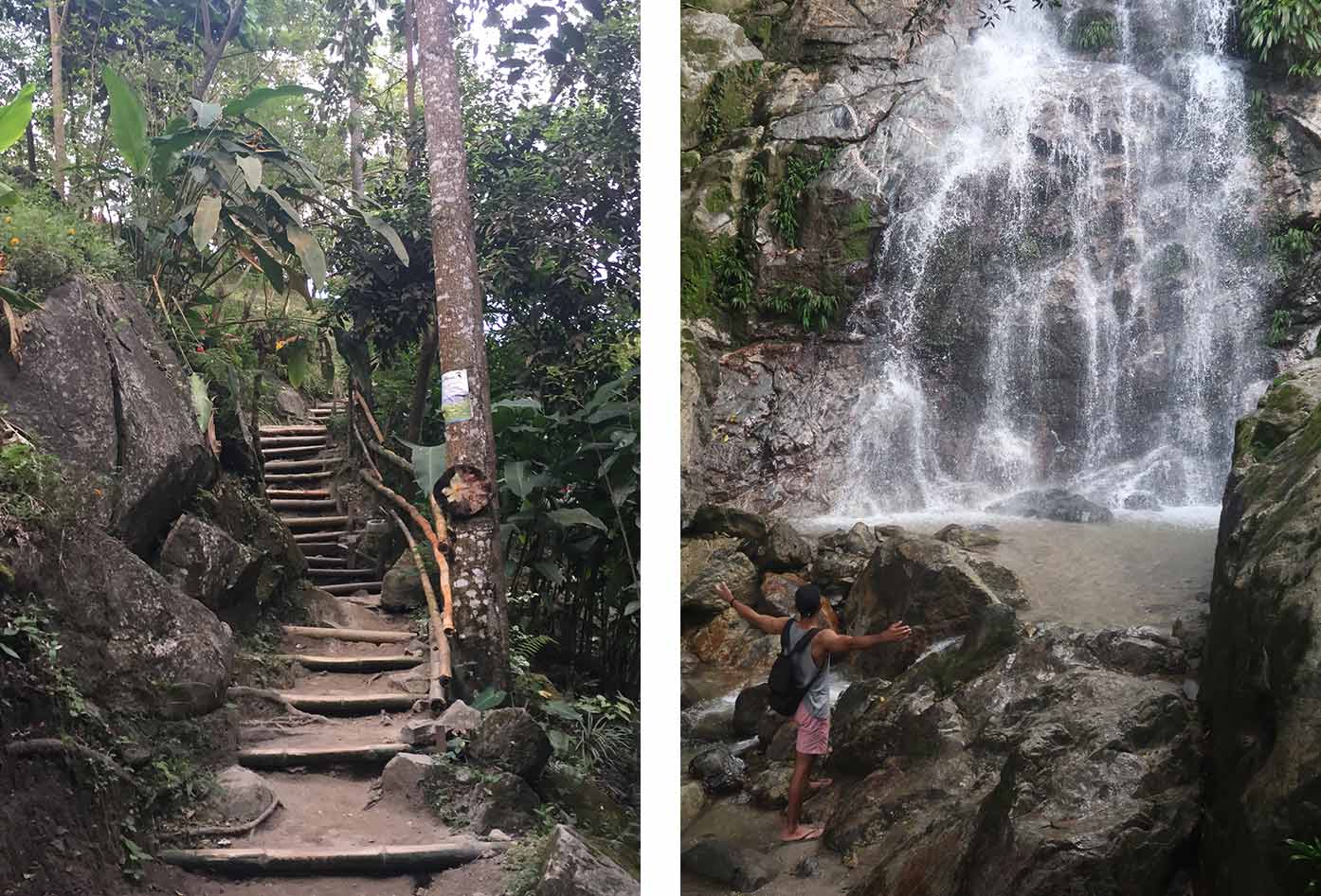 There is a second waterfall you can walk up to and get some amazing Instagram shots! Just mind your step because it can get slippy, and you don't want to have an accident here.
Order a Tinto coffee from the restaurant, take off your shoes, and kick back on the hammock.
Insect repellent is a necessity for most travelers – so remember to pack some travel-sized bug spray or equivalent before you arrive.
I walked here, but you can get a moto-taxi. You'll find other little interesting pit-stops along the way, so as well as some great photo opportunities, don't miss on on the walk.
La Cuidad Perdida
Anyone backpacking Colombia will have heard about this gem, but not everyone is brave enough to make it.
The good news is, whilst in Minca, you are one step closer to one of the oldest ancient ruins in Latin American history.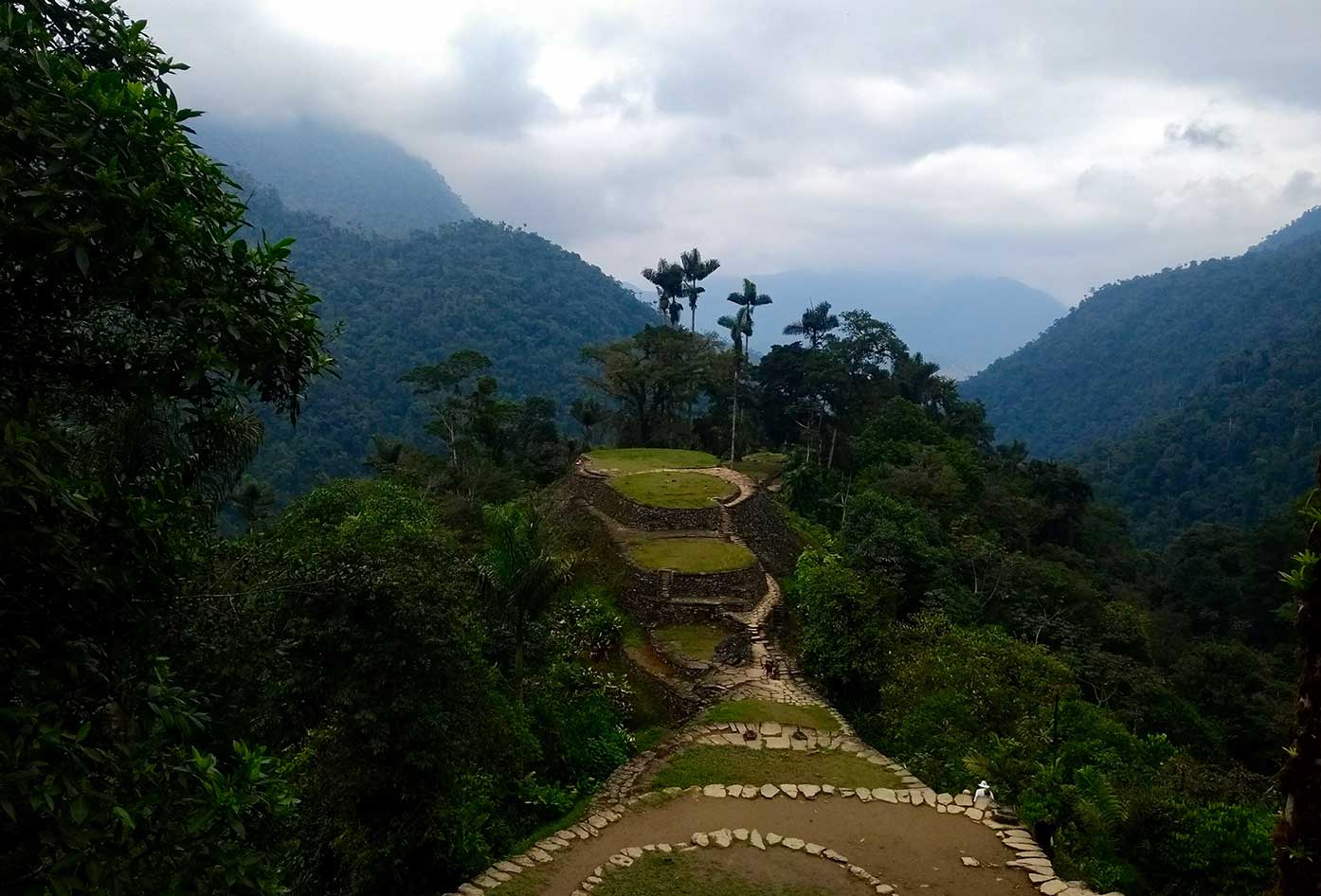 The treks and hiking in La Cuidad Perida (the lost city) usually span over 4-5 days through the Sierra Nevada mountains.
From Minca, you can book tours and save money as the prices are slightly lower than you will pay in Santa Marta.
Cacao Museum
This is a hidden gem! Please don't miss it!
I walked past this place at least three times without noticing it! As a cacao lover, this for me was like an oasis within a paradise.
Inside you'll instantly connect with the owner who is not afraid to tell you everything about his products.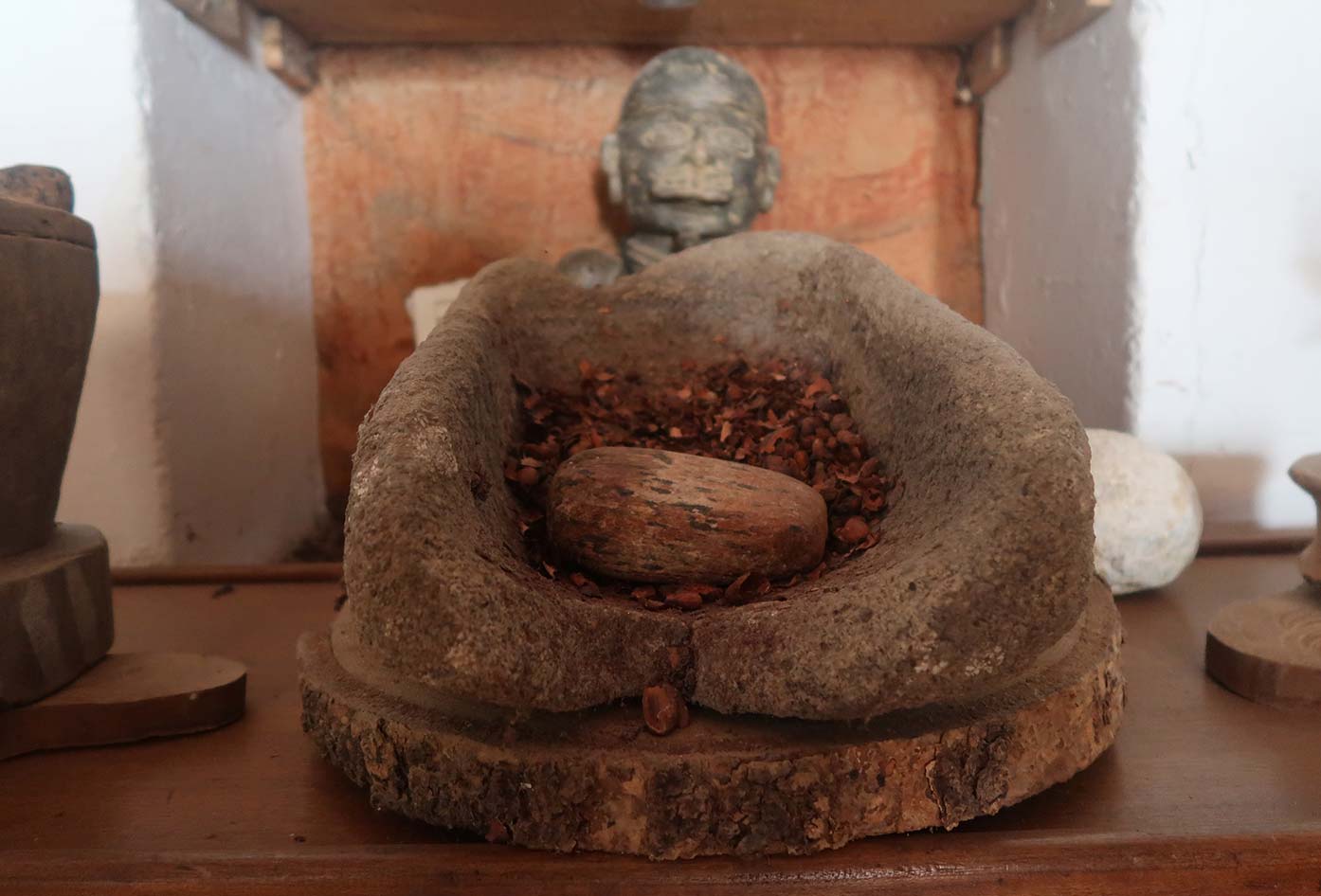 Known locally as Mr. Kakaw this initiative has been set up to inform visitors to Minca about the story of organic Cacao in the local area and beyond. You can also get some good Colombian coffee and food here.
Stay at Mundo Nuevo
As Colombia's most sustainable destination, as you can imagine, there are some eco-project which you can support.
I contributed by staying at the Mundo Nuevo however there is a host of other types of accommodation suit all tastes and styles.
3 reasons to stay here
Jungle-based location
Breathtaking views
Delicious food on offer
Mundo Nuevo lies in the hills of the Sierra Mountains and has various private huts you can choose from. All beds are protected with mosquito nets and it is famous for its amazing vegetarian food!
I suggest you see this list of hostels if you're on a really tight budget but it worth sacrificing that little extra whilst staying in Minca because this is one of the most unique places to visit in Colombia.
Minca Travel Tips
Below is a list of travel tips for Minca that you'll benefit from. I will update this list sometime in the near future.
Dan's Travel Tips For Minca:
There are no ATMs in Minca. I suggest changing money when in Santa Marta for paying in Minca tour activities, entrance to some places, moto-taxi transport to waterfalls, etc. In a nutshell, a lot of cash!
Wifi is really bad in Minca. If you're a digital nomad try to go to minca for a few days off.
The perfect place for hiking trips is Paso del Mango. It's not in Minca, but it's a great plan to do from there.
Take a Hike Day to Los Pinos to see the spectacular views of the Sierra Nevada and the Caribbean sea from the Mirador. It can take about 6-7 hours if you go all the way on foot.
When you go to Pozo Azul be sure to climb to reach pool two and pool three. As I said, the first can be crowded so go to the opposite side and climb to the path on the left side of the pool. I will arrive quickly at the second, and then at the third pool.
It's better to visit Minca on weekdays. The weekends and holidays are crowded. Also, December, June, July, and August are the high season. From September to November expect lots of rain.
Pack some Anti-diarrhea tablets. You may not get ill, but it's a possibility because of food, or maybe you can help a fellow traveler.
If you stay at Casa Loma keep your eyes on the unforgettable sunset and try one of the delicious meals they offer.
Bringing a Camelback can be the best thing you can pack for hiking in Minca. Trust me, you need to stay hydrated.
From Mon to Sat head to 9 de Julio Plaza (the main plaza) to find free walking tours. Carry some change so you can tip the guide.
Things to carry during your travel to Minca:
Your Passport
Carry Sun Screen (that mountain sun is deciving)
Bug spray
A decent pair of hiking shoes
It is safe to say that Minca is still a relatively off the beaten track travel location in Colombia.
So you may find that it lacks some infrastructure, but, if you are anything like me, that is where the beauty is at.
You can still adhere to your South America travel budget and get a Menu del dia here for between 10,000COP-15,000COP.
There are some other eateries and a wonderful bakery which is very popular with travelers and backpackers.
Travel Insurance for Colombia
I always recommend backpackers and travelers (no matter who you are) use World Nomads Insurance for fully comprehensive cover.

If you are due to travel soon, you can get a Get A Free Quote by clicking the link or the image above and filling out your details – that way you'll get instant cover from the exact date that you choose.
On many occasions World Nomads has provided me with reliable insurance cover for travel in Latin America and the rest of the world.
Things to do in Minca Colombia
Minca is an eco-warrior's paradise!
If you happen to be a Ganja smoker, you're in one of the most special parts of the world to sample some of Colombia's finest high grade.
However, I did not tell you that. Minca is not for everyone and you should know what to expect before coming here.
Over the years, this Colombian travel destination has become more popular with backpackers dying to get off the beaten track after leaving places like Cartagena looking for something more tranquil.
Let me know how you get on and enjoy yourself, it may be the closest you get to nature during your whole trip to Colombia.
📌 Like this article? Pin it…
Missing something? Got tips, tricks & advice we can learn from?
💬 Leave a nice comment or let's start a conversation below!
---
"Dear friend! Some links in this post contain affiliate links. Meaning, if you click through and make a purchase, book a hostel or sign up for a tour, I may earn a small commission at no additional cost to you. Your support means a lot and helps me to keep traveling and maintaining the quality of this site for you."