When deciding between Mexico City or Oaxaca which do you visit?
These two heavyweights rank as some of the most popular cities to visit in Mexico and make the list of those visiting the country for the first time.
As well as being easy to access, they both have an incredibly diverse culture, which can be seen from their sights and also foods too!
Mexico City and Oaxaca offer some incredible day trips too, which means it is worth spending more time in these destinations rather than less.
Mexico City or Oaxaca
This comparison guide explores the popular Mexican destinations of Mexico City and Oaxaca City to help you make a choice on which to visit.
More specifically, the guide looks at factors such as location, cost and weather, whilst giving my winner for each destination.
After having compared all of these crucial factors, I'll then give my verdict on which destination is the overall best for a visit.
Oaxaca vs Mexico City: Location
The truth is, both of these cities are incredible for a trip, with each deserving its own visit. They both have incredible ruins nearby, attractive historic centers as well as a vibrant food scene.
They're also safe in certain areas, with a good range of accommodation options available (especially when staying in the heart of both cities).
Wherever you do decide to go, you'll end up having a fantastic time, so it's worth trying to fit both into a longer Mexico trip if possible.
I'll break down both cities into three main categories, which help us get a better overview of both destinations.
Accessibility
Both cities are pretty important, given that they're the respective capitals of their states. Oaxaca City is actually pretty well connected, with its own airport connecting to major cities, as well as a developed bus terminal too.
However, it can't be denied that Mexico City will always be the clear winner in this country. Given it's one of the largest cities in all of the Western Hemisphere, it has the airports to match too.
CDMX's international airports welcome dozens of flights from around the globe daily, and even its bus stations connect to all corners of the country too. A clear winner here!
Be sure to read my guide on how to travel on the buses in Mexico to get a better idea of how to move around the country on a budget.
Winner: Mexico City
Day Trips
Both of these cities are also located in very attractive regions, which are filled with beautiful landscapes and mysterious ruins.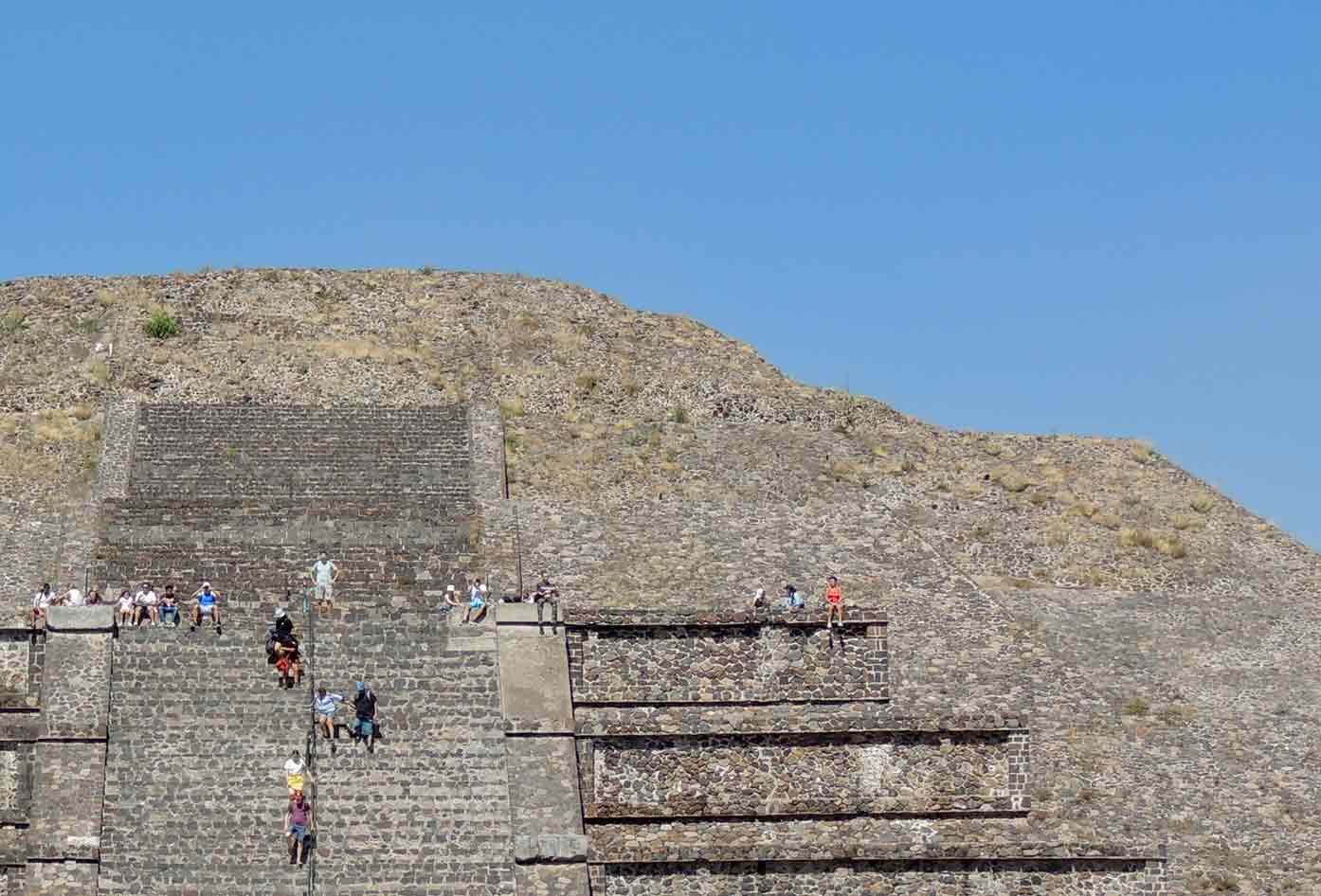 Day trips from Mexico City include a visit to the gigantic temples of Teotihuacán, Tula ruins as well as the nearby colonial city of Puebla.
The best day trips from Oaxaca City include to the ancient fortress of Monte Albán, as well as to the petrified waterfall of Hierve el Agua.
From Oaxaca, you can also see some really authentic small towns with textile shops and local food markets.
Given it's difficult to put one over the other (as both are great, and also as beauty is in the eye of the beholder), it's a close contest.
However, for me, Oaxaca slightly edges the capital here, with its authentic sites and incredible landscapes in abundance.
Winner: Oaxaca
Weather
Good weather is always important when heading on a trip. Whilst Mexico is known for its hot beaches, these two cities are going to be much cooler regardless of when you visit.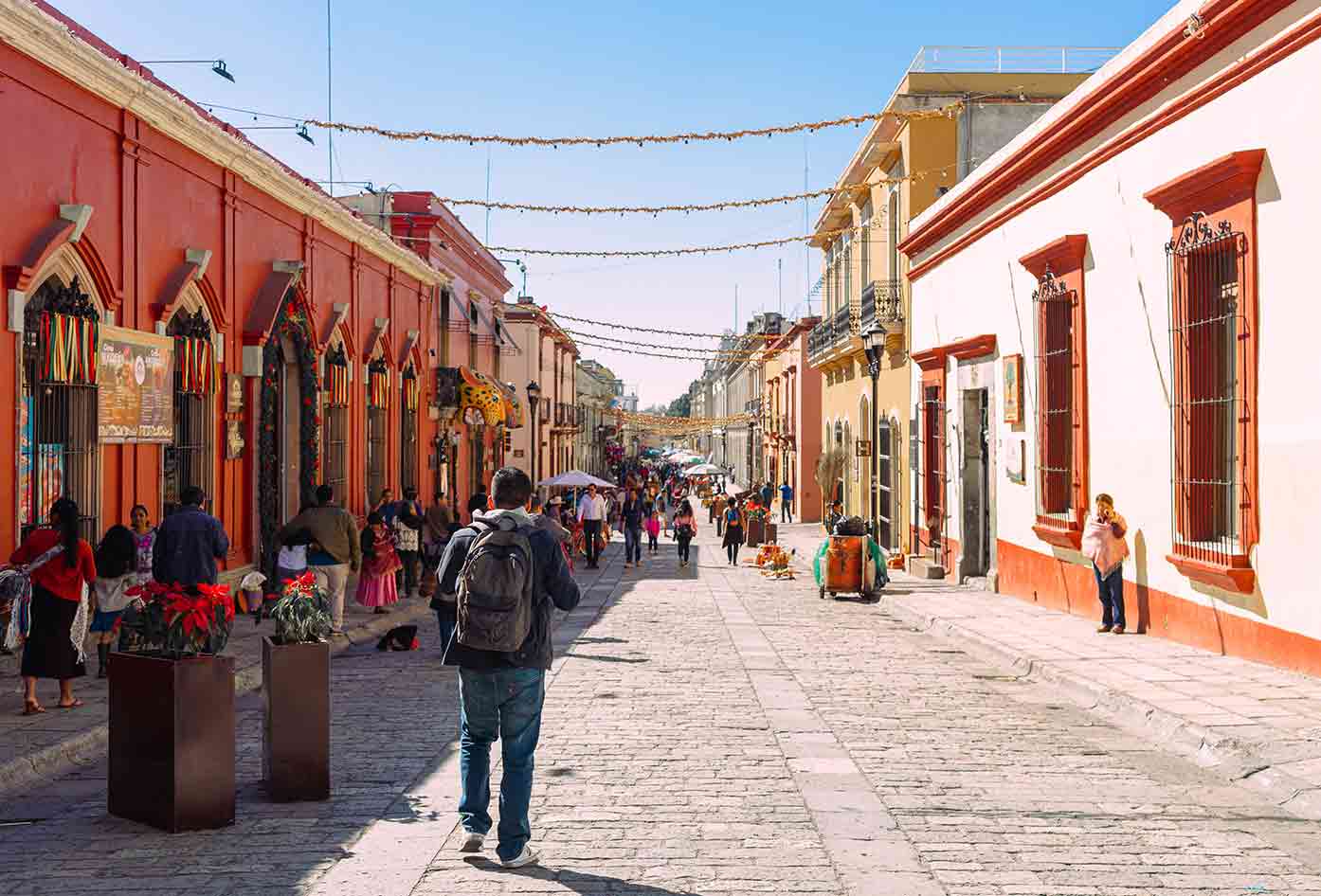 Mexico City has annual average temperatures of between 57-64°F, with highs of 79°F and lows of down to 43°F. Rainfall is mostly concentrated within the wet season, which runs between May and October (up to 110-130mm of rainfall falling throughout each month).
Oaxaca City on the other hand is slightly warmer than the capital. Averages range from 62-72°F, with highs of up to 88°F and lows of 48°F.
The wet season in Oaxaca City sees between 140-170mm fall throughout each month, whilst the dry season is very arid (similar to that of Mexico City).
Whilst both are known as cooler destinations in this usually hot nation, it's Oaxaca City that has the preferable climate (not to mention less smog too, which is heavy in the capital).
Winner: Oaxaca City
Mexico City vs Oaxaca: Tourism
Things to Do
Mexico City is a perfect city for tourists, given it's home to numerous, varied things to see and do.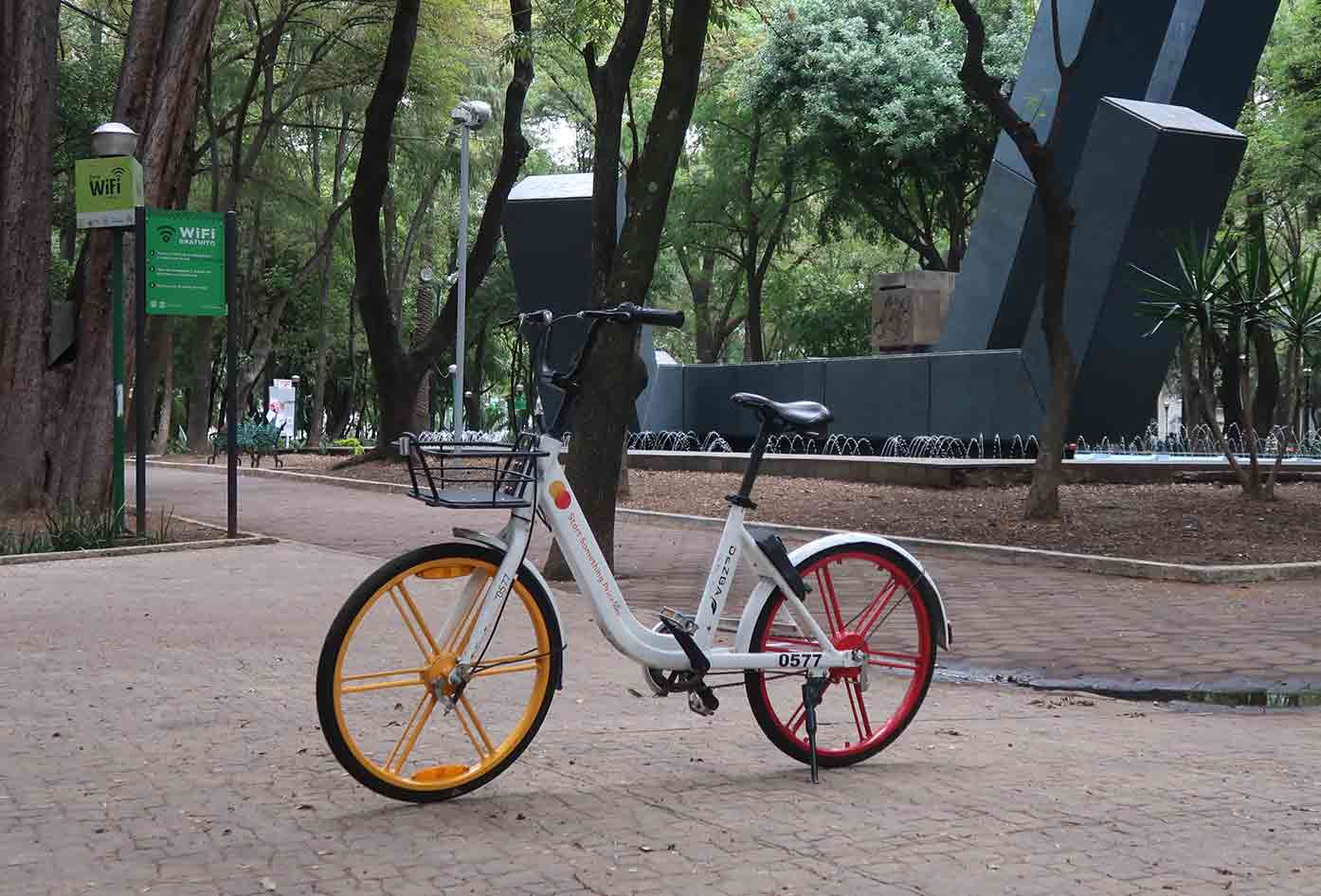 Here you can visit the massive green space of Chapultepec Park, along with the Museo Nacional de Antropología, which is the most detailed of its kind in Latin America.
Other awesome things to do include exploring the Zócalo and Cathedral, touring the Palacio de Bellas Artes as well as visiting the Frida Kahlo Museum. See this Mexico City itinerary for tips on exploring the capital.
Oaxaca City is also another popular sightseeing city in Mexico, given its colonial history. The Zócalo is the heart of the city, where you'll find a bustling plaza along with beautiful buildings such as the Templo de Santo Domingo along with the Catedral Metropolitana.
Winner: Mexico City
Best Food
Ah, now this is where things get interesting! Both of these cities are considered top Mexico food destinations amongst most food lovers who travel to the country. Even those who are not the most open will find at least one new plate they like.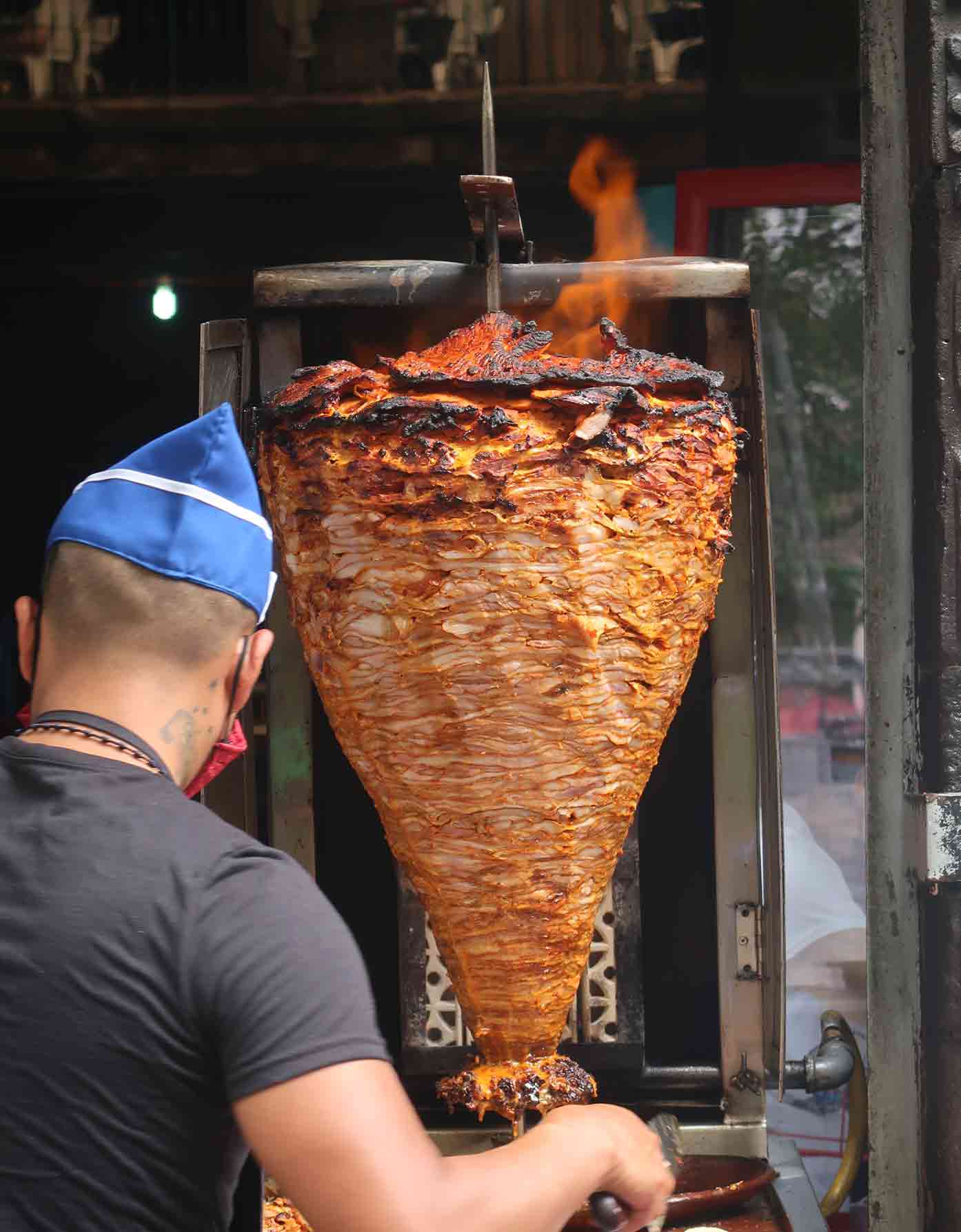 Mexico City is home to the overall biggest range of foods, with both a great variety of street foods and gourmet classics.
Dishes like Tacos del Pastor are a staple here, and you can also try a range of other regional Mexican foods in Mercado de la Merced. For most visitors, food tours are the best way to sample a bit of everything.
Oaxaca City is known as the overall top food destination of Mexico, with most heading here with this intention in mind. It's a better place for trying local favorites such as Tlayudas as well as Memelas, with Mercado 20 de Noviembre the best place to head to feast on these delights.
Winner: Draw
Nightlife
Whether looking for a few beers to wind down, or to find some crazy scenes to throw down, you'll find that both of these cities offer slightly different nights out.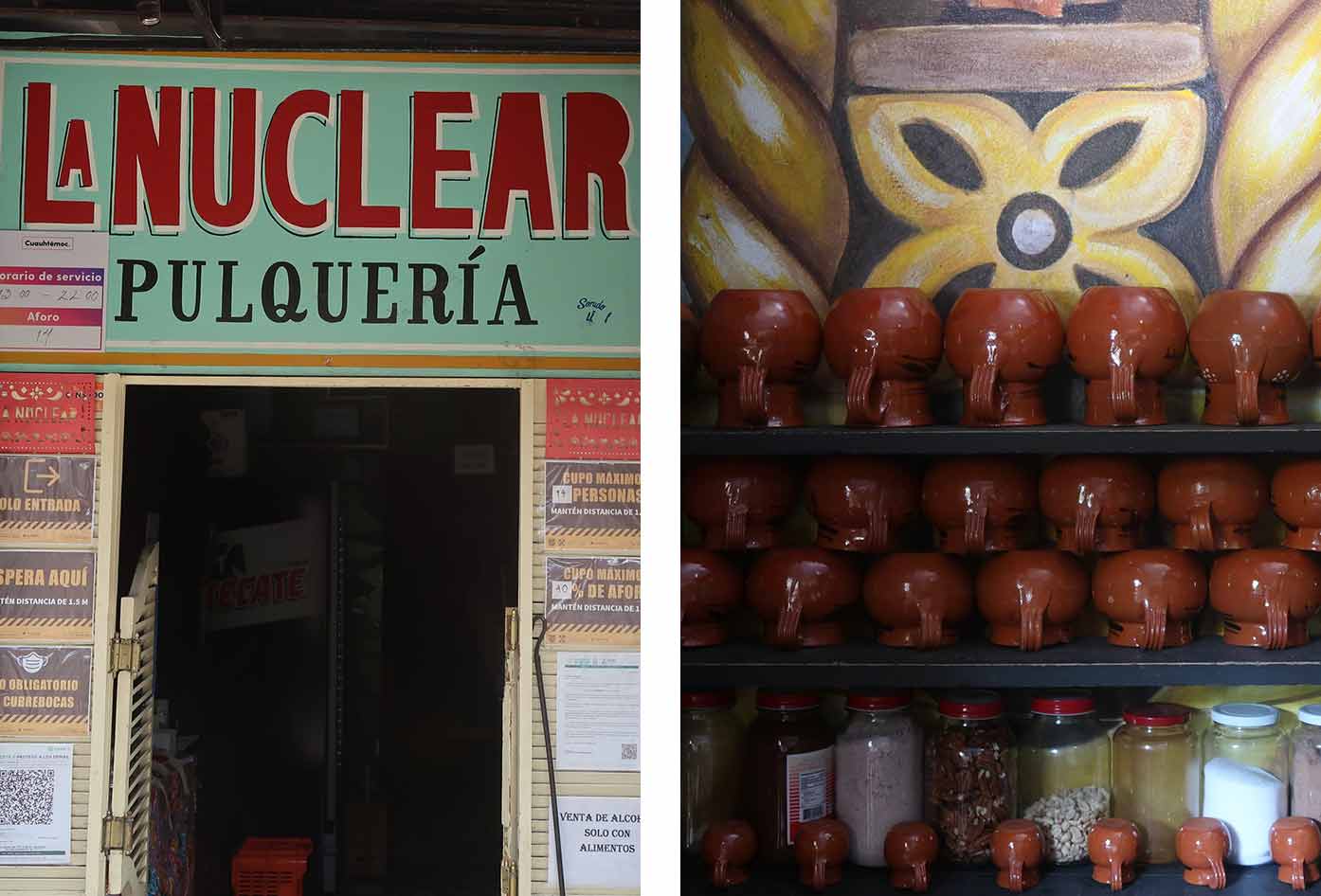 Mexico City is known for its diverse party scenes, which really has everything. In the capital, you can find high class and VIP parties in Polanco, to giant clubs such as La Santa for upbeat fiestas as well as Mama Rumba for a more authentic Latin scene.
If you'll be staying for more than one night here you can try out one of these Mexico City bar crawls to get in on the night time action.
Oaxaca City has a more local scene, which is great in its own right for those wanting a more authentic taste of Mexico.
In Oaxaca you'll find many awesome Mezcal bars such as La Mezcaloteca to try out the good stuff. You'll also find some good clubs, but these can't match the intensity of those in Mexico City.
Winner: Mexico City
Mexico City vs Oaxaca: Practical
Safety
Safety is one of your biggest priorities when heading abroad. Mexico as a whole tends to get a more unfair reputation than it deserves, however it's still important to do the research before heading there.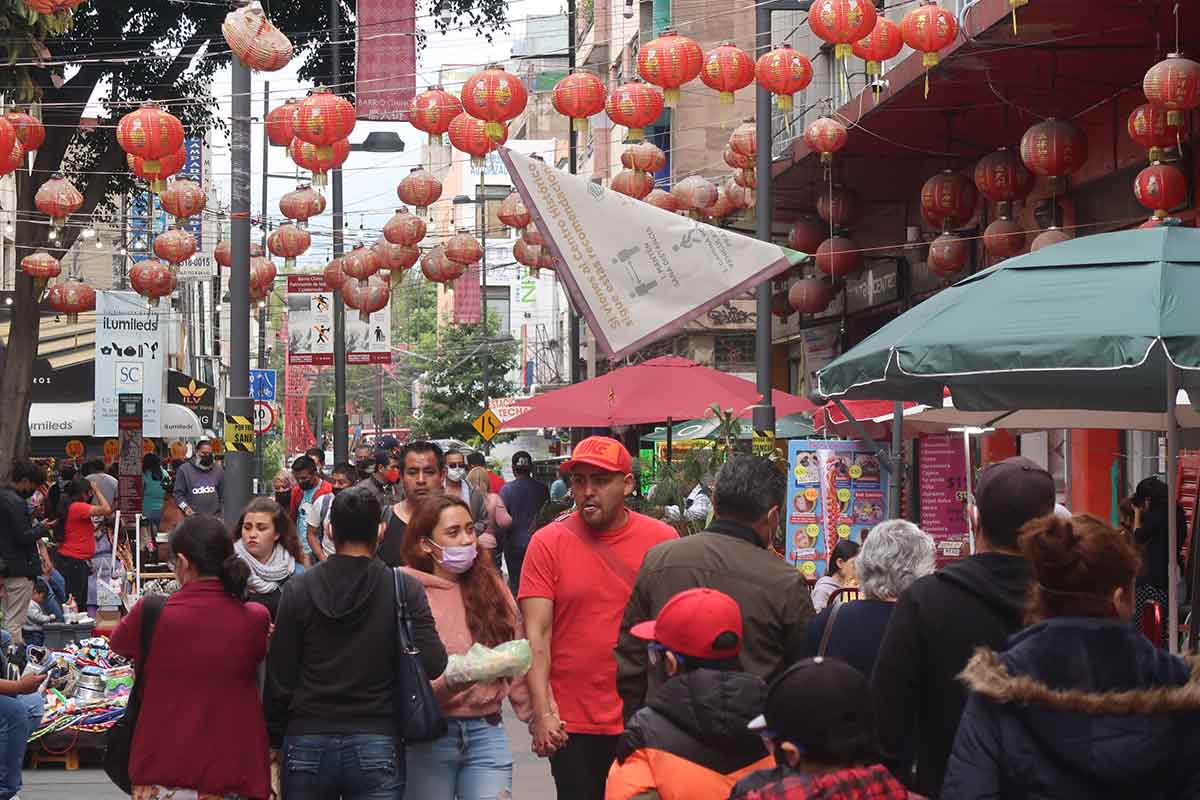 Mexico City is a giant city, and as a result, has some neighborhoods that are really worth avoiding, such as Doctors, Tlalpan and Iztapalapa.
The historic center and areas like Condesa are safer, but you'll still need to be careful with your belongings and avoid heading out alone late at night.
Oaxaca City overall is much safer than the capital. The historic center is very safe, and you can walk around alone even at night with little issues.
I have created a dedicated guide all about safety in Mexico City that delves deeper into safety and things to avoid while spending time in the city.
Just be wary in other areas where petty crimes (like pickpocketing) can be an issue. Violent crimes here are very rare.
Winner: Oaxaca City
Cost of Travel
The next important point to talk about is how much things cost in each of these Mexican destinations.
Given they're both pretty big, there's always going to be possibilities to save money when in cheaper hostels, as well as spending big by staying in fancy hotels and resorts.
In terms of actually getting around, both cities are pretty cheap and are even cheaper when heading out into their respective surrounding regions.
It's a pretty hard one to call, given both allow for all budgets and styles. So this one will have to go down as a draw. Howver if you're visiting the capital anyway I highly recommend you look at the things to do in Oaxaca as well because if you have time you could see a bit of both.
Winner: Draw
Accommodation
Both of these cities are very popular for a visit, and as a result, have many different types of accommodation options.
Mexico City has everything from budget hostels to resorts, and areas like Polanco which are known for higher-end (and safer) neighborhoods to base yourself in. Try using booking.com as it's easy to find what you're looking for.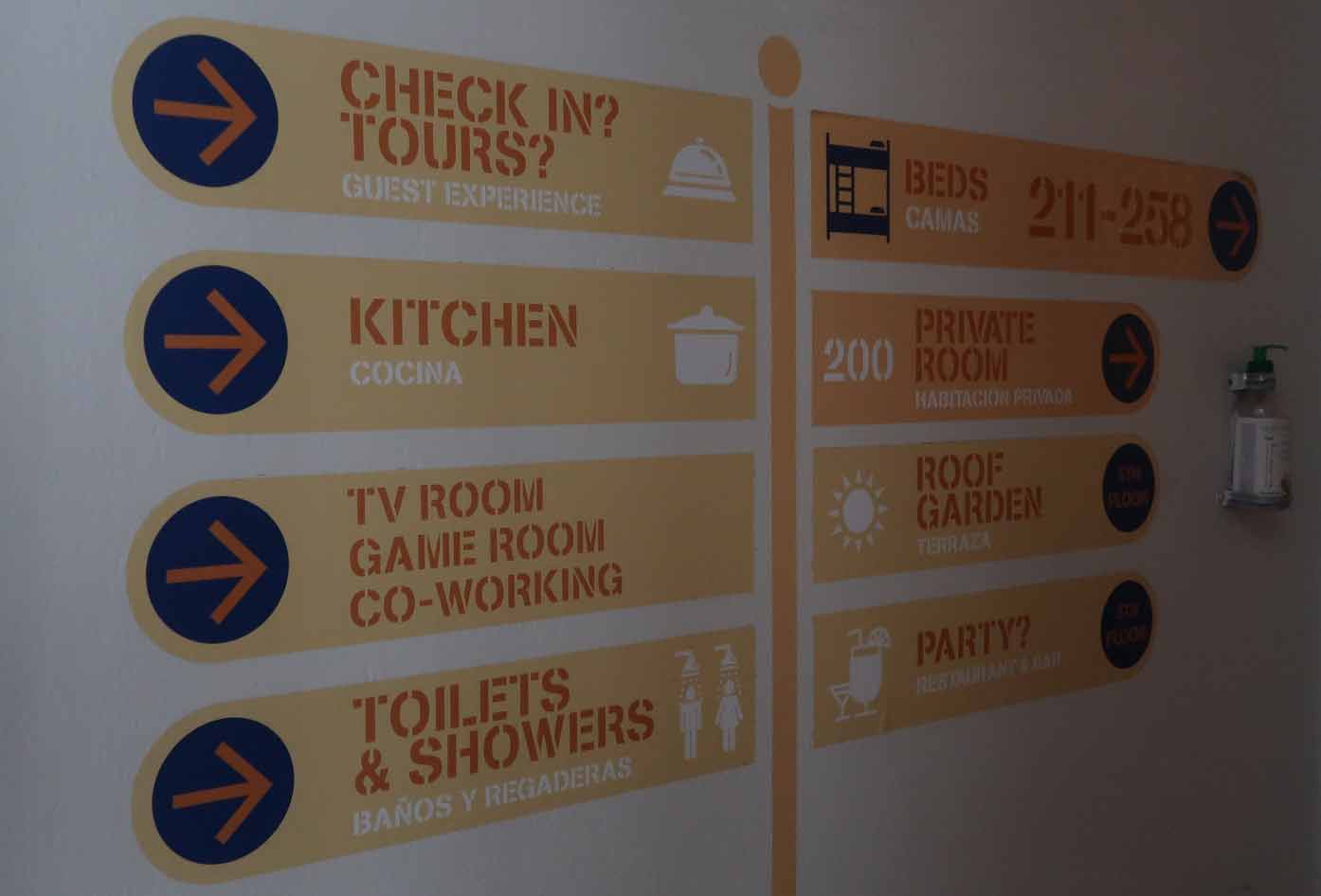 Oaxaca City is also tourist-friendly, and has several options depending on your budget. However these are mostly limited to the historic center and other districts, so overall the capital has to be the winner here.
If on a budget, or looking to connect with like-minded travelers Casa Pepe has to be one of the coolest places to base yourself for a night or two.
Winner: Mexico City
Got Travel Insurance for Mexico?

Designed by travelers, for travelers, World Nomads covers more than 150 adventure sports and activities so you can explore your boundaries.
Oaxaca or Mexico City: Final Words
Both of these cities are truly incredible, with many exciting destinations to be visited in the cities as well as within the surrounding regions.
Regardless of which one you pick, it's worth visiting the other at a later date given they're both epic in their own rights.
Overall, having compared all of the factors in this guide, we've concluded that Mexico City is the overall best destination to visit out of the two.
Again this is mostly based on my experience, as well as what's available in both cities, so you may come to a different conclusion yourself!
However, still do your own research, since what you may want from your trip could be very different from what others want too!
While you're still here, why not check out this list of the safest cities to visit in Mexico to get an idea of all the other places that you can visit?
📌 Like this article? Pin it…
Did you enjoy this comparison guide on Mexico City vs Oaxaca?
💬 Leave a nice comment or let's start a conversation below!
---
"Dear friend! Some links in this post contain affiliate links. Meaning, if you click through and make a purchase, book a hostel or sign up for a tour, I may earn a small commission at no additional cost to you. Your support means a lot and helps me to keep traveling and maintaining the quality of this site for you."