Are you looking for ways of how to get from Merida to Chichen Itza?
Chichen Itza in the Yucatan region of Mexico is recognized as one of the New Seven Wonders of the World and is also a World Heritage Site.
Not only are they the most visited ruins of all the Yucatan region but it is also one of the most incredible places you'll ever visit.
Below, I'll explain how to get to Chichen Itza from Merida, Mexico, so you arrive here with ease and avoid losing precious time on the road.
Getting from Merida to Chichen Itza
As one of Mexico's greatest human creations, the Chichen Itza was built by Mayans and it was one of the biggest political and cultural centers.
The architecture will take your breath away and it will take you back in time so you can learn more about this interesting civilization.
Let's dive in and learn more about Chichen Itza below!
Where Is Chichen Itza?
Are you planning a trip to Mexico in this instance, or are you already based in Merida? Because when looking at the Chichen Itza on the map you'll see that it is located in Yucatan, a Mexican state in the Yucatan Peninsula.
This archeological site which occupies an area of 10 square km can be found bang in the middle of Merida and Cancun. For this reason, Chichen Itza is only 120 kilometers or 75 miles from Merida and also Cancun.
The drive there takes between 1.5 hours and 2 hours, which is quite short! So if you decide to rent a car in Mexico then you can arrive here with ease.
Facts About Chichen Itza
Chichen Itza is full of history and many people visit this breathtaking archeological site to learn some of that history.
To add to your experience when visiting, here are a few facts to know:
"Chichen Itza" translates to "at the mouth of the well of the Itza" or "at the edge of the well of the Itza". It's a reference to Itza, a strong ethnic group, and Chichen Itza's Sacred Cenote.
El Castillo is the most dominant pyramid on the site.
Chichen Itza was planned beautifully and there are clusters of pyramids and temples that seem well thought-out.
The Great North platforms are one of the most visited sites at Chichen Itza.
Chichen Itza was built in the pre-Columbian era and it was one of the largest cities back then.
Is Chichen Itza Worth Seeing?
Absolutely! Visiting and exploring Chichen Itza is a bucket-list kind of experience and for that reason, many people choose to do tours here.
It's not just an incredibly popular tourist attraction, it's a portal to a different world that showcases the evolution of astrology and design.
The attraction is more than a pyramid, the whole area and its surroundings are full of ancient history and there are no words to express how incredible it feels to stand in a place that is over 1,500 years old.
How Long to Spend at Chichen Itza?
When you visit Chichen Itza, I suggest you block out a full morning or afternoon and take your time to soak in as much as possible. On average, three hours seem to be enough to explore Chichen Itza.
However, if you'd like to learn a bit more about things as you go along, you may take longer, maybe four hours. If you just want to take a quick look and move to other places such as Valladolid then two hours will be fine.
Famous Landmarks in Chichen Itza
There are many amazing landmarks to visit in Chichen Itza, but below are some of the most important examples of the Mayan-Toltec civilization:
Warrior's Temple: This is a large stepped pyramid surrounded by carved columns depicting warriors. It's a truly amazing sight to see!
El Caracol: This is an observatory! The building is round and sits on a square platform. It has doors and windows, and it offers a clear, unobstructed view of the sky.
El Castillo: This is the most popular landmark on site and it's dedicated to the serpent god Quetzalcoatl. When the sun rises and sets, the corner of the pyramid casts a shadow that looks like a snake descending to the earth.
The Thousand Columns: This is one of the most distinctive structures. It's a courtyard with 200 pillars. You can walk among them and explore the many Mayan motifs.
Getting to Chichen Itza From Merida
If you are currently in the Yucatan and want to get from Merida to Chichen Itza, taking the bus is the easiest and most affordable option.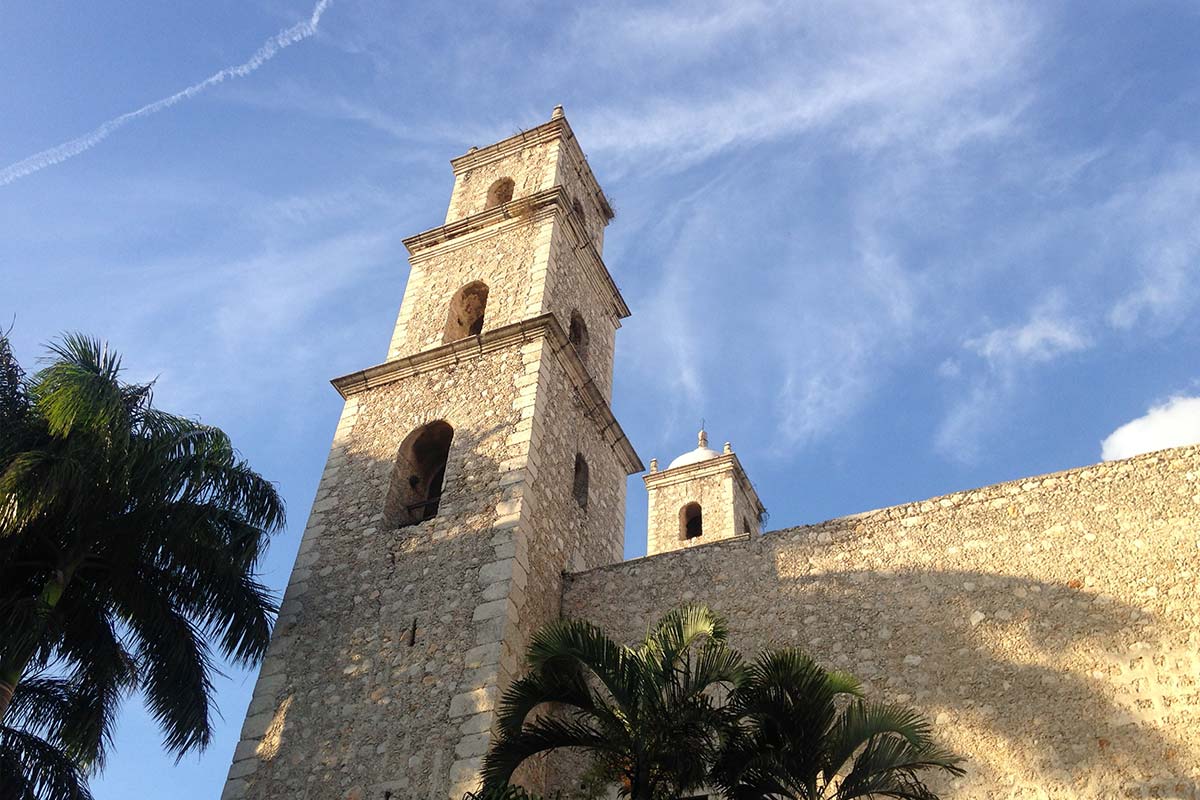 You have two options: you can take the first class ADO bus or you can take the second class Oriente bus.
Both bus companies are great and they have several schedules, so check the options to plan your visit well. I suggest you check the Ado Website first and aim to travel with them. You'll just need to get to the bus station first.
Merida Bus Station
The Merida bus station is easy to navigate because it's divided into two separate buildings, one for the first-class buses and another for the second-class buses.
One thing to keep in mind if you're traveling with the ADO bus company is that the first-class bus station for that company is located behind the second-class station. That part can be a bit confusing, so keep that in mind.
If this will be your first time using buses in Mexico, I highly suggest that you check out my Mexico bus guide for some useful tips on how to use buses.
Buying Your Ticket
You can buy your ticket directly at the station or you can purchase it online. If you're buying your ticket at the station, you can do it a day early or at least get there 30 minutes before departure.
Buying your ticket online is easier and faster, you can use portals such as Busbud or others, or you can go straight to the bus company's website.
Private Transfer from Merida to Chichen Itza
If you want to save some time and be more comfortable, you can get a private transfer from Merida to Chichen Itza instead of taking a bus.
A private transfer service will take you directly from your hotel to Chichen Itza. The drivers know the area by heart, they won't make any stops, and you'll be perfectly safe and comfortable.
Some of the of private transfers include a private tour which for the money can be a wise invest to learn the local history of this incredible landmark,
Chichen Itza Travel Tips
To have the best time visiting Chichen Itza, follow these travel tips:
Consider booking an excursion. There are many tour packages, so you'll find one to fit your budget. It's the best way to experience it.
To get the best photos, arrive there super early. The attraction opens at 8 am, so try to arrive before everyone else.
There are not many trees around, so bring a hat or an umbrella because you will walk around a lot.
Don't forget your sunscreen and bring mosquito repellent as well.
Try to visit as many landmarks as you can. Time your visits to each to make the most of it.
Bring a lot of water with you, you'll need it.
Bring cash with you for the tickets and food or anything else you'll need to buy. There are some unique souvenirs to pick up here.
Take in the details, don't rush through the landmarks.
Merida is classed as the safest city in Mexico so you should have no problems when getting to the bus station.
Visit El Castillo first, which is the most popular landmark, so you can take photos while it's not crowded.
Take regular breaks, it can be tempting to fit in as much as you can without stopping but exhaustion from the sun can overcome even the best of us. Try to stop in the shade every so often.
Got Travel Insurance for Chichen Itza?

Designed by travelers, for travelers, World Nomads covers more than 150 adventure sports and activities so you can explore your boundaries.
Getting from Merida to Chichen Itza
Since this Mexican landmark is one of the wonders of the world, going from Merida to Chichen Itza is definitely a must!
While ever you are in this magical region don't miss out on a truly unforgettable and awe-inspiring experience such as this.
Also, instead of traveling to Chichen Itza and back to Merida on the same day, why not spend the night in the nearby town of Valladolid?
If you'll be in Mexico for some time and visiting other places, see my Yucatan travel safety guide for tips on how to move around the region.
📌 Like this article? Pin it…
Did this guide help you to get from Merida to Chichen Itza?

💬 Leave a comment below or let's start a meaningful conversation…
---
"Dear friend! Some links in this post contain affiliate links. Meaning, if you click through and make a purchase, book a hostel or sign up for a tour, I may earn a small commission at no additional cost to you. Your support means a lot and helps me to keep traveling and maintaining the quality of this site for you."