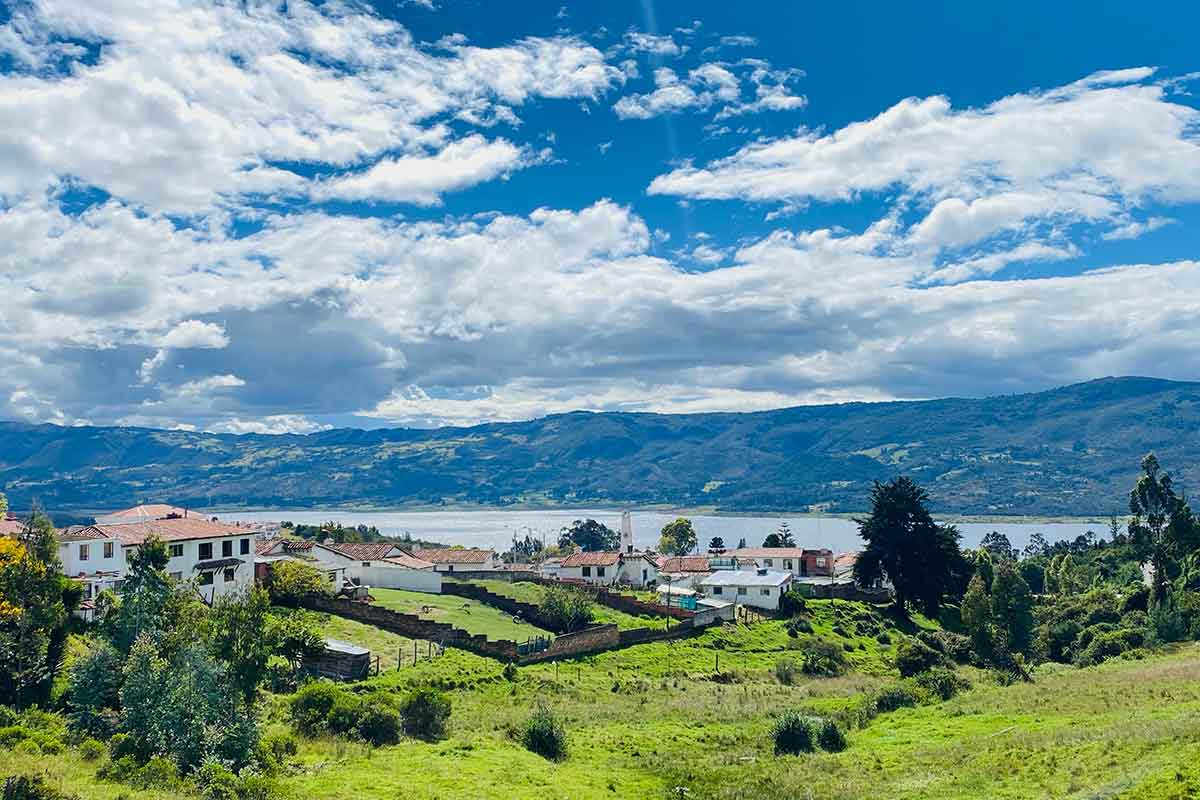 Are you thinking of traveling to Lake Guatavita from Bogota?
Guatavita is a special place in the Cundinamarca region of Colombia. Imagine a small town that sits beside a peaceful lake.
Many people travel to Guatavita from Bogota as a way to escape the hustle and bustle of the city and connect with nature.
Guatavita is also a popular weekend treat for many rollos (people from Bogota), so as you can imagine, the weekends can be very popular.
Lake Guatavita, Colombia
In this guide, we'll explore Guatavita, the things to do, how to get there, how to stay safe as well as the best time to visit.
With so many things to do in Bogota, before we get into this Guatavita day trip, let's look at some reasons why you would want to come here.
If you are only just learning about Guatavita for the first time you'll want to know whether or not it is worth your time coming here.
Why Travel to Guatavita?
Located just 1-2 hours from Bogota, the small town of Guatavita has become one of the most popular day trip destinations. In the town, you can expect to find a museum, church, handicrafts, and restaurants.
Guatavita is famous for the Tominé Reservoir which was created to generate power for nearby communities and to increase Bogota's water supply.
The Reservoir is not to be mixed up with Lake Guatavita which is located a short 30 minutes away from the town of Nueva Guatavita.
Famed by the story of El Dorado the mystic Lake Guatavita is said to be a magical place where its visitors can truly relax and take in one of the most tranquil landscapes outside of Bogota.
How to get to Guatavita
If you've decided to rent a car in Bogota you can drive out to the north of the city on the Autopista via highway 55 heading towards Tunja.
For most travelers, though, it makes sense to arrive by bus or visit as part of a dedicated day trip that can be done in an 8 hours round trip.
Getting to Guatavita on your own is simple. Head to La Calera and outside Carulla (supermarket) you'll find the direct buses to Guatavita.
The bus costs 9,000 COP and you'll get out in Guatavita town.
To get to the laguna thought you would have to take another bus from the town. The bus will cost you around 7,000 COP. This would be the most adventurous way if you don't plan on renting a car.
I suggest doing it this way if you have more than 5 days in Bogota. If not you'd be better off saving time doing a tour that will pick you up.
If you are staying at one of the many hostels in Bogota you'll find that they'll give you a hand organizing these types of day trips.
Exploring Guatavita
It is worth noting also that this day trip is often combined with a trip to the Salt Cathedral when taking tours from Bogota.
Now you know what to expect from a trip to Guatavita and how to get there, let's look in more detail at what to do before lake Guatavita.
Guatavita Town
If you've already been to Villa de Leyva this feels reminiscent. Guatavita is a cute little town that you'll enjoy wandering around for a short time.
The original town was flooded to make way for the reservoir so this town was well planned and you kind of feel that when walking around.
Unlike many urban areas in Colombia, especially some neighborhoods in Bogota or Medellin you get a sense that apartments are being built left, right, and center without much thought or urban planning.
It's different in this case (with it being a quaint town) and you feel a quality of life here that is a world apart from other cities and towns in Colombia.
In any case, just imagine stunning buildings, well-preserved colonial architecture accompanied with cobblestone streets and squares all lumped into a thoughtfully designed parcel of green land 🙂
Other places of interest in Nueva Guatavita:
Guatavita Coffee Museum
Market day (Sunday only)
Plaza de Toros de Guatavita
I love Guatavita letero
Cementerio Guatavita
The town is unique when comparing to others in Colombia so make the town your first port of call before doing tours. You can always come back here (if time permits) and take part in the cultural attractions.
Guatavita Lagoon
Unless you are already well-versed in the local culture here it would be a shame to come this far and miss out on the story of the legend and history of El dorado and the Muisca people.
However, you'll need also need to know some basic Spanish to understand the detailed information provided by the tour guides. There are information boards in English so not all is lost in translation.
The group tours set off every 30 minutes and you can expect many stops along the way!
If you want to do things at your own pace, make sure you carry a pair of decent hiking shoes and arrive at the Lagoon no later than midday so you have time to enjoy.
For those looking for photo ops, you'll love this! The whole area has designated spots for you to be able to take Instagram worth photos that will make even the most well-traveled friend envious.
For many, the Musica people who are indigenous to this region, are an interesting group worth studying before you arrive to this landmark.
Guatavita Travel Tips
See these travel tips for Guatavita to ensure you have the best stay whether you're on vacation, backpacking, or traveling with friends.
⤵️ Dan's Travel Tips For Guatavita:
This is a great chance to get out of Bogota and experience the region of Cundinamarca so take time out to explore the restaurants, museum and sip a tinto in one of the local coffee shops.
It rains much more than expect here be sure to have a rain poncho or waterproof rain jacket with you to avoid getting soaked.
The countryside is nice here and the village doesn't require much time to visit so you can plan to dedicate more time to visiting the Lagoon.
Be sure to wear comfortable shoes and also you'll need some water supplies if you plan on walking for the whole morning or afternoon.
Guatavita is classed as a sanctuary so there aren't any hotels but you can stay at one of the cool glamping spots scattered around the area.
The walking tour lasts around 1,5 hour with stops and you reach altitudes of 3150 meters so make sure you are mentally and physically prepared for this.
On arriving to the park entrance you'll see signs that say it's not permitted to consume food (to preserve and protect the environment) so on behalf of Pachamama please follow this rule.
Map of Guatavita, Colombia
See this map of Guatavita to get a better idea of the surrounding area:
Note that the town is also called Nueva Guatavita and there is a small bullring, church, and museum as mentioned earlier.
You'll want to check out the artisan shops here which sell the typical ruanas from this region. This small area can easily be explored on foot.
Remember to carry some comfy walking shoes and practice your Spanish to be able to pick up any inside knowledge from locals.
The Best Time to Visit Guatavita
The climate in Guatavita is fairly consistent year-round, with lukewarm temperatures during the day, which cool heading into the night.
Average temperatures throughout the year hover between 65-68°F, with highs of up to 77°F.
October is said to be the month with the most rainfall and July is historically the driest month.
December and January are great times to visit, not only in terms of climate but for the festive season.
Of course, be sure to pack lots of warm clothes if hiking around the Lagoon or glamping in one of the nearby eco-lodges, as temperatures will drop as you head into the higher altitudes.
Got Travel Insurance for Guatavita?

Designed by travelers, for travelers, World Nomads covers more than 150 adventure sports and activities so you can explore your boundaries.
Lake Guatavita Colombia
Thanks for reading this short guide to traveling to Guatavita.
Not only will you get a chance to explore the town, but you'll also experience Guatavita lagoon which is an alluring natural reserve protected by the state.
On the tour from Bogota, you'll learn about local music culture and traditions. Not to mention, all about the legend of El Dorado.
In this guide, we've explored Guatavita, what to see and do, how to get here as well as the best time to visit this beautiful town and region.
If you are backpacking Colombia I invite you to see more off-the-beaten-path locations you can visit in this beautiful country.
📌 Like this article? Pin it…
With all this in mind, when will you travel to Lake Guatavita?
💬 Leave a nice comment or let's start a conversation below!
---
"Dear friend! Some links in this post contain affiliate links. Meaning, if you click through and make a purchase, book a hostel or sign up for a tour, I may earn a small commission at no additional cost to you. Your support means a lot and helps me to keep traveling and maintaining the quality of this site for you."