When thinking of islands in South America, what springs to mind?
If there's one thing South America offers that attracts visitors from all over the world is a wide variety of landscapes.
So, when you focus solely on the islands near South America, you will find many different contrasts to enjoy.
Islands in South America
Whether you prefer a luxurious experience or you're more into a remote location where you can connect with nature, you will not struggle to find the right island to visit in South America.
This is a list of the best options to consider for a magical time!
There's no shortage of idyllic, beautiful islands near South America or inside its territory, here are some top picks to make choosing easier.
Easter Island (Chile)
This is one of the most popular islands in South America. It's mythical, intriguing, and known for the statues made by the Rapa Nui people.
Aside from the Moai statues, another interesting thing about the island is that it's one of the most remote inhabited islands on Earth.
In other words, it's the perfect spot to disconnect from your life as you know it and refuel your soul while getting to know the ancient culture that gifted this island to the world.
Ilha de Santa Catarina (Brazil)
Last but not least, we have the Ilha de Santa Catarina, a modest but amazing island. There are over 40 beaches to discover here so it's no wonder this is a popular destination for surfers.
Santa Catarina is known for offering all kinds of waves, so it's perfect for beginner and more experienced surfers.
If you're not into surfing, you can spend your time exploring the island. The Lagoa da Conceição is a must-visit and it's a fresh-water lake where you can enjoy your time, you can go on hikes, enjoy the clubs and bars.
Providencia Island (Colombia)
Providencia Island is what people think of when they think of paradise, so you simply can't miss it.
There are limited transport charters on the island, so visitors won't be tarnished by huge crowds and over-tourism.
This is a culturally rich island and the evidence of Spanish and Colombian culture is everywhere. This is one of those places that's very hard to leave and you'll have the time of your life.
Galapagos Islands (Ecuador)
The Galapagos Islands were brought to focus by Charles Darwin because it was in this magical place that he found the inspiration for the theory of evolution.
This is an archipelago of almost 40 different volcanic islands, you'll find tons to explore. If you're a nature lover or you enjoy observing fauna and flora, it's the perfect place for you.
The Galapagos are known for the Galapagos Giant Tortoise, majestic animals that can live to 100 years and reach 400 kg or over 880 pounds.
Isla de Coche (Venezuela)
Venezuela is not the most accessible country in South America because of its political situation.
However, many adventurers have taken the precautions to visit and enjoy their time exploring the amazing places the country has to offer.
Isla de Coche is one of those destinations and it offers white sand beaches with crystal clear waters.
It's the playground for the 1% that's still left in Venezuela, so it's an exclusive spot. Perfect for a tropical break from life.
Ilha Grande (Brazil)
Ilha Grande provides a relaxing experience for all her visitors because there are no motor vehicles on this beautifully remote island.
This is an island to visit to enjoy nature, explore, and with some great Eco hostels, you can have a unique experience. There are beautiful beaches like the Dois Rios beach, where two rivers come together.
The Lopez Mendes beach, and the Saco do Ceu Cove, are places where you'll have the best stargazing experience at night. There's also lush forest and so much more to enjoy!
Ilha dos Frades (Brazil)
Ilha dos Frades is another stunning island Brazil has to offer. It's right in the middle of All Saints Bay and it offers incredible emerald waters you'll never forget.
This is a great place to learn about local culture, explore eco trails, enjoy different beaches.
The most popular beach Ponta de Nossa Senhora gives you chance to do adventure activities such as snorkeling, water sports, and more.
The island is small but it's a hidden gem that's worth a visit.
Tierra Bomba Island (Colombia)
Tierra Bomba Island is very close to old town Cartagena on Colombia's Caribbean coast, so it's perfect for a day trip if you get tired of the city.
The beaches are clean and refreshing, but because it's so close to the city, you won't find turquoise waters and white sand.
You also need to keep in mind that the island gets crowded on the weekends, so it may not be the best choice if you want to relax.
However, it's a lively place where you'll enjoy many activities and the freshest, most delicious seafood.
Isla de Margarita (Venezuela)
If you want to travel off the beaten path, the Isla de Margarita is a great place to visit. At this destination, you'll get the best of both worlds.
You'll get plenty of chances to relax on the beach and enjoy the resort experience. As well as some great shopping you can explore many restaurant options, and dabble with the exuberant nightlife options.
The beaches in Margarita are amazing with turquoise waters and warm breezes, so it's quite a tropical paradise.
San Andrés (Colombia)
San Andres is an incredible coral island and it's a southern group of islands that not many people know about.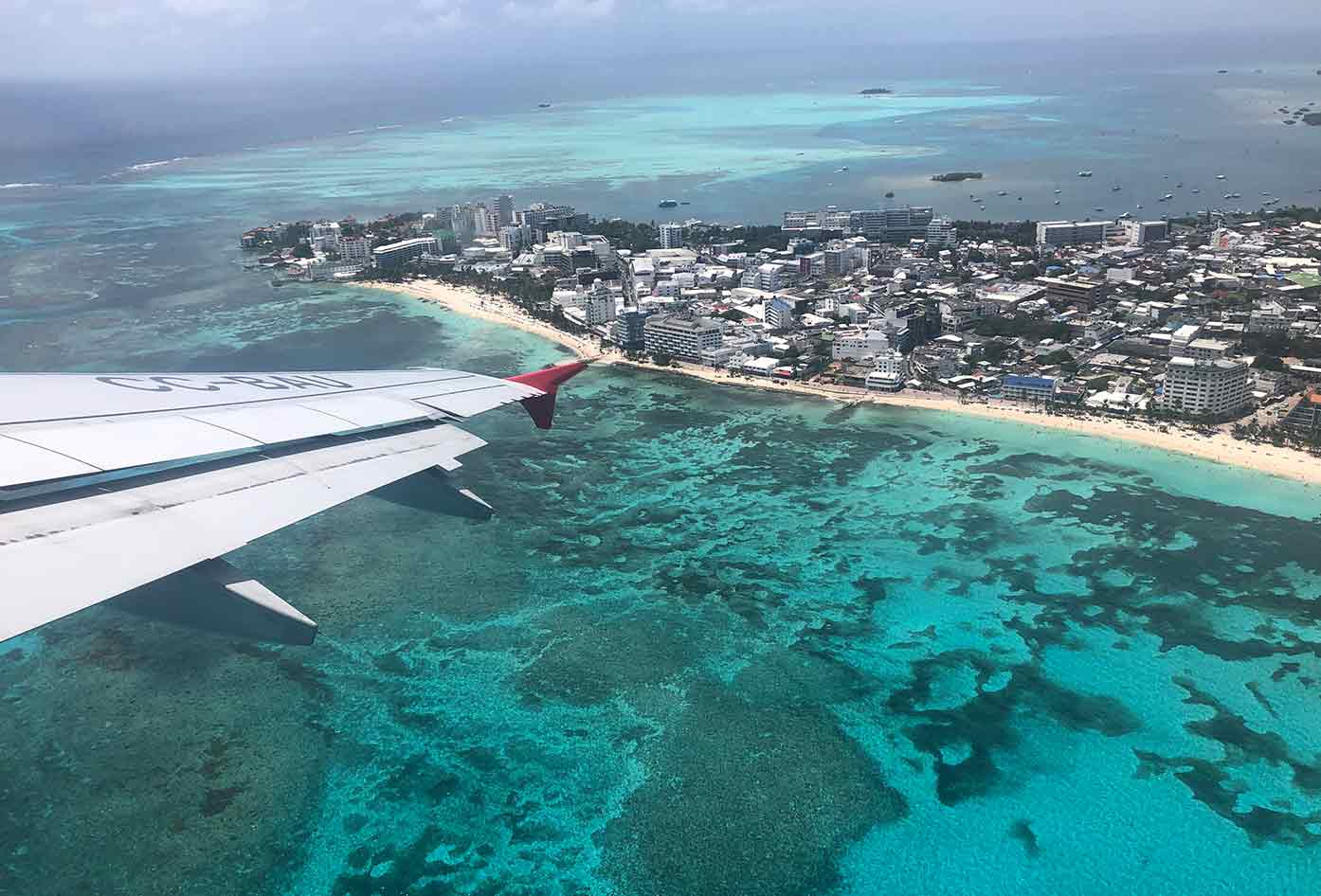 It's a remote destination with plenty of opportunities for leisure and fun, including a variety of adventure activities.
The island is a world-class scuba diving destination, so that's something to look forward to, and it offers a unique mix of cultures, with Colombian, Jamaican, and Nicaraguan people living on the island.
Got Travel Insurance for South America?

Designed by travelers, for travelers, World Nomads covers more than 150 adventure sports and activities so you can explore your boundaries.
Islands in South America
The islands off the coast of South America are some of the most beautiful places you'll ever visit.
This list provides you with a wide range of options, so it won't be difficult to find the perfect destination for your vacation style.
No matter what you choose, you'll find beauty and excitement!
Still not satisfied? See this complete guide of safe places in South America for more inspiration on where to go on the continent.
📌 Like this article? Pin it…
Will you be visiting any of these islands in South America soon?
💬 Leave a comment below or let's start a meaningful conversation…
---
"Dear friend! Some links in this post contain affiliate links. Meaning, if you click through and make a purchase, book a hostel or sign up for a tour, I may earn a small commission at no additional cost to you. Your support means a lot and helps me to keep traveling and maintaining the quality of this site for you."