Is Uruguay safe for travelers?
Uruguay has some of the world's best landscapes as one of the smaller countries in South America.
You don't need to be an experienced hiker or a seismologist to enjoy what Uruguay has to offer.
Is Uruguay Safe?
The country is often overlooked by major neighbors Argentina and Brazil, but many are now seeing Uruguay as the brilliant country it is.
Many visit the country as a stop on a continental cruise or a stopping point on a backpacking trip.
Most tourists, who plan on traveling to South American countries, whether a seasoned traveler or not, must consider their safety.
This guide is designed to tell you all about the safety of this incredible South American gem and advise you how you can stay safe.
Is it Safe to Travel to Uruguay?
The simple answer is; yes!
Compared with the neighboring country Brazil, Uruguay is very safe not only in terms of crime and acts of God, but the people are extremely friendly.
Brazil has a lot of crime that just doesn't fly here. In terms of safety scales, it's skewed towards tourist being targeted, unfortunately.
Uruguay is a largely peaceful country, but a tourist will miss the peaceful parts. Especially if arriving from Buenos Aires to Montevideo by ferry for the day. Or, passing through to get to another country.
Tourists are more likely to take to the streets of Montevideo, which makes sense because that's where attractions are.
However, you will find that Montevideo is the most dangerous part of the whole country by way of petty crime. This is why carrying a Pacsafe backpack or equivalent is a smart idea for most visitors.
The UK and other government bodies have advised against all travel to Uruguay during this transitioning period of COVID-19.
Safety Facts about Uruguay
Around 20,000 British nationals visit Uruguay every year and most visits are trouble-free.
The most common type of tourist-related crime is distracted theft. Always be on your guard when in crowded locations. Mostly in Montevideo.
The intentional homicide rate of Uruguay is 12/100K, less than half the rate of Colombia and Brazil.
The 2020 Global Peace Index lists Uruguay as 35 out of 163. It lists Uruguay as the most peaceful country in South America.
There is a zero tolerance policy for DUI.
Most petty crime takes place at transport hubs in Montevideo.
Is Uruguay Safe to Travel Alone?
Uruguay is perfectly safe to travel alone.
Most of the minor crime happens within the inner city of Montevideo, where a third of the country's population lives.
When planning your Uruguay itinerary, one popular tourist attraction in Montevideo is the Ciudad Vieja (Old City). It's the oldest and historically most interesting part of Uruguay for some people.
Unfortunately, the only sections that are patrolled by the police are Plaza Independencia (Independence Square), the pedestrian street Sarandi, and the Mercado del Puerto (the Harbour Market).
It's advised to go out only during the daylight hours as a result, especially if you're a female or solo traveler.
If you're passing through as a backpacker, bypassing the inner city, is perfectly safe and peaceful.
Read this comprehensive guide on things to do in Uruguay for more ideas on what to do and where to go during a short stay here.
Uruguay Travel Safety Tips
Uruguay can be the safest place in the world if you want it to be.
In order for this to happen though, you need to reduce the chance of being found a target of petty crime.
Keep away from crowds of people. You could be pick-pocketed or mugged.
Book a taxi through your hostel or another trusted service such as the airport.
Make sure to use trusted and accredited hotels/hostels.
Keep dummy wallets for pickpockets in the urban areas and keep your money hidden away. Bras, neck wallets or secret bag compartments will do.
Don't take too many valuables with you. If you want to take expensive equipment such as cameras or smartphones, keep them hidden.
Don't go out at night in Montevideo, stick to the daylight hours.
Crime increases briefly during the summer months on the beaches. Pay close attention to your belongings and don't get complacent.
Uruguay is a great place to visit, but you can never assume it's as safe as Argentina or as dangerous as Brazil.
It is its own autonomous country and thus the culture for crime is completely different.
Traveling Around Uruguay by Bus
The standard buses are so comfortable! The government-regulated fares are reasonable and short-distance travel is made very easy.
You can research the tourist attractions in Uruguay along the way as many companies offer free wi-fi on board too which is a bonus.
In the few cities that lack terminals, all companies are within easy walking distance.
Reservations aren't necessary except during the busy holiday periods including Summer.
On peak travel dates a single company may run multiple departures at the same hour. They'll mark a bus number on your ticket; check with the driver to make sure you're boarding the right bus.
You'll not be surprised to know South America is full of express high-end coach companies willing to take you across the continent too.
Most towns and cities with central bus terminals have a reasonably priced left-luggage facility.
Best Time to Visit Uruguay
The best time to visit Uruguay is around October to March when the sun is out and temperatures aren't at all cold.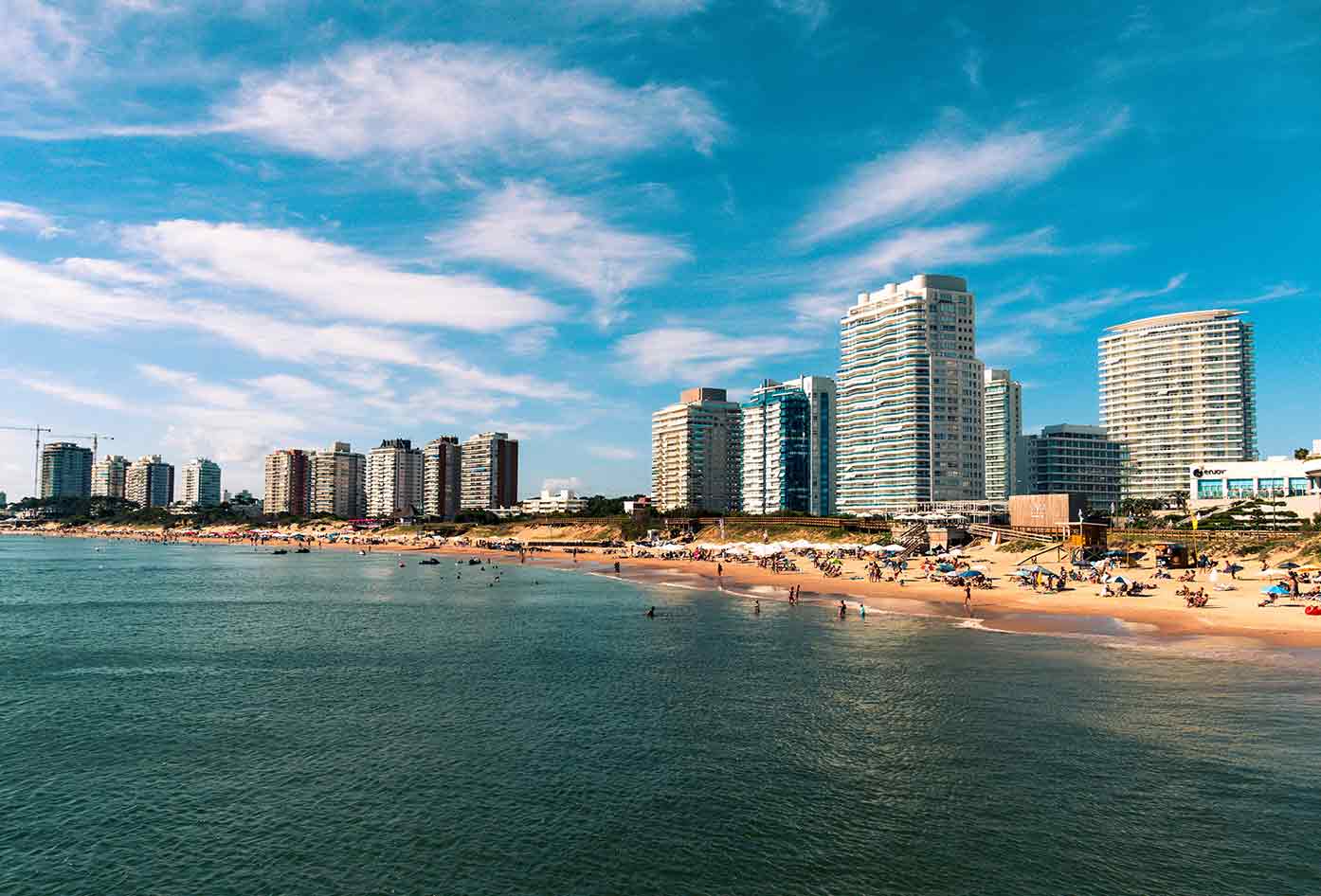 Punta del Este overflows with tourists from Argentina and Brazil in summer, so if you're seeking a more relaxed time to visit the beaches of the coast, consider going between October and December.
You'll encounter plenty of Argentine, Brazilian and Uruguayan tourists in the height of summer (between Dec-Feb).
Maybe read up about Mate in Argentina in case you end up wonder why many tourists are carrying an oversized flask around with them.
Expect crowds and prices soaring around Easter and Carnival (around mid-Jan to late Feb). Atlantic breezes keep temperatures mild all year, with low-mid 20°Cs in summer.
It isn't the hottest country in the world, but the mild temperatures are very agreeable in the Summer.
Got Travel Insurance for Uruguay?

Designed by travelers, for travelers, World Nomads covers more than 150 adventure sports and activities so you can explore your boundaries.
Is Uruguay Safe?
Uruguay is an amazing mountainous country to visit and is perhaps one of the safest South American countries on the whole.
It would help when visiting Uruguay if you knew some basic Spanish conversation since not many people will speak English.
Also, it would help if you loved football (soccer).
You'd expect Messi's Argentina and Pele's Brazil to be the Meccas of football in South America, but Uruguay has won the World Cup twice!
If you're still not 100% convinced, why not learn some more facts about Uruguay before adding it to your bucket list?
📌 Like this article? Pin it…
Do you feel like your personal safety in Uruguay is in good hands?
💬 Leave a comment below or let's start a meaningful conversation…
---
"Dear friend! Some links in this post contain affiliate links. Meaning, if you click through and make a purchase, book a hostel or sign up for a tour, I may earn a small commission at no additional cost to you. Your support means a lot and helps me to keep traveling and maintaining the quality of this site for you."