Is Tulum safe for travelers who are new to Mexico?
Over the years the small beach town of Tulum has become somewhat of a hit sensation for its visitors for various reasons.
With all the negative reports centered around Mexico, this is a question many travelers who a visiting Mexico for the first time want to know.
In this guide, I'll break down some of the common questions and queries most unexpecting travelers have when visiting Tulum, Mexico.
Is Tulum Safe?
The quick answer: Yes!
Tulum is the small-ish town on the Caribbean coastline of Mexico's iconic Yucatán Peninsula and is visited by thousands of people daily.
The corridor is named after it since it was one of the top destinations in the whole of Mexico in its heyday. But what else is Tulum known for?
Aside from its exotic wildlife and cenotes, Tulum is best known for its beaches and well-preserved ruins of an ancient Mayan port city and there aren't many left, so Tulum is a treasure in that regard.
The main building itself is a large stone structure called El Castillo, perched on a rocky cliff above the white sandy beach and turquoise-colored sea. These are the only Mayan ruins found on a beach.
El Castillo attracts thousands of visitors per year.
Near the ruins is the Parque Nacional Tulum, a coastal area with mangroves and cenotes, many of which visitors enjoy diving into.
Is Tulum Safe to Travel to Right Now?
Yes! Despite the safety situation in Mexico constantly changing you will be glad to know that it is safe to visit Tulum in 2022.
However, according to OSAC (Overseas Security Advisory Council), US citizens should exercise increased caution when traveling to Tulum.
This advisory also includes other popular destinations such as Cancun, Playa del Carmen and the Riviera Maya tourist area in general.
Aside from some of the other risks, which I will cover in this article, other immediate dangers you should be aware of as a traveler to this region include food poisoning, contaminated water and natural disasters.
Where is Tulum?
The ever-growing popular haven of Tulum is found in the extreme southeast of Mexico.
It's located within the tropical region of the Riviera Maya, around 3 hours south of Cancun and two hours from Playa del Carmen.
Tulum has its own Caribbean coast along its east and is also close to the Sian Ka'an Natural Biosphere.
The beachside town is situated within the state of Quintana Roo, with Campeche lying to the west, and Yucatán to the north.
Heading further south you'll find the border with Belize, which is the gateway into Central America. A popular Gringo Trail route for many.
Is Tulum safe, though? Let's find out.
Quintana Roo Crime Rate
Since Tulum is ofter considered as part of the wider region, let's look at some of the crime rate statistics in the wider area of the Yucatan.
⤵️ Tulum crime rate statistics:
The intentional homicide rate of Yucatan is 3 per 100,000. That's better than the US homicide rate which is 5.
According to the UK Government, over 576,971 British nationals visited Mexico in 2017 with most visits being trouble-free.
Also according to the UK Government, Major tourist destinations like Cancun, Playa del Carmen, Cozumel, Tulum, Riviera Maya, and Puerto Vallarta have mostly not seen the levels of drug-related violence and crime experienced elsewhere in Mexico.
Believe it or not, a quick look at the crime figure in US cities such as New York and Chicago have higher crime rates than Yucatan.
In many cases the increasing dangers within the Yucatan/Quintana Roo regions are mostly road-related.
Increased traffic in this area sees more accidents and crashes occur.
Do take extreme caution whilst on the roads in Tulum. Whether that be by Ado bus, collectivo, or, when traveling in your own vehicle.
Why not get the most out of your trip by renting a car in Tulum for as little as $15 a day? You can save money when traveling with a group.
How Safe is Tulum for Tourists?
According to Numbeo.com Tulum has a safety index of 63.68 which is high when compared to Mexico City for example which has a much lower safety Index of 31.40. That number difference alone speaks volumes.
Tulum is an awesome destination with a lot to offer. Set on the Maya Riviera, it's a coastal town that is home to literal Mayan ruins.
There are also nearby relics and jungles to explore if you feel adventurous. If that wasn't enough, there's a great party scene and beautiful beaches to laze around on all day.
This cool town may be in Mexico where danger is possible, it doesn't face loads of issues with gang violence.
Still, Tulum does have a few issues with petty crime, getting things stolen on the beach isn't unheard of. Nothing a locking beach bag won't solve, though! But it's no good leaving your valuables unattended.
💡Smart Travel Tip
Always be cautious and never leave your things scattered around the beach unless you have a trusted person keeping an eye on your things.
Is Tulum Safe to Travel Alone?
Yes, Tulum is safe for solo travelers!
The Riviera Maya and Cancun have recently come under scrutiny in the press for some safety issues regarding violent crime.
However, for the most part, these are isolated incidents, which don't actually affect the tourists that visit this area.
Many solo travelers looking for a bohemian style stay will choose places such as Turquoise petit as their first port of call.
Or, if traveling on more of a backpacker's style budget plan, choose one of the more traditional hostels in Tulum that are in the town area.
Tulum is not Cancun and is a lot more laid back, so there are no issues here with violent crime – this is one of the reasons it become popular.
💡Smart Travel Tip
Even when you compare Tulum vs Playa del Carmen for example, you'll find some major differences between the two nearby locations.
You'll find that both are equally as popular with similar types of travelers. But it all depends on your personal preference, of course.
Is Tulum Safe for Solo Female Travelers?
Yes, Tulum is safe for solo female travel! However, safety is a number one concern when it comes to traveling to Mexico as a female alone and things to be aware of are: harassment and petty crimes such as theft.
Also, since the Tulum party scene is such a big attraction for many females in the region, it is important that you monitor your alcohol intake, and, never accept drinks from strangers in a bar setting.
Aim to make friends with other like-minded female travelers and have each other's backs when it comes to getting in taxis late at night, walking to and from the hotel, and even when it comes to swimming in the ocean.
Is Tulum Safe for Families?
Yes, Tulum is safe for families and with many of the kid-friendly activities Tulum making it the perfect destination for a kids educational trip.
Some of the main hazards when traveling to Tulum with kids include, playing in the water, sunburn, mosquito bites, and food allergies. Also never-ever leave your child unattended while in Mexico.
You may want to choose a kid-friend hotel as many hotels in Tulum are for adults-only. Many families choose to stay at Dreams Tulum for it's superior attention to detail when it comes to accommodating family visits.
Where to Stay in Tulum
There are two main areas to stay in Tulum. The first is within the town center, where all the best amenities and restaurants are located.
It's also right next to the bus station and meeting point for colectivos, making access across the region very easy.
The only downside is that it can often feel quite over-touristy, which often leads travelers to head to the more secluded areas.
The 15 highway runs adjacent to Tulum's Caribbean coast and is where you'll find the more upscale and popular nightlife options and hotels.
Places such as Casa Abanico make a great option for being within walking distance of shops, restaurants, bars and even the bus station.
All in all, Tulum is the perfect place to base yourselves if you want great beaches at your feet. It also has a sense of peace and quiet that is more difficult to find in the town center.
Tulum Nightlife
Tulum really has everything for everyone when it comes to nightlife.
Along the beach, you'll find lots of laid-back bars to watch the sun go down with a beer or one of the popular Mojito cocktails in hand.
Within the town, there are lots of bars and nightclubs that are open (and lively) most days of the week, such as Caribe Swing and Xibalbar.
Later into the night, there are many full-moon-style parties that spill out into the beaches.
For a more unique night, you can head to some of the alternative events and private parties that are held within the nearby jungle.
Is Tulum safe at night?
While in Tulum you should avoid going to secluded places at night but in general it is safe to walk around Tulum at night.
If you are leaving a bar or beach club at 2:00 am always get a registered taxi or Uber. Likewise, if you know you're going to be alone or traveling back alone later you may want to reconsider your options.
💡Smart Travel Tip
If you are staying in Tulum pueblo and you want to go to the beach during the late afternoon you'll definetly want to get a taxi to the beach.
I made the mistake of walking to the beach an hour before sunset and ended up having to turn back because it started to go dark before I arrived.
Having arrived back to the pueblo later that evening found out it was 6.5 miles away and as endearing as the lush jungle beach road was, I should have indeed got a taxi for safety reasons.
Backpacking Tulum Safely
As a traveler backpacking Mexico and further south, it can be tricky. Most of the bordering regions with other countries have a difficult reputation and traveling alone is not highly recommended but safe.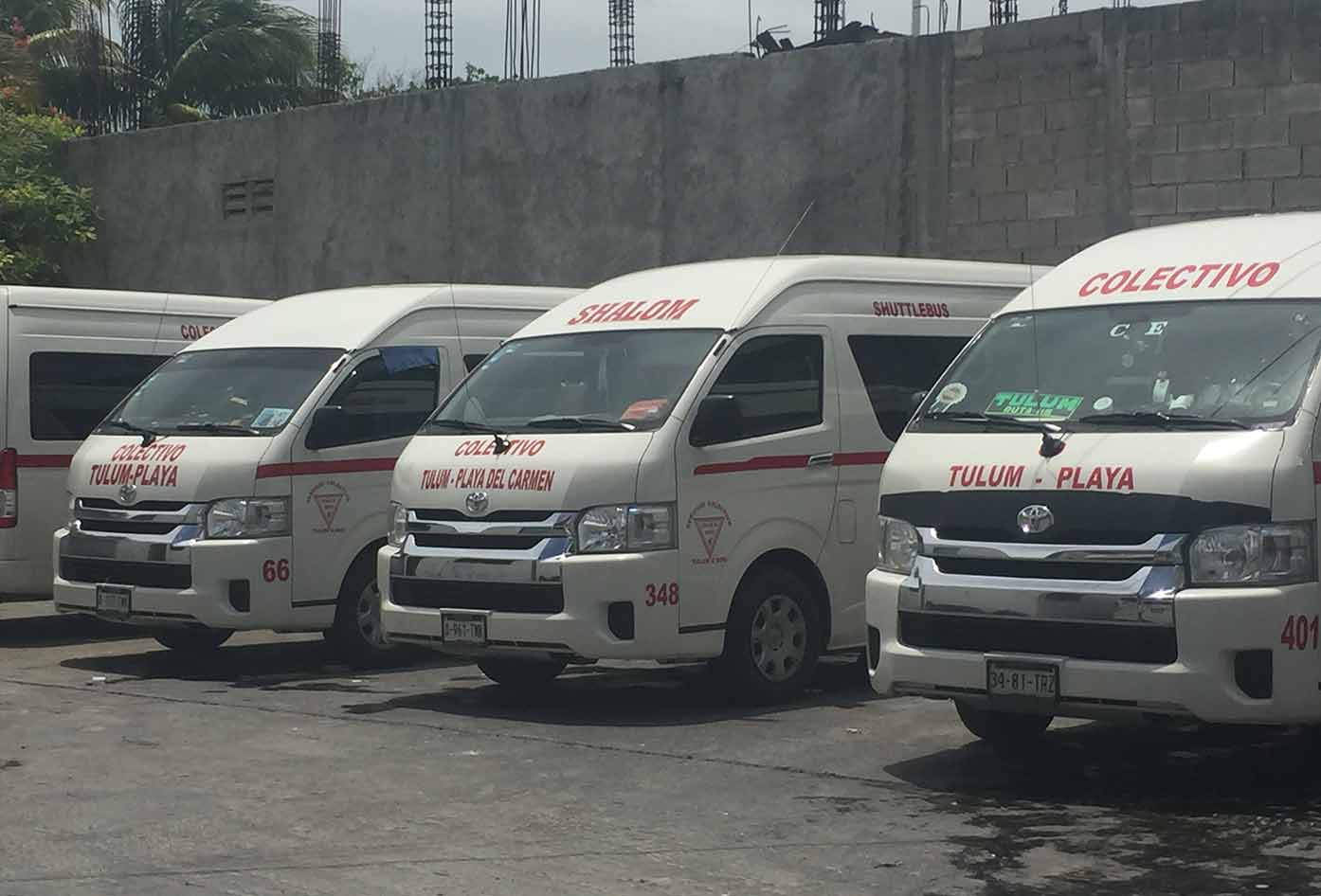 You'll find that the Yucatan is safe compared to the rest of Central America and traveling around the region via collectivos is common.
Mexico is an amazing country to navigate, but you definitely need to look up which regions should be avoided when backpacking.
Quintana Roo can be the starting point for many backpackers taking the long route down to Colombia and/or to see all of the most popular Central American countries before the end of Panama.
This is the ideal place to start your trip since it has most of the best sights in Mexico plus it's so close to Guatemala and Belize.
Tours in Tulum
Becoming ever more popular each year, Tulum has seen a large increase in tourism and tour providers.
Located in the heart of the Riviera Maya, it's naturally a great place to base yourself to then explore the region which is abundant with natural sights and spectacles.
The Dos Ojos Cenote is one of the most popular visits from Tulum, and can be reached using colectivo within half an hour.
However the most visited has to be the Archaeological Ruins of Tulum.
These fantastic ancient Mayan structures are some of the only in Mexico to be located next to the coast, and after a long day exploring in the hot sun there's a beach right there to take a cool dip.
Tulum: Travel Safety Tips
Don't take Yucatan lightly just because it's considered a safe area.
Tourists are targeted in all locations around the globe, so look out for petty crime. Especially, when traveling by car or public transport.
⤵️ Tips to help you on your journey:
Keep dummy wallets for pickpockets and keep your money hidden away. Bras, hidden neck wallets or secret bag compartments will do.
Make sure to take sunscreen. This is the hottest region of Mexico and the ocean breeze may fool you.
Use trusted and accredited hotels and hostels. Then once you've booked your room, book taxis or buses through the hotel.
Always remember not to accept drug offers. Not only is it illegal, but it's dangerous and you're helping an industry wrought with crime that the government is trying to stop.
If you want to take expensive equipment such as cameras or smartphones, keep them hidden, locked away and on your person. Many travelers find that PacSafe backpacks are perfect for this.
Don't leave any valuables unattended while you swim. Run-and-grab thefts by people lurking in the woods are a common occurrence.
Take care when visiting Cenotes in the Yucatan and make sure you always have the certified tour guides to tell you about any hazards.
Be wary of attempts at credit-card fraud. One method is when the cashier swipes your card twice (once for the transaction and once for nefarious purposes). It would be best to only use cash, by keeping most in your hotel safe and taking small amounts out with you.
Remember, if you plan to travel from Playa del Carmen to Tulum just for the day, you can get a bus or shuttle in less than one hour.
How to get to Tulum from Cancun
Many people traveling to Tulum will first arrive in Cancun. To get to Tulum from Cancun Airport you can get a shuttle, direct bus, or taxi.
The distance is around 131 kilometers and takes between 1.5 – 2 hours depending on traffic and weather conditions.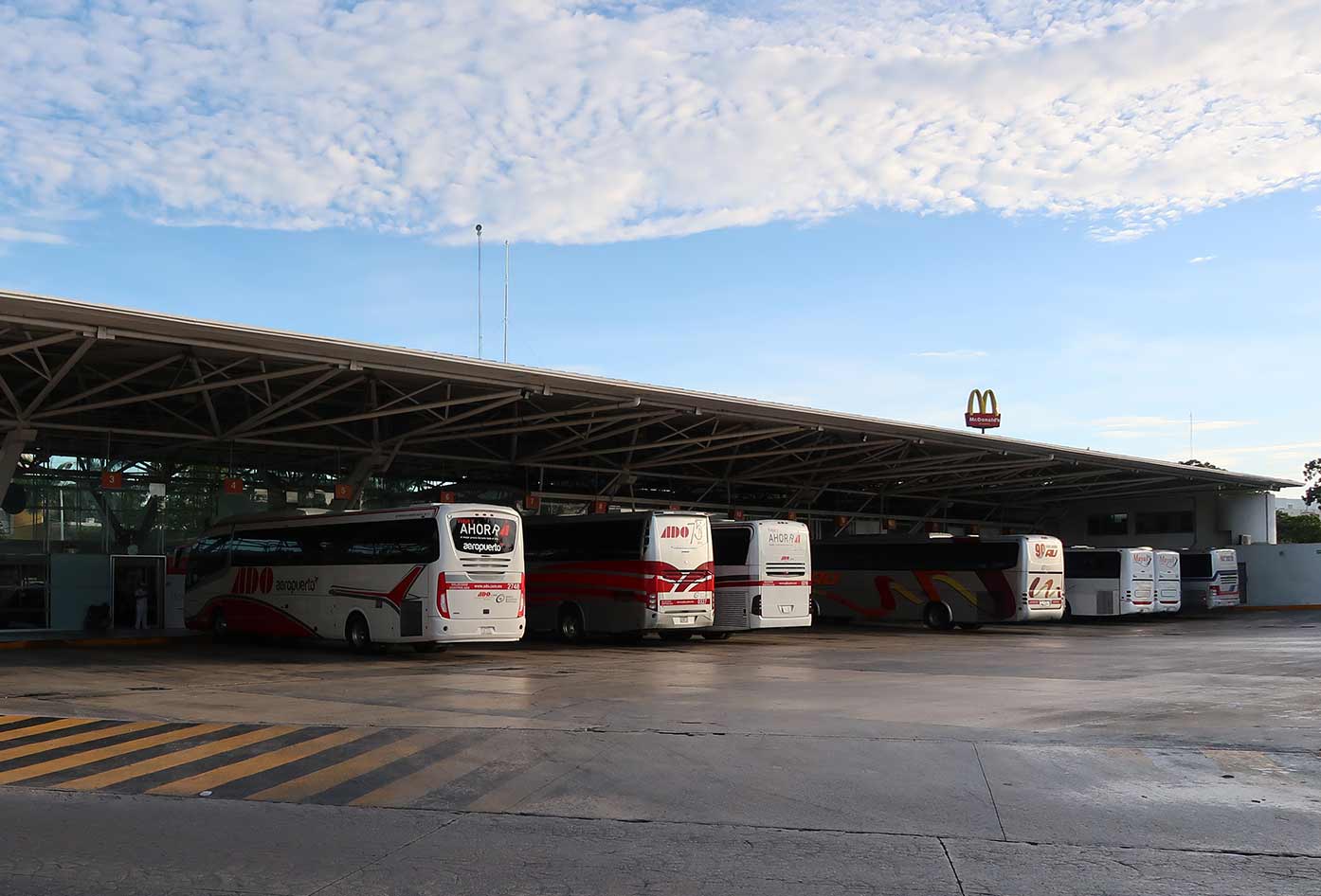 If you decide to travel by bus in Mexico be sure to follow the tips on this blog. The ADO bus (read AHH-day-OH) is the most popular bus company and is renowned for its reliability and comfortable interior.
If you take the bus from Cancun to Tulum you'll save money and can plan the rest of your journey with confidence.
Got Travel Insurance for Tulum?

Designed by travelers, for travelers, World Nomads covers more than 150 adventure sports and activities so you can explore your boundaries.
Best time to go to Tulum
Tulum has a clear dry and wet season. The dry season runs from November until May, and has average temperatures of between 73-80°F, highs of 92°F and evening lows of 62°F.
Rainfall is at its lowest this time of year, with between 1-2.5 inches falling each month (March is the driest month). The wet season runs from June to late October and sees hotter averages between 77-80°F.
Highs here can reach up to 90°F, with lows dropping to 69°F. Rainfall is much heavier this time of year, with between 4-7 inches falling each month (September is the wettest month to visit Tulum).
Tulum Safety FAQs
See these frequently asked questions about safety in Tulum:
---
Is Tulum Safe? Final Words
If you've always wanted to dive into the cenotes of Riviera Maya, or dive into Mexican heritage, there's no better place than Tulum.
Whether you're a backpacker passing through or a two-week all-inclusive tourist, El Castillo offers everything you need. Not only is it quite safe, but it's extremely popular.
Book your trip to Tulum today and see what it has to offer. If traveling soon, see this list of things to do in Tulum for more inspiring ideas.
📌 Like this article? Pin it…
Missing something? Got tips, tricks & advice we can learn from?
💬 Leave a positive comment or lets start a conversation below!
---
"Dear friend! Some links in this post contain affiliate links. Meaning, if you click through and make a purchase, book a hostel or sign up for a tour, I may earn a small commission at no additional cost to you. Your support means a lot and helps me to keep traveling and maintaining the quality of this site for you."