Is Sayulita, Mexico safe for tourists in 2023?
Sayulita is the kind of beach town that everyone can visit. It has so much to offer travelers who want to spend time in a peaceful paradise!
Imagine crystal clear beaches, lovely weather, cultural experiences, and endless opportunities for adventure both in the water and jungle.
But is Sayulita safe and how should you prepare for such a trip? Especially when traveling to Mexico (in general), safety is a big concern for tourists.
Is Sayulita, Mexico Safe?
So, if you're considering visiting this town and you want to learn more about safety in Sayulita, you've come to the right place.
Is It Safe to Travel to Sayulita Right Now?
Yes, it is quite safe to visit Sayulita right now.
Tourists from all walks of life can have a great time in this quintessential Mexican surf town as long as they practice caution and common sense.
It's rare to hear about violent crimes in Sayulita, so the main safety concerns are scams and petty crimes, such as pickpocketing.
So, is Sayulita safe? Absolutely! And the more aware you are of your surroundings and behavior, the safer you will be.
Safety Facts About Sayulita
With natural disasters aside, did you know that Sayulita was one of the safest places in Mexico with (on average) only 379 incidents in a year?
To put that into perspective, the national average is 1,601 incidents per 100,000 inhabitants. Sayulita is small of course but when comparing to the national scale you can immediately see the reassuring number gap.
Additionally, Travel Safe Abroad reports this town has a safety index of 90. The most prominent risks are pickpocketing, muggings, and natural disasters, more specifically hurricanes and earthquakes.
There's also a low risk of scams, which is very important to be aware of as a tourist. Especially, if you'll be booking tours or exploring the nightlife scene.
Is Sayulita Safe to Travel Alone?
Based on the personal experiences of many tourists who have shared their stories online, Sayulita can be quite safe to visit on your own.
Even if you stay the popular Hotel Villas that doesn't neccesarily mean that the risks of danger don't exist or that safety in Sayulita is guaranteed.
When you're traveling in Mexico, much of your safety is in your own hands no matter where you go, so it's important to practice travel safety tips.
Be sure to prepare your itinerary well, and do your research in advance so you're aware of the possible dangers and how best to avoid them.
Is Sayulita Safe at Night?
Is Sayulita safe to walk around the night? Yes, it is, but you need to be aware of your surroundings and know where you're going.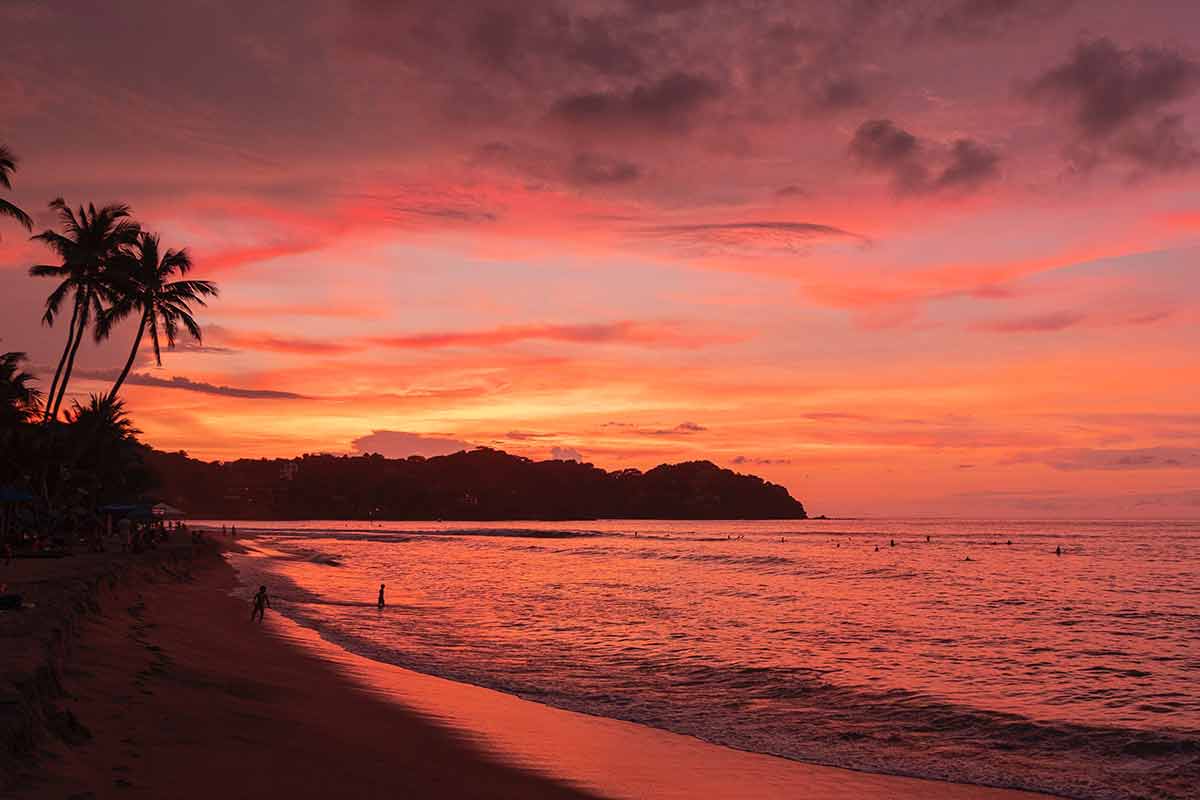 Streets in this town are well lit and other people are often out and about.
Sayulita is a family-orientated town, so walking during the day is always going to be a lot safer, as is the case in most parts of the world, but you won't feel uneasy walking around Sayulita at night. Even so, be cautious.
Avoid empty streets and dark alleyways, and don't walk alone if you can help it. If you don't feel safe or confident walking at night, use taxis.
Backpacking Sayulita Safety
With hostels such a Viajero the safety in Sayulita for backpackers is high enough that the town is an ever-so-popular destination for them.
This is a lovely beach town with a lot to offer and it's not expensive, so you can have plenty of adventures during the day and grab a beer at night.
This is a chill town full of beautiful beaches and adventure, so it's a no-brainer for backpackers. However, it's important to have a plan.
You should have a good idea of what you want to do and where you want to go so you don't look lost, insecure, or out of place.
💡Smart Travel Tip
Practice basic travel safety laws, let your family back home know what you're up to, always be aware, and cautious, and practice common sense.
So whether you decide to go and watch the sunset on Carricitos beach or do a cooking class, rest assured you'll have the best time in Sayulita!
Sayulita: Travel Safety Tips
Though safety in Sayulita is not something to be too concerned about, and you can finally relax in the town never 100% let your guard down.
Here are the best safety travel tips you should practice:
Be aware of your surroundings at all times and listen to your gut! If a place feels off or someone gives you bad vibes, remove yourself from the situation. This applies to people of all nationalities.
If you want to plug-in with the local backpacker scene be sure to head to Selina Sayulita for one of their wild parties.
Dress to blend in (where possible) and do not draw attention to yourself by engaging in scandalous behavior or activities.
Be careful when swimming and if you're not used to the strong waves you'll want to follow local advice and avoid swimming at night.
Never leave your belongings unattended. This includes bags and valuable travel gear such as cameras or branded equipment.
Avoid looking lost (due diligence is key for this).
Don't make yourself look vulnerable, otherwise, you'll be perceived as an easy target. Aim to make friends with other travelers.
If you can help it don't flaunt valuables in public and avoid expensive clothes and flashy jewelry that's not of the artisanal kind.
Aim to learn some basic Spanish conversation before you arrive. This can help get you out of many unsavory situations or even help you get want you want when it comes to purchasing goods.
Don't drink tap water anywhere in Mexico.
If staying at one of the many hostels in Sayulita you'll also find bike rentals so you can ride to the beach and use it to get around the village.
Be extra careful when walking at night, especially if you're alone.
If you happen to get robbed or mugged, whatever you do, do not resist. Also make sure you report it to the police immediately.
Always remember to carry your common sense with you when you travel to Mexico and you will be able to avoid common risks for tourists.
How To Get to Sayulita from Puerto Vallarta
Note that there's no dedicated airport in Sayulita. The closest airport is in Puerto Vallarta, so that's where you'll arrive if you decide to visit Sayulita.
Luckily, getting to Sayulita is not inconvenient. The trip is 40 minutes maximum and you have a few options.
Many travelers do a day trip to Sayulita that is all inclusive. However, there are three main ways to get from Puerto Vallarta to Sayulita. The most popular option is taking the bus because it only costs $1 to $3.
The ride is 38 minutes since Sayulita is only 41 km or 25 miles from Puerto Vallarta. The main company is Compostela and it runs 490 buses weekly.
You could also rent a car and drive there. Car rental in Puerto Vallarta can go from $25 to $106 or more per day, so it's a lot more expensive than taking the bus, but you get the experience of having a little road trip.
Lastly, you can hire a taxi to get you there, which can cost between $85 and $110 or more. A good option if you are traveling as a couple or a group.
Got Travel Insurance for Sayulita?

Designed by travelers, for travelers, World Nomads covers more than 150 adventure sports and activities so you can explore your boundaries.
Sayulita Safety FAQs
See these frequently asked questions about safety in Sayulita:
---
Is Sayulita Safe? Final Words
So, is Sayulita safe? Most definitely! Not only is it one of the safest beach towns to visit in Mexico, but it's also a very charming beach town.
If you like to surf the pacific waves or you are looking for a super relaxed Mexican beach location that still has a lot to offer, Sayulita will be perfect.
Safety in Sayulita is more than adequate and if you take precautions, you can be confident that nothing 'dangerous' will put a damper on your trip.
While you are still here, why not take a quick look at these dangerous places in Mexico to get a better idea of where to go and where to avoid?
📌 Like this article? Pin it…
Now you know travelers are safe in Sayulita, when will you visit?
💬 Leave a positive comment or lets start a conversation below!
---
"Dear friend! Some links in this post contain affiliate links. Meaning, if you click through and make a purchase, book a hostel or sign up for a tour, I may earn a small commission at no additional cost to you. Your support means a lot and helps me to keep traveling and maintaining the quality of this site for you."