Is Sao Paulo, Brazil safe for new travelers?
The city of Sao Paulo in Brazil is known by many for offering endless adventures and a unique experience when it comes to Brazilian culture.
This is a cosmopolitan city where you'll have a great time exploring museums, famous beaches, parks, incredible restaurants, and more.
Not to mention, people know how to have fun in Sao Paulo! If you want to experience the nightlife, you'll find endless parties and dance clubs.
But for new and unexpecting travelers to Sao Paulo or Brazil for that matter, what are some of the most common crimes to watch out for?
Is Sao Paulo, Brazil Safe?
That is the question this page will answer for you, as well as provide the information you will need to be able to travel to this city safely!
Overall, this Brazilian megalopolis is a destination for travelers who like big, vibrant cities. But is Sao Paulo safe right now? Let's find that out!
Is It Safe to Travel to Sao Paulo Right Now?
Absolutely, yes! Sao Paulo is relatively safe and you'll have a great time there. However, you must exercise caution at all times while visiting.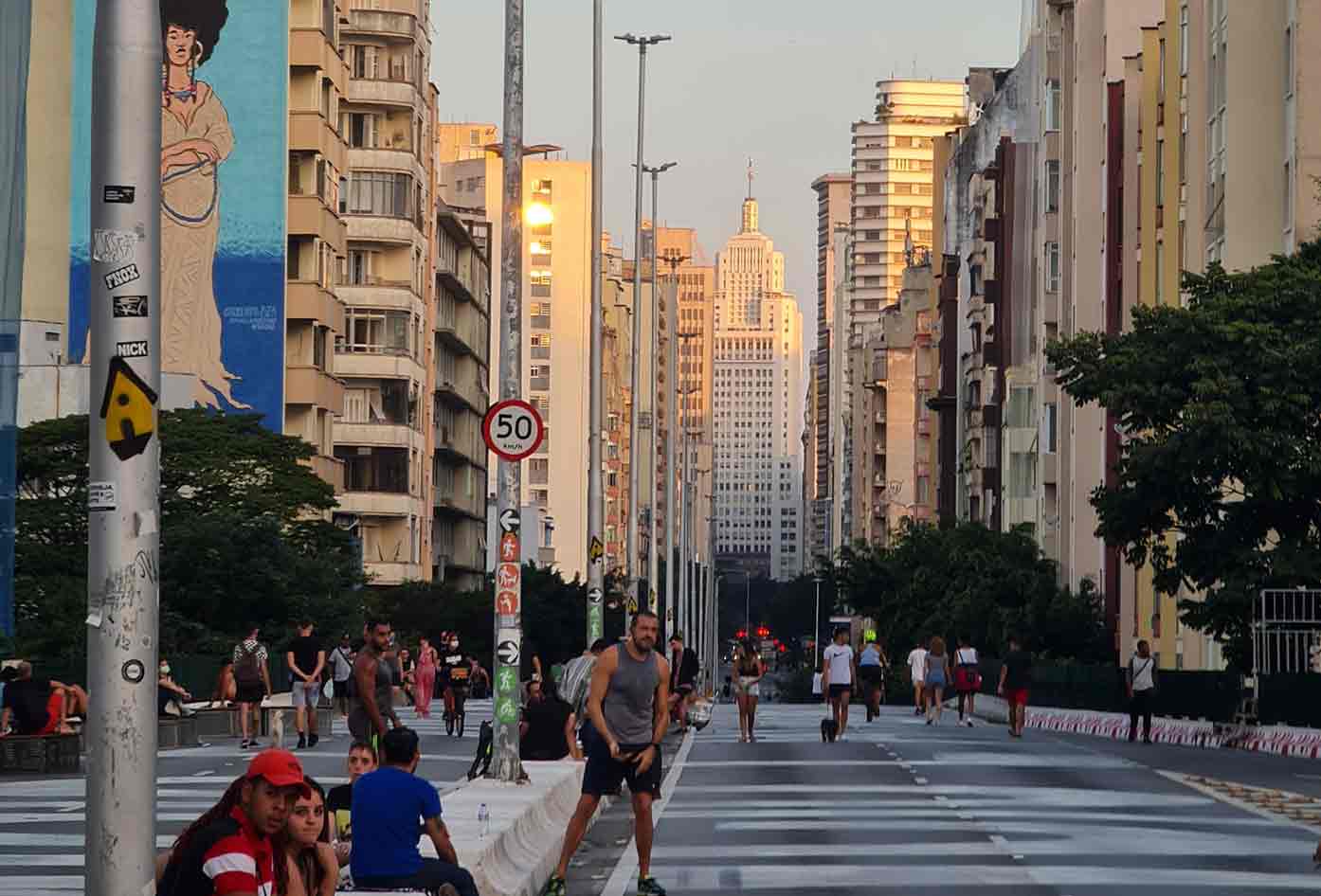 Just like with safety in Rio de Janeiro travelers must avoid areas like the slums, known as favelas, and border areas due to trafficking groups.
When creating your itinerary, stick to tourist areas and you'll be alright. Additionally, you want to keep a low profile. Being aware of the risks will help you avoid them a lot better, so keep reading for more information!
Safety Facts about Sao Paulo, Brazil
Sao Paulo is a big city and not all areas are safe. When it comes to traveling by metro, for example, the green line is usually the safest and both the blue and red lines should be taken with more caution.
Numbeo shows that the crime index is 70.37, which is quite high but keep in mind such statistics include crimes that don't target tourists.
For tourists, some of the biggest risks are:
Walking alone at night
Petty crime
Armed robbery
Credit card fraud
Of course, the risks are higher at night, so if you schedule your activities for before sunset, you will be safer. No matter where you go, carry a Coversafe Wallet to conceal your cash during both the day and night.
Additionally, aim to blend in and avoid low-income areas and bad neighborhoods where gangs are active. The older parts of the city can be risky as well as walking around in areas such as Brás and Anhangabaú.
Is Sao Paulo Safe to Travel Alone?
Is Sao Paulo safe for solo travelers? Yes, it's moderately safe for people traveling on their own. However, you'll need to take precautions, especially if you're female as it easy to be considered an easy target.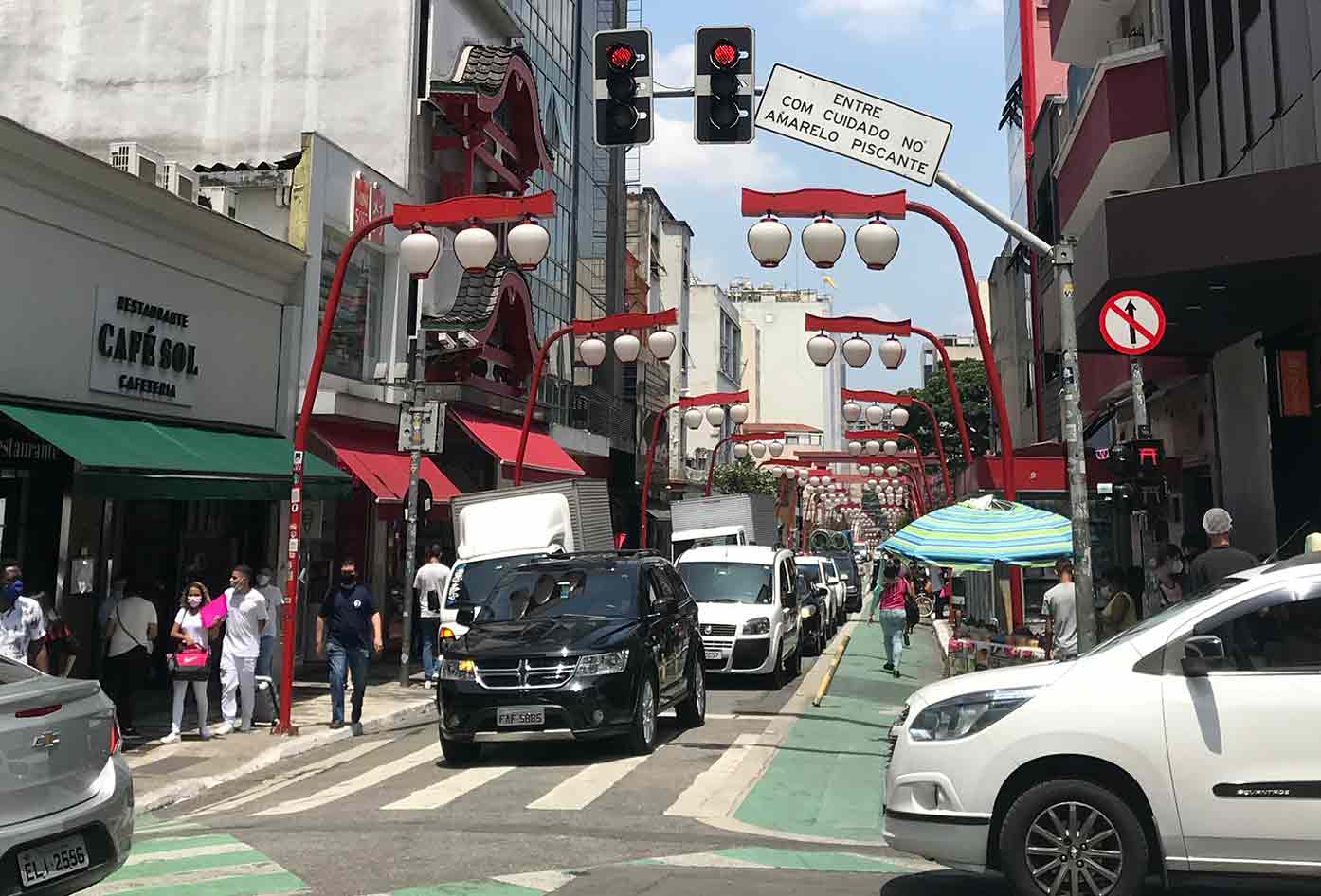 One great way to meet like-minded people is to enroll on this Sao Paulo city tour and get to know the best bits of the city with a local tour guide. That way you can go back later and explore the places in more detail.
Solo travelers need to be a lot more careful simply because being alone makes you a bit more susceptible. Although I do recommend learning some Brazillian Portugese you may find that it is not quite enough to avoid some of the precarious situations that you may encounter.
Practicing common sense and not throwing caution to the wind will help you stay safe and enjoy your time in the city. Plan your trip well and avoid going out at night and if you do, only follow trusted suggestions.
Hotels such as Grand Hyatt São Paulo offer some of the city's best rooms but you can find some great budget rooms that are in popular areas such as Vila Madalena. Just try to book well in advance to avoid disappointment.
Is Sao Paulo Safe at Night?
Sao Paulo nightlife is exciting and it has a lot to offer. People know how to party here! But is Sao Paulo safe at night? Not really. Walking around at night (with no purpose), especially when you're alone, must be avoided.
If you want to explore the nightlife, take registered taxis to and from your hotel or hostel. Also, stick to popular spots. Research neighborhoods and you'll find the best and most secure bars, clubs, and nightlife activities.
If you arrive in Sao Paulo at night you may want to get a private shuttle to your accommodation which in the long run will save you time and money not to mention help you feel much safer on arrival.
💡Smart Travel Tip
When using taxis and shuttles speak to drivers and ask questions about what happens in the area you're staying in or what you'd like to visit.
Backpacking Sao Paulo Safety
Sao Paulo is a great city to explore while backpacking Brazil and South America! However, you need to prioritize safety every step of the way.
You'll need to be a lot more careful than in other places, but you'll be able to enjoy yourself if you prepare well. The first thing you need to do is make sure your hostel is located in a safe area.
💡Smart Travel Tip
Most backpackers including myself decide to (at the very least) familiarize ourselves or learn some basic Brazilan Portugese as this can help out in many different situations when maneuvering around the streets.
You may want to stay at a clean and connected place such as O de Casa for a centrally located stay where you can meet with other travelers.
Also, don't hesitate to ask the staff about what areas or streets to avoid. Let them know where you plan on going and they will give you great tips.
Unfortunately, mugging is not only common in the city but even on certain hiking trails on the outskirts, so getting insight from locals is key.
Much of Sao Paulo is safe to explore, just make sure you plan your itinerary well and research each spot you plan on visiting.
Get familiar with the routes so you never look lost and do your best to blend in each and every time you're out and about in the city.
There are many unique things to do in Sao Paulo but depending on the amount of time you have, you may want to prioritize the main attractions.
Sao Paulo: Travel Safety Tips
As mentioned throughout this guide, staying safe in Sao Paulo requires following a few travel safety tips and precautions, which will go a long way.
⤵️ Here are some useful tips to help you on your journey:
Avoid flaunting your valuables and don't wear jewelry or expensive clothes. Dress to blend in.
If you're on a budget, why not stay at one of the top-rated hostels in Sao Paulo for a chance to meet other travelers and learn from them?
Always keep an eye on your things and research the areas you'll be visiting. For example research any trails you plan on hiking, some of them are hotspots for muggings.
Traveling from São Paulo to Party is popular and with so many things to do in Paraty it is worth staying for 2 nights – check it out!
When changing money in the city look out for providers such as Bradesco. Try to avoid the ATMs in the Airport because the airport ATMs have astronomical charges for international withdrawals. I suggest taking out Reales before you arrive in São Paulo if you can.
Don't drink tap water and aim to carry a Grayl bottle if you can as it can help you save money buying bottle water all the time.
Again, consult with locals at your hotel or hostel, and ask for tips. Aim to get friendly with people in the know so you have access to the city through the eyes of a trusted person.
Carry some mosquito repellent if you want to avoid getting bitten. The warm humid weather here means that the risk of mosquito activity is high.
If you happen to get mugged, don't resist because it is not uncommon for attackers or muggers to use weapons.
Avoid walking around late at night, especially if you're alone. It's not so bad in the more tourist areas but be careful and know when you're crossing into bad neighborhoods in Sao Paulo.
Follow these tips and you should be able to stay safe during your visit to Sao Paulo. Also, do your research and prepare well for your journey.
How to Get from Rio de Janeiro to Sao Paulo
Getting to Sao Paulo from Rio de Janeiro won't be difficult and you have a few options to choose from. For one, you can take a flight, but keep in mind this is the most expensive option.
The ticket will cost between $60 and $400. Travel time will vary between 2 hours and 1 hour and a half, so it's a good option if you can afford it and don't want to waste time.
Private transfer is another option and it's also not cheap. It can cost between $230 and $380 or more, and it will take 6 hours. You could also drive there yourself if you're up to it.
Renting a car can cost between $40 and $65 per day and the trip will take around 5 hours. Alternatively, you can use Rideshare, which will cost $20.
As always, the inexpensive and most popular option is by bus, which costs between $15 and $35 depending on the company and the route.
Like most of the long distance buses in South America you will take, the ride can take between 6 and 9 hours, so keep that in mind when planning your itinerary and make sure you prepare accordingly for the ride.
Though the most inexpensive buses are in good condition, I suggest spending a little more for greater comfort because it's a long journey.
Got Travel Insurance for Sao Paulo?

Designed by travelers, for travelers, World Nomads covers more than 150 adventure sports and activities so you can explore your boundaries.
Is Sao Paulo Safe to Visit: Final Words
So, is Sao Paulo safe to visit despite the negative press and scaremongering that comes with visiting South American cities? Yes, it is!
There are areas to avoid and tourists must be aware of the risks. However, millions travel to Sao Paulo and report having a great time.
Just be super cautious and practice common sense from the get-go.
Aim to follow these tips as best you can and you should have a great trip. See this guide on places to visit in Brazil for more ideas on where to go.
📌 Like this article? Pin it…
Did this guide help you to get advice about travel safety in Sao Paulo?
💬 Leave a nice comment or let's start a conversation below!
---
"Dear friend! Some links in this post contain affiliate links. Meaning, if you click through and make a purchase, book a hostel or sign up for a tour, I may earn a small commission at no additional cost to you. Your support means a lot and helps me to keep traveling and maintaining the quality of this site for you."