Is Santiago, Chile, safe for travelers?
Santiago is a captivating city that's known for its breathtaking panoramas and unique versatility when it comes to people and politics.
It's Chile's capital, so it's a great destination for travelers who want to immerse themselves in the art, culture, and cuisine of the country.
The snowcapped city which is less than 2 hours from Valparaíso, is filled with museums, markets, arts and crafts fairs, restaurants, and more.
Santiago's nightlife is the perfect contrast to its surrounding areas which have plenty of natural locations for those who crave adventure.
Is Santiago Safe?
This is all well and good, but is Santiago safe for travelers and what do we as tourists need to look out for while here? That's what this page looks at!
Arriving in this city for the first time everything looks so well refined and that nothing bad could be happening, but what lies beneath all that?
Is It Safe to Travel to Santiago Right Now?
In a nutshell, yes! Chile is known as a stable country as it ranks higher on the global peace index than other South American countries.
Santiago is safe to visit right now and a safe city overall but because it's a large city, I can't say that it's completely safe for all travelers but for the most part it is. Especially when following universal travel safety laws.
As with most safe cities in South America there are risks to be aware of such as pickpocketing, bag snatching, muggings, and scams, but again, they can usually be avoided if you practice common sense and safety tips.
Safety Facts about Santiago, Chile
As shown in Numbeo, there are a few safety concerns that you should most definitely be aware of when it comes to traveling to Santiago.
Now, most of them affect locals more than they affect tourists, such as car theft, property crimes, corruption, and bribery. Either way, it's important to be aware of this because many tourist crimes can be similar.
Although rare, tourists should be aware of the risk of armed robbery, muggings, pickpocketing, and other petty crimes such as theft.
Some neighborhoods in Santiago are unsafe to walk around at night, especially if you're alone. Drug dealing and use is another risk and tourists should avoid partaking in it when looking to have a wild time or party.
Is Santiago Safe to Travel Alone?
If you plan on visiting Santiago alone, it's important to have an itinerary or plan your trip very carefully to avoid any mishaps during your stay.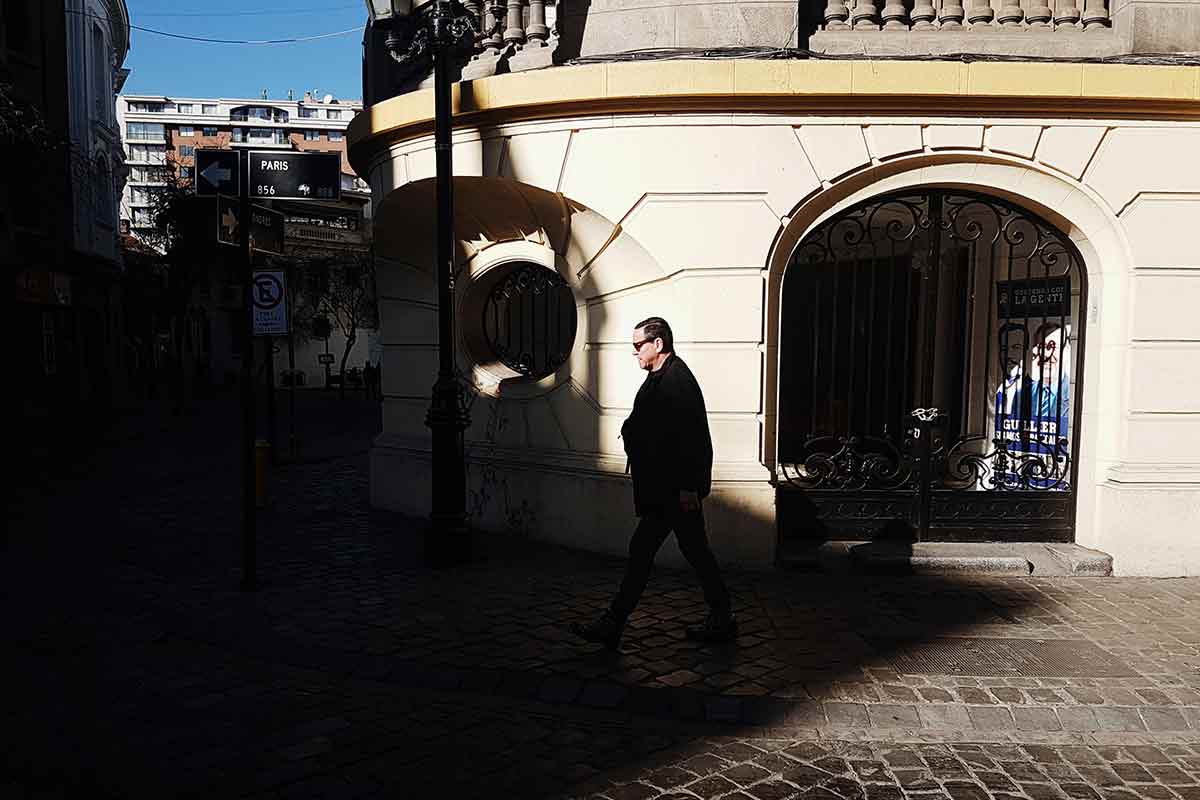 Do your research to avoid bad neighborhoods, never walk alone at night, and do your best to reduce risks, especially if you're a woman, meaning you're exposed to more risks, which is true anywhere in the world.
So, is Santiago safe for solo travelers? Yes, it's moderately safe, but remember this is a large metropolis. I recommend visiting spots like Valle Nevado, Mercado Central, Cerro San Cristobal, Cerro San Lucia and more.
Also, remember there are some great hostels in Santiago that will offer you the best advice when it comes to where to go and avoid.
Is Santiago Safe at Night?
There are parts of Santiago that are relatively safe to explore at night and if you're interested in the nightlife, you'll want to do further research.
The city feels safety than say Bogota for example, however, I can't recommend you walk around at night, especially not if you're alone.
Use registered taxis instead or if you're familiar with Uber, I'd say that is a better option. There are also services such as Beat and Cabify which can offer more flexibility when it comes to picking up and dropping off.
Stick to a group or go to popular, crowded places if you're on your own. You can also carry a travel neck wallet to conceal your personal items.
When out at night don't give strangers too much information about yourself and where you are staying, guard your drinks, avoid getting drunk, avoid drugs, and remove yourself if the vibes are off.
When I was in Santiago, Barrio Bellavista was the place to be, you have a bohemian vibe along with some modern takes and food and drink.
In fact, this travel guide I wrote on things to do in Santiago covers some of the things I got up to along with some extra practical travel tips.
Backpacking Santiago Safety
Santiago de Chile is an exciting place to visit and a great destination for backpackers who want to enjoy a bit of everything.
Many backpackers are drawn to the city by its amazing panoramas and outdoor scenery. For example, Patagonia is one of the country's most popular attractions, and using the capital as a launch pad is very common.
So, if you plan on exploring the outdoors, you need to be aware of the dangers and risks that you run here before heading down to the south.
People backpacking South America tend to arrive to Santiago and forget about the risk of loosing things before they have even started their trip.
Also when heading into the wilderness it's easy to get lost, so make sure you let a trusted person know where you're going to, and carry a map. Wildlife can also be dangerous, so beware of large mammals and poisonous spiders that lurk in the more remote areas of the country.
Additionally, the weather can turn quite dramatically, especially in the mountains, so be prepared for extreme weather conditions.
Research the places you want to visit and see what people say online so you can prepare well and stay safe during your adventures.
Santiago: Travel Safety Tips
Following travel safety tips while you're exploring the world is a must and some of the most important things to keep in mind are the most simple.
⤵️ Here are some useful tips to help you on your journey:
Pickpocketing and bag snatching happen, so keep your things close to you. See these anti-theft backpacks for something durable.
Avoid flaunting your valuables, especially in crowded places.
Some areas to avoid in Santiago include: La Pintana, Cerro Navia, El Bosque, and Conchali. Stay away from the outskirts of the city.
Consider using a money belt to carry ID, cash, cards, etc. on your body. Or, a hidden wallet which is a great equivalent.
Make a verified copy of your passport and keep the original safe.
Dress to blend in and bring appropriate clothes for the weather.
Avoid bad neighborhoods, the Chilean police (known as Carabineros) are very helpful in pointing you in the right direction.
The Ketchup Scam happens in Santiago. This is where some will rush to clean something off your back and while you're distracted flee with your personal belongings.
Check out Hostal Forestal which is one of the most popular hostels in the city. You'll get free coffee and be close to many attractions.
Only use certified Taxi companies and if you aren't well versed in Spanish get the hotel staff to order the taxi for you and double-check that you are getting the local rate.
Use the ATM indoors and avoid taking out money at night as you may be targeted by thieves.
If you decide to do a Chilean wine tour or, venture out in the wilderness (which I recommend you do) let trusted people know of your whereabouts.
Don't walk around at night, use taxis instead.
If you're from the USA and somebody asks your nationality in Spanish always say: "estadounidense" not "americano". I suggest you study these Spanish books before, during and after your trip.
Don't participate in the drug culture.
Keep an eye on weather reports and the news for any natural disaster warnings. Remember that July is the coldest month to visit.
Follow these tips and you'll have a great time exploring Santiago and enjoying everything this amazing city has to offer.
How to Get from Buenos Aires to Santiago
There are many different ways to get from Buenos Aires to Santiago. For one, you can fly, which can cost between $90 and $290 or more. The flight will take a bit over 5 hours.
If you are flying into Arturo Merino Benítez look out for the bus which is great value for money since the distance from the airport to the city is quite far. Alternatively, you can take a bus, which is the cheapest option.
A direct bus will take nearly 24 hours and cost between $23 and $110 or more. I recommend you splurge so you can be comfortable on this long trip. I have written about buses in South America so check out my tips.
You could also drive from Buenos Aires to Santiago if you're up for a road trip. That would take almost 16 hours and cost between $170 and $250. If you decide to do this, make sure to find a route and plan your road trip so you can make stops for rest and meals.
I recommend you take the bus, which is the most inexpensive and popular option. In most cases you get to learn/see more. Even if you splurge, you'll spend less than flying there or renting a car, which is great.
Research the bus companies that have direct routes and consider the routes with transfers as well, and prepare for a 22 to 26-hour trip.
Also, if you'll be doing a trip from Santiago to Valparaiso be sure to see this guide that walks you through the best way to get there.
Got Travel Insurance for Santiago?

Designed by travelers, for travelers, World Nomads covers more than 150 adventure sports and activities so you can explore your boundaries.
Is Santiago, Chile Safe? Final Words
Santiago, Chile is an exciting destination for many different types of travelers because it can suit different travel styles.
Whether you just want to enjoy the sights, go shopping, explore restaurants and bars, immerse yourself in the arts and culture, do all the hikes, etc., this city has what you're looking for.
Is Santiago safe? Absolutely, it has a reliable police force and many well guarded areas, just make sure to be cautious and plan your trip well!
Why not see this list of safe places in South America and learn about other countries you can visit in before or after Santiago?
📌 Like this article? Pin it…
Did this guide help you to get advice about safety in Santiago?

💬 Leave a positive comment or lets start a conversation below!
---
"Dear friend! Some links in this post contain affiliate links. Meaning, if you click through and make a purchase, book a hostel or sign up for a tour, I may earn a small commission at no additional cost to you. Your support means a lot and helps me to keep traveling and maintaining the quality of this site for you."