Is Quito safe for new travelers?
Quito, the capital of Ecuador, is known as one of South America's most scenic cities with its epic historic center, plazas, and architectural delights.
It's a busy cultural hub that offers a great combination of the old and the new, along with opportunities to visit its surrounding areas… and beyond!
This is a city that boasts bustling markets, a variety of monuments, an amazing commercial center, tranquil neighborhoods, and colonial architecture, among other things, making it well worth the visit.
Is Quito Safe?
But is Quito safe for new travelers and what are some of the common crimes to watch out for as a visitor arriving here for the first time?
That is the exact question this page answers for you as well as some detailed information you will need to be able to travel safely in Quito!
Firstly, let's look at the current situation and see what to expect.
Is It Safe to Travel to Quito Right Now?
The short answer is yes, it is safe to visit Quito! It is moderately safe, but remember that no city in South America is ever completely secure.
That means that you must always take certain precautions because in some cases, you can't even trust the very people who you may have thought are actually there to help you in everyday situations.
Obviously there are always risks when you travel anywhere in the world, but being aware of them is the first step in helping you avoid them.
For example, the most common risks for travelers to Ecuador are petty crimes such as pickpocketing and bag snatching. These are crimes that can happen on busy commercial streets, so this affects safety in Quito.
However, petty crime should not be a deal-breaker because you can quite easily avoid or prevent the likelihood of those events happening to you.
I'll highlight a list of popular tourist scams below so you can get a flavor of the types of things that can happen to tourists visiting Ecuador's capital.
Safety Facts About Quito, Ecuador
Sometimes, cities are more dangerous to locals than they are to tourists which can make it seem worrying when asking for a bit of local advice.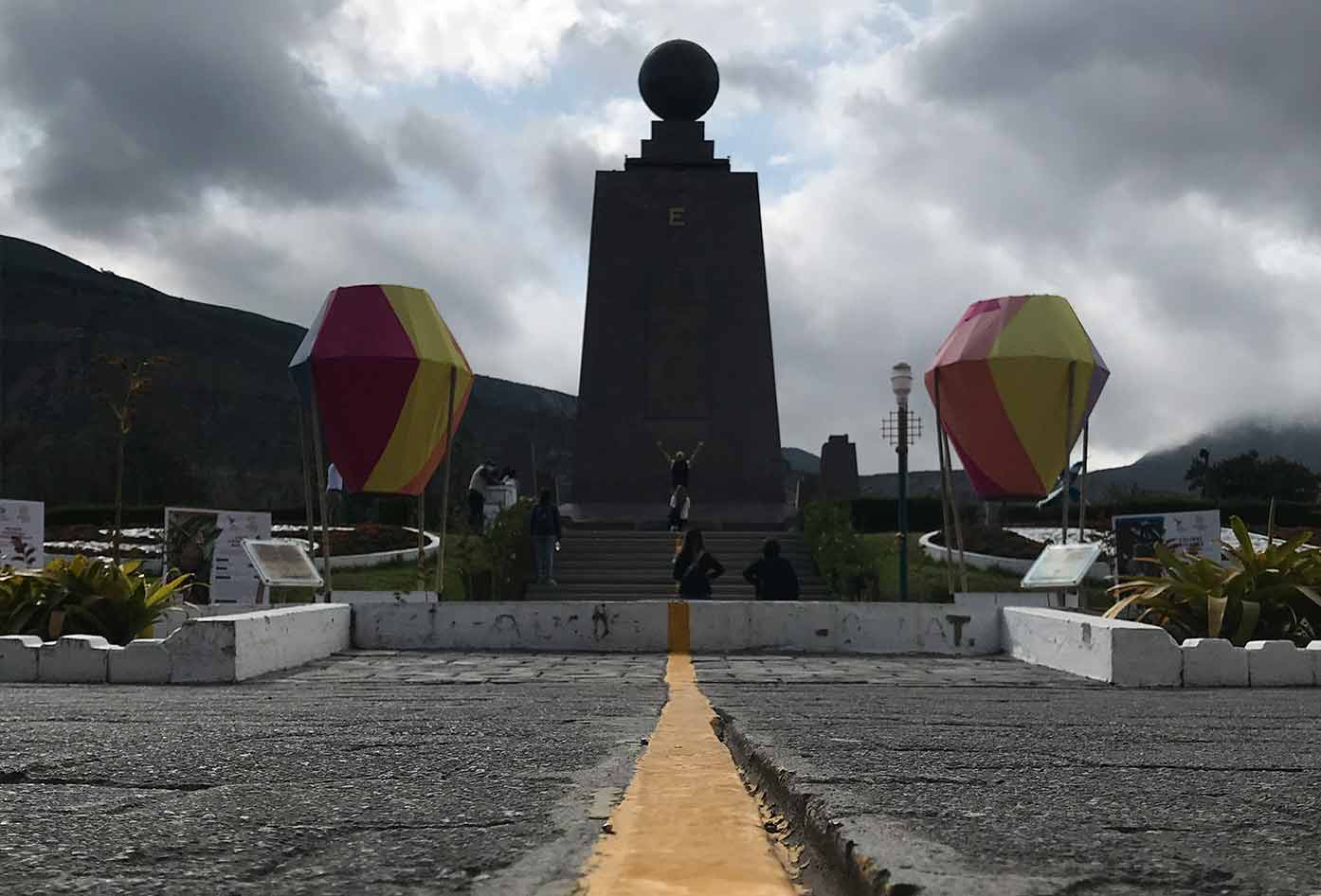 For example, according to Numbeo, the biggest risks are muggings, robberies, things stolen from a car, property crimes, armed robbery, assault, corruption, and bribery.
As a traveler, your biggest concern is petty crime, particularly in crowded cities like Quito. Depending on where you go in the city of Quito, you will find it shadier here than some neighborhoods in Medellin for example.
But overall, taking basic safety precautions will keep you safe. While in Quito, it is moderately safe to walk during the day, but you should avoid walking around late at night, and if go out at night, stick to known places.
Is Quito Safe to Travel Alone?
In general, Ecuador is safe for solo travelers who are looking to explore the area, but as someone who is new, planning your trip with a lot more care is necessary, especially if you're a woman traveling to Quito alone.
Larger cities are generally more dangerous, so Quito is not an exception. Keep that in mind when planning your trip so you can make the best decisions. Also, be aware that there are mafia groups that target tourists.
As a solo traveler in Quito, I recommend you visit places such as:
La Ronda
Plaza Grande
Ciudad Mitad del Mundo
Plaza Foch
For more ideas on what to do during your stay, see these special tours that are based in and around the city and also cover the surrounding region.
Is Quito Safe at Night?
Quito is known for having vibrant culture and nightlife, so there's a lot to do at night. However, you need to be really careful.
Walking around at night is not a good idea in South America, especially not in big cities like Quito. It is easy to say "avoid bad neighborhoods in Quito" but it can be hard to know when you're crossing into "no-go" territory.
One way to avoid bad neighborhoods is to use taxis instead of walking, and overall, avoid areas that are not well-lit or crowded. Stick to popular spots!
For example, why not check out Plaza Foch? It's about 20 minutes north of Quito's Historic Centre. While it does appear safer than other parts of the city, poverty exists in the area, so remember to dress down slightly.
💡Smart Travel Tip
Another tip for traveling alone in Quito is to make sure you have some basic Spanish Conversation knowledge before arriving in Ecuador. This is to give you a head start when it comes to dealing with local people.
Backpacking Quito Safety
Ecuador is a great destination for backpackers on a budget who want to enjoy a wide array of adventures while meeting like-minded people.
Quito is a generally safe destination and it's a very interesting city because it's one of the oldest cities in South America.
It's also the most populated city in Ecuador and it offers a great combination of the old world and the modern world. When you're backpacking in Quito, it's important to plan your itinerary well.
Knowing exactly where you want to go and how to get there will save time and help you avoid unnecessary risks while out and about on the streets.
If you'll be staying at one of the many hostels in Quito you can ask for advice on the best way to get to wherever it is you'd like to go.
Try looking as confident as possible as you walk around as it will make you less of a target. But you should try to do some extra research to avoid unsavory parts of town and other common risks such as tourist scams.
Quito: Travel Safety Tips
Much of your personal safety in Quito is in your hands, so here are some of the most important travel safety tips you should practice:
⤵️ Here are some useful tips to help you on your journey:
To avoid getting burned, baked or fried in the Equatorial sun, carry some sunscreen since the mountain sun can be deceiving. Be sure to apply it at least half an hour before you head out.
After La Paz in Bolivia, Quito is the second highest altitude capital city in the world so you many need to prepare for altitude sickness and/or bring the necessary medication if that is what you prefer to do.
Don't flaunt your valuables. and try to dress to blend in, and leave expensive clothes or jewelry at home.
Use a money belt to carry your ID, cash, keys, etc., under your shirt or pants. I find that there hidden neck wallets work well when you've only got a t-shirt or something light on.
While exploring Quito try to keep away from large crowds of people. If you happen to walk into an anti-government demonstration you could be attacked or arrested on the spot.
When taking photos, don't get too distracted, especially not in crowded areas. Aim to hold your camera with a tight grip
Some scams to look out for in Quito include: Taxi scams, 'The Mustard trick', The restaurant bag snatch and bus bag theft or slashing.
Avoid walking around at night, use licensed taxis instead.
Aim to use trusted and accredited hostels or hotels in Quito and then once you've booked your room, book taxis or buses through the hotel.
When you use taxis, make sure they have a green sticker with their ID number and that the meter is running.
If you're going out at night, choose well-list and popular areas and restaurants, bars, etc.
Avoid getting drunk or using drugs, especially in a party or club setting where somebody is offering you something for free.
Always be aware of your surroundings, and pay attention to what happens around you. Even when inside restaurants or bars.
I have written some universal solo travel tips for South America that you can use while visiting Quito so take a look at those too.
Carry a verified copy of your passport when you're out and about, and keep the original one in a safe place.
Keep these tips in mind, practice common sense, and trust your gut! You'll have a memorable and enjoyable trip to Quito if you take care of yourself.
How to Get from Guayaquil to Quito
Getting from Guayaquil to Quito is not difficult and you have a few options to choose from.
For one, you can fly from Guayaquil to Quito and then take a Trolebys. It will cost between $55 and $155 and take around 2 hours. This is the quickest option!
Alternatively, you can take the bus! This is the cheapest option since it costs between $10 and $22. Now, depending on the route you take, the trip can be 5 to 13 hours, so this is not the fastest option.
Keep in mind that the bus trip from Guayaquil to Quito is not direct, so there will be transfers.
Another way to get from Guayaquil to Quito is by driving there yourself. If you have your driving license with you, why not try renting a car while here in Ecuador? It will cost up to $35, or maybe more for the day.
The drive is about 5 hours and almost 50 minutes, so if you're in the mood for a road trip, this could be the option for you.
However, driving at night in South America is not highly recommended, so we recommend you plan the trip during the day.
Got Travel Insurance for Quito?

Designed by travelers, for travelers, World Nomads covers more than 150 adventure sports and activities so you can explore your boundaries.
Is Quito Safe to Visit? Final Words
Ecuador is a beautiful destination with many amazing surprises waiting for you. But is Quito safe? Yes, it is! However, safety in Quito is in your hands.
So, do your research, plan your trip well, be aware of the common risks so you can avoid them, and be vigilant.
You'll have a wonderful time exploring Quito, you just need to be careful, which is true no matter what country you visit.
While you're here, why not see this list of safe places in South America to see other cities you can visit on the continent with minimal risk of danger?
📌 Like this article? Pin it…
Did this guide help you to get advice about safety in Quito?
💬 Leave a positive comment or lets start a conversation below!
---
"Dear friend! Some links in this post contain affiliate links. Meaning, if you click through and make a purchase, book a hostel or sign up for a tour, I may earn a small commission at no additional cost to you. Your support means a lot and helps me to keep traveling and maintaining the quality of this site for you."