Are you wondering whether Puerto Rico is safe or not?
The world-famous island of Puerto Rico is a beautiful Caribbean island that many times overlooked for Caribbean vacations.
Following the 1898 Spanish-American war, it technically became a US territory situated further east in the Gulf of Mexico than Cuba and Haiti.
Puerto Rico stands for history and culture, tasty food, pristine beaches, mountains, and relaxation all packaged into one Caribbean island paradise.
If that's the case, is Puerto Rico as safe as people say? It's a question worth asking because there are other risks to visiting an island such as this one.
Is Puerto Rico Safe?
This article goes through all you need to know about safety in Puerto Rico to help you determine if it is the right Caribbean destination for you.
Is Puerto Rico Safe right now?
Yes, definitely. If you consider most other Caribbean islands such as Haiti, Jamaica and Cuba, Puerto Rico would be hedging your bets.
The crime rate is that of a lot of US cities, with the only issue being petty crime. Which, let's be honest, in most cases, we can avoid.
Dare I say, as long as you keep all of your belongings on your person and don't flash expensive gadgets or other items in public, you'll be fine.
As far as the weather and climate go and after the recent hurricane Fiona, it's up to you whether you'd like to visit during the hurricane season or not as this will increase or decrease your personal safety in Puerto Rico.
See my guide on things to do in San Juan for some ideas on what to do.
Safety Facts about Puerto Rico
In January 2020, a string of large earthquakes struck Puerto Rico and caused severe damage throughout the country, leading Governor Vázquez Garced to declare a state of emergency and activate the National Guard.
The Puerto Rican government put a lot of resources into tourism initiatives to encourage travelers to visit the island nation following Hurricane Maria, and will no doubt do the same following the earthquake damage in early 2020.
On average, Puerto Rico residents feel twice as fearful of walking outside at night that other Americans.
There are 13 times as many murders per year in America than in Puerto Rico.
Is Puerto Rico Safe to Travel Alone?
The good news is that Puerto Rico is perfectly safe to travel alone!
If you aim to stay within the confines of the beach areas or hotel zones and trust your instincts, you'll have a wonderful vaction here in Puerto Rico.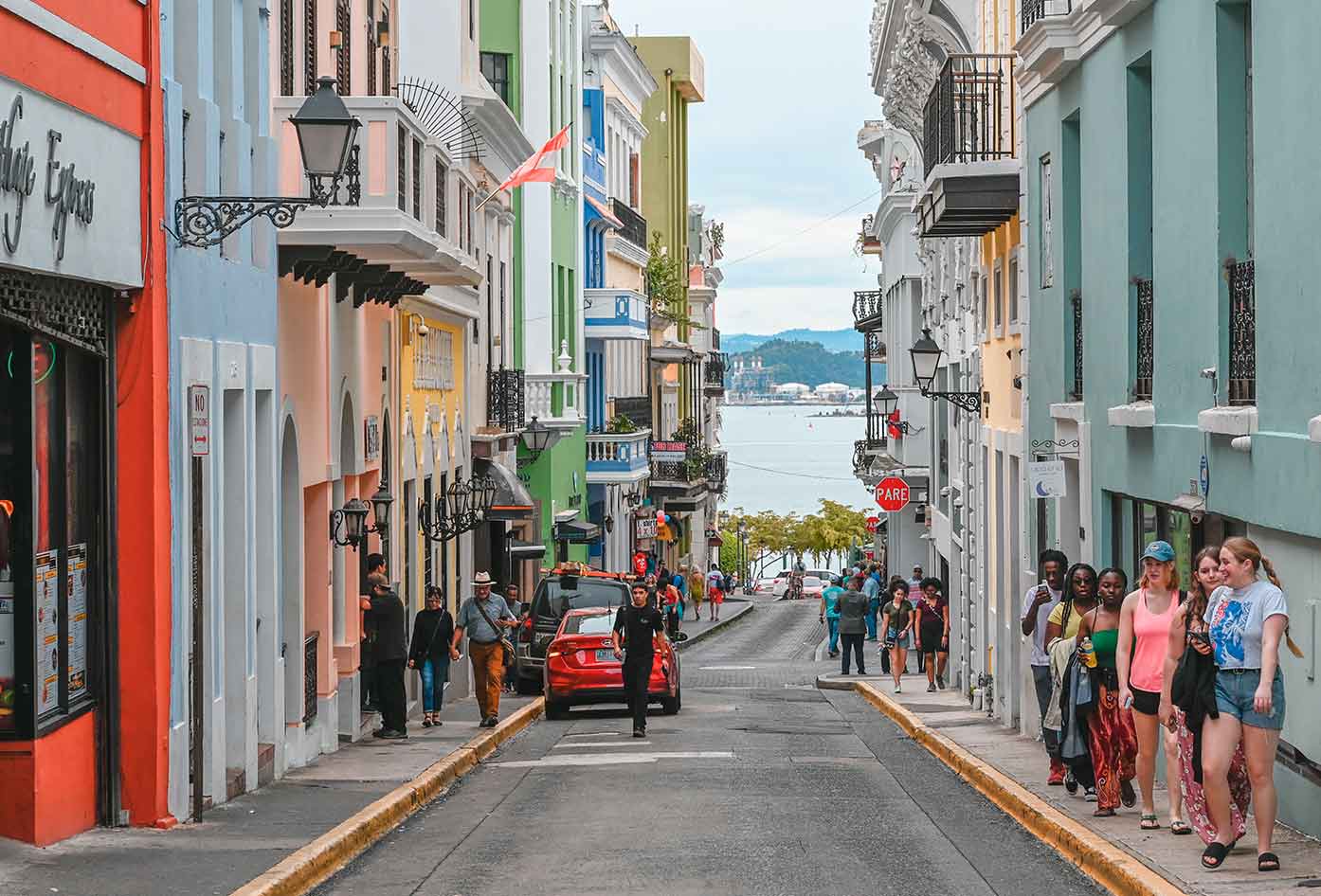 Just as I wrote regarding the safety in Jamaica, you'll need to abide by the unwritten rules of independently traveling to Caribbean islands: such as don't go out at night, don't trust strangers and don't flash expensive items.
Puerto Rico is a great stop-off point for exploring the Gulf of Mexico but depending on who you are you many want to adjust your style of travel.
Is Puerto Rico safe for female travelers?
Yes, it sure is. In fact, safety is a number one concern for solo travelers in Puerto Rico, especially females. The good news is that most of the tourist areas are well-guarded by police officers and even at late night time hours.
There is usually a healthy mix of male and female police officers in Puerto Rico so there's no need to feel intimated by a heavy male presence as I know this can be an issue when you need advice from a fellow female.
Most people in the Old San Juan area speak Spanish and English, so you shouldn't have issues when you need to communicate with somebody.
Is Puerto Rico safe for families?
Yes, Puerto Rico is safe to travel to for families. The island is well-equipped for families with children and there are many activities to do for kids of all ages. Vieques, Dorado and Culebra are some popular places to visit.
Be sure to read up on the hotel resorts before you book as you may find that not all the all-inclusive hotels are family-friendly. For example, the Fairmont El San Juan Hotel is known as a popular choice. All in all though, the island is pretty well equipped when it comes to traveling with kids.
Common scams in Puerto Rico
When it comes to tourist scams in Puero Rico what must you look out for? Below you can read about some common scams on the island:
Car rental Scams
When renting a car in Puerto Rico there are a few scams to look out for such as changing excessive toll fees or inflating deposits along with hidden charges and fees that can be disguised in order to get extra cash from you.
Taxi Scams
If you use taxis to get around, look out for scams such as taking the wrong route, the driver claiming to not have the correct change, or 'forgetting' to turn the meter on. Much of this can be avoided by asking about the fair before you set off and/or inputting your route into google maps.
Fake guides
When deciding to do tours in Puerto Rico you'll want to only book official tours. I recommend using Get Your Guide to book all your day trips, however you will be approached by people disguised as tour guide that will offer you a day tour or trip, and in some cases, these guides can be phony and looking to make a quick dollar.
Backpacking Puerto Rico Safely
Backpackers must consider that the Caribbean is wrought with hurricanes. Even when the season was supposed to end in November, there were surprise hurricanes in January.
You'll want to stay in an all-inclusive complex just because of the safety issues in places that aren't prepared for them.
So, is Puerto Rico safe for budget travelers? Petty crime is an issue of course, but it's an issue for most places backpackers travel to. See this guide to backpacking Puerto Rico for more ideas.
Puerto Rico: Travel Safety Tips
Puerto Rico has the potential to be dangerous if you don't take the necessary precautions i.e. you don't do your homework.
Here's some top tips to help you before you make the trip out:
Make sure to take sunscreen. You're close to the equator so if you don't keep sunblock on you, you'll develop some nasty skin ailments.
If you are a person that suffers from typical culture shock symptoms see our tips on adapting to new surroundings on this blog.
Louis Lloren Torres, Pinones, Parque de la Palomas and Santruce are dangerous places to visit after dark but are generally safer in the day.
Keep away from crowds of people. You could be attacked or arrested.
Try to take one of the food tours from San Juan to learn about the food and drinks that make Puerto Rico so inviting for foodies from all over the world.
Don't accept offers of drugs. Not only is it illegal, but it's dangerous and you're helping an industry wrought with crime that the government is trying to stop.
Make sure to use trusted and accredited hotels/hostels. Then once you've booked your room, book taxis or buses through the hotel.
Keep dummy wallets for pickpockets and keep your money hidden away. Bras, neck wallets or secret bag compartments will do.
If you take a taxi on the street, make sure it's a licensed white vehicle with a lit-up roof sign.
Don't carry too many valuables. If you carry expensive equipment such as cameras or smartphones, keep them hidden, locked away and on your person. A PacSafe backpack is perfect for this.
If you're visiting between June and November, remember that this is the height of hurricane season which means you'll need to take the necessary precautions.
With regards to hurricanes and natural disasters, ensure you visit during the suggested months to lower the risk.
Although the highest category hurricane that's ever been through Puerto Rico was a category 5, prepare for power cuts.
Traveling Around Puerto Rico Safely
Most car rental companys maintain a presence in Puerto Rico — especially in San Juan. See how to rent a car in Puerto Rico for the best prices.
You'll find several company offices both at the airport (or nearby) as well as in tourist-popular neighborhoods like the Condado district.
Most independent travelers to Puerto Rico hire cars from San Juan since the roads are so similar to American.
In most cases, if you're looking to get to your hotel from the airport, you're better off getting a taxi or shuttle than a bus.
Puerto Rico is not well developed in terms of island-wide bus service, and there are no long-distance bus/coach options.
You'd be better off either hiring a car or hailing licensed taxis.
Walking is a great way to explore the beaches, but if you need to get to the next town it would be safe to get a taxi.
Got Travel Insurance for Puerto Rico?

Designed by travelers, for travelers, World Nomads covers more than 150 adventure sports and activities so you can explore your boundaries.
Puerto Rico Safety FAQs
See these frequently asked questions about safety in Puerto Rico:
---
Puerto Rico Safety: Final Words
Puerto Rico is an amazing island to visit and is perhaps the comfiest island to stay in the Caribbean since it's so similar to America.
It helps to know at least some Spanish when visiting Puerto Rico, but residents won't be offended if you speak to them in English.
Despite the 2017 debt crisis, Puerto Rico is overcoming it. And soon it will be the best island to visit in the Caribbean.
While you're here, why not try comparing Puerto Rico vs Jamaica to be able to weigh up both island paradises and make your decision from there?
📌 Like this article? Pin it…
Missing something? Got tips, tricks & advice we can learn from?
💬 Leave a positive comment or lets start a conversation below!
---
"Dear friend! Some links in this post contain affiliate links. Meaning, if you click through and make a purchase, book a hostel or sign up for a tour, I may earn a small commission at no additional cost to you. Your support means a lot and helps me to keep traveling and maintaining the quality of this site for you."