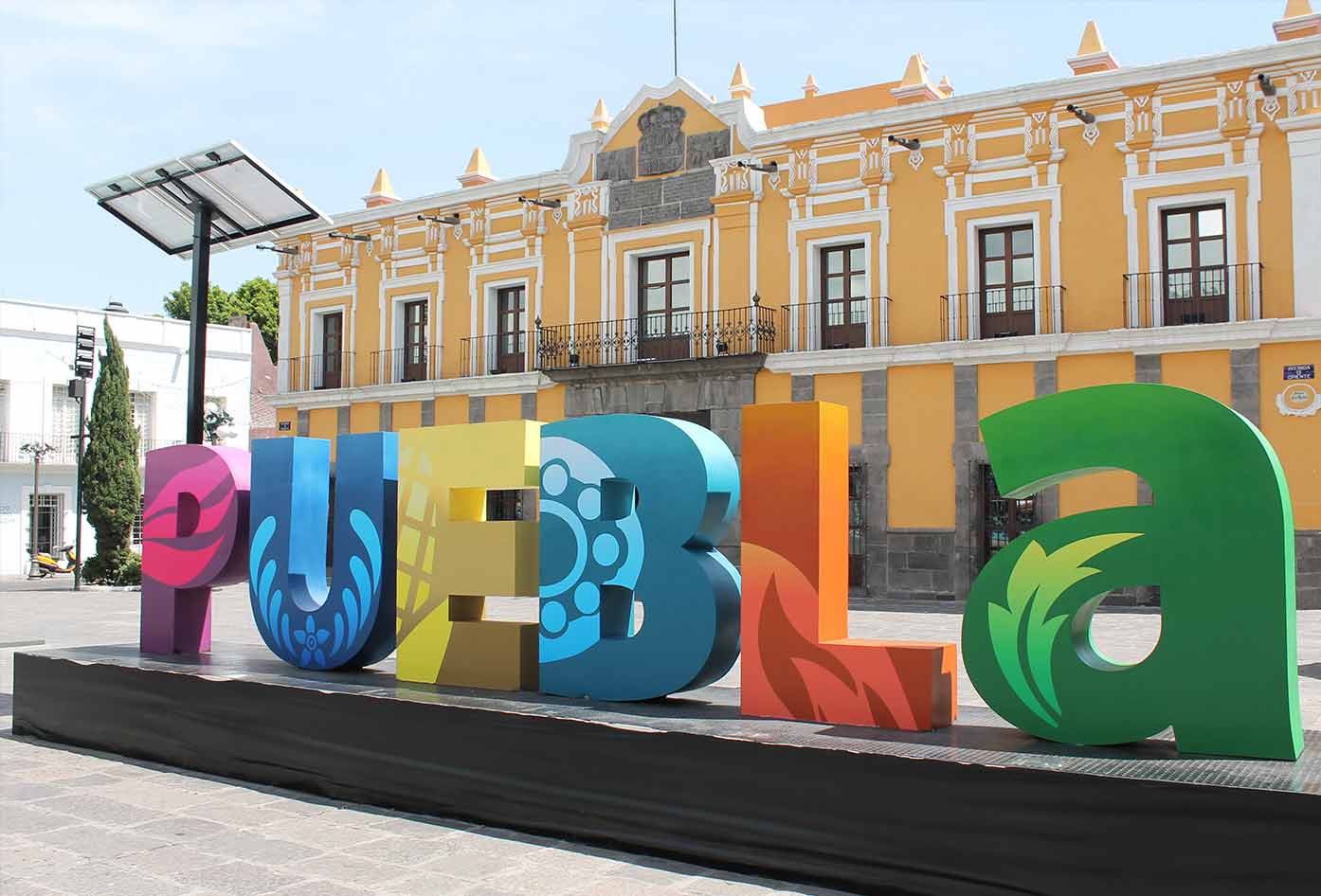 Is Puebla worth visiting while in the Central Mexico area?
Located roughly 2 hours east of Mexico City, Puebla City is a dream for anyone looking for a more relaxed city, with lots of authentic Mexican architecture and cuisine.
In this guide, we will explore Puebla, the best things to do and see, why you should visit, and safety expectations.
As well as interesting things to do inside the city, we'll also look at a couple of day trips that you simply must do whilst in the area.
Is Puebla Worth Visiting?
This guide also offers some of my best tips and advice for when is best to go. I found it easy to get here from Mexico City via the public bus.
Now let's answer the question which is the base of this guide:
Visiting Puebla City, is it worth your time?
Puebla City is well known for its colonial architecture and history.
As a result, simply strolling around the main Zócalo will reward you with impressive views and sights.
As well as exploring the city, there are some interesting things to see and do close by which can be done as day trips.
Cholula is an example, which features a cathedral on top of a hill with the towering Popocatepetl volcano rising above in the background.
Puebla City is also a great jumping point for exploring the mountains or ascending the giant volcano.
Is Puebla Mexico safe?
Puebla City, and the region of Puebla as a whole, are commonly referred to as one of the safest areas in all of Mexico.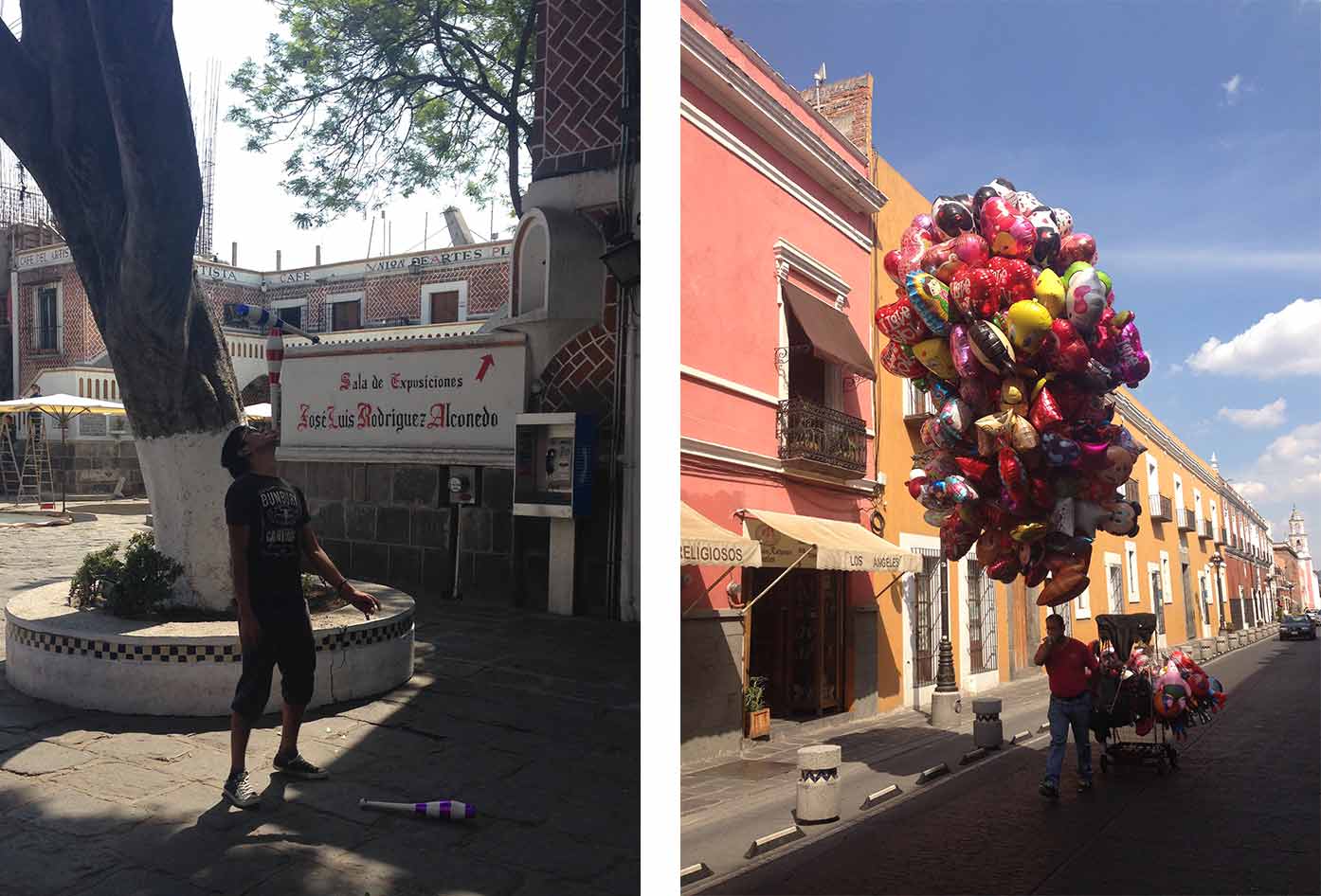 Despite its proximity to the capital, there are hardly any violent or drug-related incidents here.
In reality, your only concern should be pickpocketers and petty theft.
All of which can be easily avoided, of course.
The simplest way to avoid being a target is to dress down and leave flashy accessories and jewelry at home.
Try one of these trusty hidden pocket clothing solutions if you are concerned about carrying valuables with you in person.
As a whole, Puebla City is very safe and you'll have a great time here.
Things to do in Puebla City
Now we'll explore what to see and do in this magnificent city. There are also a couple of gems that can be visited as part of a day trip too.
Catedral de Puebla
This pretty church can be found in the center of Puebla. Featuring two spiraling towers on either side, it's one of the best photo ops in town.
It can be argued that this cathedral is one of the most stunning cathedrals in all of Mexico!
Step inside and marvel at some of the brilliant architecture and stunning murals.
As well as featuring 14 different chapels, it is also home to the tallest bell tower in Mexico, with the bell itself weighing over a whopping 3 tonnes.
Zócalo Puebla
The main square can be found in the heart of the historic center of Puebla. Known for its religious, cultural, and political symbols, the Zócalo is one of the most important areas of Puebla City.
Here is a great place to wander and take in the vibes and is also home to a gorgeous fountain. The Historic Centre is the best area to stay for great views of the city and also lies close to the foot of Popocatepetl.
Cholula
Cholula is a town just outside of Puebla City. How does a church that lies on top of a pyramid, at the top of a small mountain sound?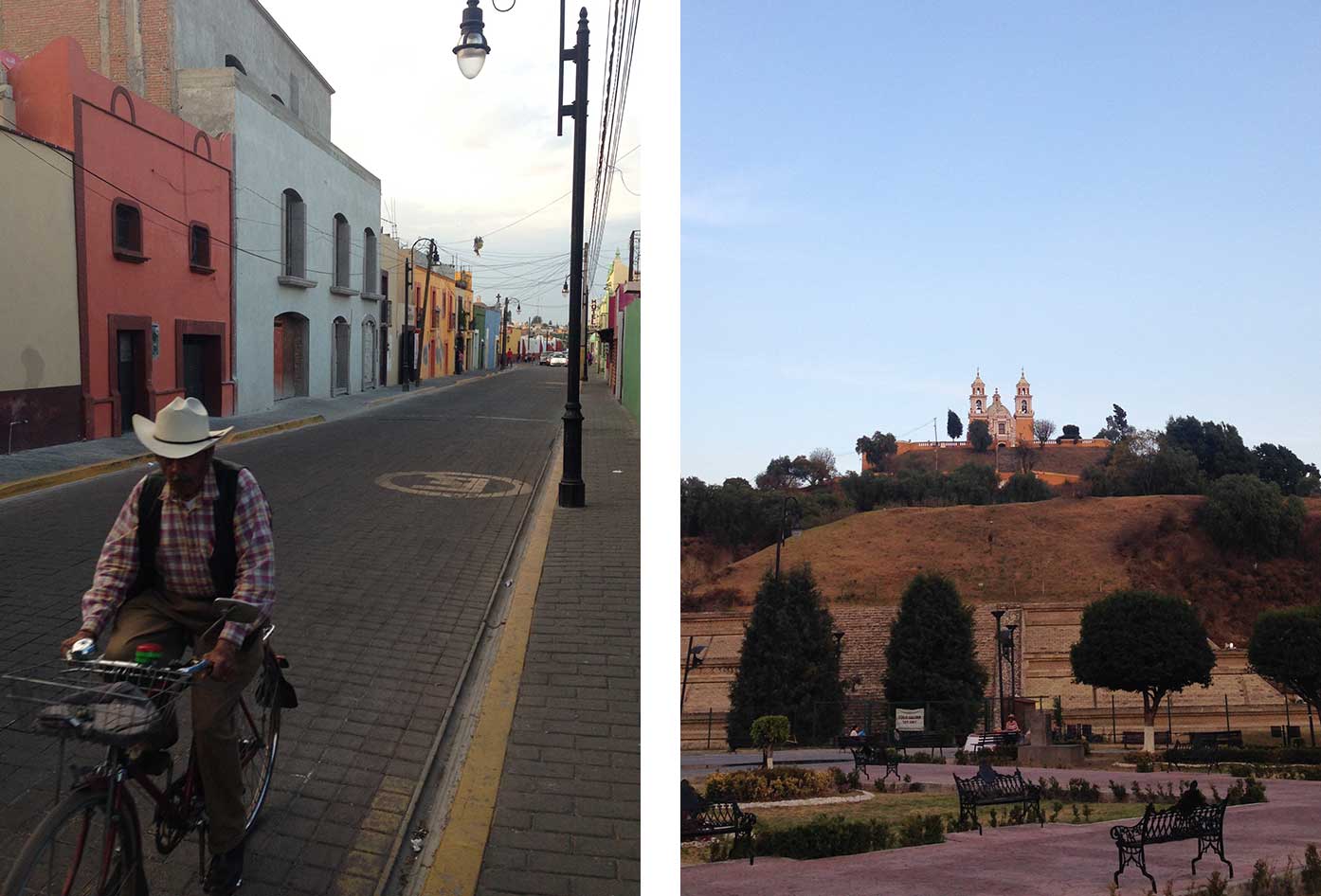 Then wait until you see it with the magnificent, snow-capped Popocatepetl behind!
You can easily reach this town as part of a day trip from Puebla, with the bus taking around an hour to arrive.
Cholula is an absolute must and is often regarded as one of the best photo ops gems in central Mexico. If you have the extra time then look at doing some of the hikes in and around the volcano.
Capilla del Rosario
Many consider this chapel to be the eighth wonder of the world, and not for no reason!
Full of symbolism, Spanish baroque style, and magnificent murals, this gem could easily stake its claim as one of the prettiest in Mexico.
Also located in the Centro Histórico barrio, it can easily be combined with a trip to the cathedral as both are very close.
Museo Amparo
One of the best museums in Mexico documenting all things Mexico, including its development and what makes the country what it is today.
Go and enjoy the courtyards, historic rooms, and antiques that you won't find in many other areas!
Whilst the entry fee is a very modest 35 MX pesos, you can even visit for free on Mondays and Sundays.
Getting From Puebla to Cholula
Getting from Puebla to Cholula is an easy ride and depending on how much time you have you may want to explore any one of the different options available.
See the options below ⤵️ which should make your experience of getting to Cholula a breeze:
🚍 How to Get From Puebla to Cholula
Bus to Cholula from Puebla
The bus is by far the most cost-effective and gives you a richer experience in my opinion.
Whether traveling alone or with a partner the bus allows you to get to Cholula from Puebla in a timely manner.
Make sure you check the time for the way back because if traveling in the evening you risk missing the last bus back to Puebla.
Uber/Taxi to Cholula from Puebla City
You can expect to pay around $10USD for a one-way ride to Cholula. If you are traveling as a couple or a group this cost can be reduced by more than 50% per person when splitting the cost.
Train to Cholula from Puebla City
The train allows you to get to Choloula's main tourist area in a smooth and satisfying way. This is a great option for those that find themselves position near the train station which is away from the zocalo and historic center.
Cholula Tour from Puebla City
If you are thinking of doing a tour of Cholula which is a great way to learn more about the pyramid and archeological site as well as the church. You'll find that your transport is covered so you can factor the cost in when weighing up all the options.
Whichever way you choose to get to Cholula, be prepared for walking, taking in many new colorful sites, and learning the local history.
The panoramic views are some of the best in Central Mexico! You also be able to say you climbed one of the highest peaks in North America!
Travel Tips for Puebla City
Below is a list of travel tips for Puebla that you should benefit from. I'll update this list sometime in the near future.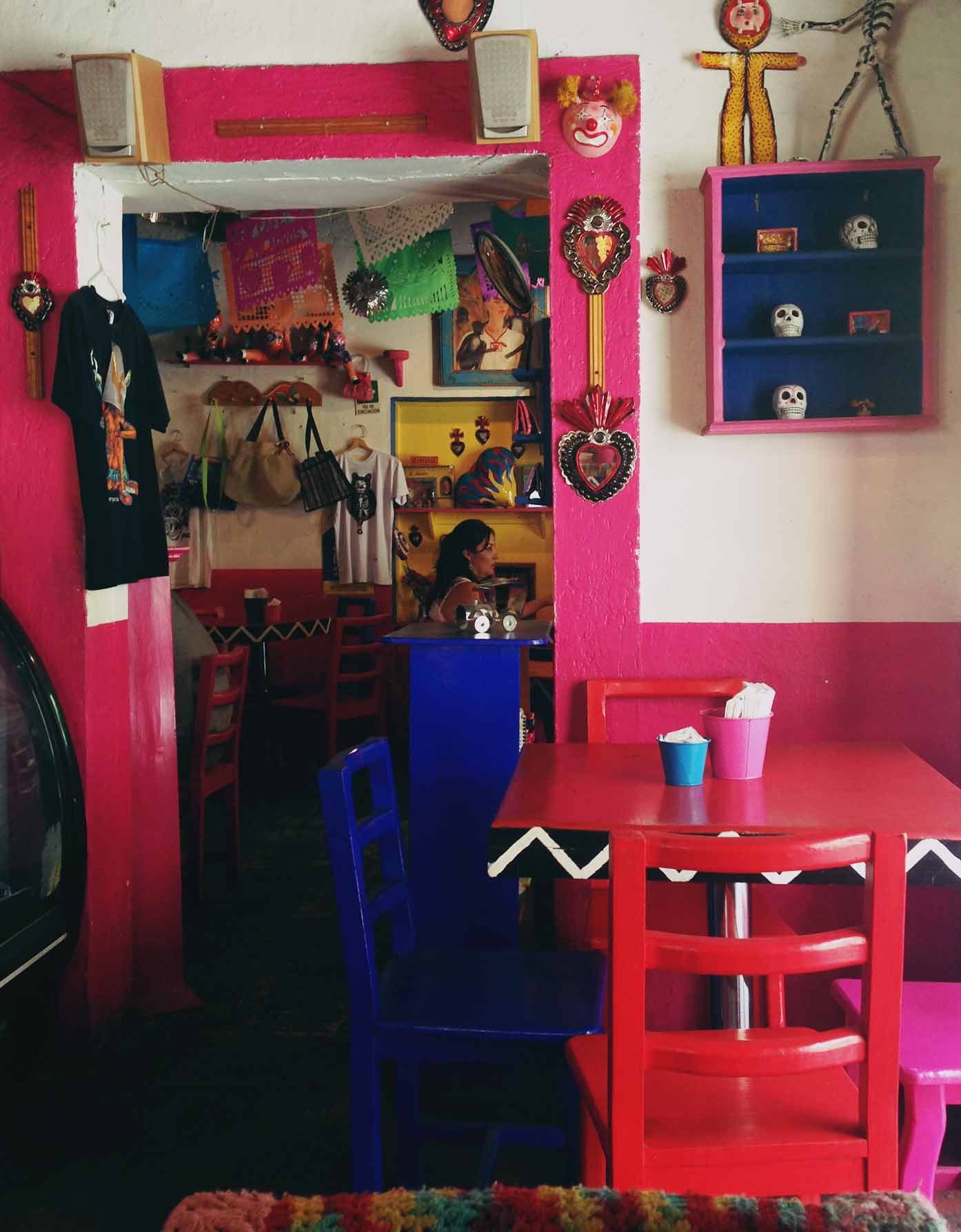 ⤵️ Dan's Travel Tips For Puebla:
You should taste "Mole", a spicy thick sauce which was invented in Puebla. Try the dish "Mole poblano" at Mural de los Poblanos located in the Historic Center.
Chilaquiles is must try food dish in Mexico for breakfast. You can taste it in many restaurants, even in your hotel.
Go for a walk and buy handicrafts at Callejón de los Sapos (Alley of the Frogs). There are bars and coffee shops too.
If you like to stay in colonial style places, Mesón Sacristía de la Compañía Boutique Hotel is the best option. Great architecture, traditional balconies and has an incredible courtyard.
Try to choose a hotel that includes breakfast. Restaurants in Mexico open around 9:00 am, and most shops and attractions open at 10 am.
Carry cash and small bills securely. Although you can use your credit card, in many places just accept cash. ATMs are not always working well, so be prepared for that.
Be sure to learn a few words and expressions in Mexican Spanish if you can. It will help you to have a better experience.
Be careful taking taxis on the steet, it's better to use the front desk and arrange for one to be called and they can negotiate the best price.
Carry a Travel sun hat with UV protection
Visit Museo Internacional del Barroco. Another museum when you can learn about culture and history.
Go for a walk at night around the Cathedral. It's a beautiful view, perfect for taking Instagram-worthy photos.
Map of Puebla, Mexico
See this map of Puebla to get a better idea of the surrounding area:
Most items you need, you'll find along your travels in Mexico. But, depending on the length of your trip, may want to carry the essentials.
Trip planning for Mexico saves money in the long run! Money that you could spend on new and exciting experiences during your travels.
I found taking taxis a good idea when you have some basic Spanish conversation as it will allow you to get insider tips on restaurants and street food you may not otherwise have known about.
Got Travel Insurance for Mexico?

Designed by travelers, for travelers, World Nomads covers more than 150 adventure sports and activities so you can explore your boundaries.
Best Time to Visit Puebla
Overall, the temperatures in Puebla are quite consistent throughout the year. You can head during the summer months for the warmest temperatures of up to 82°F.
However, these months also experience more rain, specifically from June up until September.
The best time to visit Puebla City is around the shoulder months of March to May, and from September until November.
These times have less humidity, making a stay in Puebla very pleasant.
Is Puebla, Mexico Worth Visiting?
Thanks for reading this guide to Puebla City. I'd say 4 days is enough to experience the city, see the cathedrals and other interesting gems.
From Puebla, you can think about checking out one of the many things to do in Veracruz if you have enough time on your hands.
Hopefully having read this guide, you'll now know why you should visit, the safety situation, the best things to do and see as well as my top recommendations to do here.
Puebla City is a beautiful area of Mexico to visit and in my eyes houses one of the most illustrious cathedrals in all of Mexico.
Even if churches aren't your thing, you can opt to visit Cholula or even take on the beast of a volcano which is known as Popocatepetl!
Remember to take a look at this backpacking Mexico guide for more ideas on where to go and what to see in Mexico.
📌 Like this article? Pin it…
So is Puebla worth visiting from Mexico City in your opinion?
💬 Leave a nice comment or let's start a conversation below!
---
"Dear friend! Some links in this post contain affiliate links. Meaning, if you click through and make a purchase, book a hostel or sign up for a tour, I may earn a small commission at no additional cost to you. Your support means a lot and helps me to keep traveling and maintaining the quality of this site for you."