Is Playa del Carmen safe for travelers?
The Yucatan is Mexico's most visited region. With popular destinations such as Cancun and Chichen Itza, the ancient wonder of the world, it's quite a hotbed for visitors and tourists.
Playa del Carmen is known as the trendy part of the Yucatan, with its beachside lounges, booming nightlife and many youthful occupants.
It's on the Caribbean coastline so the weather is ideal, plus there are ancient ruins nearby that are sights to behold.
Is Playa del Carmen Safe?
The quick answer: Yes!
People visit Playa del Carmen for the weather and the all-inclusive packages, but independent travel here is becoming the new norm.
The packages being advertised within this area are well above most people's price ranges so more tourists are looking for better rates.
However, most tour operators advise against this in the worry that Mexico is somehow too dangerous for tourists who venture outside of all-inclusive complexes. For some people that may well be the case.
For anyone who is backpacking in Mexico, this will be a breeze especially for those more accustomed to off the beaten track locations.
Where is Playa del Carmen?
Playa del Carmen is a popular beachside town which is situated in the extreme southeast of Mexico, in the state of Quintana Roo.
It's located within the Riviera Maya region, within the northern portion, and is around 2 hours south of Cancun.
Playa del Carmen has its own share of Caribbean coast, with some pretty stunning beaches running along adjacent to the city.
Roughly 10 miles out you'll reach the island of Cozumel, which can be seen from the shores of Playa del Carmen.
Is it Safe to Travel to Playa del Carmen?
It's incredibly safe to travel to Playa del Carmen since thousands of tourists visit every year.
Cancun is viewed as the tourist capital of Mexico, but Playa del Carmen is a better alternative to its overly touristy neighbor.
See this guide on Playa del Carmen vs Cancun which will help you compare both destinations with a different pair of eyes.
Yucatan as a whole is an amazing place to visit and explore, so visitors shouldn't be scared to venture out of their complexes, or even buy an all-inclusive package in the first place.
This guide looks at some general safety facts and tips about Mexico.
Safety Facts about Mexico
According to the UK Government, over 576,971 British nationals visited Mexico in 2017 with most visits being trouble-free.
Also according to the UK Government, Major tourist destinations like Cancun, Playa del Carmen, Cozumel, Los Cabos, Puerto Vallarta, and Nuevo Vallarta have mostly not seen the levels of drug-related violence and crime experienced elsewhere in Mexico.
The intentional homicide rate of Yucatan is 3 per 100,000. That's better than the US homicide rate which is 5.
New York and Chicago have higher crime rates than Yucatan.
Is Playa del Carmen Safe to Travel Alone?
Playa del Carmen is perfectly safe to travel alone.
If you stay within the confines of the beach areas and trust your instincts, you'll have a wonderful vacation or weekend break.
You'll need to abide by the necessary precautions when traveling to Central America such as don't go out at night, don't trust strangers, don't flash expensive items, etc.
It would definitely help if you knew some Spanish since Mexicans very much appreciate English speakers who learn it as a second language.
In many cases you will find that booking excursions, fancy hotels and bus rides are a lot easier when you speak some basic Spanish.
However, the area is tourist-centric due to the hub of Cancun so it isn't as much of a necessity as the rest of Mexico or Central America.
Just be prepared to pay inflated prices!
💡 Smart Travel Tip
As any local will tell you, this is where knowing and using your basic Spanish conversation skills can save you your hard-earned cash.
Backpacking across Mexico alone can be tricky since most of the bordering regions with other countries have a difficult reputation.
However, Yucatan as a region is extremely safe as compared to the rest of Mexico. Many females traveling alone in Mexico visit this region.
Backpacking Mexico Safety
Mexico is an amazing country to navigate, but you definitely need to look up which regions should be avoided when backpacking.
Yucatan can be the starting point for many backpackers taking the long route down to Colombia via visiting all the Central American countries.
💡Smart Travel Tip
This is the ideal place to start on your trip since it has most of the best sights in Mexico plus it's so close to Guatemala and Belize.
The Yucatan region and its many towns and cities are safe compared to the rest of the Central American region, but it will still pay back in dividends if you exercise the right precautions.
Don't take Yucatan lightly just because it's known as a safe area.
Whether that be traveling to a cenote in Yucatan or heading to one of the nearby resorts for a tour or excursion.
The reality is that tourists are targeted in all locations popular around the globe, so just keep on the lookout for petty crime near to you.
---
---
Where to Stay in Playa del Carmen
Playa del Carmen certainly has a range of areas to stay in. Starting with the far south, we have the area known as Playacar.
You'll find resorts and top hotels here, so naturally is also the safest too. Within the center, anywhere along the beach towards Avenida 30 (the fifth Main street heading in-land) is great to stay within.
There's lots of hostels (hotel Hulku is popular) and Airbnb's located here, as well as restaurants and amenities located within this area.
Going further out is not recommended, as it can get unsafe for tourists with incidents of robbery and violence on the rise in these parts.
Tours in Playa del Carmen
Playa del Carmen is one of the best places to base yourself to explore the Riviera Mayan region. One of the best tours to be done from here is to the legendary Mayan ruins of Chichén Itzá.
The site can be reached within a few hours from Playa, with a tour usually combining a visit to the nearby cenotes too.
The nearby island of Cozumel is another popular tour.
You can leave early with the ferry from Playa del Carmen, and reach this stunning tropical island which is only some 10 miles off-shore.
Here you can visit tranquil and secluded beaches, as well as hire a golf cart to explore the island in your own time.
Playa del Carmen Nightlife
Playa del Carmen is well known for its nightlife, with many actually flocking here from the already popular Cancun to experience the many varied types of events and parties going on here.
Most of the best bars and clubs are located along the legendary Quinta Avenida, which is popular and busy pretty much all days of the week.
Coco Bongo is one of the most popular, with opera-style performances and large events taking place here.
Prana is a funky bar with lots of music genres, whilst Clandestino is one of the best nightclubs to meet a mix of both locals and tourists.
Playa del Carmen: Travel Safety Tips
⤵️ Here are some useful tips to help you on your trip:
Make sure to take sunscreen. This is the hottest region of Mexico and the ocean breeze may fool you.
If you are a person that suffers from typical culture shock symptoms see our tips on adapting to new surroundings on this blog.
If you think you're being overcharged for a taxi, just know that most taxis shouldn't cost any more than 35 pesos.
Don't accept offers of drugs. Not only is it illegal, but it's dangerous and you're helping an industry wrought with crime that the government is trying to stop.
Make sure to use trusted and accredited hotels and hostels in Playa del Carmen. Then once you've booked your room, book taxis or buses through the hotel.
When you want to take expensive equipment such as cameras or smartphones, keep them hidden, locked away and on your person. A PacSafe backpack is ideal for this.
Keep dummy wallets for pickpockets and keep your money hidden away. Bras, money belts or secret bag compartments will do.
There is still a risk of contracting Zika virus. Visit travel health pro For more information on this.
Don't go where there are few other people in the vicinity; this includes camping in secluded places. A simple rule: if there are families around, you're probably safe.
Don't leave any valuables unattended while you swim. Run-and-grab thefts by people lurking in the woods are a common occurrence.
Be wary of attempts at credit-card fraud.
💡 Smart Travel Tip
A credit card scam method used is when the cashier swipes your card twice (once for the transaction and once for nefarious purposes).
For most travelers, it would be best to use cash. Paired with keeping most in your hotel safe and only taking small amounts out with you.
Traveling Around Mexico by bus
I highly recommend you take note of this comprehensive guide to traveling by bus in Mexico for a primer on how the systems work.
The Yucatan Peninsula has a good road and bus network, and comfortable, frequent, reasonably priced bus services connect all cities.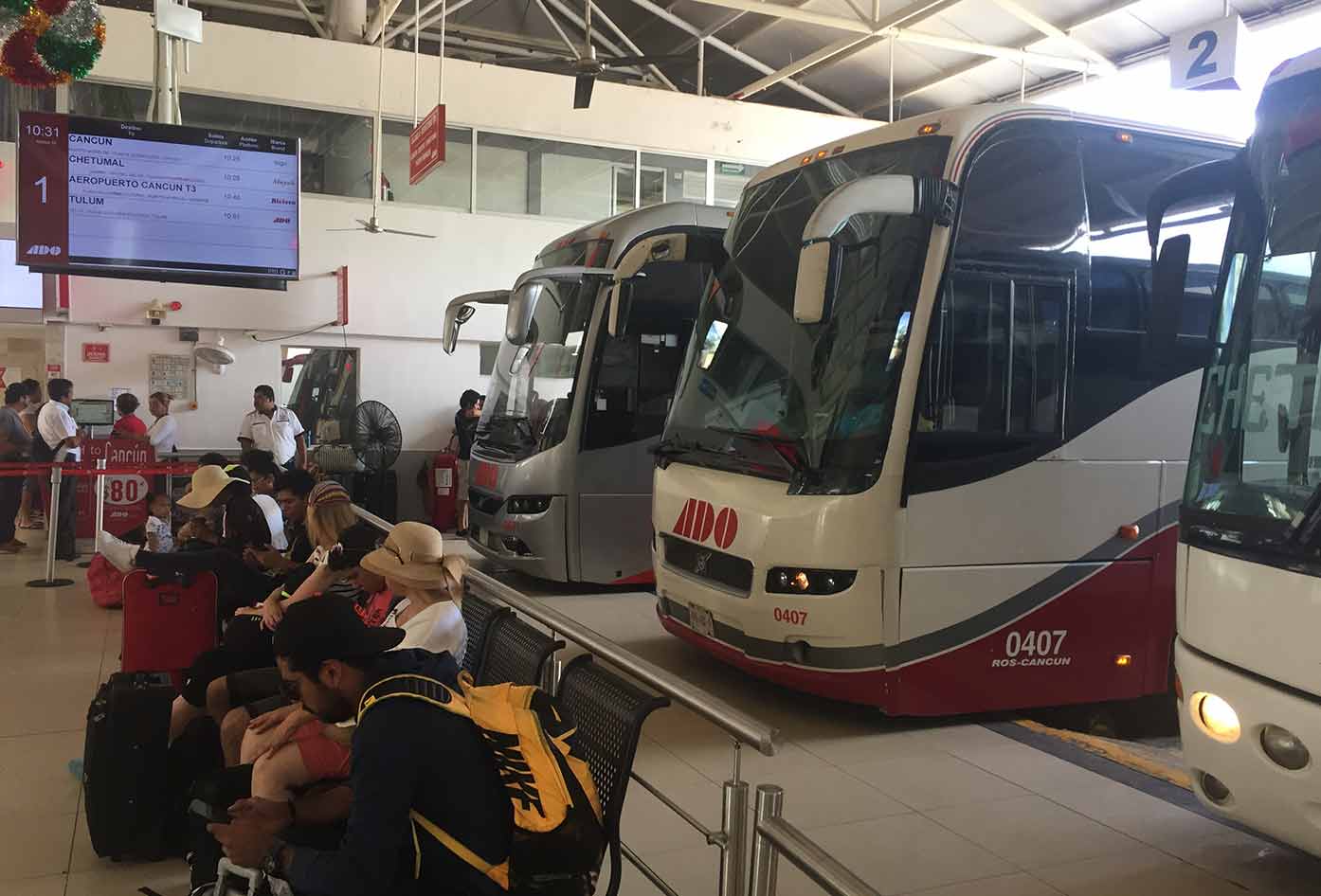 You'll find that most nearby cities and towns, like Merida for example, all have bus terminals that operate regularly.
If there is no single main bus terminal, different bus companies will have separate terminals scattered around town.
Grupo ADO operates many of the bus lines that you'll be using.
The collectivos offer a reliable way to get around the Yucatan area.
For example, if you'd like to get from Playa del Carmen to Tulum collectivos can be a safe and economical way for backpackers.
Got Travel Insurance for Playa del Carmen?

Designed by travelers, for travelers, World Nomads covers more than 150 adventure sports and activities so you can explore your boundaries.
Best time to go to Playa del Carmen
Playa del Carmen has both a distinctively dry and wet season. The dry season runs from November until May, and has average temperatures of between 72-80°F, highs of 90°F and lows of 65°F.
Rainfall is lower this time of year, with between 1.2-1.7 inches falling throughout each of these months (March is the driest month to visit).
The wet season runs from June to late October. Temperatures are hotter, with averages of 80-81°F, highs of 90°F and lows of 71°F.
Rainfall is much heavier here, with between 4-6 inches falling throughout each (September is usually the wettest month of the year).
Is Playa del Carmen Safe?
Playa del Carmen and the Yucatan are wonderful places to visit and the crime rates are extremely low.
The Yucatan is bucket list-worthy and a great place to start an adventure. It's plain to see how easy it is to reach safe places in Mexico.
Cancun is great, but exploring the greater Yucatan area is life-changing.
📌 Like this article? Pin it…
Did I miss something? Got, tips, tricks or your own wisdom to share?
💬 Leave a comment or let's start a meaningful conversation below…
---
"Dear friend! Some links in this post contain affiliate links. Meaning, if you click through and make a purchase, book a hostel or sign up for a tour, I may earn a small commission at no additional cost to you. Your support means a lot and helps me to keep traveling and maintaining the quality of this site for you."