Were you asking the question: is Nicaragua safe to travel to?
Nicaragua is one of the most beautiful countries in Central America and the world and is somewhat of an undiscovered gem to this day.
Like a Caribbean island bolted on to Central America, this Latin country has some of the best lakes in the area.
Backpackers have flocked to the clear waters, white sands, and chilled environment for a while now.
Is Nicaragua Safe?
However, Nicaragua has its hidden flaws and some interesting recent developments. As a socialist country, it has its strengths and weaknesses when it comes to safety.
That's all great for the traveler looking for the right spots. But when it comes to traveling to a country like Nicaragua, you're most likely there to pass through.
Nicaragua is in the perfect location for backpacking Central America and it's easy to see why so many people pass through rather than stay. Is it safe to independently travel to Nicaragua?
Is it Safe to Travel to Nicaragua?
In a word: yes. For most tourists traveling in Central American countries, there are a couple of things worth knowing before making the trip.
Nicaragua, as well as its neighbors, are infamous for crime rates. However, this is mostly due to gang violence and petty crime carried out by gang members.
Gang activity has decreased in Nicaragua specifically, but that doesn't mean it has stopped existing.
Poverty can be an issue, but the main issue that travelers must know is quite simple.
There have been reports of tourist targeting. That's to say, crime has been specifically targeting travelers rather than locals to the country.
Tourists can be targeted if they carry expensive clothes, jewelry, and equipment on show.
This applies to most of Central America though, so there's not a lot of difference in comparison with the likes of El Salvador and Nicaragua.
But it's still something to keep in mind when traveling.
If you stick to this guide, as well as others online, you can make your trip as safe as you want it to be.
Safety Facts about Nicaragua
There is no British Embassy in Nicaragua, so if you have any consular inquiries, get in touch with the Costa Rican embassy.
The intentional homicide rate in Nicaragua is the lowest in Central America.
Around 17,500 British tourists visited Nicaragua in 2017 but numbers have dropped since the 2018 protests.
Although there's no recent history of terrorism in Nicaragua, attacks can't be ruled out.
Many areas of the country experienced a period of political unrest from April 2018, which resulted in hundreds of deaths and detentions according to UN reports. Protests led to violent clashes and the use of tear gas, rubber bullets, and live ammunition.
Theft from vehicles, pick-pocketing, and occasional armed robbery occur in store parking lots, on public transportation, and in open-air markets. In Managua, street crime is more prevalent during hours of darkness, late at night or early in the morning.
Street crime is also common in Puerto Cabezas, Bluefields, San Juan del Sur, Popoyo, El Transito, and the Corn Islands.
Dengue fever is endemic to Latin America and the Caribbean. There has been a further significant increase in the number of reported cases and the Nicaraguan Ministry of Health has declared an epidemiological alert for the mosquito-borne virus.
Cases of Chikungunya virus have been confirmed in Nicaragua.
Pickpocketing is the biggest concern in Nicaragua, with hundreds of incidents taking place every year.
There is no geographical advantage to avoiding crime, it happens everywhere. You just need to make yourself not look like a tourist and you won't be targeted.
When traveling to Nicaragua stick to the normal travel/backpacking routes, places like Leon, Granada, and Ometepe island are favorites.
Is Nicaragua Safe to Travel Alone?
Nicaragua is safe as long as you stick to trusted modes of transport and hotels/hostels.
If you're traveling alone, this may be to your advantage if you don't look like a tourist.
For the most part, as long as you stay indoors at night and keep a watchful eye out for petty crime, you'll be safe.
If you're wondering about the safety of hostels, they're very safe.
The best part about Nicaragua is the prices of rooms in hostels and hotels. For example you can stay in one of Granada's luxury hotels such as Casa de Arcos for just a fraction of the price you'd pay in Costa Rica.
Taxis can appear to be quite expensive when compared with bus prices but at least the hostels are still cheap.
Backpacking Nicaragua Safely
With places such as Volcano Maderas and the endless beauty on Ometpe island, Nicaragua is great for the backpacker.
The country is is so strategically placed, backpackers love it! If you use secure coach services and prefer not to fly, Nicaragua checks the boxes.
Nicaragua is great for bus-hopping since the landscape is quite hilly and full of bodies of water.
Make sure you make it to the coast too, the beaches are incredible. See this guide to backpacking Nicaragua for more.
Nicaragua Safety Tips
⤵️ Here are some useful tips to help you on your trip:
Due to COVID-19, most air travel has been prohibited. You can visit this page for more info.
Do not give money away to begging children. They are often kept out of school by parents for extra income.
If you are a person that suffers from typical culture shock symptoms see our tips on adapting to new surroundings on this blog.
The situation with protests and demonstrations is now quieter but remains unpredictable. You should stay well away from all demonstrations and gatherings, even if apparently peaceful, as these could result in outbreaks of violence.
Keep your belongings in a secure backpack such as a PacSafe backpack or equivlent.
Keep your money safe. This can be achieved by keeping dummy wallets or keeping money safely in belts or bras.
You might encounter petty crime, like theft, especially on public transportation. Do not flash any of your valuables around, or keep them at all.
While in Granada, why not take a trip to the abandoned hospital or even just a short walk around the city will allow you to take in architecture and daily life of the Nicaraguan people.
Credit card skimming is a problem here. It would be best to keep your money in cash form.
Make sure you stay indoors at night. Make a curfew for yourself if you need to.
There is still a risk of contracting the Zika virus. See Travel Health Pro For more info about diseases/viruses.
See this guide to the safest countries in Central America for more practical safety information that may inform your latest travel plans.
Getting Around Nicaragua by Bus
The best way for you to get around Nicaragua would be through a trusted and secure coach service.
There are multiple bus tours that span the country, aiming at tourist attractions and beach areas.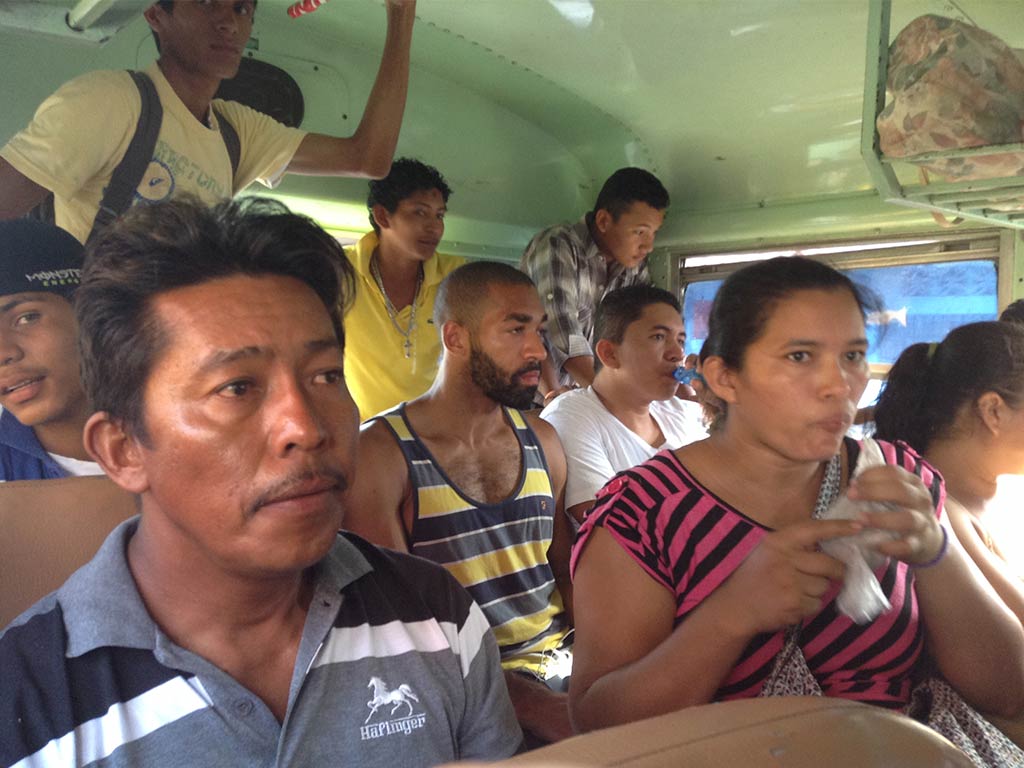 The chicken buses in Nicaragua are some of the best in Central America, but the bus tours are specifically for tourists and can help you on your way to the next country if you're touring Latin America.
Traveling alone, on a public bus, or trying a taxi could be dangerous. It would be best to stick with a coach.
Got Travel Insurance for Nicaragua?

Designed by travelers, for travelers, World Nomads covers more than 150 adventure sports and activities so you can explore your boundaries.
Nicaragua Safety: Conclusion
Nicaragua is an amazing country with the best people and the best culture.
It's perfect for the passing backpacker, so give it a try. You won't regret it!
While you're still here, why not learn more about the safe countries to visit in Central America and get more insight into this region?
📌 Like this article? Pin it…
Missing something? Got tips, tricks & advice we can learn from?
💬 Leave a positive comment or lets start a conversation below!
---
"Dear friend! Some links in this post contain affiliate links. Meaning, if you click through and make a purchase, book a hostel or sign up for a tour, I may earn a small commission at no additional cost to you. Your support means a lot and helps me to keep traveling and maintaining the quality of this site for you."