Is Isla Mujeres safe to travel to, or not?
If you're looking for a peaceful and beautiful beach destination in Mexico, here in Isla Mujeres locals are easygoing and welcoming to visitors.
Yes, it is a laid-back town, but there's still a lot to do here including shopping, a variety of water sports, and exploring beautiful beaches.
Isla Mujeres sounds like paradise on Earth but is it safe? It's important to be aware of your next destination's safety level so you can make informed decisions and stay secure! So, to help, this guide answers your questions.
Is Isla Mujeres Safe?
Below, not only will you find travel inspiration but I'll provide the data regarding safety in Isla Mujeres to clear any doubts that you may have.
By reading this guide, you should be able to travel in confidence and know what to expect when it comes to staying safe on your travels.
For most visitors, Avenida Hidalgo is the main pedestrian zone and the most popular place to go where you can find many restaurants and shopping and activities to do on the island, whether it be day or night.
If you're a first-time visitor, let's start by looking at the current situation and what you can expect to find traveling to Isla Mujeres from the mainland.
Is It Safe to Travel to Isla Mujeres Right Now?
The answer is yes, it definitely is and with Isla Mujeres being a quick 20-minute ferry ride away from Cancun you can travel here with confidence.
Though this close proximity to the haven of Cancun makes it one of the safe places in Mexico to visit for thousands of tourists each and every year.
As a new visitor, it is important to be aware that crime does happen and drug dealing is an issue (or even just being offered drugs is), so following travel safety tips and taking certain precautions will keep you safer.
According to the U.S. Department of State, Isla Mujeres is a Level 2 destination, meaning you should exercise increased caution. However, it is considered as one of the safest destinations in Mexico.
The tranquil nature of this tropical island doesn't make it trouble-free. With instances of robbery and petty theft on the islands you can understand why people are worried about getting mugged.
There are times when you must keep your guard up, practice situational awareness, stick to tourist zones, and avoid unnecessary risks.
Where you stay will also work in your favor when it comes to safety. I recommend Selina Poc Na for a 'cheap and cheerful' place to stay here.
Safety Facts about Isla Mujeres, Mexico
To support my own personal experiences and interpretations, I often rely on Numbeo.com to provide safety facts about destinations in Mexico.
This time, there's not enough data about crime in Isla Mujeres. However, I found a comparison between Cozumel and Isla Mujeres that is relevant.
If you've read up about safety in Cozumel you may have found some relevant information, because similarly, you must travel to Isla Mujeres with a ferry like this one which involves some level of trust when booking as well.
Here are some of the safety facts you need to remember:
Walking around Isla Mujeres both during the day and night seems to be very safe. Still, you're encouraged to be careful when walking around at night.
There's a moderate risk of corruption, bribery, and home break-ins in Isla Mujeres, but this doesn't affect tourists.
Petty crime may occur, so you must be aware of your surroundings.
The crime index of Isla Mujeres is 11.76.
Another way of staying safe is to protect yourself from mosquitos and sand fleas. Isla Mujeres is a tropical island and mosquito are prevalent.
This may include things such as carrying a first-aid kit, some mosquito spray like this one and a long-sleeved sweater for the evenings.
If you're thinking about traveling to Isla Mujeres on your own, the main question on your mind must be: is Isla Mujeres safe for solo travelers?
Is Isla Mujeres Safe to Travel Alone?
The answer is yes! Tourists who have visited alone report feeling quite safe. However, you are more likely to be offered drugs in the street or be a victim of a petty tourist scam such as fake souvenirs or elevated taxi fares.
Take into account that most of the tourist scams in Mexico can be avoided. However, as always, I recommend you aim to be extra smart and cautious when you're traveling on your own. Especially if you're a woman.
I have spoken about traveling alone for the first time before, but even in places such as Isla Mujeres, you'll need to firm in your dealings (with some people). Just a simple "Mañana" can often deter unwanted strangers.
But at the same time, for many people, just being by themselves can make them vulnerable to strangers, so take steps to keep yourself safe while exploring this beautiful island and enjoy everything it has to offer.
💡Smart Travel Tip
I suggest you learn some basic Spanish conversation before your trip as it can be useful for fending off some of the tour vendors and street sellers.
Is Isla Mujeres Safe at Night?
Yes, Isla Mujeres is safe during the night. Of course, I recommend being cautious. For instance, avoid poorly lit streets and walking on the beach late (especially while alone). Stick to popular, tourist spots, and main streets.
Also, get a taxi back to your hotel if it's very late. Check out Nomads Hostel since it is one of the most popular budget stays on the island right now.
Playa Norte is the most active area at night because bars open until early morning. If you're traveling alone, I recommend not getting too drunk or partaking in any drugs with locals (some of which may offer you some).
Also, try to connect with tourist groups if possible during your night out. Many visitors do this Adult-Only tour from Cancun as a way to party and visit the island but you can still enjoy the island without getting wasted.
Backpacking Isla Mujeres Safety
Isla Mujeres is a great destination for backpackers, not only because it's safe, but also because the weather is nice year-round, and, it's a good place to find tranquility, which is refreshing after constant backpacking.
I've wrote untold tips on planning a trip to Mexico on this blog. Doing research is key, so take the time to put together an itinerary before travel.
Make note of all the activities you'd like to enjoy while in Isla Mujeres and find information to have a general idea of prices, directions, and more.
Some of the best things to do in Isla Mujeres include visiting Playa Norte, going to the underwater museum, snorkeling, taking a catamaran trip, and exploring Mayan temples and ruins. Which is plenty for most visitors.
Isla Mujeres: Travel Safety Tips
Even though Isla Mujeres is one of the safest destinations in Mexico, you still need to follow certain travel safety tips to protect yourself while here.
⤵️ Here are some useful tips to help you on your journey:
Stay in the Centro, which is the best location. It's close to attractions and there are supermarkets, restaurants, etc. nearby.
Swimming can be dangerous on the east side of the island because beaches are rocky and have strong waves, so be careful.
If you're traveling alone to Isla Mujeres be sure to check out one of these top-rated hostels as a way to meet other like minded travleres.
Avoid visiting September or October, which is hurricane season.
Don't drink tap water, stick to bottled water.
ecure your belongings, especially if you're staying in a hostel or budget hotel. These TSA luggage locks are perfect for securing everything as well as your keeping your locker secure (in shared spaces).
When you need to use ATMs, go inside a bank, also be SMART and carry a money belt then avoid carrying more cash than you need.
Aim to avoid flashy clothes and jewelry. For the most part, you'll find t-shirts and some basic travel shorts are fine for the daytime but you might want to bring something more conservative for evening.
If you're enjoying the nightlife, never leave your drink unattended and avoid getting drunk unless you're with a friend or someone you trust.
Ask locals for advice whenever possible. Aim to practice Spanish beforehand.
Quintana Roo state and its many Cities, towns and villages are safe compared to many of the neighbouring cities in Central American region.
By simply following even just a few of these simple safety tips, will allow you to stay safe and enjoy your time in Isla Mujeres.
How to Get to Isla Mujeres from Playa del Carmen
If you want to get to Isla Mujeres from Playa del Carmen, you need to get to Cancun first. Once you're there, you can take the ferry, which will only be 1.5 hours. The ferry tickets will cost around $24 for a round trip.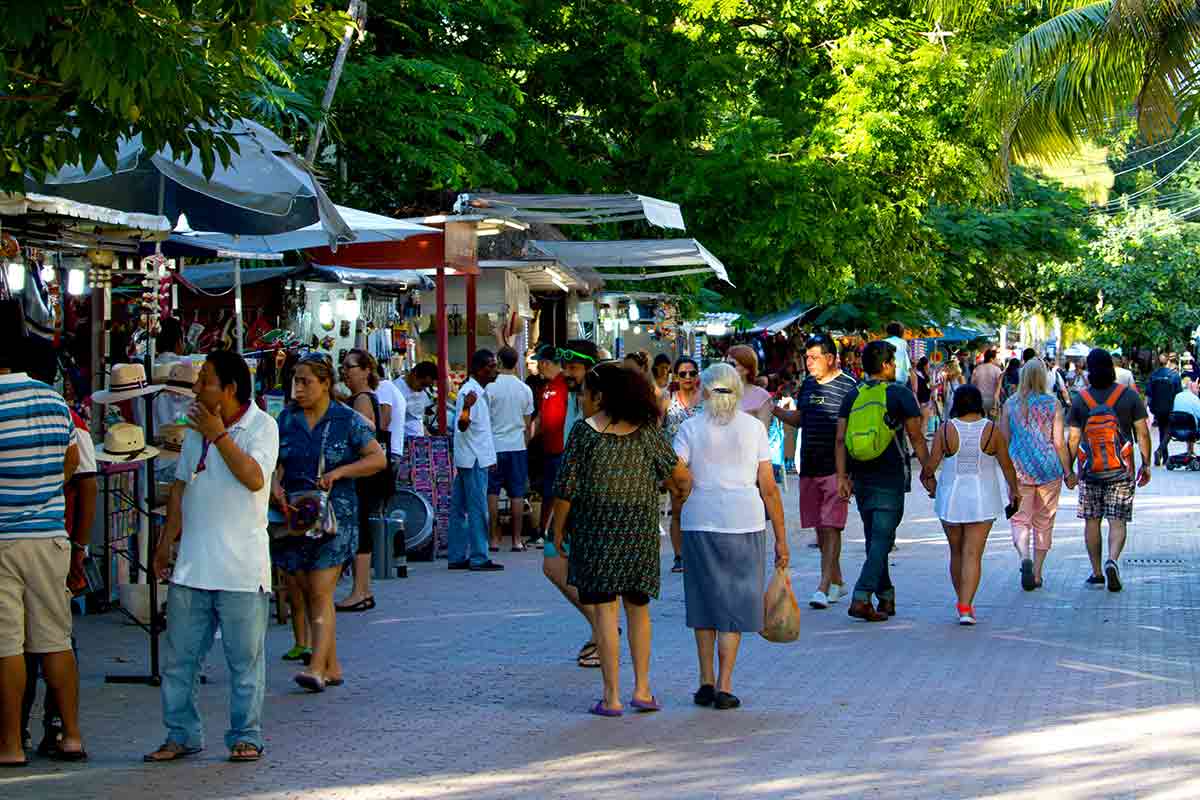 Now, going from Playa del Carmen to Cancun is quite easy. You can rent a car or hire a taxi or van (known as collectivos). The latter option is the best one if you're traveling with a group because you can split the price. Otherwise, you can use public transportation to get to Cancun.
The Playa Express will cost $2.50 or so and it will only be an hour. Once you get off the Playa Express bus, you can take a taxi to the Ultramar ferry terminal, which is located in Puerto Juarez. This will cost around $10 and it's a 10-minute ride.
Got Travel Insurance for Isla Mujeres?

Designed by travelers, for travelers, World Nomads covers more than 150 adventure sports and activities so you can explore your boundaries.
Is Isla Mujeres safe: Final Words
So, is Isla Mujeres safe? Yes, it's a very safe island and it's the perfect destination if you want to visit a variety of beautiful beaches, eat good food, experience the nightlife, and enjoy a variety of activities.
Whether you're traveling alone or with friends, take basic precautions and plan your trip well to have a safe, unforgettable experience.
If you are currently preparing for your trip to Mexico, why not learn about these safe cities in Mexico that are located in the same region as Cancun?
📌 Like this article? Pin it…
Did this guide help you to get advice about visiting Isla Mujeres?
💬 Leave a nice comment or let's start a conversation below!
---
"Dear friend! Some links in this post contain affiliate links. Meaning, if you click through and make a purchase, book a hostel or sign up for a tour, I may earn a small commission at no additional cost to you. Your support means a lot and helps me to keep traveling and maintaining the quality of this site for you."