Is Ensenada safe for travel?
For those that don't already know, Ensenada is a beautiful port city and a perfect seaside destination snuggly located on Mexico's pacific coast.
The harbor is amazing, there's great surf, and you can enjoy a variety of activities, including whale-watching, which is an unforgettable experience.
If you're a wine lover, there are even vineyards to visit in Ensenada. Overall, Ensenada has a lot to offer and it can make all types of travelers happy.
But is Ensenada safe? That's an important question to answer before you start planning your trips in and around Baja California, so let's get into it!
Is Ensenada Safe?
This guide gives information you'll need when it comes to travel safety in Ensenada and should clear up any doubts that you may about visiting.
Using the tips in this guide you should be able to plan your trip with confidence. Not only will you get safety advice but i'll share some tips on solo travel in Ensenada as well as advice on how to get to Ensenada.
I have spoken alot about the most dangerous places in Mexico but let's start this guide by looking at the current safety situation in Ensenada.
Is It Safe to Travel to Ensenada Right Now?
Ensenada is in Baja California and it's one of the safest areas you can visit. Now, one thing to know about travel safety in Baja California is that there is cartel activity, so the crime level is a concern in the more sketchy areas.
Although you do need to avoid those areas, most of the crimes are narco-related and involve rival gang members. However, still do your research.
So, is Ensenada safe? Absolutely! It's one of the safest port cities in Baja California, so if you choose this as your main destination, you won't be exposed to major risks when it comes to crime.
Still, make sure you practice travel safety and take precautions. I suggest that you at least aim to learn a bit of Spanish from a book like this one before traveling to the region as it will help you significantly while here.
Safety Facts About Ensenada, Mexico
According to Numbeo, the crime level is 37.78, which is low. That means safety in Ensenada is not a big concern for tourists.
That doesn't mean you shouldn't take care of yourself, though. To do that, here are a few facts you need to be aware of before visiting Ensenada:
Moderate risks include car theft, drug dealing, property crimes, corruption, and bribery.
Petty crime can be a concern, so always be aware of your surroundings and keep your belongings on you.
Ensenada extremely safe to walk around town during the day.
It's very safe to explore the town at night.
Overall, Ensenada is very safe to visit. Though there is cartel activity in Baja California, staying away from any kind of drug dealing will keep you away from unsavory people. That's true anywhere in the world!
Is Ensenada Safe to Travel Alone?
Is Ensenada safe for solo travelers? Yes, it sure is! Those traveling alone have very little to worry about when visiting Ensenada.
However, solo travelers are instantly more vulnerable simply because they're alone. Not to mention in a foreign place without trusted support.
With that in mind, take precautions to avoid unnecessary risks. If you're a woman traveling alone in Mexico, aim to wear modest clothes, carry a reliable money safe and don't get overly drunk if you go out at night.
Keep an eye on your surroundings, let trusted people know your movements and do your research so you feel confident exploring the area.
Doing a trip to La Bufadora is best done with a tour and also a good way to way to be able to meet other like minded travelers along the way.
Is Ensenada Safe at Night?
Yes, Ensenada is very safe at night. Walking around the Malecon area, for example, should not be an issue at all, but still be cautious at all times.
Stick to popular areas and avoid poorly lit streets. You won't have to look over your shoulder, but it's always good to be safe.
If you've gone out to have a few drinks and enjoy live music at places such as Hussong's Cantina, take a taxi back to your hotel instead of walking.
If you're with a group, you can relax that little bit more, but it's always a good idea to keep your personal safety at the top of your priority list.
Backpacking Ensenada Safety
Is Ensenada safe for backpackers? Yes, no doubt about it. Overall, this city is very safe, so backpackers have very little to worry about.
Of course, you still have to take precautions but the best thing you can do to stay safe while you're backpacking in Ensenada is to prepare an itinerary before you travel. Check out Hostal inn for cheap stay close to the malecón.
Petty theft still exists so take the time to research activities so you know what areas should be avoided and what activities you want to partake in.
Overall, knowing exactly what you would like to do while you're backpacking Ensenada will help you prepare for the trip a lot better.
If exploring vineyards and doing a spot of wine tasting is not your thing, I recommend you go whale-watching, practice your favorite water sports, try the fresh seafood, visit some of the many beautiful beaches, and more!
Ensenada: Travel Safety Tips
Though we've established safety in Ensenada is very high, you still need to follow travel safety tips. That's just a part of being a responsible traveler.
⤵️ Below are some useful tips to help you on your journey:
If you're traveling alone, share your itinerary with your family or a trusted friend, and update them as you go along.
Walking around at night is safe, but stay aware of your surroundings.
Always have some carry reef-friendly sunscreen (and apply it) to protect your skin from harmful UV sun rays. Remember that Sunstroke can last 2 to 3 days and can even ruin a good trip.
Make a copy of your passport and carry it everywhere you go, while keeping the original one safe back at your hostel or hotel.
Avoid bad neighborhoods and apartment buildings (which tend to be mixed up). Airbnb is popular here too, so aim to choose your accommodation in a safe and centrally located neighborhood.
Don't flaunt your valuables, instead try wearing a crossbody bag and always keep it at the front of your body where you can see it all times.
Rememeber not to drink the tap water here as it is usually unfiltered and you may get sick. Aim to stick to water bottles (always check the cap first) or carry a Grayl bottle to be more environmentally friendly.
Don't partake in any drug offers while out and about. Not only is it illegal, but dangerous. It also means you are funding cartels which means they'll maintain their stronghold over parts of this region.
Make sure the waters are safe to swim in before you get in. Look for signage. Check out Playa Hermosa and Playa San Miguel (for surfing).
Try not to flag random taxis down in the street, use Uber instead and always check driver reviews before booking your ride.
Use trusted and accredited hotels in Ensenada for the most comfortable stay. Once you've checked into your room, you can book taxis or more private excursions through the hotel.
By following these tips and you should be able to remain safe. Overall, practice common sense and if something doesn't feel right, move on or ask for advice. The locals in Ensenada are generally happy to help new visitors.
How to Get to Ensenada from Tijuana
If you have just crossed the international border and need to go from Tijuana to Ensenada, you have a few options to choose from.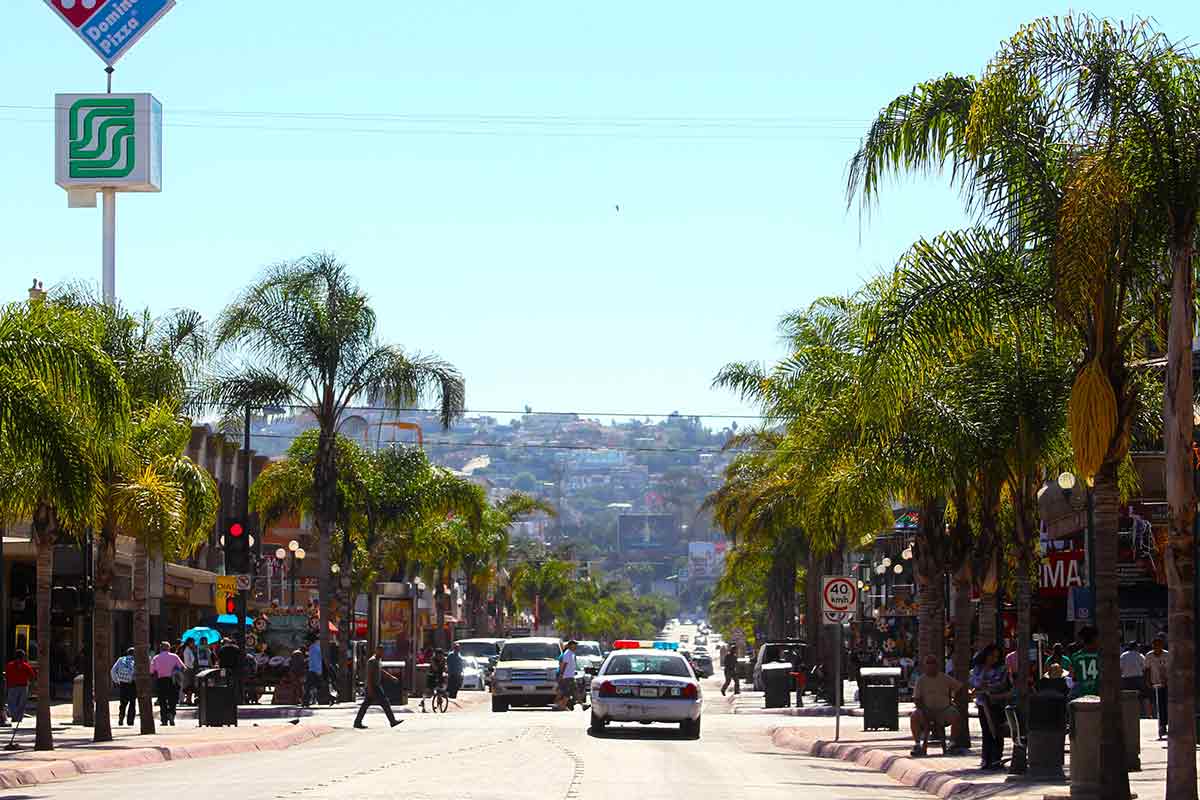 One thing you should know is Ensenada and Tijuana are connected by Highway 1, which is free, and Highway 1D, which is a toll road. Both are safe. The cheapest and most convenient way to go to Ensenada is by bus.
Buses from Tijuana leave every hour and they're available 24/7, so you can hop on one. The best companies are ABC, Autobuses Elite, ACN, and Aguacaliente. Tickets will be around $10 and the ride will take up to 2.5 hours. See this guide to bus travel in Mexico for more travel tips.
Alternatively, you can drive to Ensenada. The ride will take around 2 hours no matter which highway you take.
Many visitor find that hiring a car is the best option. It can cost around $50 per day and some of the best rental agencies are Alamo, Enterprise, Dollar, among others. If you don't want to drive, you can hire a taxi for $75 to $95.
Got Travel Insurance for Ensenada?
Designed by travelers, for travelers, World Nomads covers more than 150 adventure sports and activities so you can explore your boundaries.
Is Ensenada Safe to Visit?
So, is Ensenada safe? There's no other answer than: yes! This is actually one of the safest cities in Baja California and has all you could want nearby.
Like with most of the places in Mexico you'd visit, just be sure to take basic safety precautions, stay alert and most importantly of all, have fun!
Remember to check more safe cities in Mexico to visit if you are open to exploring other nearby places or want to see other ideas on where to go.
📌 Like this article? Pin it…
Did this guide help you to get advice about safety in Ensenada, Mexico?
💬 Leave a positive comment or lets start a conversation below!
---
"Dear friend! Some links in this post contain affiliate links. Meaning, if you click through and make a purchase, book a hostel or sign up for a tour, I may earn a small commission at no additional cost to you. Your support means a lot and helps me to keep traveling and maintaining the quality of this site for you."