Is Cozumel worth visiting while in the Riviera Maya area of Mexico?
Famed for its stunning beaches and crystal clear waters, the island of Cozumel is popular with visitors as a trip from Playa del Carmen.
In this guide, we'll explore everything about Cozumel. Everything from why you should visit Cozumel, the best things to do, and when to visit.
I'll also provide some tips and recommendations for things that made my travel to Cozumel pure bliss that you can implement too.
Is Cozumel Worth Visiting?
Cozumel is an island located off the south-eastern coast of Mexico.
It's close to the tourist hubs of Cancún and Playa del Carmen.
In that respect, getting there is easy as both towns have big ferry hubs that have lots of daily departures and arrivals to the island.
Is Cozumel Worth A Day Trip?
Cozumel is widely regarded as one of the best diving destinations in the Mexican Caribbean, and in Mexico as a whole!
Such as in places like Bacalar the quality and transparent waters here are a big draw, as well as the range of marine wildlife to be observed.
You can spot Bull Sharks, Nurse Sharks, Stingrays, Turtles, Fire Coral, and more in these waters!
You can just as easily spot these from snorkeling at the surface too.
Another reason is that there has been a lot of commercial development on the island. This attracts a different of tourists to the island too.
Whilst this may sway those looking for a more deserted style island, it does have its advantages and practicalities.
There are many backpacker hostels and cheap restaurants to keep your budget light, plus you'll find rental companies ranging from diving and snorkeling to jeeps to explore the island!
If you are looking for more upscale hotels you'll find many options.
How to get to Cozumel from Playa del Carmen?
Before looking at this list of things to do, let's look at how to get to Cozumel from Playa del Carmen which is a popular embarkation spot.
The island lies, some 85km from the mainland. You can take one of at least a dozen daily ferry rides over to the island, which takes 45 mins.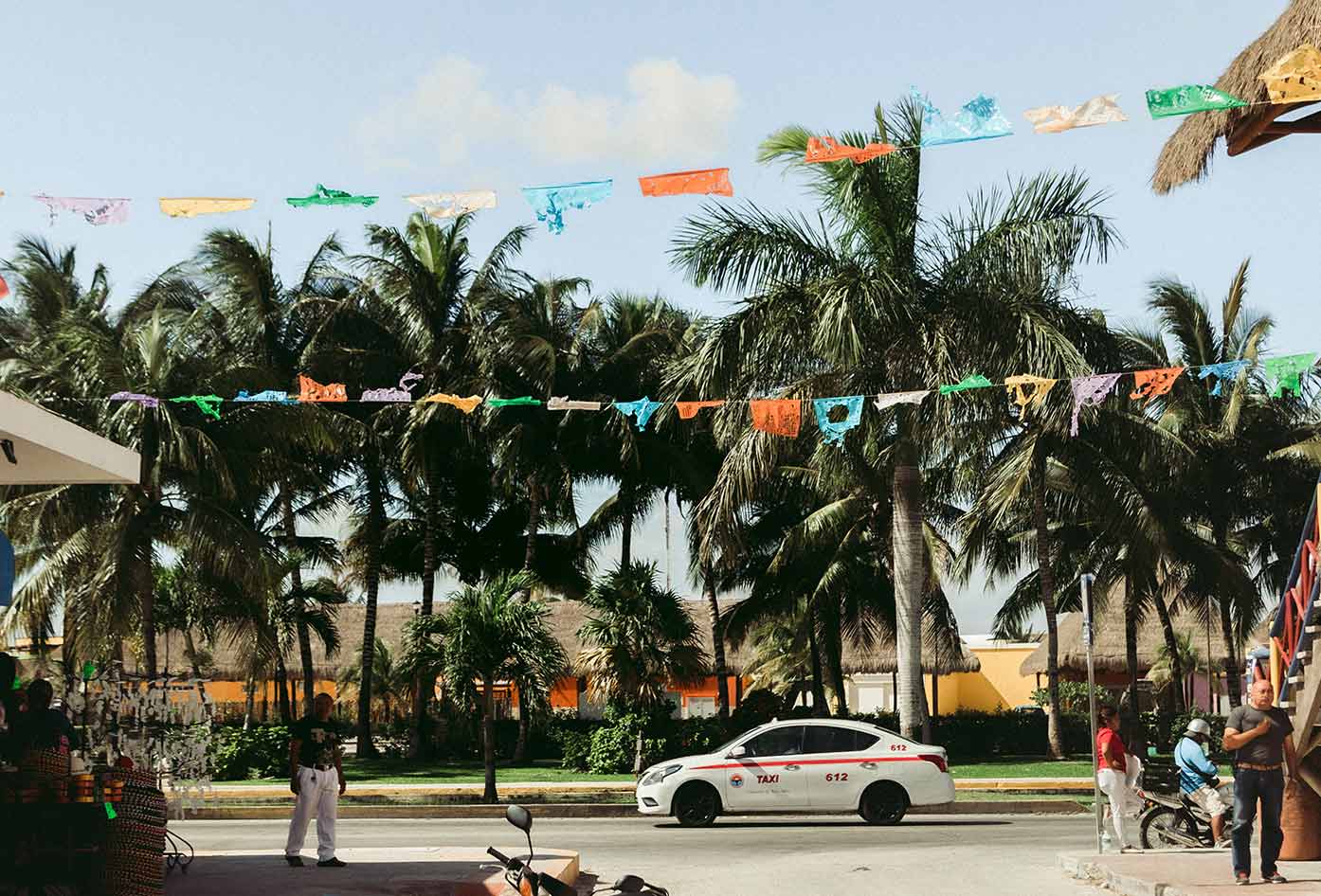 The best company to use is Ultramar, which offer a better discount for return tickets and also has many more daily departures.
Once in Cozumel, you'll realize the island is quite large. The quickest way to get around is by taxi or renting a car, although these can end up being quite expensive.
Around the ferry port, you'll find scooters and golf cart rentals. I found these more budget-friendly, and are relatively safe on these roads.
Best Things to do in Cozumel
Let's look at what to do in Cozumel. It is worth noting that the main reason many travelers visit Cozumel is for the beaches.
However, let's look at some other fun activities:
Punta Sur Eco Park
Located at the southernmost tip, this is a protected ecological area and it has a more virgin feel than other beaches in Cozumel.
Whilst here you should visit the Faro Celerain lighthouse and climb up for spectacular views of the island.
The area is also great for spotting an abundance of wildlife, such as crocodiles in the nearby Columbia lagoon.
You can also take a catamaran ride and lookout for a variety of exotic birds, turtles, and iguanas! See the official Puta Sur Eco-park website for more information on opening times etc.
San Gervasio Ruins
If you thought Mayan ruins were limited to the mainland, think again!
San Gervasio (also known as Tantun Cuzamil in Mayan) is a modest yet impressive site, and well worth a visit during your stay in Cozumel.
It's located close to the northern side of the island.
It has been left barely excavated, meaning that the jungle and ancient plants entangle and weave throughout the structures.
This gives you a great glimpse of what it was like back in the day!
Beaches in Cozumel
A beach day should be on your list of things to do in Cozumel since the island draws international tourism purely because of its lush beaches.
As the island is large, there are a plethora of options to pick from.
Generally, the beaches on the west coast are more suitable for swimming and snorkeling as they are not as exposed.
Playa Chankanaab (which means "little sea" in Mayan) is a small lagoon style beach and is the best on the island for snorkeling. There are over 50 species of tropical fish and corals here alone!
Another great option is Playa Chen Rio, which is arguably the most beautiful. It's located on the east coast of the island. Whilst great for lounging around, the waters here are not suitable for swimming.
Travel Tips for Cozumel
See some recommendations based on my experience in Cozumel.
Firstly, you should definitely factor time in for a visit to San Gervasio Ruins. Be sure to hire a local guide there too, as they were a lot more information about the ancient culture and traditions.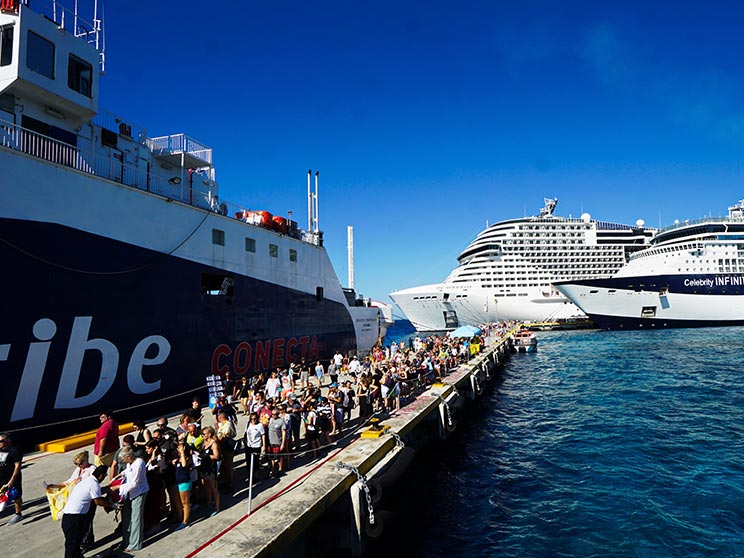 I also thought that Punta Sur Eco-Park was great, although I didn't spend too much time there. Try to block out a full day to spend there.
There are a couple of companies there that you can organize a boat trip around the lagoon.
Best Time to go to Cozumel
Heading between March and June is overall the best time. During this time there is mostly clear skies and average temperatures in the 90s.
Heading in the winter months is also good, as temperatures are less sweltering so may be a better option.
If heading in later Summer months, then know that this is prime time for hurricane season, and you can expect lots of storms and intermittent heavy showers.
Got Travel Insurance for Cozumel?

Designed by travelers, for travelers, World Nomads covers more than 150 adventure sports and activities so you can explore your boundaries.
Is Cozumel Worth Visiting?
Having read this guide, you should know why this Mexican Caribbean island is a great one to visit, as well as how to get to Cozumel.
We've looked at some of the destinations, including some world-class beaches and ancient Mayan ruins.
Hopefully, with these tips, you'll be able to seek out some of the lesser-known gems and have a fantastic trip to this beauty of an island!
Are you still feeling inspired to visit? See this guide on things to do in the Riviera Maya to get more ideas on what to do in the region.
📌 Like this article? Pin it…
Did this help you decide why to visit Cozumel and what to do?
💬 Leave a nice comment or let's start a conversation below!
---
"Dear friend! Some links in this post contain affiliate links. Meaning, if you click through and make a purchase, book a hostel or sign up for a tour, I may earn a small commission at no additional cost to you. Your support means a lot and helps me to keep traveling and maintaining the quality of this site for you."