Is Costa Rica safer than Mexico?
Both Costa Rica and Mexico are amazing countries to visit. They have good weather, affordable accommodation, and endless experiences to offer.
Although you could quite easily argue that Mexico is far more culturally rich than Costa Rica, they're both amazing and abundant travel destinations that offer a variety of activities and adventures for all types of travelers.
However, are they safe? Is Costa Rica safer than Mexico? These are the questions I'll be answering today to help you make an informed decision.
Is Costa Rica Safer Than Mexico?
It is no secret that Mexico and Costa Rica are two countries that are continuously added to the bucket list of many travelers to Latin America.
I have written alot about the safest countries in Latin America and which of these particular countries you decide to visit will be determined by a range of factors such as budget and activities as well as the style of trip you want.
Although Costa Rica is not renown for its soaring crime figures or brutal crime rate like Mexico is, that does not mean crime does is non-existent.
Choosing your next destination is never an easy task, but with this safety guide you will get some guidance that will help you with your final decision.
Let's get into it!
Costa Rica Safety
If you love nature, Costa Rica must be one of the top destinations on your dream list. The name 'la costa rica', meaning "rich coast" in Spanish, was (according to expert estimations) first applied by Christopher Columbus
The beaches are breathtaking, the surfing and diving are unforgettable, and there are a lot of activities you can enjoy without spending big bucks.
Expect, naturally occurring events here such as riptides, earthquakes, and volcanic eruptions which in fact are more common than tourist crime.
But is Costa Rica safe? Let's find that out below…
Is Costa Rica Safe?
Most countries in Central America have been impacted by gang violence and Cold War conflicts. Costa Rica is one of the few that managed to escape those issues. This is one of the reason it is seen as safe from the outside.
However, in recent years, money laundering and drug trafficking have become more prevalent in Costa Rica, which affects the safety level.
That being said, Costa Rica is one of the safest countries to visit in Central America. The fact that the country hasn't needed an army since 1948 speaks volumes. But it's usually the petty crimes that affect most tourists.
So, you can definitely have a great, stress-free time even though you will still need to practice some basic precautions, but you'll be perfectly fine.
💡Smart Travel Tip
I have found that knowing Spanish and learning from a book like this one (before arriving) helps a ton when traveling in and around Costa Rica.
Crime Rate in Costa Rica
According to the U.S. State Department, Costa Rica is at advisory level 2, one of the lowest levels.
This means you are encouraged to exercise precaution because petty crime is a big threat to tourists. Especially those flaunting cash and valuables.
Plus, note that violent crime does occur in Costa Rica but it is not necessarily a direct threat to tourists. In fact, it is said that up to 70 percent of the violence has been associated with drug gang battles between locals.
However, taking steps to keep yourself safe is always necessary, no matter where you travel to, even if you are in the save haven of Manuel Antonio.
The crime rate in Costa Rica was 11.19 in 2020, according to Macrotrends, and if we look at past years, the crime rate has stayed quite consistent.
When out and about, carry a money belt like this one as a deterrent and to help conceal cash or smaller items you like to carry out with you.
Safest Places in Costa Rica
One of the requisites for staying safe in Costa Rica is to choose good areas to visit and avoid dangerous places. It's that simple and not difficult to do.
Puntarenas is a popular area in Costa Rica and it's where you can find some of the best all-inclusive resorts on offer. It is also popular for its rainforest skywalks and eco adventures which give you the chance to observe wildlife.
As such, it's very safe. Turrubares is another safe area and you'll find a lot of adventures there such as kayaking, surfing and jet skiing.
The province of Guanacaste is also relatively safe and it's the ideal place for water sports, such as surfing and diving. There, you have Nandayure which is perfect for a relaxing, safe time, visiting beaches and exploring forests.
Other safe places in Costa Rica include:
Dota
Hojancha
San Marcos
San Mateo
Hojancha
Of course there are also many more safe areas in Costa Rica, however, you may have to travel a bit further out to get to them, thats all.
If you'll be arriving in San Jose you can arrange a shared shuttle ride that will transport you to most of these popular places to visit in Costa Rica.
Most Dangerous Places in Costa Rica
Now, as safe as this tropical country is touted to be, there are a few places you need to avoid in Costa Rica because you can (and will) still be at risk.
The first place I have to mention is Santa Rita de Alajuela, known as "El Infiernillo" (little hell). This place which is not too far from the capital is known for drug dealing and gang violence, so you'll want to stay away.
There is little chance that you would visit an area like this as a tourist, but it is worth mentioning so you get an idea of what type of crime happens here.
While on the subject of crime, the same can be said for neighborhoods such as El Carmen, La Carpioe, Los Guido, and Desamparados. These are places are known as high-crime areas, so avoid traveling near them.
Other dangerous places in Costa Rica include:
La Cieneguita
Santa Rosa de Pocosol
I suggest checking out some of these top rated hostels if you're on a backpackers budget, or, these boutique options if you're on vacation.
On the whole, Costa Rica is a safe country to visit in Central America, and now you have an overview of what the country holds in terms of safety.
Let's head further north to see what Mexico holds in store for this guide.
Mexico Safety
Mexico is one of the most beautiful and exciting countries to visit. However, foreigners often perceive this rich land as extremely dangerous.
That's because it has a history of violent crime. However, things have changed recently, so visiting Mexico may not be as dangerous as before.
But there are other elements that may jeopardise your safety on a trip. For example, did you know that the tap water in Mexico is not safe to drink?
Or, the fact that the ice in your drink could contain contaminated water?
What about the smell of street food and avoiding getting sick in Mexico? Food Poisoning Risks and waterborne illness risks are real. These are just a taste of the things to prepare yourself for when traveling to Mexico.
Is Mexico Safe?
Yes! Mexico is safe to visit, but like with many tourist hotspots in the world, petty crime and violent crime are something that happens in the country.
So, wether you find yourself in Playa del Carmen or Cancun you will need to be aware of the risks as a tourist to make informed decisions and keep yourself as safe as possible. That way you'll have a good experience.
As is the case with every country in the world, some areas are safer than others. Overall, Mexico is not one of the safest countries in the world, but tourism is a big industry and tourist areas are usually quite safe here.
Not to mention, Mexico is full of opportunities for adventure, you just need to be cautious and start by visiting some of the popular tourist places first.
Going of the beaten track in Mexico is always a possibility, however, I only suggest doing this if you have prior experience traveling in Latin America.
Crime Rate in Mexico
According to Numbeo, Mexico's crime level stands at 54.39, with a 61.68 level of crime, which is quite high.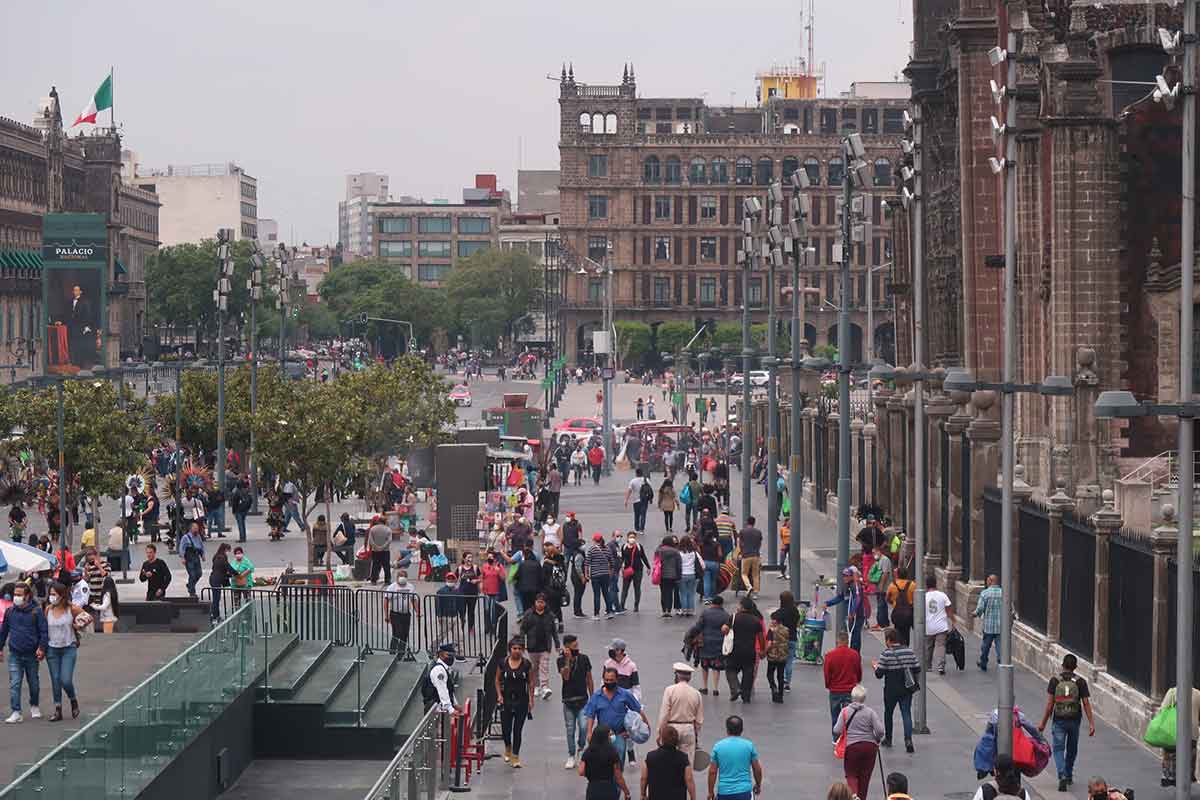 The biggest risks in the country are property crime, armed robbery and assault, and bribery. Moderate risks include robbery, muggings, car theft, and drug dealing. Credit card cloning scams are more prevalent now too.
This is one reason why booking tours before you arrive to your destination is a good idea, or booking through your hotel if they offer excursions.
Now, most of these crimes don't affect tourists directly, but petty crime is something to be aware of. Additionally, walking at night is not at all suggested, especially not if you're a solo traveler or a solo female traveler.
All that to say you need to take precautions when visiting Mexico and look after yourself no matter where you find yourself while in the country.
💡Smart Travel Tip
Take smart precautions such as carrying theft proof bag, or even a basic money wallet like this one to keep possessions concealed can along way.
Safest Places in Mexico
Fortunately, there are many safe places in Mexico where you can spend your time without too much worry when it comes to staying safe.
For instance, Merida is known as one of the safest cities in Mexico to visit. It's a lovely colonial town where you can have a wonderful time.
Additionally, Playa del Carmen is also quite safe, it's a coastal city with plenty of beautiful beaches and cenotes, as well as nearby Mayan ruins to explore. Like most places in Mexico, there are still areas to avoid but that is easliy done by sticking to the main tourist attractions and places of interest.
I also recommend visiting Sayulita, San Miguel de Allende, Puerto Vallarta, and certain neighborhoods of Mexico City for a unique taste of Mexico.
With all this in mind, which areas in Mexico should travelers aim to avoid?
Places to Avoid in Mexico
Given that Mexico is not the safest place to visit, there are plenty of areas to avoid but they are not usually the places you'll be planning a trip to.
As a general rule, you want to stick to tourist areas and avoid going off the beaten path. Doing city tours is a good way to learn about the local areas.
If you're in Mexico City, do the Xochimilco and Frida Kahlo tour or if you're a fan of ancient Mexico, do the day trip to Teotihuacan, you won't regret it.
However, more importantly, you need to avoid the backstreets as well as heading to the outskirts of most of the cities that you intend to visit.
Some of the areas to stay away from if you don't have a specific reason to visit them, include Acapulco, Colima, Guadalajara, Zacatecas, Cancun, San Luis Potosi, Cuernavaca, and Morelia, to mention a few.
See this list of dangerous places in Mexico to get the full enchilada.
That does not mean to say that some of these notoriously dangerous cities and regions in Mexico do not have 'good areas' but again, they are not usually on the radar of the majority of international tourists visiting Mexico.
However, that is precisely why you will want to have a well thought-out plan of where you are going to visit rather than aimlessly wondering around the street of these kind of places, especially if you are backpacking in Mexico.
I suggest that you visit this guide to planning a trip to Mexico to get more clarity on what to think about as you continue preparing for your trip.
Got Travel Insurance for Latin America?

Designed by travelers, for travelers, World Nomads covers more than 150 adventure sports and activities so you can explore your boundaries.
Costa Rica or Mexico: Which is Safer?
So, based on all the information reviewed in this safety guide, I can say with confidence that Costa Rica is safer than Mexico by a long shot.
That doesn't mean you can't or shouldn't visit Mexico, of course, it just means you'll have to be much more careful depending on where you go.
Both Costa Rica and Mexico are top destinations, just do your research and plan your itinerary well so you can have nothing but a great time.
While you're here, see this list of safe Latin America countries if you're open to visiting other nearby nations, or just want ideas on where else to go.
📌 Like this article? Pin it…
Will you choose Costa Rica or Mexico when traveling to Latin America?
💬 Leave a positive comment or lets start a conversation below!
---
"Dear friend! Some links in this post contain affiliate links. Meaning, if you click through and make a purchase, book a hostel or sign up for a tour, I may earn a small commission at no additional cost to you. Your support means a lot and helps me to keep traveling and maintaining the quality of this site for you."