Is Bogota worth visiting while spending time in Colombia?
Bogota is the capital and largest city in Colombia and is also the capital of the Cundinamarca Department located in the center of the country.
Although it's not the most popular destination to visit in Colombia, Bogota is growing in popularity as more people learn about its valuable attractions.
From visiting eye-opening museums to exploring colorful streets and interacting with cultures from all regions, this capital may just surprise you.
Is Bogota worth visiting?
This guide explores Bogota, and includes 5 reasons to visit this awesome Colombian city so you can decide whether to spend time here or not.
In addition, this guide will also look at other important things to know such as the best time to visit as well as how to stay safe while here.
Quick Answer: Bogota is definitely worth a visit, and will give travelers a great introduction into what the real life in Colombia looks like.
Personally I think that Bogota is a fantastic city to visit and a great entry point to Colombia. Yes it can be overwhelming at first, but if you can spend 4 days in Bogotá at least you can start to understand why it is how it is.
Not only can you find arts, culture, gastronomy and many beautiful buildings to explore in the historic center and Candelaria neighborhoods, you'll also be able to dive deeper into the real history of Colombia too.
That's without mentioning its stunning nearby mountains that can be visited on various day trips. Let's look at the unique positioning of Bogota.
Where is Bogota?
Bogota is located in the mountains within the center of Colombia, inside the region of Cundinamarca. It is the third highest capital in South America.
Its high elevation of 2625m means that the climate here is much cooler than the rest of the country, and as a result means that it's much more pleasant to walk around (without overheating so easily).
Bogota is located some 415 km south of Medellin, whilst Cali is situated roughly 470 km south of the capital.
The super popular Santa Marta on the Caribbean coast is located just under 1000 km away, and is best to travel by plane if coming from here.
Is Bogota safe?
Colombia is still given quite an unreasonable verdict on its safety situation, which is mostly fuelled by history rather than its current situation.
Bogota is no exception, however the truth is that this city can be quite safe in certain parts. You just need to know were to go and where to avoid.
Areas like Candelaria are best for a stay, which have a more touristy vibe and higher security presence. This popular Graffiti tour is a great way to learn about the city from a local and ask any questions about the city.
Issues like pickpocketing can still be an issue, so it's best to always leave valuables in your accommodation.
As well as taking extra care when heading out at night I suggest you carry a money belt like this one to conceal cash or smaller items you like to carry.
I have written a guide on Bogota travel safety so I invite you to take a look at that to be able to get a better idea of places to avoid while in this city.
5 Reasons Why Bogota is worth visiting
Now we have an idea of Bogota and what to expect in terms of safety, let's explore 5 reasons to add this capital city to your Colombia itinerary.
Head up to Monserrate
No trip to Bogota can be complete without visiting this scenic mirador which lies on top of a nearby mountain.
You can either walk or take the cable car to the very top, where on one side you'll have sweeping panoramic views over the capital.
On the other side you'll find a local bustling market, as well as many hiking paths that head out into the sierra. The most captivating thing of all though has to be the Monastery.
Located right on the edge of the mountain, it's still used to this day and you can walk inside for a quick historical tour.
The Gold Museum
Bogota has many awesome museums worth visiting. However this one takes the cherry, and is a must-visit for any traveler heading to the capital.
Home to over 30,000 pieces of solid gold and artifacts, it's one of the most comprehensive gold museums on earth.
Many of these ornaments were used during the pre-Hispanic period, and walking around you'll see various pottery, tools and even containers that were used daily back in these ancient times.
You may want to take this opportunity to compare Bogota and Cartagena since both cities are home to extensive gold displays worth seeing.
Explore Colonial Architecture
Ranking well up there along with Cartagena, Bogota is a great place to walk around admiring the many beautiful buildings found here.
Candelaria is the most notable, and it's worth first heading to Chorro de Quevedo which is known for its colorful narrow streets and houses.
From here you can walk down the hill to the Plaza de Bolívar, which is home to the imposing Catedral Primada de Colombia.
Around the plaza and surrounding streets you'll also find other neoclassical buildings worth noting such as the National Capitol and Lievano Palace.
If like me you like to ask lots of questions then this private city tour will help you to see the best bits of the city with an expert guide by your side.
Play the Locals' Game of Tejo
Of course visiting the city's highlights are a must, however there's no better way of getting into the local swing of things than by playing Tejo.
Here you'll literally try to blow up your opponent's ring which is laced with (small) chunks of dynamite.
It's an old tradition which is still popular with locals, and you can grab some beers and enjoy the atmosphere between the semi-occasional explosions.
Head to nearby Zipaquirá
This mountainous town is a real highlight, and for those that have the time and resources is one of the must-do day trips from Bogota.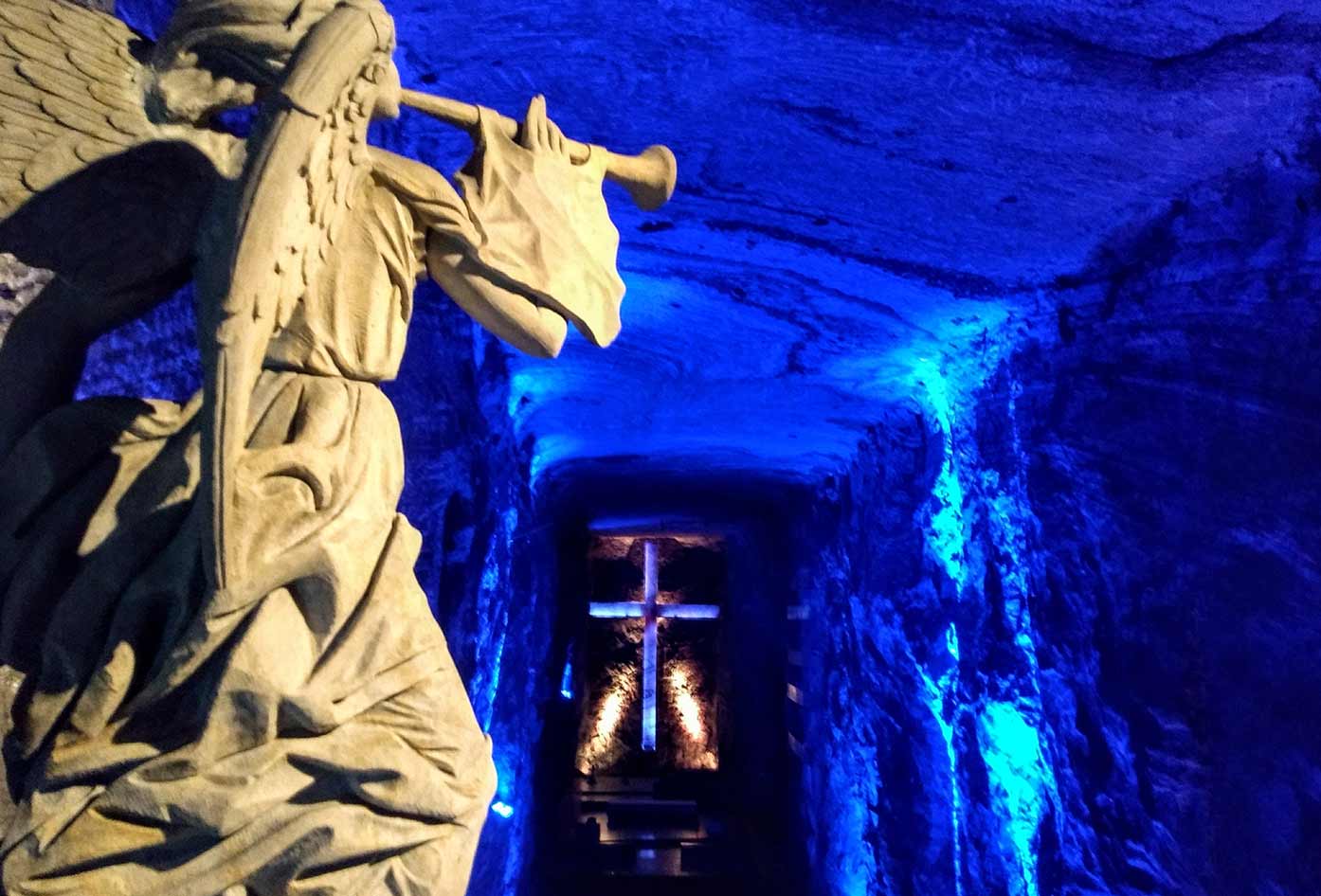 The town itself is nestled within the Colombian Andes, and is home to many beautiful buildings and lively plazas.
However the true gem is the Salt Cathedral, which is carved into one of the nearby mountains here, it is said the tunnels go up to 200 metres deep.
Not only will you see the most notable achievements of Colombian architecture. Here literally everything is made out of salt, and inside you can see various crosses, rooms and even a fully functional altar!
Bogota Travel Tips
⤵️ Below are some useful tips to help you on your journey:
If you need cash, go into the bank to make your withdrawal. It is safer than withdrawing from ATMs on the street.
Remember pollution is a big issue in large cities. Bogota and Medellín are the most polluted cities in Colombia.
As usual in big cities, it's common to hear about pickpocketing. Be careful with what you carry, especially using the Transmilenio buses.
Visit 3 important baroque churches: Iglesia San Francisco, Santuario Nuestra Señora del Carmen and, Iglesia Museo de Santa Clara.
From Bogota, you can even go to Lake Guatavita Laguna Guatavita in 1-2 hours. It's a perfect option for a day off surrounded by nature.
Aim to visit Paloquemao another market where you'll find fresh fruits and vegetables, typical dishes, and have a great cultural experience.
Take a day trip to La Chorrera waterfall located outside Bogota. Perfect for people in a good physical condition. Carry some boots, a waterproof jacket, light backpack, and cash for lunch.
Best time to go to Bogota?
The best time to visit Bogota is between December and March. Known as the dry season, this period is the best for outdoor exploring given rainfall is much lower (you can expect between 1.5-3 inches each month here).
Daily average temperatures range between 55-56°F, however are pretty consistent throughout the entire year.
This is the same with the daily highs of between 65-66°F, whilst lows can be a little more chilly this time of year (between 44-48°F).
Overall this period is a great time to visit, and you'll also find both the hostel and local scene thriving more around the Christmas period.
No matter what time of year you visit Bogota, you will want to carry a travel umbrella like this one or a lightweight poncho with you (just in case). It can rain at any time in this city and it usually comes without much warning.
Got Travel Insurance for Bogota?

Designed by travelers, for travelers, World Nomads covers more than 150 adventure sports and activities so you can explore your boundaries.
Is Bogota worth visiting?
The Colombian capital is gaining traction as a world class city. This is because many want to learn about its rich history and nearby landscapes.
As well as this, the cooler climate also gives travelers a nice break from the otherwise overbearing Colombian sun associated with other regions.
This guide has explored some reasons to visit Bogota, along with 5 reasons that make it even more worthwhile. It has also explored factors such as the best time to visit and how to stay safe in the Colombian capital.
While you're here, be sure to read this guide on safe cities in Colombia to get a better idea of other worth while places to visit while in Colombia.
📌 Like this article? Pin it…
Did this help you decide whether Bogota is worth visiting or not?
💬 Leave a positive comment or lets start a conversation below!
---
"Dear friend! Some links in this post contain affiliate links. Meaning, if you click through and make a purchase, book a hostel or sign up for a tour, I may earn a small commission at no additional cost to you. Your support means a lot and helps me to keep traveling and maintaining the quality of this site for you."