How many days in the Yucatan are needed for a worthwhile experience?
Known as one of the most popular tourist hotspot in Southern Mexico, The Yucatan Peninsula is full of unique gems and picturesque cities.
As well as swim in the prehistoric cenotes, you'll also be able to visit many ruins and step back into the times when the Maya once flourished here.
Not to mention, The Yucatan Peninsula is a gateway for those traveling to other parts of Mexico, but with so much to do and see, where do you start?
Is the Yucatan worth visiting?
This guide explores the Yucatan, how many days you should spend along with the best activities and experiences you can have here.
It will also take a closer look some basic itineraries you can follow, depending on how much time you have in this vibrant region.
Otherworldly Landscapes – The secret caverns known as Cenotes are the top highlight, where you can go swimming in emerald waters. However you'll also be able to explore the Chicxulub Crater too, which is where the meteor which wiped out the dinosaurs made landfall.
A Warm Culture – The Yucatecos are some of the most welcoming people in Mexico, and are known for valuing safety and community above all else. There's also many tasty local dishes to try too!
Head Deeper into the Mayan Times – Chichén Itzá was once the beating heart of the empire, however you can find other incredible (and less crowded sites) too such as Dzibilchaltún and Uxmal.
It is worth noting that the Yuctan is one of the safest states in Mexico so you can travel here without worrying too much about safety.
How many days in the Yucatan is Enough?
As you can see, there's lots things to do in the Yucatan. Let's now take a look at how to best spend your time here with these customized itineraries.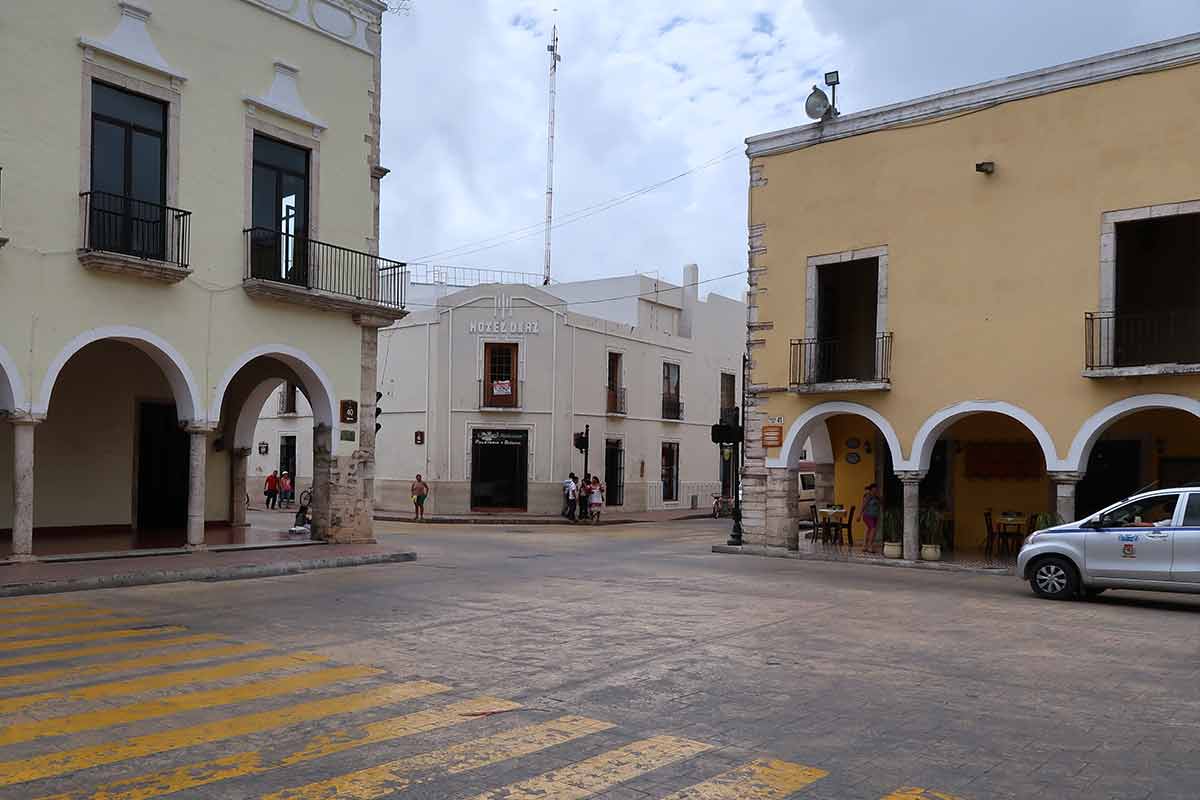 Is one day enough for the Yucatan?
It would be impossible to see all the highlights in one day. However you can still see some epic sights if you're prepared and spend extra on transport.
Assuming you'll arrive in Cancún, you can first take an early morning bus to Valladolid and head straight to Chichén Itzá first thing.
I wrote this guide on getting from Cancun to Valladolid so you can see the different options there and choose the one that suits you best.
While here it would also be worth visiting a Cenote too (such as the nearby Ik Kil). You can then head back to the city and walk along the colorful streets before enjoying a traditional Yucateco lunch.
Depending on how long you have (you'll need an extra 5 hours minimum), you can then take a 30 minute bus to Tulum, where we'll explore Tulum Ruins and also chill out on the palm-fringed beach below.
From here you can then take the 2 hour bus back to Cancún Airport. To save time you could book this private transfer to get to the airport faster.
Are 2 Days in the Yucatan enough?
Still not ideal, however having 2 days definitely opens up the region for travelers who are intent on making the most of their time here.
You can spend your first day as planned above, but with 2 days you can spend a night in Valladolid. This gives you more time to see the city, and also to head on a trip up to the Pink Lagoon of Las Coloradas further north.
Waking up early on your second day, you can take the bus to Tulum and have more time to enjoy the town and archaeological site without rushing.
If you really liked the cenotes, then I'd recommend heading to the Dos Ojos Cenote here (which you can go snorkeling and diving in).
You can also head on a bike ride to the Sian Ka'an Biosphere Reserve to see wild animals, or you can even opt to visit Akumal on your way back to Cancun instead, where you'll get the chance to swim with Green Turtles.
Is a week in the Yucatan too long?
Definitely not! If anything I would recommend something more like 2 weeks in the Yucatan, but a week is a great amount of time to spend here.
You can start by spending 1 or 2 days in Valladolid where you can do this visit this cooking school and learn how to prepare authehic Mexian meals, followed by heading to Mérida.
This beautiful city is popular nowadays, given it's home to many incredible sites such as the Maya Mundo Museum as well as the Chicxulub Crater.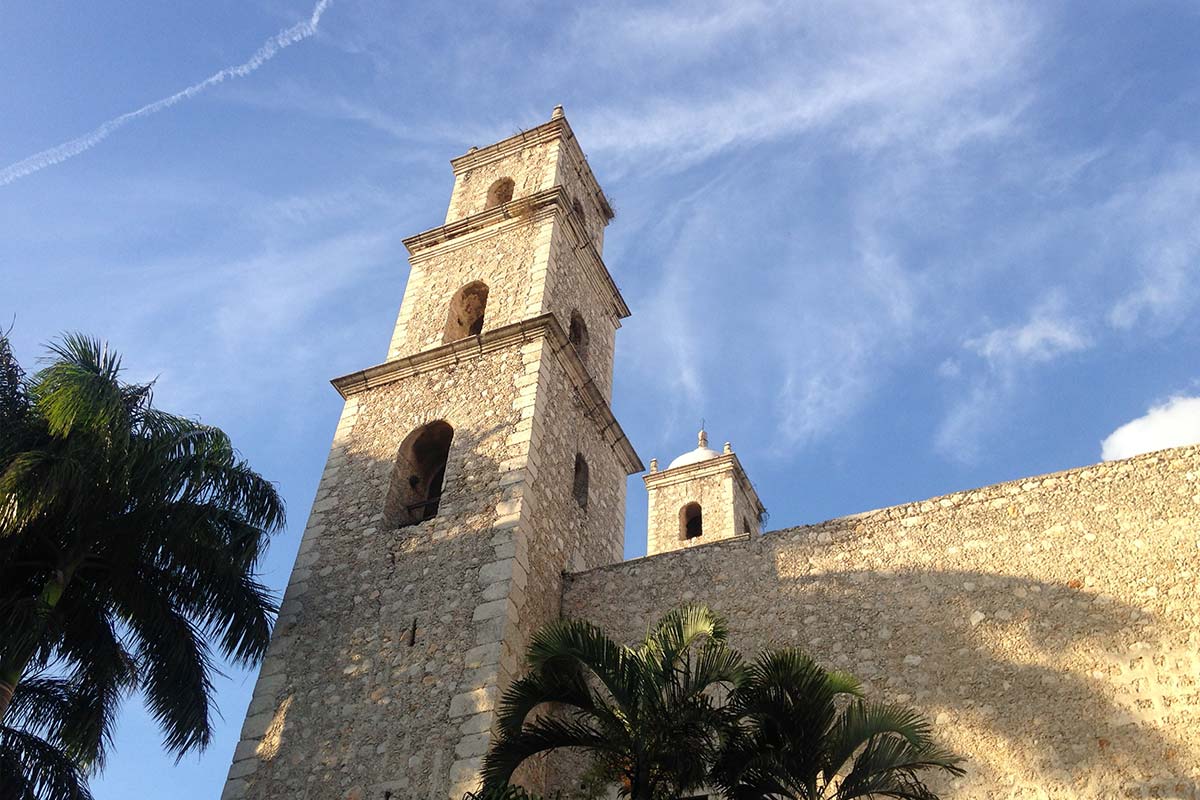 It's also the jumping off point to explore the Puuc Route, where you can see various ancient ruins such as Uxmal and Kabah.
After making the most of this city, you can then proceed to head towards the Caribbean region to enjoy the picturesque beaches.
Then you have Tulum or Playa del Carmen which are great places to base yourself, where you can enjoy the warm sea, heated nightlife and nearby cenotes.
Where to stay in the Yucatan?
Below are some of the very best accommodation options for those who are heading throughout the Yucatan Península.
Budget – Hostal Zócalo is great for budget travel lovers as it is centrally located in the city of Mérida. It's an active hostel with comfortable dorm beds, and also has knowledgeable staff who can help with booking excursions or get any other useful advice.
Boutique – Hotel San Clemente is one of the best boutique hotels you can stay at. Situated in the heart of Valladolid (right in the Zócalo, which is the main square), you'll be staying in a private room. They also have on-site swimming pools as well as breakfast at the hotel.
Deluxe – La Posada del Sol Boutique Hotel in Tulum is designed for those who are after a memorable stay. Located right on the Caribbean beach, you'll be in a quiet area with the ocean right next to your room. It's also situated close to Tulum Ruins.
Best Guided Tours in the Yucatan
Let's now take a look at the best tours you can join in the Yucatan.
Chichen Itza, Cenote, and Valladolid All-Inclusive Tour
While you're here this ultimate tour combines a visit to both the pyramids and a cenote, where you'll also see the highlights of Valladolid. You'll also have all transport and a buffet lunch included.
Rio Lagartos & Las Coloradas Day Trip
Visit Rio Lagartos with this ever-popular day tour as you'll get to visit this legendary pink lagoon, and also see wildlife such as Flamingos and Herons along the way. As well as including all transport and the boat ride, you'll also have a traditional Mayan bath included too.
Merida Cooking Class and Market Visit
If you didn't already know, Mérida is known for its local cuisine and roots, and here you'll learn how to make local dishes such as Papadzules. As well as getting a tour around the market, you'll also get to try other traditional dishes and desserts.
Uxmal and Sotuta de Peon Hacienda Tour
While in Merdia you can visit the ancient ruins of Uxmal with this day tour where you'll have a professional guide show you around and teach you everything you need to know.
Got Travel Insurance for Mexico?
Designed by travelers, for travelers, World Nomads covers more than 150 adventure sports and activities so you can explore your boundaries.
How Many days in the Yucatan
Thanks for reading this guide on how many days to spend in the Yucatan.
Whether you're into beaches, ancient ruins or picturesque cities, you'll find it all in abundance here in the Yucatan.
This ever-popular region is a must-visit in Mexico, and trust us when we say you'll be returning soon after your first trip!
This guide has looked at how to spend various timeframes in the Yucatan, as well as where to stay and some worthwhile tours to do here.
Be sure to read this guide to travel safety in the Yucatán to ensure you have both a memorable and safe time in this incredible region.
📌 Like this article? Pin it…
Did this guide help you decide how many days to spend in the Yuactan?
💬 Leave a positive comment or lets start a conversation below!
---
"Dear friend! Some links in this post contain affiliate links. Meaning, if you click through and make a purchase, book a hostel or sign up for a tour, I may earn a small commission at no additional cost to you. Your support means a lot and helps me to keep traveling and maintaining the quality of this site for you."