How many days in Lima are needed for a well-rounded trip?
Lima is a melting hotpot of culture, where indigenous roots, European influence and Asian cultures all come together to make an interesting city.
You'll find many interesting sites here from the chilling catacombs of San Francisco to the ancient ruins of Huaca Pucllana and many more.
With neighborhoods such as Miraflores, Barranco and San Isidro you have the opportunity to spend your days admiring the best areas of the city.
How many days in Lima?
This article will explore the best of Lima, how many days you should spend, as well as my top suggestions on where to stay and what to do.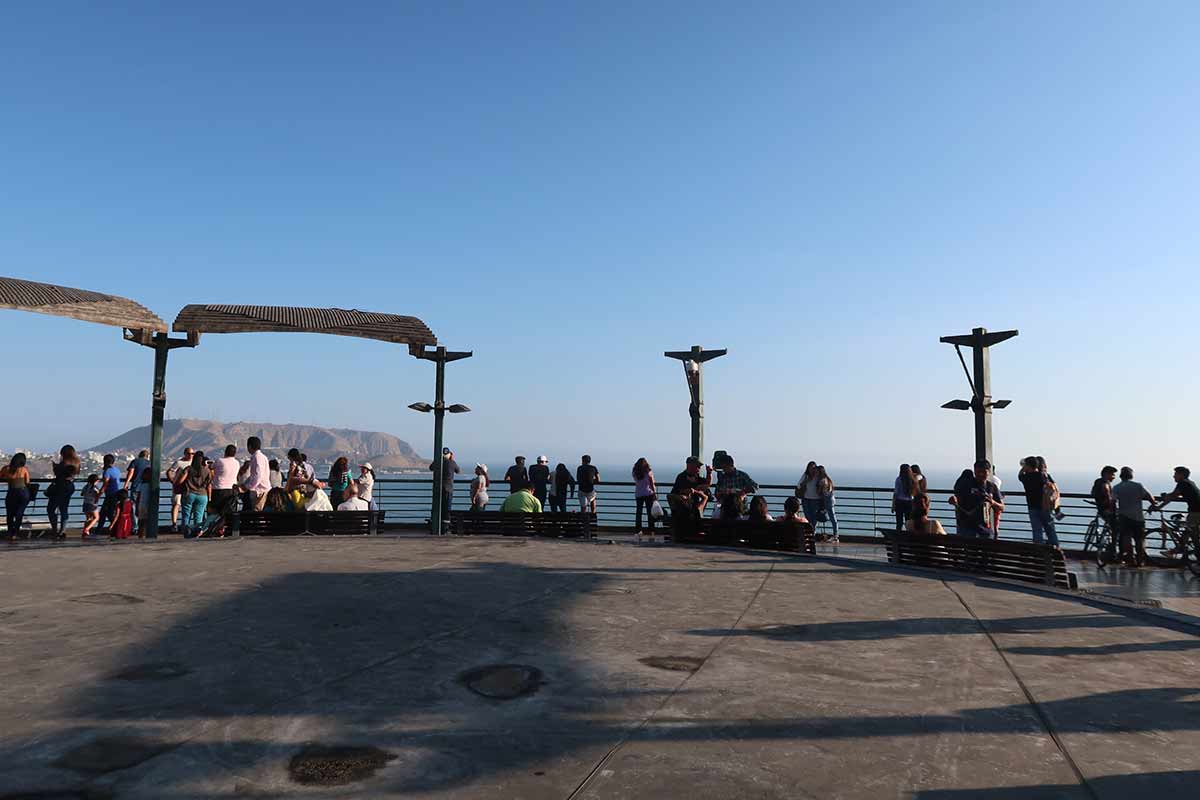 When you start to research some of the safest cities in South America to visit as a tourist, you will find that Lima is not often at the top of the list, however, it is light-years ahead of many others when it comes to tourism.
Is Lima worth visiting?
Lima is not only home to one of the best food scenes in Latin America, it also has a vast variety of attractions and things to see and do.
I've listed some things which make Lima worth visiting below:
1. Surfing along the Costa Verde
2. Explore the San Francisco Catacombs
3. Visit the ruins of Huaca Pucllana
4. Enjoy the bohemian vibes of Barranco
5. Go Paragliding over the Pacific Ocean
Whether its musuems, the beaches or the attractions that make you want to spend time in this city, just know that there is something for everyone.
Now let's look at how many days in Lima are enough for you to be able to get a grasp of of the city so you can try as many experiences as possible.
How Many Days in Lima is enough?
Most travelers tend to push through Lima quickly, and as a result they tend to miss out on many unique and worthwhile activities to do whilst here.
I recommend spending a total of 4-5 days in Lima, where you'll be able to get to know various districts on a much more personal level.
You'll also be able to enjoy the tasty assortment of Peruvian cuisine, as well as visit one or two further afield destinations too as a day trip.
Is one day enough for Lima?
Lima is not only a gateway to Peru, it's also one of the best connected airports in South America. As a result, many travelers end up staying for anywhere from 6-24 hours before moving onto their next destination.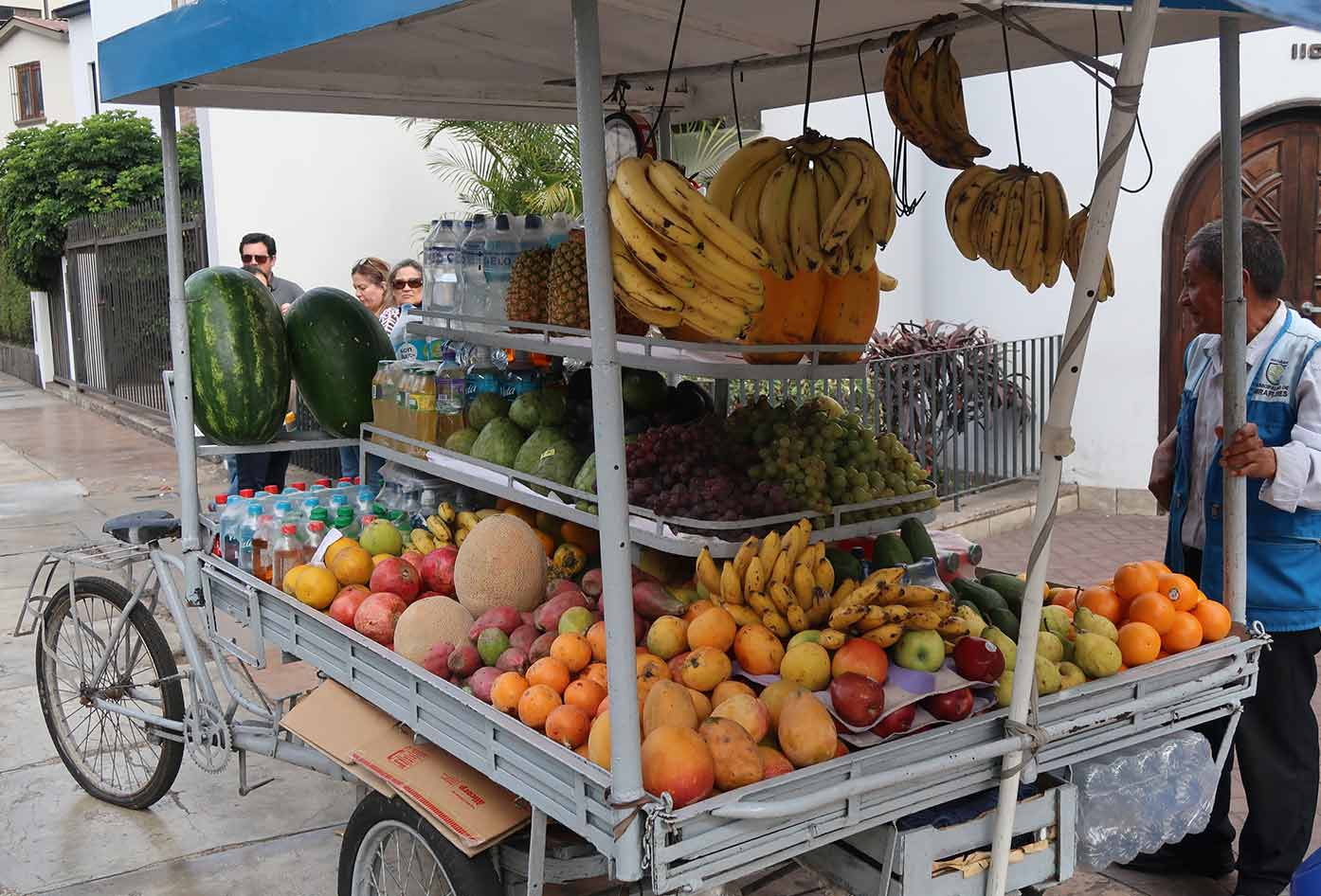 It's definitely possible to enjoy some of Lima's best sights within this time period, as long as you plan well before arriving.
Firstly you'll want to head to the Historic Centre, where you can see many beautiful colonial sites such as the Torre Tagle and the Plaza de Armas.
While here, you can also visit and learn all about the San Francisco Catacombs, which are the second biggest of its kind on planet earth!
From here you'll take a bus south to Barranco, where you can visit the beach as well as enjoy the romantic setting of the Parque Municipal and the Puente de los Suspiros (a meeting point for many couples in love).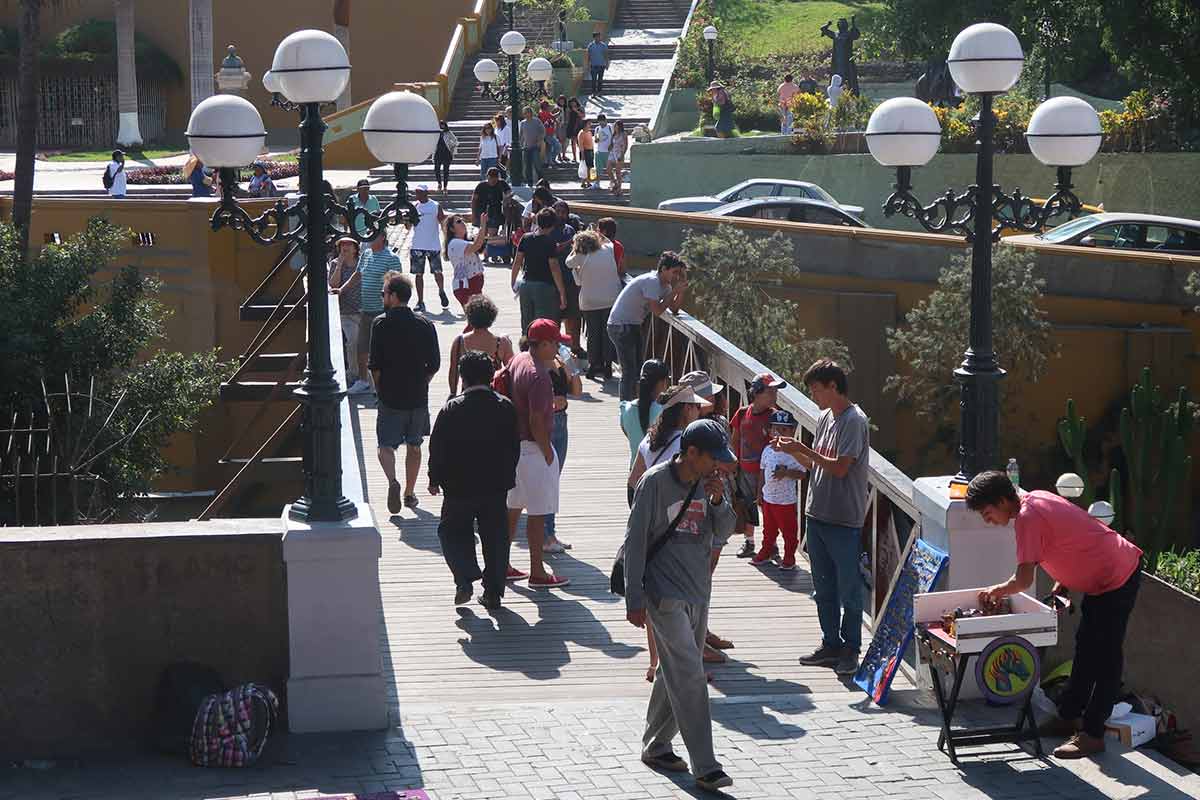 Depending on how long you have left, you can then enjoy a bike ride over to Miraflores along the Costa Verde, which boasts some aesthetically pleasing views of the Pacific Ocean as you ride along the cliffs.
Are 2 Days in Lima enough?
With an extra day here, you'll be able to move at a slightly slower pace and take your time to enjoy these individual districts with more attention.
In the historic centre you can head to an authentic local restaurant to try Ceviche (or other Peruvian classics), and also for a walk through Barrio Chino to understand how the Asian culture has fused with Lima's locals.
On your second day, you can take a bus to Museo Larco (get skip the line tickets to save time), which is located in the neighborhood of Pueblo Libre.
Museo Larco is one of the world's most comprehensive Incan museums, here you'll see many cool artefacts and learn more about Peru's deep past.
From here you can take a taxi or Uber down to Miraflores, where you'll explore the ruins of Huaca Pucllana (which is a great "real life" follow-up to the history museum). You can stay at Selina to get closer to this area.
Depending on how long you have left, you can also head down to nearby Playa Makaha which is famous for its surf conditions. Just be sure to wear a wetsuit, given these waters can get pretty chilly at the best of times!
Is a week in Lima too long?
Those traveling through Peru may find they have extra time on their hands, and I believe that a week is actually a great amount of time to spend here.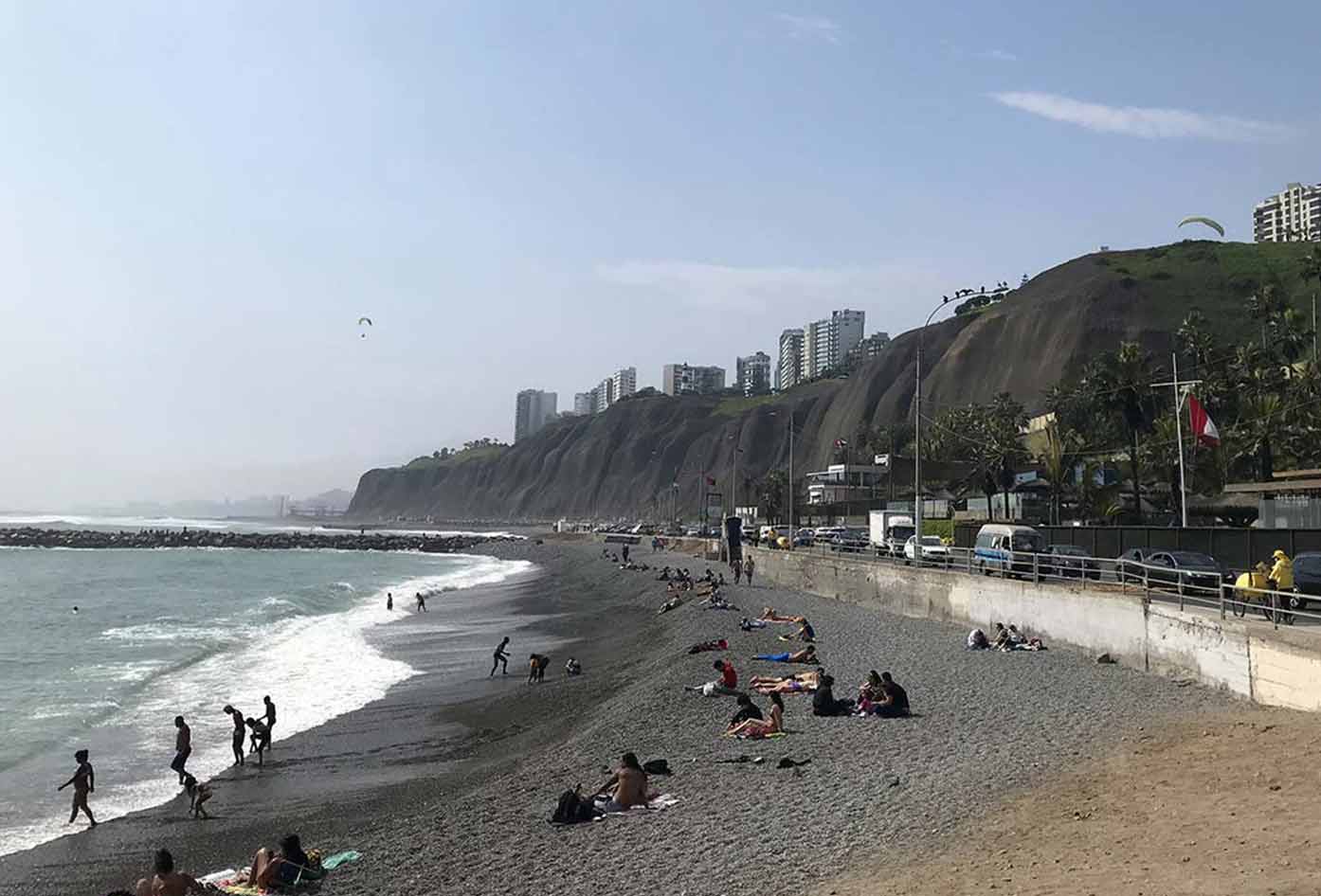 As well as doing the already mentioned itineraries at your own pace, you can also enjoy many other novel experiences in Lima.
One of the most popular by far is heading on a day trip to Huacachina. This tiny oasis town is located in the middle of the Ica Desert, which has towering dunes rising above from all angles and offer a unique excursion.
Here you can enjoy a Sandboarding and Buggy Tour, which offers a day of fun blasting through the sand dunes which is a must for adrenaline junkies.
Another awesome experience well worth doing is going Paragliding in Lima. Soaring above the Pacific Ocean in a flying cart, here you'll get epic views of Miraflores and San Isidro, and also a better appreciation for Lima after too.
Where to stay in Lima?
If you are already Peru or will be visiting Lima from your home country and have still not booked accommodation see some of the best options below:
Budget – Pariwana Hostel is a great option when it comes to keeping things cheap. Located right next to the Kennedy Park, you'll be close to all the action. You'll also be staying in a sociable and fun hostel too.
Boutique – Selina Posada Miraflores is hands down the best option for those after a good mid-range stay. Located in a great neighborhood, you'll be staying in a sleek private room and have full access to all the amenities in the nearby Selina Hostel.
Luxury – Belma Boutique Bed and Breakfast is one of the best hotels in Lima if you're looking for luxury. Here you'll be staying in a deluxe room right on the Costa Verde overlooking the Pacific Ocean.
If you are on a shoestring budget, I suggest you take a look at this list of tried and tested hostels in Lima for a fully rounded review of where to stay.
Best Guided Tours in Lima
As you've have seen from this guide alone, there's tons to see and do in Lima. Now let's take a look at some of the very best tours you can join.
Colonial City Tour with Catacombs Visit
This tour is the perfect way to explore Lima's Historic Centre, where you'll also have admission included into the San Francisco Catacombs. As well as a knowledgeable local guide, you'll also have private transport included too.
Miraflores, Barranco and San Isidro Tour
Here you can enjoy the very best highlights of these popular districts, which includes the Huaca Pucllana Ruins and the artsy murals of Barranco. You'll have all entries as well as hotel pick-up and drop-off included too.
Ultimate Peruvian Food Tour
Lima is known for its incredible diversity of food, and with this tour you can enjoy a tasty breakfast and lunch.
Here you'll try as many as 15 different dishes, as well as various chocolates and Pisco Sours (the national drink of Peru).
Huacachina Full Day Guided Tour
On this popular day tour you'll visit the dunes of Huacachina, where you'll go Sandboarding, enjoy a buddy ride over the dunes as well as admire the town from an awesome vantage point.
As well as all meals and transport, you'll also get to visit the incredible Ballestas Islands too!
Got Travel Insurance for Lima?

Designed by travelers, for travelers, World Nomads covers more than 150 adventure sports and activities so you can explore your boundaries.
How many days in Lima
That's all for this guide on how many days to spend in Lima.
The Peruvian capital is one of the most culturally-varied cities you can visit in this area of South America, and offers a special something for everyone.
From visiting ancient ruins to Sandboarding in the desert and eating top-class food, you'll find it all here.
This guide has looked at how to spend various timeframes in Lima, as well as where to stay and some worthwhile tours to do when here too.
While you're still here, why not check out my guide to travel safety in Peru to ensure you know how to stay safe while exploring this cool country?
📌 Like this article? Pin it…
Did this guide help you decide how many days to spend in Lima, Peru?
💬 Leave a positive comment or lets start a conversation below!
---
"Dear friend! Some links in this post contain affiliate links. Meaning, if you click through and make a purchase, book a hostel or sign up for a tour, I may earn a small commission at no additional cost to you. Your support means a lot and helps me to keep traveling and maintaining the quality of this site for you."