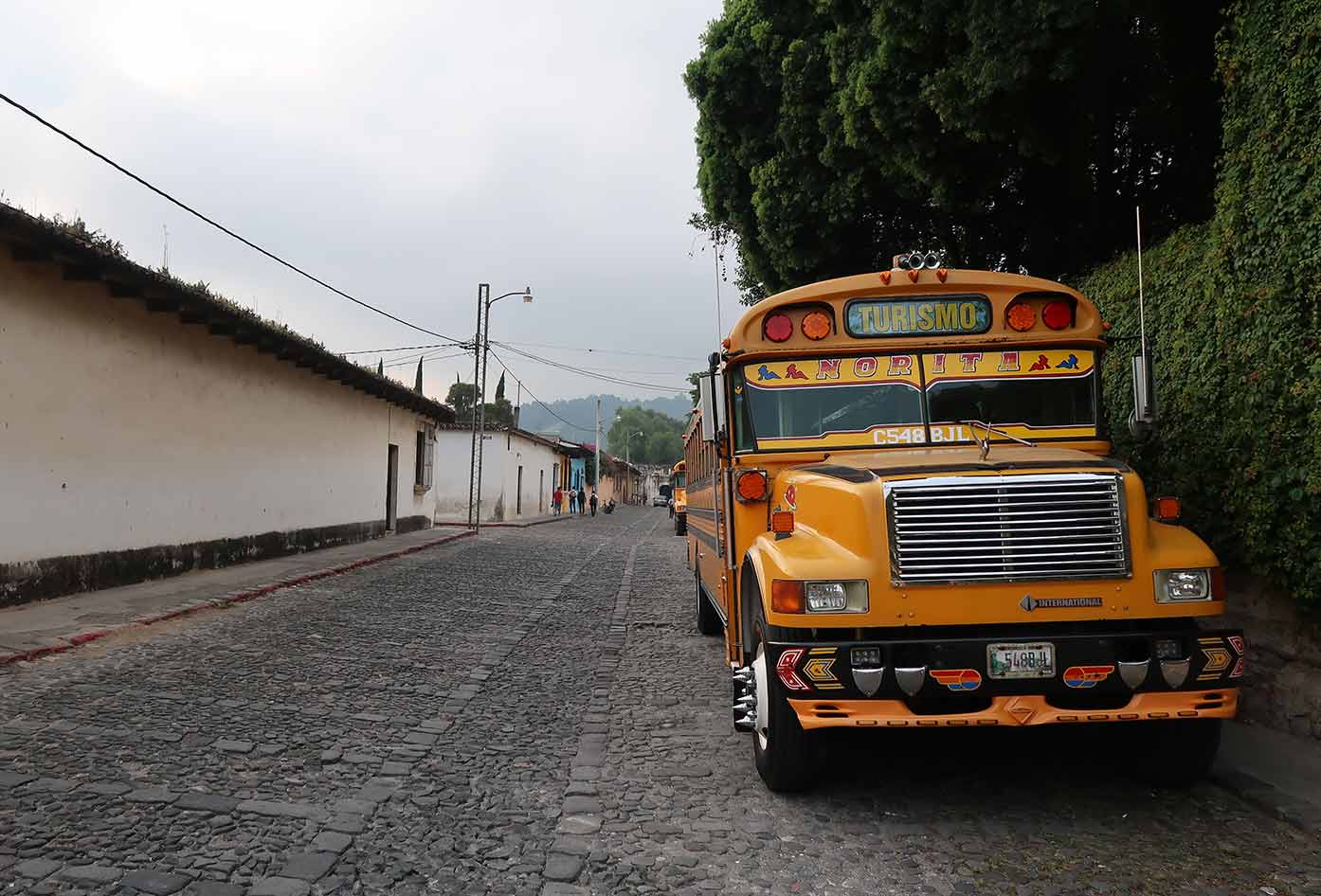 Are you looking for ways to travel from Guatemala City to Antigua?
If so you're in the right place, in this article we are going to look at the best ways to get to Antigua both safely and efficiently.
Before I started to plan my first trip to Guatemala I had no idea how I was going to get to Antigua.
After finding a Spanish teacher at the local Spanish school, I got the answers I needed to have a smooth journey and so can you.
Below I'll share with you everything that I learned for this trip.
Guatemala City to Antigua
It's worth noting that I have traveled to Guatemala on more than one occasion and have had various experiences arriving and exiting the countries borders.
I had a bit of a mishap on my first trip to Guatemala but I'll save that for later. Firstly let's get to the most important information for you to be able to arrive in Antigua safely.
Guatemala City to Antigua Map
To get a visual insight into how this journey looks please see the map below. As you can see at just under 40 Kilometers it is not too far.
If traveling from the airport, you can expect the journey to take around 40-50 minutes depending on the traffic.
The first time I arrived it was Semana Santa so the roads getting in Antigua were gridlocked.
Guatemala City Airport to Antigua Tickets
On arrival, there is not that much information on how to do this journey but there are actually a few ways you can get to Antigua depending on your budget and personal preference.
Below are all the methods I found:
Airport Taxi
Airport shuttle
Hire a car
Chicken Bus
The CA Express
If you're arriving at Guatelama Airport for the first time, getting to Antigua from Guatelama city will be your goal.
When I say Guatemala City I am referring to La Aurora International Airport which is where you'll land.
If you want to book you ticket immediately with no questions asked, CA Express offers an online service.
Not only is Antigua a great hub for travelers to Guatemala, but it's also home to some of the best hostels and hostel in Guatemala.
See Antigua as your launchpad to see the rest of Guatemala.
If you arrive at the airport late in the evening or the next morning, you may want to hang around at the airport or get a private airport taxi.
Or if you're traveling in a couple or a group it may be worth looking at renting a car for the sake of a few dollars more when you're weighing up your options.
If staying in one of the more luxury hotels in Guatemala, you'll find that they offer a free airport shuttle and in many cases, it can be worth staying for one night to take advantage of the free service.
No matter which method you choose you'll want to make sure you have got some local currency with you so you can pay your way.
If you take an Uber, you'll need to have an internet connection which is hard to find at the airport.
Guatemala City to Antigua: Travel Advice
So when traveling from Guatelama City, how do you decide which method to take?
My advice would be to have decided before you arrive. I recommend you take a look at the factors below to give yourself a helping hand.
Get a private hire or prebooked shuttle if:
If it's your first time in Guatemlala
You don't speak a word of Spanish
You are travelling in alone
If you want to get to your hotel in the shortest time
You have afair amoutn of luggahe
You're arrving late at night
You are travelling in a group
The idea of choosing the private hire or prebooked shuttle is for those who arrive and don't want to have to think twice about getting to Antigua, and, are not on a tight budget.
For example, see this private shuttle service offers transport for $18USD enabling you to get from Guatemlala City airport to Antigua.
Again, if you are an experienced backpacker who thrives off solo travel and the unknown, simply walking outside the airport to catch one of the local chicken buses should not be a problem for you.
Take the Chicken Bus or Collectivo if:
You have experiemnce traveling this way in Latin America
Your good at speaking Spanish
Traveling on a tight budget
Have some time to kill
You have minimal luggage
You are arriving during daylight hours
As you can see, the Chicken Bus or Collectivo idea is great if you don't have any time commitments, and, you are traveling light, plus, arriving during the day.
Other than that, you will likely feel it makes more sense to go with the private hire method.
The first time I traveled to Antigua from Guatemala City I had arranged to be picked up by my Spanish school.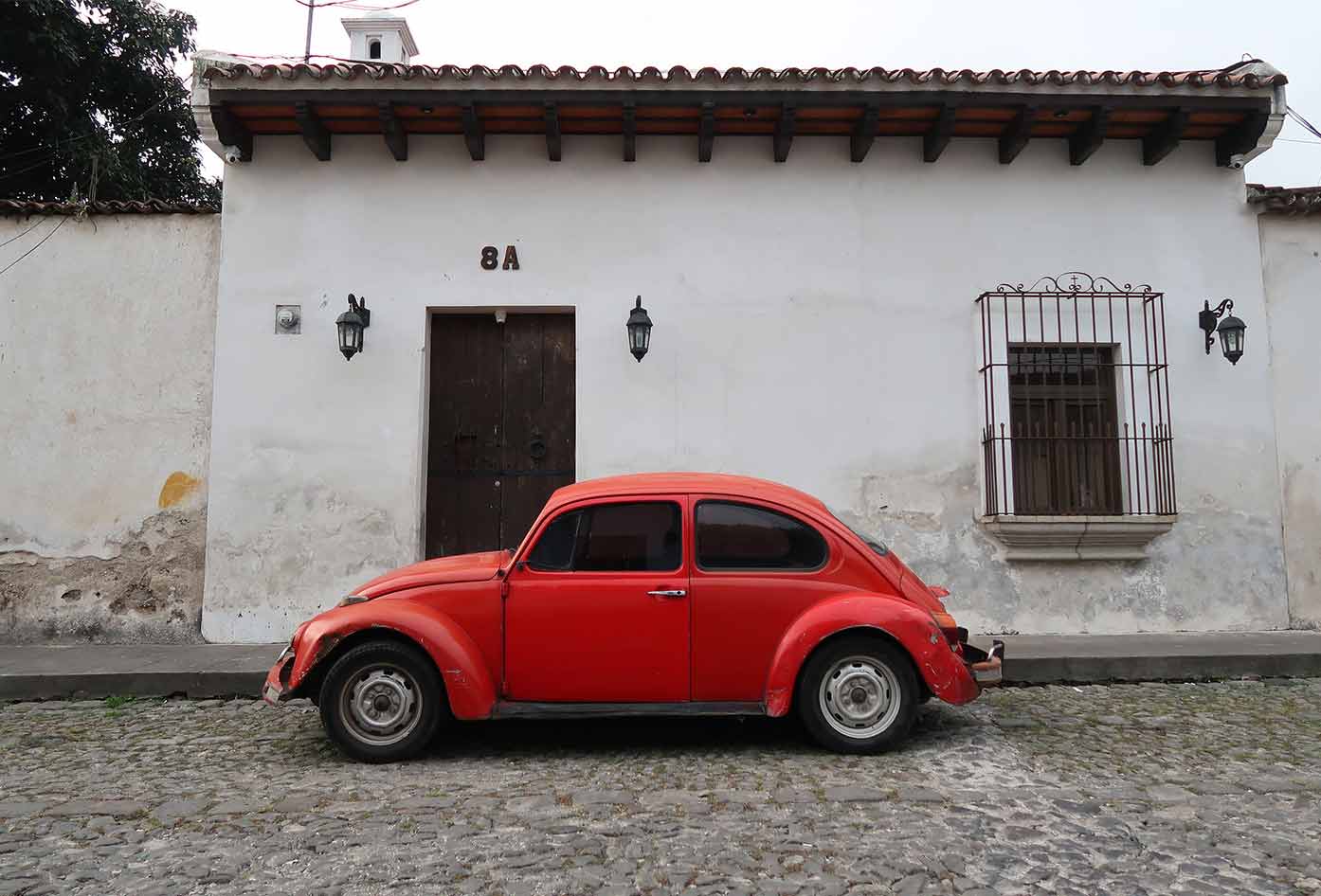 Like the hotel method, I mentioned above this is another way to take advantage of your contacts.
For a price, between $15USD-$20USD, most Spanish schools offer shuttle services that will collect you from the Guatemala City airport.
Guatemala: Travel Tips
Below I have listed some travel tips that you should find useful for arriving in Antigua. As you may already know, Antigua is a major hub for all travelers who are backpacking Guatemala and further afield.
It makes sense to get a head start on the travel essentials such as accommodation and even have an idea of what activities you can get involved with before you arrive.
Where to Stay in Antigua
Have you sorted your accommodation? Here's a great place to stay in Antigua if planning on staying a few nights.
3 reasons to stay here
Airport Shuttle
Fast Internet
Bicycle rental
With its shared lounge and extravagant bar, Selina Antigua is one of the most beautiful and elegantly decorated places to stay in Antigua. Located a couple of minutes from the Santa Catalina Arch.
Here is another other great recommendations for Antigua if you were looking for a more luxury style hotel or you feel like a rest from staying in hostels.
Got Travel Insurance for Antigua?

Designed by travelers, for travelers, World Nomads covers more than 150 adventure sports and activities so you can explore your boundaries.
---
Guatemala City to Antigua
As you arrive in Antigua you quickly get acquainted with beauty.
I have written a specific guide on things to do in Antigua which will give you some excellent ideas on what to do whilst here.
Lastly, I hope this guide has given you a better idea of how to get to Antigua and taken any doubt away from this simple journey.
📌 Like this article? Pin it…
Did this help your search of getting from Guatamala City to Antigua?
💬 Leave a nice comment or let's start a conversation below!
---
"Dear friend! Some links in this post contain affiliate links. Meaning, if you click through and make a purchase, book a hostel or sign up for a tour, I may earn a small commission at no additional cost to you. Your support means a lot and helps me to keep traveling and maintaining the quality of this site for you."