Are you looking for ideas on getting from Havana to Trinidad, Cuba?
Getting to Trinidad is the easy part, and the main challenge you should have is working out what things to do while you're there.
With so much to think about and consider in this stunning Caribbean resort, you might not be 100% sure what makes the most sense.
Below are some ideas on how to get there and some best things to do when you arrive in this unique part of the world.
Havana to Trinidad Cuba
Traveling to Trinidad from Havana is relatively easy. Consider that you'll also maybe want to stop in a place like Vinales along the way first.
In fact, I was about to get the bus from Cienfuegos to Trinidad and realized that I could save time and money by getting a collectivo.
Havana to Trinidad Map
Collectivos in Cuba
A collectivo is the name for a shared car/taxi that allows you to travel for a fraction of the price you would have paid if you'd traveled alone.
If you're traveling from Havana to Trinidad, I'd recommend getting a taxi collectivo.
You can find these outside most bus stations. As they're looking for more people to take to various destinations, they kind of work in tandem with each other to get customers.
Try to carry some water with you for the journey to avoid dehydration.
Aim to be a responsible traveler and avoid consuming plastic bottles. See these filtered water bottles you can take everywhere with you.
Got Travel Insurance for Trinidad?

Designed by travelers, for travelers, World Nomads covers more than 150 adventure sports and activities so you can explore your boundaries.
Where to stay in Trinidad Cuba
When looking for places to stay in Trinidad, find yourself a casa. Don't worry too much about booking in advance. I walked around the street and managed to find an inviting family to stay with.
If you are struggling with Spanish or prefer to book in advance, you can always look at this list of casas in Trindad for the very best prices.
If you've got a little more cash to splash on your travels to Trinidad, check out the Iberostar Grand Hotel if you fancy some luxury.
Things to do in Trinidad Cuba
With so many objects that might take your fancy and some delicious Cuban cuisine to try, I want to make sure you have a good time here.
So, what are the best things to do in Trinidad, Cuba?
Plaza Mayor
Your first stop should be a trip to the Plaza Mayor. The stunning city of Trinidad stands out, but the Plaza Mayor stands out even more.
In this historical central point of the town, you will instantly feel at peace standing around here. It's a UNESCO World Heritage Site, though, so be sure to take special care here!
Ancon Beach
Out of all the best things to do in Trinidad, Cuba, a trip to the amazing Ancon Beach makes a lot of sense.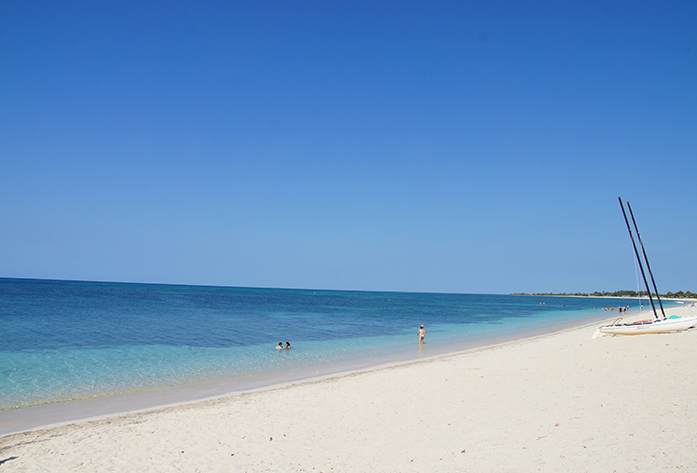 Get your best pair of trunks and the most comy pair of flip flops you can find. This cute beach spot will make it easy for you to relax.
You can just find your own space, sit back and enjoy the peaceful waters, despite the high number of people who often come here.
However, go to the loo before arriving: to say the toilets are in poor condition would be polite.
---
---
The Bell Tower
Taking a trip to the top of the famous Bell Tower of Trinidad, Cuba is high up on the list of things to do as well.
This gives you a tremendous view of Trinidad, helping you to get some epic shots of the city while you're learning more about the city and its rich history.
Be sure to keep that in mind: this is a truly historic place!
Topes de Collantes
This awesome day trip is one of the best things to do in Trinidad, Cuba by far.
You will spend the day exploring numerous trails while making a trip back to Trinidad when needed. With both hiking and birding options, you will get to see some amazing sights.
As ever, though, pay attention to your tour guide: they will help to keep you safe as you travel.
Pena Street Market
A trip to the Pena Street Market is a must. You can find all manner of unique wares that you will not find outside of the city.
Be sure to keep your pockets zipped up and protected as the more nefarious people in the area will be more than happy to see how prepared you are if you flash money.
Architecture Museum
Part of what makes a trip here so special is being able to see the amazing architecture, so making a trip to the Architecture Museum is among the best things to do in Trinidad, Cuba.
You will learn all about how this amazing city got the look that it holds with such distinction, even today.
As ever, listen and pay attention to the tour guide: they do not take kindly to having to repeat themselves.
Getting From Havana to Trinidad Cuba
So, now you know exactly how to get from Havana to Trinidad (and even have some ideas on what to do) how do you feel?
There's so much to be excited by here and tons to take in. This amazing city is well worth your time and your effort.
The Cubans deliver a kind of gratifying and satisfying experience that is important to your long-term enjoyment and trip around the island.
Make every trip to Cuba as enjoyable as possible, by taking a look at these ideas for things to do in Trinidad: you won't regret it.
See my Cuba trip planning guide for more travel tips and advice.
📌 Like this article? Pin it…
Already travelled from Havana to Trinidad – Did I miss something?
💬 Leave a nice comment or let's start a conversation below!
---
"Dear friend! Some links in this post contain affiliate links. Meaning, if you click through and make a purchase, book a hostel or sign up for a tour, I may earn a small commission at no additional cost to you. Your support means a lot and helps me to keep traveling and maintaining the quality of this site for you."