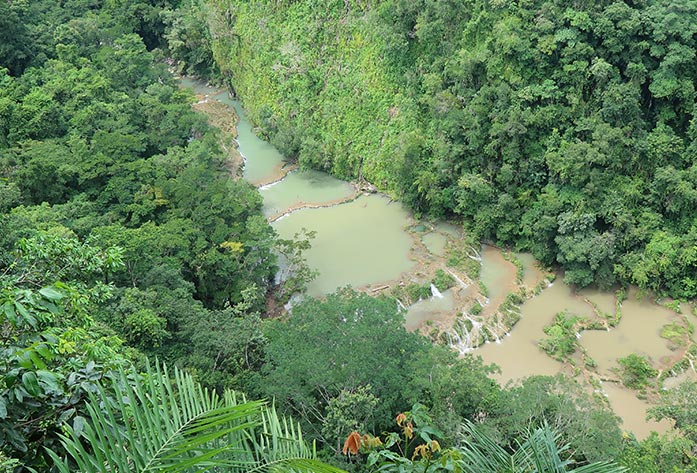 Do you need help getting from Antigua to Semuc Champey?
Semuc Champey is a must if you're in Guatemala for any length of time.
Before starting your adventure, it's likely that you'll be looking for the best way to get from Antigua to the beautiful Semuc Champey.
From Antigua to Semuc Champey
Before we dive into it, let's take a minute to appreciate how much of a beautiful place Semuc Champey is.
It's much more than just a nice view, and once you enter the park, you'll see what I mean. It is well worth the trip from Antigua.
My first advice is that you take the early morning shuttle from Antigua!
If you have a lot of travel gear on you, try to keep everything concealed as it's likely your backpack will be hoarded on the top of the shuttle.
Getting to Semuc Champey from Antigua can be complicated, and I always aim to arrive in new places before dark.
Here are some crucial things you need to know:
Transport from Antigua is scheduled to leave at 8AM
It will more than likely take a lot longer than 6 hours
Expect the Antigua to Semuc Champey shuttle to leave later scheduled
You'll likley make a calculated stop at an expensive hotel in Cobán
I suggest you exchange any money you'll need before you leave Antigua as you're planning how to get to Semuc Champey from Antigua.
Getting to Semuc Champey
I met people who were heading to Flores. Semuc Champey is a beautiful destination in Guatemala, and you can enjoy it in the space of one day.
However, you'll need two days, from Antigua including the travel time it takes to get there. Traffic can be horrendous, block out a full day for this trip.
Getting to Antigua from the airport is easy as you'll probably already know.
But if you're new to traveling in Central America; it's worth noting that when it comes to traveling around/across countries by land, certain companies have a monopoly on routes.
Getting to Semuc Champey Tips
You'll find many travel agents offering excursions, and I eventually became wise to the fact that no matter where you book the ticket, you'll end up on the same shuttle bus.
This is not a negative thing; it's just good to know when you're shopping for tickets.
Below are some of my recommendations for getting from Antigua to Semuc Champey:
Remember to carry nutritional snacks with you
Buy 1-way tickets (stay flexible)
Get the earliest bus (8:00AM)
Avoid overnight buses
Don't pay more than 160Q
If your idea is to only visit the attraction, that's fine as you'll quickly discover (other than drool over the topography) that there's not much to do around the area. This means you'll more than likely stay in Lanquin.
Lanquin is the nearest pueblo (village), which is located 12km from Semuc Champey.
Carry some decent travel pants so you can go for a walk while you pass some time in area.
Although it is possible to do it all by yourself, the best way to get to Semuc Champey from Lanquin is by local 4×4 transportation that is run by locals.
You can jump on with these guys for 25Q each way, and it will be a bumpy 30-40 minute ride. If you're lucky; you'll get a seat inside the cab.
If you're looking for closer hostels, Semuc Champey has some good ones right outside the park or as close by as you'll get.
You can take all your belongings with you if you wish to visit the attraction for more than one day.
💡 Smart Travel Tip
Have your camera at hand there is some beautiful scenery in between Lanquin and Semuc Champey.
Accomodation in Lanquin
I made the most of my stay at The Retiro on trips like these I tend to take a break from using Airbnb and look for something unique.
If you use hostels, below are three reasons why using hostels in Guatemala is a great idea.
Hostels are the best places for connecting with other travelers:
Look for local activities that are unique to tourists
To practice traveling on a budget
Connect with local workers
You'll also find that the journey is similar when traveling back from Semuc Champey to Antigua.
I booked my ticket when I arrived at The Retiro with confidence and then left at 9:00 am from the exact same spot I was dropped off.
About Semuc Champey
Semuc Champey National Park is just one of the beautiful places you can visit in Guatemala.
Over recent years, it has become more and more popular with travelers.
It's almost inaccessible without help of the locals. Be sure to thank the guys offering the 4×4 taxi service daily. There's some amazing hostels at Semuc Champey too.
Things to do at Semuc Champey
Many travelers to Semuc Champey don't realize that there is so much to do besides bathing in the turquoise pools and popular swimming attractions.
If you really want to enjoy this landmark to the fullest; it's recommended that you stay in a place like Greengo's, which is an isolated paradise spot located deep in the jungle.
That way, you can stay in the park up until the late afternoon without worrying about getting back to Lanquin. Now, let's look at what to in Semuc Champey.
Bathe or Swim in the Pools
By far one of the most popular things to do is hiking up to the viewing platform. It is about 30 minutes from the entrance. You can take various routes; however, if you follow the signs to El Mirador, you'll soon get there.
I recommend carrying some hiking shoes, though, as it's super slippery, and you have to climb. There are supporting steps and walkways, but make sure you hold on tight.
Head up to El Mirador
After getting some shots up at El Mirador, you can begin descending to the most beautiful part of the park, the natural swimming pools. Here's where you'll likely spend the majority of your time relaxing and taking in the views.
As you descend, you'll see the waterfalls, which form the super-wide river toward the bottom that calms down to form the pools.
River Tubing and Kan'Ba Caves
The Kan'Ba Caves are located across the river from the entrance to the park. If you decide to do the tour, you'll get to do the river-tubing as well. Some people like to jump straight into the river via a trusty rope swing.
Once in the water, you'll be given a candle before you're guided through the Kan'Ba caves. You have to literally wade, swim, and climb your way up the river, so don't carry your camera unless you have waterproof protection.
You'll then make your way down the Cahabón river floating in the inner tubes. It's all good fun and provides you with a unique experience.
Hike Around the Park
If you love walking and prefer not to get wet or bathe in the natural pools; you can spend the day hiking.
The park is full of wildlife, and you'll spot huge butterflies and even iguanas as you hike through the jungle.
Beware as it's very humid, so ensure you have mosquito repellent and a decent sunhat to protect you from getting heatstroke.
Got Travel Insurance for Guatemala?

Designed by travelers, for travelers, World Nomads covers more than 150 adventure sports and activities so you can explore your boundaries.
From Antigua to Semuc Champey
In getting from Antigua to Semuc Champey; you'll inevitably stay in Lanquin because traveling from Antigua will take you a full day.
I recommend staying at the hostel El Retiro for a unique experience that feels far from most traditional hostels.
I spent two nights in a Cottage with Garden View. It came fitted with a private bathroom, and I can highly recommend it.
This guide should make your experience getting to Semuc Champey much smoother and less daunting.
See this guide that looks covers backpacking in Guatemala for more places to visit.
📌 Like this article? Pin it…
Did this guide help you get to Semuc Champey from Antigua?
💬 Leave a positive comment or lets start a conversation below!
---
"Dear friend! Some links in this post contain affiliate links. Meaning, if you click through and make a purchase, book a hostel or sign up for a tour, I may earn a small commission at no additional cost to you. Your support means a lot and helps me to keep traveling and maintaining the quality of this site for you."