Welcome to this guide for anyone traveling to Tikal from Flores.
One of the most important sites of the Mayans, Tikal lies in the jungle in the Petén region of northern Guatemala.
With many pyramids and structures still intact today, it is one of the best ruins to explore in all of Latin America!
This guide will cover all, including why you should visit, how to get there as well recommendations to make the most out of your trip.
Flores to Tikal Guide
Without a doubt, the ruins in Tikal are some of the most impressive and infamous of all in Central America.
If you've not already, it's time to familiarise yourself with the buses in Guatemala.
As anybody who has previous experience with backpacking Guatemala will tell you, Tikal is the ultimate location to visit in the country.
The park itself is very expansive, and has lots of different pyramids and ruins to explore!
Is Tikal Worth Visiting?
The most impressive is Tikal Temple IV, which still stands, is often regarded as one of the tallest of the Mayan World.
Whilst it is touristy, the area still retains a primal and untouched feel once you head into the park.
The fact that lots of the jungle still surround the area firstly looks impressive, but also provides some much-needed shade during the hotter months.
As you'll notice with most Tikal tours from Flores, the entry price to the ruins is around 150Q, which for all its grandeur really is a steal!
How To Get to Tikal from Flores
The nearby town of Flores is a key jumping-off point for a trip to Tikal.
In Flores, there are shuttles that have various times for getting to and from the ruins. Are you already planning on spending a couple of days here? See this guide on things to do in Flores for detailed information.
Nearby Santa Elena has more options, with public minibusses running there for a lot cheaper than the tourist buses.
This option will cost you around 30Q. Both of these options will take between 2-3 hours to reach the entrance of the Tikal Ruins.
💡Smart Travel Tip
If you want to have the most reward experience I hight recommend you take the earliest possible bus to avoid the crowds.
Get ready for the influx of hungry travel agents offering excursions to the Tikal National Park this is UNESCO world heritage site after all.
My advice… Take your time! Be smart with your money and ensure that the package you choose matches up with what you'd expect.
It's wise to know what's included when budgeting for tickets.
Below are some of my recommendations for getting to Tikal:
Remember to carry nutritional snacks with you
Get the earliest bus to avoid the crowds
Consider doing the overnight hike
Book the Tikal Jungle Lodge in advance to avoid dissapointment
Familiarize yourself with buses in Guatemala
Check prices with your hostel of in doubt
When comparing the best tour options you'll find that they focus on either getting to Tikal for sunrise or sunset.
Whatever you do, don't turn up here without bug spray. I carry a Deet-free travel-sized bug spray that I can easily fit in my pocket.
Getting to Tikal: Travel Tips
First of all, try to avoid using the agencies and tourist companies in Flores if possible.
They charged ridiculous rates, and care less about your experience and more about making a profit.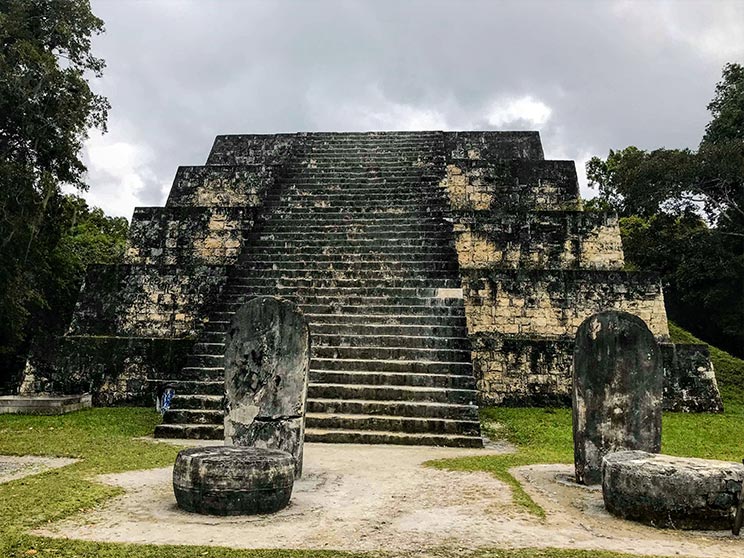 You'll be much better of using the shuttle, or even the public shuttle from Santa Elena.
Prefer the sunrise tour? Book It Here online.
Even with the comfort of having everything sorted for you, it is much better value to do it independently.
The Flores to Tikal shuttle ride will be an experience even before you arrive at the site!
Another great option is to camp overnight in Tikal Park. You can bring your own hammocks or rent a hammock or tent.
The advantage is that after the tourists leave at 6 pm (official closing time), you can still explore in the evening.
This is when the jungle comes to life, and you may spot wild pigs, monkeys, and exotic birds during your adventure!
Got Travel Insurance for Tikal?

Designed by travelers, for travelers, World Nomads covers more than 150 adventure sports and activities so you can explore your boundaries.
And that's all for this guide on traveling to Tikal! One of the last, true strongholds of the Mayan empire, this site is fascinating to visit.
If you've just arrived and are uninspired by the things to do in Guatemala city, hopefully having read this guide, you're inspired to trek to Flores and explore the ancient ruins and pyramids.
Be sure to look around for the best options to get there, as tourist companies can be very expensive!
Also see if you can camp there for the ultimate experience, as you can see the park in a different state once the crowds have left.
Will you travel back from Flores to Antigua? See this guide on things to do in Antigua to see any activities you may have missed.
📌 Like this article? Pin it…
Did this guide help you to plan your trip to Tikal from Flores?
💬 Leave a positive comment or lets start a conversation below!
---
"Dear friend! Some links in this post contain affiliate links. Meaning, if you click through and make a purchase, book a hostel or sign up for a tour, I may earn a small commission at no additional cost to you. Your support means a lot and helps me to keep traveling and maintaining the quality of this site for you."