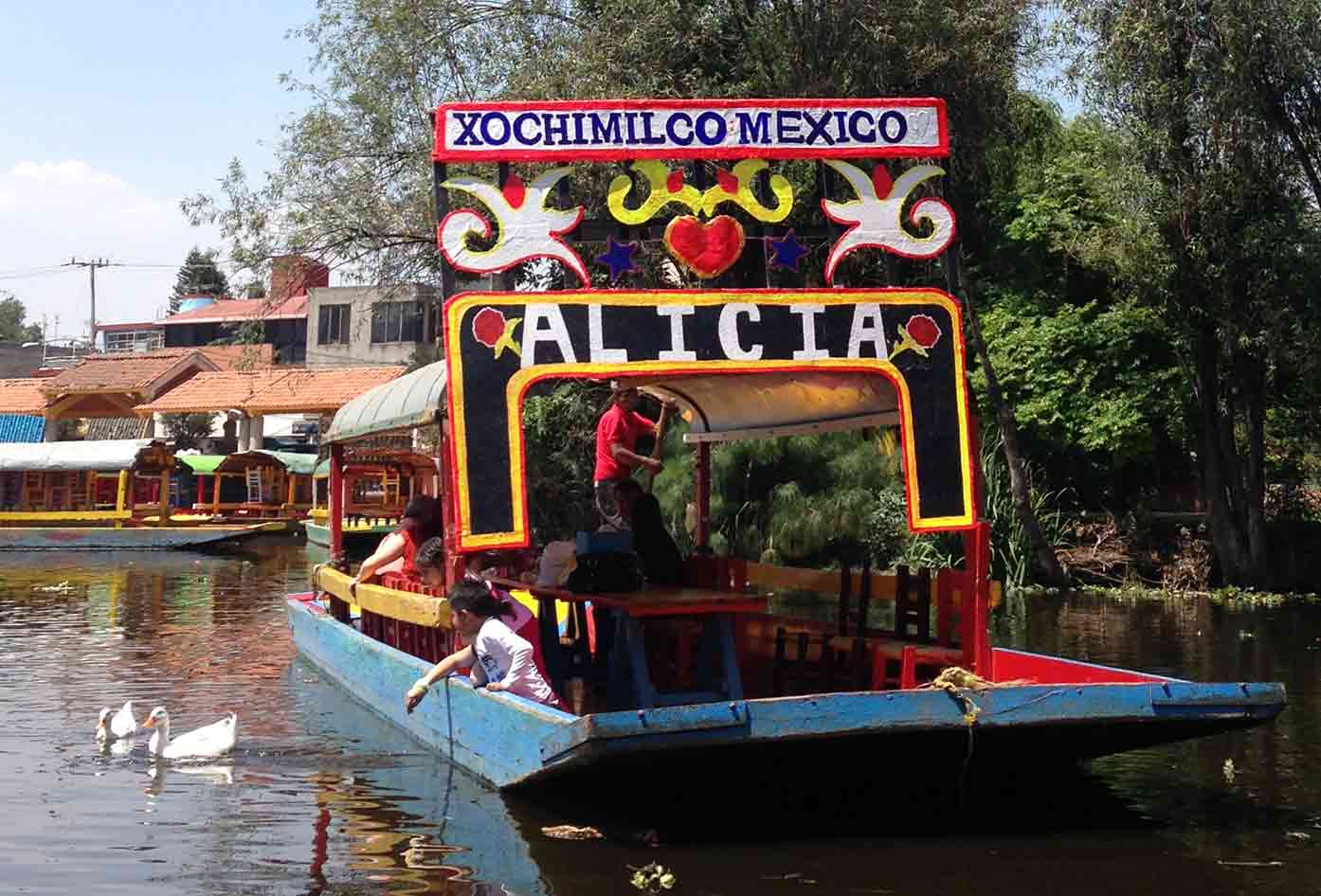 Read about my visit to the floating gardens of Xochimilco in Mexico.
In this travel blog, I will share my experience from this popular day trip from Mexico city which you can easily take part in.
Any curious traveler looking for things to do in Mexico City that is a little further off the beaten track should consider a trip to Xochimilco.
On closer inspection, you'll find that there is much more to do here than meets the eye so be sure to see my other travel tips below.
The Floating Gardens of Xochimilco
First of all, though, let's look at what the floating gardens of Xochimilco are, how to pronounce the word Xochimilco and some reasons to visit.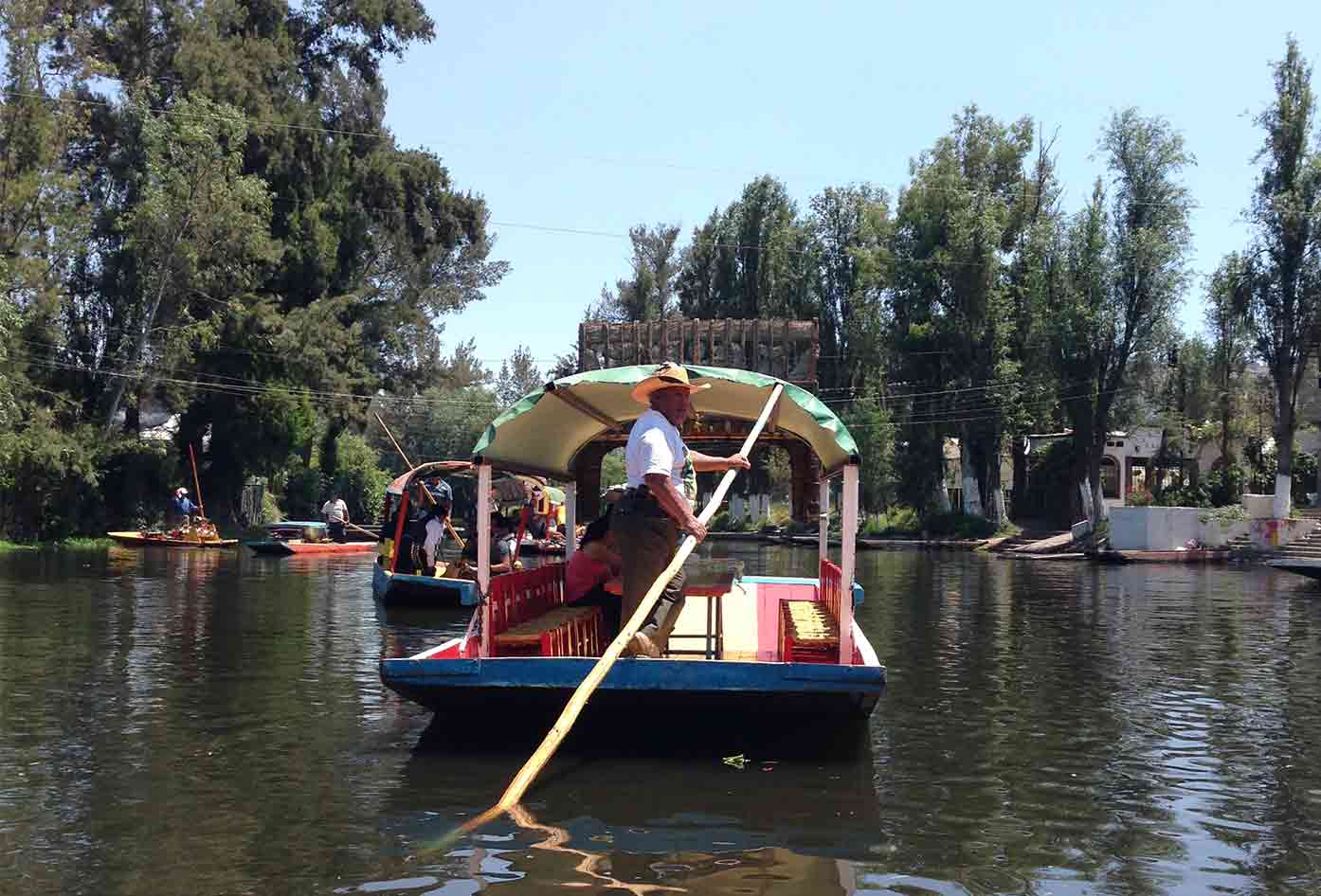 This guide should give you all the information you need to be able to arrive from Mexico City and make it back all in the same day.
How to pronunce Xochimilco?
So, what is Xochimilco, and more importantly, how do you even pronounce it? Let's be honest, it is a tricky word to pronounce.
The best way is to break it down like this: sow·chee·meel·kow
Once you have that down, then you are literally good to go!
What are the Xochimilco floating gardens?
Usually, travelers who have not learned how to pronounce the word properly will just say we're going to the lake.
However, Xochimilco is more than just a lake it's a network of Canals also known as The Floating Gardens of Xochimilco.
These 'canals' are called chinampas which is the name for floating gardens that are built upon a once habited pre-Columbian town.
The boat conductor explained how agriculturalists (likely the Aztecs) began to construct reed rafts filled with fruits, vegetables, and different flowers using the mud gathered from the bottom of the canal.
What is a Trajinera?
The florescent gondolas, known as Trajineras are designed specially to cruise passengers up and down the waterways.
A trajinera is the Mexican name given to the colorful boats that cruise the canals of Xochimilco.
As you'll see from the image above (which I took during my time here) they are flat-bottomed boats very similar to the gondolas you see in Venice and the idea is to hire one on arrival to Xochimilco.
💡Smart Travel Tip
You pay the price to hire the complete Trajinera, not per person. This can make your experience very cost-effective if traveling as a group.
Where is Xochimilco?
If you were wondering how far Xochimilco is from Mexico City it is around 25km in distance and it takes around 1.5 hours to get there using the public transport option suggested below.
Xochimilco is not only a popular attraction with those backpacking Mexico but a big hit with locals looking for a day out, too.
What Xochimilco offers is a fantastic day out (proving it's a sunny day) and there is much more going on that actually meets the eye.
How to get to Xochimilco from Mexico City
So, how to Get to Xochimilco from Mexico City is quite simple.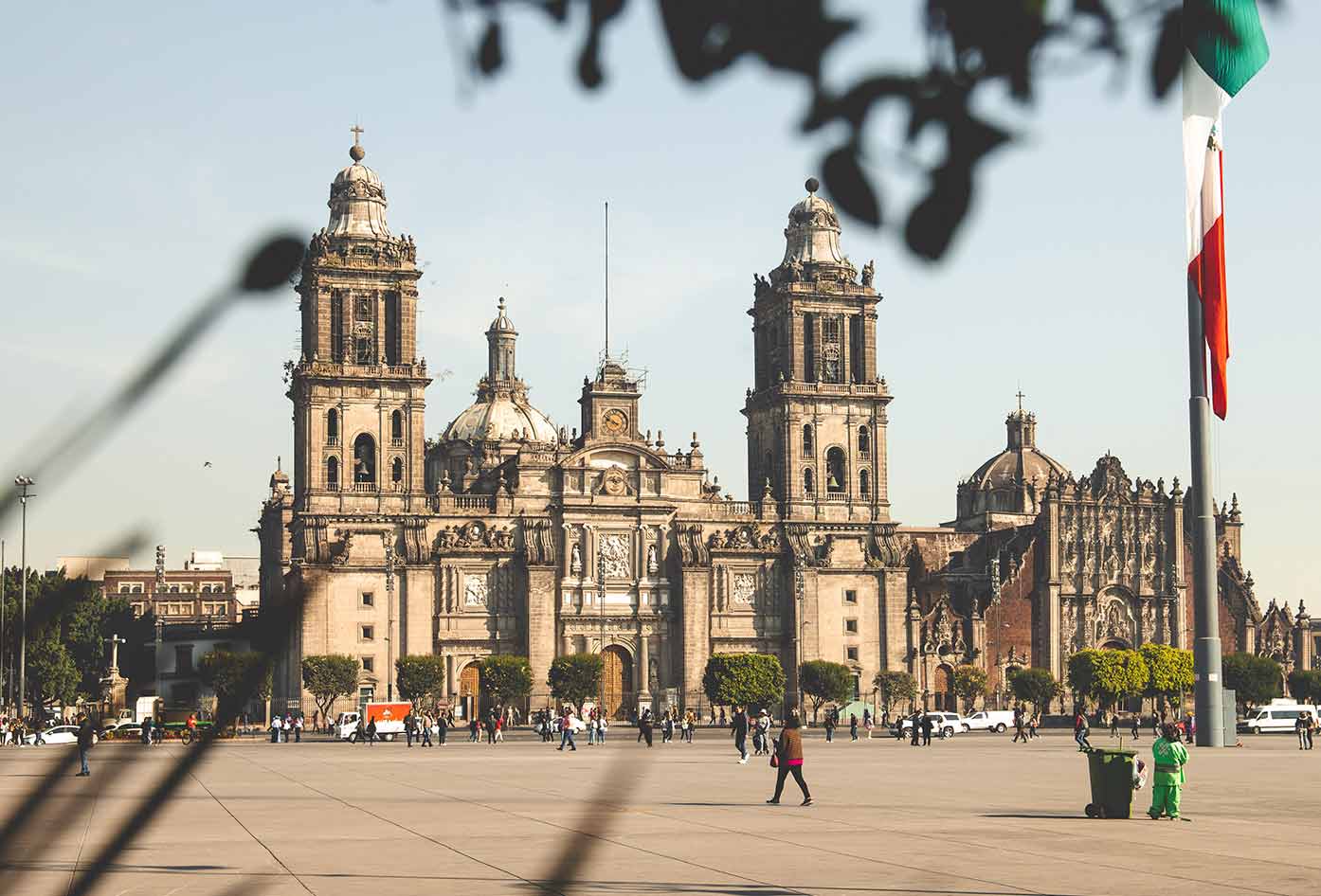 Unless you decide to go as part of a tour or day trip. The most cost-effective way to get Xochimilco from Mexico City is by Metro.
If you've not used the Metro system in Mexico City, now is your chance.
You can buy a ticket for as little as $5 MXN per journey and you can pay with coins at one of the ticket booths.
Your final destination on the metro will be the Tasqueña station at the end of Blue Line 2.
Then from Tasqueña you cath a train call the Tren Ligero which begins at Tasqueña and ends in Xochimilco.
Travel with confidence! This train is part of the metro system, so don't worry about anything, you'll feel like you're connected to the same transport system.
To get on this overground train however you'll need a rechargeable card which you can pick up from the station in Tasqueña.
After leaving the station and on arrival at the Xochimilco entrance you'll likely see the officials who want to sell you tours and experience.
Honestly, you can literally skip those guys and just head straight towards the ports where trajineras embark from.
Riding The Xochimilco Boats
You'll not know what to expect on the trajineras for the first time.
One thing to bear in mind is that there is no set rate and you may get told different prices depending on who you are and who you're with.
This is where your negotiation skills will need to kick in if you want to get the initially said price down a little.
The minimum time I recommend is 2 hours to make it worth the trip from Mexico City and to be able to relax and enjoy it properly.
You'll find the price that the conductor gives you is by the hour.
There is a maximum rate that is set by the local council which is $500 Mexican pesos per hour.
Note: the price is per boat and not per person.
With that in mind, it is always good to share or visit this attraction with a small group or at least two people to make it cost-efficient.
💡Smart Travel Tip
Be prepared for the astronomical pricing at the beginning. Go in with a lower offer and avoid going with the first conductor that you speak to.
If you feeling discouraged with the price just move onto another conductor. After all, it is your hard-earned cash you're parting with.
Although the operators speak some English getting your Spanish conversation up to speed will be invaluable in these types of situations.
All of the above will happen pretty quickly and the next thing you know you'll be on a boat floating away.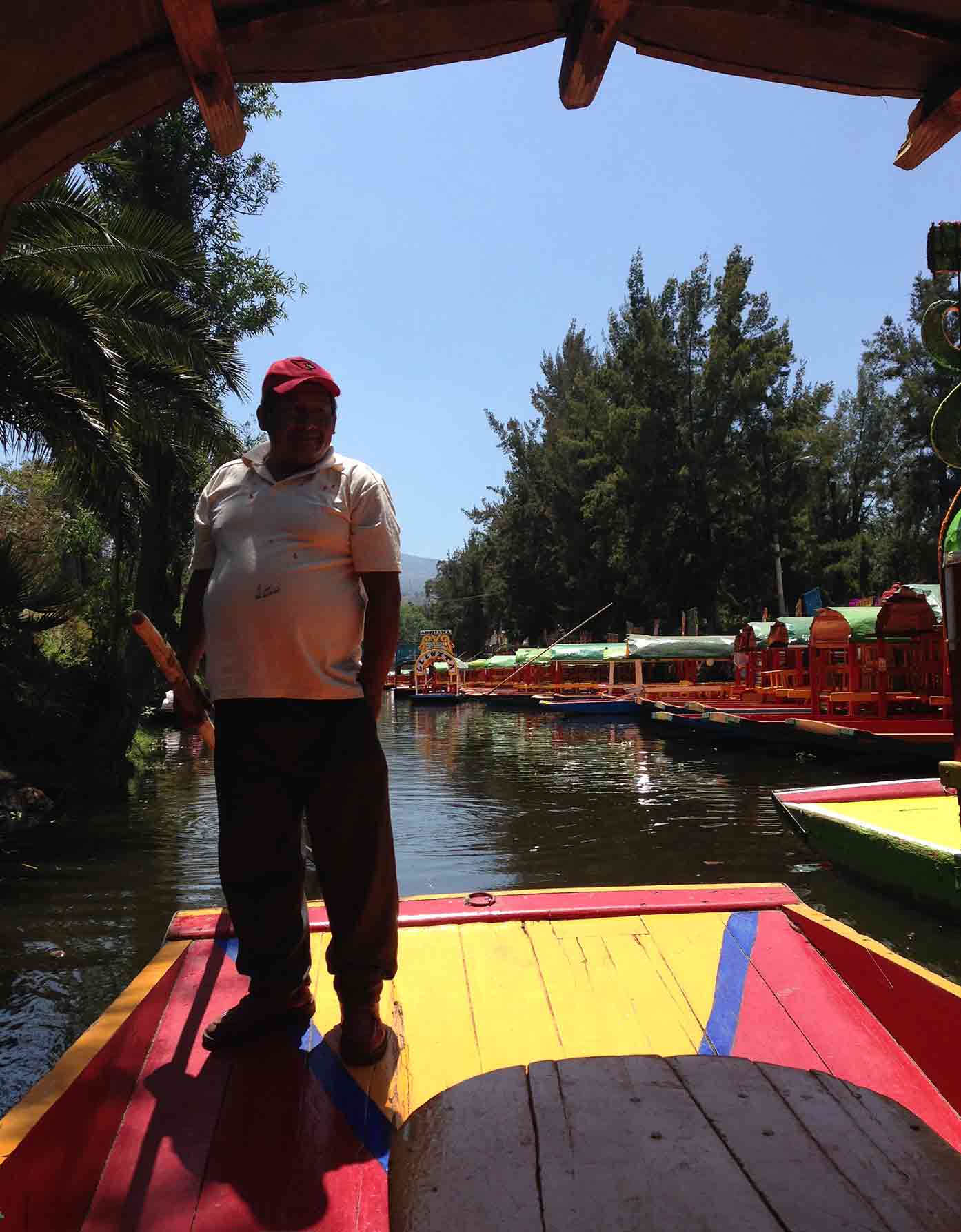 The idea is to sit back and relax and let your conductor do all the work. The canals are busy and many boats will pass you by on either side.
Best Time to Visit Xochimilco
The weekends are particularly busy so you may want to aim for a weekday. If you want a more tranquil experience that is.
You'll see trajineras passing with full-blown mariachi bands on, others with food and drinks along with a selection of Latin music.
If you like what they're playing just give them a wave and they'll marry their boat with yours and play you a tune or serve you some food.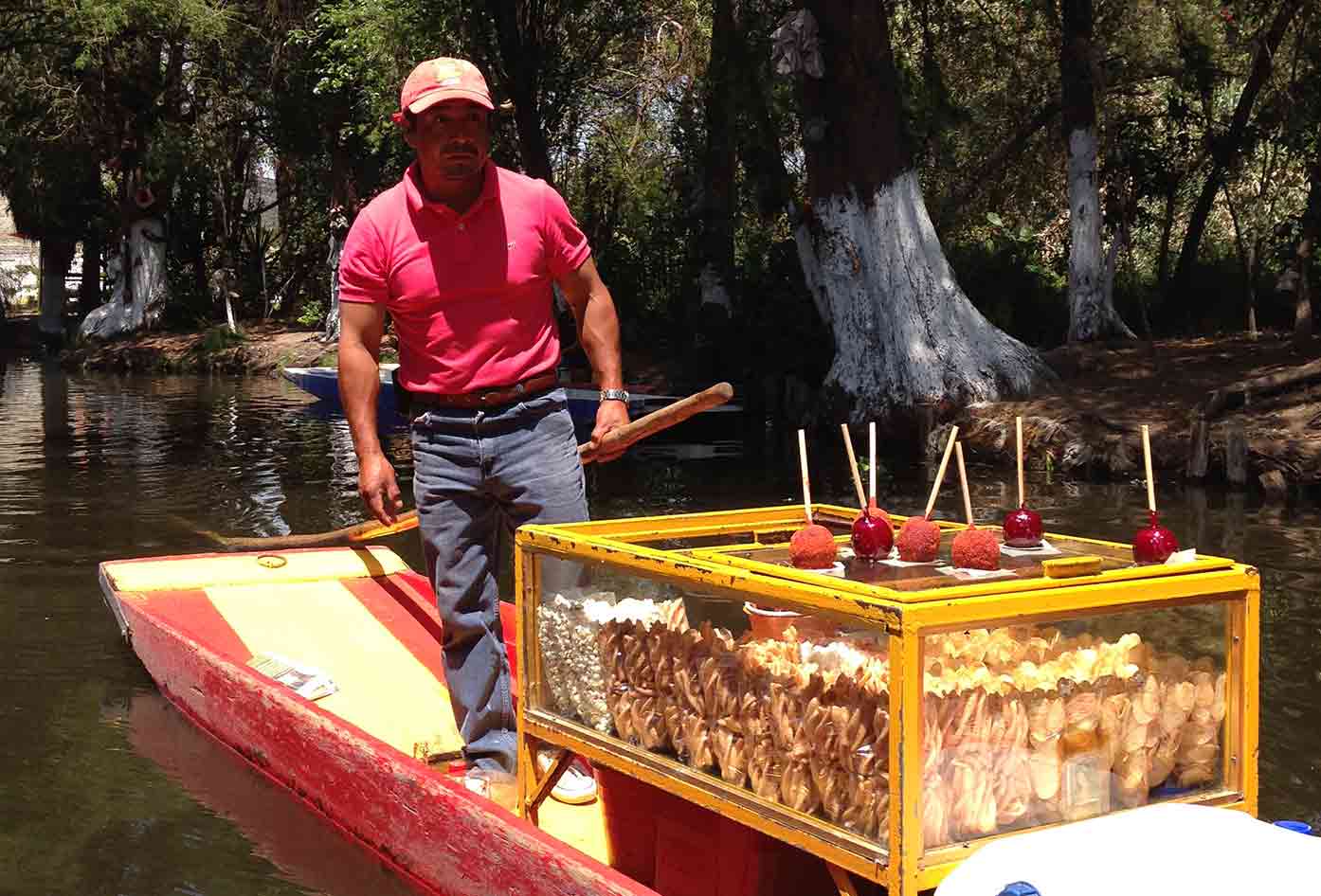 All for a small fee of course. See this as a floating market where you can stop and buy the things that catch your eye.
There are boats filled with artwork and Mexican crafts on sale.
So there is no need to carry anything on with you, just make sure you have enough cash money at hand to be able to buy all these things.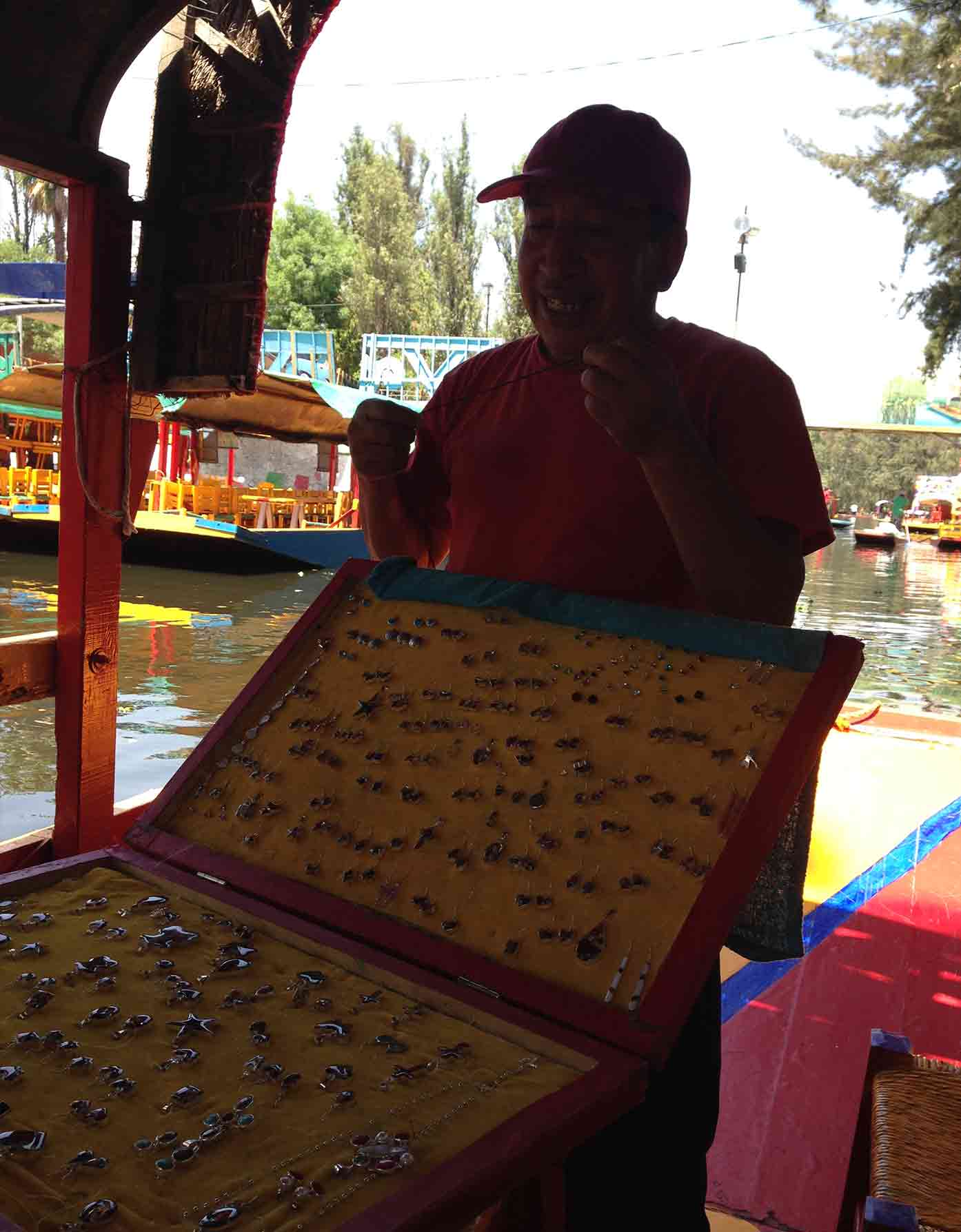 The last thing you want is to be stuck on a boat for two hours without the option of being able to take advance of the pleasantries on offer.
Expect everything from:
Fruit Juices
Beer and Pulque
Tacos
BBQ corn
Again this is all a part of the experience so no need to see it all as a massive ploy to get you to spend more money.
The items are reasonably priced and many of the people working on these boats are making living.
As far as Mexican traditions go this one thing you must try when you want to escape the hustle and bustle of Mexico City for the day.
Xochimilco Canals Travel Tips
The Xochimilco boat rental price can vary! But the maximum rate they are allowed to charge, as far as I am aware, is $500MXN.
It is worth noting that the boats move very slowly. Don't hire one if you're in a rush or have to be somewhere.
As mentioned there is some hustling to deal with so don't part with your money at the first opportunity.
Many of the houses along the journey on the water are abandoned right now so don't expect to see southern California-style mansions here.
I didn't see a huge bunch of colorful flowers. In fact, I only saw a few flowers during my time on the Trajinera.
Be sure to try a michelada which will be prepared by a man on a different boat floating by yours.
If you are arriving by Taxi or UBER it should take about 40 minutes depending on traffic.
Prices are not clearly state or written so follow my earlier advice above.
There are plenty of good photo opportunities here and if you get an English guide he will give you more detailed information along the ride.
Be sure to ask your conductor/driver to stop at the island where the Aztecs did the farming and grew all the fruits and vegetables.
Hopefully, with these tips, you can meet your expectations when traveling to Xochimilco and have a great time here.
Got Travel Insurance for Xochimilco?

Designed by travelers, for travelers, World Nomads covers more than 150 adventure sports and activities so you can explore your boundaries.
The Floating Gardens of Xochimilco
So in this guide, we have spent time looking at how to get to Xochimilco from Mexico City as well as exactly what to do when you get there.
Remember to get yourself a good deal on the trajineras when you arrive and definitely do not be afraid to haggle on the price a bit as long as you feel comfortable doing so.
If you're looking for other things to do outside of Mexico City why not see these things to do in Puebla which is around 1-2 hours away?
📌 Like this article? Pin it…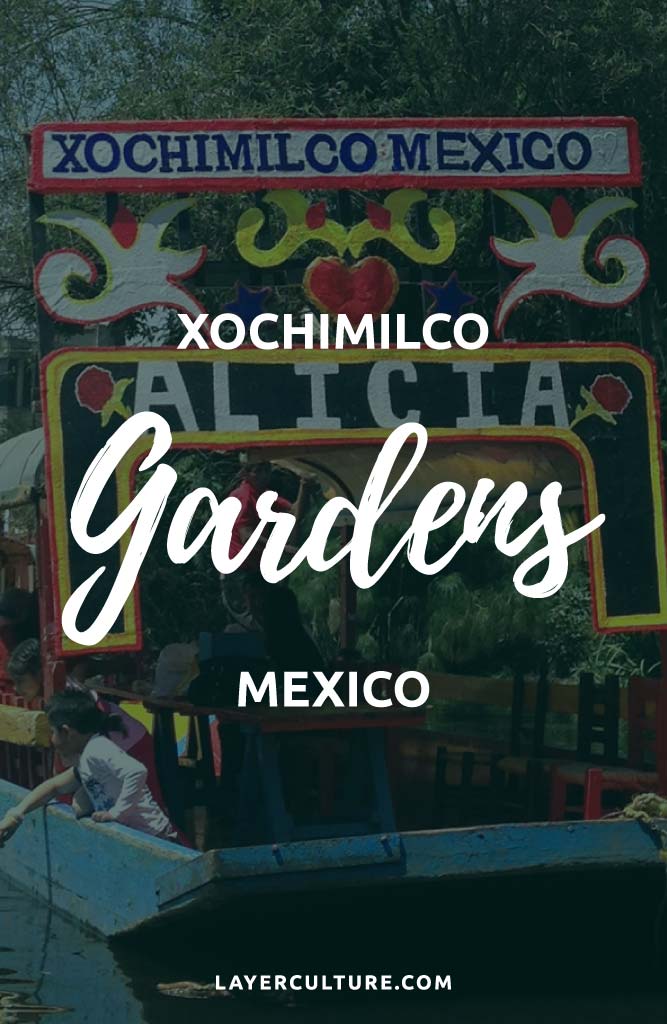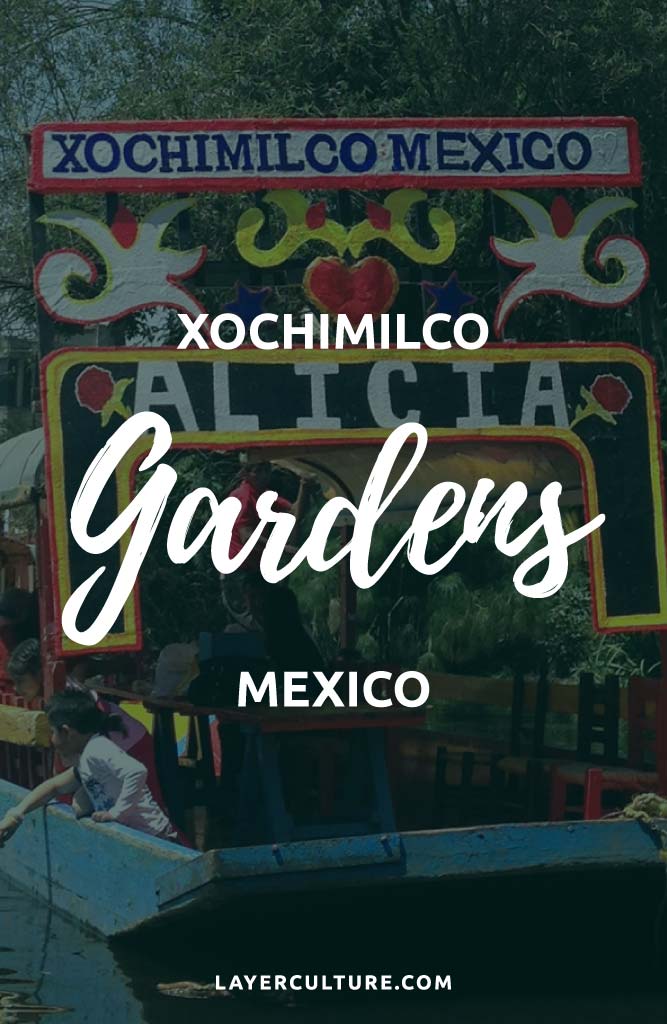 Do you feel prepared for a trip to Xochimilco now?
💬 Leave a comment below or let's start a meaningful conversation…
---
"Dear friend! Some links in this post contain affiliate links. Meaning, if you click through and make a purchase, book a hostel or sign up for a tour, I may earn a small commission at no additional cost to you. Your support means a lot and helps me to keep traveling and maintaining the quality of this site for you."