So, you'd like to learn some facts about Colombia?
Colombia is known for more than coffee and coconuts. The country encompasses many rich diverse cultures.
Known for beautiful emeralds and the myth of El Dorado, but there's more… we are going to learn some interesting facts below.
Colombia is home to a diverse ethnic population comprised of native Indians, European and African descendants.
Facts About Colombia
All these ethnic groups settled. Helping influence and establish many of the unique cultural expressions of music, art, literature, and architecture throughout the centuries.
Colombia declared it's independence from Spanish rule on July 20th, 1810. The country was recognized as independent on August 7th, 1819.
Colombia's rich comprehensive history also plays a large role in influencing Colombia's rich culture.
One of the interesting things about Colombia with its unique landscape is the Andes mountain range and Pacific Ocean coastline is how bio-diverse the land is. Places such as San Cipriano are natural gems.
You can never get bored with the scenery, you'll even find grassy plains and a portion of the Amazonian Rainforest. If that wasn't enough, you can visit the coastline along the Caribbean Sea.
General Facts About Colombia
Prefer not to read? See one of these Colombian documentaries to learn more about the uniqueness of the country.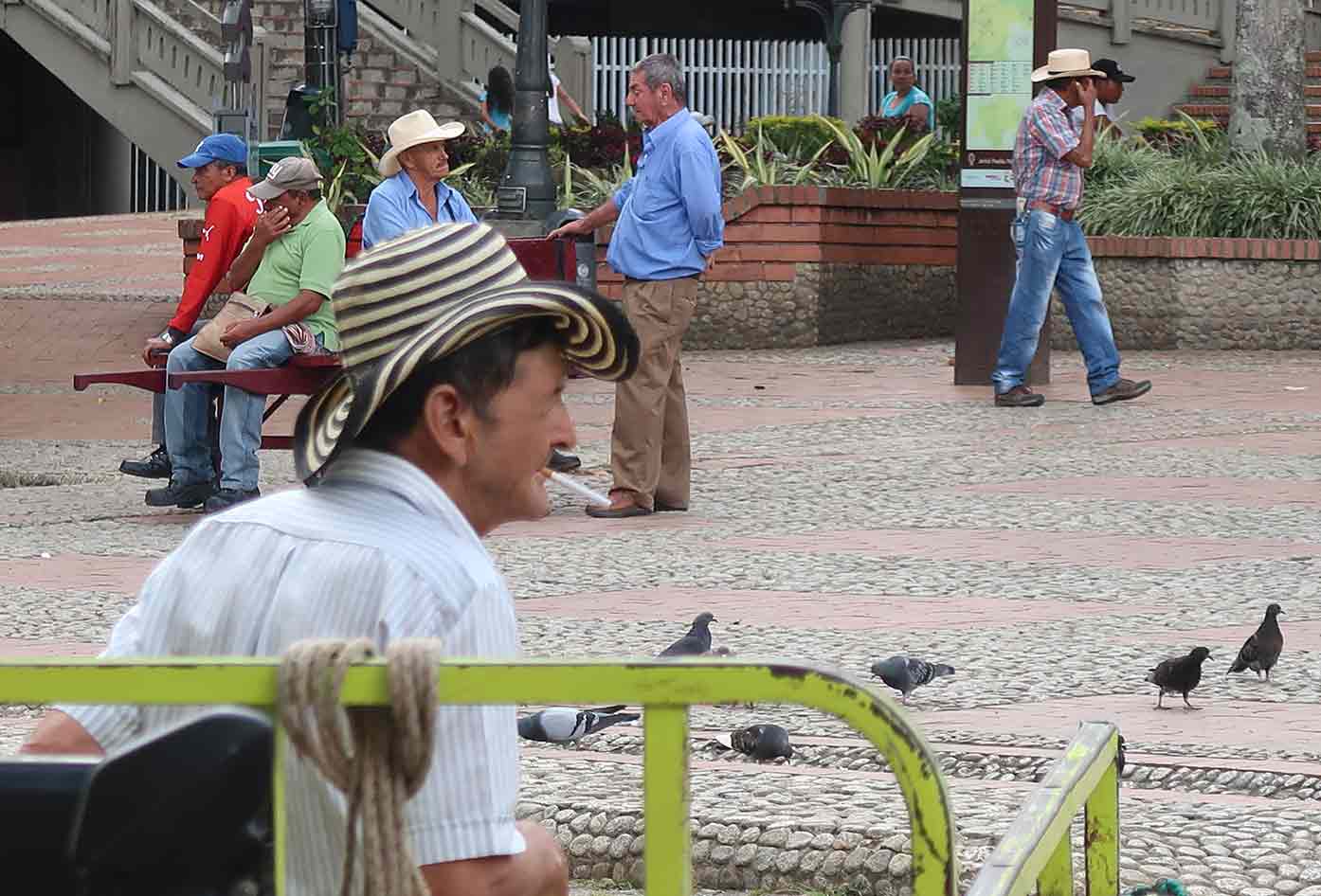 Below are some general facts about Colombia:
Colombia has an estimated population of 50 million people.
The Capital of Colombia is Bogota, located in central Colombia on the high plateau of Bogota savanna in the Eastern Cordillera of the Andes.
The official currency of Colombia is the peso.
Colombia's official language is Colombian Spanish.
More than 99% of the population speak Spanish in Colombia.
The various Spanish dialects spoken in Colombia are quite diverse.
Dialects vary from region to region.
Below are some cultural facts about Colombia that you can learn.
Colombian Music
Colombia's rich musical history touches a full spectrum of rhythms. You can find everything from Classical & Pop to Salsa & Rock music.
Colombia's music originated from its African, Native indigenous, and European (specifically Spanish) descendants.
Some of Colombia's musical genres include:
Cumbia
Vallenato
Joropo llanero
Bambuco
Currulao
Traditional Colombian music is primarily played using drums and flutes. However, over the decades has evolved to include newer musical genres and additional instruments.
Musical instruments such as guitars, saxophones, and keyboards.
Colombia's National Anthem was written on October 28th, 1920 by Jose Domingo Torres.
Jose was an actor from Bogota who took a poem written by former Colombian president Rafael Nunez and asked a friend, an opera singer Oreste Sindici, to set it to music.
The Spanish phrase for Colombia's National Anthem is Himno Nacional de la Republica de Colombia. More commonly known by its incipit Oh Gloria inmarcesible.
Colombia's National Anthem
Colombia's National Anthem was originally written as a poem in 1887 by then-President Rafael Nunez.
Along with other types of Latin dance, you'll find that Colombian dances are an integral part of their culture.
The dances are intertwined with their rich musical rhythms as various forms of expression.
The cumbia dance is a magnificent spectacle to witness.
Mimicking a traditional courtship ritual, women wearing long, colourful skirts circle around men in traditional outfits – white clothes and a regional sombrero.
With a rhythmic beat similar to a European waltz or Polska, Bambuco is typically a couple's dance: a type of sensual waltz, with the only brief, delicate moments of contact between dancers.
Colombian Art
Colombian art has its roots dating back nearly 3,500 years.
The art covers a wide range of media and styles. You'll find it everything ranging from Spanish Baroque devotional painting to Quimbaya gold craftwork. To the "lyrical Americanism" of painter Alejandro Obregon.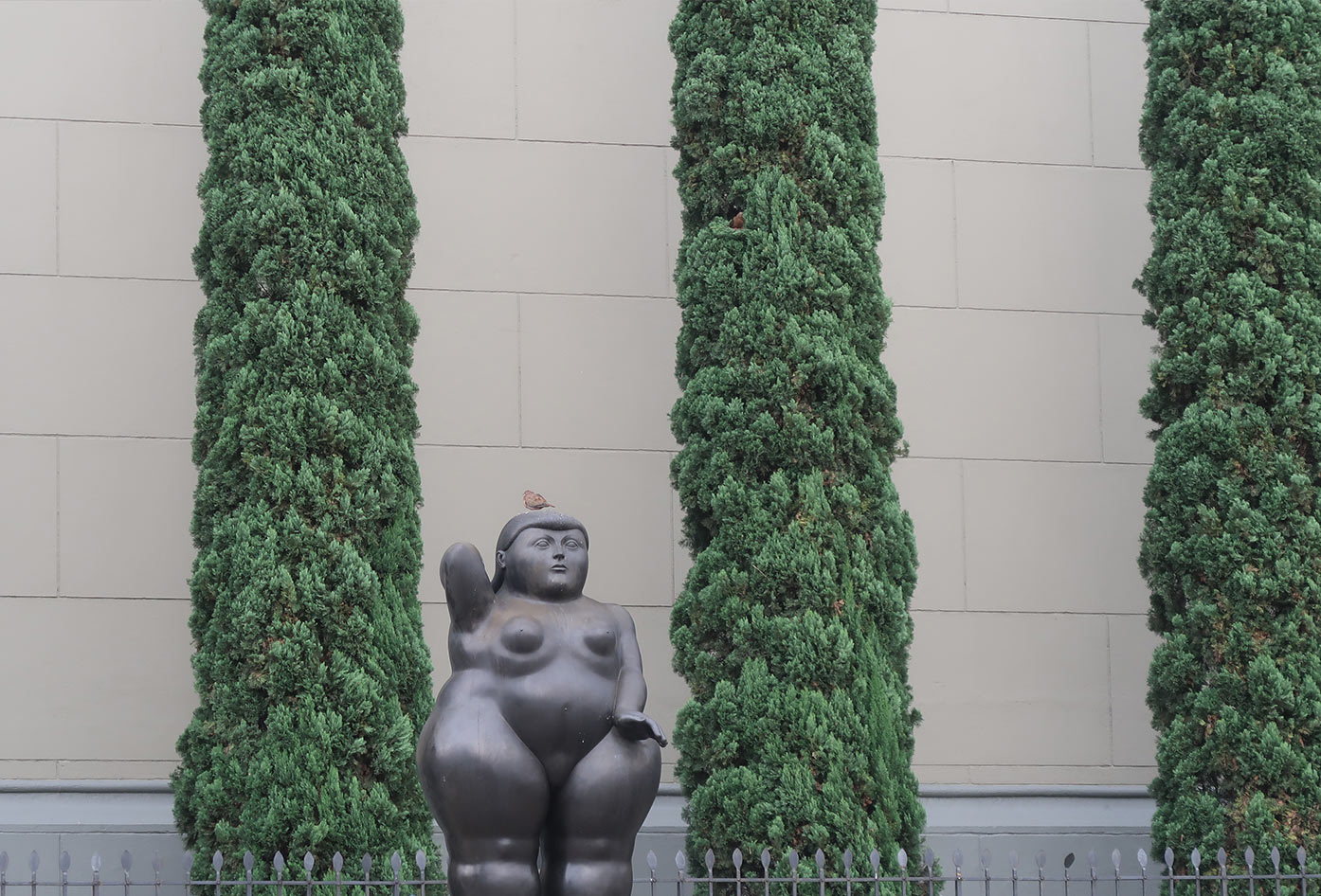 Colombian art also encompasses many unique forms of art, such as pottery, gold craftsmanship of Poporo Quimbaya.
The San Agustin culture were masters of stone cutting. They erected ceremonial centres, sarcophagi, and large stone monoliths depicting anthropomorphic and zoomorphic forms.
Colombia's most famous and internationally recognized artist is Fernando Botero. He was born in 1932 is best known for his large exaggerated sculptures of animals and humans.
Botero's work is inspired by pre-Colombian and Spanish colonial art. Not to mention, political murals of Mexican artist Diego Rivera.
Additional influences were his artistic idols Francisco de Goya and Diego Velazquez.
Botero's most recognizable works include an interpretation of the Mona Lisa, Adam & Eve, Death of Pablo Escobar, Bird of Peace, and Ballet Dancer at the Bar.
Colombian Literature
Colombia boasts a variety of magnificent literary works dating back to its colonial period. An era where major topics included narratives of conquest, chronicles, religious devotions, and love themes.
During the era of Independence (19th century), Colombian literature was strongly influenced by political motivations.
Lastly, during the late 19th and early 20th-century. Literary works reflected colorful depictions of peasant life, tied to strong criticism of society and government. This type of literature is called Costumbrista literature.
Colombian Writers
Colombia's literature is as diverse as the country's history and some of the most famous people from Colombia are known for their literary achievements.
Some of Colombia's most famous literary works include:
One Hundred Years of Solitude by Gabriel Garcia Marquez
Maria by Jorge Isaacs
Poetry by Jose Asuncion Silva
Colombia's National Anthem was originally a poem written by president Rafael Nunez to celebrate the independence of Cartagena de las Indias.
The collective works of German Espinosa who's works include novels and poems. Espinosa's works include fiction about witches, pirates and the Spanish Inquisition.
Upon gaining independence from Spain, Colombia began looking elsewhere for architectural inspiration.
England and France were two countries that Colombia looked to for inspiration. They sparked an era of the architectural revolution known as Republican Architecture. It is the same revolution that lasted well into the 20th Century.
Colombian Architecture
Colombia's architecture includes Spanish colonial architecture including Catholic churches. Its modern architecture represents various international style architectures.
A few famous Colombian cathedrals are Santuario de las lajas, La Catedral primada in Bogota, and Zipaquira salt cathedral.
More Interesting Facts about Colombia
Aracataca is the birthplace of author Gabriel Garcia Marquez. Aracataca once held a referendum to rename the town "Aracataca-Macondo".
The town named after the fictional town of Macondo from his famous book One Hundred Years of Solitude chronicles the history of the isolated town of Macondo and of the family who founds it.
Other books by Gabriel Marquez include:
Leaf Storm – A book that holds a collection of well-written and constructed stories that are powerful and enthralling.
One Hundred Years of Solitude – This magically written book has a whole lot going on spanning seven generations of the Buendía family and the birth of the fictional town of Macondo.
Autumn of the Patriarch – One of Gabriel García Márquez's most powerful works that drive home the point that dictators live inside their heads, ignoring reality.
Gabriel Marquez was awarded the Nobel Price in Literature in 1982. Although he passed away Gabriel Marquez is still one of the most important people in Colombia, known for his literary work.
Colombian Festivals
Colombia hosts up to 18 festivals every year, some of which include:
Carnival of Blacks and Whites in Pasto at the beginning of each year.
Manizales Fair in January.
Barranquilla Carnival in February.
Biennial Bogota International Theater Festival around Easter.
Bambuco National Pageant in Neiva in June.
Medellin Flower Fair in August.
November 11 Feasts in Cartagena.
Cali Fair in December.
It's no secret that Colombia's richly diverse history and culture can be traced back hundreds of years.
From its turbulent past and fight for Independence. To the cultural revolutions that produced some of the countries' great literature and music, Colombia has a little of everything to offer.
It's the only South American country that has a coastline on the Pacific Ocean and the Caribbean Sea.
Not only is it one of the most biodiverse countries in the world, but it is also home to some of the most exotic fruits you can find in the world.
Vast mountain ranges span the length of the country from North to South.
Colombia Tourism
Colombia Tourism is on the rise! Although there are many zones of the country that are deemed to be currently off-limits for the average holidaymaker or individual backpacking in Colombia there are some key is that one can visit.
Three of the most important cites for travelers to Colombia today are Cartagena, Bogota, and Medellin.
All three cities offer a wide variety of options to all types of travelers. Are you thinking of traveling to Colombia?
Maybe you're looking for Colombia's best beaches or want to visit one of the heritage towns or even the Amazon.
I'd recommend you check out my blog and learn some more specific information about travel in Colombia.
That way you'll get a better idea of where to go and how to move around.
One particular favorite of mine is Colombia's Coffee Region, I find myself returning time and time again, and is becoming more and more popular with the international coffee boom.
Books to Read on Colombia
Learn more about Colombian culture with these books I've listed:
These Colombia travel books are recommended if you'd like to do some further reading about Colombia before or during your trip.
Facts About Colombia
Knowing these interesting facts about Colombia, are you inspired to travel to this amazing country?
On this blog, I talk mostly about backpacking in South America and help thousands of people from all around the world find their feet in Latin America.
For more tips tricks and advice on travel go to my travel advice page to get a better idea of how I like to travel.
Photo Credits:
Alexander Schimmeck (c)
,
Eli Duke (c)
,
UN Women (c)
,
Policía Nacional (c)
,
Chiot's Run (c)
,
Alexander Schimmeck (c)
,
Joe Ross (c)
,
Secretaría de Cultura (c)
,
Edgar Zuniga Jr (c)
,
Alexander Schimmeck (c)
,
Paulo Philippidis (c)
📌 Like this article? Pin it…
Did this help your search for interesting facts about Colombia?
💬 Leave a nice comment or let's start a conversation below!
---
"Dear friend! Some links in this post contain affiliate links. Meaning, if you click through and make a purchase, book a hostel or sign up for a tour, I may earn a small commission at no additional cost to you. Your support means a lot and helps me to keep traveling and maintaining the quality of this site for you."