Welcome to this Creel, Mexico travel guide.
Nestled up in the highlands of Chihuahua, Creel is a highlight for those doing the Copper Canyon route.
For those exploring the Copper Canyon area, you'll find that it stretches from Chihuahua City all the way to the Mexican Pacific.
Expect stunning scenery, old churches, history, and more. There are tonnes of reasons to visit.
Creel, Mexico: Travel Guide
In this guide, we'll explore this quaint town, the best things to do, as well as travel tips to enhance your trip!
Is Creel Worth Visiting?
Creel is a nature lover's dream. Within touching distance of the Copper Canyon (which is four times larger than the Grand Canyon!)
You can easily explore the mountainous terrain by foot, or by using El Chepe train to discover some of the more hidden gems.
Creel is also home to many natural wonders, such as the Cusaráre Waterfalls, rock formations, and important colonial sites.
Another cool reason to visit is the Tarahumara tribe.
Living up in the nearby mountains, they're known to run hundreds of kilometers over just a few days! There's also a museum in town dedicated to them and the way they live.
How to Get to Creel
In the Sierra Tarahumara region of Chihuahua, there are no airports. Meaning, there are only two ways to get here.
The first is by using the Copper Canyon train (known as El Chepe).
You can either start in Chihuahua City or in Los Mochis in the neighboring state of Sinaloa.
Once on the train, you'll see various stops, and Creel is a popular one so you'll know once you have arrived.
You can also drive here if you have rented a car, and it takes roughly 3.5 hours to reach from Chihuahua City.
Is it safe to visit Creel?
As with most areas in Northern Mexico, you need to be cautious as it tends to be less safe than the popular areas of the Riviera Maya, Oaxaca, and more touristy areas of Mexico City.
The town of Creel itself is fairly safe, although I wouldn't recommend walking around late at night by yourself.
If you do, be sure to carry an anti-theft backpack or equivalent, to conceal any valuables or belongings.
It's known that there is narco activity around the more remote regions, but this is outside of town and away from places this guide suggests.
Overall, as long as you're with a group and seeing the sights by day, you'll have a great time!
Things to do in Creel
Let's explore what to do in Creel. The majority of these sites are outside of town, so you'll need to join a tour or rent a car to see them with ease. There are a few in towns which are also well worth the visit!
Valle de los Monjes
Known as the valley of the monks in Spanish, this destination is full of incredible rock formations found near Creel.
To some, these appear to look like people, frogs, and mushrooms, whilst those with more vivid imaginations may see something completely different. You can visit on a tour or by renting a car here.
Cusárare Waterfalls
These roaring waterfalls are a highlight of a visit to this region.
Located in nearby Guachochi (a cute town), these stunning falls have a gorgeous backdrop of forest and rocky outcroppings, as well as emerald green pools near the foot.
You can easily explore them as part of one of the many day tours Chihuahua has to offer. Driving here is next to impossible as most of the grounds are off-road.
San Ignacio Arareco
This old, colonial church is widely recognized as one of the oldest mission churches still erect in Northern Mexico.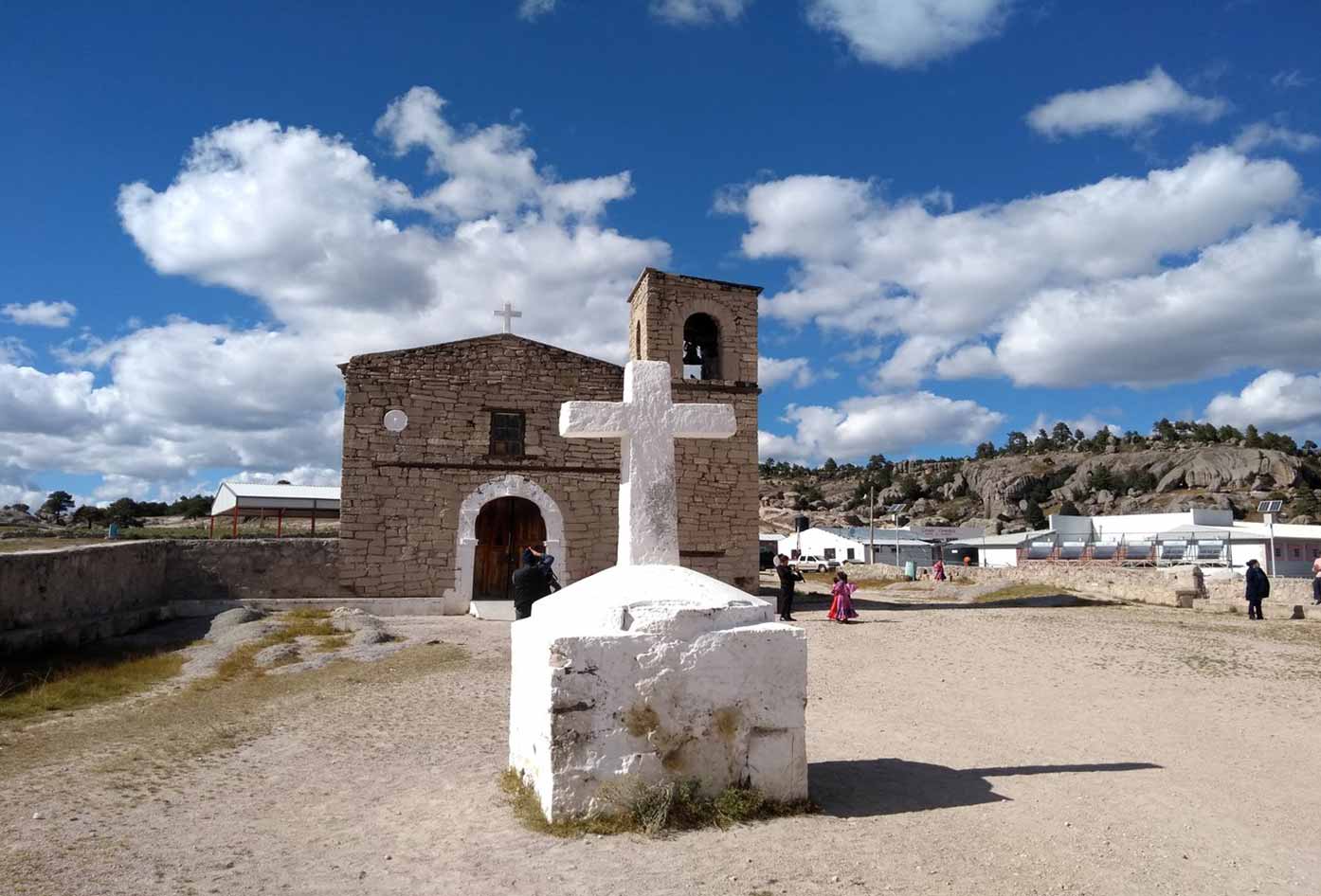 Explore this fascinating church and the nearby huts, and there are also some cool rock formations just outside the town.
This area is also home to many Tarahumara people who are indigenous to the region.
Templo Cristo Rey
Located within the town of Creel itself, this one is a lot easier to find and explore.
If you head to the main plaza you'll be able to spot this cute church from a mile off. It has a very nice colonial feel, and is one of the best photo ops in town!
It also has the twin monument of Mirador Cristo Rey, which is located just above Creel. Head up for superb views over the town!
Artesanías Misión
Like the previous, this one can be found on the side of the main plaza.
Home to many indigenous handicrafts and novelties, this is the best place to grab some souvenirs.
All proceeds go to Creel's Catholic mission hospital which is a nice touch. It's a win-win really!
Lake Arareco
Located roughly 15km away from Creel, this beautiful U-shaped lake is a great gem in the area.
As well as more unusual natural structures, you can also find local Tarahumara people here who sell handmade goods such as kitchenware and wooden crafts.
Museo Casa de las Artesanías
Another gem found in town, this museum is great for learning about local culture and more about the Tarahumara people.
The entry price is very cheap, and once inside you'll be able to observe a mummified Rarámuri (this means "Foot Runner" in their native Tarahumara language).
Creel Travel Tips
As most things to do in Creel are out of town, I recommended you rent a car (drive from Chihuahua City) or to join a tour based in Creel.
The tours tend to be packaged, and include trips to several sites around the region which is great.
I'd suggest you spend at least 4 days here, which is enough to see the sights, explore different areas of the Copper Canyon and take in the crisp mountain air.
Best Time To Visit Creel
When's the best time to visit Creel, Mexico? The weather is extremely seasonal due to being located up in the mountains.
Heading between May and August will give you pleasant temperatures of between 75 – 82°F, with lows of 55°F.
If you decide to go during the winter months (between November and February), be prepared as the temperatures can dip below minus!
You'll need to pack a lot of warm clothes if heading this time of year.
Got Travel Insurance for Chihuahua?

Designed by travelers, for travelers, World Nomads covers more than 150 adventure sports and activities so you can explore your boundaries..
Creel, Chihuahua, Mexico
There are many fascinating things to do in Creel such as Templo Cristo Rey, as well as off-the-beaten path gems such as Cusaráre Falls.
We've looked at the safety of the area, the best times to visit as well as my recommendations to have the best time here.
Creel is an exceptional place, and if you are looking to get engrossed in nature, you'll find it hard to find a better area!
See this backpacking Mexico guide for even more ideas on what to do, where to go, and other tourist attractions in Mexico.
📌 Like this article? Pin it…
Are you thinking of traveling to Creel, Mexico soon?
💬 Leave a nice comment or let's start a conversation below!
---
"Dear friend! Some links in this post contain affiliate links. Meaning, if you click through and make a purchase, book a hostel or sign up for a tour, I may earn a small commission at no additional cost to you. Your support means a lot and helps me to keep traveling and maintaining the quality of this site for you."