When comparing Cozumel vs Cancun, which do you go for?
Cozumel is the ultimate Caribbean island that happens to be Mexican, with a beautiful aesthetic and amazing greenery.
It's the perfect spot for the passing traveler looking for a break or an excursion to an all-inclusive Yucatan holiday.
Enjoy Cozumel as an island retreat, or stay in 5-star luxury resorts in Cancun. The choices are endless here, no matter how you travel!
The heart of the peninsula, Cancun is likely the place you'll fly to on your way to anywhere else in the Quintana Roo region or elsewhere.
Cozumel vs Cancun
For most tourists, leaving the confines of the all-inclusive resort is their idea of getting into danger or making the trip stressful.
However, if you do decide to venture outside the complex, you'll find Chichen Itza, cenotes, and Isla Cozumel.
Travel To Cozumel
If you've never heard of Cozumel, it may be because of just how famous Cancun is. Cancun is the epicenter of the Yucatan peninsula and it's tourism, so it's quite understandable.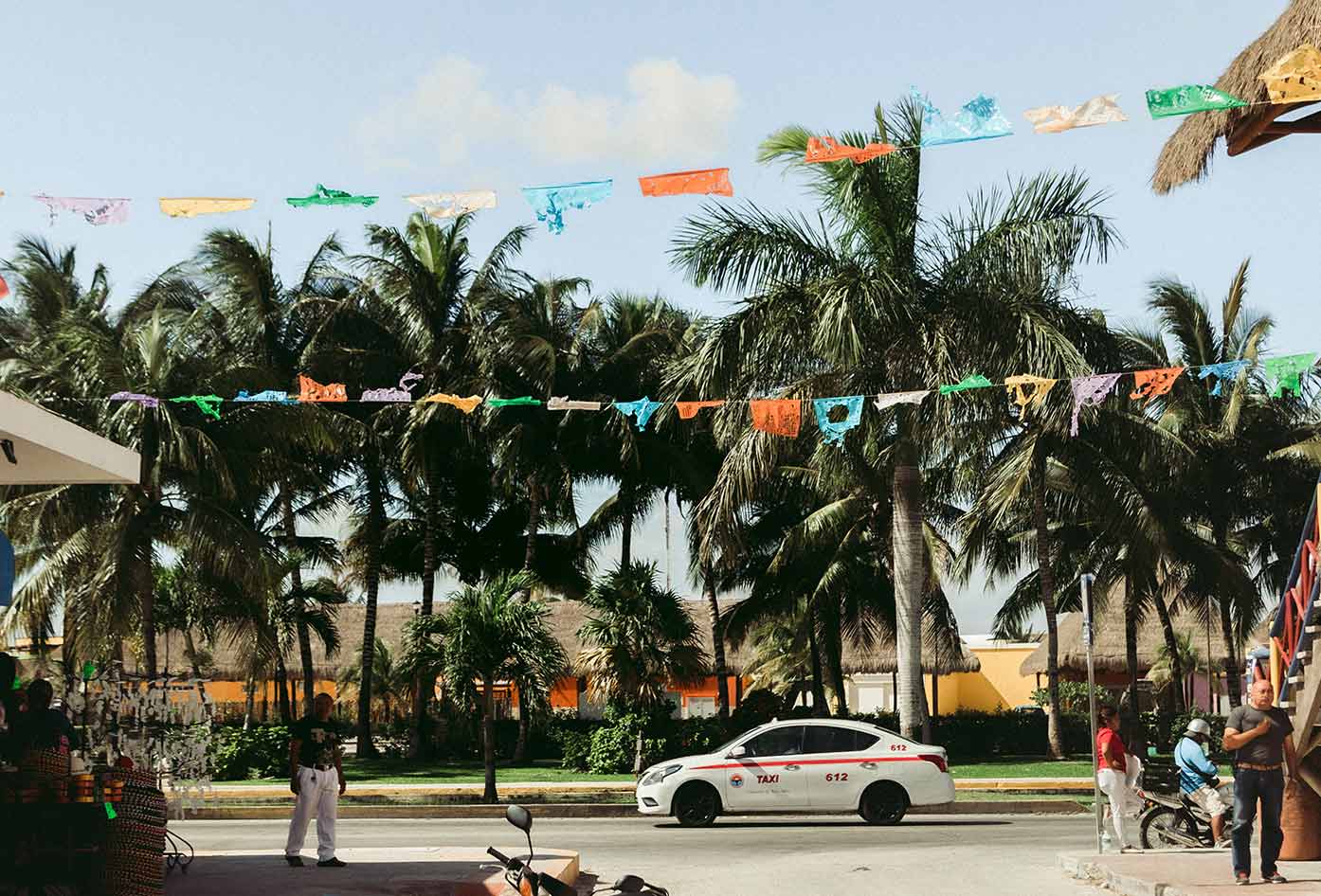 Many people come to Cozumel from Cancun via Playa del Carmen by ferry, or arrive here on a cruise ship. When you think of an island getaway, you should think of Cozumel.
Is Cozumel safe?
Cozumel is one of Mexico's most popular destinations for tourists, particularly for those visiting from a cruise ship.
Interestingly, more than half of all of the country's cruise arrivals docked in Cozumel in 2018.
Like many other areas of Mexico, Cozumel is safe and a relatively calm destination for tourists to visit, but its U.S classification proves its level of safety to be higher than mainland Mexico.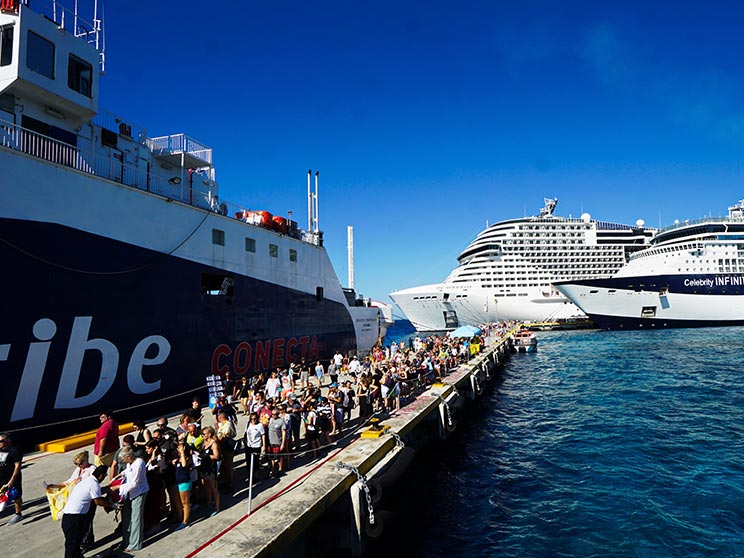 Cozumel has previously received the same U.S. Department of State threat-level ranking as countries including Japan and the Netherlands.
Violent crime is low, but not entirely absent. There have been reports of tourists drinking tainted alcohol at all-inclusive resorts.
There were two incidents involving explosives on tourist ferries in 2018 but they weren't related to the island itself.
Where is Cozumel?
Cozumel is a Mexican island in the Caribbean Sea off the eastern coast of Mexico's Yucatán Peninsula, opposite Playa del Carmen.
It is separated from the mainland by Cozumel Channel and is part of the state of Quintana Roo, Mexico.
It's in the Caribbean Sea, so it enjoys all the weather and climate of Jamaica, Cuba, Barbados, or Aruba, with all the Spanish and Latin culture expected of Mexico.
One of the most secluded and remote parts of Mexico with little to no crime, Cozumel is the Tioman island of Mexico with its splendiferous scuba diving, snorkeling, and biodiversity.
Cozumel is great for relaxing as well as activities.
If you are traveling here as part of a group it may be a good idea to rent a car and use that as a way to visit all the amazing beaches.
Is Cozumel expensive?
According to budgetyourtrip.com a vacation to Cozumel for one week usually costs around US$501 for one person.
So, a trip to Cozumel for two people costs around US$1002 for one week. A trip for two weeks for two people costs US$2004 in Cozumel.
If you're traveling as a family of three or four people, the price person in a place like Villablanca Garden Beach Hotel often goes down because kid's tickets are cheaper and hotel rooms can be shared.
If you travel slower over a longer period of time then your daily budget will also go down.
Two people traveling together for one month in Cozumel can often have a lower daily budget per person than one person traveling alone for one week. See Kinta Kan Hotel Boutique for some amazing deals.
Diving in Cozumel
With around 6000 cenotes, Mexico's Yucatan Peninsula and its extensive subterranean waterways are ideal for cavern diving and trying out this fantastic activity for the first time.
The popular Cenote Dos Ojos is accessible to most divers arriving in this region.
When comparing Cozumel vs Cancun keep in mind that Cozumel has all the qualities for a great dive getaway!
Expect friendly locals who'll help you each step of the way, lively nightspots, warm water, great visibility, and the most gorgeous white sandy beaches.
As just one of the MANY things to do in Riviera Maya, Cozumel is a famous spot for the diving community for its lush walls and high-voltage drifts.
The reef system around the island is all a part of the infamous Mesoamerican reef system and is protected by the Cozumel Reefs National Marine Park.
Because of this unique aspect, it is extremely healthy for a Caribbean reef, more so than most others in the Caribbean Sea.
This means it is home to 26 coral species and more than 500 species of fish.
Even if you decide to stay in Cancun, it's worth idling your way over to Cozumel for the diving opportunities.
Travel To Cancun
Cancun and the Quintana Roo region attracts millions of visitors a year, with their incredible cenotes and world-class clean beaches.
Mexico is the second most visited country in the western hemisphere, so Cancun has to be the most popular resort town in the western hemisphere without taking into account the Caribbean islands.
Cancun itself even has more resorts and hotels than the world-famous Cabo San Lucas so there's more choice, but that also means it can be busy during the popular times of the year.
Is it safe to travel to Cancun?
Cancun is known for its safety compared to other spots in Mexico.
It's within the region Quintana Roo, which borders Belize and can be considered an important backpacker spot in Central America.
However, Cancun does have its crime.
It isn't the perfect haven for safety that most people consider it to be.
The important distinction to make is that it is safe compared to its neighbors, and it is safe in the resort areas and airport.
You may feel safer in the confines of your resort, but it can get overcrowded during peak times.
For more information about the safety of Cancun, visit page: is Cancun safe? before you book anything to weigh up the odds.
Where is Cancun?
Cancun is in one of the nicest spots in the whole of Mexico: The Yucatan Peninsula!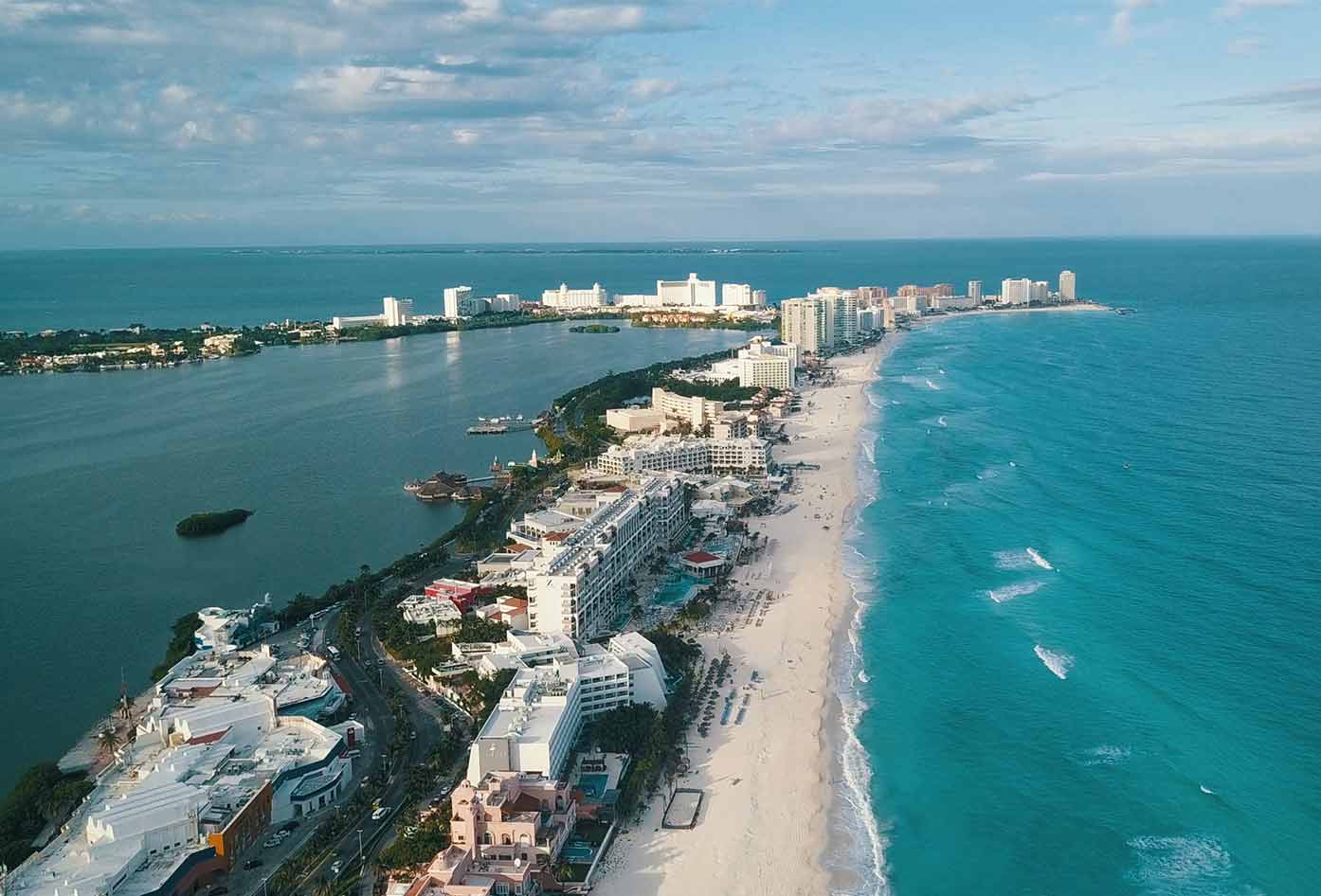 Although Cozumel is so close to Cancun, the peninsula itself has its benefits.
For one, the road system is pretty advanced and access to other parts of Mexico is right at your fingertips.
Cancun has so much to offer by way of activities and tourist hotspots compared to Cozumel, as it's the cultural hub and beating heart of the peninsula.
If you're seeking a spot to unwind find some quietness, Cozumel is your spot. For everything else, however, Cancun has it all.
Best time to go to Cancun
Most visitors head here in search of the sun during the winter blues, so December to April is the busiest period.
November can be quite busy too, but the temperatures don't reach as high as around January.
The popular beach resorts of Cancun, the Riviera Maya, and the small paradise of Tulum have a tropical climate that results in dry and pleasant winters and hot, humid, and often rainy summers.
Officially, the region's hurricane season runs from June to mid-November with the most active months being September and October.
January is the best time of year to visit Cancun. It is the dry season and the temperatures and humidity levels are very pleasant.
However, it is also the busiest time, making it one of the more expensive times of year. See this guide on the best time to visit Cancun for more tips on when to travel for cultural events.
Is Cancun Expensive?
Compared with the average prices in Cozumel, Cancun is a lot more expensive.
This is due to Cancun's popularity and the demand increasing prices to in most cases higher than the national average.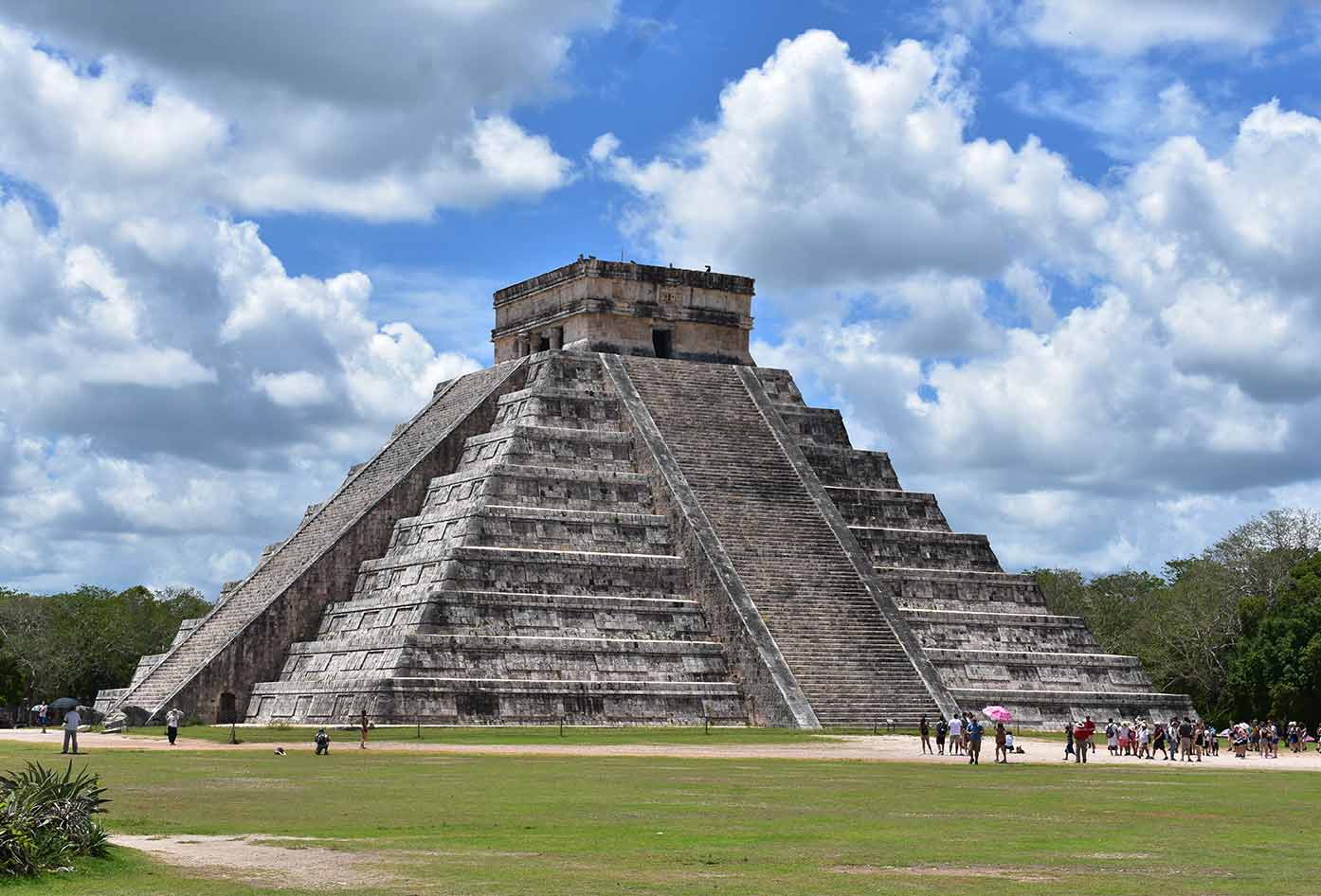 It comes as no surprise though, since it's also because Cancun has some of the best high-end luxury hotels in the country too.
If you had to guess where the most expensive hotels are in Mexico, you'd probably say Mexico City or Cancun.
The average daily cost (including bed and board) for a trip to Cancun is around $97 (USD) per day, which is almost triple the average for Cozumel.
For a two-week luxury stay in Cancun, the average is $4,092 (USD) per person. Expensive, isn't it?
For a quarter of this price, you can have a cheap luxury getaway on the Pacific Coast in a place such as Cabo San Lucas in Baja California.
However, in most cases, you get what you pay for in Cancun. Some of the best hotels and restaurants in the world are here.
Got Travel Insurance for Mexico?

Designed by travelers, for travelers, World Nomads covers more than 150 adventure sports and activities so you can explore your boundaries.
Cozumel vs Cancun
Cozumel is an amazing resort island that cruise passengers enjoy.
However, it is one of the quiet spots to enjoy a holiday with little to no landmarks or places to visit.
If you're looking for a Caribbean island retreat Mexican-style, Cozumel is perfect. See this guide on things to do in Cozumel for more ideas.
However, Cancun has all the offerings of a world-class holiday.
Take an excursion to Chichen Itza, hit the highway to neighboring countries, or just kick back and relax in world-renowned hotels.
All in all, this is one of the safe places in Mexico to visit and in Quintana Roo you can enjoy both of these locations in one trip.
📌 Like this article? Pin it…
Are you thinking of traveling to Cozumel or Cancun, soon?
💬 Leave a comment below or let's start a meaningful conversation…
---
"Dear friend! Some links in this post contain affiliate links. Meaning, if you click through and make a purchase, book a hostel or sign up for a tour, I may earn a small commission at no additional cost to you. Your support means a lot and helps me to keep traveling and maintaining the quality of this site for you."