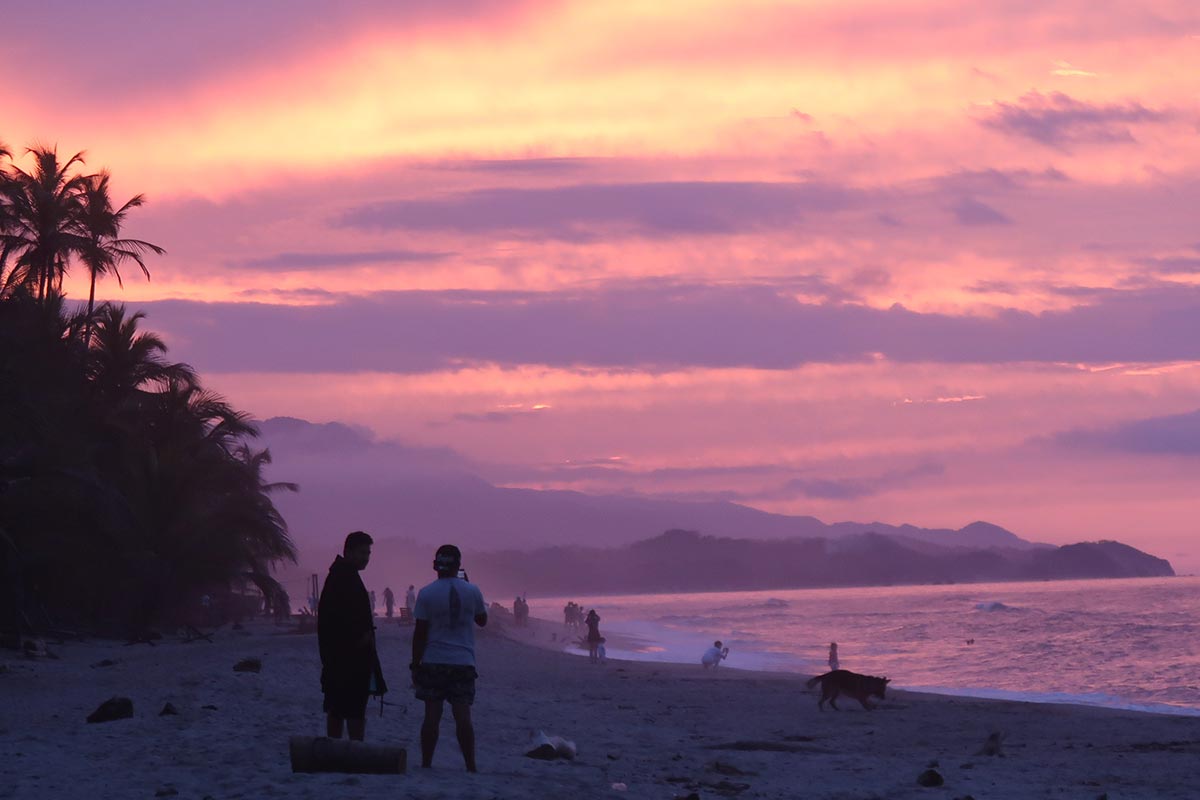 Welcome to Costeno beach in Colombia (AKA paradise on earth).
Arriving at Costeno beach for the first time you may feel like you have been missing something during your Colombian Caribbean escape.
It's not easy to find such tranquility sometimes, and after being in Santa Marta, this is your perfect chance to 'get away' from the chaos.
Somewhere along Colombia's coastline exists an idyllic beach paradise that'll make you wonder why you didn't discover it earlier.
Costeno beach, Colombia
Costeno beach isn't for everyone! Meaning, you can't just turn up when you feel like it. You must have a pre-booked reservation to get in.
Not just that, most of the hostels/hotels do not even allow you to enter unless you have a reservation but more on this later.
With places such as Riohacha and Buritaca nearby, let's look at some reasons why you would visit this exclusive Colombian beach hideout.
Why visit Costeño Beach?
At Costeno beach, you kind of get the feeling that you are at one with the sea, the sand, the sun and the stars.
If you felt like you were getting harassed whilst on the beach looking for things to do Santa Marta (staying in places like the Rodedero or Playa Gaira) being here is like walking on the moon for the first time.
Expect to lay on a more intimate and relaxing beach (that you won't find elsewhere) that allows you to disconnect from Colombia's commercial life.
Not only will you get the opportunity to meet new friends and like-minded travelers, but you'll also eat some of the best Pizza you have ever tried (on Colombia's Caribbean coast). Sound good already?
Where is Costeño Beach?
Costeno Beach is the stretch of the beach that Colombia forgot about (in a good way). Not that it's any less Colombian than Palomino.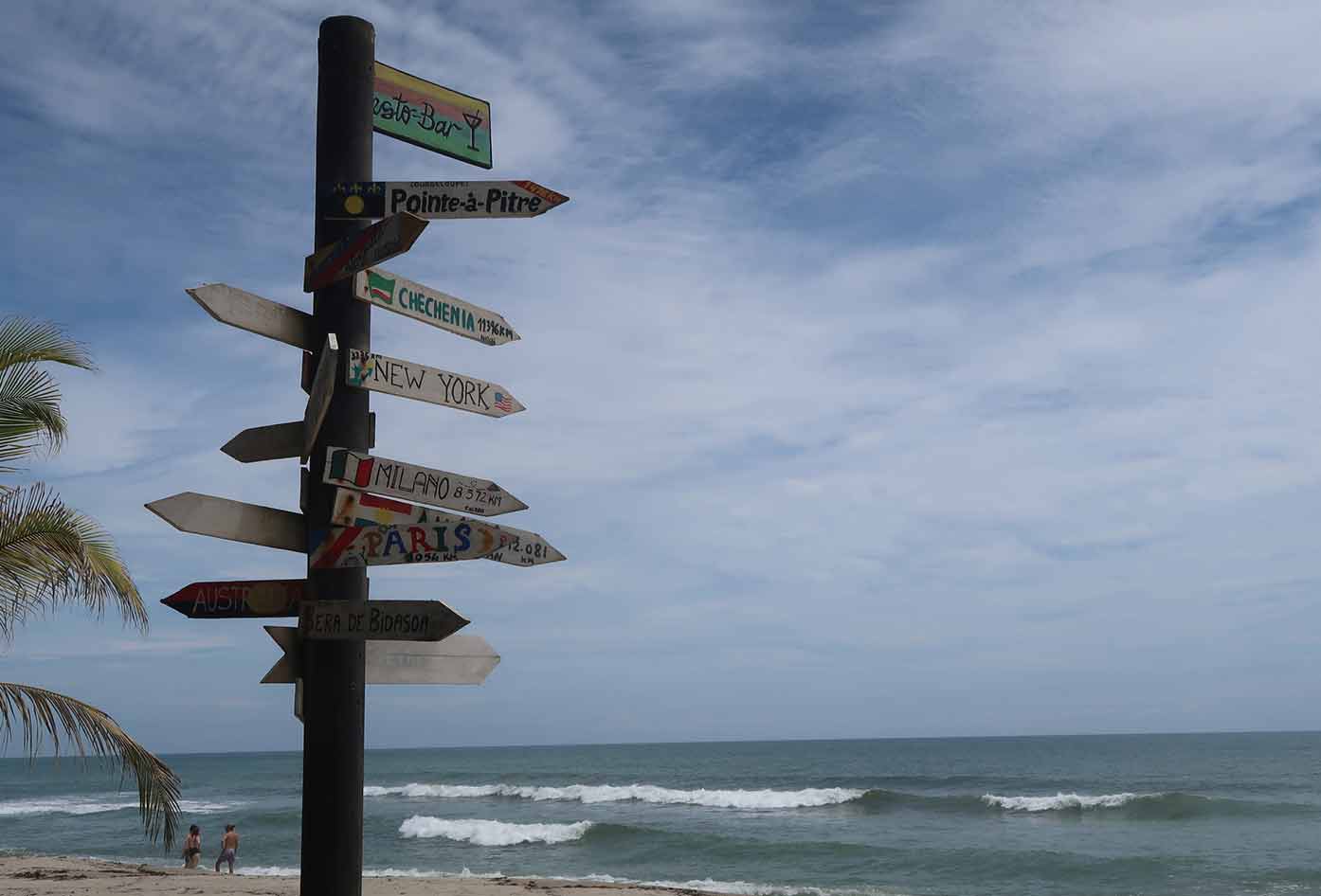 This is a stretch of beach located between Santa Marta and Palomino so you will have to get off the bus and walk down to the beach.
You can also use the Moto taxi service from the roadside. Someone will be waiting to ask you if you want a ride as soon as you get off the bus.
How to get to Costeño Beach
The road to Costeño Beach is like being transported along a spiritual pathway. When you jump on the bus you'll see many different characters, many of which you'll have something in common with.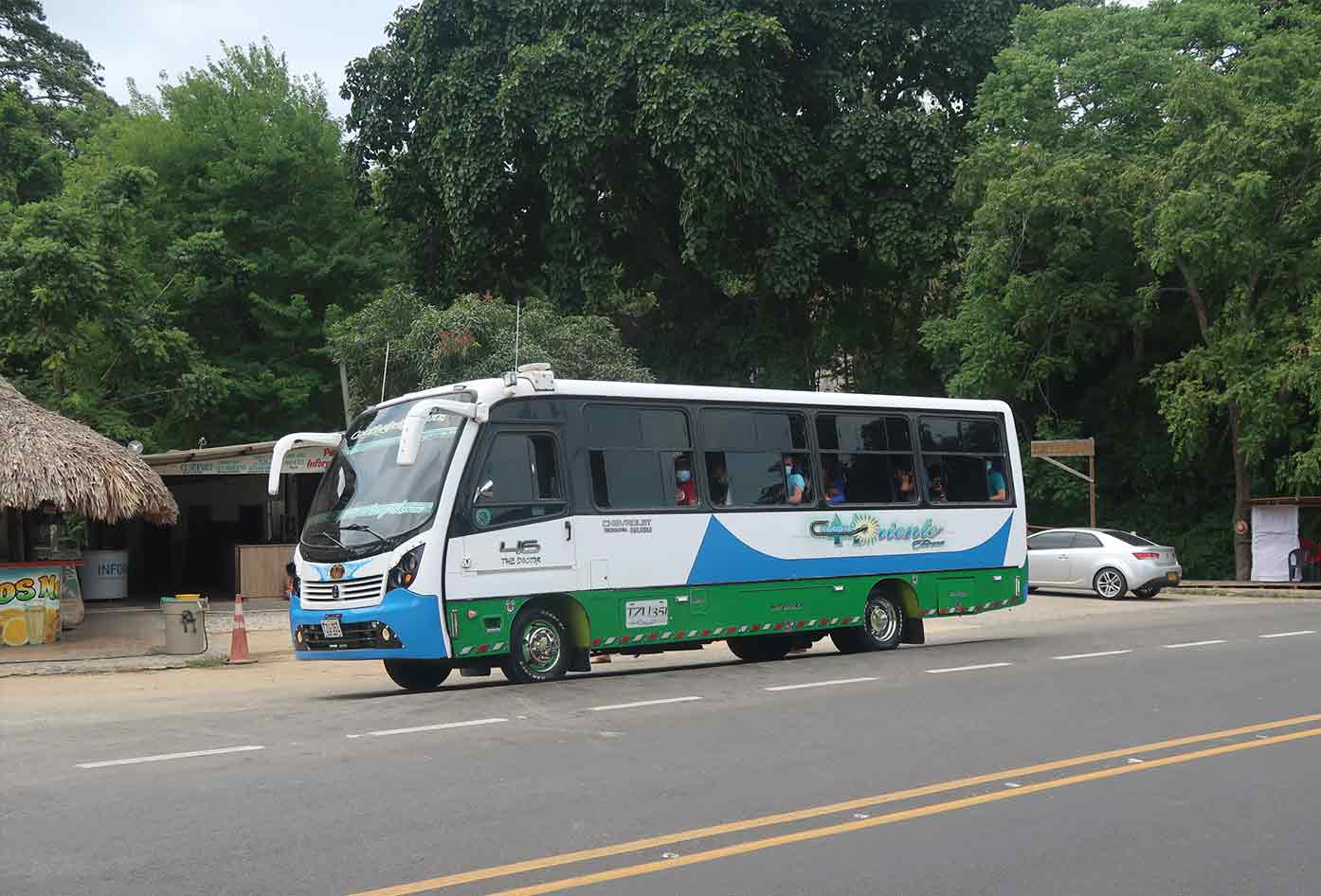 This is a journey with a spiritual element. As the bus gets closer to the coastline the smell of the air will change and the number of people on the bus will reduce as you move closer to paradise.
I recommend you follow my guide on getting from Cartagena to Tayrona Park for advice on how to get to costeno beach from Santa Marta. Get your best camera ready for all the sights along the way.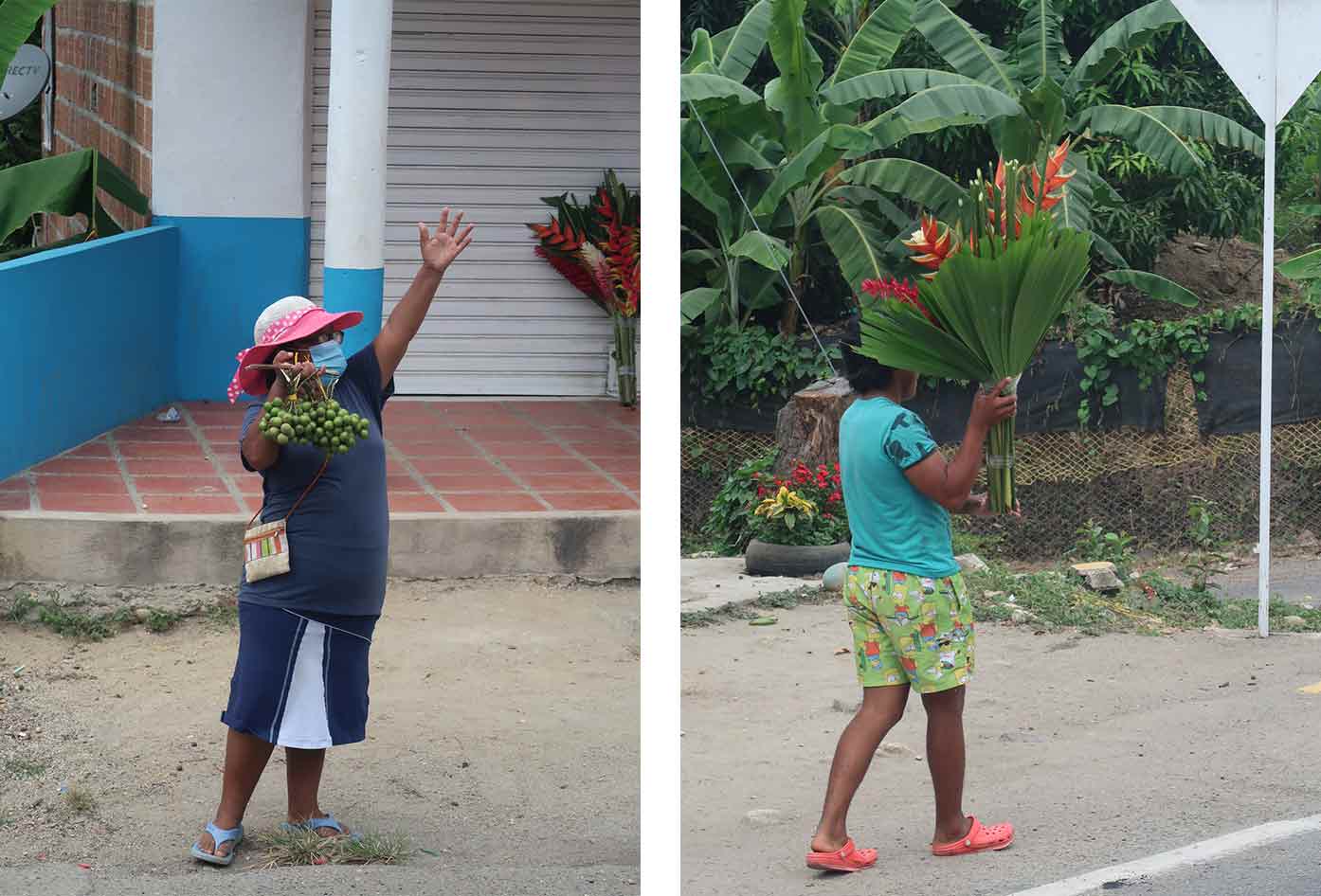 Instead of getting off the bus a Tayrona Park you stay on until you get closer to Guachaca. How do you know when you have arrived in Guachaca? It's halfway between Palomino beach and Tayrona Park.
Now let's look what to do once you arrive at Costeno beach:
Costeno beach
If you want to be on beach that has a more private feel and that will give you a chance to reconnect with the sea, sand and sun.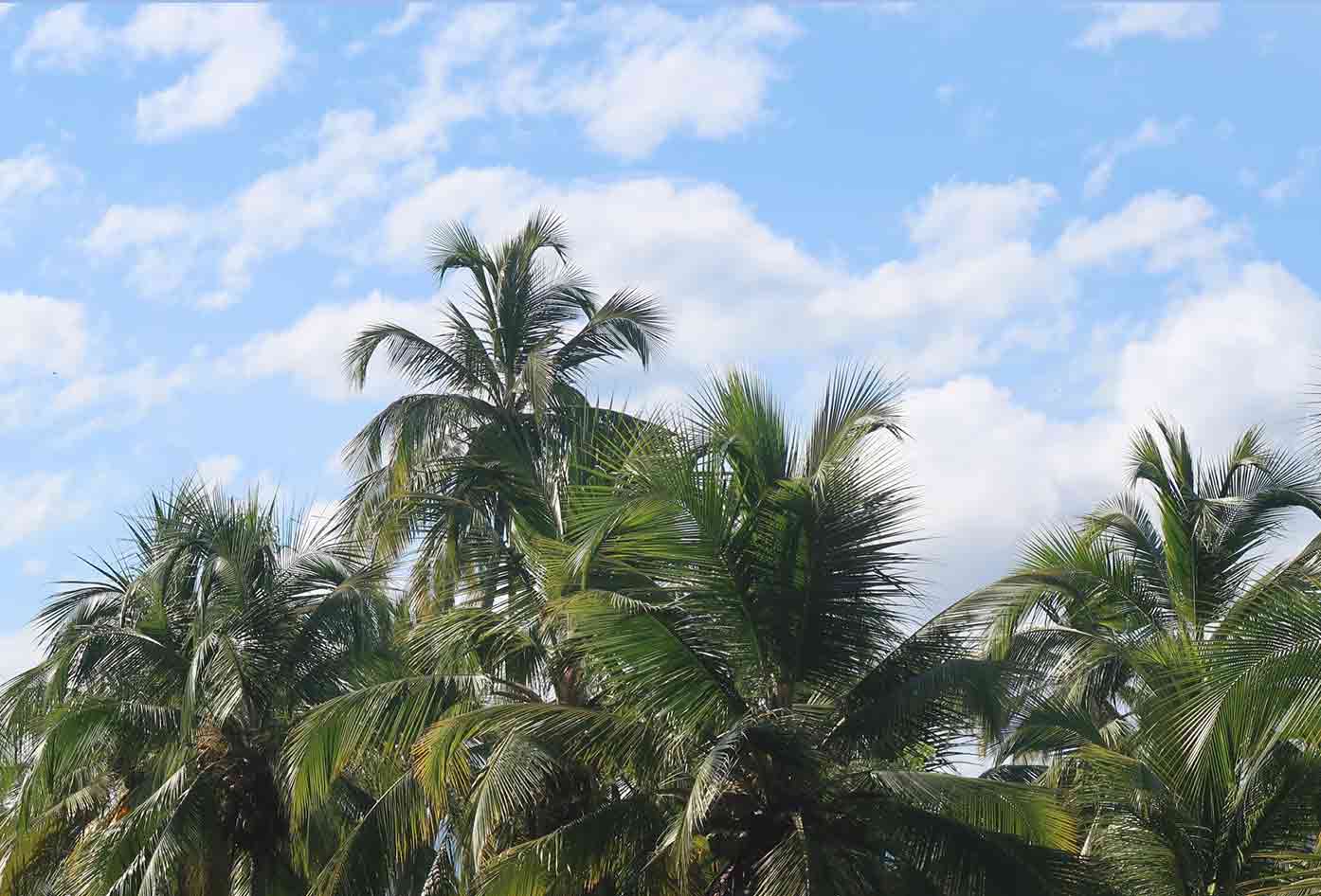 Costeno beach can offer you a convenient jump-off point for getting to Tayrona park so you're in the right place if you intend to visit the park.
This is one of the only beaches I have been to on the Caribbean coast of Colombia that doesn't have some sort of a town connected to it.
You can pay to stay from the morning until the evening at one the hotels here, but it makes sense to stay overnight as you can have the most intmate evening. Many wake up to witness the morning sunrise.
Stay at Costeno beach Hostel
One of the most popular places to stay at Costeno Beach and designed especially for those who are looking for fun party vibes.
Everything from the vibrant staff to the music and drinks makes it a place you want to spend more time in.
You'll find the bungalows here have private bathrooms (with showers) so you can have a more private experience here if you choose.
Many people enjoy the hammocks in the first-floor area to get amazing views of the sea. Be sure to book your stay at Costeno Beach hostel well in-advance because the dorm rooms tend to get filled quite fast.
Horse ride
You can take a horse ride along the beach and it's possible to arrange this activity through one of the hostels, but with local operators such as horseshoes tours around you can book direct with them to save cash.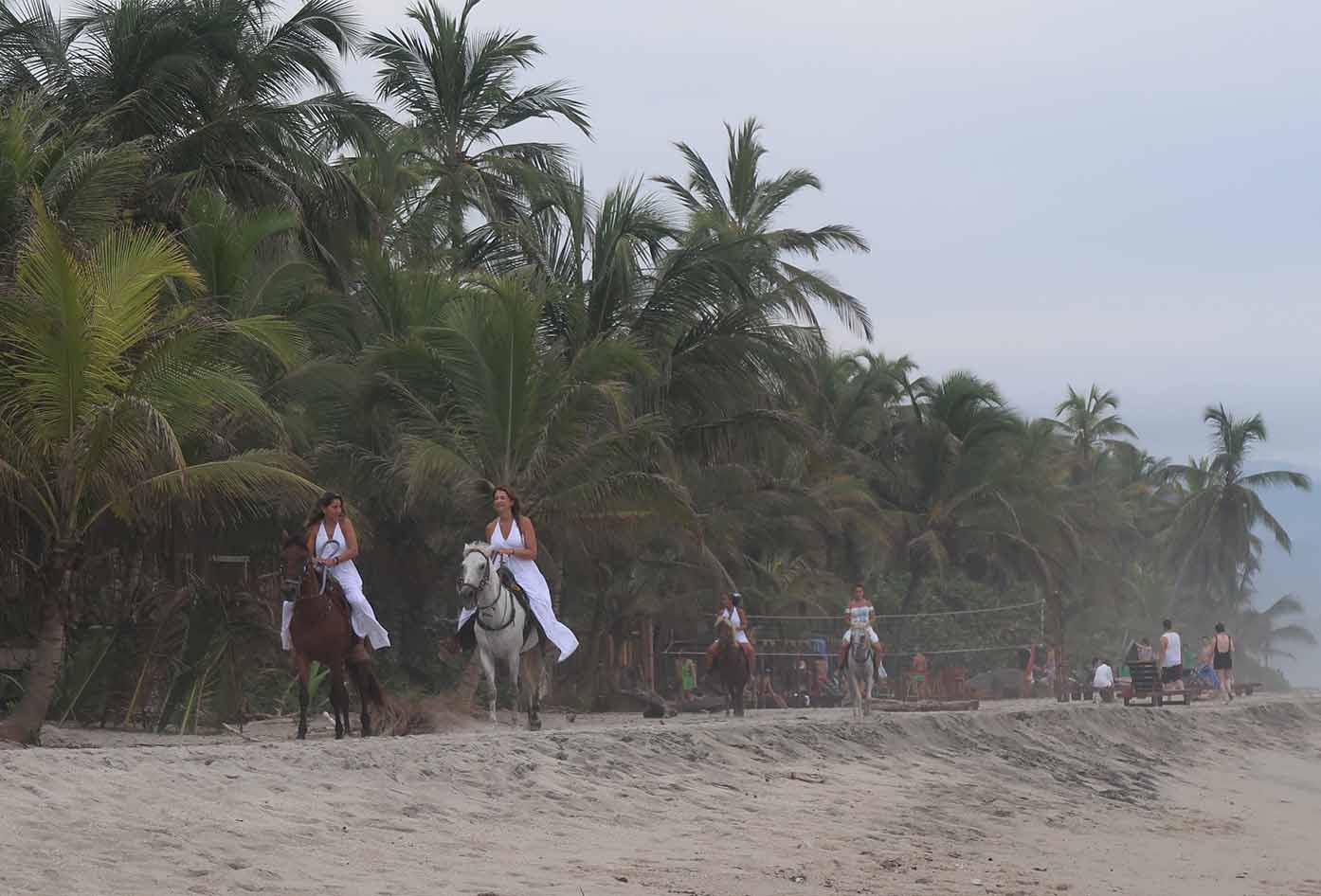 Everything from a couple of hours in the evening to 3 days adventures. Just contact them directly to arrange it. If you find youself on an extend stay then you'll see groups of people passing you by on horses.
This activity can be good for both the horse and rider. Horse riding along long sandy streches can be good for builing up fitness levels and as a good strength exercise as well as incentivize muscle tone.
Stay at Tayrona Teneted Lodge
After staying in various places along the coastline arriving at Tayrona tented lodge was a blessing. Just imagine you are literarily one footstep from the beach in a private cabin that has everything you need.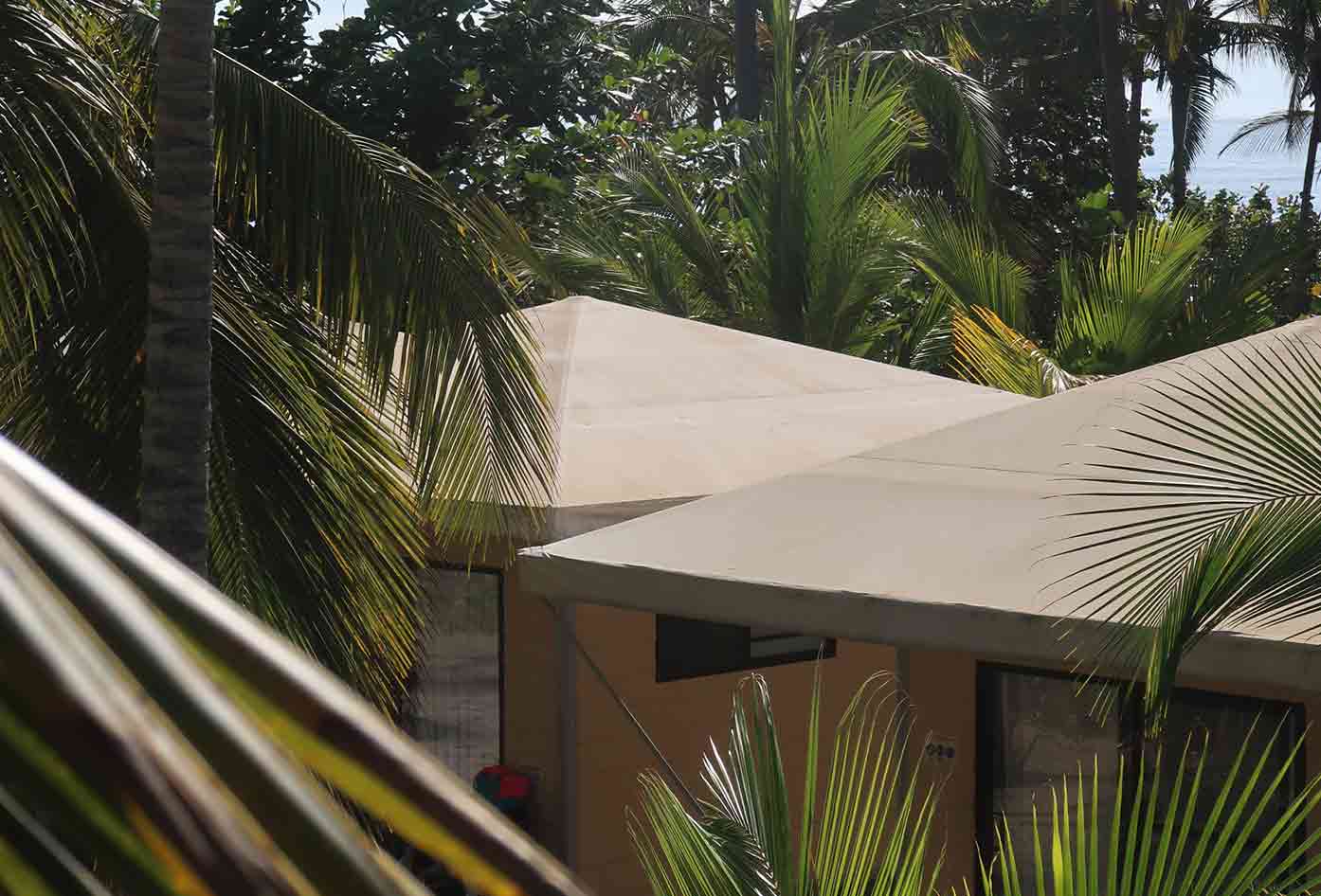 A hot shower, small fan, clean sheets, and towels. The breakfast was nothing to write home about but nevertheless the options are very limited in costeño beach so it is understandable.
They offer drinks and snacks at an elevated price but you are free to bring your own food and provision so if you can try to do that.
With limited cabins on this site book your stay and make sure you make your reservation well in-advance because this place gets full up quick.
Costeno beach Travel Tips
See these travel tips for Costeno beach to ensure you have the best stay whether you're backpacking solo, or traveling with friends.
⤵️ Dan's Travel Tips For Costeno beach:
I suggest carrying a notebook with my travel journal to jot down memories and thoughts from this experience
The cost by bus to get to Costeño Beach from Santa Marta costs around 10,000 pesos depending on where you get on/off the bus.
There are some delicious exotic Colombian fruits that you find from this region such as mango, cacao, and soursop! Make sure you know what fruit you are eating before you try it.
Be sure to pack a decent pair of flip flops that will protect your feet along those long sandy streches and are comfy for walking in.
You will find that the Pizza at Dos Hermanos hostel is some of the best pizza in Colombia and for 25,000COP+ it's an absolute steal.
Being able to speak some Colombian Spanish will go a long way in this region as the majority of the locals do not speak English.
Costeño Beach is about 10 minutes away from Tayrona National Park so you can arrive here after spending a day in the park.
The mosquitos are insane in this part of the coast you will want to carry some travel size bug spray if you want to leave the beach without a thousand bites on your ankles.
The famous Costeño Beach hostel is run by two Canadian brothers who mainly employ local and have volunteers who are helpful when it comes to social events and excursions in the local area.
Make sure you take enough cash in pesos for you arrival at Costeño Beach. The good news is that most of the hotels and hostels do accept card payment but make sire you carry cash just in case.
If you are thinking of doing the Ciudad Perdida Trek just look at the map and you'll see that Costeño Beach is a stetegic point. You can start in Palomino and work your way back towards Santa Marta.
Map of Costeno beach, Colombia
See this map of Costeno beach to get a better idea of the beach area:
You'll need to register on arrival to the beach before walking (or moto taxi) to get to your pre-reserved hostel or hotel along the beach.
Remember to carry some comfy walking shoes and practice your Spanish to be able to pick up any inside knowledge from locals.
Got Travel Insurance for Colombia?

Designed by travelers, for travelers, World Nomads covers more than 150 adventure sports and activities so you can explore your boundaries.
Costeno beach, Colombia
Thanks for reading this short guide to traveling to Costeno beach.
On the road from Santa Marta you have the chance to visit various beach locations and this is one that you can not afford to miss.
In this guide, we've explored Costeno beach, things to do, how to get here as well as travel tips to help you make the most of your time.
If you are backpacking Colombia I invite you to see more off-the-beaten-path locations you can visit in this beautiful country.
📌 Like this article? Pin it…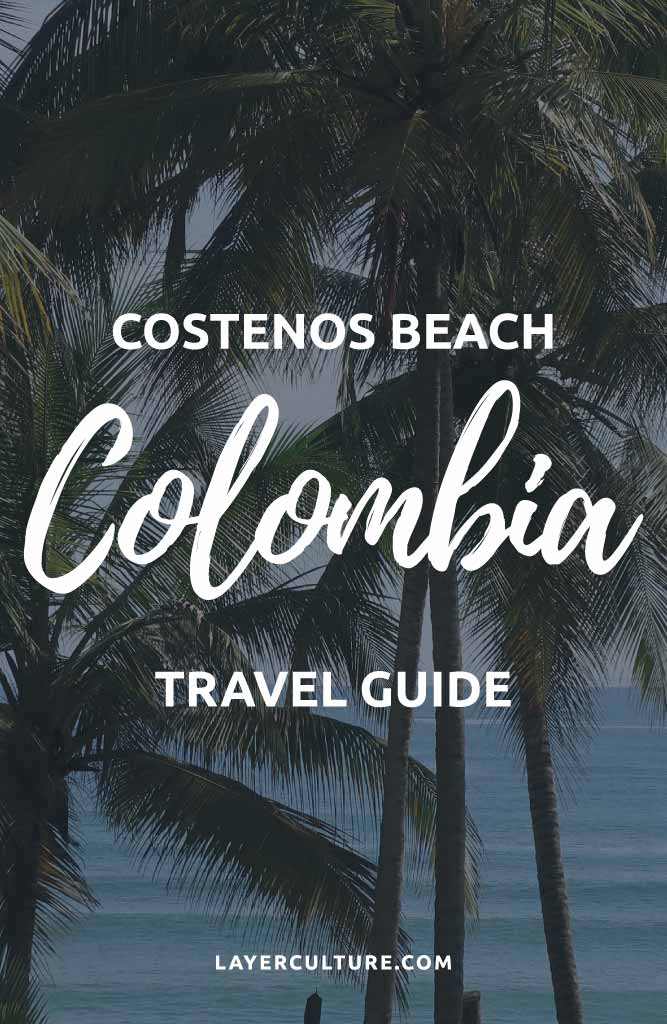 Did you find this guide helpful and will you travel to Costeno beach?
💬 Leave a nice comment or let's start a conversation below!
---
"Dear friend! Some links in this post contain affiliate links. Meaning, if you click through and make a purchase, book a hostel or sign up for a tour, I may earn a small commission at no additional cost to you. Your support means a lot and helps me to keep traveling and maintaining the quality of this site for you."