What is the true cost of living in Peru today?
Peru is one of the most popular and well-loved countries in South America for tourists and expats alike.
Home to the world-famous Incan city of Machu Picchu, Peru has an amazing history and some of the most enchanting landscapes in South America.
From sampling Cuy to shearing llamas, you don't know what life in Old Peru could bring.
Cost of Living in Peru
You may even come across a rather kindly bear who enjoys marmalade sandwiches… When it comes to living in Peru permanently, however, there are many things you need to consider.
Unlike on any regular visit to places in Peru the cost of food and hotel rooms isn't the only spending compass if you move here permanently.
What are house prices actually like? What's the difference in everyday bills in Peru compared to the USA?
You need to know how much it costs per month based on utilities, mortgage prices, and other bills.
It's a matter of seriousness, compared to going to a country 'just for the heck of it'. You need to be fully prepared, hence why this article is designed to help you on your way.
Living in Peru
Public transport and private transport are incredibly secure and compared with living in Colombia, you'll feel a lot safer.
So, yes, Peru is safe, and there are tens of thousands of tourists that visit the country every year just to see Machu Picchu alone.
This means it's inevitable to see the touristy regions despite the warnings of no travel in certain regions.
Everywhere in Peru though, there is a certainty of food being cheap and the chocolate is the best you've ever eaten.
Is It Expensive to Live in Peru?
Quite the contrary! Peru is one of the least expensive countries to live in, in all of South America, and for various reasons.
You can cover basic expenses for as little as USD$2,000 per month or less in most areas other than in the center of Lima the capital.
Living in the capital costs you a bit more for the same quality of life as you would experience in other areas of the country.
If you own your own property, $1,250 per month would be more than enough for bills and amenities.
Although many services and amenities are similar in price throughout the country, real estate costs vary substantially from city to city.
As far as food goes, however, it's pretty much the same everywhere.
Average Salary in Peru
According to SalaryExplorer.com, a trusted source which this guide depends on for statistics, the average salary leaves a lot to be desired.
A person working in Peru typically earns around 7,540 PEN per month.
Salaries range from 1,910 PEN (lowest average) to 33,700 PEN (highest average, actual maximum salary is higher).
This is the average monthly salary including housing, transport, and other benefits.
Salaries vary drastically between different careers. It's worth noting that the average monthly salary in US dollars is $1,990.
This means the average annual salary is just over $24k. If you're looking for starting a career in Peru, we would advise against it.
However, Salary Explorer recommends looking into studying a Masters degree in Peru.
A Master's degree program or any post-graduate program in Peru costs anywhere from 37,700 Nuevo Sol(s) to 113,000 Nuevo Sol(s) and lasts approximately two years.
That means the cheapest 2-year degree is often a third of the tuition cost of the average 1-year course based in the UK.
House Prices in Lima
According to International Living, Apartments and houses are more spacious than those found in the USA and UK, with at least two or three bedrooms for every apartment.
In most locations it is more difficult to find studio apartments, they haven't caught on in the country yet.
Also, don't limit your search to furnished only, even if it comes initially as a huge inconvenience.
Although furnished places do exist! They can be twice the price of an unfurnished unit at the exact same location and size.
"You'll have a hard time finding a modern, three-bedroom home for less than $500,000 in Miraflores. Large apartments in upscale districts are upwards of $175,000. However, in the smaller urban centers and the countryside, prices are much more affordable. In Arequipa or Trujillo, houses are more likely to start around $200,000 or less."

– International Living.
Expats in Peru
The expat culture in Peru is quite extensive and can be difficult to pinpoint as a result.
There is no mini-enclave of Europeans, they're everywhere! There are many guides to becoming a Peru-resident including ones with forums where you can ask questions like ExpatPeru.
Expats who have been legally living and working in Peru for a period of 3 years or more can legally apply for a permanent residency permit!
This allows you to continue to travel, live and work there without having to constantly apply.
Even when it comes to citizenship, it can be attained after legally living and working in Peru for a period of as little as 2 years!
This is provided that it can be proved that you have ties to the country. Evidence could be as simple as proof of rental or purchase of a residential property.
Other factors include your knowledge of Peruvian culture and of Latin American Spanish which is the key to unlocking a richer lifestyle.
Cost of living in Peru vs. USA
There are many people living in the USA seeking a better quality of life for less cost.
Peru can be a brilliant place to move to for specifically that reason.
A lot of your day-to-day will cost a lot less in Peru, and if you love the culture here, you'd want to stay permanently.
Is Food Expensive in Peru?
According to Budget Your Trip, meal prices in Peru can vary. The average cost of food in Peru is around PEN 39 per day.
Based on the spending habits of previous travelers, when dining out an average meal in Peru should cost around PEN 16 per person.
Breakfast prices are usually a little cheaper than lunch or dinner.
The price of food in sit-down restaurants in Peru is often higher than fast food prices, or street food prices.
Living as an expat in Peru means not just going for the local delicacies. But spreading out between different styles and price points. Similar to doing solo travel in South America on a budget.
However, the difference is that you can't live in Peru permanently spending $5 USD per day on just street vendors. When it comes to food, you need to be realistic when budgeting.
Standard of Living in Peru
Most Peruvian cities are pedestrian-friendly and taxis are rarely more than $2 to $3, as long as you book them safely with legitimacy in mind. Or, you can even rent a car when you fancy a road trip.
Small buses, called 'combis' are a very popular way to travel short distances and are even less expensive than the already cheap taxis. Most backpackers planning their Peru travel itinerary use combis.
Most expats who live in Peru find it unnecessary to own a car, especially in the urban centers (as you would in the likes of London and New York). This completely reduces the cost of living here.
There is a good network of private clinics and hospitals throughout the country, so anyone seeking a sufficiently stable healthcare system can rely on Peru.
You can purchase insurance from one of many national healthcare companies starting at $150 to $200 per month. This is incredibly cheap compared with USA!
However, many have a cut-off registration age of about 60, so retirees would find it difficult. Most prescriptions are available over-the-counter for very cheap.
If you are looking for a country with a generally great quality of life and all the modern amenities of home but at a very affordable cost? Peru is there for you!
Retiring to Peru
This is the part we begrudgingly have to discourage. Not only do over the 60s often not receive health insurance, but the cost for a retiree visa is astronomical for someone who isn't working.
To obtain the Peruvian Rentista Visa, applicants must have a continuous $1000 monthly income while living in Peru.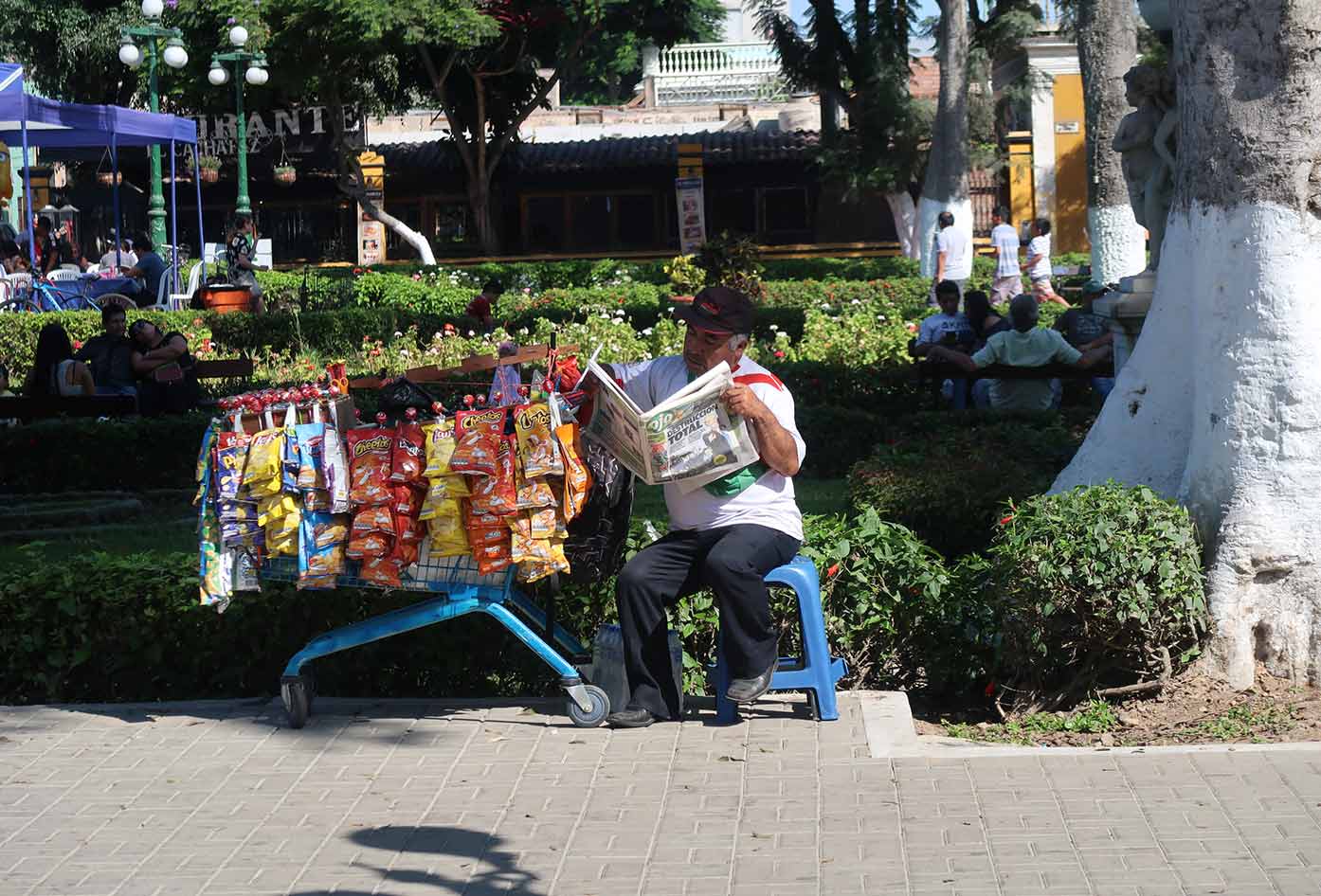 An additional USD$500 is required in income for every dependent filing for the visa as well.
This seems like a large expense just for someone who isn't working.
Once a Carnet de Extranjeria is approved by the government, a process made unnecessarily lengthy and laborious! Only then are retirees free to open a bank account and purchase a cell phone/internet/cable plan, etc.
If you want to keep it 100% real, it makes a lot more sense for expats to work or study here rather than retire here.
Pros and Cons of Living in Peru
Taking everything into account what are some of the pros and cons of living in Peru?
First let's look at some of the pros:
Pro 1: Peru has a fascinating culture that dates back thousands of years. It has hundreds of archaeological sites to explore as a result. They vary in importance from small local sites to UNESCO World Heritage sites of global importance such as Machu Picchu.
Pro 2: You can choose to live on the 1,500-mile coastline, the foothills of the Andes, or even in the Amazon jungle. There is a location to fit any taste or budget.
Pro 3: Property and rental prices tend to be lower than what you'll pay in the USA or UK and property tax is also low—less than $100 per year is not uncommon here.
Aside from the fascinating culture, which, if you're not already up to speed on, try reading these facts about Peru to gain more insight.
Now let's look at the cons of living in Peru?
Con 1: You won't find a lot of varying cuisines outside of Peruvian or Latin.
Con 2: The cost of retiring is expensive.
Con 3: Importing is incredibly expensive, so you might as well bring all your home comforts with you on the flight there.
Hopefully, after digesting those points, you can make an informed decision about what you like and dislike when it comes to living in Peru.
Cost of living in Peru
Overall, living in Peru is safe, cheap, and has a similar standard of living as USA and Argentina.
While it is technically possible to live on $1,200 per month in Peru, you will enjoy life more by expanding your budget and allowing for extra activities, so safe money before moving.
What do you think, are you ready to make the move? See these Peruvian tourist attractions you can visit while making up your mind.
📌 Like this article? Pin it…
What funds will you require to live comfortably in Peru?
💬 Leave a comment below or let's start a meaningful conversation…
---
"Dear friend! Some links in this post contain affiliate links. Meaning, if you click through and make a purchase, book a hostel or sign up for a tour, I may earn a small commission at no additional cost to you. Your support means a lot and helps me to keep traveling and maintaining the quality of this site for you."