What is the real cost of living in Panama today?
It is no secret that Panama is known as one of the best countries to visit or retire to in Latin America.
Located between the majestic paradise of Costa Rica and the uber diverse Colombia, Panama has the best of both continents.
It's known as one of the best places in Central America for relaxing, enjoying warm climates, and riding the waves.
With the famous canal, many shipping routes pass through the country to bypass the often dangerous Magellan Straights.
Cost of Living in Panama
There are many facets to the animal kingdom found in this small strip of land. Most of its land area is made up of protected jungle, brimming up to the seams with unique instances of wildlife.
With the low cost of living in Central America it's not hard to understand why you would want to visit a country like Panama, but what would it be like to move here?
Living in Panama
Panama can be many things to many people. Decadent and dazzling, you can experience the best of both worlds.
Whether it's for the wild and natural wonders or for indulging yourself in a sophisticated city lifestyle.
Who said you have to live in Mexico for the high-end spots? Enjoy the best coffee for cheap too!
Is Panama Expensive?
Panama is more expensive than most other Central American countries, but you can experience the country on a small budget.
That is if you take the time to investigate low-cost options and don't just stick to researching on one webpage.
According to multiple sources, an expat living in the metropolitan areas of Panama spends close to a similar amount as in the U.S or Britain. The most expensive place to live is in Panama City.
According to our sources, an expat could live comfortably spending about $2,000 per month.
This would include rent and other bills plus water and phone.
Mike is an expat from Tampa, Florida and lives in Panama City with his wife and cat. His cost of living in Panama City is about $2,500 to $2,600 per month.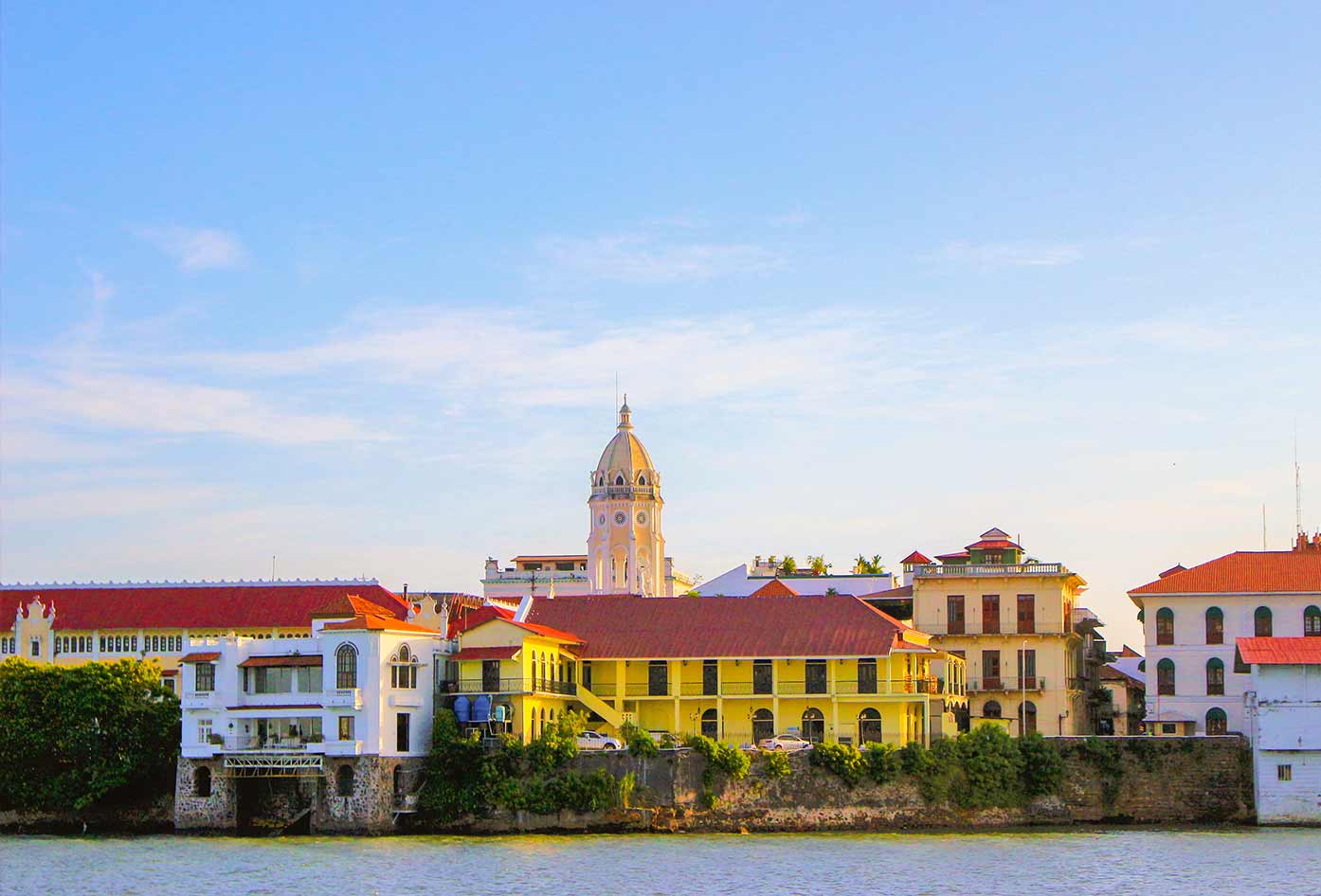 However, this is for two people plus a pet, so setting the bar at around $2,000 a month per person sets the bar for a roundabout average you should expect to pay.
If you find yourself outside of Panama City, you could see monthly fees as low as $1,000
Average salary in Panama
According to Salary Explorer, a trusted source which we depend on a lot here, the average salary leaves a lot to be desired. However, compared with neighboring countries, you could view it as a step up.
A person working in Panama typically earns around 2,120 Panamanian Balboa per month depending on qualifications and experience level. This is around £18k per year before tax.
Salaries range from 540 PAB (lowest average) to 9,460 PAB (highest average, the actual maximum salary is higher).
This is the average monthly salary including housing, transport, and other benefits. Salaries vary drastically between different careers.
The median salary is 2,120 PAB per month, which means that half (50%) of the population are earning less than 2,120 PAB while the other half are earning more than 2,120 PAB.
Panama House Prices
According to Global Property Guide, "Panama's housing market is now depressed.
Homes sales and residential construction activity are both declining. Property prices have fallen in most major cities." This is due to Coronavirus dropping the realty prices quite substantially.
Although this will be an encouraging factor to foreigners looking to purchase properties, the process takes longer than you'd expect.
"Foreigners can own real properties in Panama, and are accorded with the same property rights as Panamanians. However, mortgages can be difficult to obtain, especially for foreigners, and the purchase process can take two to three months. More than 80% of real estate transactions involving foreign buyers are in cash."
In Punta Pacifica, the trendy ocean-front spot in Panama City, a three-bedroom condominium is priced at about US$350,000.
Your choice is either to purchase in cash or rent affordably.
Expat Life in Panama
What you'll find is Panama is safe and that it's the most USA-like country in Central America.
There is a lot of influence from America on Panama thanks to decades of control over the Panama Canal.
Today, Panama has high-end malls and English is spoken widely in cities such as Panama City and Boquete.
While new arrivals surely make up some of the expats, there are also many retirees and military personnel living in Panama—these are leftovers from the Canal Zone era.
This means many of the expats are there for the very fact that it has the U.S. vibe.
For many, this is a selling point of Panama. However, for many expats, this can be a turn off as they seek authentic Panamanian culture.
Why not try seeking accommodation outside of Panama City?
Cost of living in Panama vs. USA
There are many people living in the USA seeking a better quality of life for less cost.
Although Panama is seen as expensive for Central America the quality of life is a lot closer to USA than neighboring countries.
Obviously, the cost of living in a poor region in Nicaragua will be cheaper than expensive accommodation in downtown Panama City.
What's the Food Like in Panama?
Of the many delectable deep-fried delights, Carimañola is perhaps one of the most popular.
Small, handmade yucca balls are stuffed with ground meat or cheese before heading to the frier for golden, crispy perfection.
Grab a few for breakfast or a midday pick-me-up while exploring the best shops and activities Panama City has to offer.
Just be sure to order more than one. You'll finish one faster than you can say "Mañana". If in doubt, brush up on your Spanish today!
There's a reason why Carimañolas is the most popular food in Panama! When in search of the more traditional dishes in Panama, it doesn't get more iconic than the country's national dish: Sancocho.
A broth containing vegetables, chicken, and a side of rice, are a few of the key ingredients in this typically Panamanian soup.
It's the liberal usage of local culantro spice that brings out the unique Panamanian flavor.
Standard of Living in Panama
With outstanding growth over the past five years, Panama's cities and hubs have built all sorts of infrastructure.
Everything from golf clubs and beach resorts to shopping plazas, grocery stores, restaurants, and more.
It's nice to know that in Central America, there's a city like Panama City that has great healthcare and banking systems.
Nearly everywhere you go, there's high-speed internet, reliable power, and water you can drink straight from the tap.
Trust us when we say, this is miraculous for this part of the world!
Cable television and cellular service are abundant, the roads are the best in the region, and every year new investment leads to improved conditions.
Retiring to Panama
Panama is becoming increasingly popular with the retired USA baby boomers who are actively seeking an affordable and attractive location to retire.
Some expats will even consider a timeshare as a form of property ownership when it suits their lifestyle and travel preferences.
Most of the retirees that seek a spot here have enough savings to afford purchasing properties in full and in cash.
According to bestplacesintheworldtoretire.com, the cost of living in Panama City is on average just about 60% less than the cost of living in New York City.
This Housing is just 30% of the cost of New York City, groceries are 40% less in Panama City and entertainment is 60% less than in NYC.
So, clearly, it's cheap to live in Panama City compared to a place filled with soon to retire upper echelon wealthy couples.
When Panama feels like the USA sometimes, why not? The climate and weather are perfect.
Is Panama a Good Place to Live?
Panama uses the U.S. dollar as its official currency, despite common usage of the Balboa.
For an American, this makes living and doing business in Panama so easy and simple.
Many U.S. credit cards don't charge extra fees for making purchases in Panama, ATM's are easy to use, and international wire transfers are easy-peasy.
Panamanians love their country and are an extremely proud denomination of Central America.
It would help if you knew at least some basic Spanish conversation, but most residents are helpful to those who don't speak it.
On the whole, Panama is a great place to live for many reasons, but for the most part, it's the infrastructure that surrounding countries don't unfortunately have.
Cost of living in Panama: Conclusion
Overall, living in Panama is very easily comparable to Mexico in food, culture, and costs.
While it is technically possible to live on $1,000 per month in Panama, you will enjoy life more by expanding your budget and allowing for extra activities, so save money before moving.
A baseline of $2,000 a month is reasonable for a nice life in many desirable areas of the country including the major cities.
If you have the time, consider spending your 90-day tourist visa as a research trip.
You could move to the city with the most potential for the three months, or spend a few weeks in your top three spots.
What are your thoughts? Book your trip to Panama today and explore a place you could potentially move to permanently!
Try comparing Panama vs Costa Rica to see which suits you the best!
📌 Like this article? Pin it…
What funds will you require to live comfortably in Panama?
💬 Leave a positive comment or lets start a conversation below!
---
"Dear friend! Some links in this post contain affiliate links. Meaning, if you click through and make a purchase, book a hostel or sign up for a tour, I may earn a small commission at no additional cost to you. Your support means a lot and helps me to keep traveling and maintaining the quality of this site for you."