Are you thinking of exploring the great depths of the Copper Canyon?
Located up in the vast wilderness of Northern Mexico, this massive, sprawling phenomenon is arguably one of the most impressive natural spectacles in Mexico. This is not a trip for the faith-hearted.
It's over four times larger than the Grand Canyon, and even deeper in some places too. I'll give you a second to let all the greatness sink in.
Copper Canyon Guide
You'll be glad to know there's tons to explore and do here, and in this guide, we'll cover everything to do with travel in the Copper Canyon.
This guide includes the best things to do. Places to visit, and advice on how to get there, as well as, some tips from my personal experience.
Is the Copper Canyon Worth Visiting?
When you want to escape the gringo trail the Copper Canyon offers an off-the-beaten-path experience. With some of the most beautiful landscapes and views in Mexico, why wouldn't you want to visit?
The small towns of Divisadero and Barrancas along the Copper Canyon are home to some of the best vantage points, where you will be able to see for miles and down into the extremely deep gorges.
You'll feel that you're in a more remote wilderness within Mexico!
Adrenaline junkies can find many activities to do such as Ziplining through the gorge, and mountain biking, which we'll later cover.
This region is also home to the curious Tarahumara tribe (also known as the Rarámuri). They are famous for their ability to run – often dozens of miles within a day, sometimes even going barefoot!
How to get to the Copper Canyon
The Copper Canyon is located within the Sierra Madre Occidental range, which spans across the state of Chihuahua and beyond.
It also lies within the most eastern part of Sinaloa. Despite its wilderness, accessing this gem isn't as hard as you would think.
📍 The Copper Canyon train cuts through this area, starting from the coast and inland until Chihuahua City.

The ride has many stops along the way, which includes the best views and activities, which we'll cover below.
You can start at either Chihuahua City on the eastern side, or from the small, coastal city of Los Mochis in the state of Sinaloa.
Copper Canyon Mexico Map
So where is Copper Canyon on the map? See the interactive map below to get a better idea.
Know as Barrancas del Cobre in Spanish the Copper Canyon is in the southwestern part of the state of Chihuahua if you are backpacking Mexico this location gives you the perfect reason to visit Chihuahua.
Places to See in the Copper Canyon
So with a 16-hour train journey (from start to finish) ahead of you, which places are worth your precious time?
Let's take a closer look below at what you can do in Copper Canyon:
El Fuerte
The first stop along the "El Chepe" train (the name of the Copper Canyon Express), El Fuerte is a small city famed for its Silver Mining and Agricultural activities.
Although not one of the most popular stops, this area is still worth a visit, especially if you like colonial architecture and the opportunity to do smaller, more gentle hikes.
Here you can stroll along the colonial streets and Plazuela, then head up to the Mirador for stunning views across The Valley of Carapoa.
If you are planning on staying here for the night, you'll find a variety of accommodation options to suit all budgets. Everything from inexpensive hostels to sophisticated suites.
Bahuichivo
Bahuichivo is not a place where you can expect the typical Mexican stereotypes on show at all. This small town offers a lot less to visitors than El Fuerte, so it is worth keeping this in mind when visiting.
There are a few cafes and restaurants built around the train stop. Be sure to carry your best hiking shoes on as there some nice and short hiking paths to fill some time if waiting for the next train to pull in.
The nearby town of Cerochaui is renowned for being a major domain of the Tarahumara tribe. So, if you're interested in indigenous culture, or want to learn more about their running style, then this is your stop!
Guachochi
Located around 80km southeast of Bahuichivo, the region of Guachochi is by far the least accessible on this list. You'd need to go with an off-road 4×4 tour or drive the long way around from Parral!
Guachochi is seldom visited by foreigners, however, is home to one of the most stunning waterfalls in Northern Mexico – Cusárare Falls.
With water crashing over the hundred-foot drop, this waterfall is surrounded by beautiful forest and green, emerald pools of water at the bottom.
The area is also great for hiking, so it's best to plan one or two full days in the area, with rustic accommodation options located nearby.
Barrancas
Barrancas is where the real fun begins.
On this portion of the trip, this is where you will find those incredible views and depths of the Copper Canyon.
As well as the views, you can try out some of the street food made by the local Rarámuri people. You'll see children along the route selling items.
The hiking opportunities here are endless, so if this is on your list then it is worth staying a few days here.
There are lots of accommodation options here, with some of them located right on the edge of the canyon for spectacular views.
One of the best to stay in is Hotel Divisadero Barrancas – with some really stunning panoramic views!
Divisadero
Located only a couple of miles away from Barrancas, Divisadero is definitely more of a tourist attraction.
However, it is also the highlight of the trip, especially in terms of scenery and adventure opportunities.
Here you can find several hanging bridges which are suspended several hundred feet above the gorges.
Following these will take you to lesser-explored areas, which is great for starting hikes and exploring the canyon by yourself.
Here in Divisadero, you can also find the Copper Canyon Adventure Park. This is where adrenaline junkies will want to come, with one of the longest zip lines in the world located here!
Do the tour and be prepared to fly through the canyon at speeds of up to 135km/h, with the zipline spanning a massive 2500 meters long.
At points, you will be suspended around 450 meters above the ground. Not for the faint of hearted!
Creel
With so many things to do in Creel when compared with other stops you'll be glad you stopped here. In fact, did you know Creel is actually the unofficial capital of the Copper Canyon?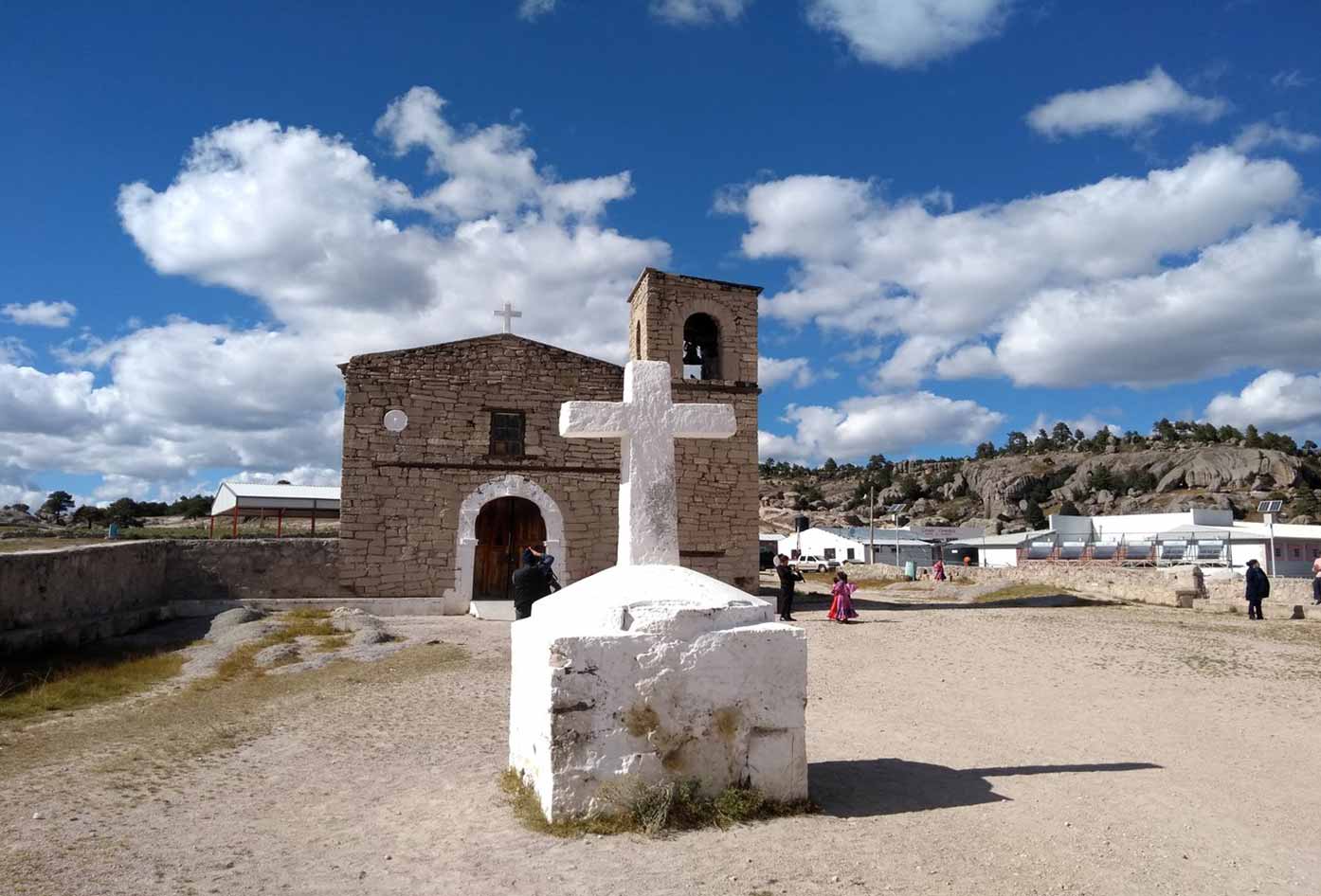 As one of the most populated stops along the rail, Creel is a great location to spend a few nights in as there are lots of amenities and private tour operators in located here.
Whilst here, you should definitely try out some authentic Mexican food, with Tío Molca being my best pick.
Here you can visit some of the more authentic Mexican landmarks. One of these is the San Ignacio Mission Church, one of the oldest colonial churches in Northern Mexico.
🚗 If you decide to
rent a car
whilst in this region you may find it more economical if traveling as part of a group or a family.
The Tarahumara still attend this church every Sunday, so is a great opportunity to meet them and explore their traditions.
You should also visit the Valle de las Monjas (Valley of the Nuns) and the Valle de Los Hongos (Valley of the Mushrooms).
Both of these landmarks are close to the San Ignacio Mission Church and have some pretty interesting rock formations!
Basaseachi National Park
This stunning national park is the last stop on our trip through the Copper Canyon.
This is the place to come for untamed and extraordinary scenery.
One of the best things to see is Basaseachic Falls, which, measuring at a humongous 807ft, is one of the tallest waterfalls in Mexico. You can join an organized hike to the falls, with most starting from Creel.
You can also explore the Candameña Canyon, which has some really impressive sights and views of the waterfall and nearby scenery.
As it's not one of the stops along the railway, getting here will be a little more difficult. You'll need to either drive or head on a tour to the national park, which is about a 3-hour drive from Creel.
Travel Tips for the Copper Canyon
Covering over 650km of track, exploring the Copper Canyon is definitely best done using El Chepe train.
I would recommend flying into Chihuahua City and starting from the East, or flying into Mazatlán or Culiacán, where you can make the ride up to Los Mochis to start from the West.
With 8 major stops and over 350 km of train tracks, pretty much everything you can see or do can be best accessed using this magical train.
It's also possible to drive to many of the different stops, such as Creel and Divisadero, albeit it will be a little more difficult. You will also need a special permit before accessing the region.
Even if you decided to drive, which of course is possible and, in some instances, more preferable, I recommend going with a private tour to the regions of Guachochi and Basaseachi National Park.
These areas are very rural, it is best to have experts with local know-how. With Creel, it's worth noting you can do a tour to Batopilas where you'll drive to this magic town full of tradition and history
As well as making the trip easier logistically, you'll have access to the indigenous Rarámuri people and learn more about their way of life.
As far as Mexican traditions go, you'll get a chance to connect with a unique tribe with incredible athletic abilities as well as highly talented musicians who play instruments such as flutes, violins, and drums.
Got Travel Insurance for the Copper Canyon?

Designed by travelers, for travelers, World Nomads covers more than 150 adventure sports and activities so you can explore your boundaries.
The Copper Canyon Mexico
Thanks for reading this guide to traveling The Copper Canyon.
With stunning peaks, breathtaking activities, and a chance to learn more about indigenous cultures, it's no surprise that The Copper Canyon is one of the most popular areas to explore in Mexico.
In this guide, we explored eight of the top destinations, which include fantastic hiking opportunities and different sights worth seeing.
Aside from advice on getting there, we explored the El Chepe Railway and why it's one of the best ways to experience this remote region.
If you're traveling further afield, read about more safe places to visit in Mexico to get an idea of where to go and what to see whilst here.
📌 Like this article? Pin it…
Are you ready to tour the Copper Canyon and did this guide help?
💬 Leave a comment below or let's start a meaningful conversation…
---
"Dear friend! Some links in this post contain affiliate links. Meaning, if you click through and make a purchase, book a hostel or sign up for a tour, I may earn a small commission at no additional cost to you. Your support means a lot and helps me to keep traveling and maintaining the quality of this site for you."