Have you tried any Colombian food dishes before?
Visitors to Colombia have tripled in the last decade, and this is no unfounded trend — the secret is out.
Colombia is one of the most exciting destinations in South America.
Long gone are the days when the country was deemed unsafe.
Today its picturesque towns, awe-inspiring natural scenery, pristine beaches, and lively cities have something for everyone.
Colombian Food Dishes You Must Try
Whether you are traveling to explore Colombia's coffee region or visiting for one of the many Colombian beaches on offer, amongst the most appealing reasons to visit Colombia, there's the food.
Native American, Spanish and African traditions fuse in a series of colorful and tasty dishes from land and sea.
Here are 10 Colombian dishes any new visitor to Colombia should try.
Colombian Arepa
Arepas are Colombia's quintessential comfort food. They're on every table from dusk till dawn, they're a popular street food stack, midnight crave-quenchers, and even breakfast.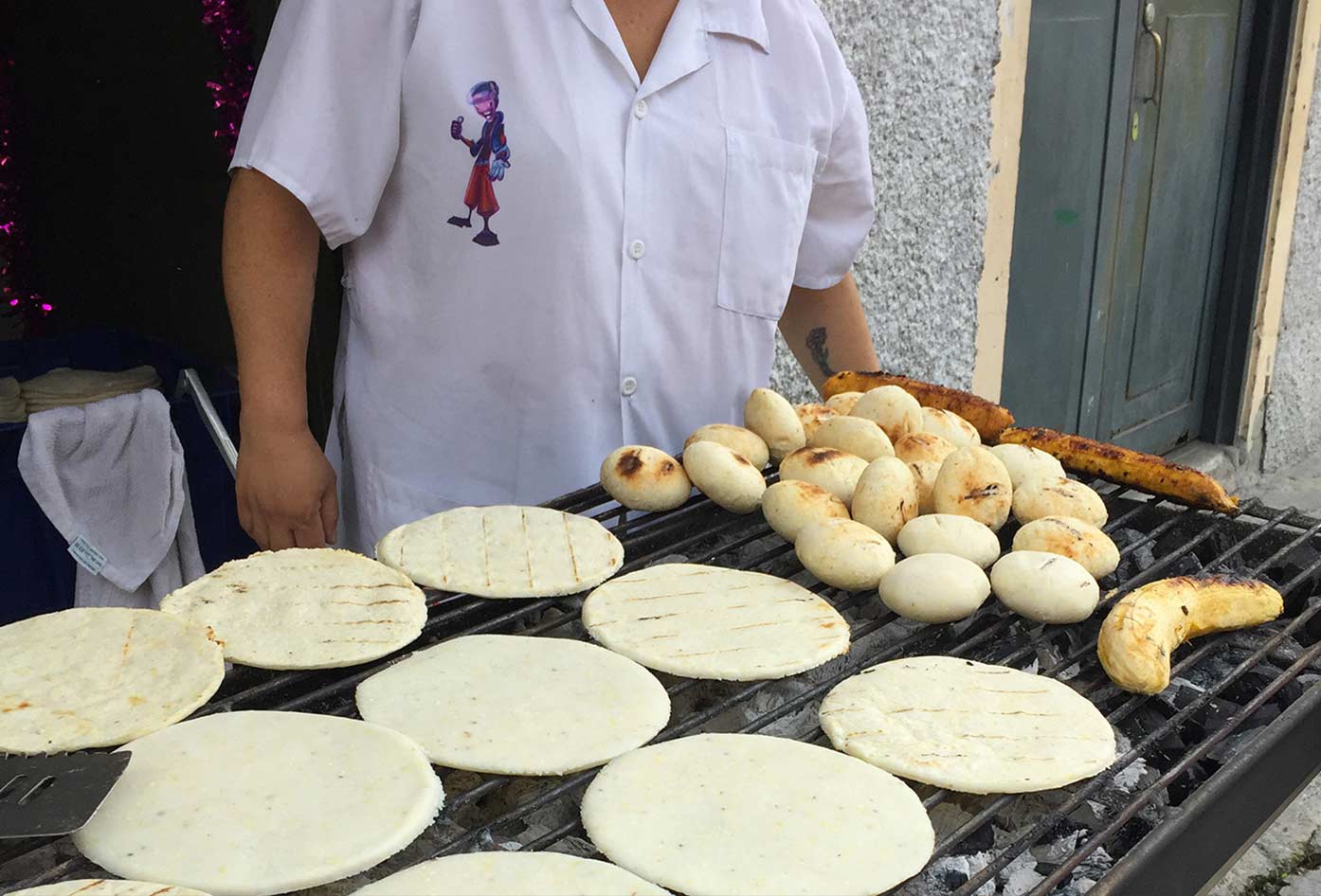 Found in many towns in Colombia, these flat, disk-shaped corn dough dumplings can be roasted or fried, eaten plain, or filled with anything from shredded chicken to beef and from scrambled eggs to seafood.
Could this be the best snack in Colombia? Arepas are the purest flavor of Colombia, but make no mistake, there isn't one arepa style but many; more than you can count. 
Sancocho
This hearty and satisfying meat broth is no light meal; it's flavors over flavors with a combination of slow-cooked meat.
Literally add anything you have at hand, including pork ribs or chicken, potatoes, yams, plantains, corn, and onions.
It's always topped with freshly chopped coriander leaves or cilantro and can include a few unctuous avocado slices. 
This one is another complete meal of peasant origins, rich in nutrients and calories. It earns a place in everyone's heart; just try it and see! 
Bandeja Paisa
The Bandeja Paisa or Paisa platter is the most significant Colombian dish and can be found in any authentic Colombian restaurant.
It comes from the Andes foothills, and it's the South American version of the English breakfast. Learn more about the Paisa culture here.
Beans, rice, pork belly, or 'chicharron,' minced meat, sausages, a fried egg, plantains, avocado, and arepas make this astoundingly wholesome dish a crowd-pleaser.
Designed as a super nutritious meal, the calorie bomb could keep the mountain people satisfied all day. Try it, but we have warned you; you won't be hungry for the rest of the day!
Cartagena Black Beef
Colombians love red meat, and have plenty of dishes based on it, like the popular Posta Negra Cartagenera or black Beef Cartagena-style.
They make this one with lean rump, which is sautéed until completely charred or blackened. The meat is then cooked with red onion, tomato, garlic, pepper, Colombian spices, and other aromatics.
Cartagena, the glorious city on Colombia's Atlantic coast is renowned for this dish, and it's always served with coconut rice and plantains.  
For visitors to the walled city of Cartagena not only will you find some of the best Afro Colombian food but an eclectic mix of other cuisines.
Cabrito Santandereano
Santander is a mountainous inland region just north of Colombia's capital city, Bogota.
It's not a surprise that goats abound in the steep hills, and they're the chief ingredient in the famous Santander-Style Goat. 
The meat is braised, roasted, or slow-cooked, but the result is always the same – juicy and gamey fork-tender meat.
If you don't make it to Santander, no worries, you may be able to order it from some of the more famous restaurants in Colombia. It's served with creole sauce, yams, salad, and, of course, arepas. 
Empanadas
You'll find filled pastries called empanadas in many Spanish-speaking countries, and Colombia is no exception.
The fundamental difference between these empanadas and others is the dough, made here with the unique precooked corn flour, also used for arepas.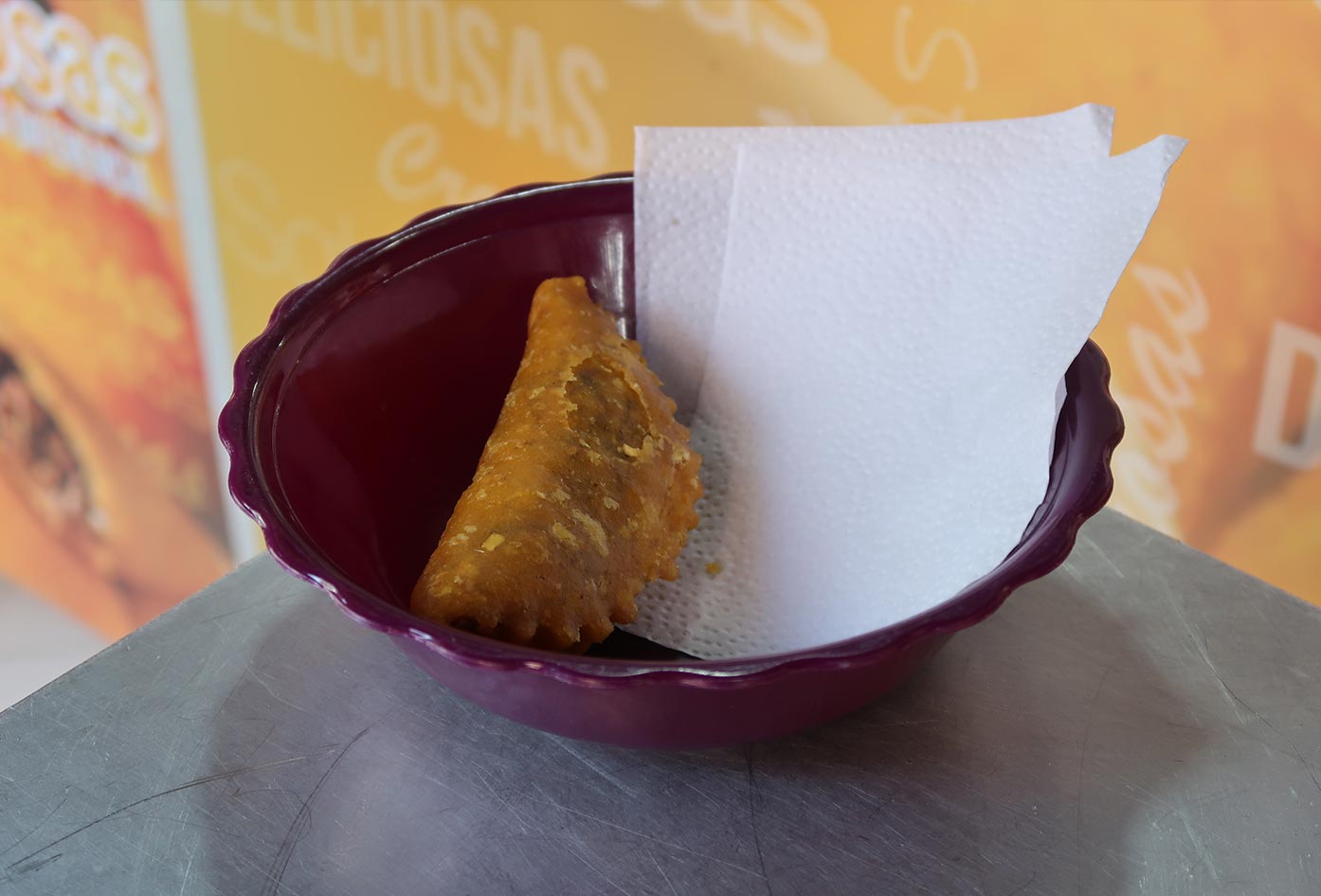 These street food specialties have been cooked for centuries, even before the Spanish conquerors.
Some popular fillings are potatoes with minced meat, squash, cheese, and stewed chicken. Simple but beautiful, Colombian empanadas are easy to love. 
Ajiaco soup
If you visit Colombia, chances are you'll arrive at Bogota, and that's the perfect opportunity to try a rare soup: the Ajiaco.
Shredded chicken potatoes, corn on the cob, and several spices form the base of this dish, but the most appealing part is its milk-based broth.
The soup can be quite spicy for the aji hot peppers, but ingredients can vary from place to place.
Traditionally the soup is simmered in clay vessels, making it even more special. Served with rice and avocado, this milky broth is one for the books. 
Patacones
Patacones are one of Colombia's most common side dishes, and they're also found in many Caribbean countries; it's easy to see why: they embody the tropical soul of the Caribbean and South America.
Green plantains pressed into thick disks and fried, seasoned with garlic and drizzled with lime juice; there are few more satisfying snacks. 
For fried plantains, Colombian patacones can be more seasoned than you could imagine, offering layers of flavor within a crispy outer crust and a smooth, almost creamy interior. 
Torta Negra Colombiana
Colombian food is more than arepas, meat stews, and plantains. For sweet treats, it's equally impressive and makes a great addition to any Colombian Christmas dinner. The legendary Colombian black cake is no ordinary cake.
Look at some of its ingredients: prunes, raisins, Oporto wine, rum, butter (lots of butter), cinnamon, walnuts, aromatic clove, burnt milk, and vanilla.
Then there's the more classic baking ingredients of eggs, flour, and sugar. This one is a complex cake by every standard!
Hard to describe, this spicy, hearty, and boozy cake is reminiscent of Christmas memories, and it's awesome. 
Chocolate with cheese
We couldn't leave out one of the rarest flavor combinations on the planet. Colombians enjoy diced cheese dipped in chocolate, it's true. This is amongst the most popular things to do in Bogota if you visit.
And there's more. The cheese melts in the scorching hot chocolate, and it's in that moment where you realize that the gooey cheese is a natural partner for cocoa. You'll only find these types of flavor combinations in Colombia. 
Colombian Food Dishes You Must Try
Colombia has a myriad of cuisines. Every region and every town has unique dishes, all worth trying.
Erica from my Colombian recipes has inspired people around the globe with her traditional Colombian cooking.
On top of that, every eatery and family makes the country's recipes their own, opening the spectrum to endless possibilities of flavors and textures.
Colombia has it all, splendid weather, natural landscapes, beaches, and exciting cities. Yet, its most prized assets are its warm people and their colorful food.
You must visit to believe it; on the downside, you won't want to leave. 
See this guide to backpacking Colombia for more ideas on where to go and what to eat if you're thinking of visiting this amazing country.
📌 Like this article? Pin it…
Have you tried any of these Colombian food dishes yet?
💬 Leave a comment below or let's start a meaningful conversation…
---
"Dear friend! Some links in this post contain affiliate links. Meaning, if you click through and make a purchase, book a hostel or sign up for a tour, I may earn a small commission at no additional cost to you. Your support means a lot and helps me to keep traveling and maintaining the quality of this site for you."