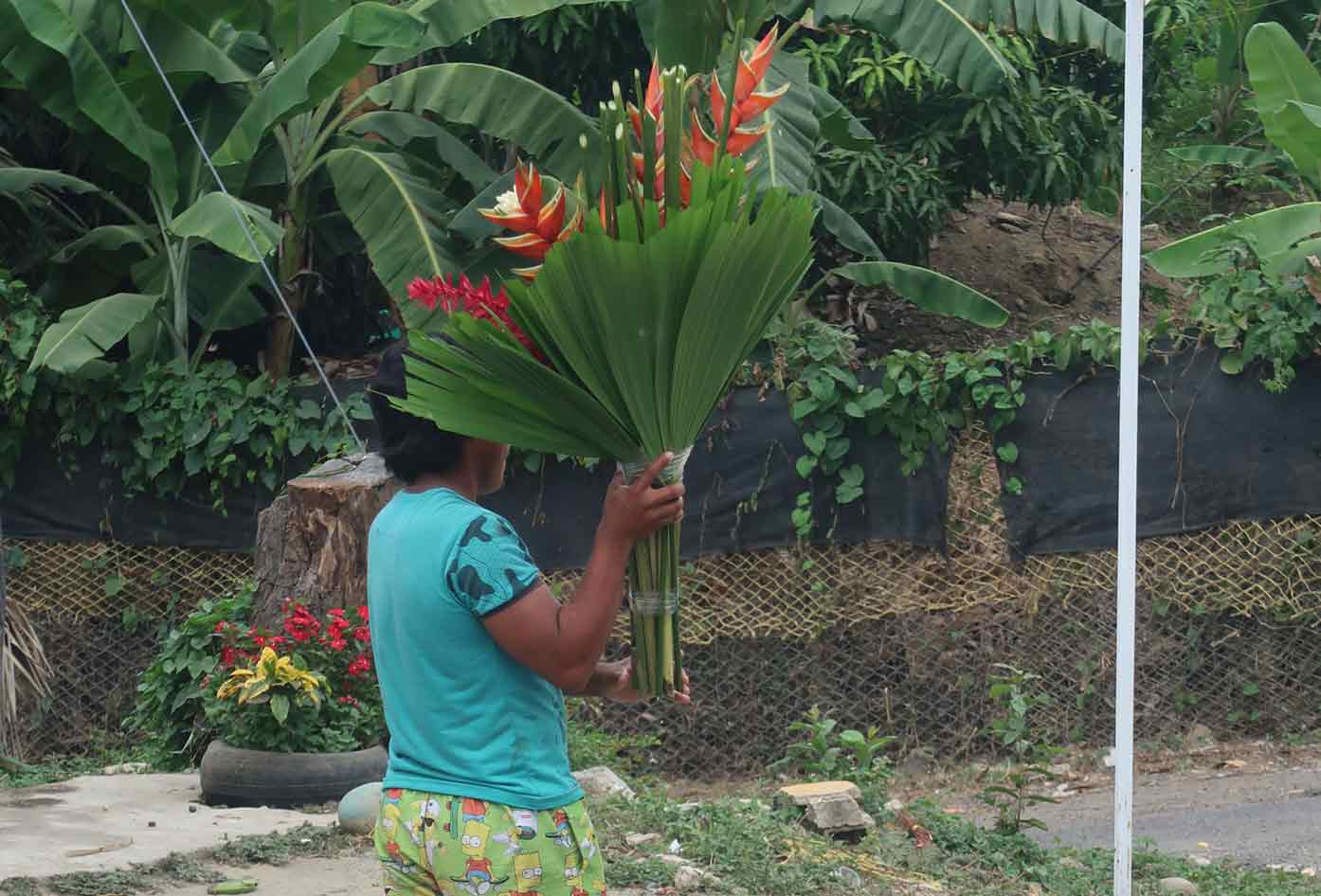 Are you planning a trip to Colombia?
If you have your mindset on visiting an amazing part of the world like South America, get ready for everything that Colombia has to offer.
Know to some as the heart of South America, Colombia has everything you can imagine, and it is the county that keeps giving more.
Everything from the people, the climates, the customs, the diverse landscapes, and the food make this country an absolute gem.
Planning A Trip to Colombia
So, when planning your own personal adventure to Colombia, where, should your trusty compass take you?
Many people believe Colombia is not safe for travelers and therefore decide to visit other places in South America such as Ecuador or Peru.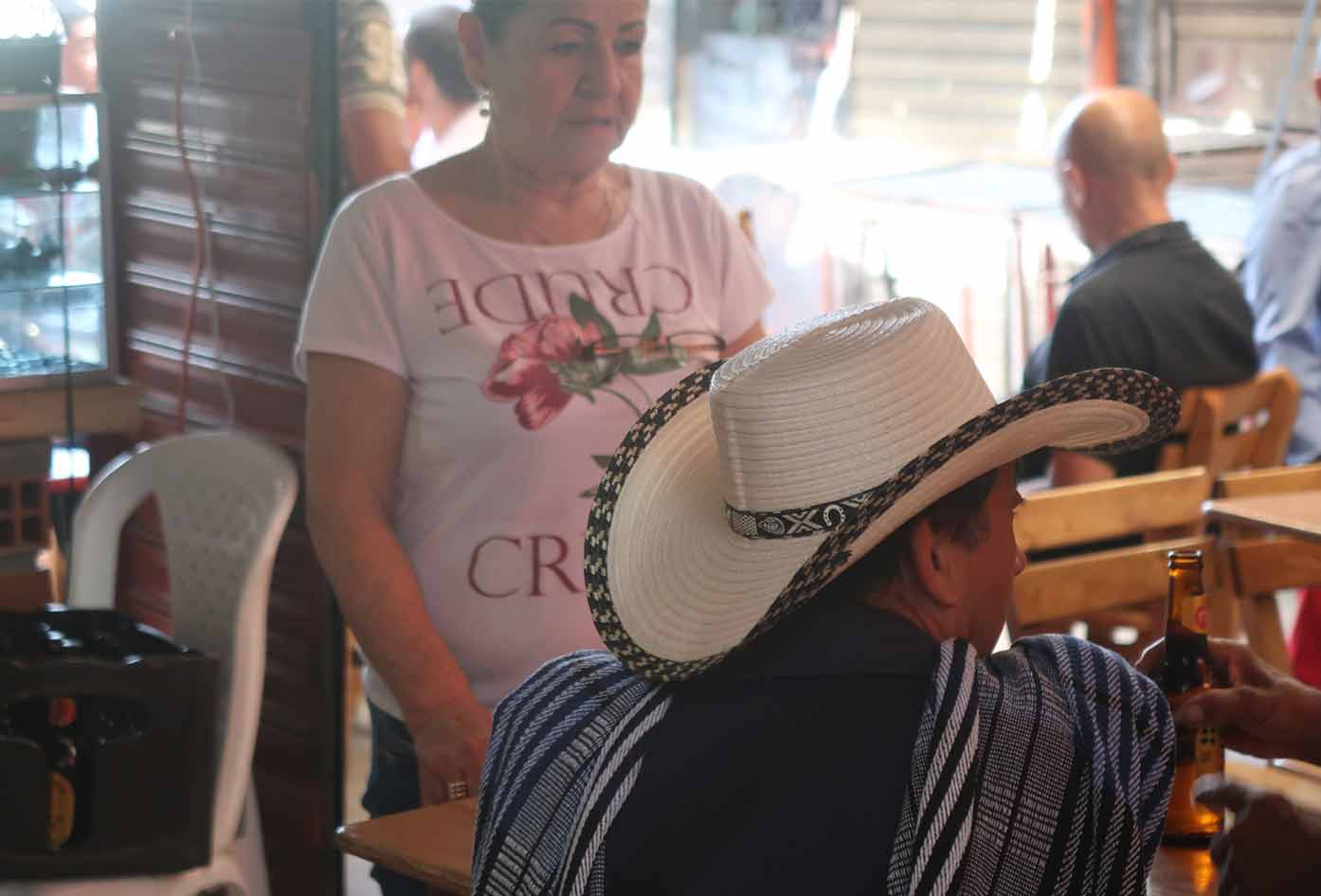 Known for its exuberant lifestyles, exotic fruits, and amazing coffee, on a trip to Colombia you get to enjoy an ever-rewarding experience.
Why Visit Colombia?
Just some of the reasons to come here include:
With hipster cities such as Bogota and the eternal spring of Medellin you'll find that urban life is more welcoming than ever before.
Doing the Lost City trek through the Sierra Nevada mountain range to see the Teyuna archaeological site makes Macchu Picchu and Chichén Itzá look less mystical than you first imagined.
Visiting paradise islands such as San Andres and Providencia enable you to discover the third-largest coral reef system on Earth.
With the abundance of buses and planes to transport you around the country, you can visit most Colombian towns and cities with ease.
So, when you can spend your time lounging on a beach in Mexico or even Panama, what should bring you all the way down to Colombia?
Why is Colombia a country you should visit time and time again?
Is Colombia Safe to Travel?
Yes, however, this is relative to where you travel. In this guide, I've selected some safe places in Colombia you can visit with peace of mind.
This does not mean you'll be exempt from danger! You must trust your instinct and take the necessary precautions when accessing new areas.
The travel safety pages and precautions on this blog can put you ahead of the average traveler when it comes to knowing what to look out for.
Colombia Costs And Budget
Cost Breakdown:
🇺🇸 1USD – 🇨🇴 3,776COP
My daily budget:
Up to 150KCOP
Suggested budget:
88K-110KCOP/$28-35US
Your money will go a long way here, even when going for more up-market food options and services, you'll be surprised how far the dollar goes even in some of larger cities such as Medellin.
You'll need more cash if staying in all-inclusive resorts in Cartagena or if you intend to stay in San Andres for an extended period of time.
Comparing travel expenses needed for Costa Rica or neighboring Panama, you'll notice Colombia is more economical for the most part.
Colombia: Travel Basics
🛏️ Lodgings:
Depending on where you stay, expect to pay anything from $9 for hostels, homestays or private accommodation. I tend to use Airbnb, but I also use homestays when staying in Colombia to get a rounder and fuller experience.
🍽️ Dining
:
Food is diverse in Colombia! Street food is plentyful and like in most of Latin America, it's a cheap to eat out. To obtain the most authentic
Colombian food
, expect to pay anything from
10,000 COP
.
🚌 Transport:
Transport in Colombia is reliable and you'll find all modes of transport. It can work out cheaper and quicker to take a plane and expect to pay anything from $30-100 USD. From Bogotá to Medellin, I recommend you fly.
🎟️ Activities:
Entrance fees, rentals, classes and tours add up, expect to pay from $5USD for entrance to a historical or natural attractions. Entry to Tyrona Park is $15USD, and the Gold Museum in Bogota costs 1 USD per person.
Places to visit in Colombia
Colombia has become popular with backpackers over in the last few decades lets see some of the main places to add to your itinerary.
Bogota
Bogota is the capital of Colombia and one of the most famous places in Colombia. You'll find many interesting things to do here.
Out of all the cities in Colombia, Bogota isn't my personal favorite, but I always find myself stopping in Bogota one way or another.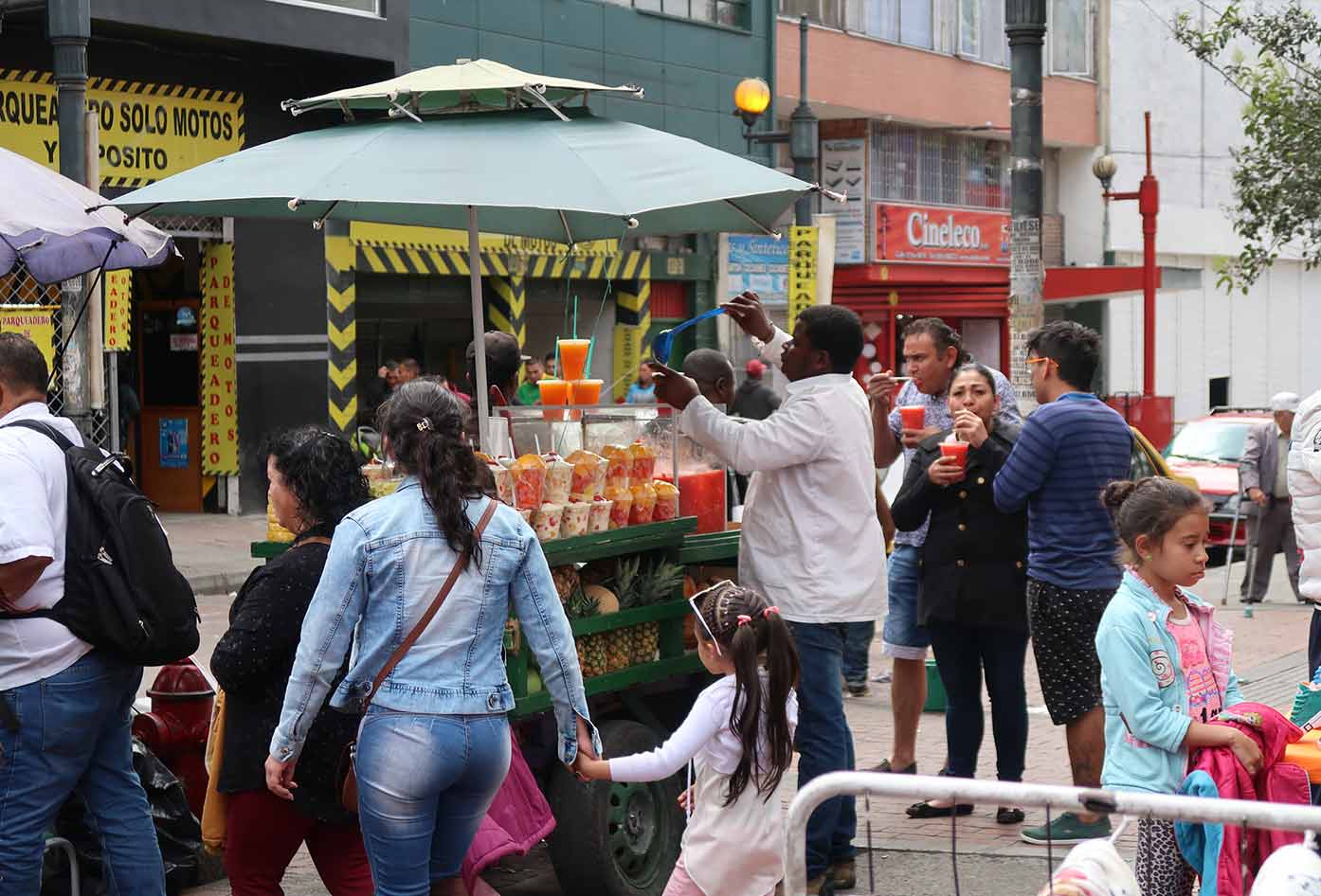 Bogota is home to the core of Colombia's nightlife and entertainment and Bolívar Square is one of the most important places in Colombia.
The capital is a true metropolis, and you'll find influences from all over Colombia there. Be sure to take a walk through the Candelaria.
The lifestyle in Bogota is different compared with cities such as Cali and Medellin, especially when you consider the weather.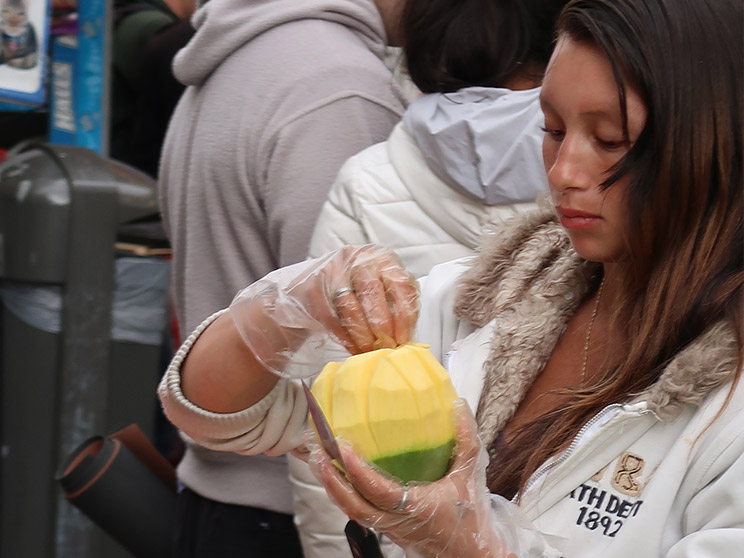 Bogota can get cold on an average day, so add a warm hoodie to your list of what to pack for Colombia if you're planning on spending time in this city.
But be aware that there are two important rainy seasons that mainly affect the Andes and Pacific regions: from April to early June and from September to November.
If you are chasing the best weather you could even compare Bogota vs Medellin before you make up your mind which city to visit first.
Cartagena
The Caribbean is a favorite region for many vistors, and Cartagena de Indias is by far the most popular destination in Colombia.
You'll find heaps of history and culture, which is why Cartagena is one of the most famous places to visit in Colombia.
You'll also be glad to know that you can visit the walled city free of charge, as it was previously classed as a UNESCO World Heritage Site.
If you like sun, sand, sea, and culture, then backpacking the Caribbean region of Colombia may be a good place to start.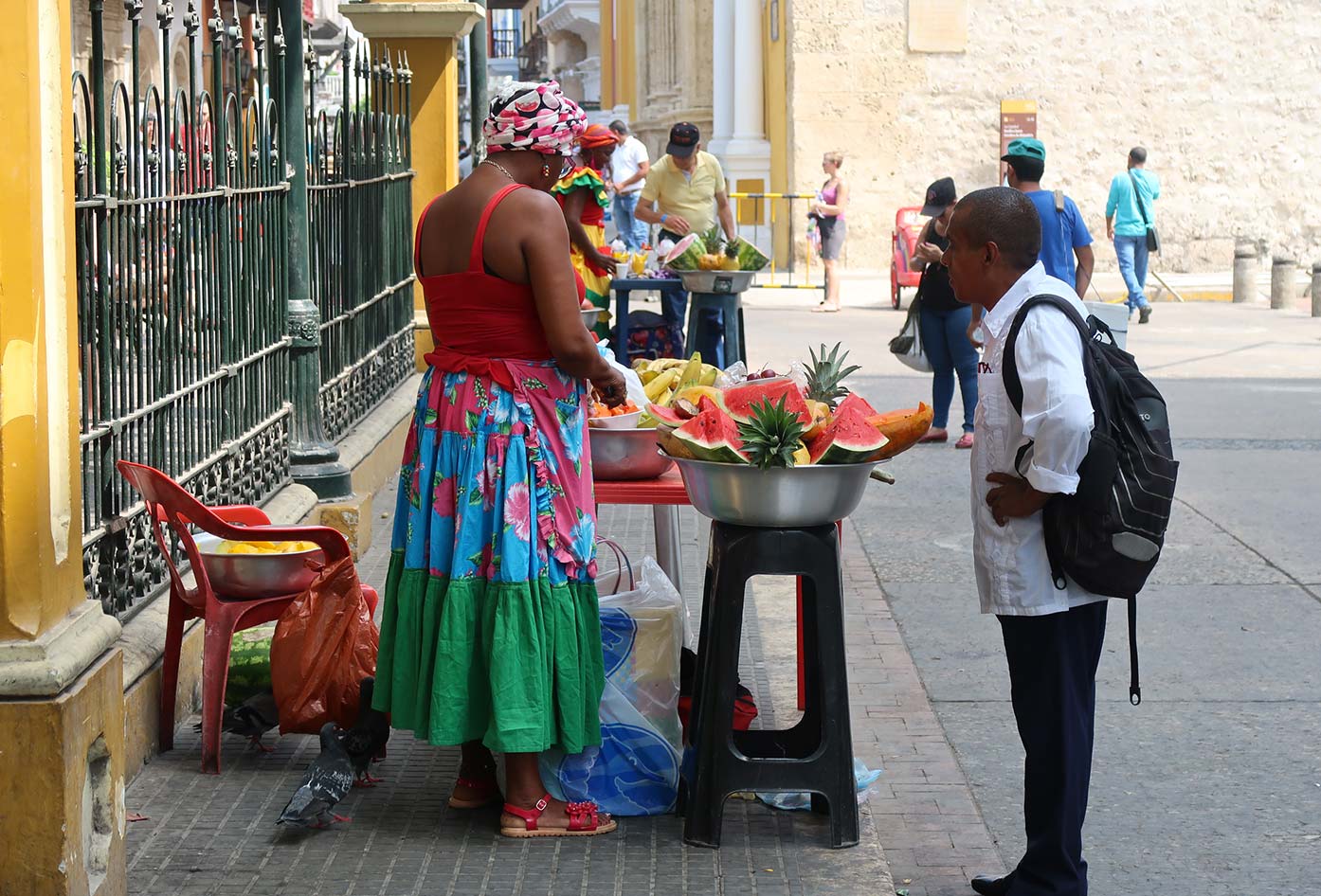 It's common for tourists to travel by bus. Many take a bus, or plane, from Medellin to Cartagena, or go to San Andres from Cartagena. When traveling by bus, be prepared to spend up to 13 hours on the road.
Santa Marta
Santa Marta is located by the Caribbean Sea and was the first Spanish settlement in Colombia.
You'll encounter a luscious beach destination that'll make it difficult to leave, especially as you head towards Riohacha and further afield.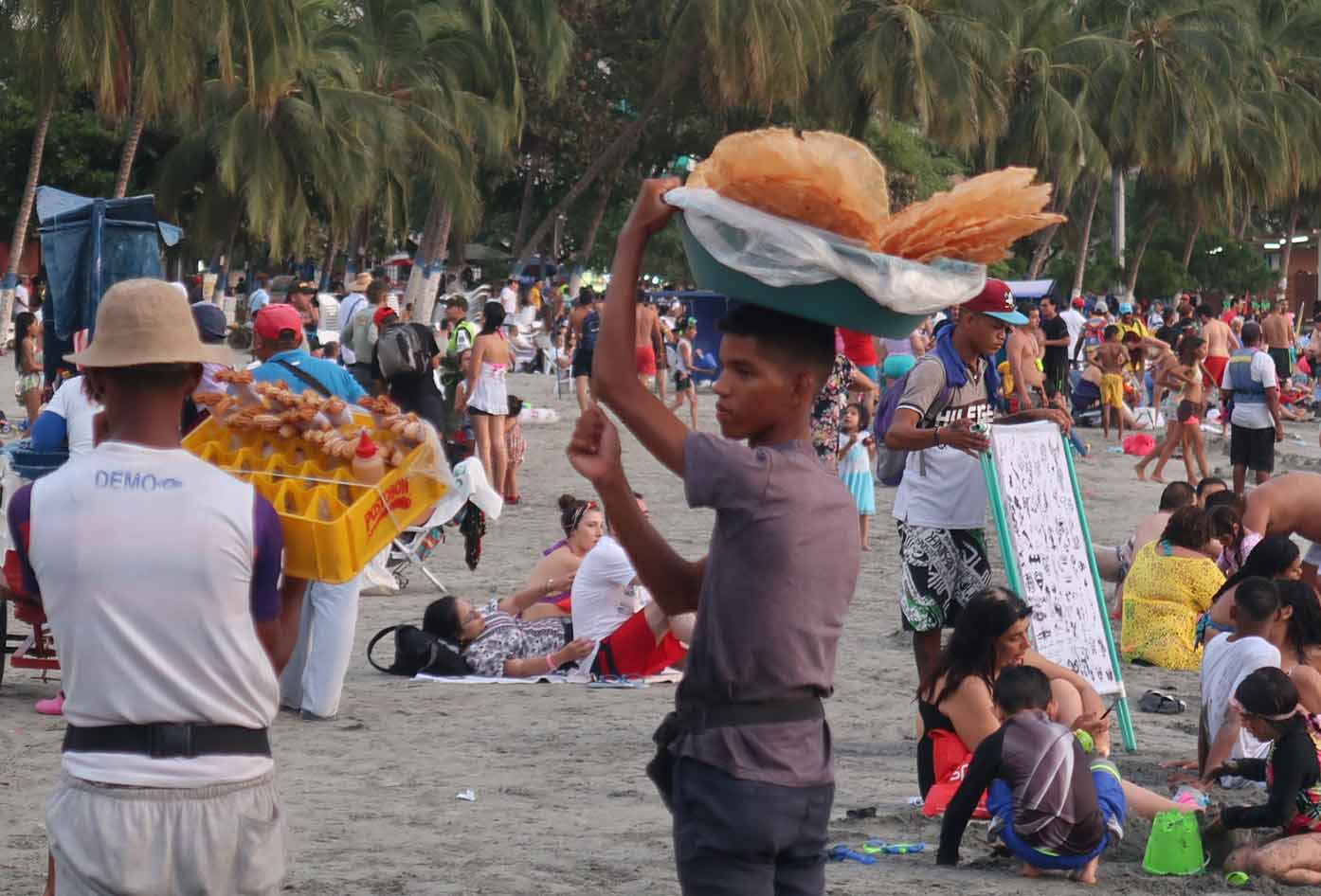 Many people come here to be beside the sea or stroll around the colonial city in places like Parque de Los Novios.
At Parque Tayrona, you can soak up some fresh jungle terrain and find secluded beaches all in one. Fancy camping? This is the perfect place.
From Tayrona park you can easily escape to the majestic hippy hideout of Palomino beach for a unique ocean experience.
One of Colombia's most visited attractions is located in the east of Santa Marta this area is my favorite place for getting closer to nature.
Medellin
There are many things to do in Medellín, and many people name it as the best city in Colombia to visit.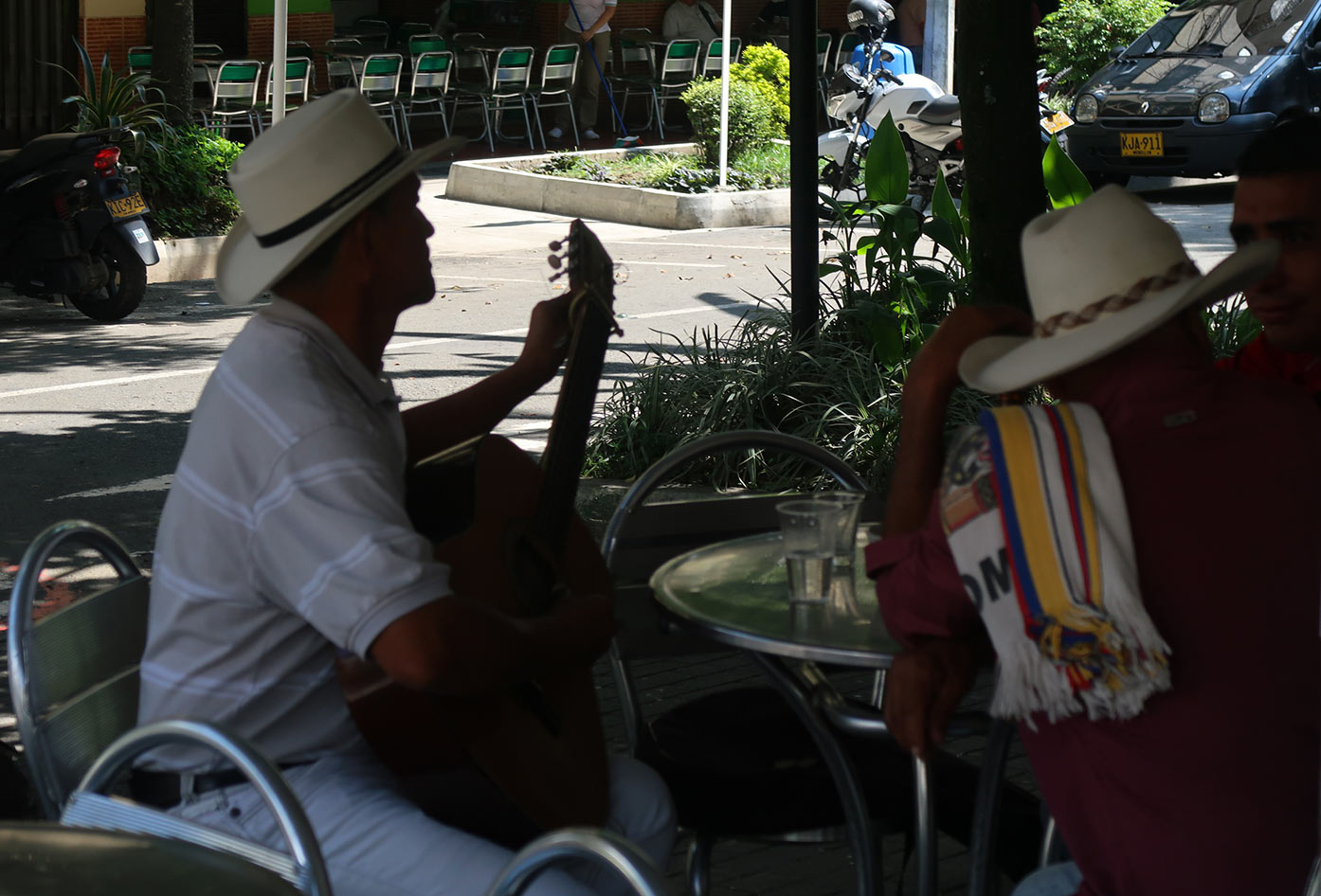 Hence, I have written a separate article on what to do in Medellin with many things you can get involved with.
Depending on what you like to do on your travels, you'll find Medellin is a great city to begin and soak up the culture on your trip.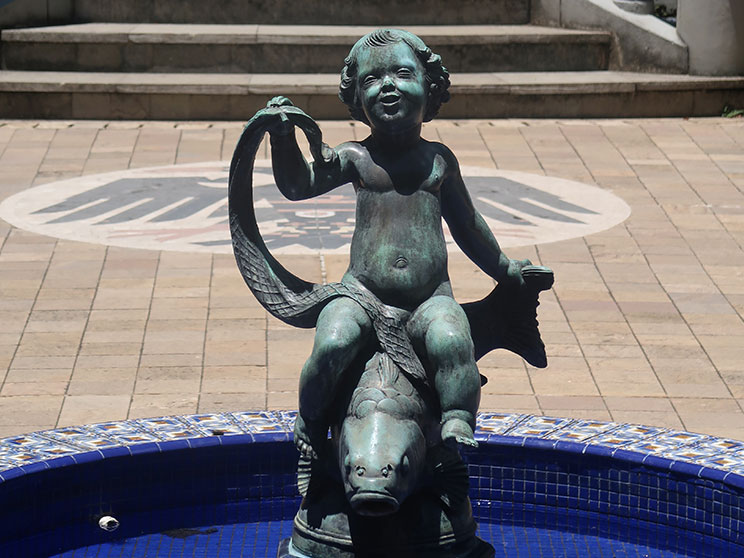 People from Medellin, who are called paisas, are famous for Paisa dialect amongst many other things; consider Medellin to be the best city in Colombia.
There are two bus terminals located on the Metro from which you can visit other places including some of the cute towns in Antioquia, which reside on the outskirts of Medellin like Jardin for example.
Cali
In Colombia, Cali is known for its warm people Caleños, its exuberant nightlife, and kick-ass dance clubs. Cali was also named the Salsa capital of the world.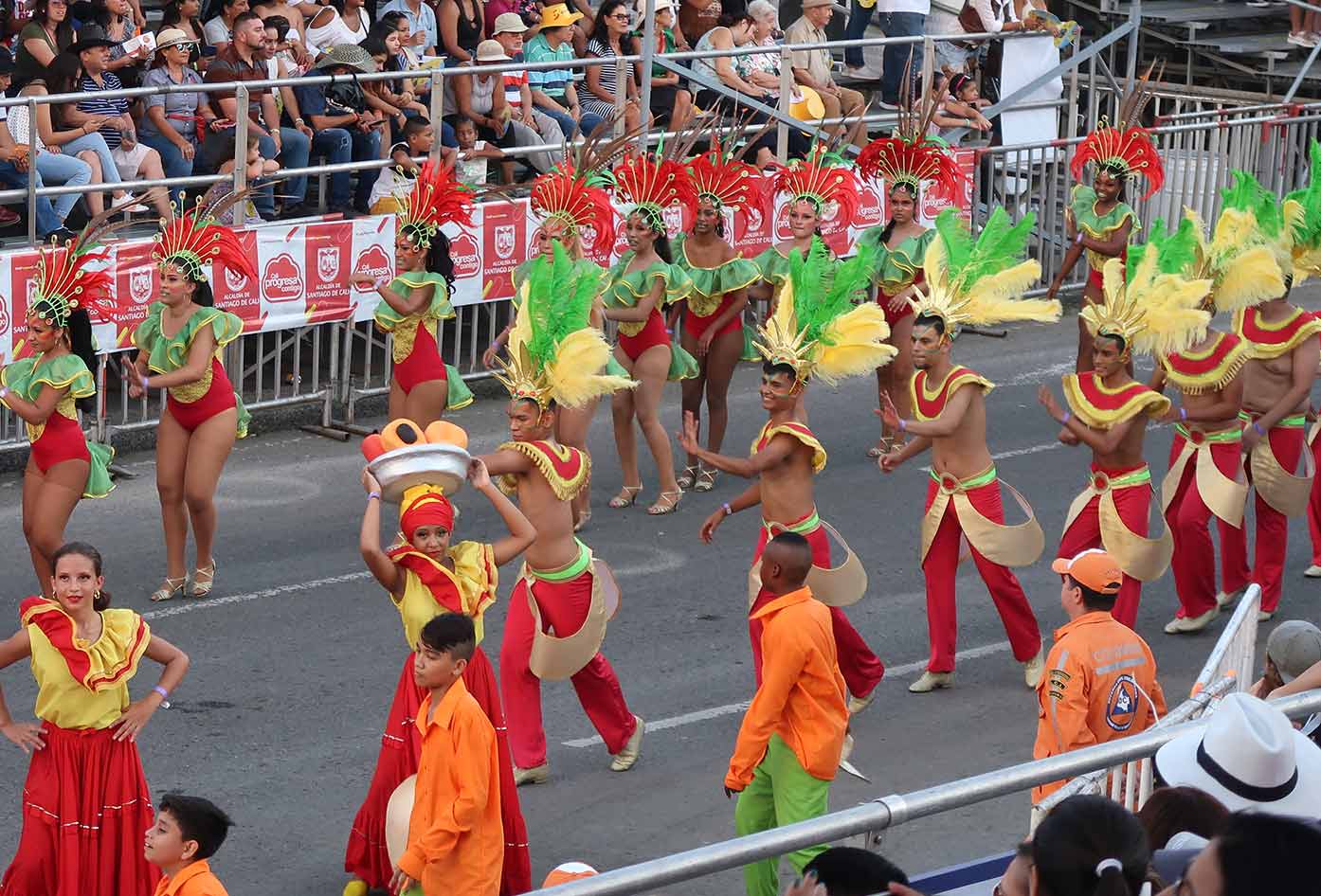 I visited Cali back in 2017, and it has some great points of interest, especially for the seasoned traveler. You can easily get to Cali from Medellin by bus. Also, it's one of the biggest cities in Colombia.
As one of the only cities in Colombia that has access to the Pacific coast, Cali is a flat city with plenty of things to do to keep you occupied.
Trust me, this is why I say two weeks in Colombia is not enough if you want to see a selection of the most beautiful places in Colombia.
Cali's unique location is ideal, especially if you want to visit places like Salento which I highly recommend you do.
Colombia's Coffee Region
Many people visit Colombia to sample the amazing coffee. For any backpacker, a trip to Eje Cafetero should be near the top of the list.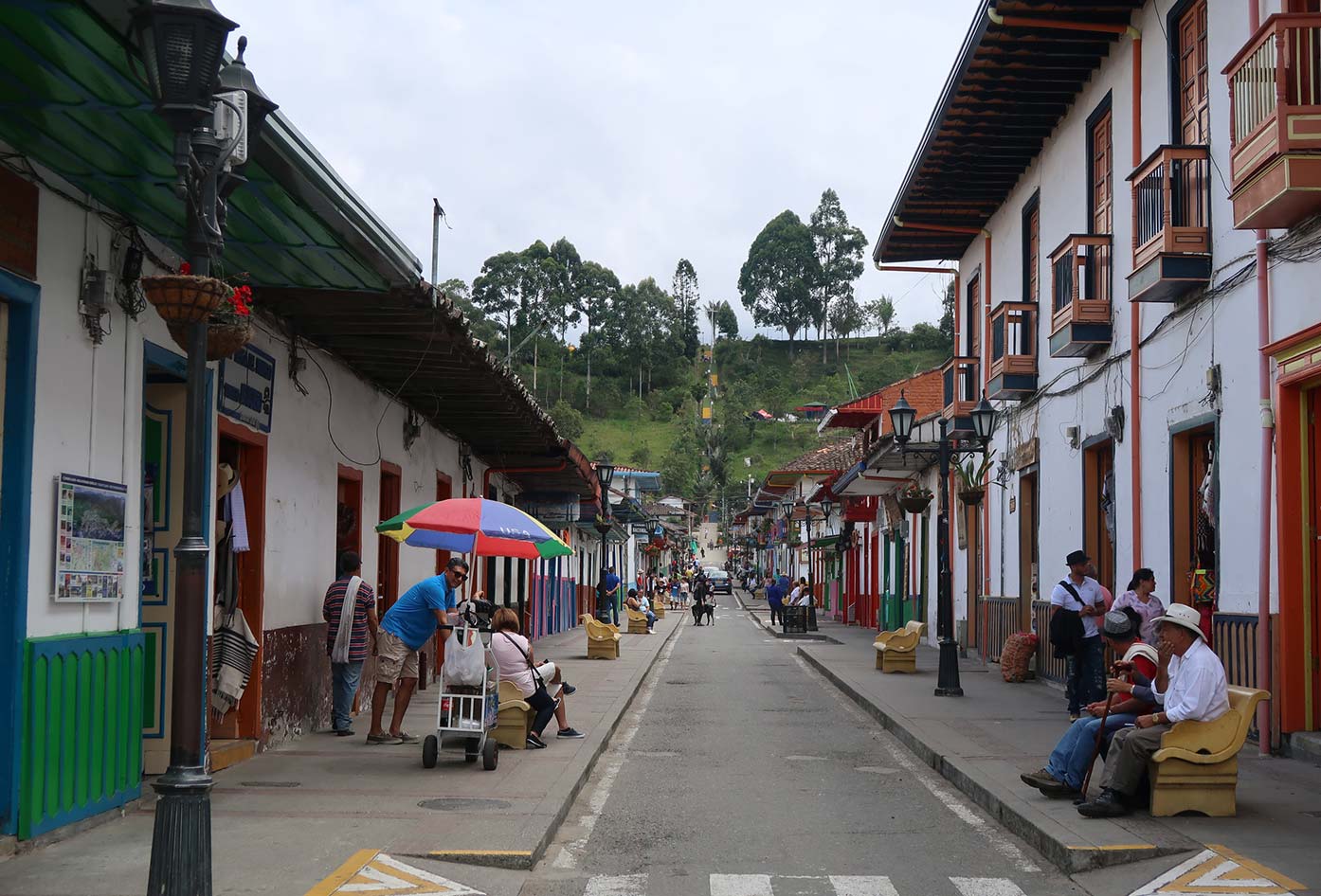 The following three departments form Colombia's Coffee Belt:
Periera is considered the capital of the Coffee Triangle and serves as an access point to visit most of Colombia's coffee-producing towns.
Some of my favourite coffee towns in Colombia include:
Salento
Jardin
Santa Rosal del Cabal
Filandia
To learn more about the best Coffee towns in Colombia see the guide I have written especially for you to navigate the region.
Other than tasting some of the world's best coffee, you'll find yourself in a tranquil environment in which you'll see everything from colorful architecture , great restaurants, and Coffee farm tours.
When it comes to rural experiences, it is no secret that Salento is one of the most popular with backpackers in Colombia right now.
Colombia Travel Tips
See these travel tips for Colombia to ensure you have the best stay whether you're on vacation, backpacking, or traveling with friends.
⤵️ Dan's Travel Tips For Colombia:
You can find shops and coffee shops that all accept Visa or MasterCard so if you find yourself running low on cash remember to use your card where possible.
Carrying some insect repellent or a travel bug spray is a must, not just in remote places but in the bigger cities too.
I suggest carrying a journal or notebook to register memories and thoughts. This is a great way to be with yourself and be creative in transitional moments.
There are ATMs everywhere in big cities so take the usual precautions if you need to withdraw money during the day or night.
As always, knowing some Colombian Spanish and being able to converse in Spanish will go a long way in Colombia. Spanish will enhance your overall experience.
Be sure to pack some Anti-diarrhea tablets. You may not get ill, but there is a possibility, or maybe you can help a fellow traveler in need.
Wifi can be bad in remote areas of the country. If you're a digital nomad you may want to get a cellular plan to use in those areas.
Typical dishes in the Caribbean consist of fresh fish, coconut rice, patacón, and salad. This can be a delicious option for lunch that can cost around US$6 or even less in some cases.
Always check the bill before paying in the restaurants. It is common for the waiter to add a 10% tip to your bill by default. This is not a law and you should be asked if you want to pay it beforehand.
It rains more than people expect so be sure to have a travel rain poncho or waterproof rain jacket with you to avoid getting soaked.
Only use flip flops if you want to look and be treated like a tourist. Depending on which city you are in it can be uncommon for locals to use them, not even on Sundays or bank holidays.
Always remember that pollution is a massive issue in large Colombian cities. Bogotá and Medellín are the most polluted cities in Colombia so take precautions if you have respiratory conditions.
As usual in big cities especially Bogota, it's common to hear about pickpocketing. Be careful with what you carry, especially when using the Transmilenio buses and markets.
Map of Colombia
See this map of Colombia to get a better idea of the country's area:
If you want to travel to San Andres then you may want to check the travel involved in getting to the island before booking anything.
Remember to carry some versatile clothing and aim to practice your Spanish to be able to pick up any inside knowledge from locals.
Got Travel Insurance for Colombia?

Designed by travelers, for travelers, World Nomads covers more than 150 adventure sports and activities so you can explore your boundaries.
Planning A Trip to Colombia
So planning a trip to Colombia should be a rewarding experience with all there is to offer here.
No matter whether you travel for the weekend or for a month it is smart to know where you're going here.
If it is your first time traveling to Colombia I hope this guide has given you a good starting point to be able to plan your trip.
For more tips on where to go see this guide the best places to visit in Colombia for a closer look at the places mentioned above.
📌 Like this article? Pin it…
Missing something? Got tips, tricks & advice we can learn from?
💬 Leave a nice comment or let's start a conversation below!
---
"Dear friend! Some links in this post contain affiliate links. Meaning, if you click through and make a purchase, book a hostel or sign up for a tour, I may earn a small commission at no additional cost to you. Your support means a lot and helps me to keep traveling and maintaining the quality of this site for you."