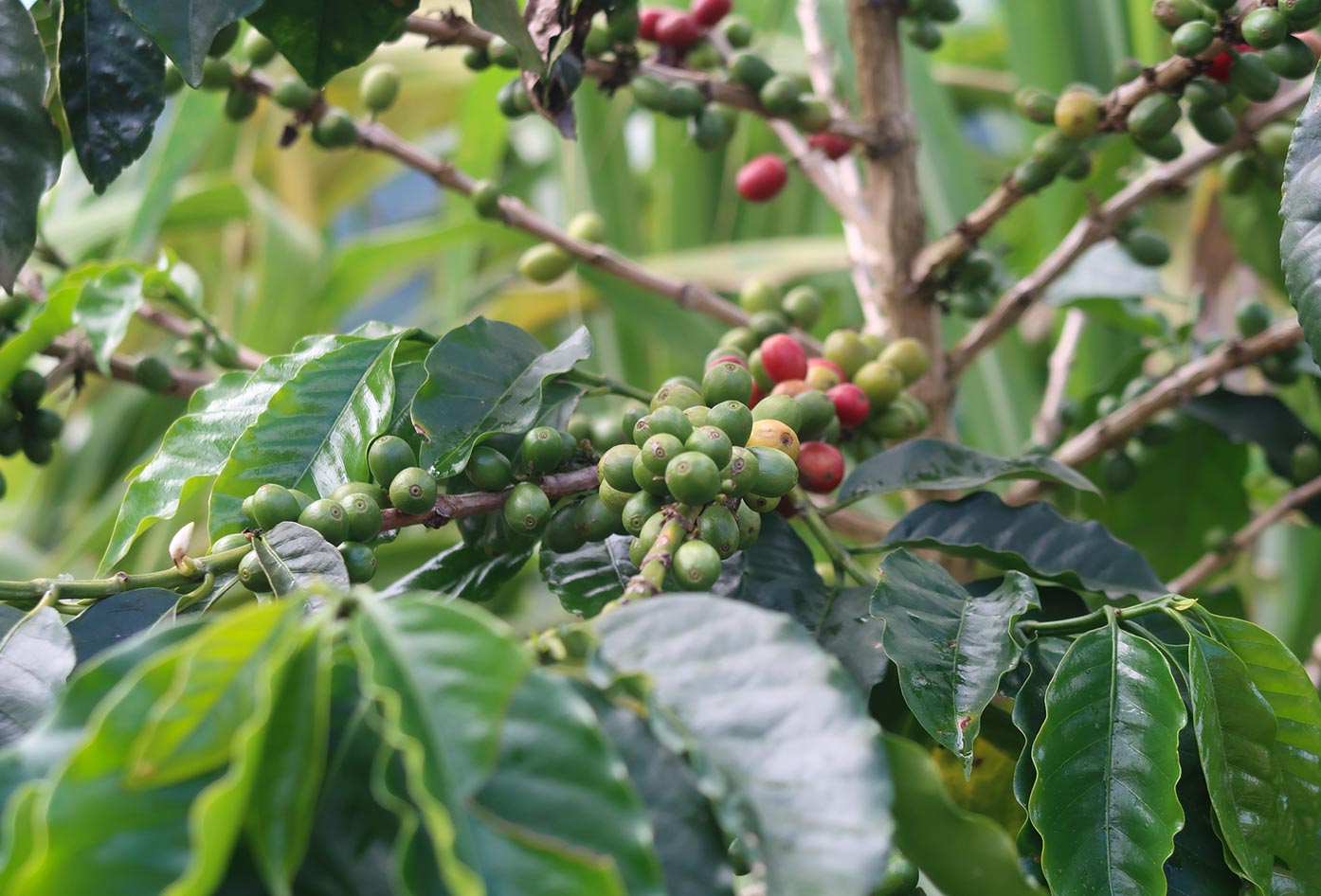 Are you interested in visiting Colombia's coffee region?
I know I am, and visiting the integral zones of the Colombia coffee region, also known as Eje Cafetero, has been a major priority for me.
In this guide, I'd like to present you with some ideas on what you can do in Colombia's coffee region.
Colombia's coffee region
First of all, if you're in Colombia right now and on the lookout for some of Colombia's tourist attractions, then prepare yourself to try some of the best coffee Colombia has to offer.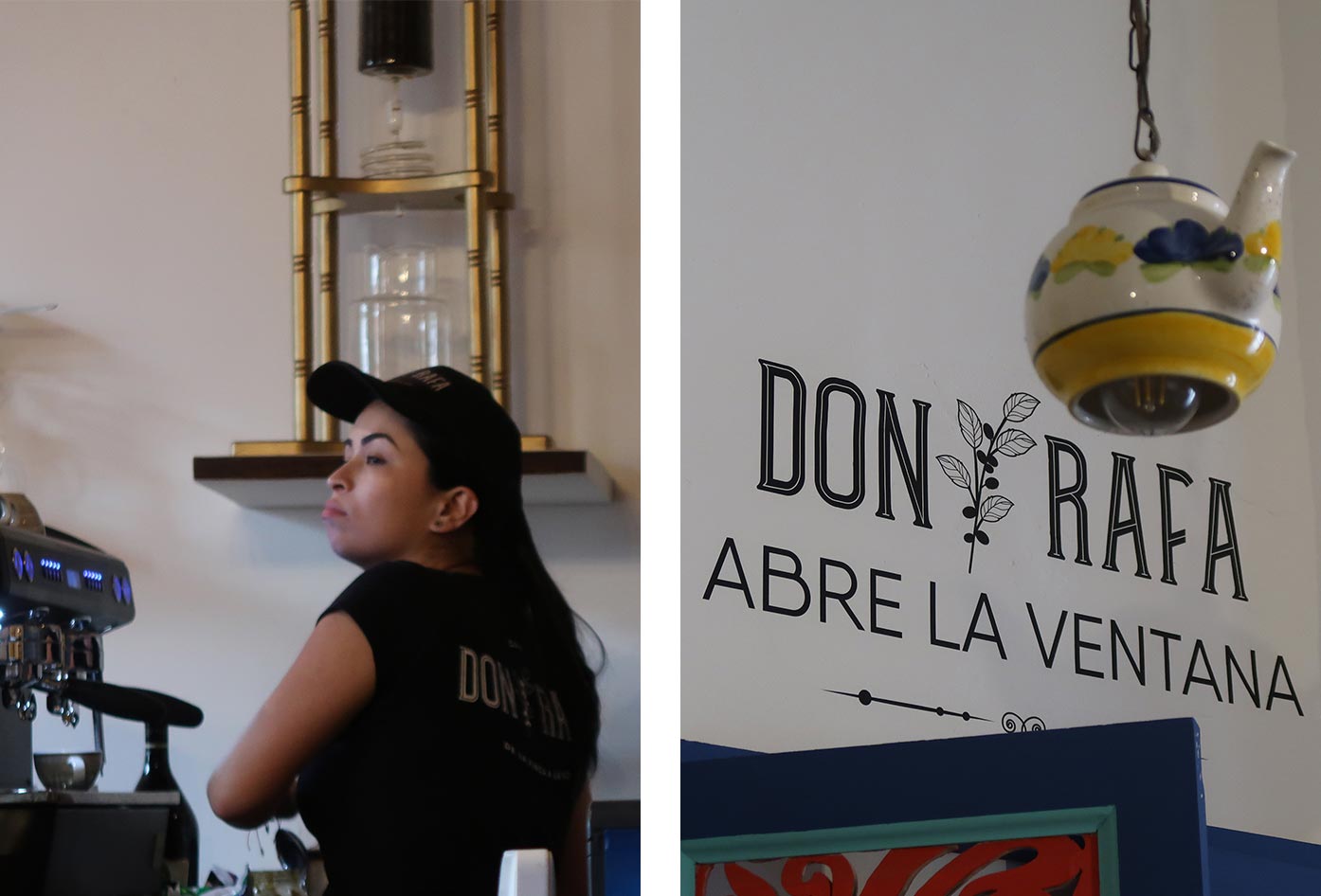 Whether you prefer Tinto coffee (Colombia's answer to the perfect instant coffee), the mother of coffee, an Expresso, or, like me you love to drink Americanos, you'll find your perfect combination in abundance.
By visiting Colombia's coffee region, you'll also quickly learn about life in the small towns in Colombia and what they have to offer.
Facts about Colombian coffee
What is all the hype about coffee in recent years?.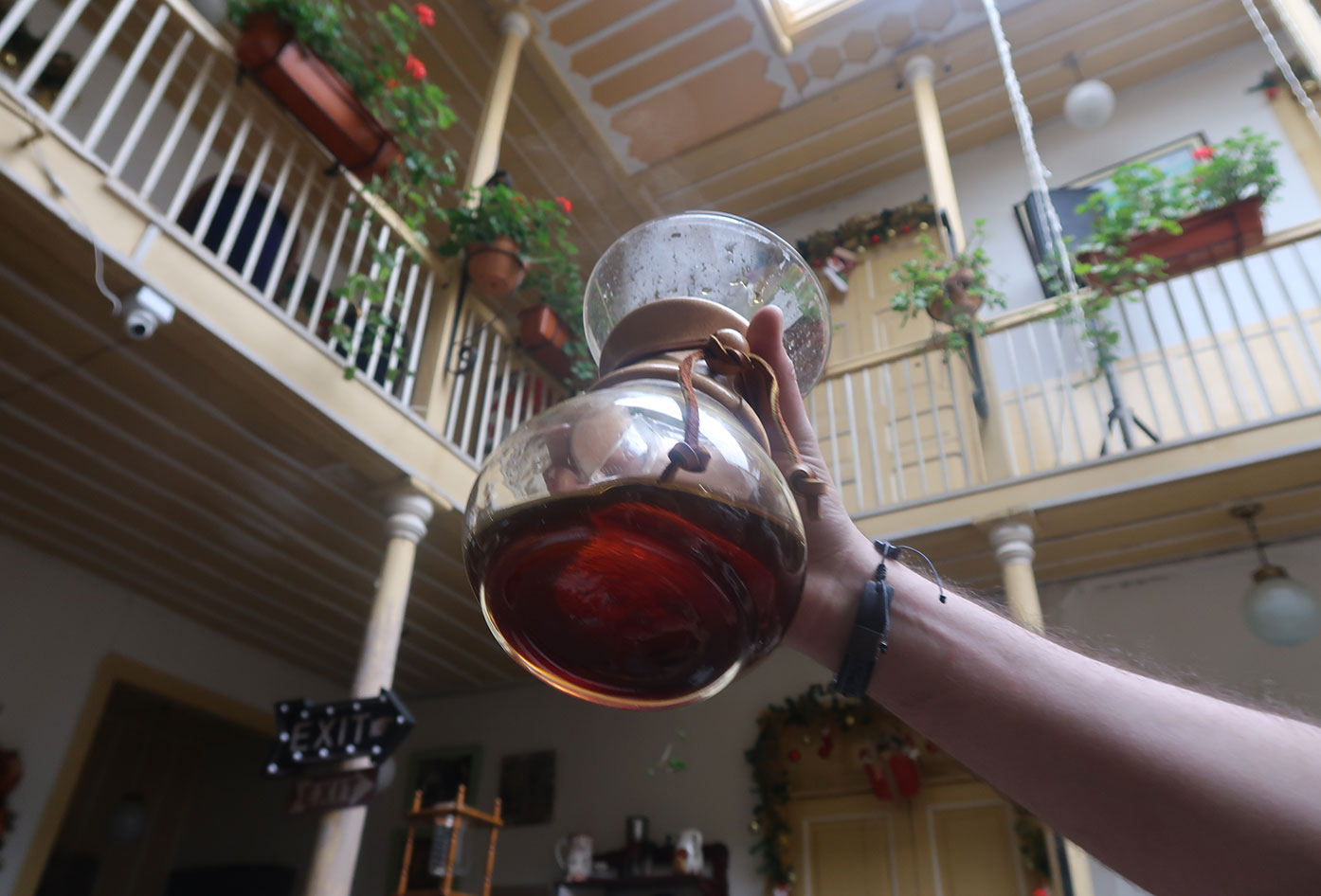 I'm not sure where it came from, but I do know that Colombian people are serious about their Tinto, and ordering one at any time of day is not unusual at all.
See these facts about Colombian coffee:
There are more than 500,000 families producing coffee in Colombia.
Colombia is the 3rd largest coffee producer in the world.
There's some bad coffee in Colombia that generally stays in the country.
Colombia has a bean to suit every taste and style of coffee.
How will knowing these facts about Colombian Coffee help you to plan your trip and find the best parts of Colombia's coffee region?
It is no longer a secret that Colombia has some of the best coffee in the world that you could find with its fragrant Arabica beans.
Let's continue by looking at a map of Colombia's coffee region to get a better idea of where to go.
Colombia Coffee Region Map
If you look at the map of Colombia's coffee region, you'll find it easier to visualize your route. I'd recommend staying in one or two places.
I'd choose Salento and Filandia because they have some of the best options for backpackers and travelers alike.
Meaning, if you want to do something outside of touring coffee farms and visiting coffee shops; there are other worthwhile activities.
For example, in hostels like Bidea Backpackers, you can do coffee tours, mountain biking and much more to keep yourself entertained.
Other activities may include things like visiting waterfalls and even hot natural baths if you're going to Santa Rosa de Cabal.
My best advice is to do a bit of planning to save backtracking on yourself.
When visiting the Colombian coffee region, you will find yourself catching many buses, especially if you are planning to visit more than two destinations.
Getting around the coffee region
Periera and Armenia are the two places I come back to time and time again.
Both bus stations will become your hub for hopping around Colombia's coffee region. Bear this in mind when planning your visit.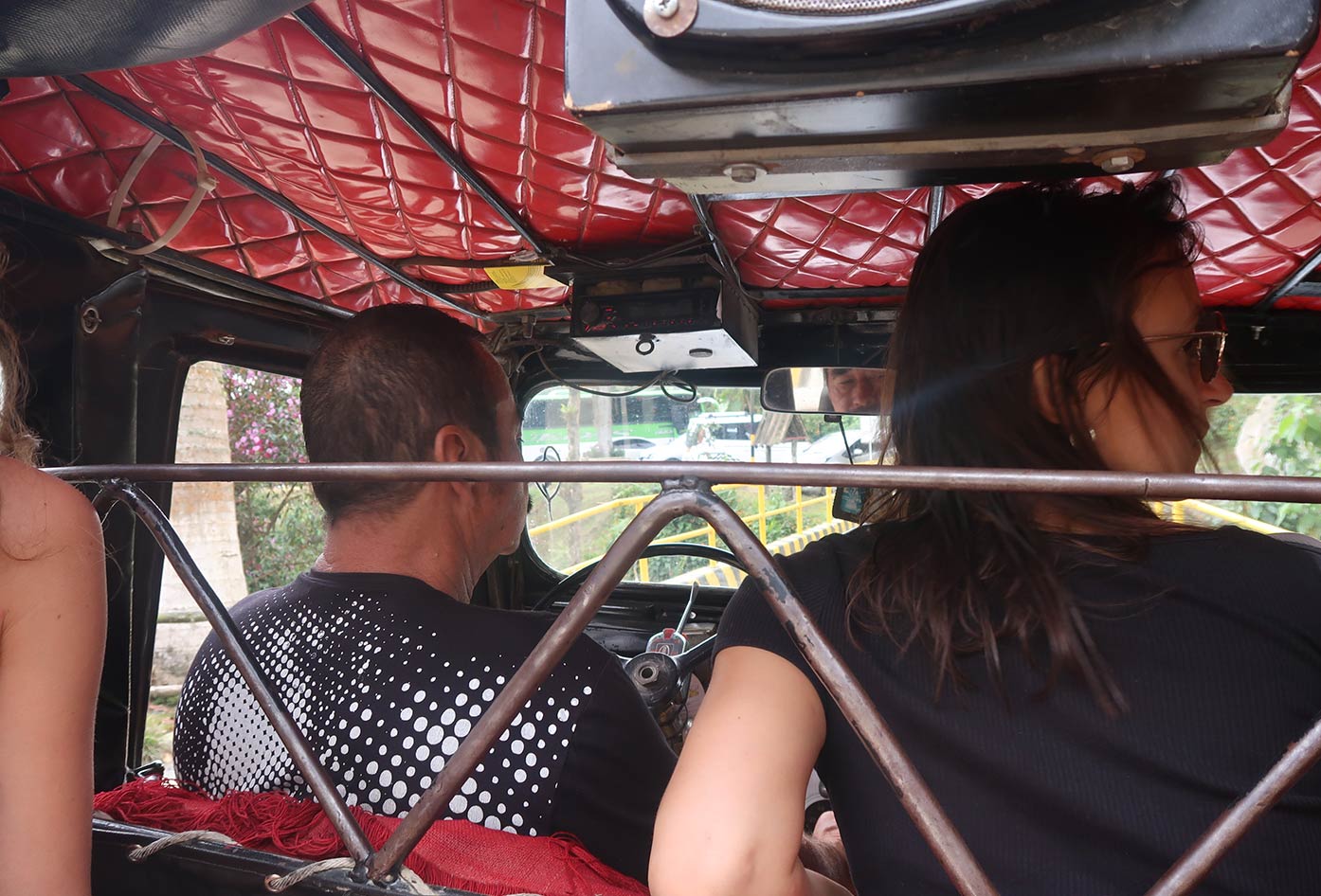 If you're traveling from Medellin to Pereira, get ready for a windy ride, and if you're a victim of motion sickness, I advise you to take precautions.
I also recommend that you select a packing list that will serve you well and prepare you for the type of weather and terrain in the coffee region.
If you want to get the bus from Medellin to Salento; you'll need to find your way to Armenia. So, with this in mind, you can plan more effectively.
Now you know what to expect, what are you waiting for? Let's dive into this inspiring guide of exploring Colombia's Coffee Region.
A Guide to Colombia's Coffee Region
Right, now let's look at some of the most popular coffee towns in Colombia that will give you the most valuable experience.
Pereira
Pereira is known as the capital, and if you're traveling to Colombia's coffee region from Medellin, then Pereira is an ideal place to make a stop.
I use Pereira as a base for getting around the coffee region in Colombia, although it serves as much more than a base.
Take a stroll through the city to get a feel for the way Pereiran people live. It is very similar to that of the Paisas.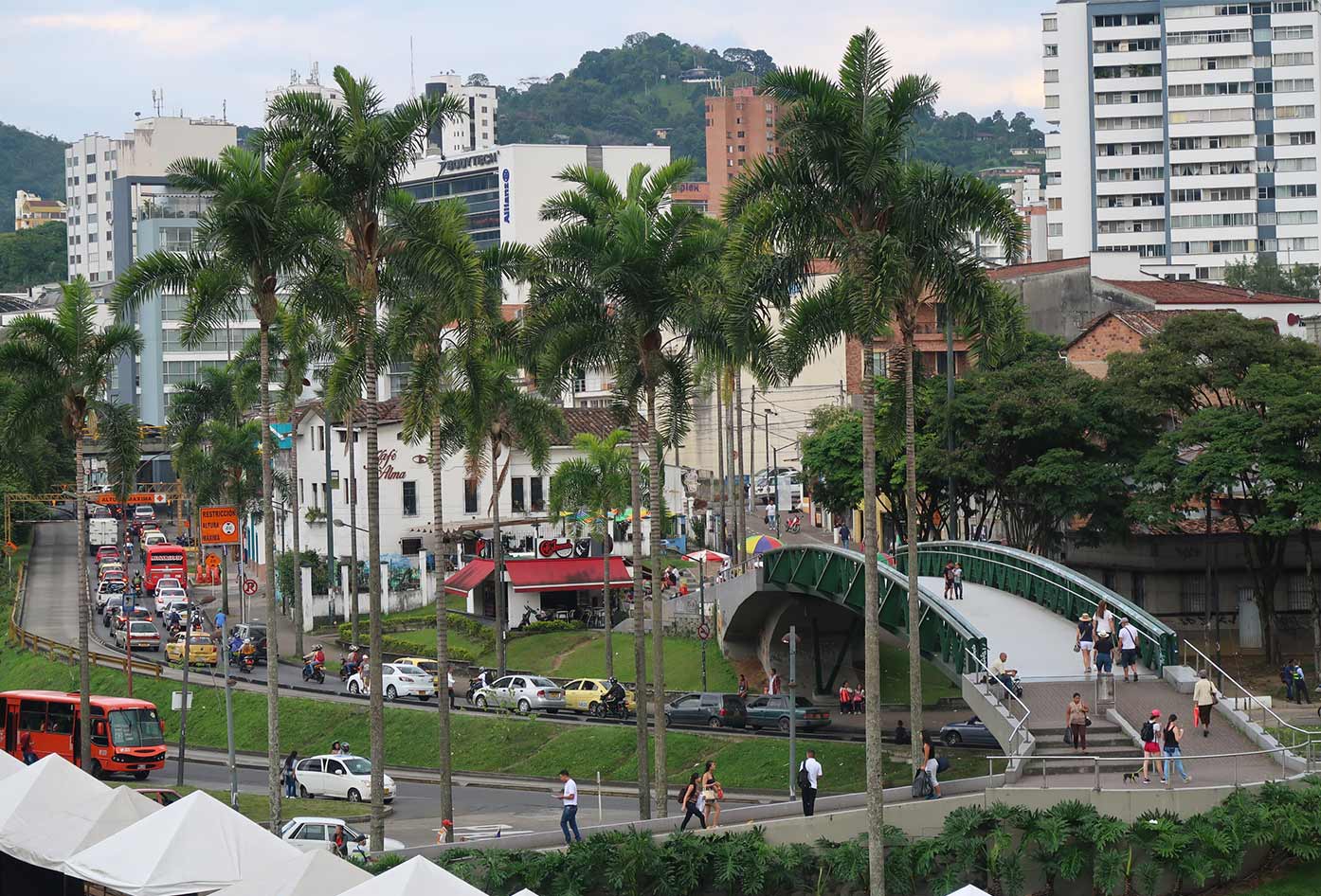 One recommendation I have while you're in the Colombia coffee region is to check out the Parque del café. This is an excellent place to learn about coffee in a more entertaining setting with friends or fellow backpackers.
While here you'll want to stay at the Kolibri which is perfect if you want to unite with other backpackers while exploring this rustic region.
It's a theme park, which offers horseback riding, rollercoasters, water rides, and all sorts. If you are traveling to Colombia with kids, this is a great option.
Salento
Salento has been one of my favorite places in the coffee region to stop and enjoy the coffee.
It's said that the town became isolated, and that's the reason it's developing as fast as other areas in the region.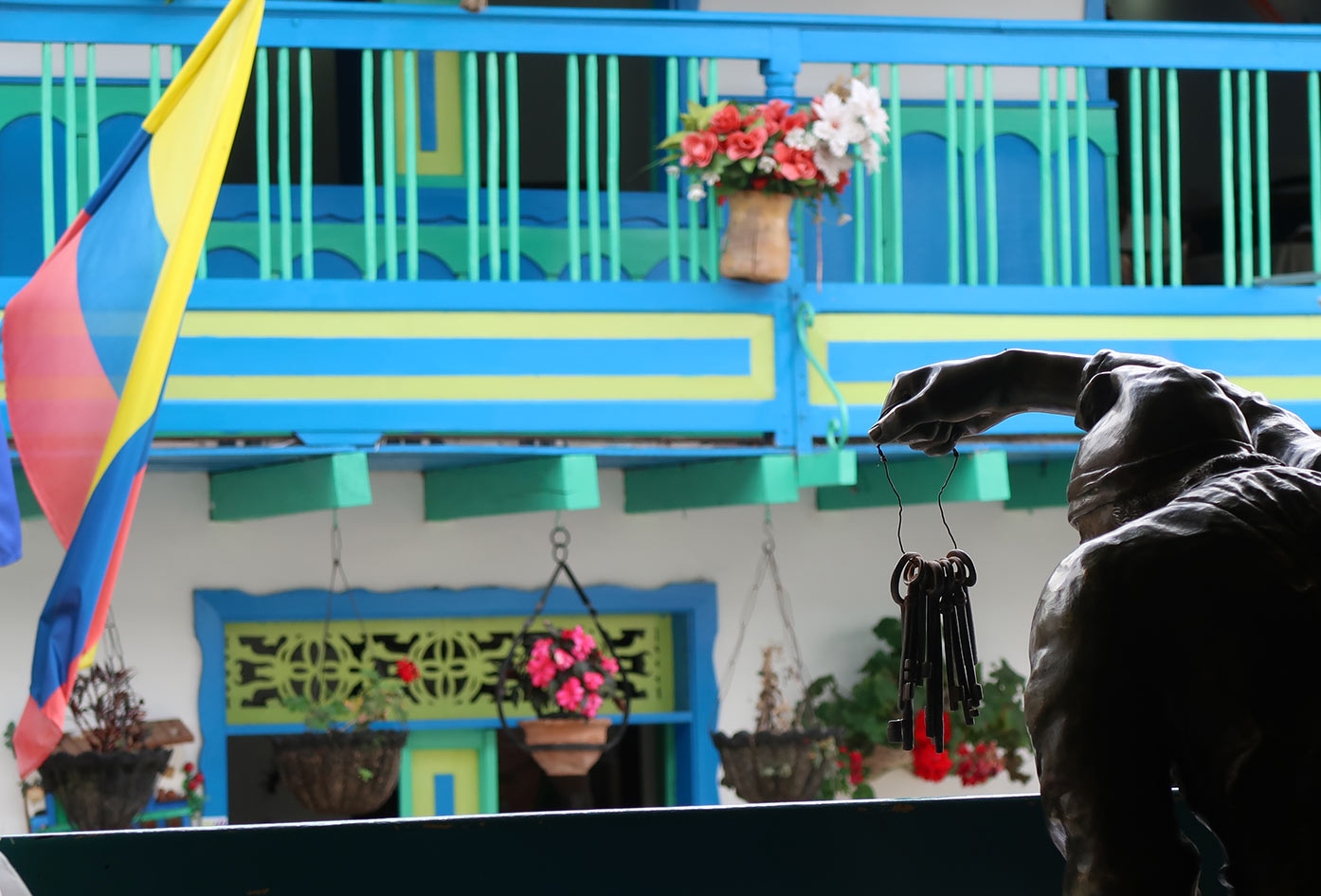 There are so many things to do in Salento and Cocora Valley, which is why so many backpackers and tourists flocks there. I have written a guide to Salento, which has more details.
One thing you must do is try some authentic Colombian Coffee in the Café Jesús Martín. I tasted one of the best cups of coffee ever in there.
Places to stay in Salento:
Finca Don Eduardo offers some tours in-depth coffee tours and you'll not be disappointed if it's the one and only place you get to visit whilst visiting Colombia's coffee region.
Filandia
Finlandia is a quaint little town that sits on a hill overlooking the rolling hills of Colombia coffee country. Like most of the places in the coffee triangle in Colombia, you'll find that it has the perfect climate.
Sitting 1600m above sea level, you can expect to not be too hot or too cold, and the best thing is that the place is not too busy with tourists.
On arrival, you'll probably want to stay longer than you originally intended, so try to keep an open mind.
Marsella
Located just 30 kilometers from Pereira, you can expect to arrive at one of the most picturesque and well-preserved towns in the Risaralda department. You'll see the coffee being grown all in the mountains.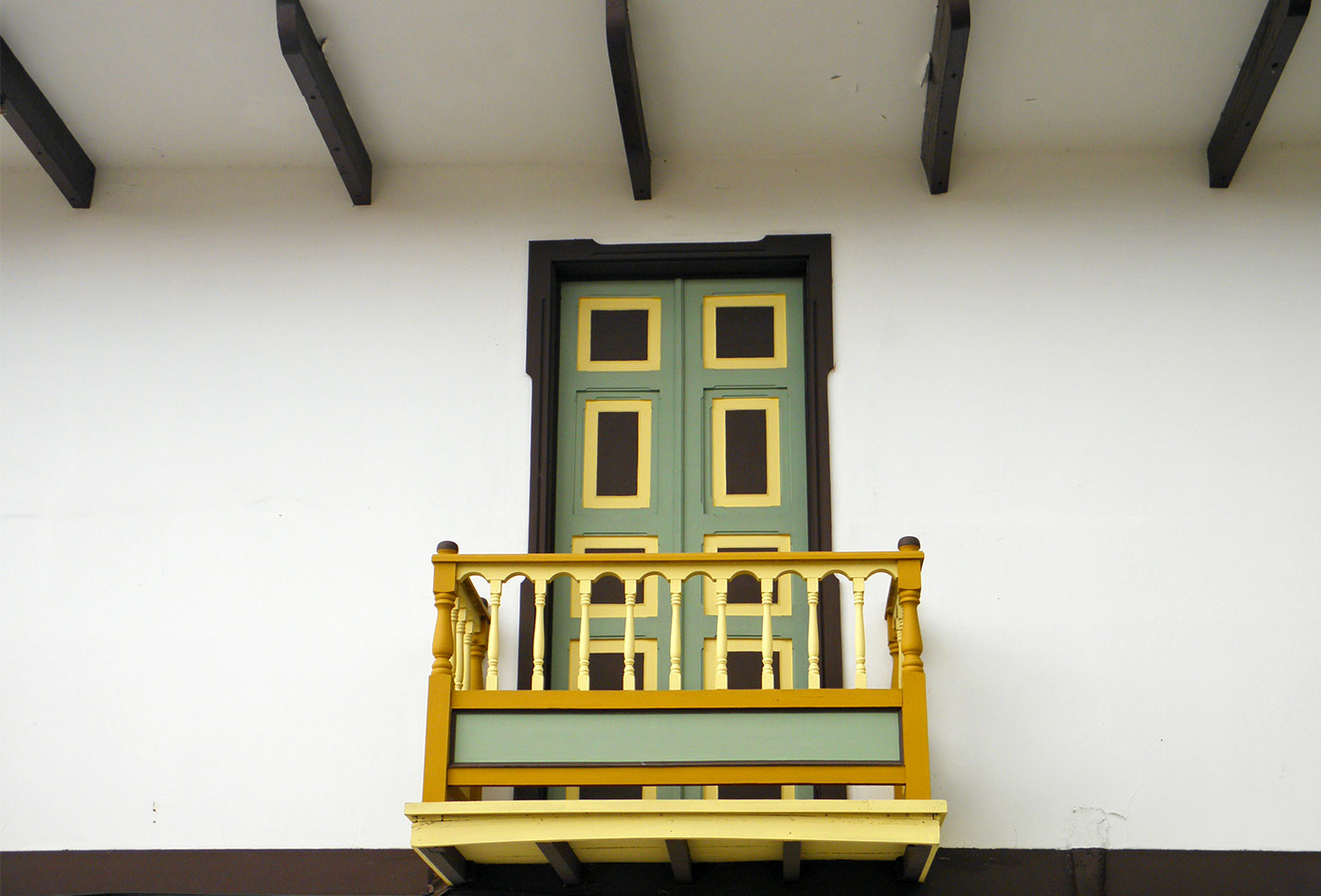 Marsella is known for its botanical garden and ecological sustainability. There has been a big effort by the town to preserve its wildlife and wild plants.
If you get to the main square, you'll likely be awed by the beautiful church called Iglesia Maria Inmaculada; it's located on the top of the steep hill.
Also, there's a famous coffee shop you can't miss called cafe Don Danilo; it's probably the most colorful cafe you've ever seen. This is also the perfect place to ask about coffee tours.
Manizales
Founded by a group of 20 Antioqueños, Manizales lies in the heart of the Eje Cafetero and is seen by many as one of Colombia's safest cities.
With many things to do in this capital city, you can find amazing Colombian coffee tours as well as adventurous hiking activities.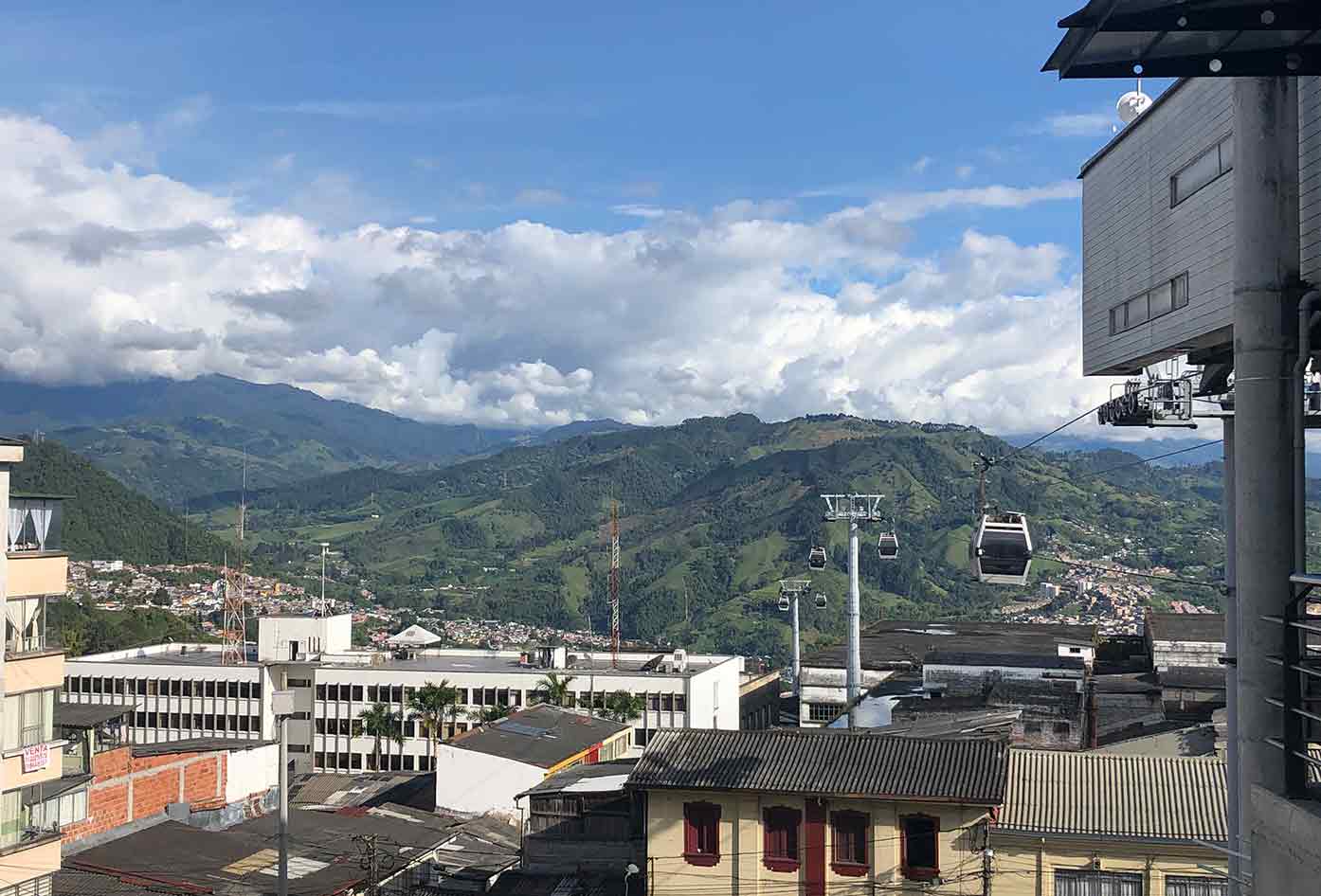 While you're in Manizales, be sure to check out Chipre, the highest point in Manizales. The idea is to get to Torre Panoramica de Chipre and see the amazing view.
According to many locals, the view changes depending on the clouds and sun.
It's also worth noting that you can get to Manizales direct from Medellin by bus in around 6 hours. Many people recommend staying at this hostel because of its natural atmosphere and central location.
Riosucio
Riosucio located in the Colombian coffee hub and is well-known for its carnival.
The carnival, which up until recently was named "Carnival of the Devil," takes place biannually in January.
If you're lucky enough to arrive at the carnival, you'll witness the large Devil statue, which is the central figure of the carnival.
Are you interested in Ecotourism in Colombia?
Riosucio is a great place to experience as you find many options available to be able to enjoy ecological tourism in the area.
Everything from exquisite trails, waterfalls, ancestral traditions and even some indigenous mountain reserves such as Cañamomo, which I highly recommend you check out.
Santa Rosa de Cabal
You can't take a trip to the coffee triangle in Colombia without planning a trip to Santa Rosa de Cabal. Let me explain why.
Have you heard about the natural springs? Known in Spanish as Termales Santa Rosa de Cabal; you don't want to miss this.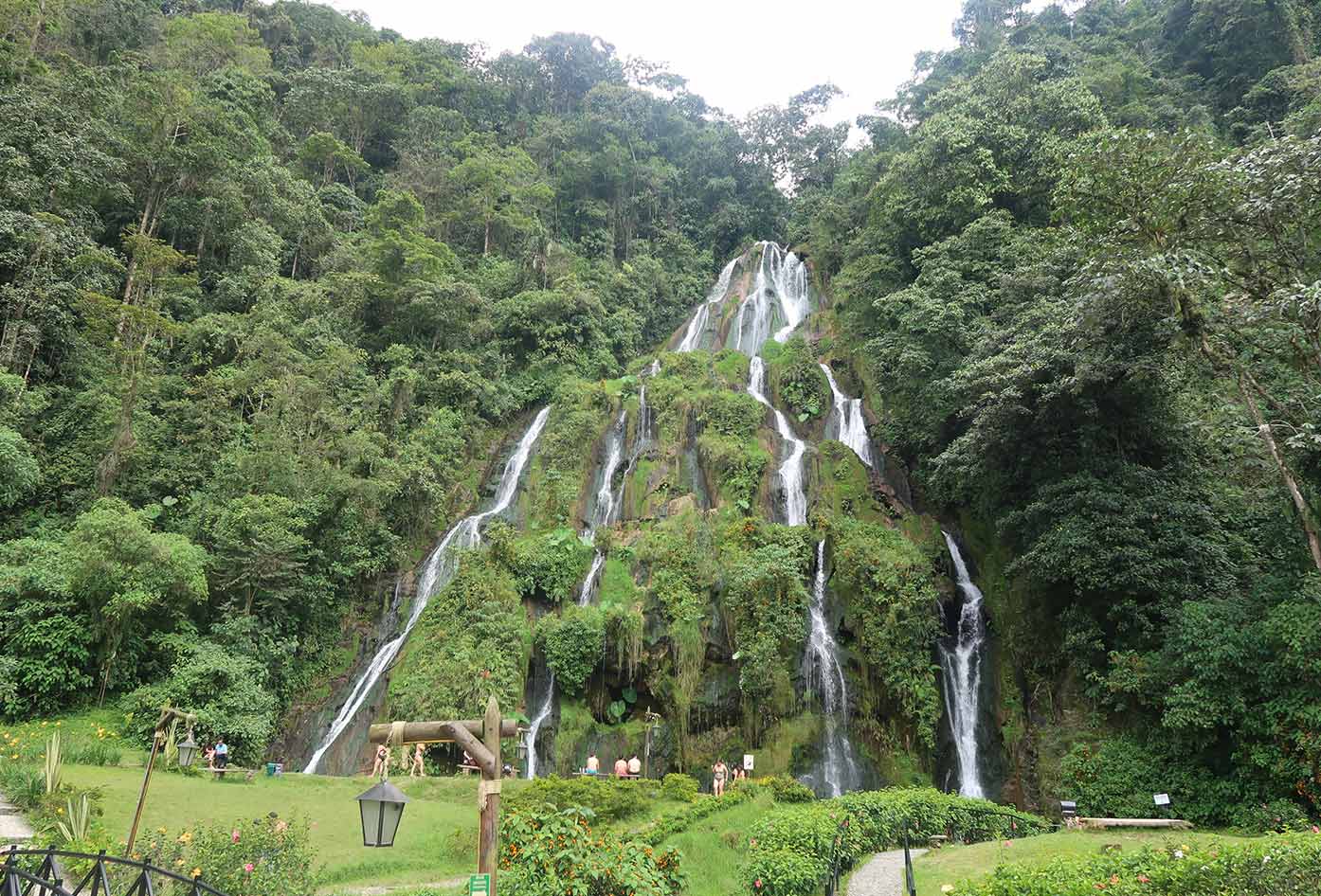 Aside from the amazing coffee and beefed-up sausages, a trip to the hot spring is most definitely a true Colombian experience.
If staying a coffee town the kind extremely kind lady there will show you the way.
There, you'll find a gorgeous cold waterfall and four or five thermal hot springs of varying temperature.
No matter whether you are in Pereira, Manizales, or Armenia, you can arrive here.
The coffee preparation wasn't the best on-site, so I'd recommend carrying an Aeropress or some kind of portable coffee maker with you if you have the chance.
To continue your trip to Colombia's coffee region, you can consider taking a trip to Cafe del Finca for a very extensive tour of a beautifully set coffee farm.
Coffee Tour Salento
There's a great coffee tour from Salento that you can take. I will be writing more about my experience in Salento and the Cocora Valley.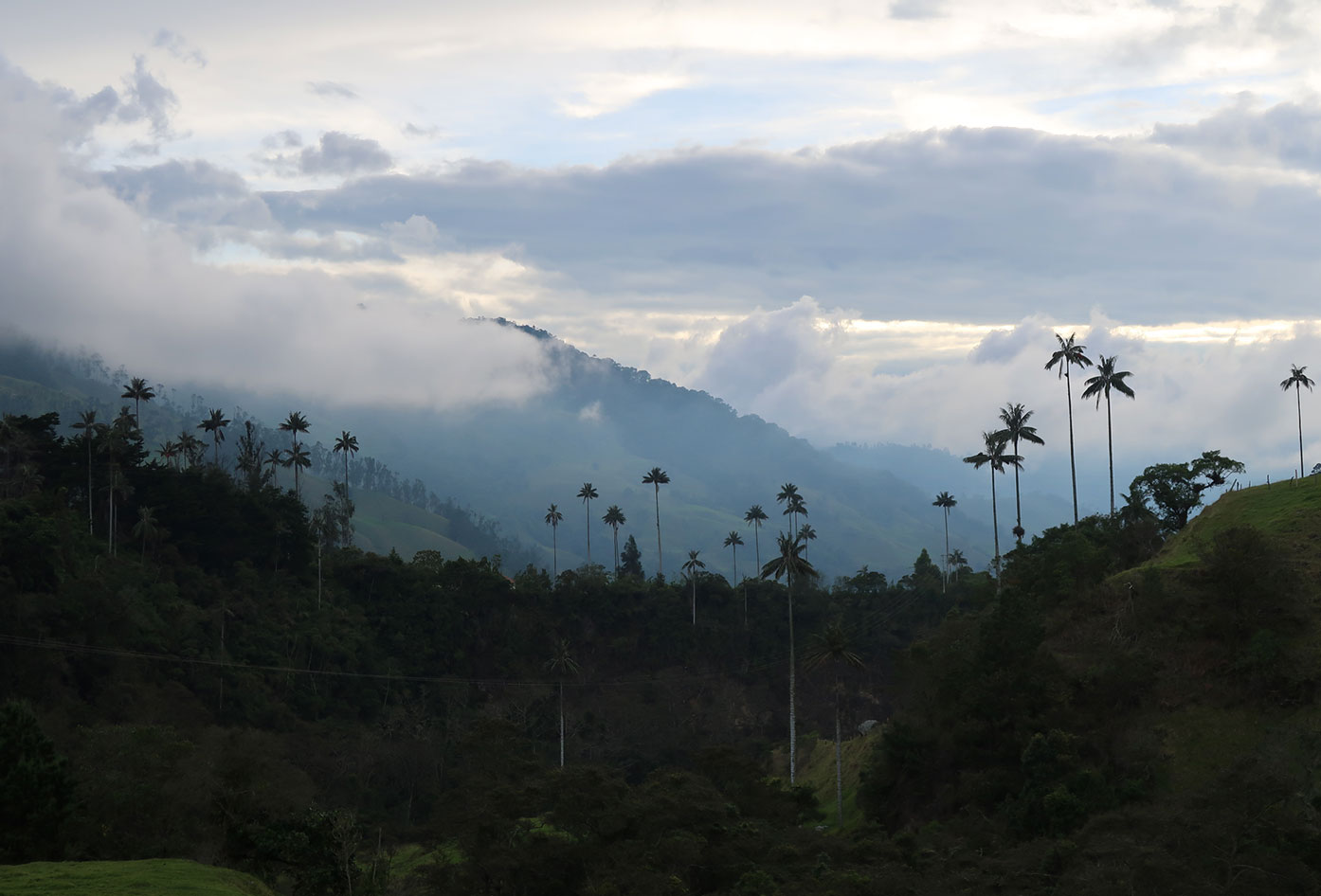 For now though, and if you're interested, you can check out the Ocaso Coffee Tour.
This is one of the best Colombian Coffee tours that will enable you to have a private full-day experience.
Here, you can learn all about the aromatic Colombian coffee and get the answer to all your questions about the coffee production process.
Events in the Coffee Triangle
International coffee exhibitions happen in places like Bogota, which are very important for Colombia and Latin America.
There are also a few more local events that celebrate more than just coffee but are deemed part of the National Cultural Heritage.
January – Feria de Manizales
June – Fiesta Nacional de Cafe
August – Fiestas de las Cosechas
September – Festivo de Sabores, Sonidos y Saberes
December – Concurso Nacional de Velas y Faroles
At Manizales fair, which has been held every year since 1951; you'll find craft shows, parades and the International Coffee Pageant.
Got Travel Insurance for Colombia?

Designed by travelers, for travelers, World Nomads covers more than 150 adventure sports and activities so you can explore your boundaries.
Colombia's Coffee Region: Final Words
There are so many options and great experiences to be had in Colombia's coffee region.
I hope this guide has given you a greater insight into how you can plan your time and make the most of your experience.
See this guide that looks at other places to visit in Colombia that are worth your time.
📌 Like this article? Pin it…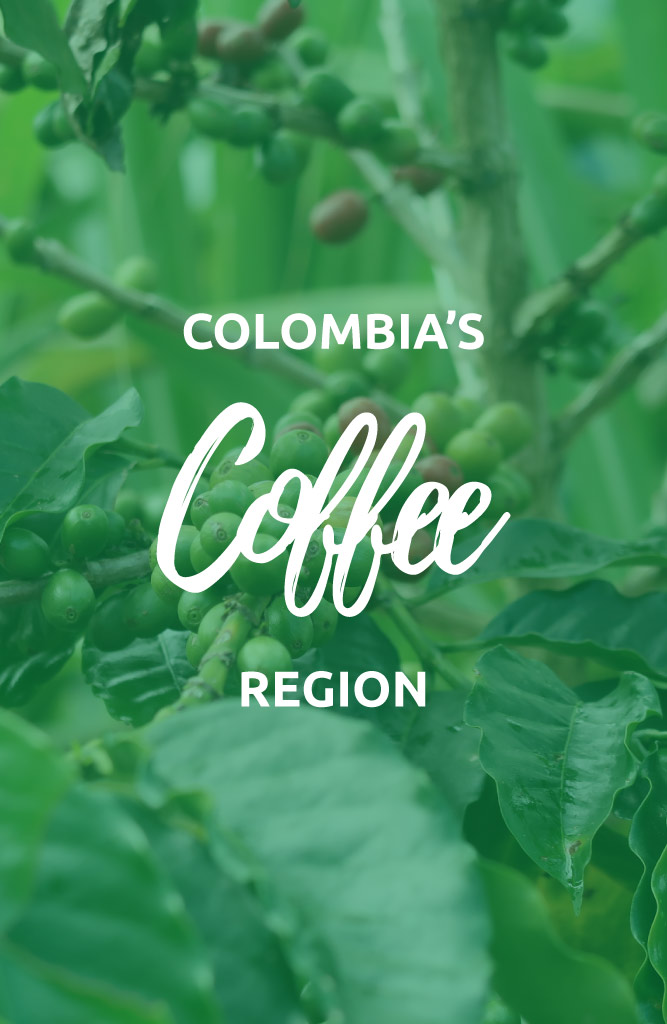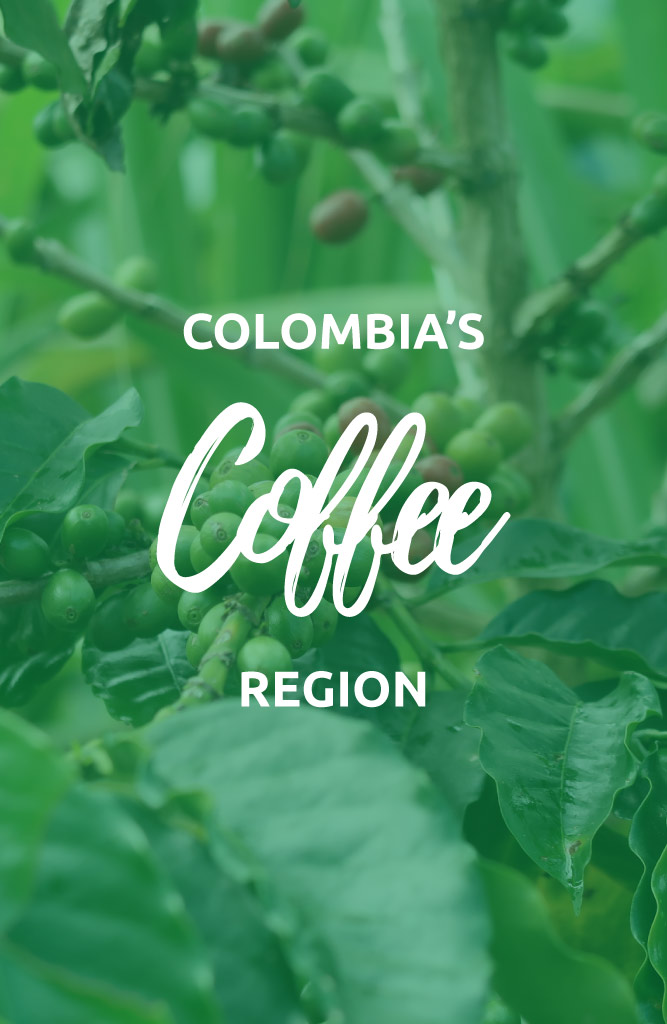 Missing something? Got tips, tricks & advice we can learn from?
💬 Leave a positive comment or lets start a conversation below!
---
"Dear friend! Some links in this post contain affiliate links. Meaning, if you click through and make a purchase, book a hostel or sign up for a tour, I may earn a small commission at no additional cost to you. Your support means a lot and helps me to keep traveling and maintaining the quality of this site for you."