When comparing Chichen Itza vs Tulum ruins – which do you visit?
After all, they are the two most popular Mayan ruins in the Yucatan!
Thousands of visitors typically stroll around these hallowed sites, for their sheer historical power in most cases.
The ruins are blasts from a past that, if you aren't from the Central American region, seem fantastical in their aesthetic. Pyramids, calendars, astronomy towers?
Chichen Itza vs Tulum Ruins
This ain't Big Ben or Times Square, bub. Here are some tips for viewing these incredible sets of ruins.
Initially, the plan was to pit these sites against each other, but it made more sense to suggest you visit both! If you have time that is!
Chichen Itza
The Chichen Itza is not only unique to the Yucatan peninsular, but also one of the wonders of the world and the icon of Central America.
Traveling on a budget from Cancun? No problem. Not only is it affordable to take coach buses around Mexico, but it's also incredibly safe and comfortable too.
Even getting from Merida to Chichen Itza is quite easy because from there you can find transport too. But let's focus on Cancun since it's the most popular destination that people use as a base to explore the region.
How to get Chichen Itza from Cancun
The renowned ADO bus company offers service from the ADO station in Cancun straight to Chichen Itza no worries.
The bus leaves daily from 8:45 am and has a return bus departing from the Chichen Itza complex at 4:30 pm.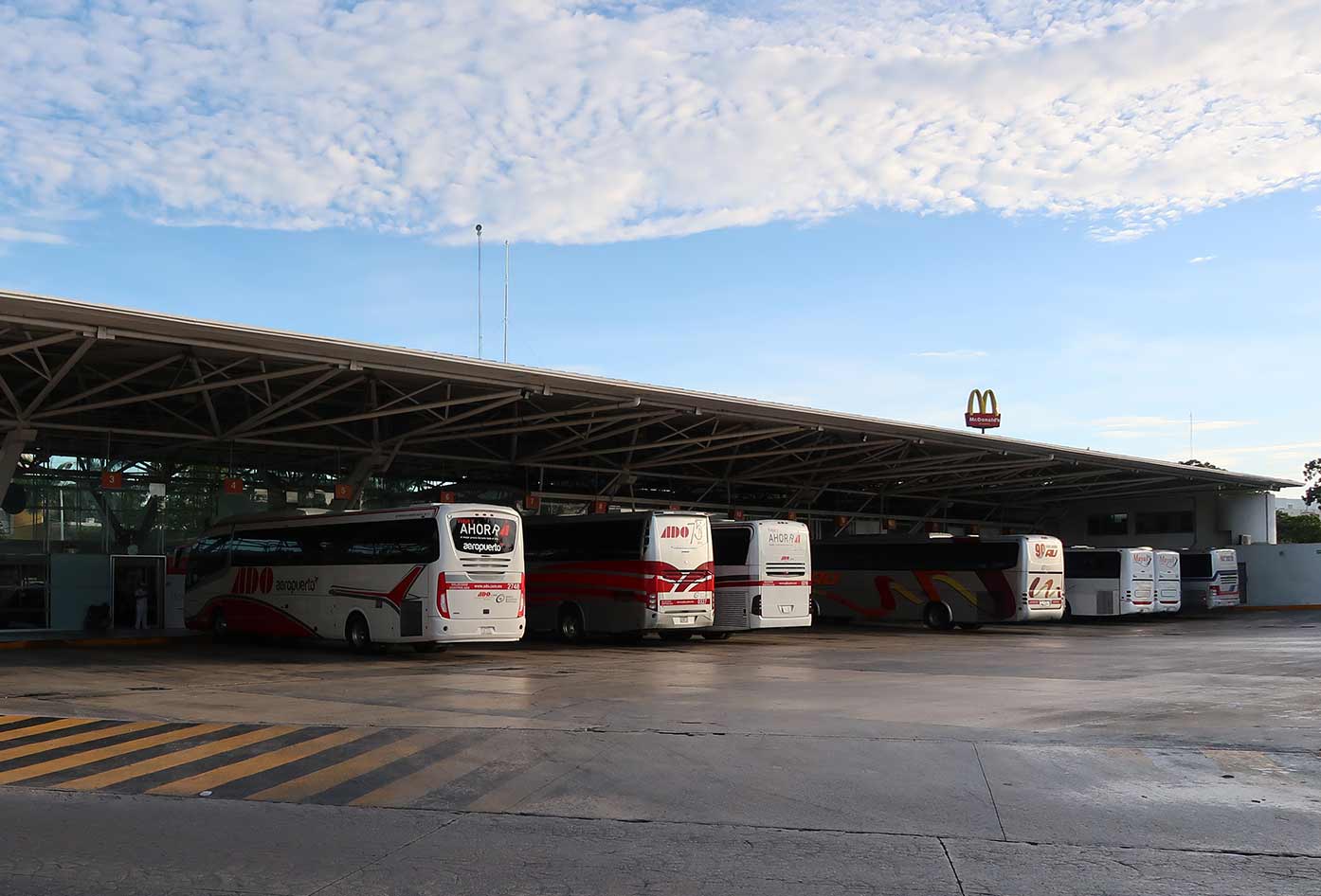 It's about a three-hour journey on the bus, and costs about 50 MXN, which is very cheap! Or, see this excursion if you prefer guided tour.
If you don't want to spend that much time at Chichen Itza, another option is to take the bus to and from Valladolid and take another bus from there to Chichen Itza, as more departures are available.
See this guide to bus travel in Mexico for more tips. You find that bus tickets can be purchased online at the ADO website, or in person at any ADO bus station. In most cases, it's best to buy your ticket online.
Best time to visit Chichen Itza
November to April is the ideal time to visit Chichen Itza especially if you're on a vacation to Mexico.
Avoiding the rainy season and the colder months should be your main priority, if you already find yourself backpacking Mexico you may not know exactly when you'll arrive in this region.
Stay at a hotel close to the site itself if you're only interested in the ruins. This will enable you to visit before the day-trippers arrive and when it's still cool.
Another interesting time of year would be to see the infamous serpent on each of the equinoxes.
Expect a high number of visitors on these days, for the trip suddenly becomes a once-in-a-lifetime experience.
What to see at Chichen Itza
At Chichen Itza, you can visit the spectacular Cenote Sagrado, as well as all sorts of treasures.
Rings, necklaces, gold and jade objects, as well as the bones of young women that were thrown into the water as an offering to Chaac, the Mayan rain god. See this guide to Mexican cenotes for more info.
Chichen Itza's ball court is the largest in the Americas.
Measuring over 160 meters long and 70 meters wide, Mayan men played a game called Pok Ta Pok here.
The captain of the team that made the first successful shot was then decapitated as a sacrifice to the gods.
This was seen as an honor and guaranteed entrance into heaven. There is the world-famous pyramid, but in reality, the whole complex is worth seeing.
Where to stay near Chichen Itza
If you're traveling as a family and seeking a good spot to stay, I'd recommend the hotel Mayaland.
Mayaland is a hotel with an excellent location right next to the Chichén Itzá ruins with its own access to them.
It's a larger style hotel with 91 rooms set in lovely tropical gardens with 3 swimming pools and 2 restaurants.
If you're on a shoestring budget, the Chichen Hostal located 1.5 miles away is our favorite budget hostel near to the site.
Tulum Ruins
This is the only Mayan city built along the Riviera Maya coastline on the Yucatan Peninsula, making it an Indiana Jones-style exploration with an incredibly serene beach view!
How to get Tulum Ruins
The ideal method for getting to the Tulum Ruins from Cancun is by just taking Colectivo.
This is the cheapest way, as the Colectivo (group taxi) takes about 45 minutes to reach the ruins and costs approximately 60 pesos ($3 USD per person).
You can be taken from the Colectivo stand located on Calle 2 Norte between Avenida 15 and 20 in Playa del Carmen.
Best time to visit Tulum Ruins
Weekends tend to attract larger crowds, but almost any day is fine to visit. As long as it's not raining, because you'd need to carry a travel umbrella or poncho to ensure you stay dry throughout the day.
There is no recommended 'specific day' or even a time of year. However, I recommend that you try to arrive early before the crowds.
Just keep an eye on the weather reports, and also keep track of the cruise ship schedules around Cancun, Cozumel, and Playa Del Carmen if you're visiting from a ship.
If you're comparing Chichen Itza vs Tulum ruins on days when ships are in port, both ruins tend to be more crowded with tour groups.
Any time of the year in Tulum will be hot and tropical (don't forget to pack some reef-friendly sunscreen and DEET-free bug spray).
What to See at Tulum Ruins
Tulum is a resort town on Mexico's Caribbean coast, as far as 130km away from Cancun. See other things to do in Tulum on this blog.
The 13th-century walled Mayan archaeological site at Tulum National Park overlooks the sea, making it a unique site in Mexico.
It incorporates the clifftop Castillo, built as a watchtower, and the Templo de las Pinturas, with a partially restored mural.
Inland, the Cobá archaeological site has pyramid-shaped temples with views over the surrounding jungle.
Where to stay near Tulum Ruins
For as cheap as $120 per night, you can stay at the Hotel Tiki Tiki, a 15 room boutique hotel set in a quiet spot near the jungle. The decor has a minimalist feel.
The Papaya Playa Project is an interesting alternative for those who are environmentally conscious and like to travel green.
It is a collection of 73 sustainable boho-chic rooms and cabanas on a secluded stretch of white sandy beach. The decor is a blend of modern and Mayan styles.
Got Travel Insurance for Mexico?

Designed by travelers, for travelers, World Nomads covers more than 150 adventure sports and activities so you can explore your boundaries.
Chichen Itza vs Tulum Ruins
When it comes to Mayan ruins, there is no better spot than the Yucatan Peninsula.
There are so many sites to choose from, that you could even cross borders Belize or Guatemala!
Tulum and Chichen Itza are my favorites but don't forget to check our article on all of our favorite Mayan Ruins sites in Mexico here.
If you want, get even more ideas on what to do in the Riveria Maya whilst exploring this unique part of the Americas.
📌 Like this article? Pin it…
So, did this help you decide which of these Mayan ruins to visit?
💬 Leave a positive comment or lets start a conversation below!
---
"Dear friend! Some links in this post contain affiliate links. Meaning, if you click through and make a purchase, book a hostel or sign up for a tour, I may earn a small commission at no additional cost to you. Your support means a lot and helps me to keep traveling and maintaining the quality of this site for you."