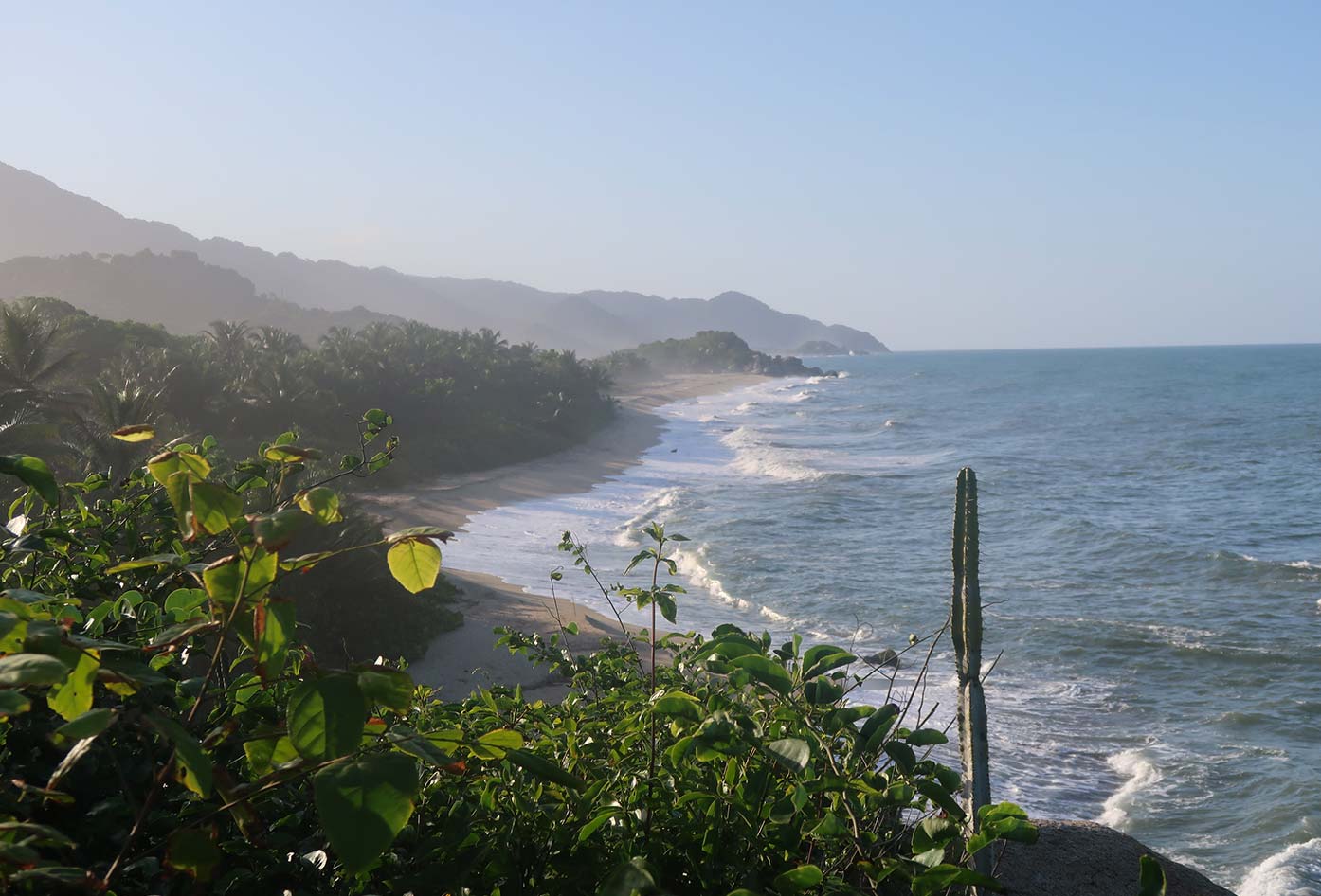 Have you seen enough of Cartegena and want to head over to Tayrona?
I'll share how I got from Cartagena to Tayrona National Park by bus.
Parque Tayrona, as it's called in Spanish, is one of the biggest tourist attractions in Colombia, and rightly so.
It is one place where you can enter and never leave, at least that's how I felt after spending a few hours inside.
Parque Tayrona, Colombia is the ultimate beach paradise spot in the jungle that you've always wanted to get to know.
Cartagena to Tayrona National Park
Whether you plan on staying in an open-air hut or spending the night swinging in a hammock, Tayrona Park has something for you.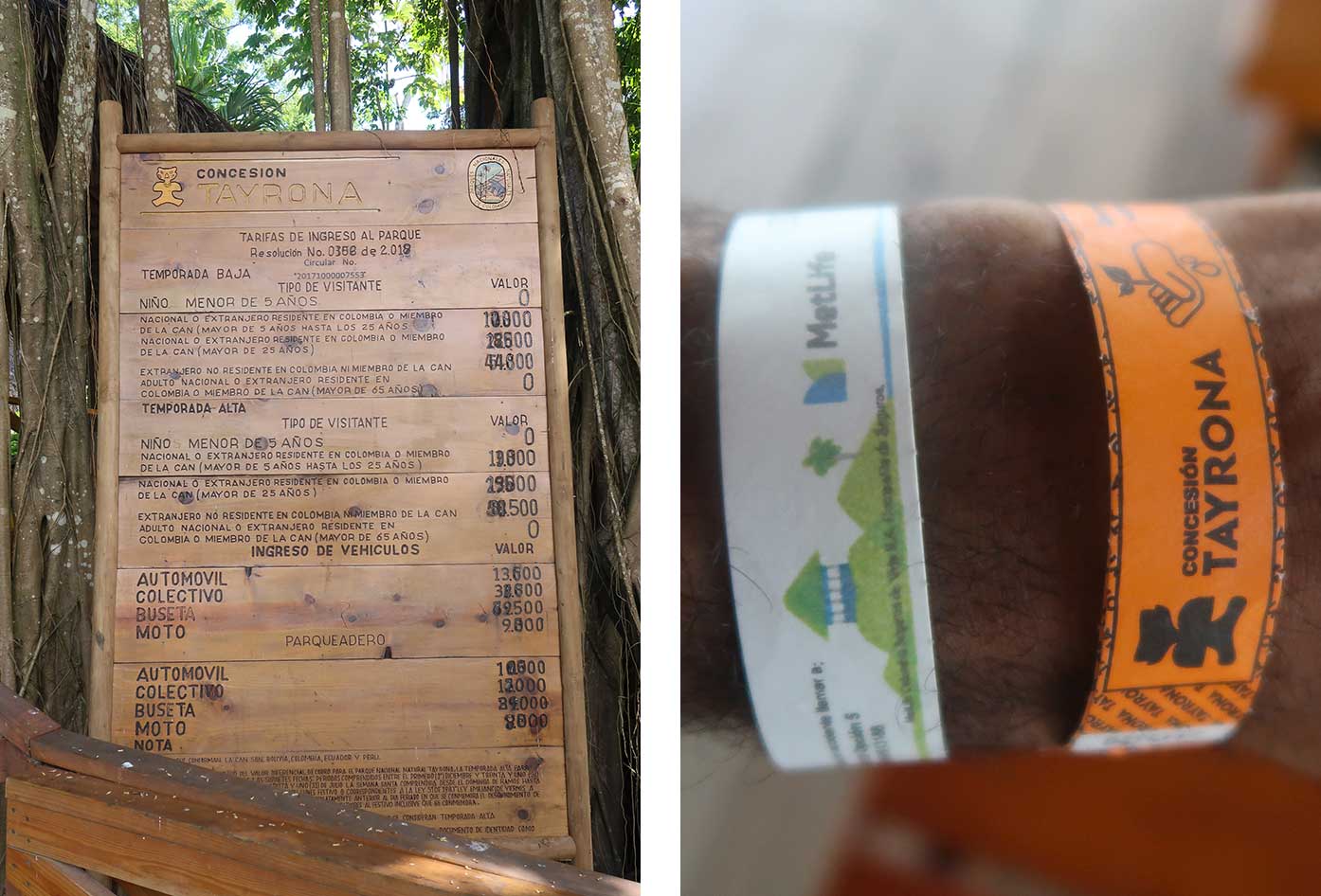 This is the place that attracts many new tourists who decide to go backpacking in Colombia year after year.
You'll need to make sure you're properly equipped if staying overnight.
Arriving from Cartagena to Tayrona National Park is fairly simple once you get yourself to Santa Marta.
Let's look at this trip and how you can learn from my experience.
Cartagena to Tayrona
I can save you a lot of time by saying, "Yeah, this trip is a breeze!"
Just use a local company who'll pick you up from your hostel/hotel and take you to the park directly." But that's boring, right?
Trust me; you are going to need a full day for this trip – so, bear with me!
For a start, like all your travel in Latin America, I recommend you start this journey to Tayrona National Park in the morning.
The biggest leg of the trip will be getting from Cartagena to Santa Marta but don't worry; I've already covered that journey for you.
Obviously, you'll need to make sure you can get to Santa Marta to be able to take the bus that I am showing you below.
Have your travel camera handy as there is plenty of lush scenery to capture along the way.
Cartagena to Tayrona National Park Map
Feast your eyes on the map below to get a better idea of the land you will cover on this journey.
Yes, there are various routes you can take; however, I found this route to be the most scenic and entertaining.
If you're strapped for time and have the funds as I mentioned before, you could take a direct transfer; it's literally taking all the juice out of the journey.
However, by going direct, you'll miss out on this adventure that I'm going to share.
First of all, you'll need to get yourself to the bus station. I mention how to do this from my Cartagena to Santa Marta guide linked above.
Use Redbus to book your tickets in advance and stock up on any provisions you may need for the ride.
Note: that there's no toilet on the direct service.
Generally, the Colombian shuttle buses are not equipped with toilets, so bear that in mind before sipping down your Tinto in the morning.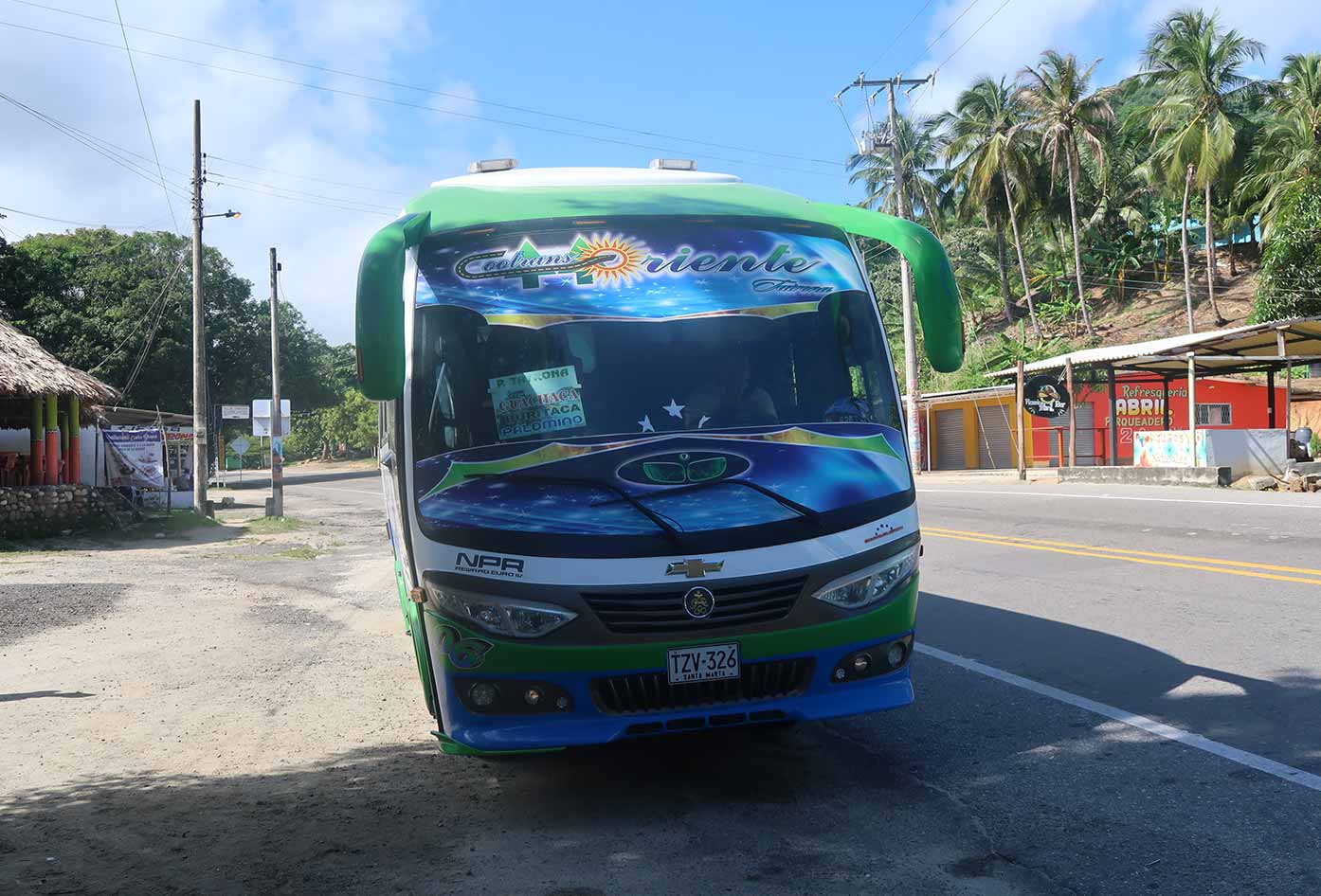 There are various buses that leave before noon to get you over to Santa Marta.
You can book these buses online with Redbus, so just make sure you get to the bus terminal in Cartagena on time.
In other words… allow yourself plenty of time to arrive.
Any bus leaving Cartagena is going to take around 4-5 hours before it arrives in Santa Marta.
If you can, get the bus to drop you off in the market area, but that should be a designated stop for the driver anyway.
You'll catch the bus from the Market area, Calle 11 with Carrera 11.
This is how you're going to get from Santa Marta to Tayrona Park, and it will take just over 1 hour – all being well.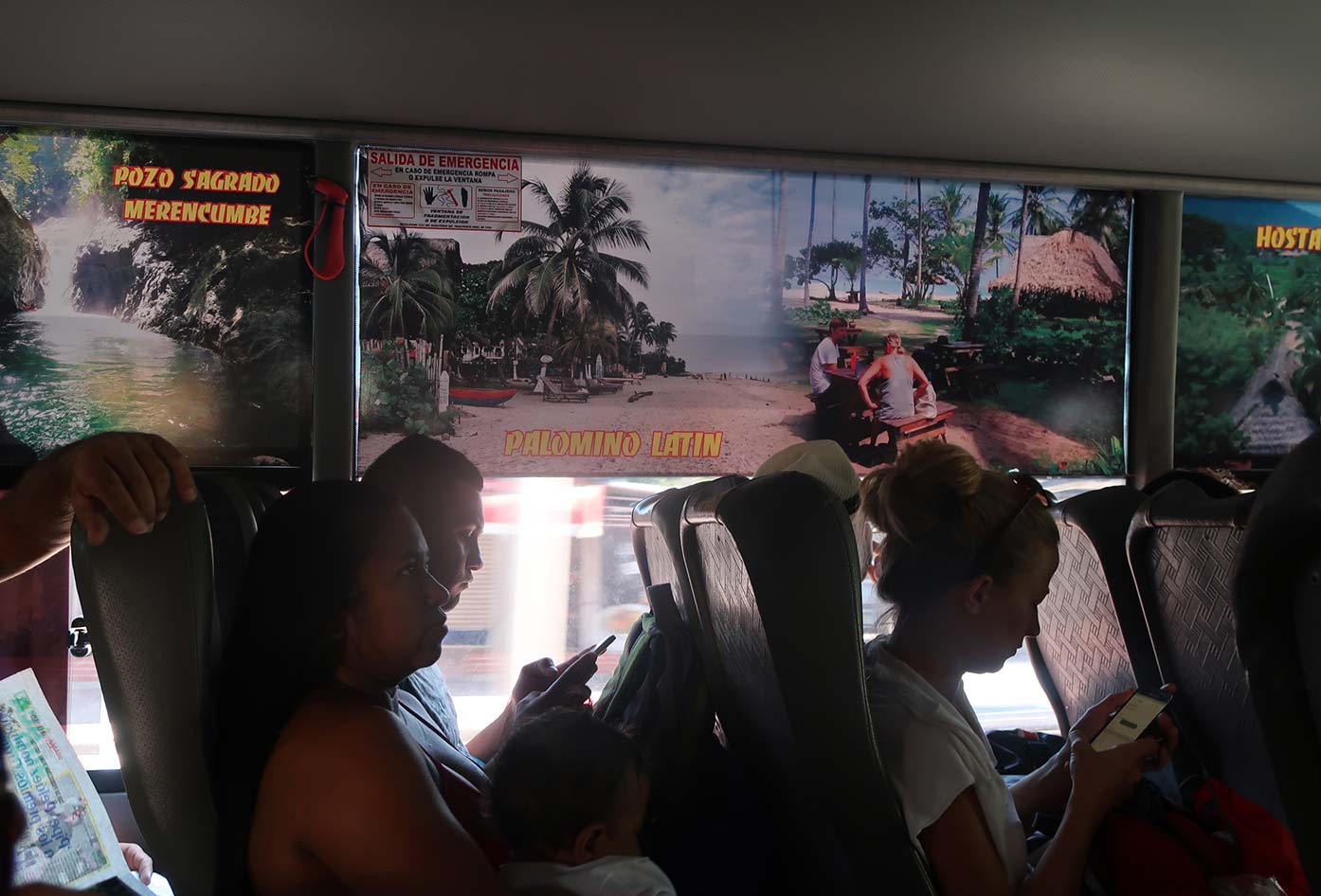 If you've got a day or two to spare make sure you get over to Palomino beach whilst you're in the area.
Here are some quick things to know about the Bus to Tayrona National Park from Santa Marta:
The bus leaves about every half hour
You can flag the bus on Av. El Libertador
The fare should be 6000/7000COP
Once you get to Santa Marta, there's no need to rush so much as the bus will need to be full before it can leave.
Sometimes, it's actually better to wait for the next bus if you can't get access to a good seat.
Cartagena to Tayrona National Park Tickets
The bus direct to the park will set off as soon as it is full, so there is no need to book it or pay any money to anyone. This is important.
Do not pay any money to anyone outside or on your way to the bus.
The money will always be collected towards the end of the trip by the conductor.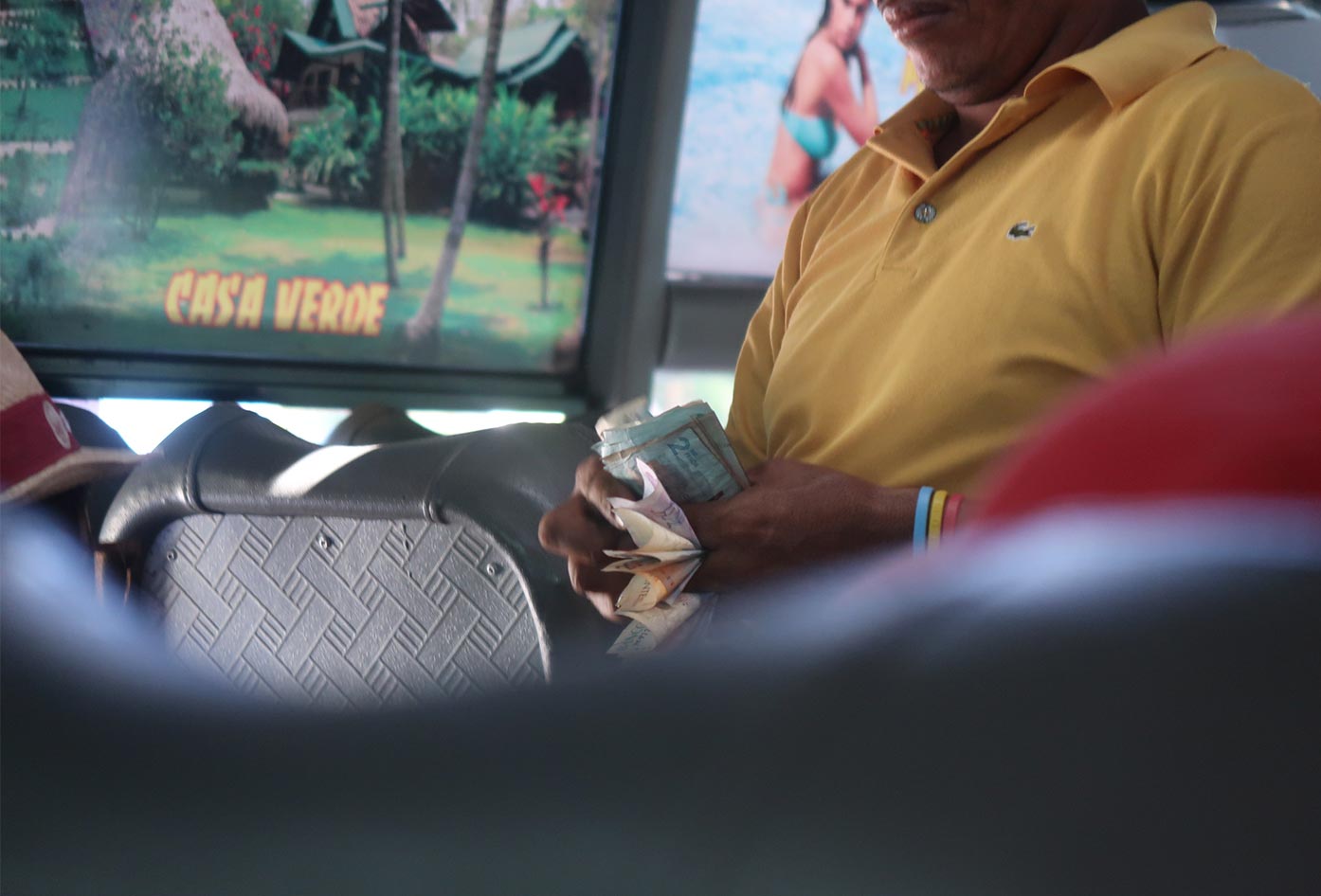 One reason to set off early from Cartagena is so you can spend an hour or two in Santa Marta and get a bite to eat. That's what I did.
I recommend you fuel up because once you enter the park, it will be a while before you find any food.
Remember, though, the park closes at 5 pm.
So, if you are only visiting Tayrona National Park for the day, then you'll definitely not have time to have lunch in Santa Marta.
Grab some Banana loaf from the guy at the bus stop and be gone.
Right, let me get down to the nitty-gritty of this short but entertaining bus ride to the park. My wish is for you to have a pleasant ride.
Here are some crucial things you'll need to know:
The bus will stop to let others get on
People use this bus for cargo – so expect limited space
The bus ride costs around 6000 pesos
Make sure you have your idenfification to enter the park
Have enough cash to last you for your duration in the park
Not so important but useful things to know:
Try to pick a seat at the front of the bus
You can buy snacks through the window on the bus
Carry a water bottle to avoid dehydration
As you arrive in Tayrona Park, you'll feel yourself getting closer to the jungle. Ensure you are prepared for walking.
You'll see many moto-taxis that offer you a ride as well, but I think they are for when you exit the park.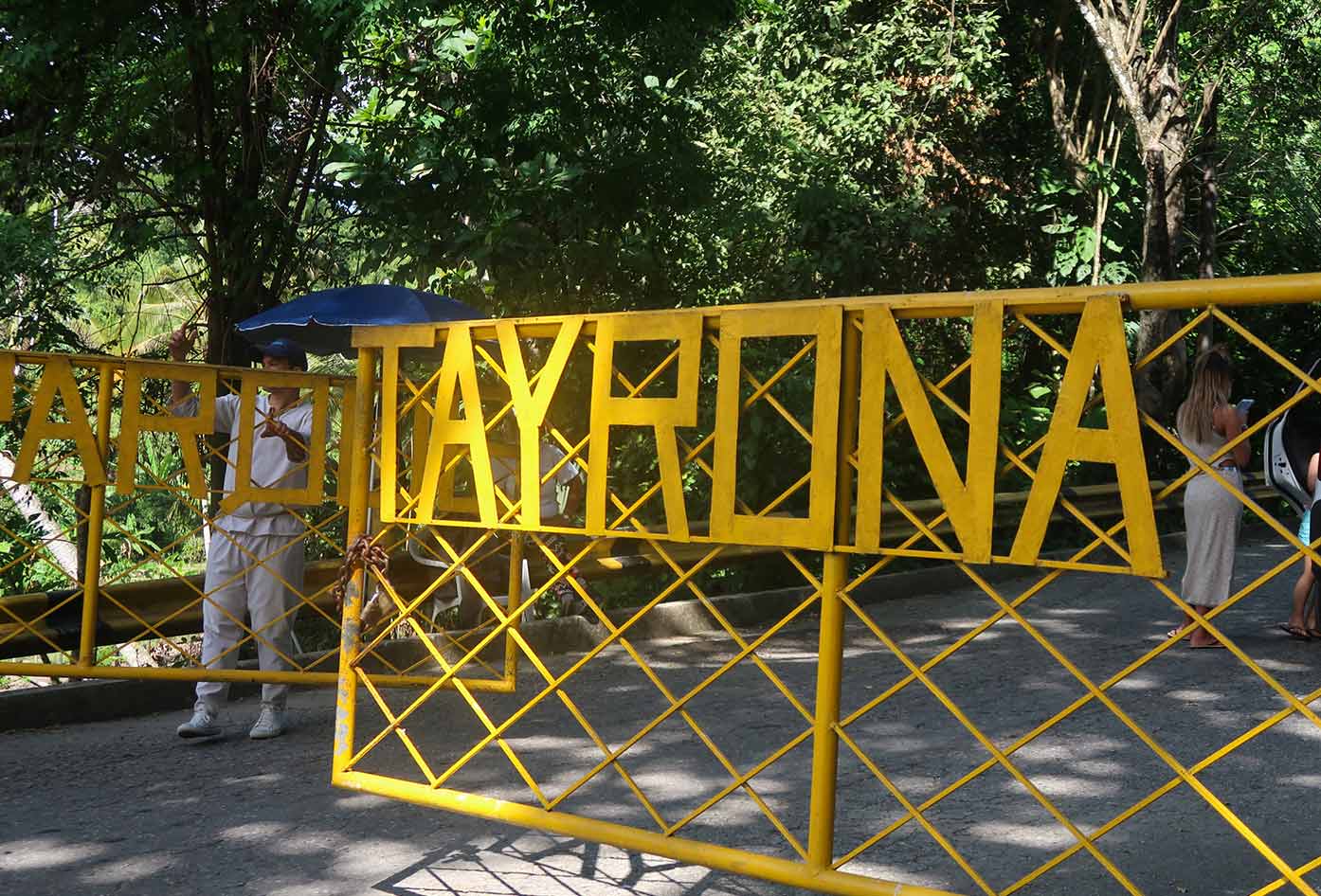 You can also buy refreshments outside the park. Do so if you feel it's necessary because, as I mentioned earlier, it will be a while before you locate any food inside the park.
If you can, try to avoid buying and discarding plastic. I invite you to check out these filtered water bottles you can take everywhere with you.
As you pay the entrance fee to the park, there will be a man or woman on a microphone explaining all the rules and prices.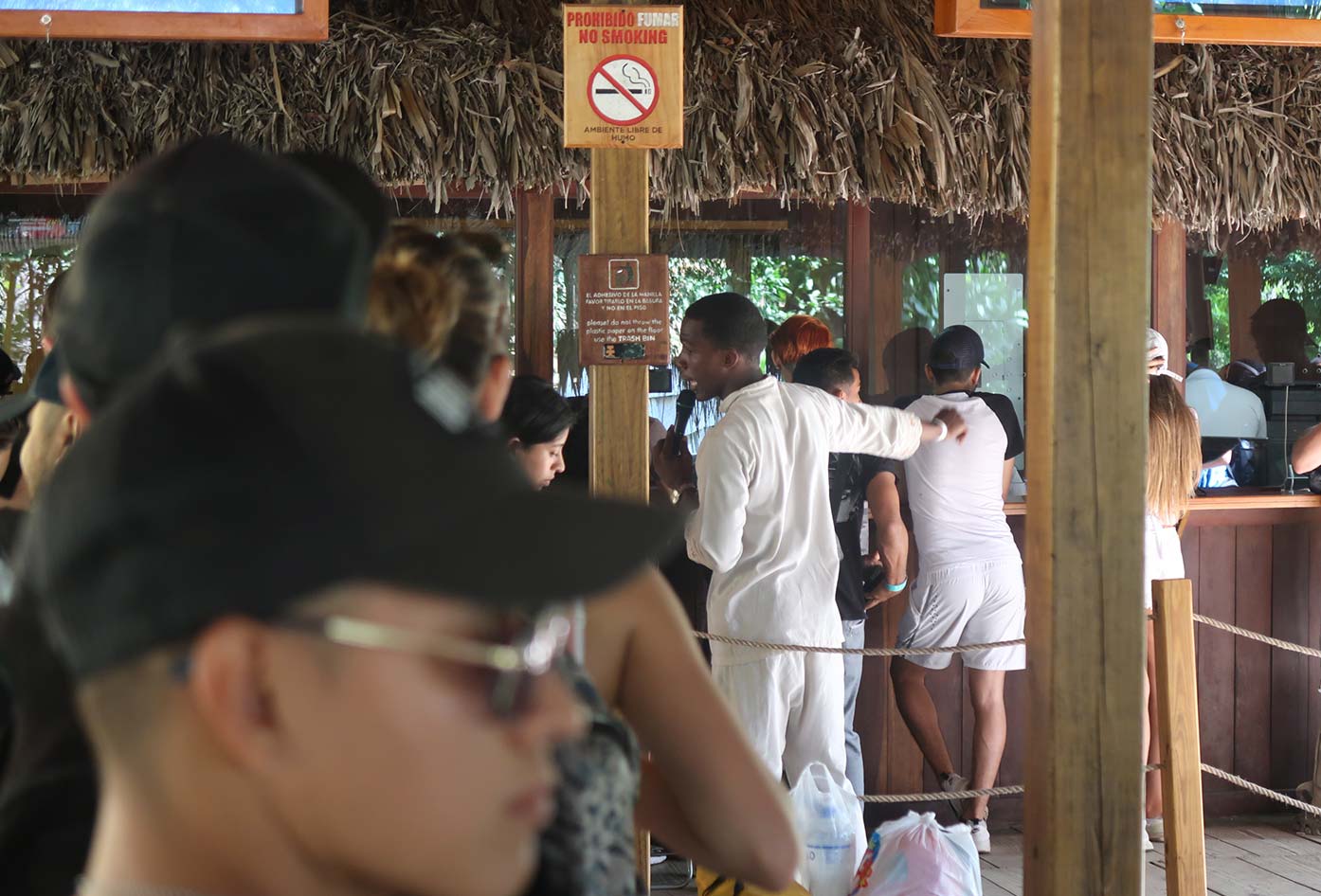 At this point, you'll be seconds away from entering the park – make sure you have the two most important things at this point.
Colombian Pesos in cash and an official form of identification; otherwise, they will not let you inside the park.
Tayrona National Park Hotels
If you've not organized your accommodation for the park, here's one of the best hotels if you are planning on staying overnight.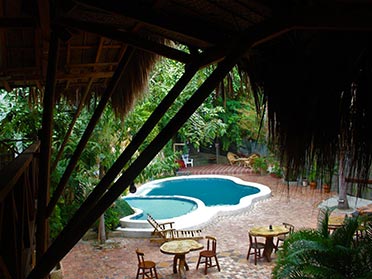 3 reasons to stay here
Great location
Superb hospitality
Really strong Wi-Fi
There are many other hostels scattered around the park. You'll see a shuttle bus that runs from the entrance, where you pay, to the park entrance point. Along the way, you'll find many amazing places to stay inside Tayrona Park.
---
Another great option if you need somewhere a little fancier and prefer a more luxury style hotel when staying with a loved one.
That's right, once you pass through the park's main entrance wearing your colorful band, there's still another way to go.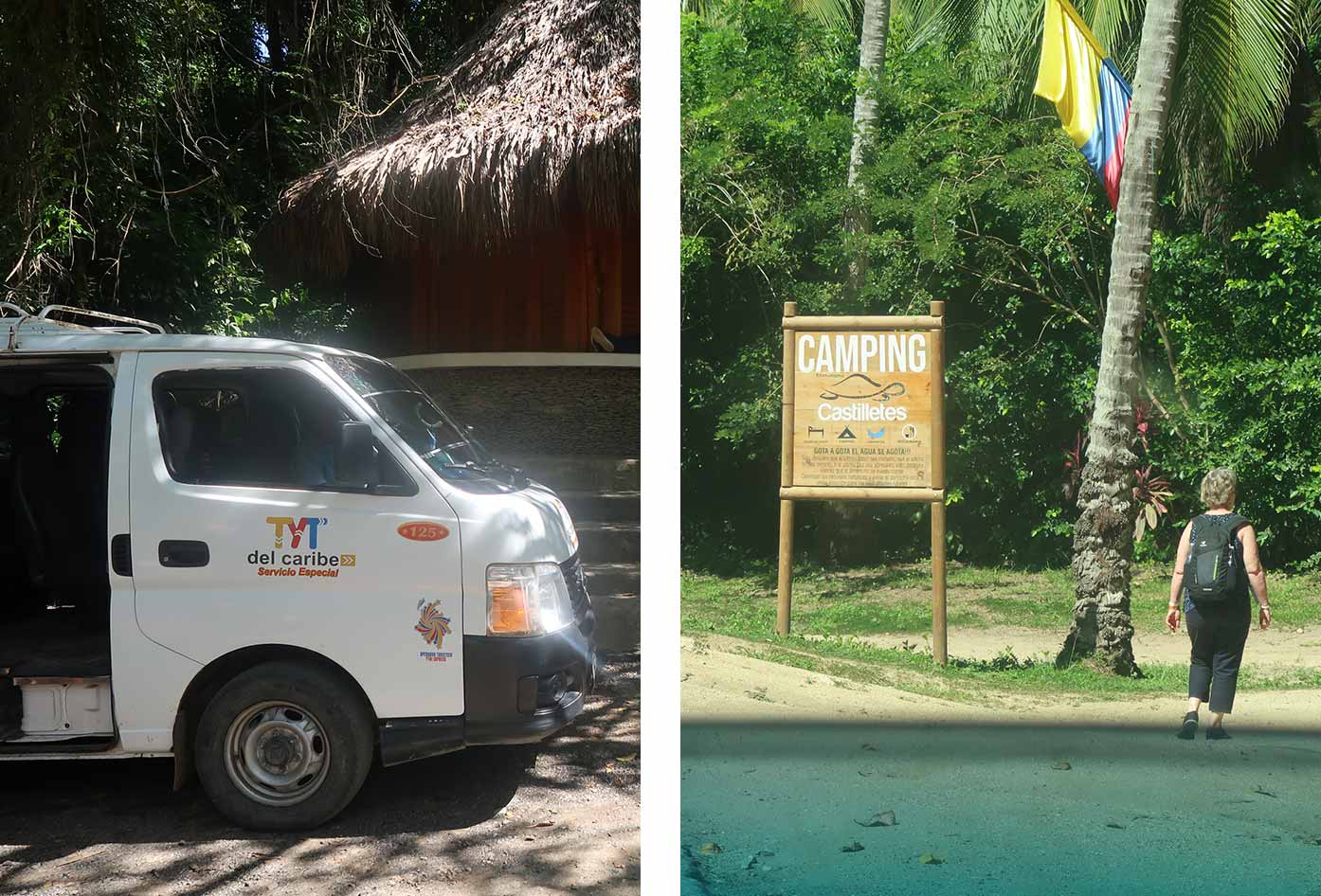 If I was you, don't overthink it and just pay for the shuttle van. Trust me on this one. You'll notice once you get out of the van that this is where the paths start.
From that point, you'll see various pathways with each one around 1.5 hours to arrive at the next designated point.
Welcome to some of the most beautiful landscapes and beaches you've ever seen combined into one!
Got Travel Insurance for Colombia?

Designed by travelers, for travelers, World Nomads covers more than 150 adventure sports and activities so you can explore your boundaries.
Now that's out of the way, let's look at some things you should know about Tayrona National Park that will really enhance your stay.
Getting around Tayrona National Park
Note that there is a police check-point before you hop in the van too. They will check all your bags. So, if you are carrying anything you shouldn't be (wink-wink), now is a good time to conceal it.
Here are some things that are prohibited in Tayrona National Park:
Bringing in your own alcohol
Carrying in musical instruments
Taking ilicit substances
Without a word of doubt, you can have a great time without carrying any of the prohibited items.
As you know, I prefer to travel light, so it's challenging for me to add more gear to my arsenal.
The good news is, you'll be able to find beers inside the park. There are a few restaurants offering alcohol, but beware, it's costly. Even water costs an arm and a leg!
So, whether you're going hiking in Tayrona National Park, fancy a bit of scuba diving or planning on trekking to Cuidad Perdida, also known as the Lost City, you won't be stuck for things to do.
After all, this is not one of Colombia's most visited tourist spots for no reason.
📌 Like this article? Pin it…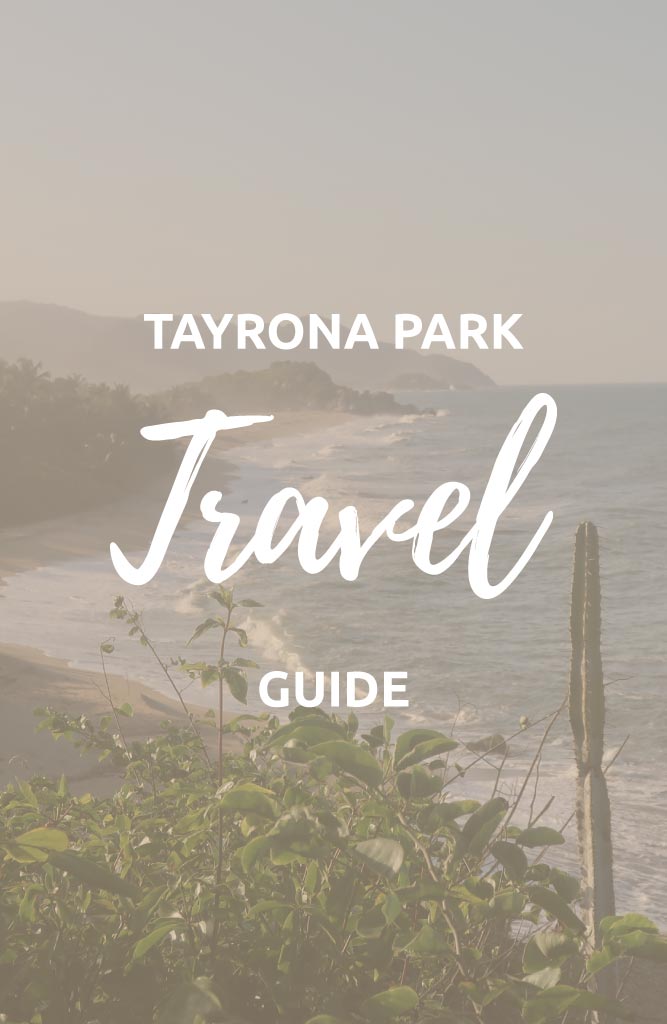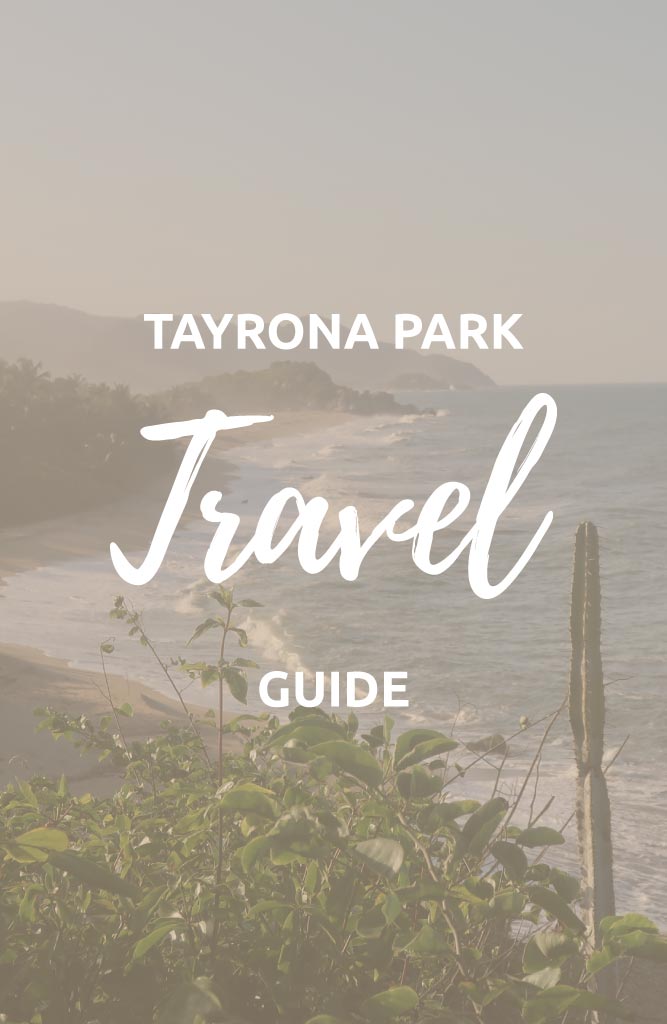 Did this help with your search getting to Tayrona park?
💬 Leave a nice comment or let's start a conversation below!
---
"Dear friend! Some links in this post contain affiliate links. Meaning, if you click through and make a purchase, book a hostel or sign up for a tour, I may earn a small commission at no additional cost to you. Your support means a lot to me and helps me to keep traveling and maintaining the quality of this site for you."